Skip product carousel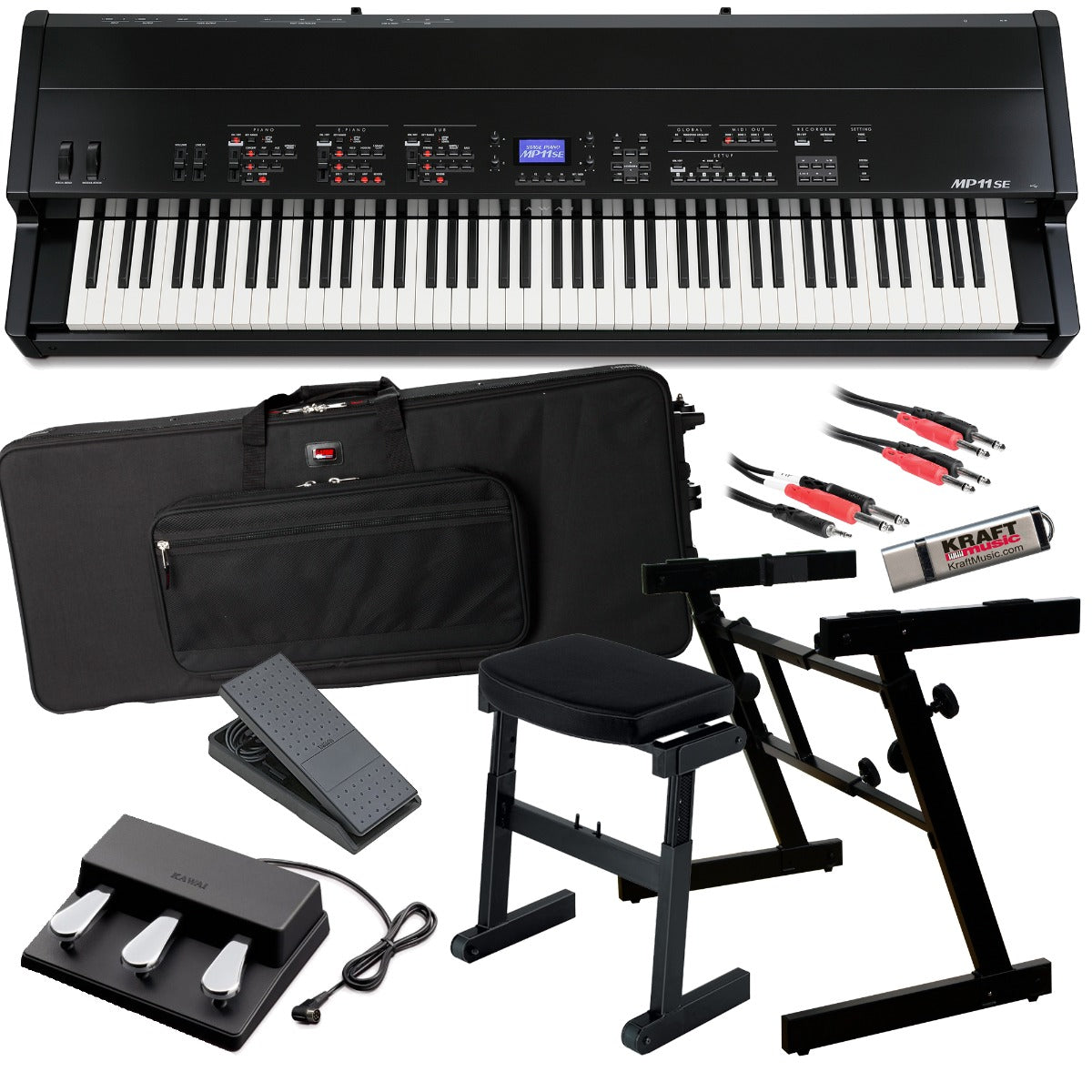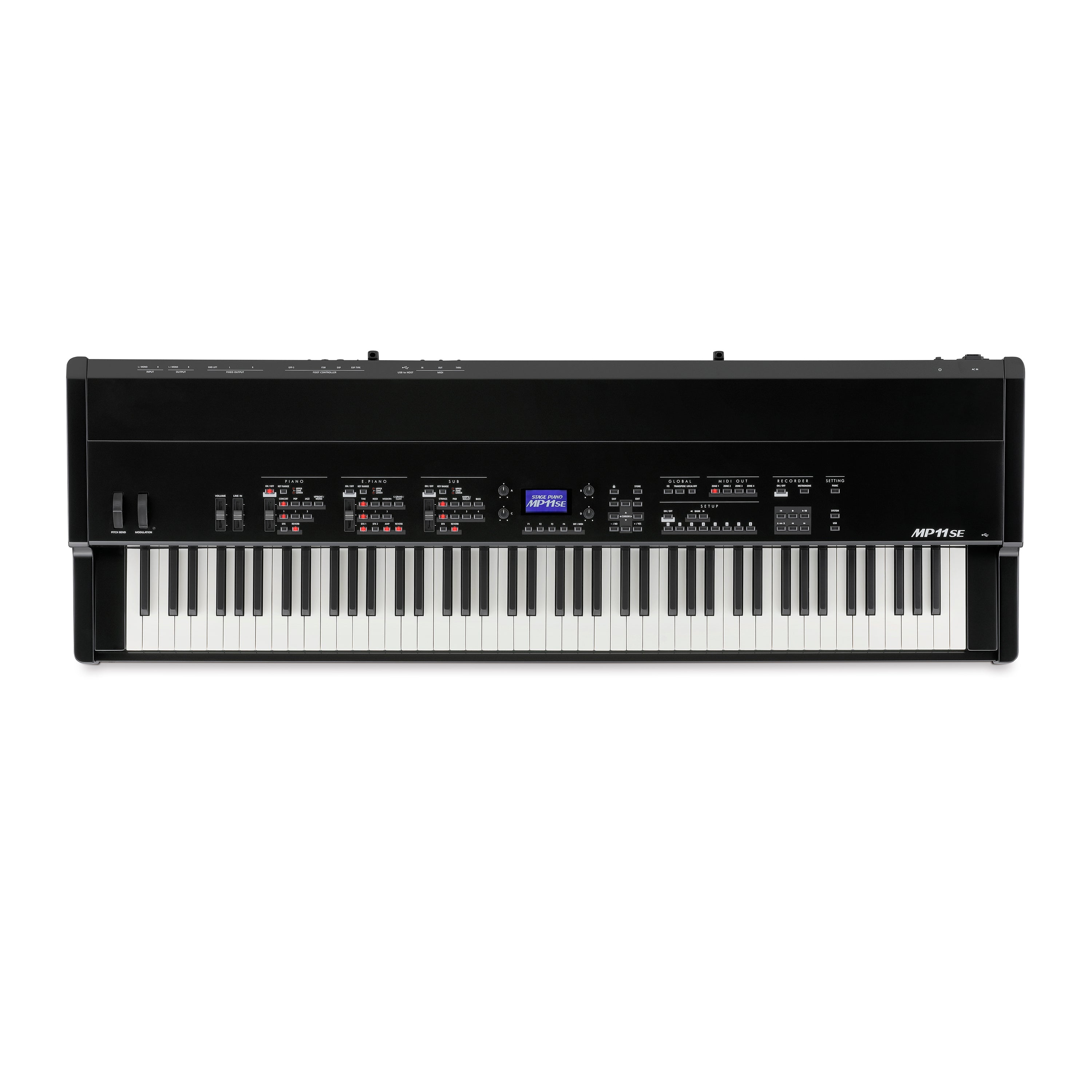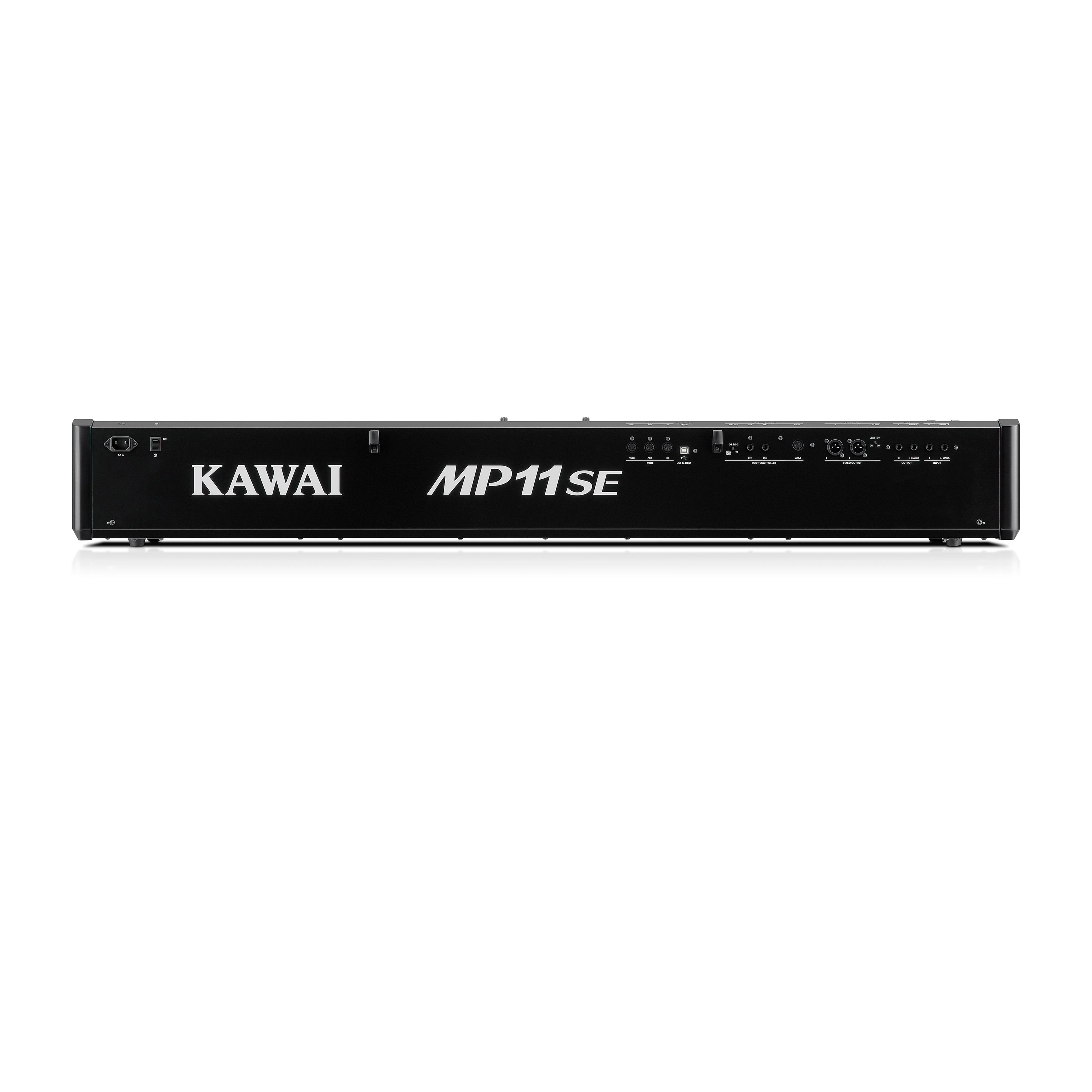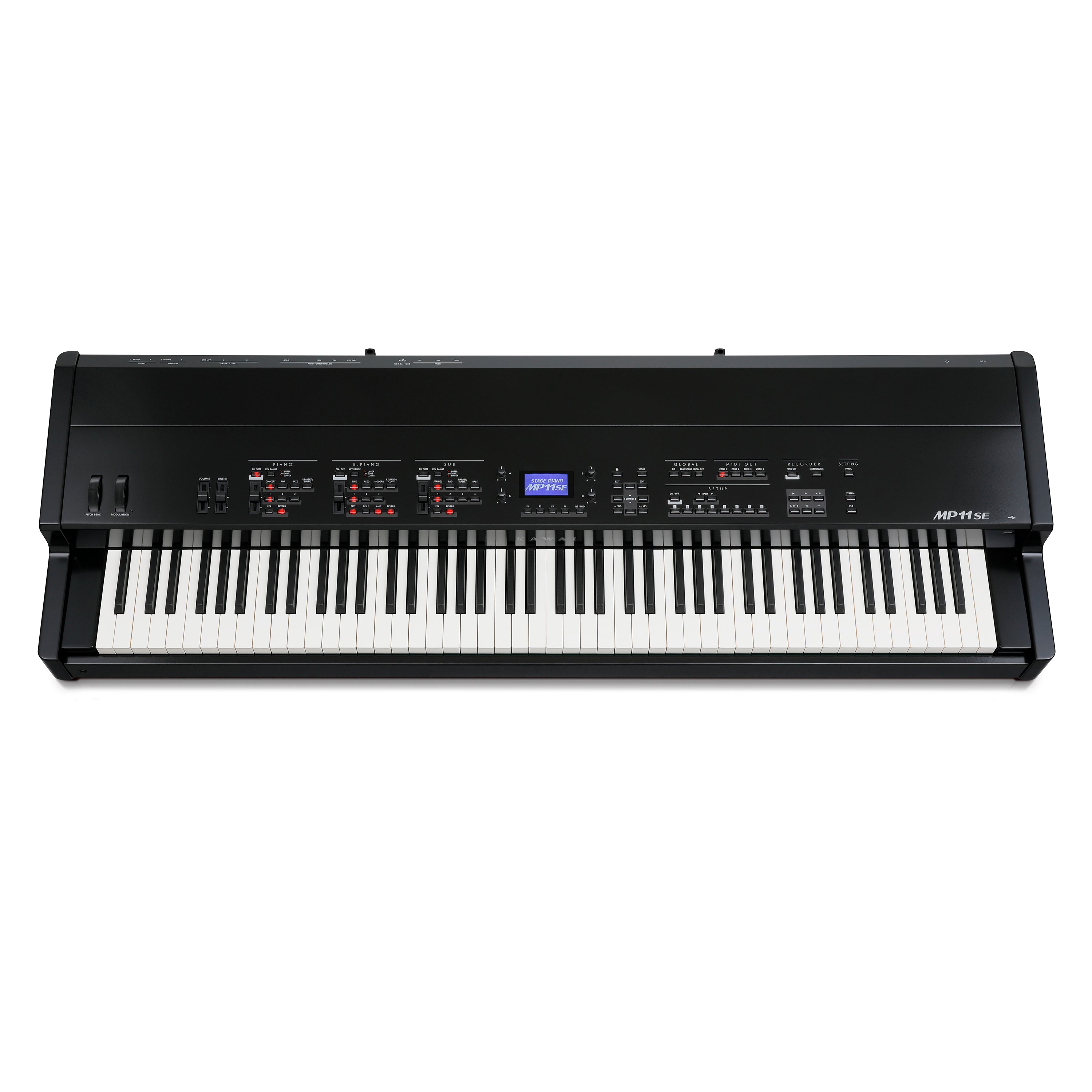 Kawai MP11SE Stage Piano STAGE ESSENTIALS BUNDLE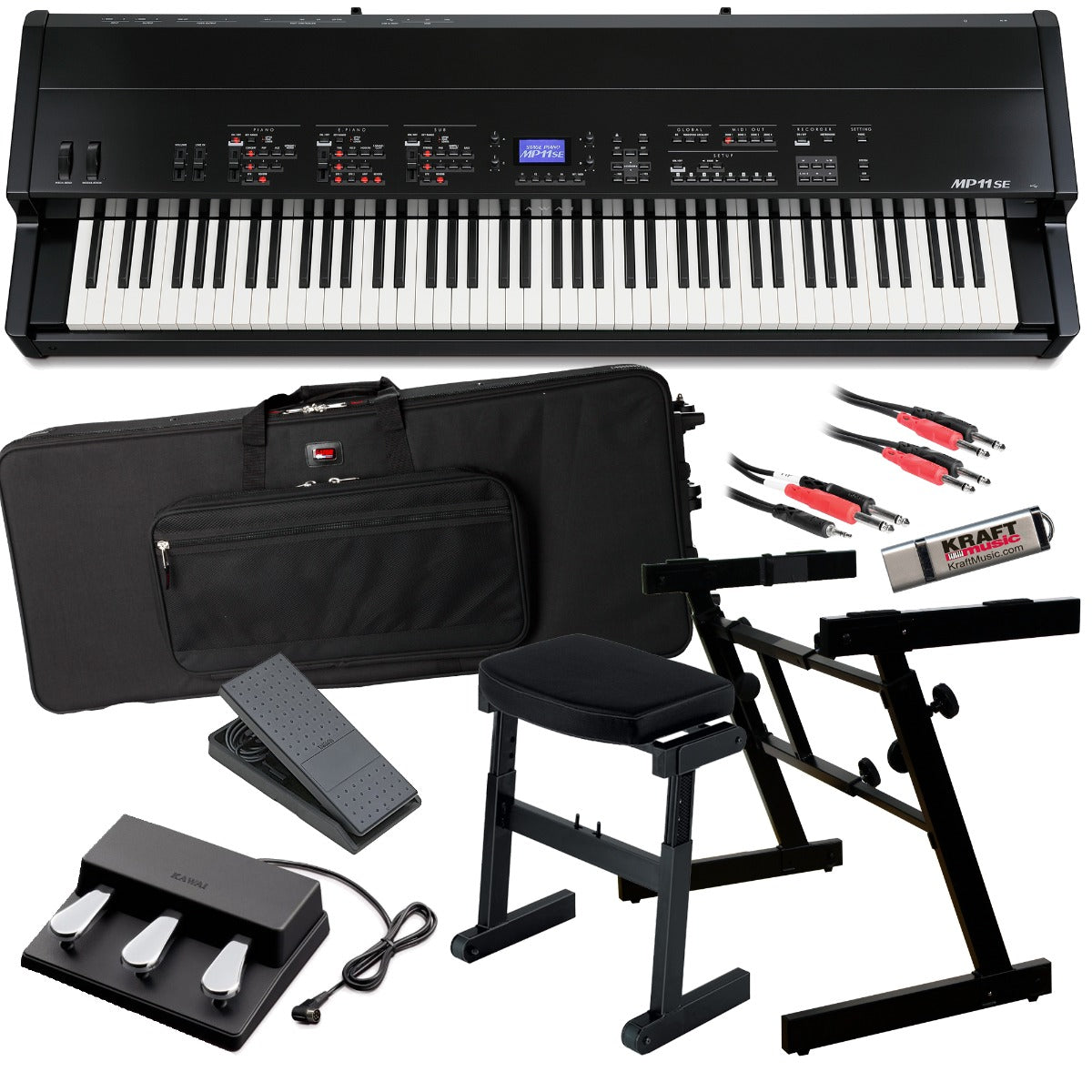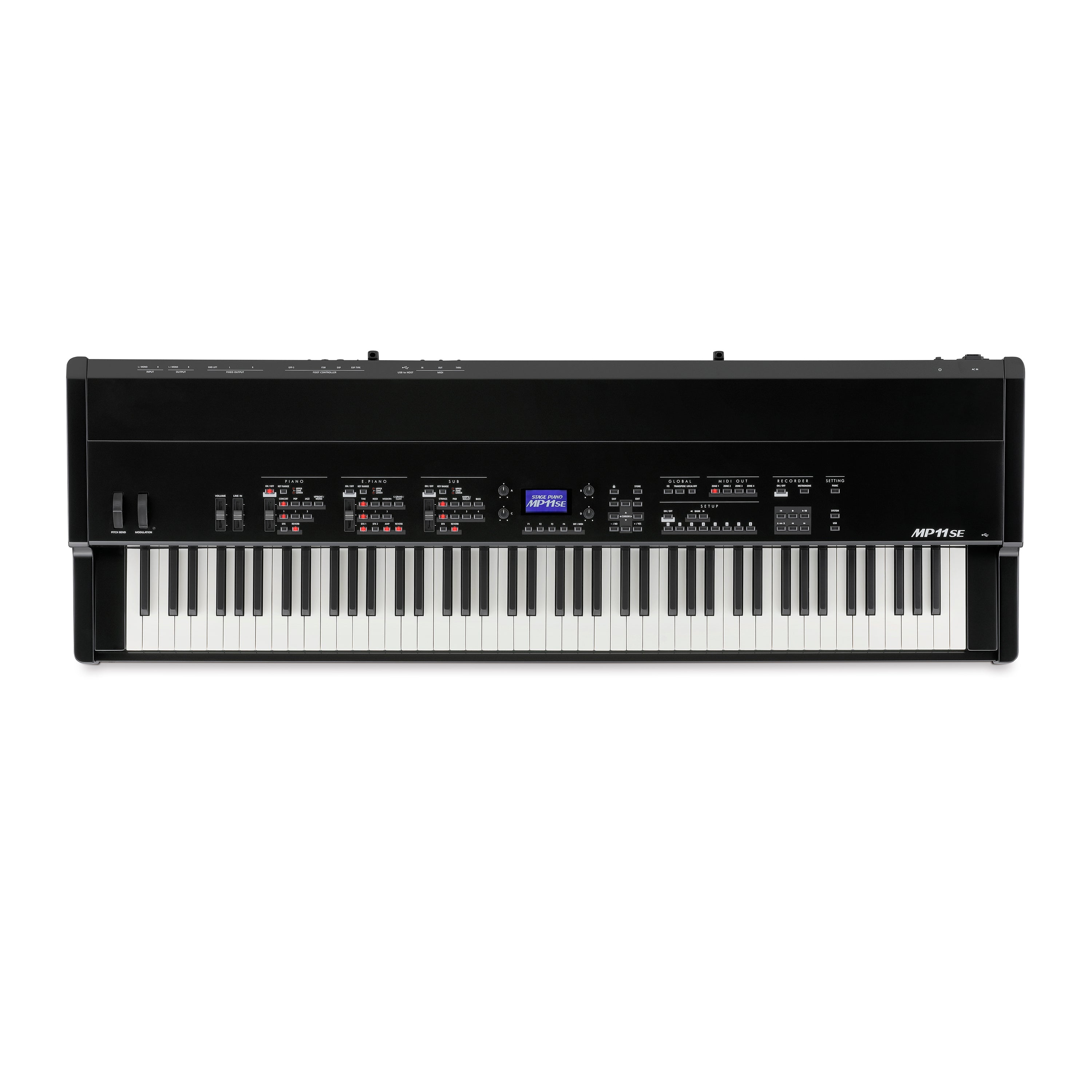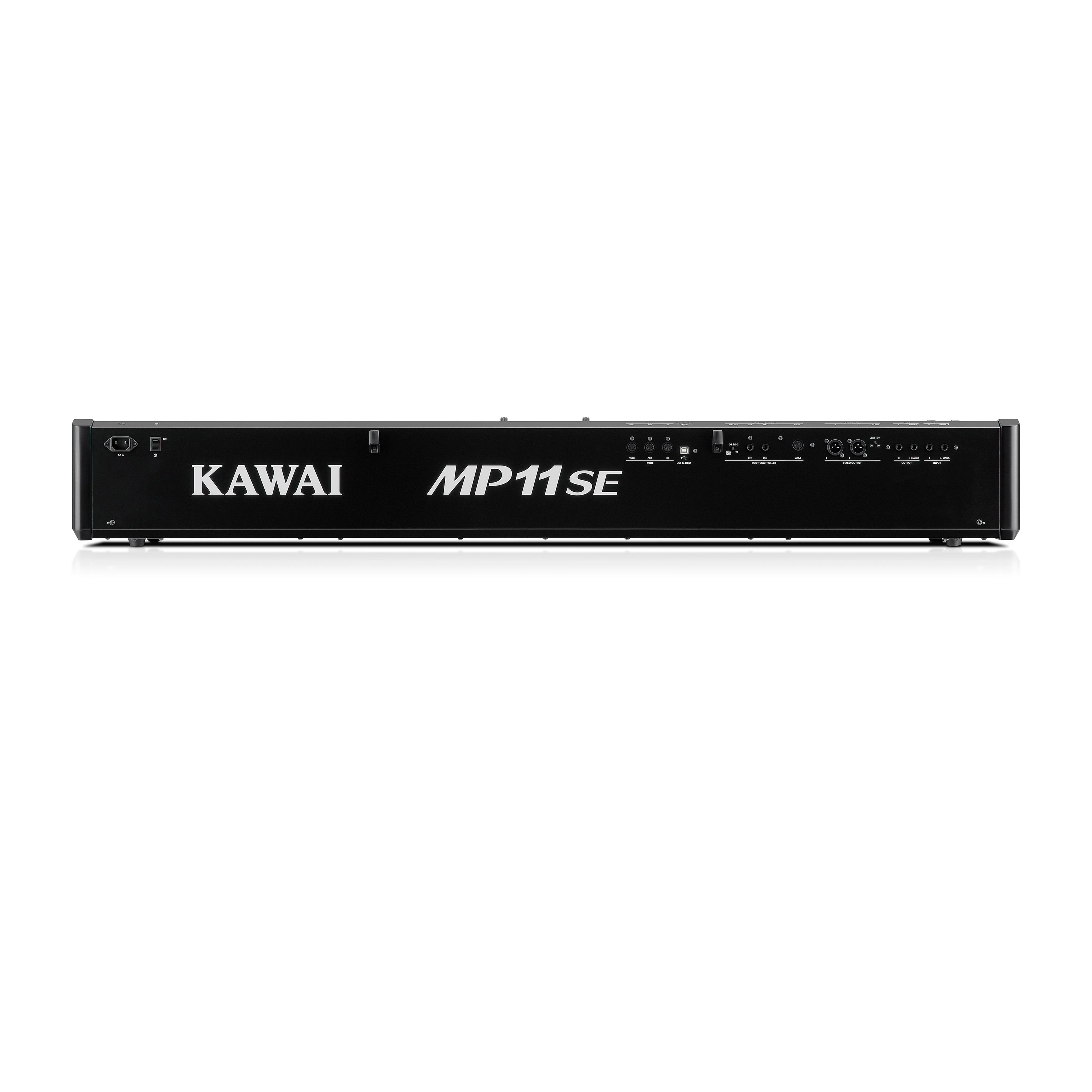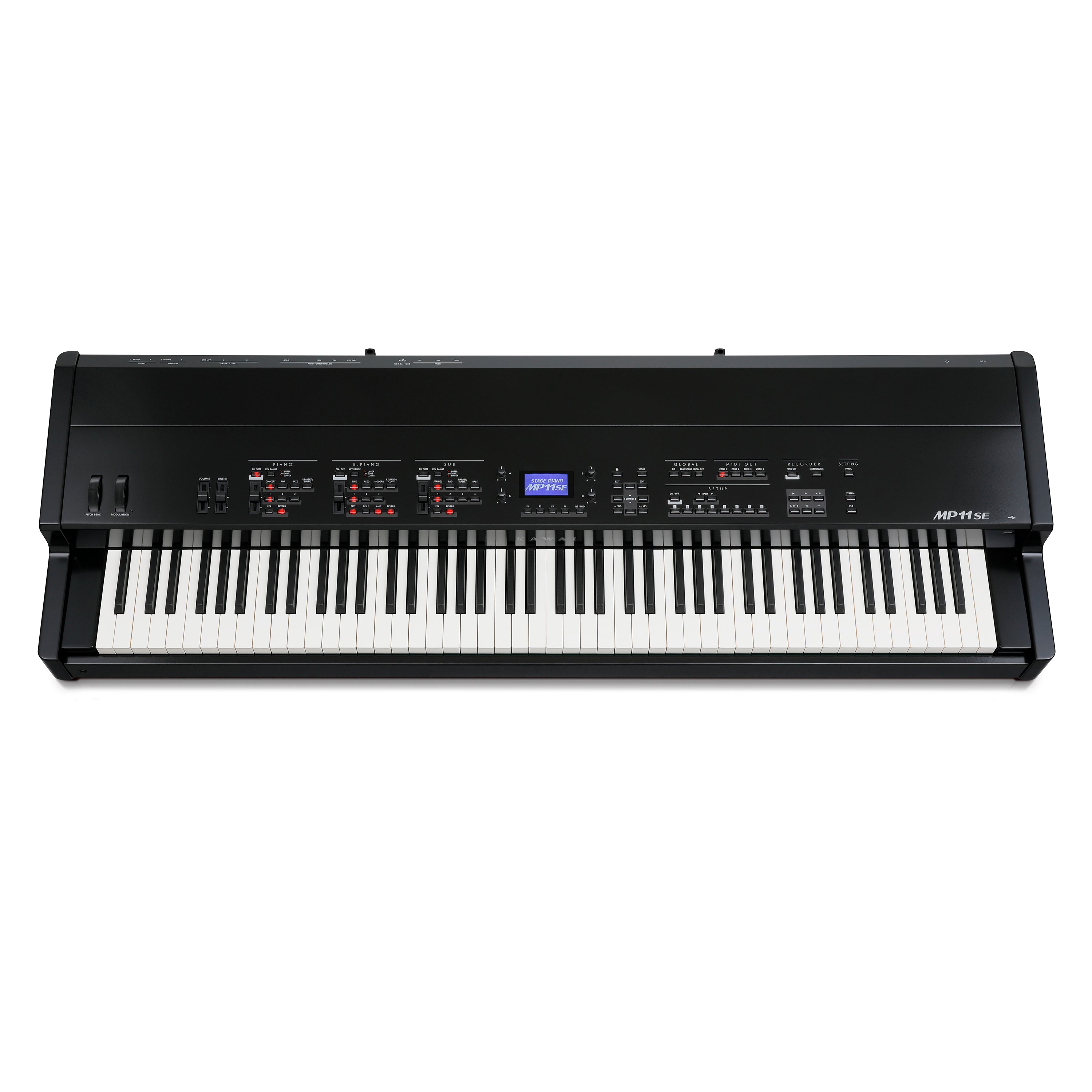 Kawai MP11SE Stage Piano STAGE ESSENTIALS BUNDLE
8 items included
This Kraft Music Bundle Includes
$3,959.99
Regular price
$4,333.81
You Save $373.82
Click on a product to view more details.
MP11SE The pianist's stage piano. 
The most authentic keyboard, the most realistic sound, and the most articulate control. While others may claim to be 'the best', only one can be considered the most genuine. Kawai MP11 – the stage piano for music professionals who do not accept compromise.
Class-leading Grand Feel wooden-key keyboard action
Stunning SK-EX, SK-5, and EX acoustic grand piano sounds
Strong selection of realistic electric pianos and other sounds
Wide variety of Virtual Technician sound editing parameters
Intuitive panel with independent sound sections and effects
Powerful 4-channel MIDI master controller functions
1/4″ and XLR outputs, 1/4″ inputs with Line In level fader
Brand new GFP-3 triple pedal unit manufactured by Kawai
Sturdy metal chassis with black polish wooden side arms
Stunning Acoustic Pianos
A variety of beautiful concert, jazz, and pop grand pianos, and a full-bodied traditional upright – appropriately voiced and mic'd for a broad range of musical styles. Enjoy playing the original sounds, or delve into the powerful Virtual Technician to adjust the piano beneath your fingertips.
Cherished Vintage EPs
A treasure trove of authentic tine, reed, and modern electric pianos, crunchy clavs, and a striking electric grand – lovingly sampled to preserve their characteristics and imperfections. Play them clean, or apply over 100 different effects, before plugging into carefully prepared amp/speaker simulations.
Inspiring Subsidiary Sounds
Studio quality strings, pads, basses, and other essential sounds suitable for creating splits, layering with acoustic pianos and EPs, or for simply playing solo. Tweak each voice using comprehensive ADSR parameters, or fatten the overall sound with flexible parametric EQ.
Accessible and Intuitive Panel
A large graphic LCD display, four assignable real-time control knobs, and a well organised, immediately usable panel interface. Leave the manual at home and concentrate on playing, rather than trying to remember which button does what.
The Most Authentic Keyboard
The keyboard action for serious pianists who appreciate true expression: Grand Feel delivers the most authentic playing experience ever found in a stage piano. The longest keys, the longest pivot, and crafted entirely from wood – three reasons why Kawai is the industry leader.
Masterful MIDI Control
Connect to a PC or Mac via USB, and to your favourite semi-weighted boards via standard MIDI, then control both simultaneously. The MP11 allows up to four MIDI channels to be controlled at the same time, each with their own custom key ranges and user-definable pedal and knob CC# assignments.
Quality Design Materials and Build
& BUILDElegantly finished wooden side panels, sleek gloss-black paintwork and a raised fallboard displaying the Kawai family name give the MP11 a distinctly acoustic presence. Its sturdy aluminium and steel chassis, and reinforced base reassures players that this instrument is built for the stage.
SKU
KAW-MP11SE2017SE
Vendor
Kawai
Built In Speakers
No
Included From Manufacturer
GFP-3 Triple Pedal Unit
Music Rest
Power Cable
Keys Weighted
Hammer Weighted
Number of Keys
88
Midi
In and Out/Thru
Mpn
MP11SE
Accompaniments
No
Control Connections
(1) Damper
(1) Damper/Sostenuto
(1) Soft
(1) Exp
Duet Mode
Yes
Effects
Reverb, 129 Effects (MAIN Zone), 23 Effects (SUB Zones), Amp Simulator, 4-Band EQ
Finish
Matte Black
Audio Inputs
(2) 1/4" Line In - R, L/Mono
Audio Outputs
1/4" Stereo Headphone, (2) 1/4" Line Out - R, L/Mono
Key Action
Wooden keys with Ivory Touch key surfaces Grand Feel (GF) action with Let-off
Metronome
Yes
Product Weight
75 lbs
Programs/Presets
40 voices (PIANO x 12, E.PIANO x 12, SUB x 16)
208 Setup memories (8 memories x 26 banks)
Rhythm Patterns
100 drum patterns
Song Recorder
Audio & MIDI
Number of Songs
10
Split Feature
Yes
Number of Tracks
1
Transpose Feature
Yes
USB Flash Drive Port (to Device)
Audio Recording;Song File Playback
USB Port (to Host)
MIDI
Voices of Polyphony
256
Width
54-1/3"
Depth
18"
Height
7-1/2"
Limited Warranty on Kawai MP Model Digital Pianos
Kawai sells its instruments through a network of authorized dealers and is pleased to offer you, the Original Owner, the following Limited Warranty which applies only to instruments that have been (1) directly purchased from Kawai's authorized dealers in the United States and Canada (the 'Warranted Area') and (2) used exclusively in the Warranted Area. Kawai will not warrant any instrument purchased outside of the United States or Canada. Kawai suggests that you read this Limited Warranty document thoroughly and contact your authorized Kawai dealer or Kawai Technical Services if you have any questions.
This warranty covers MP digital piano models against defects in materials for a period of three (3) years or defects in workmanship for one (1) year from the date of purchase.
Kawai will, at its option, repair or replace the instrument covered by this warranty if it becomes defective, malfunctions or otherwise fails to conform with this warranty under normal use and service during the term of this warranty, without charge for labor or materials. Repairs may be performed using new or refurbished parts that meet or exceed Kawai specifications for new parts. If Kawai elects to replace the instrument, the replacement may be a reconditioned unit or another model reasonably equivalent to the original instrument. Kawai will attempt to perform service at the location of the instrument. However, if this is not reasonably feasible, then you will be responsible for any installation or removal charges and for any initial shipping charges if the instrument(s) must be shipped for warranty service. However, Kawai will pay the return shipping charges to your location within the USA or Canada if the repairs are covered by the warranty.
This warranty does not cover (a) damage, deterioration or malfunction resulting from accident, negligence, misuse, abuse, improper installation or operation or failure to follow instructions according to the Owner's Manual for this instrument; any shipping damage to the instrument (claims must be presented to the carrier); repair or attempted repair by anyone other than Kawai or an authorized Kawai Service Provider; (b) any unit which has been altered or on which the serial number has been defaced, modi ed or removed; (c) normal wear and tear or any periodic maintenance; (d) deterioration due to perspiration, corrosive atmosphere or other external causes such as extremes in temperature or humidity; (e) action noise caused by normal wear and tear; (f) damages attributable to power line surge or related electrical abnormalities, lightning damage or acts of God; or (g) RFI/EMI (Interference/noise) caused by improper grounding or the improper use of either certified or uncertified equipment, if applicable. Any evidence of alteration, erasing or forgery of proof-of-purchase documents will cause this warranty to be void. This warranty covers only the original owner and is not transferable.
Warranty service will only be provided for defective instruments within the Warranted Area. Contact your authorized Kawai dealer who will advise you of the procedures to be followed. If your authorized dealer cannot provide assistance, then contact Kawai at the address or telephone number shown below. Kawai may request that you send the defective instrument to a local authorized Kawai Service Provider or authorize return of the defective instrument to Kawai for repair. If you are uncertain as to whether a dealer has been authorized by Kawai, please contact Kawai's Technical Services Division.
Instruments shipped for service must (a) be packed securely; (b) be accompanied by a detailed explanation of the problem(s) requiring service; (c) be accompanied by an unaltered copy of the original bill of sale, or other dated proof-of-purchase document describing the instrument, as evidence of warranty coverage; (d) exhibit a Return Authorization number issued by Kawai on the outside of the shipping carton or packaging. Kawai will not be responsible for damage sustained by an instrument that is improperly packed or shipped. Should any instrument submitted for warranty service be found ineligible therefore, an estimate of repair cost will be furnished and the repair will be performed only if requested by you and upon receipt of payment or acceptable arrangement for payment.
Any implied warranties, including warranties of merchantability and fitness for a particular purpose shall be limited in duration to the applicable period of time as required by state law. Kawai shall not be responsible for incidental or consequential damages or for damages based upon inconvenience, loss of use, damage to any other equipment or other items at the site of use, or interruption of performances or any consequences thereof. Kawai's liability for any defective instrument is limited to repair or replacement of the instrument, at Kawai's option. Some states do not allow limitations on how long an implied warranty lasts or the exclusion or limitation of incidental or consequential damages, so the above limitation or exclusion may not apply to you.
This Warranty gives you specific legal rights, and you may also have other rights which vary from state to state. This is the only express warranty applicable to the Instrument specified herein; Kawai neither assumes nor authorizes anyone to assume for it any other express warranty.
Ground shipping is FREE for all orders $99 and up.