Skip product carousel
Instant Rebate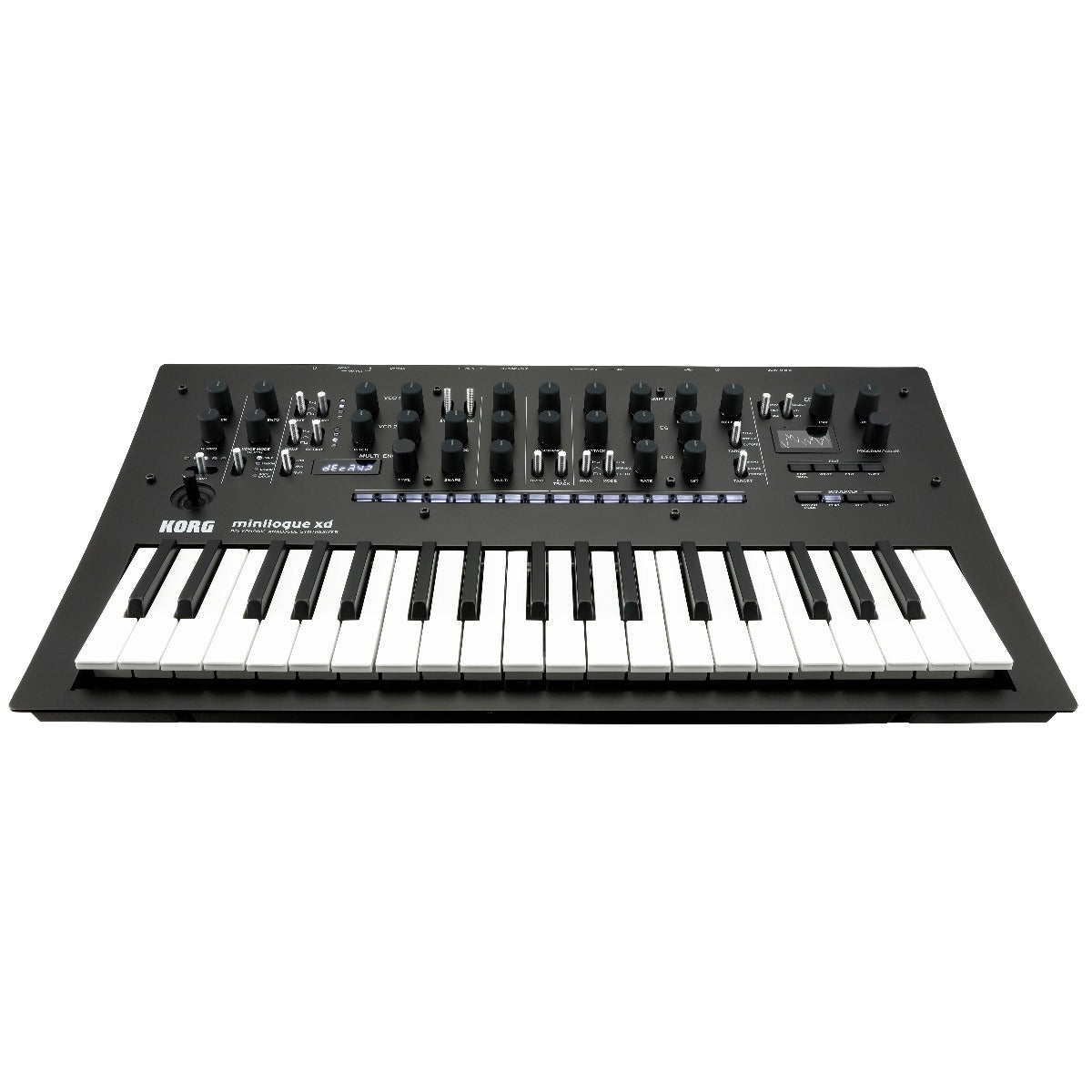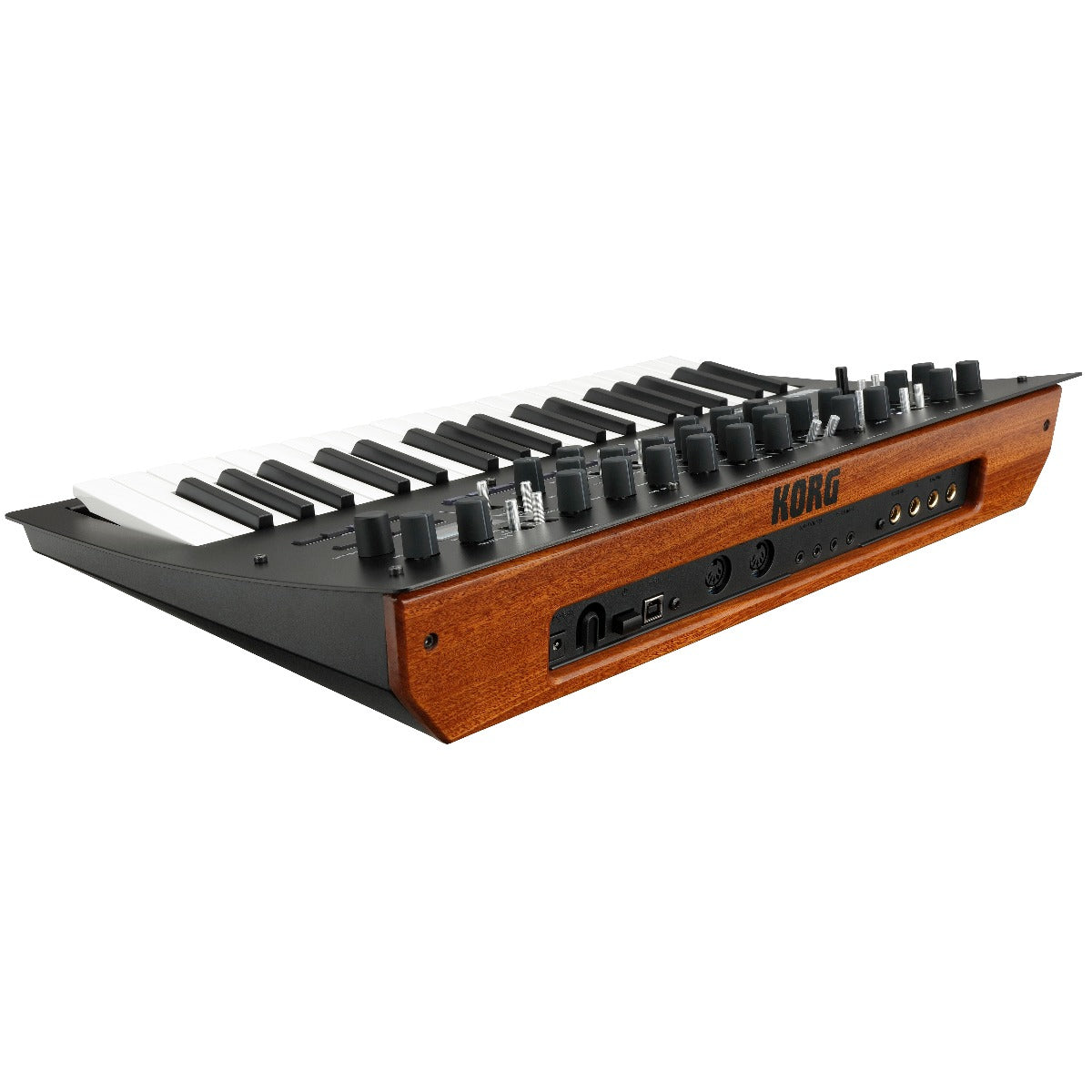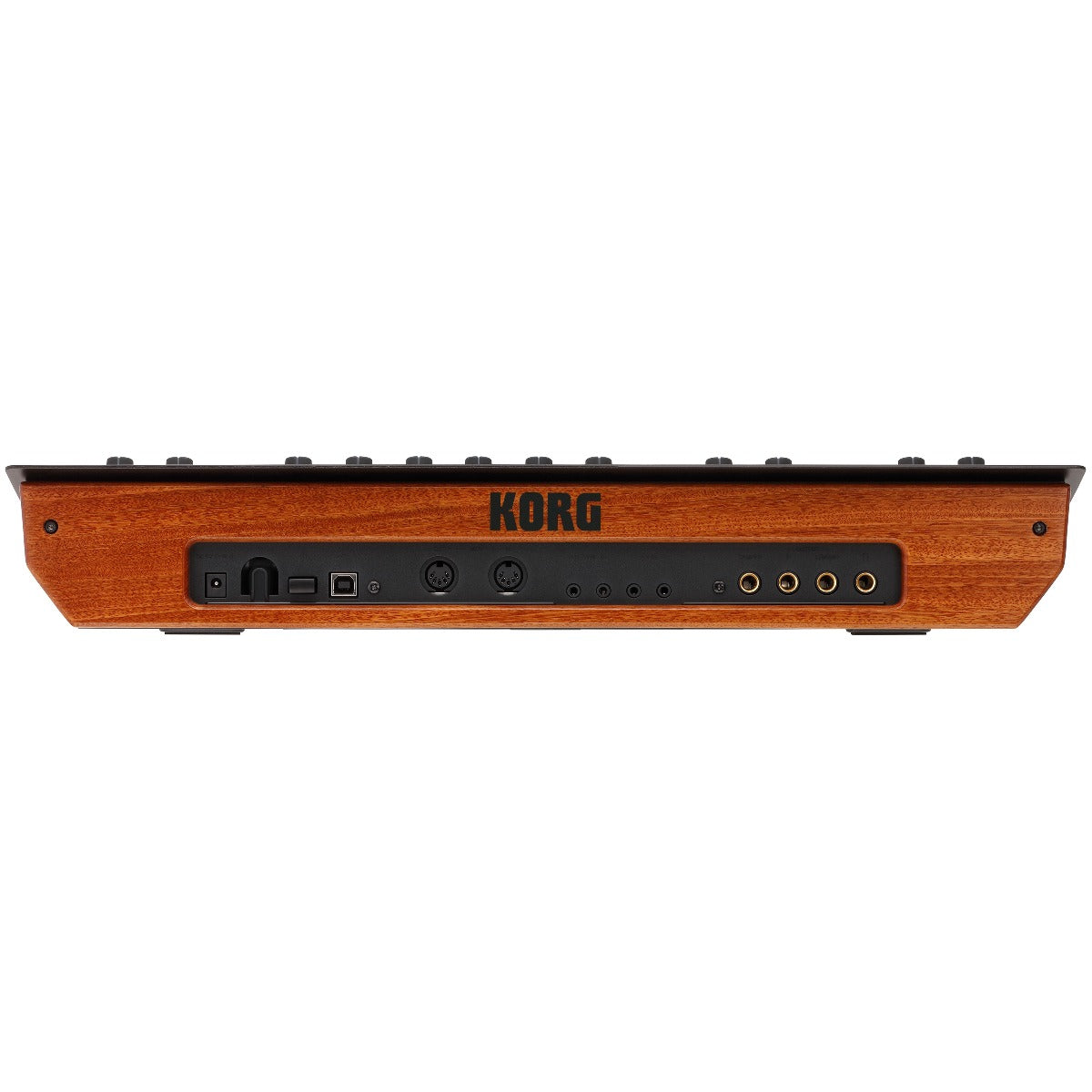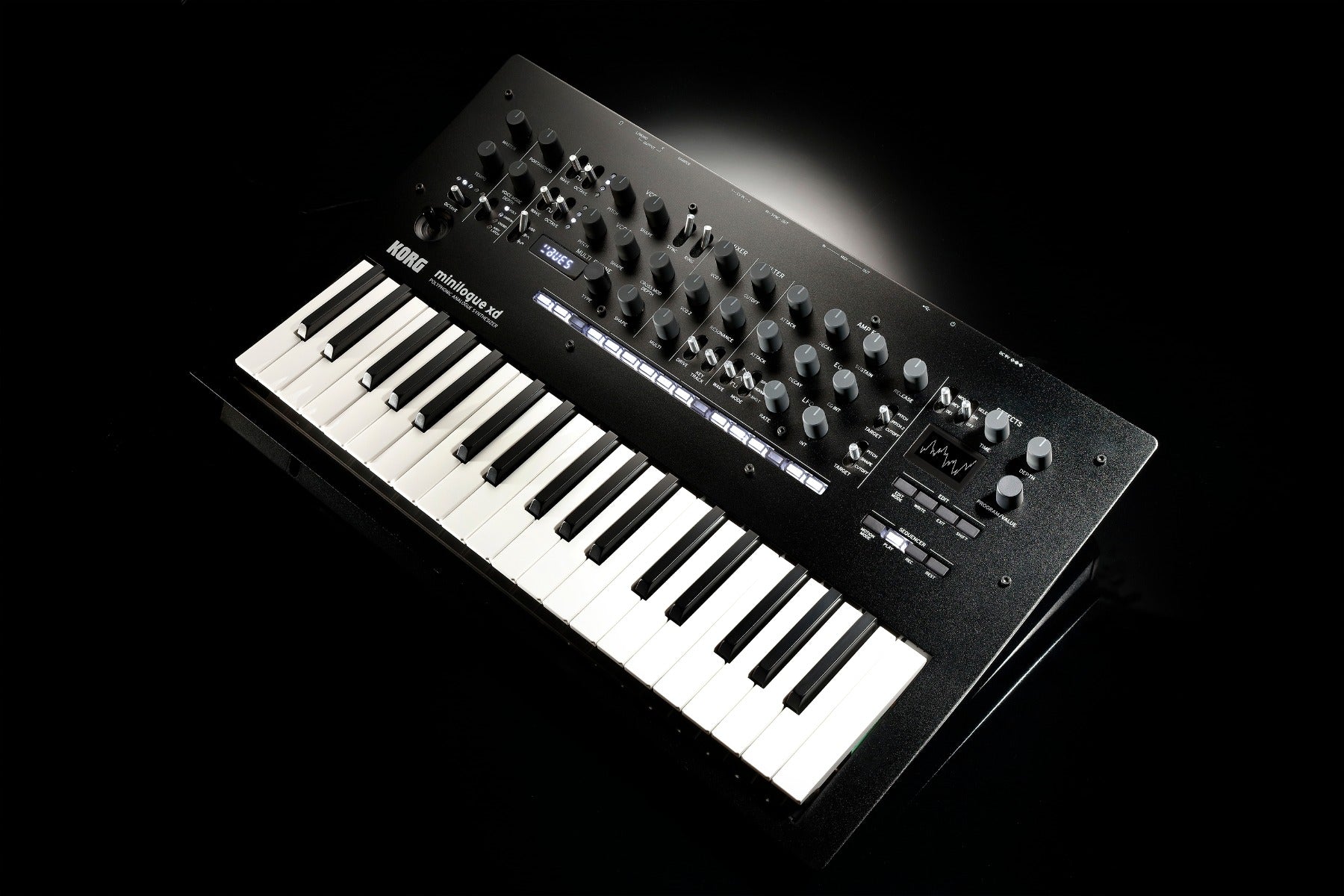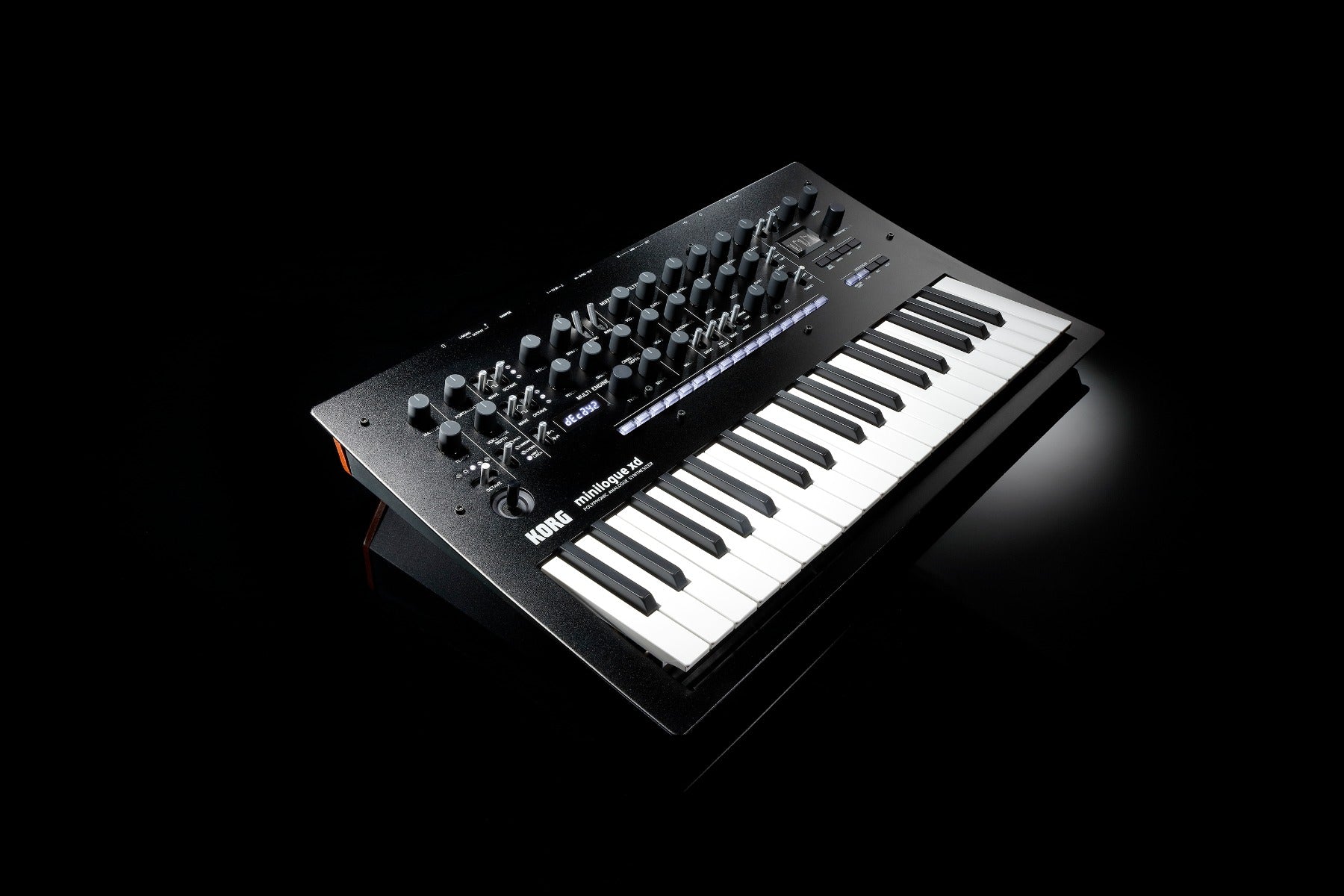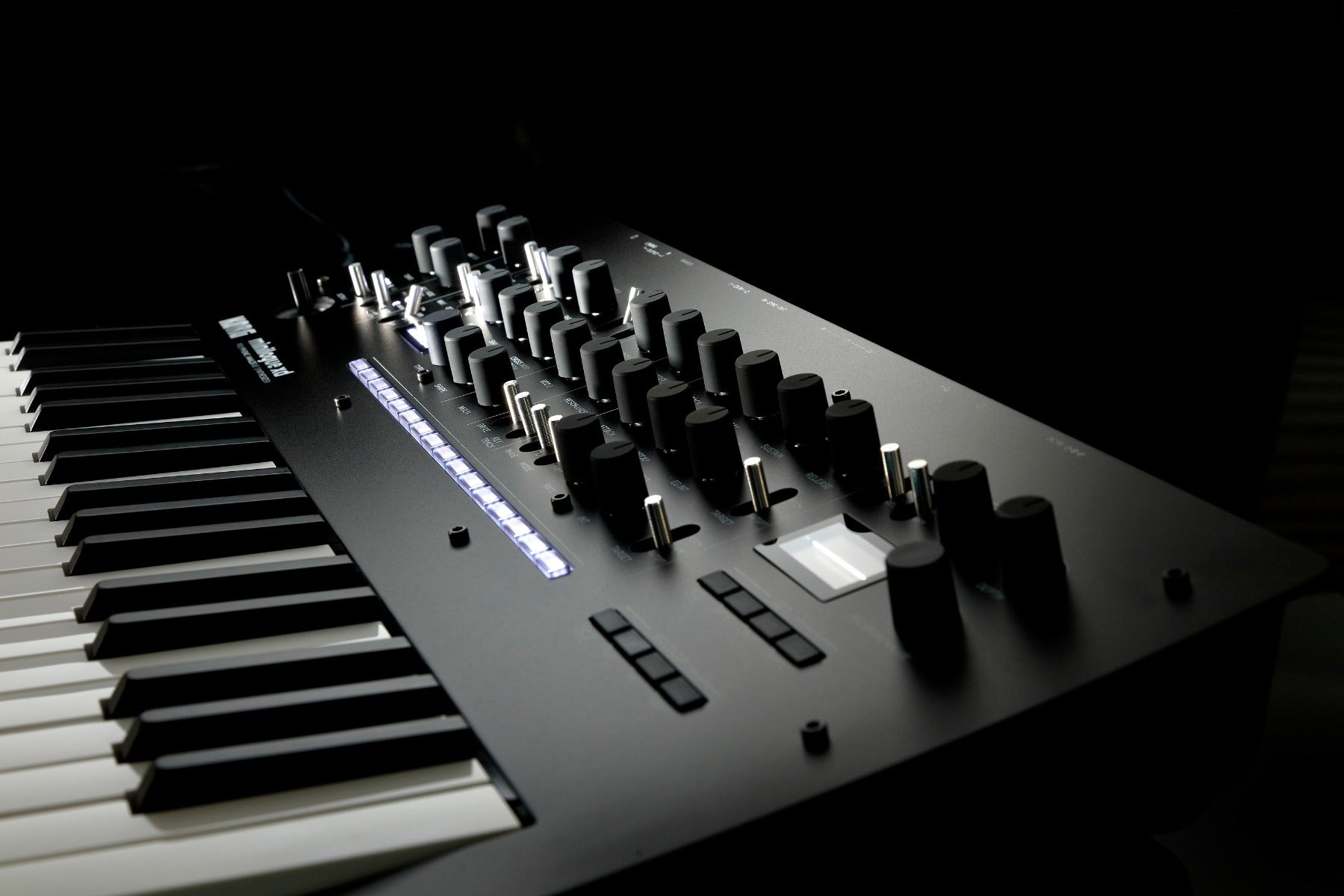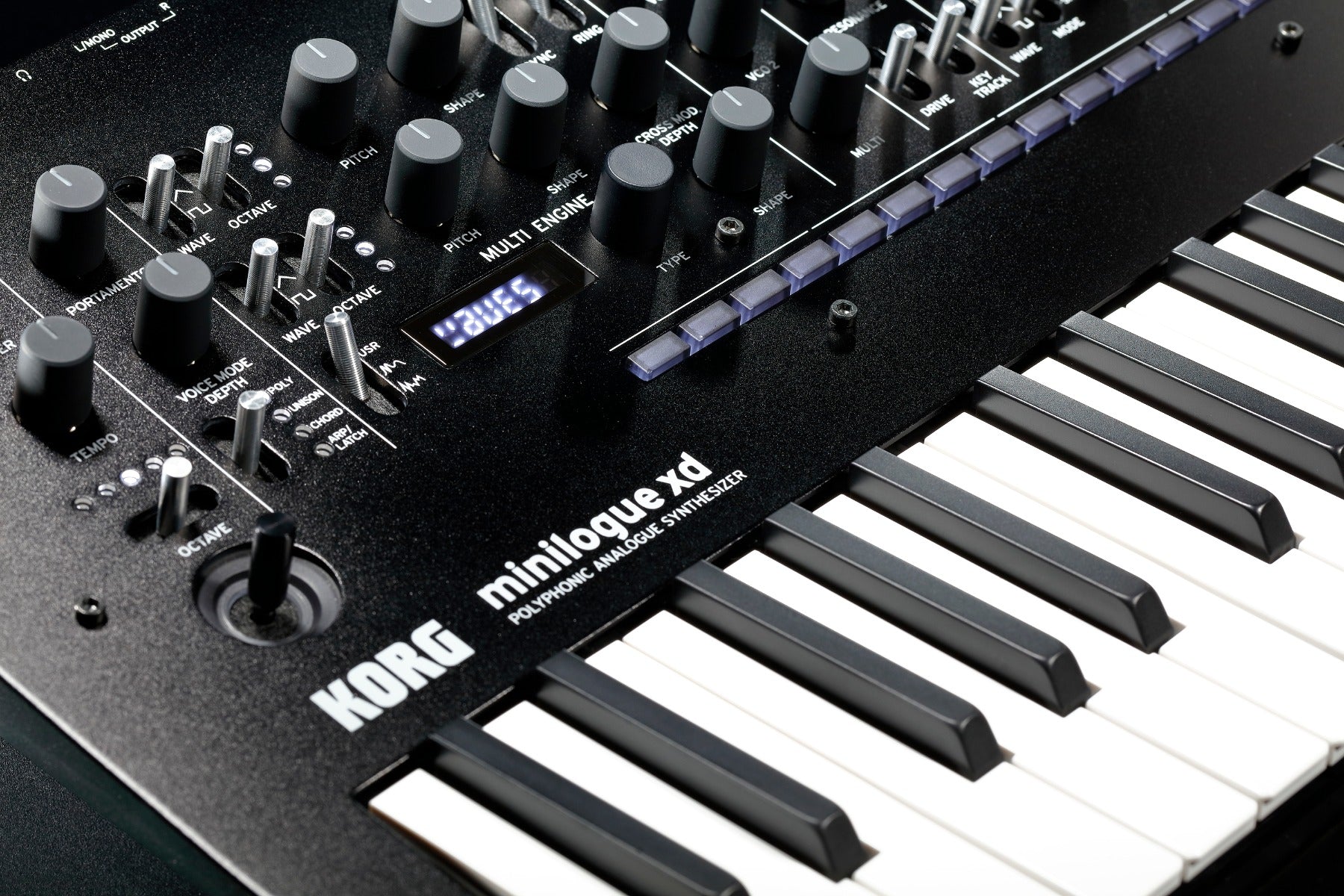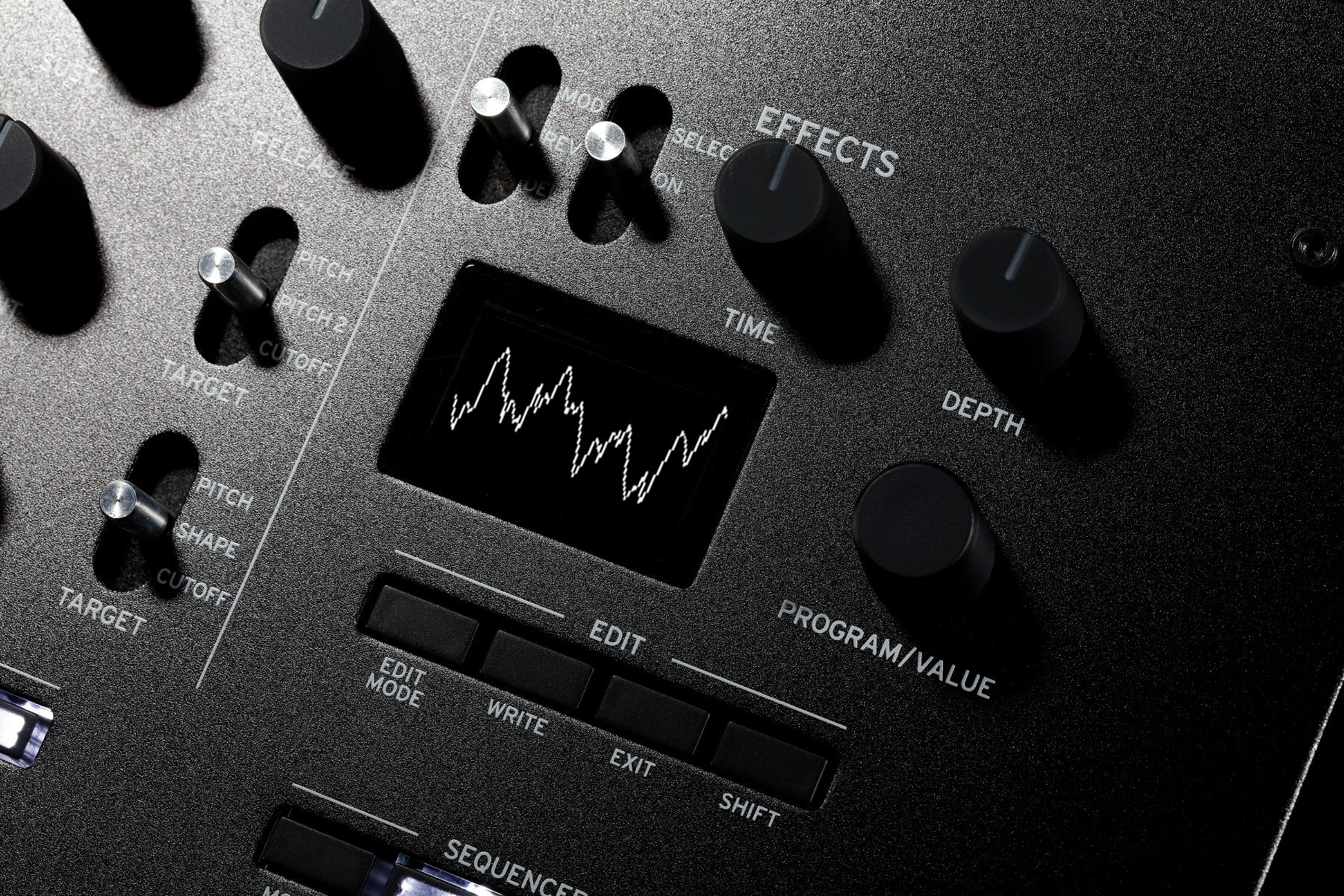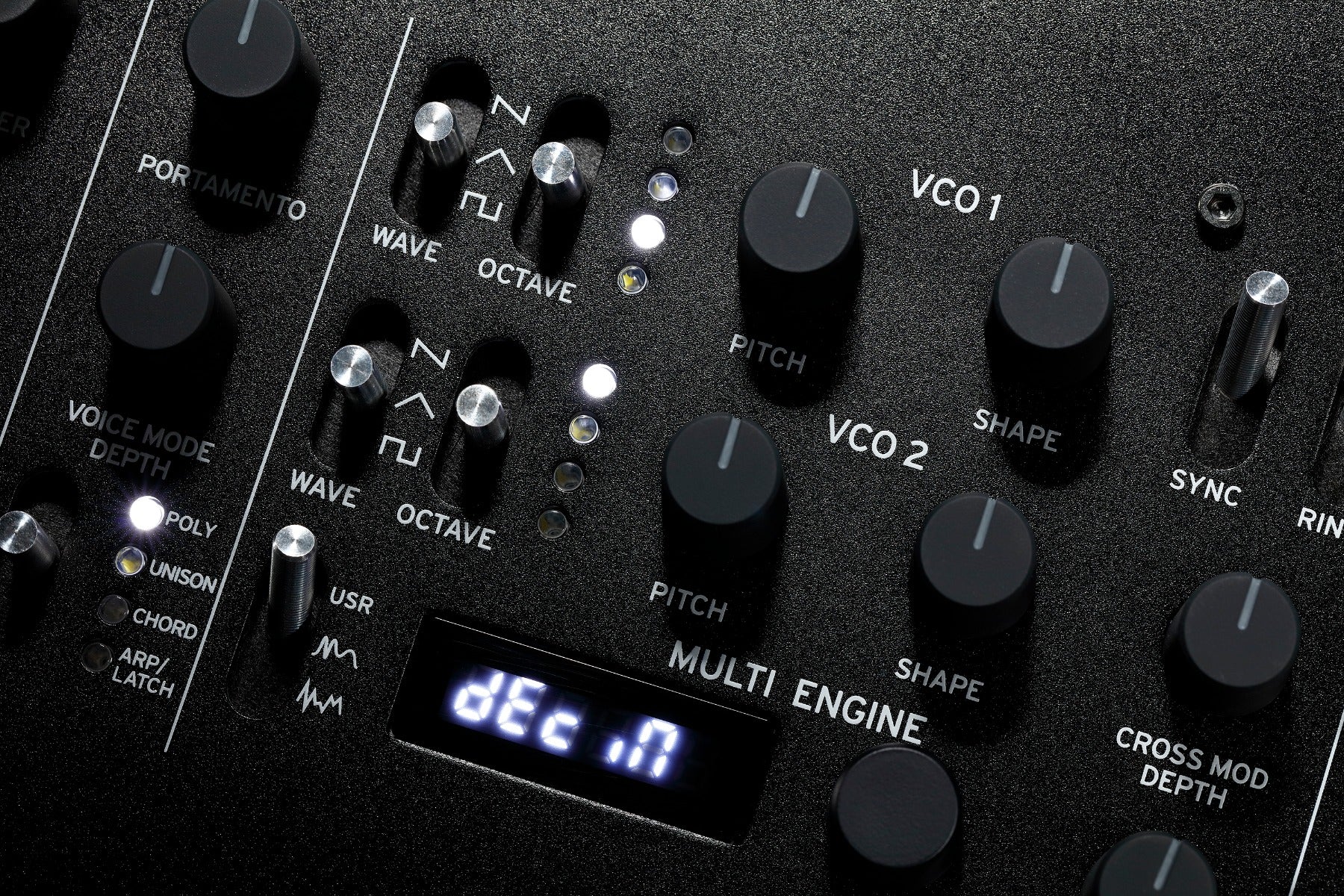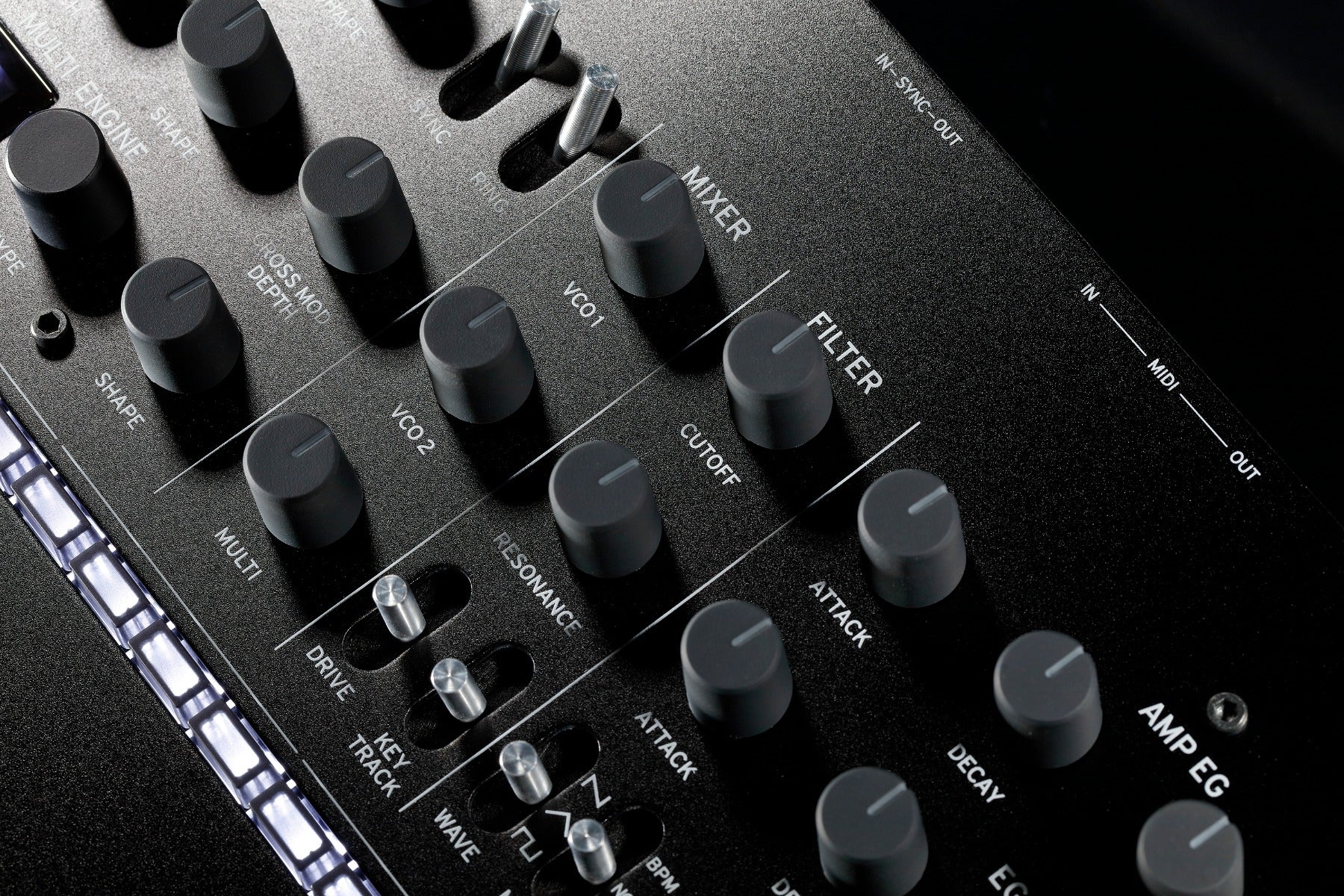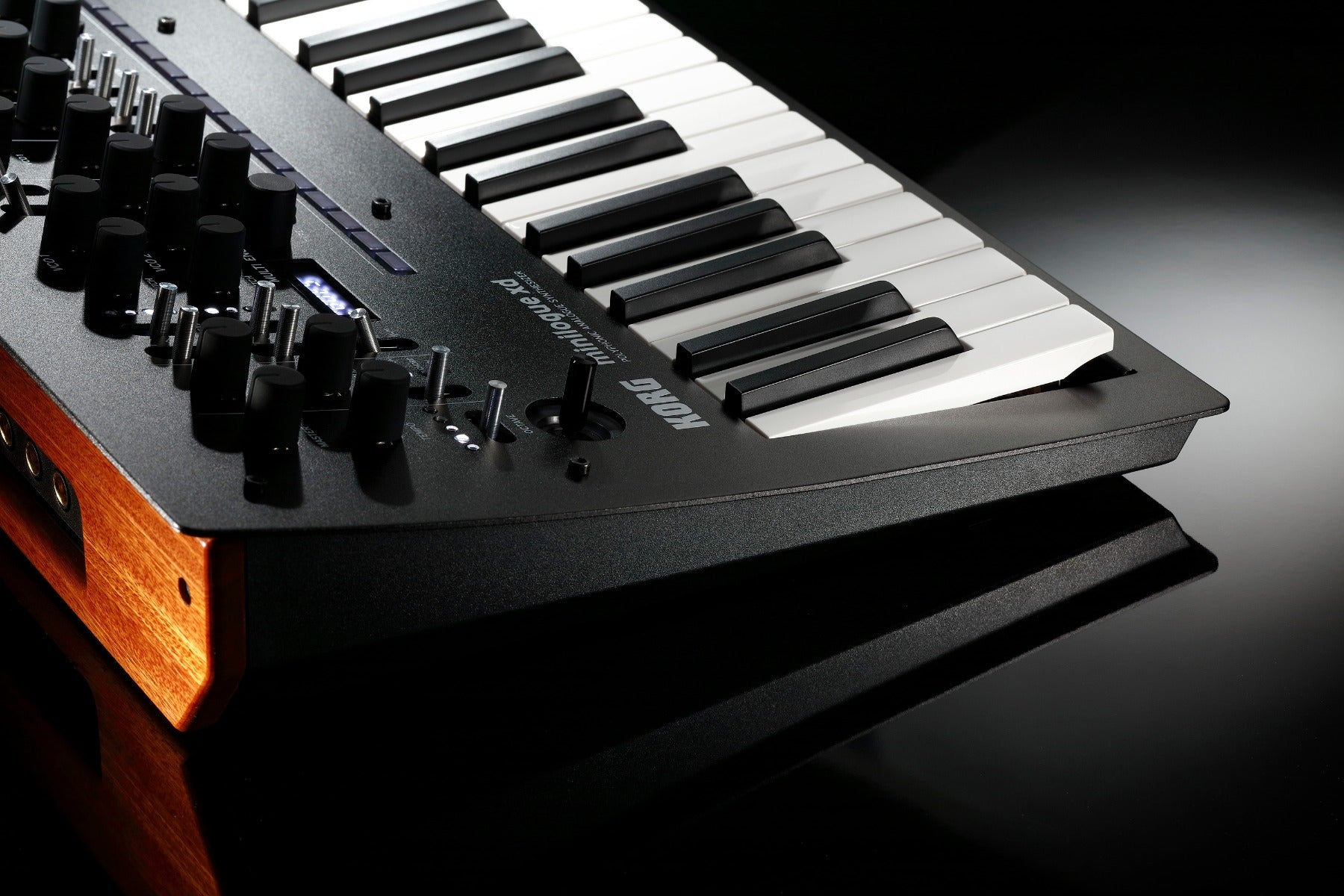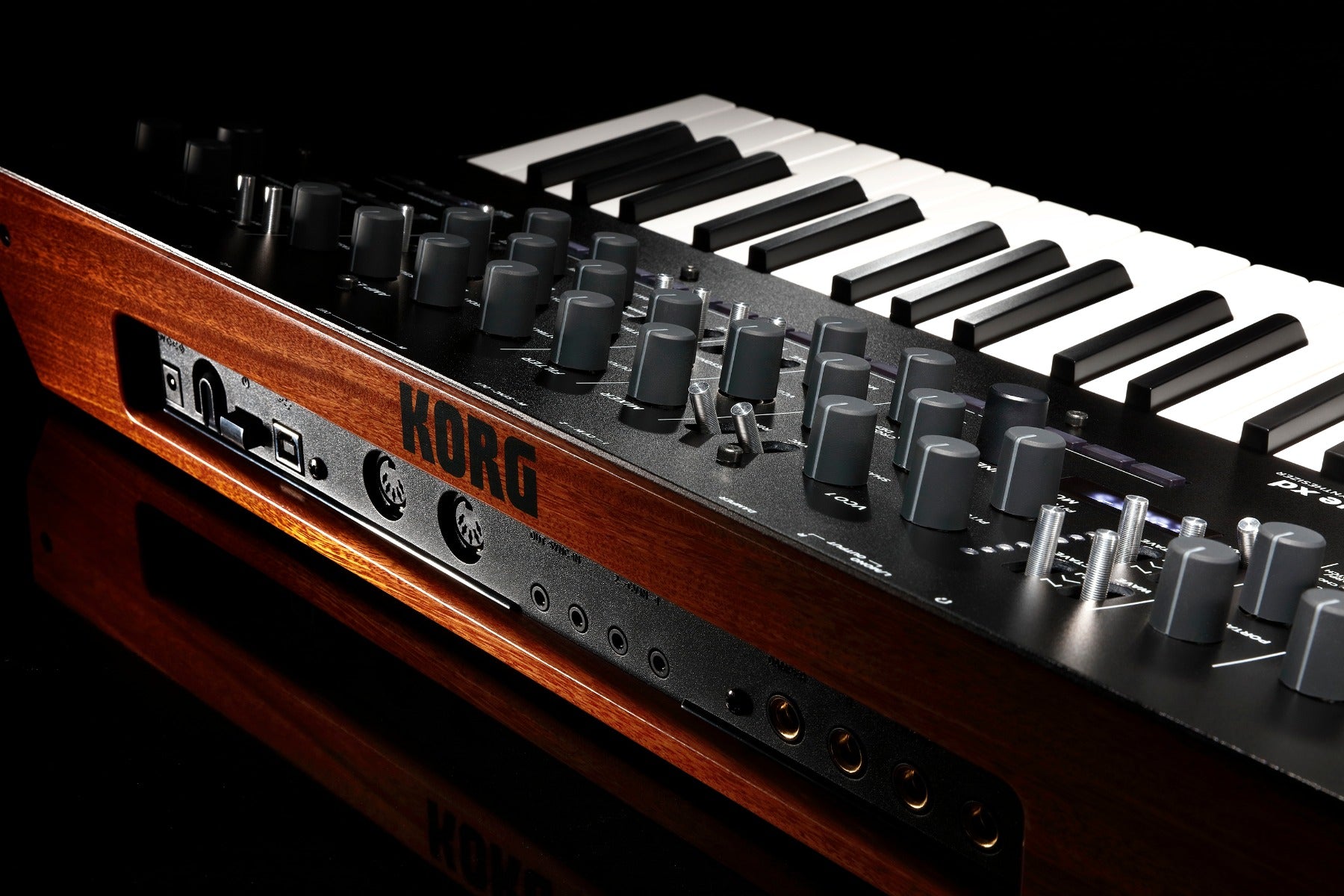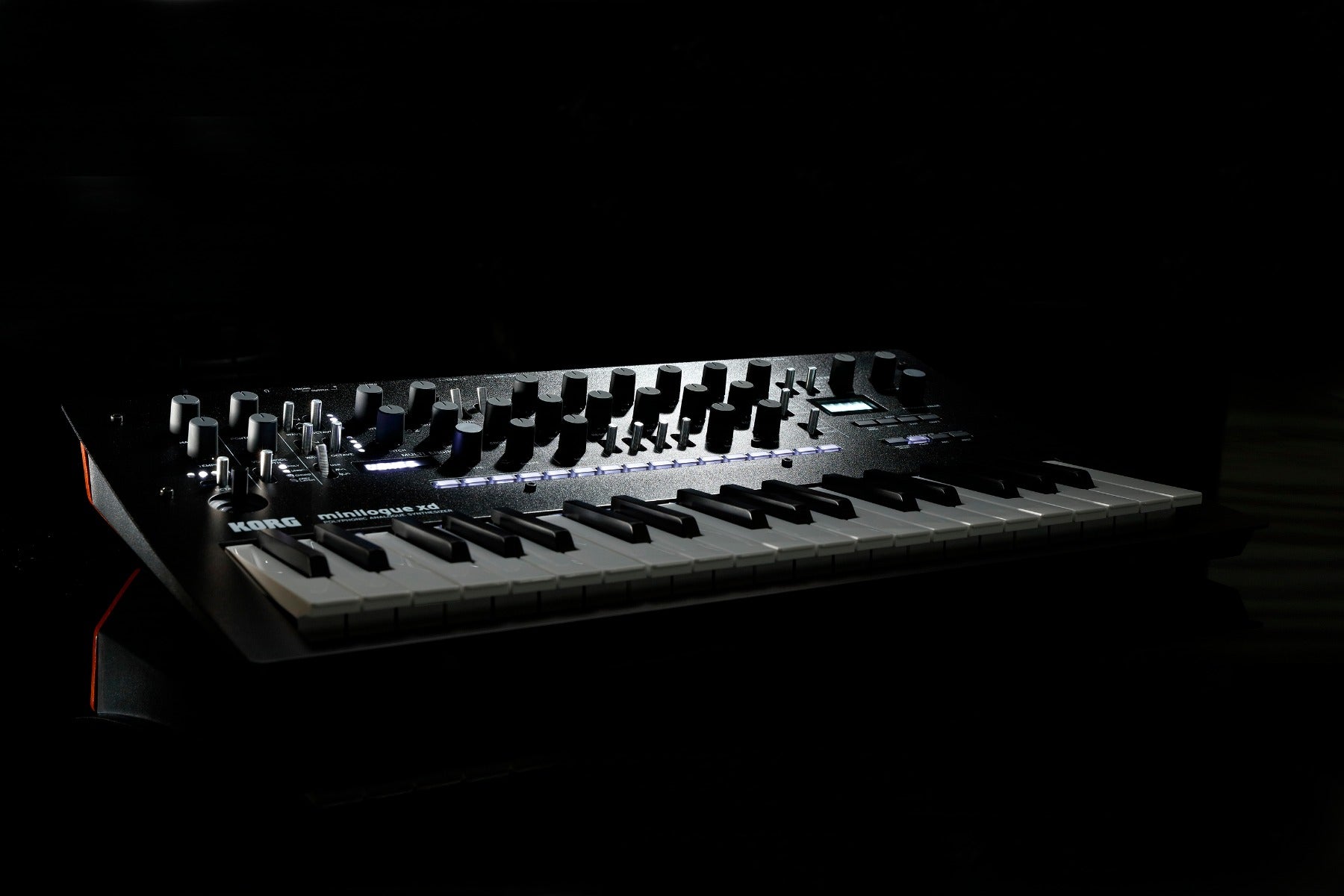 Korg Minilogue XD Polyphonic Analog Synthesizer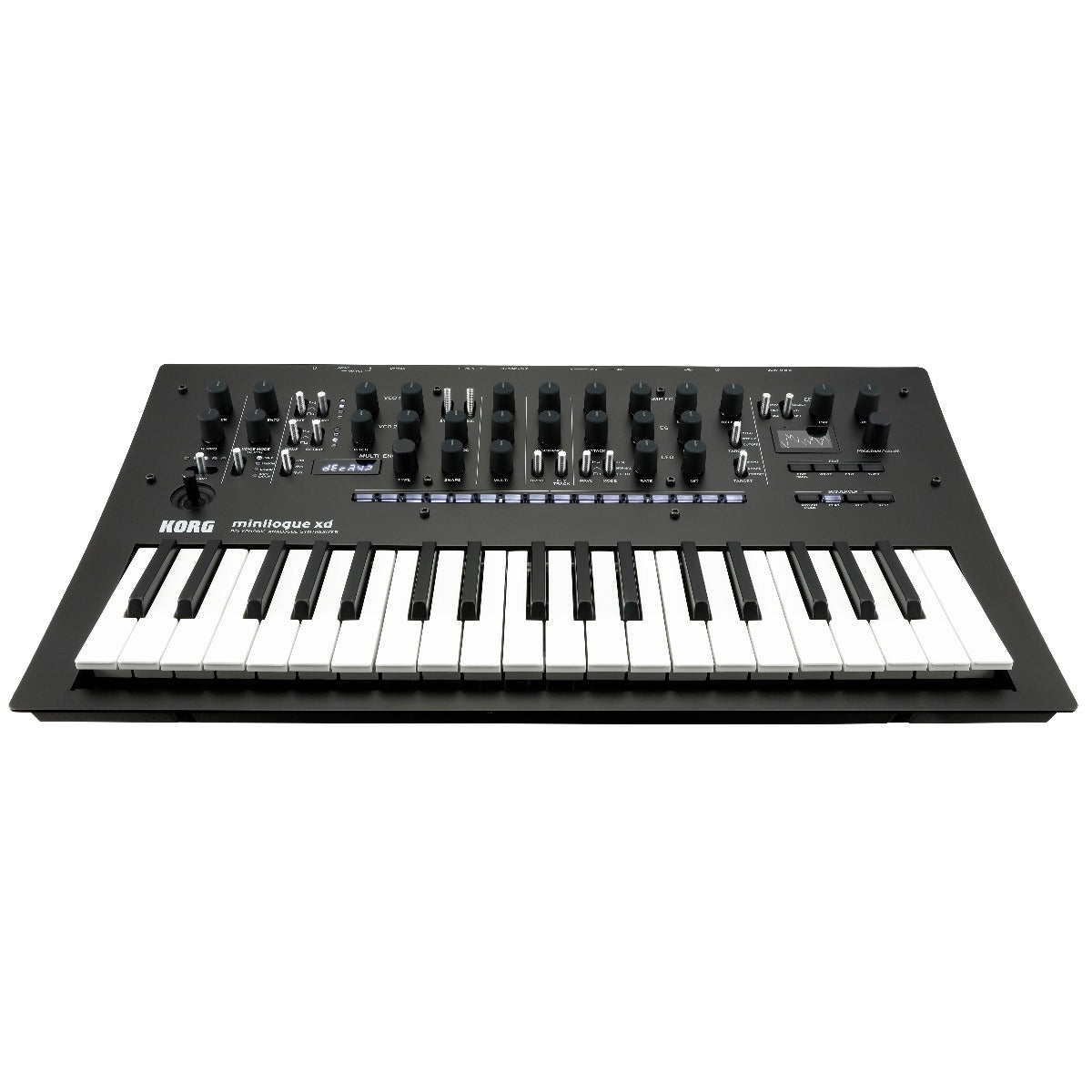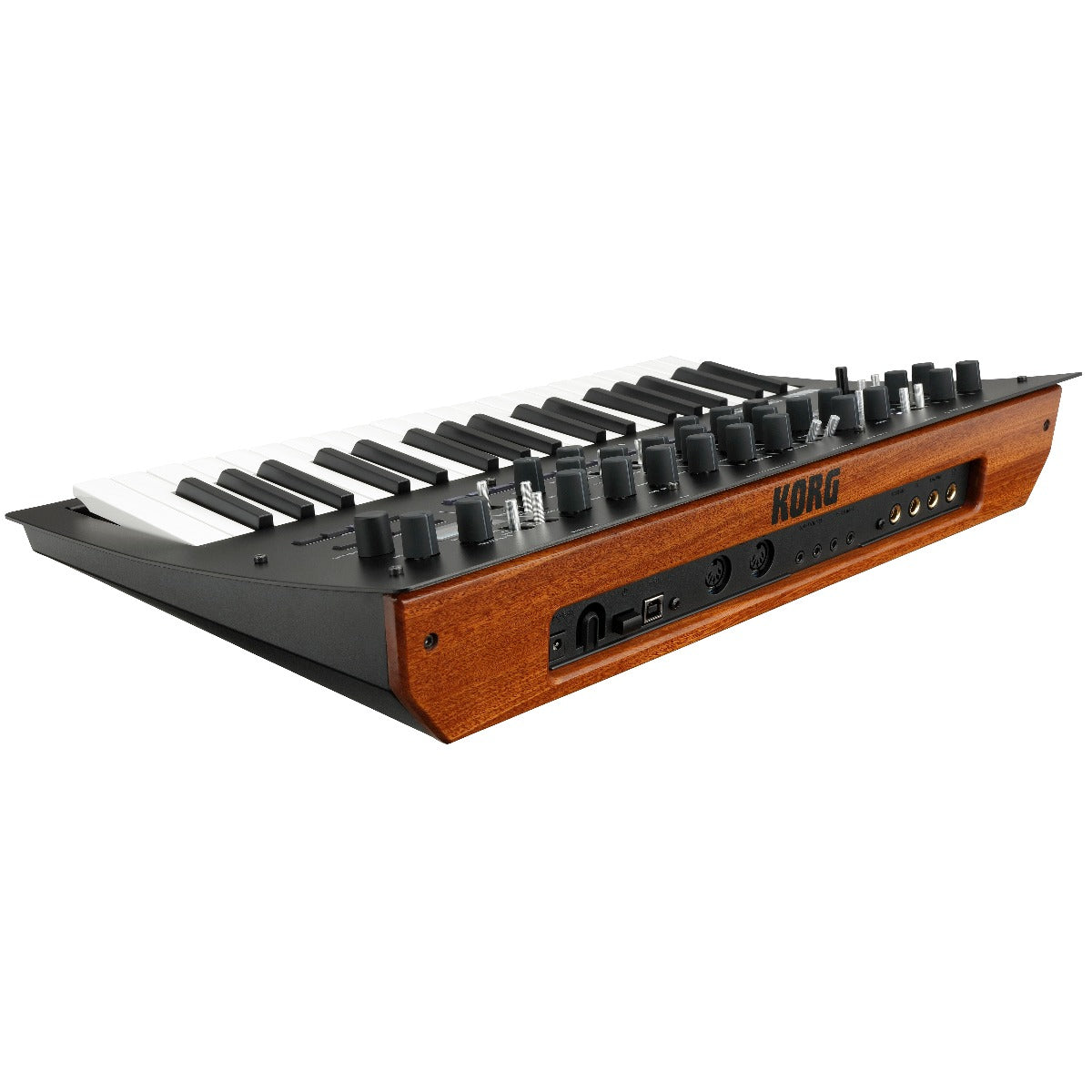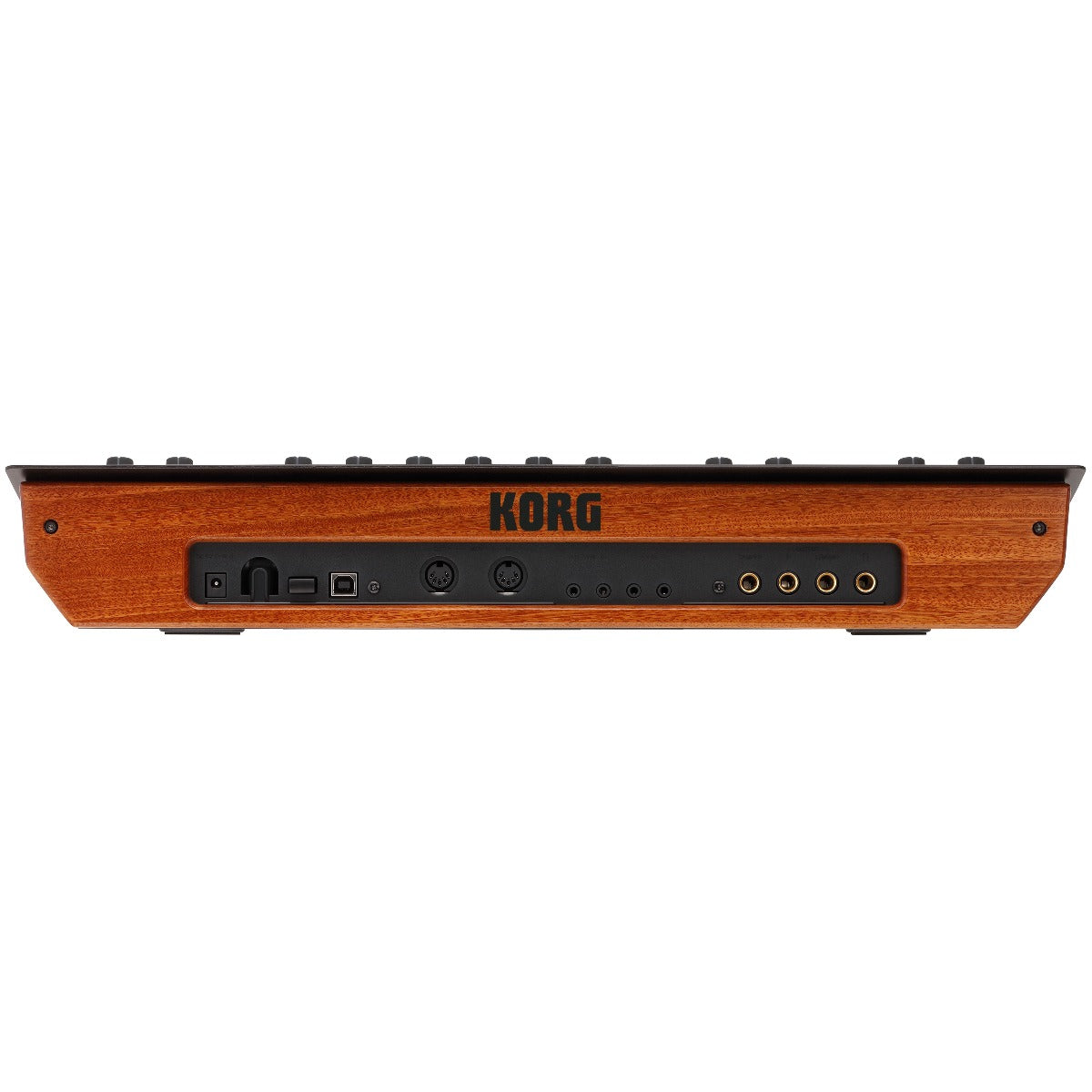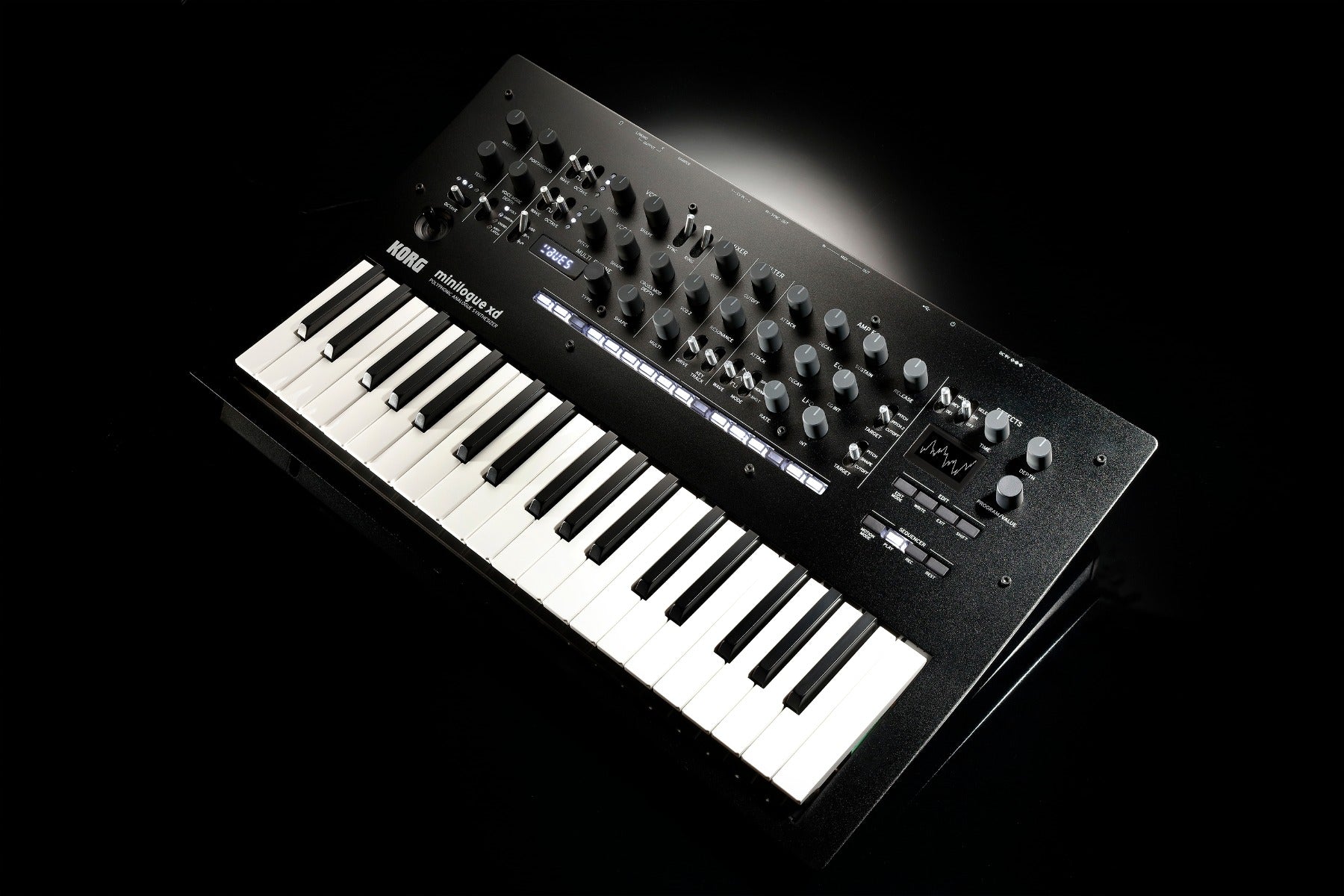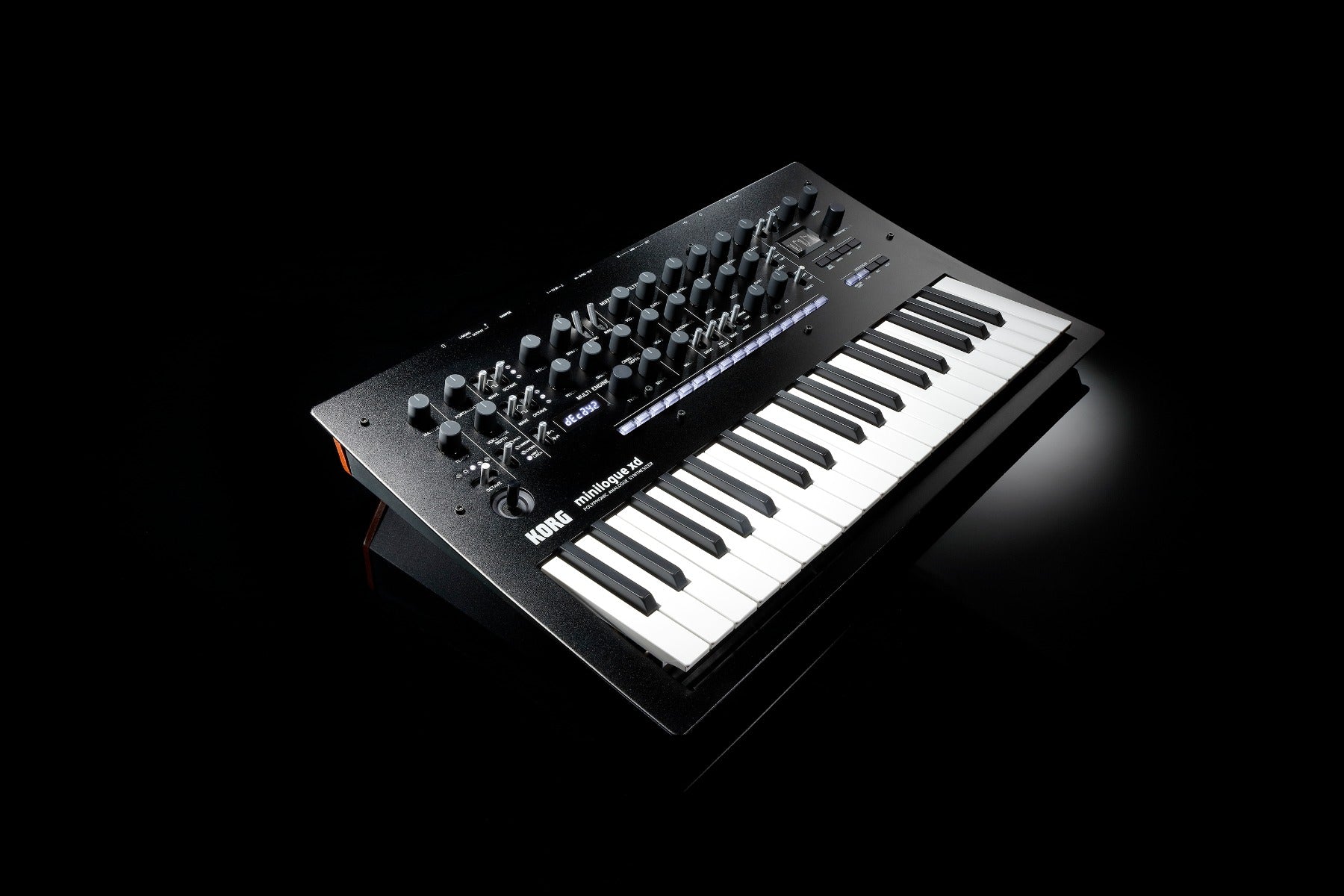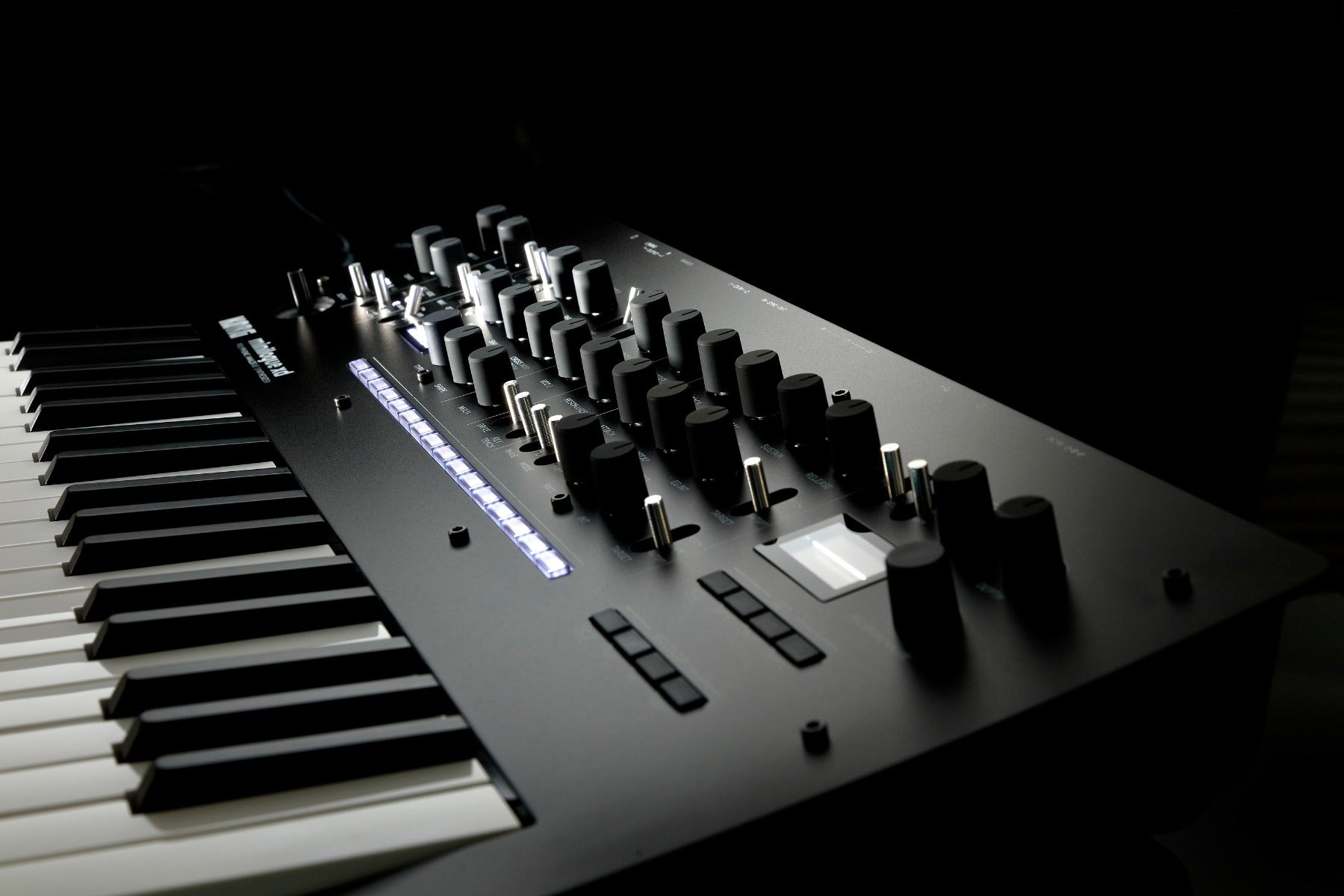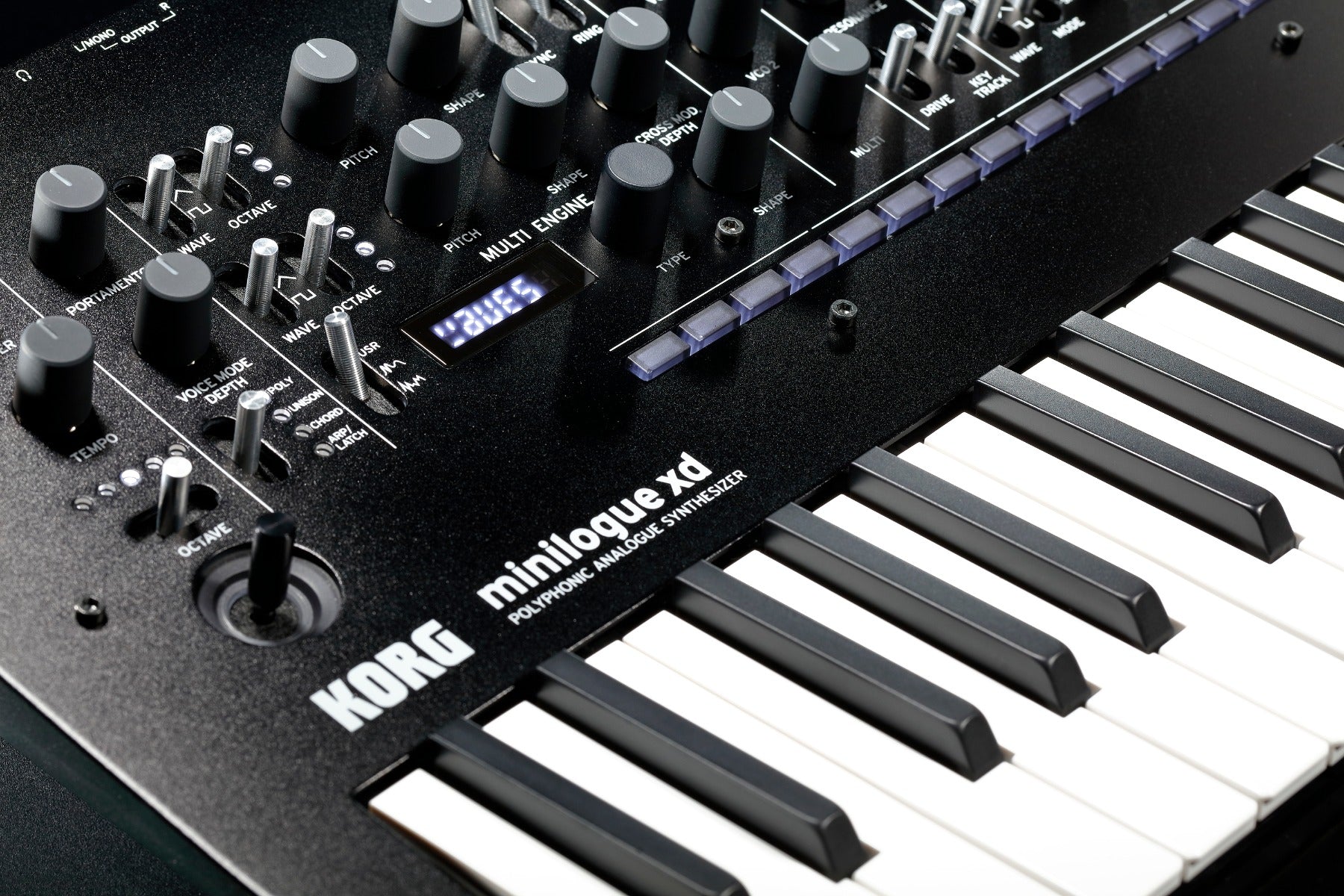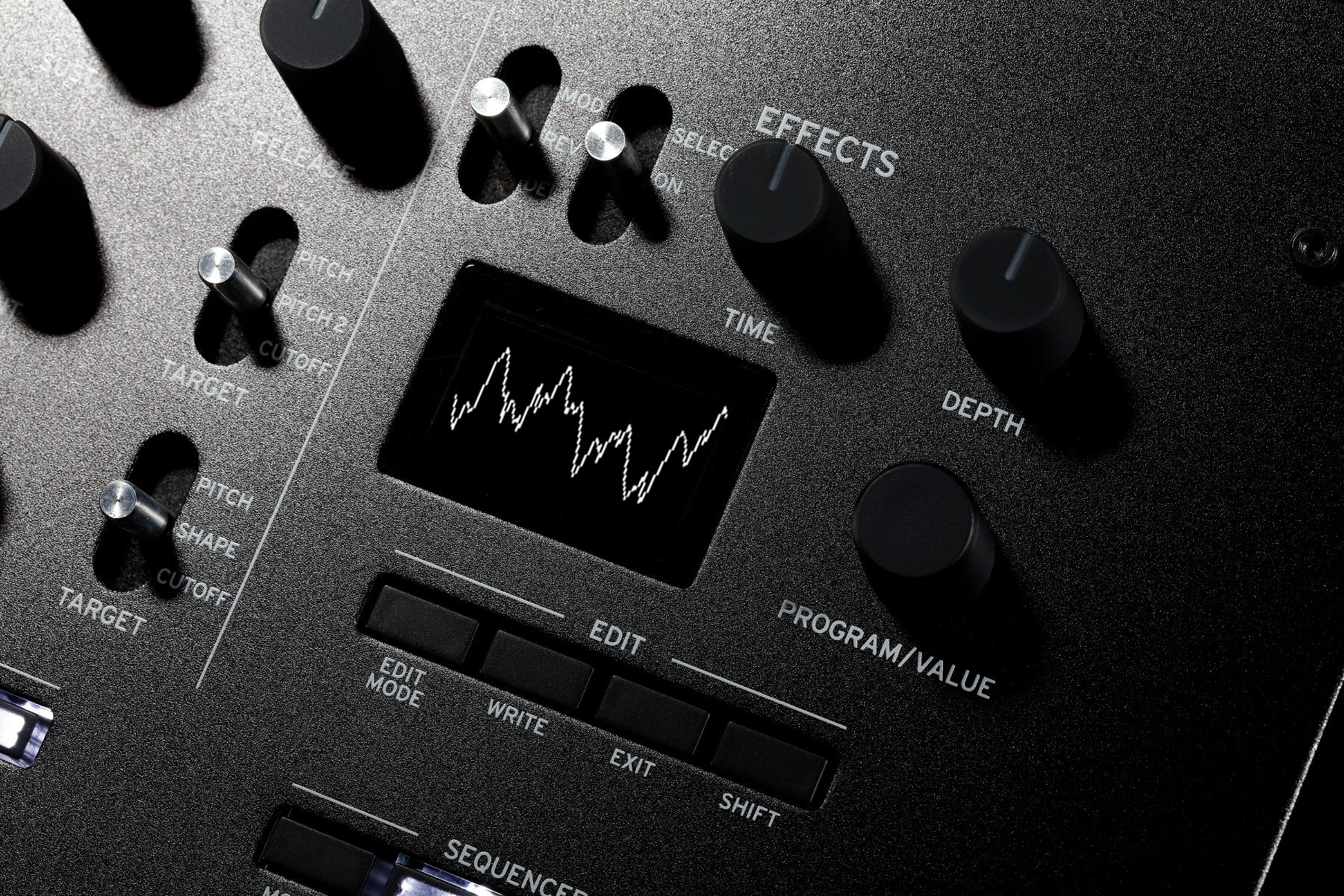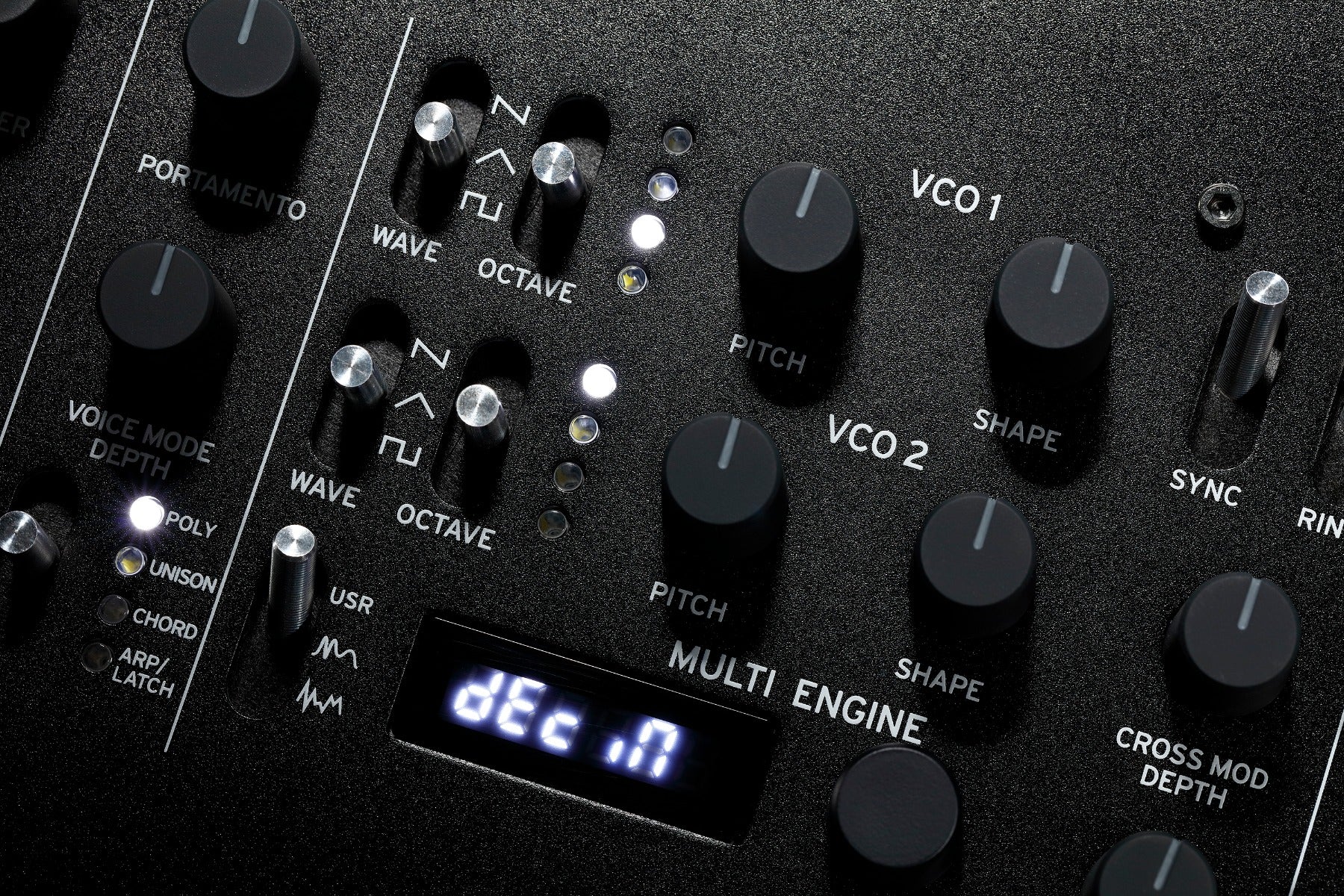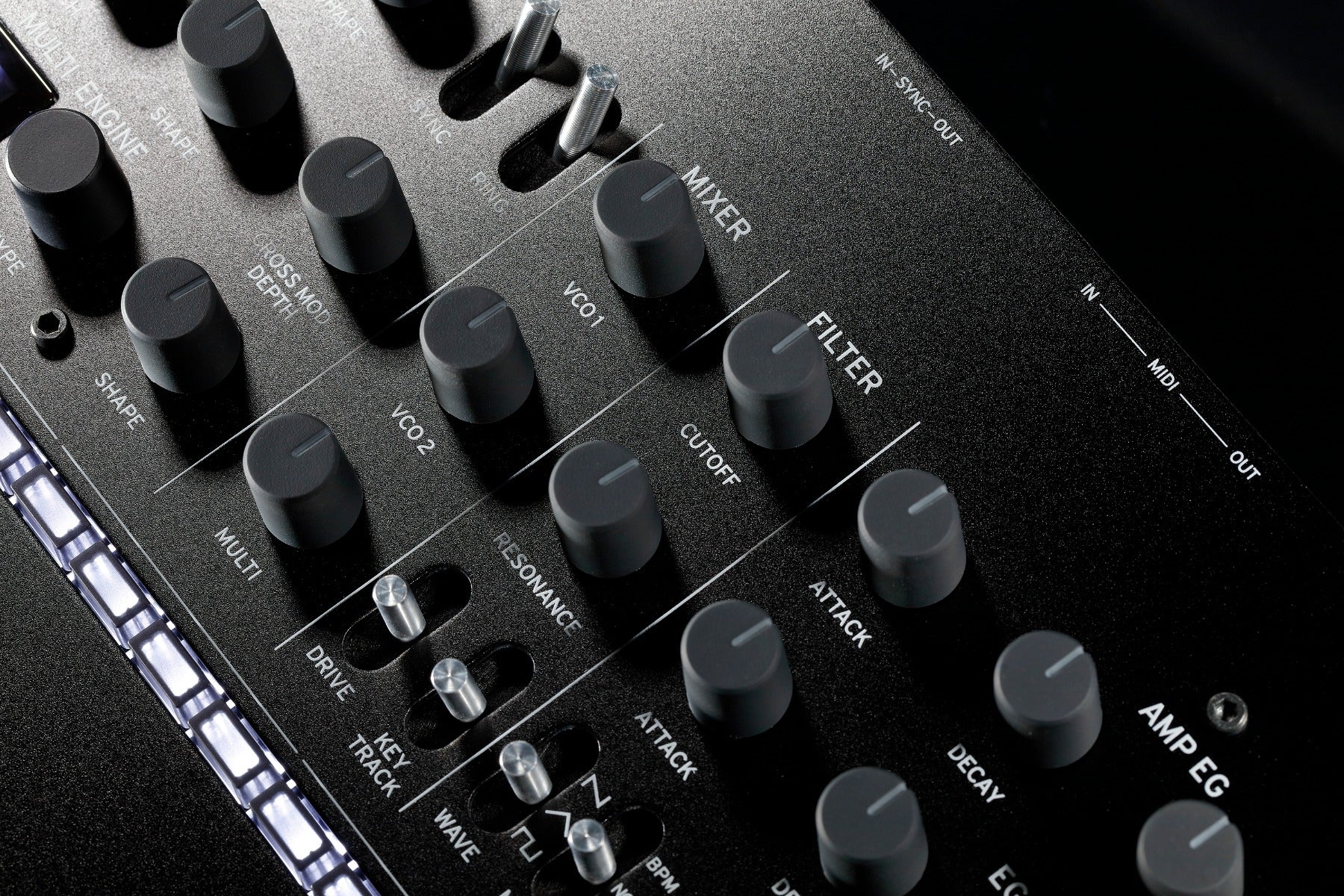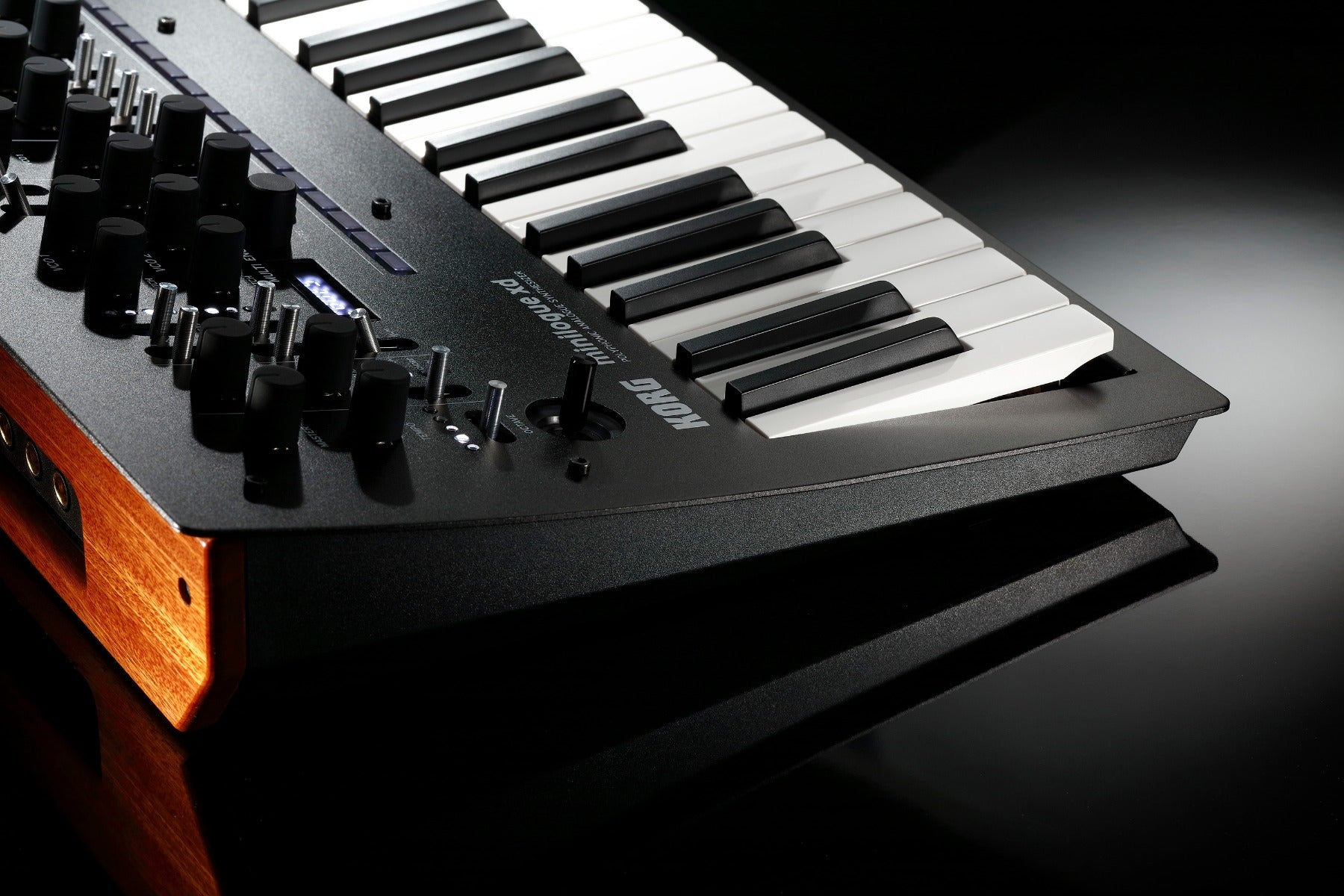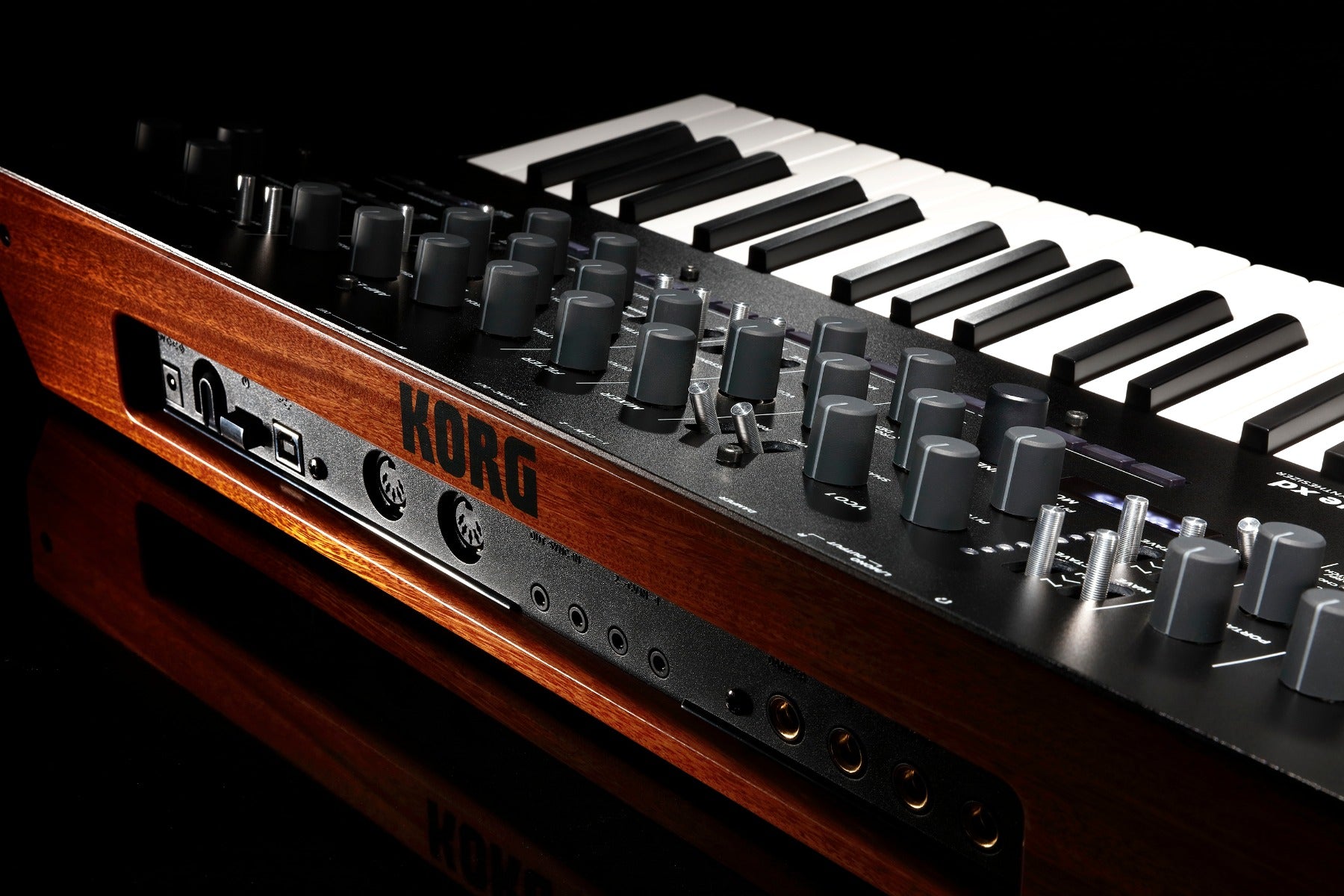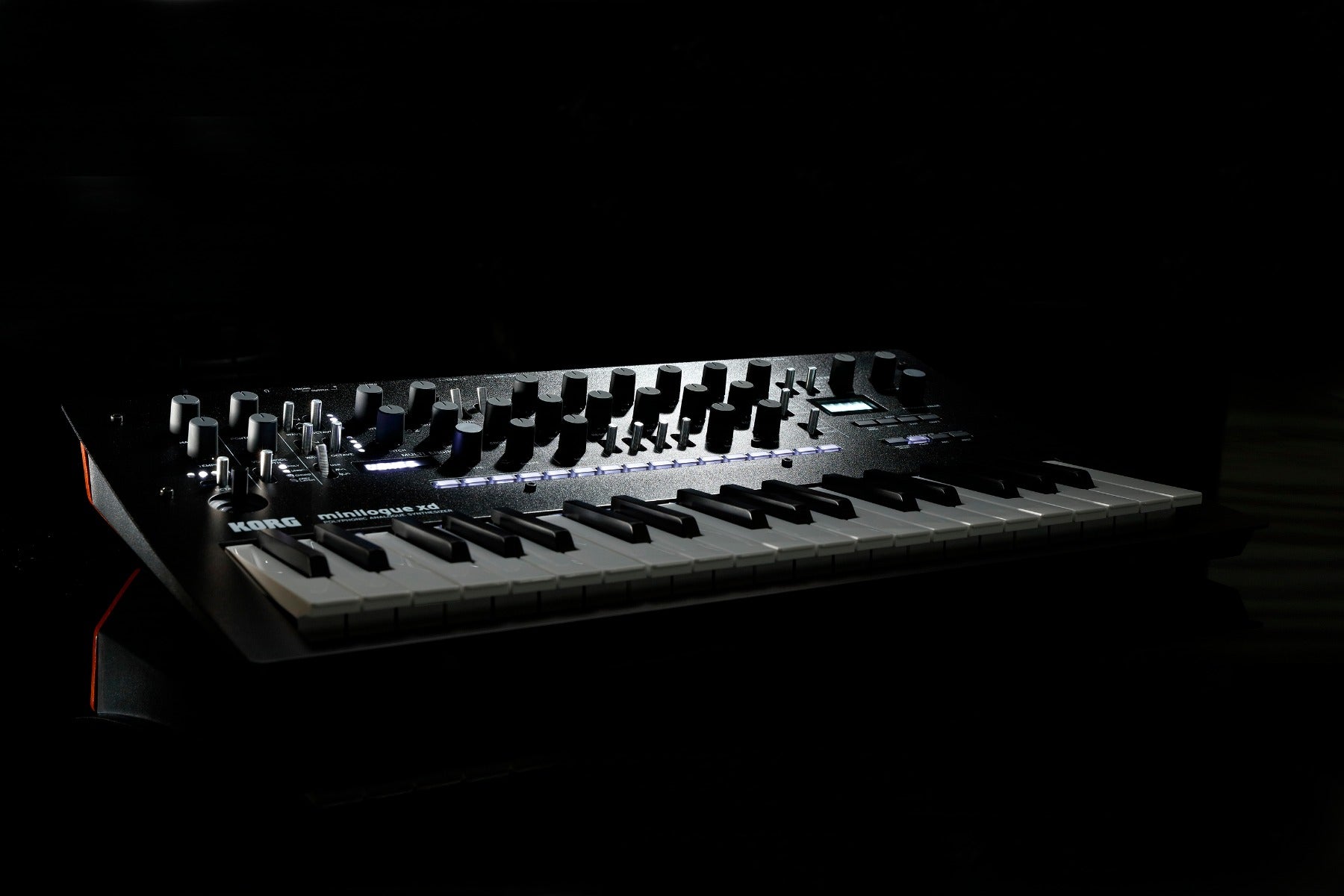 Korg Minilogue XD Polyphonic Analog Synthesizer
The Minilogue xd is a fitting successor for the original groundbreaking Minilogue. In addition to emphasizing the same real analog sound and joy of controlling an electronic musical instrument offered by the original Minilogue, the Minilogue xd newly adds a digital multi-engine, effects, a powered-up sequencer, and micro tuning functionality, further expanding the possibilities for sound design and performance potential.
4-voice polyphonic
37-keys slim-key, velocity sensitive keyboard
2 analog oscilators
New digital multi-engine
Three types (modulation effects, reverb, and delay) can be used simultaneously
16-step polyphonic sequencer
X-Y Joystick
Micro tuning
Oscilloscope and motion view display
Stereo Output
Sustain Pedal Jack
Two CV Inputs
Analog synthesizer circuit that shatters expectations for its class
The analog synthesizer circuit of the Minilogue has been further developed and improved for the Minilogue xd. The voice structure of Minilogue xd is 2VCO + MULTI ENGINE, 1VCF, 2EG, 1VCA, and 1LFO. In addition to the distinctive circuits found in the series, such as wave shaping to shape the overtones of the oscillator and a sync/ring switch, there's also cross modulation, a sharp two-pole filter, and a drive switch that adds thickness and drives signal into Minilogue xd's filter. The sounds range from the warm pads typical of analog to fat basses and crisp lead sounds, covering every situation.
Equipped with a digital multi-engine
The additional sound design possibilities of digital sound are delivered by the multi-engine that's provided as a third oscillator in addition to the two analog VCOs. This engine, which is equipped with three different types of sound generator (noise, VPM, and user slot) lets you take advantage of a sonic character that's different than analog, and use it at the same time as the analog engine, infinitely expanding the potential of hybrid sound design.
Noise generator
The noise generator provides four types of noise that are indispensable for percussive sounds or for sound effects. You can use the digital filter to directly change the color of the noise.
VPM oscillator
Minilogue xd's multi-engine features a VPM (Variable Phase Modulation)/FM oscillator with a two-operator structure. It can produce sharp, metallic sounds with complex overtones beyond the possibilities offered by analog systems. With 16 types of oscillator and a SHAPE knob control, you'll be able to create complex sounds intuitively.
User oscillators
User oscillators allow you to load your own oscillator programs that you created or obtained via the internet. There are 16 user slots, as well as one type of morphing wavetable oscillator provided as a preset.
High-quality digital effects
Minilogue xd's high-quality digital effects use 32-bit floating point DSP processing, adding a finishing touch to its deep sound design platform. The three types (modulation effects, reverb, and delay) can be used simultaneously, letting you choose from a wide range of variations including chorus, ensemble, warm tape delay, and a diverse variety of reverb. The user effect slots allow you to load your own effect programs that you've created.
User customization brings out infinite potential
The Minilogue xd features a customizable open environment. The unit comes with 16 user oscillator slots and 16 user effect slots that you can customize. Oscillators and user programs that you've created with the SDK (Software Development Kit) can be loaded into the Minilogue xd via the dedicated librarian software. What sounds might arise from the fusion of the expanded digital oscillators with analog synthesis? Create original programs, share code, and participate in the user community. You can start with sample code provided by Korg.
Polyphonic step sequencer controlled by 16 buttons
The step sequencer provides 16 steps, and supports both realtime recording and step recording. You can use the 16 step buttons to select a step directly, allowing quick editing to replace the pitch of a step or to mute it, or even improvisatory performances. Motion sequence lets you record the movements of up to four knobs, adding time-varying change to the sound, and you can record not only smooth changes in value but also values that change precisely at each step. You can use this to design the sound differently at each step; for example, you might create a drum pattern or sound effect from just a single program. This allows countless ideas to be unleashed.
Voice mode
The four voice modes were selected for the Minilogue xd.
POLY: The Minilogue xd operates as a four-voice polyphonic synth.
UNISON: The unit operates as a monophonic synth, with the four voices working in unison.
CHORD: Chords are produced using one to four voices.
ARP / LATCH: (ARP) Provides an arpeggiator with up to four voices that can also be used while the sequencer is running / (LATCH) Switches latch on or off.
Joystick
A X-Y joystick has been added to control pitch bend and modulation depth. You can also map any desired parameter to the up/down axis. Use it to control filter cutoff, LFO rate, or other parameters for even more hands-on control of your patches.
Micro tuning
The Minilogue xd is equipped with the micro tuning function featured on the monologue, allowing you to individually adjust the pitch of each key. Built in are 23 preset tunings that include some created by Aphex Twin and Dorian Concept, and users can also create and store six user scales and six user octaves. Start by trying out the preset tunings of famous musicians, and then advance to creating your own original tunings.
Oscilloscope and motion view display
The organic EL display is now larger, and also provides oscilloscope functionality for you to view sound as the electrical signal's waveform. This makes parameter changes visible in real time, giving you visual feedback that helps you understand how the synthesizer works. The display can also show motion view for visualizing the movement of a stored motion sequence.
A full complement of input and output jacks
Minilogue xd's output is now stereo to accomadate new spatial effects such as reverb, delay, and chorus. Two CV IN jacks are provided, with voltage levels of -5V–+5V. In addition to CV/Gate, these can also input modulation signals, allowing you to use external devices to control parameters. A damper jack has also been added in response to requests from artists and users.
SKU
KOR-MINILOGUEXD
MPN
Minilogue XD
Vendor
Korg
Aftertouch
No
Analog Digital
Analog
Built In Speakers
No
Included From Manufacturer
Power supply
Keys Weighted
Semi-Weighted
Number of Keys
37
Key Size
Slim Keys
Midi
In, Out, and USB
Mono Poly
Polyphonic
Mpn
MINILOGUEXD
Product Unique Features
Built-in OLED display features a real-time oscilloscope, providing functional and eye-catching visual feedback on the sound being played
Arpeggiator
Yes
Control Connections
1/4" damper pedal input
(2) 1/8" CV inputs
1/8" sync input
1/8" sync output
Onboard Controllers
Joystick
Effects
Reverb
Delay
Modulation effects
16 programmable/configurable user effect slots
Expansion Options
Poly chain support for up to 8-voice polyphony with another Minilogue XD or Minilogue XD Module (sold separately)
Audio Outputs
Dual 1/4" stereo output
1/4" headphone output
Oscillators per Voice
Varies by Sound Engine
Product Weight
6.17 lb
Programs/Presets
500 programs: 200+ presets, 300 user programs
Sequencer
16-step polyphonic sequencer
Motion sequence can be used on up to four parameters
USB Port (to Host)
MIDI;System Updates;Editor/Librarian/Patch Manager
Voices of Polyphony
4
Width
19.69"
Depth
11.81"
Height
3.35"
Korg USA Warranty Policy
All Korg products purchased from a Korg USA authorized dealer are warranted to be free from defects in material and workmanship to the original consumer for a period of one (1) year.
Register your new Korg keyboard, keyboard rack module or digital piano online and receive a certificate that extends the product warranty for an extra year from the date of purchase. Product must be registered within 90 days of purchase to receive an extra year of warranty.
Tuner and Metronome products are warranted to be free from defects in material and workmanship to the original consumer for a period of three (3) years.
Tubes, AC Adapters and Foot Switches are warranted to be free from defects in material and workmanship to the original consumer for a period of ninety (90) days.
The customer must provide proof of purchase in order to obtain warranty service. The dated sales slip or copy thereof is the only acceptable proof of purchase.
The product must be purchased from a Korg USA authorized dealer and have a valid serial number.
This warranty is valid only in the USA.
Damage resulting from the following causes are excluded from the warranty set forth above: misuse, including damage occurring during shipment, damage caused by battery leakage, accident, fire, unauthorized repairs, tampering, cosmetic damage or other types of damage which are the result of improper handling or abuse; the cleaning of controls or contacts due to exposure to dirty, dusty, or otherwise contaminated environment; damage resulting from modification; damage to units used for loan or rental.
Ground shipping is FREE for all orders $99 and up.