Skip product carousel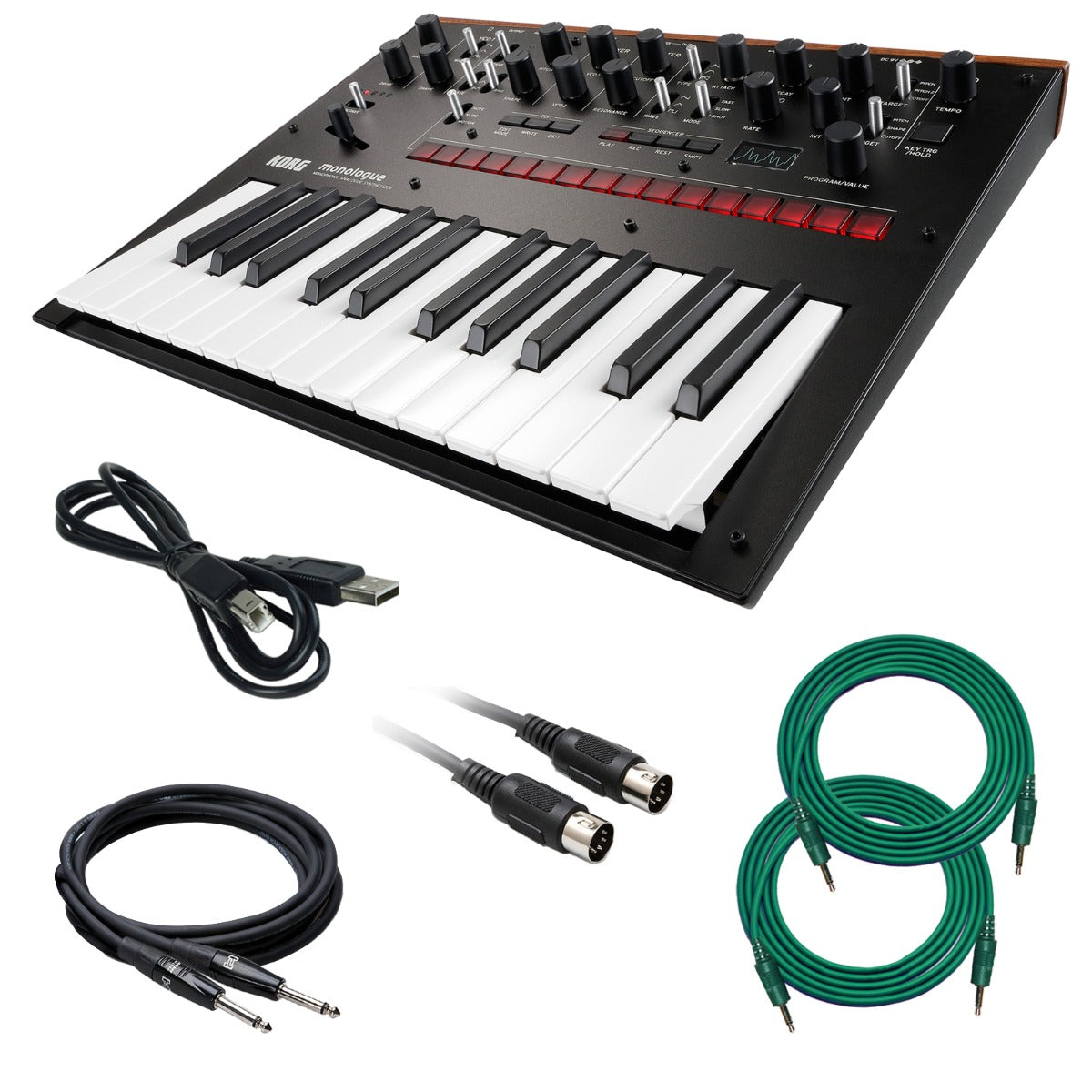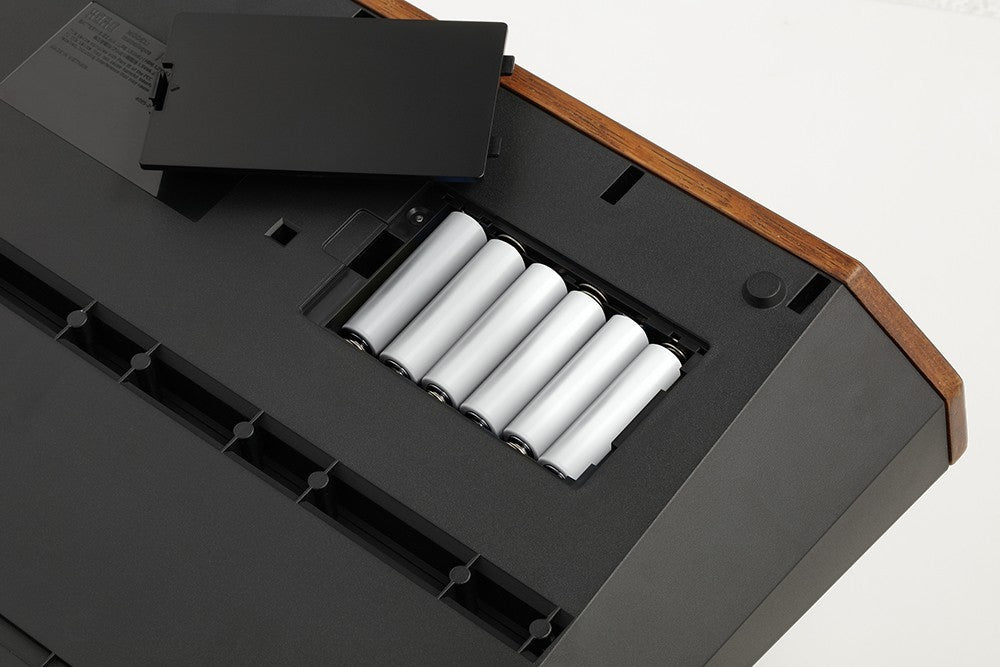 Korg Monologue Monophonic Analog Synthesizer - Black CABLE KIT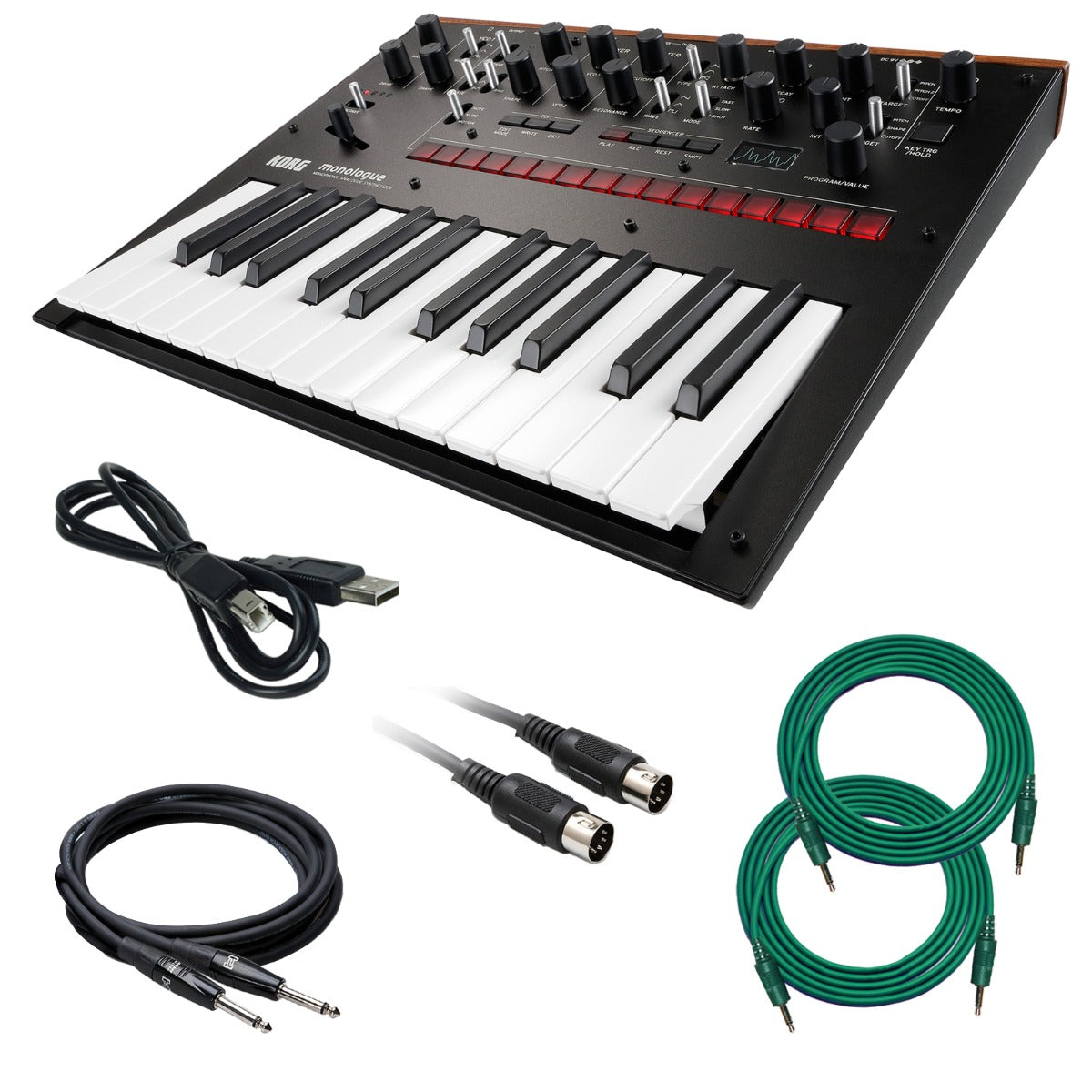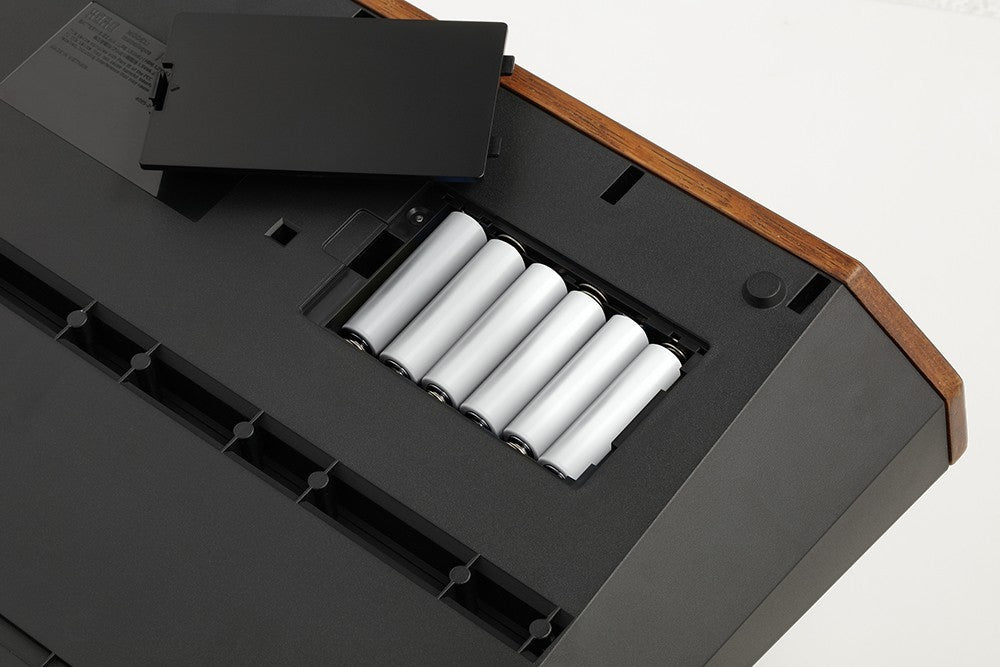 Korg Monologue Monophonic Analog Synthesizer - Black CABLE KIT
5 items included
This Kraft Music Bundle Includes
$374.99
Regular price
$409.74
You Save $34.75
Click on a product to view more details.
Korg Monologue is a truly unique synthesizer for all types of musicians featuring unique voicing and sound sculpting abilities, a versatile step sequencer, an exciting micro-tuning feature and more — all at an amazing price.
Analog synthesizer optimized for amazing monophonic sounds and sequences
Fully programmable with 100 program memories (80 presets included)
16-step sequencer with extensive motion sequence technology to make your sound move
Microtuning lets you freely create scales and alternate tonalities
Oscilloscope function helps visualize the waveform in real time
Battery-powered for portability
Rugged and stylish with aluminum top panel, chassis-mounted pots, rubber-coated knobs and real wood back panel
MIDI, USB MIDI and audio sync for all types of in-studio and live connectivity, including direct sync with Minilogue, SQ1, Volca, Electribe and more
Five color variations that will shine on stage or in the studio
A fully programmable analog synth
Monologue gives you knob-per-function programmability so you can create everything from crushing basses to crisp leads and complex rhythmic soundscapes quickly and easily. Even better, Monologue has 100 program locations (80 preset + 20 user), a first for an analog keyboard at its price. Each location can also retain its own 16-step sequence, including motion sequence automation.
A voice above the crowd
Monologue's engine starts with the same ground-up synthesis design that made Korg Minilogue famous and adds features focused on amazing monophonic sounds. A new 2-pole VCF provides added bite, and a new analog drive circuit delivers further punch and richness. The LFO has expanded control capabilities as well, with higher rates for deeper modulation possibilities.
Micro tuning
Want to go microtonal? Monologue's new micro tuning feature — with a separate tuning per note — offers everything from slight detunes to all-out dissonance. In addition to factory scales, Monologue has 12 user-savable scale locations. And don't worry, Monologue offers the same self-tuning circuit as Minilogue, so you can always expect solid, well-tempered tuning — not 'temperamental tuning' — when you're not exploring alternate ones.
Step sequencing, stepped-up
Monologue offers a powerful 16-step sequencer with a dedicated button per step for added ease of editing. It features motion sequencing with editing and the ability to 'lock' parameters with individual steps. The sequencer also offers on-the-fly transposition via key triggering. All of these powerful features can be used together to create complex, musical, and deeply dialed-in patterns.
In addition to 5-pin MIDI in/out and USB MIDI, Monologue includes audio sync connectivity, which allows it to play in time and integrate seamlessly with Korg Volcas, Electribes, Minilogue and SQ-1. Use Monologue with your DAW as both a USB MIDI controller and a versatile analog voice. Send clock over USB and use audio sync to chain Monologue's clock to other audio sync-equipped products.
The key of 'E'
Monologue features a 25-key version of the same great-feeling keybed as Minilogue — with a twist: instead of traditional C to C octaves, Monologue is laid out E to E so that those low bass notes are always there! With a low E right at your fingertips, guitarists and bassists will feel right at home adding Monologue to their live rig to expand their sound palettes.
Build quality to rival its sound quality
Monologue features the same rugged, high-quality build and standout looks as Minilogue. Plus, there are five vibrant colors to choose from: silver, black, red, blue and gold. The gorgeous curved aluminum top panel is married with chassis-mounted, rubber coated potentiometers for a look and feel that is substantial. The rear panel dons a real wood panel to bring add vintage feel to its ultra-contemporary design.
To round out the interface, you'll find a helpful, clear OLED display with a real working oscilloscope that lets you 'see' your sound. This display is unique to Korg's latest analog models, and is as fun and educational as it is informative. Monologue's display calls up parameters as you tweak, making it easy to understand the potential of this powerful little synth.
Monologue can run on 6 × AA batteries, making it the most portable analog keyboard of its size, ever. An optional 9V adapter is also available.
SKU
KOR-MONOLOGUEBKCK
MPN
Monologue Black
Vendor
Korg
Aftertouch
No
Analog Digital
Analog
Built In Speakers
No
Included From Manufacturer
(6) AA batteries
Keys Weighted
Semi-Weighted
Number of Keys
25
Key Size
Slim Keys
Midi
In, Out, and USB
Mono Poly
Monophonic
Mpn
MONOLOGUEBK
Arpeggiator
No
Audio File Playback
No
Control Connections
1/8" sync input
1/8" sync output
Onboard Controllers
Assignable slider
Audio Inputs
1/4" mono external audio input
Audio Outputs
1/4" mono main output
1/4" headphone output
Key Action
Synth action with velocity
Oscillators per Voice
2
Product Weight
3.78 lb
Programs/Presets
(100) program locations (80 preset + 20 user)
Sequencer
16-step sequencer
USB Port (to Host)
MIDI;System Updates
Voices of Polyphony
Monophonic
Width
13.78"
Depth
10.87"
Height
2.99"
Korg USA Warranty Policy
All Korg products purchased from a Korg USA authorized dealer are warranted to be free from defects in material and workmanship to the original consumer for a period of one (1) year.
Register your new Korg keyboard, keyboard rack module or digital piano online and receive a certificate that extends the product warranty for an extra year from the date of purchase. Product must be registered within 90 days of purchase to receive an extra year of warranty.
Tuner and Metronome products are warranted to be free from defects in material and workmanship to the original consumer for a period of three (3) years.
Tubes, AC Adapters and Foot Switches are warranted to be free from defects in material and workmanship to the original consumer for a period of ninety (90) days.
The customer must provide proof of purchase in order to obtain warranty service. The dated sales slip or copy thereof is the only acceptable proof of purchase.
The product must be purchased from a Korg USA authorized dealer and have a valid serial number.
This warranty is valid only in the USA.
Damage resulting from the following causes are excluded from the warranty set forth above: misuse, including damage occurring during shipment, damage caused by battery leakage, accident, fire, unauthorized repairs, tampering, cosmetic damage or other types of damage which are the result of improper handling or abuse; the cleaning of controls or contacts due to exposure to dirty, dusty, or otherwise contaminated environment; damage resulting from modification; damage to units used for loan or rental.
Ground shipping is FREE for all orders $99 and up.