Skip product carousel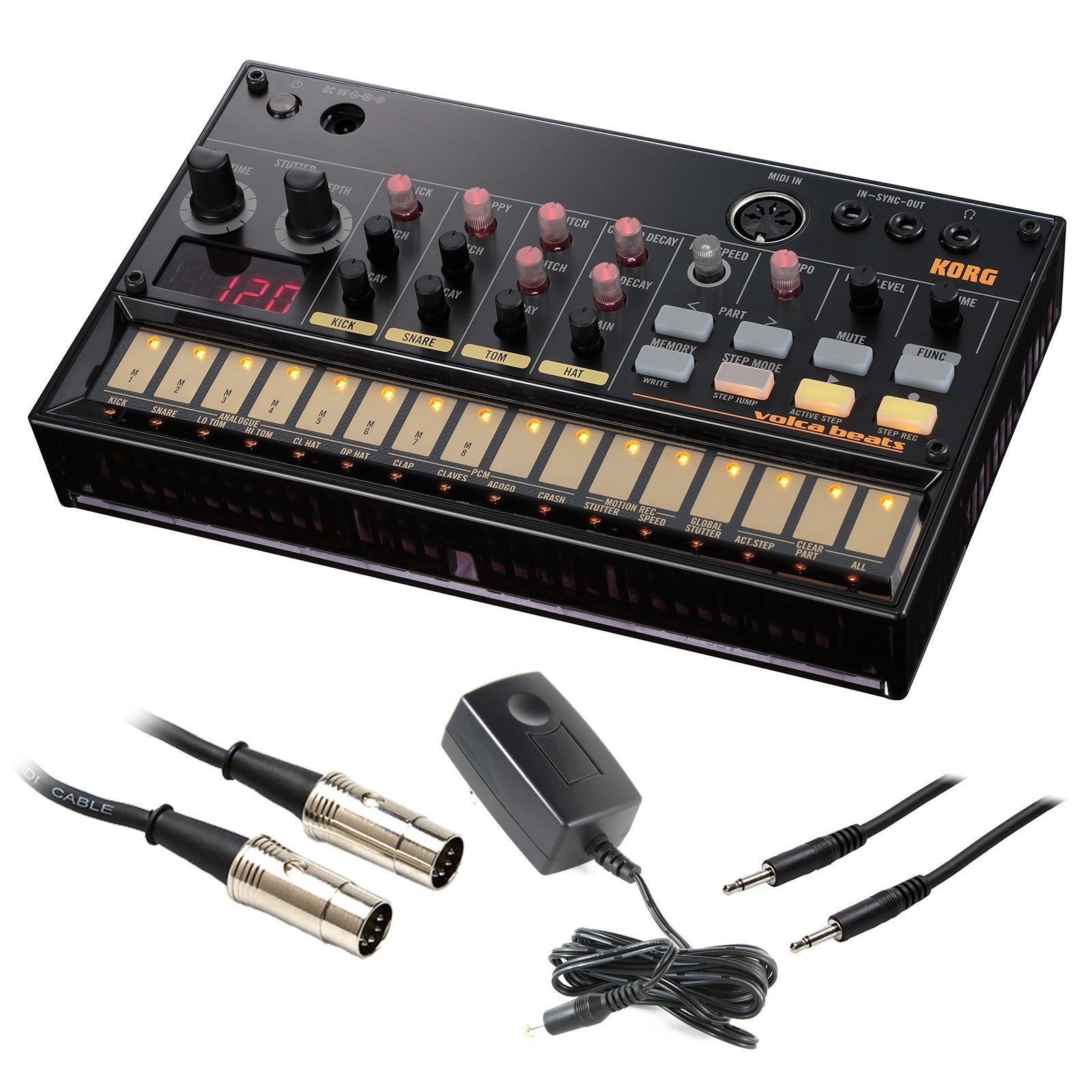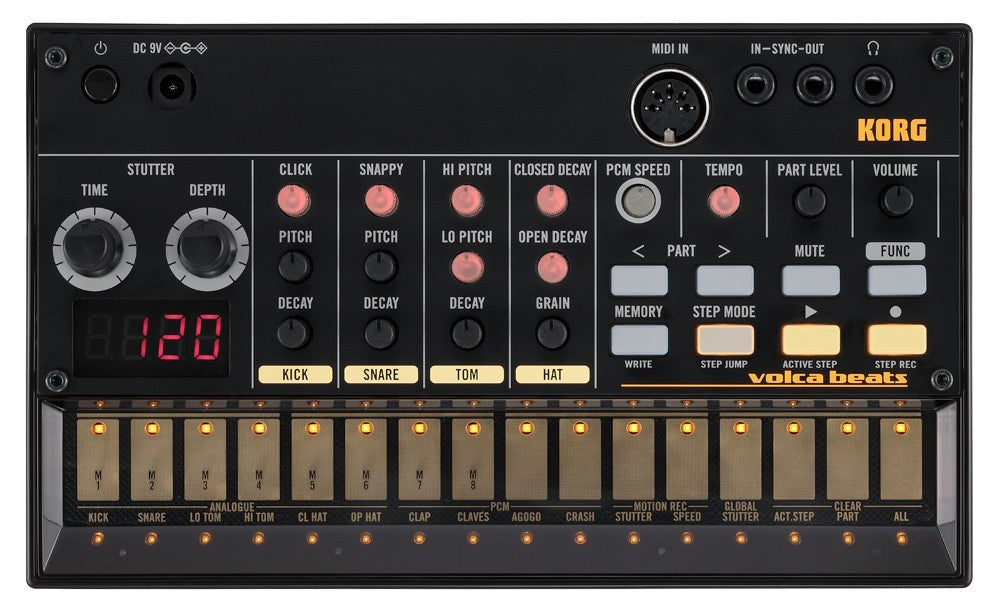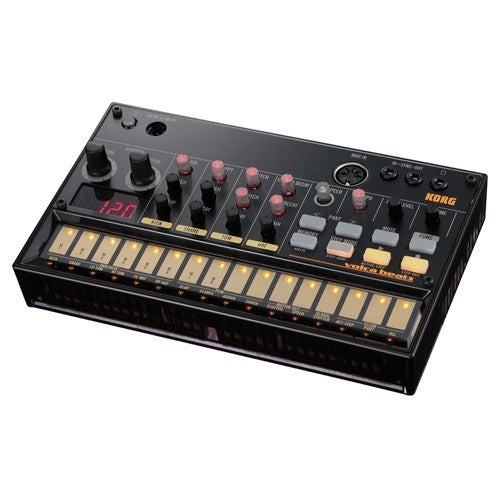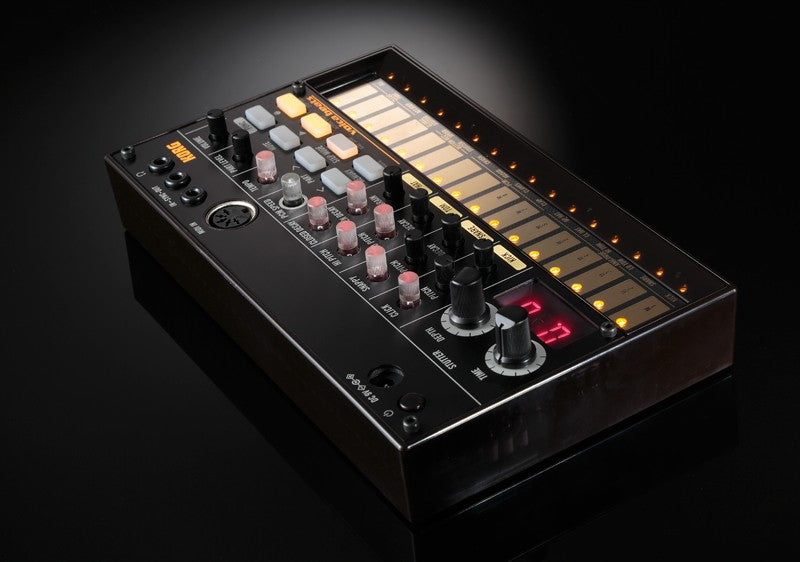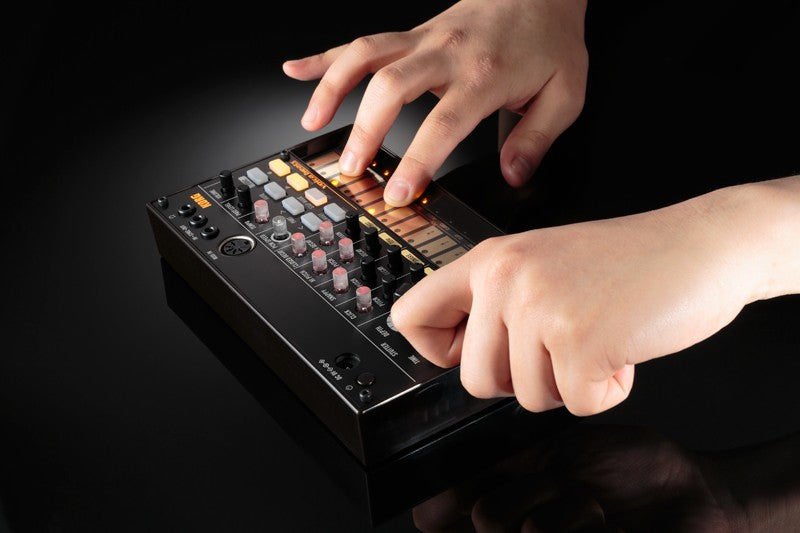 Korg Volca Beats Analog Rhythm Machine POWER & CABLE RIG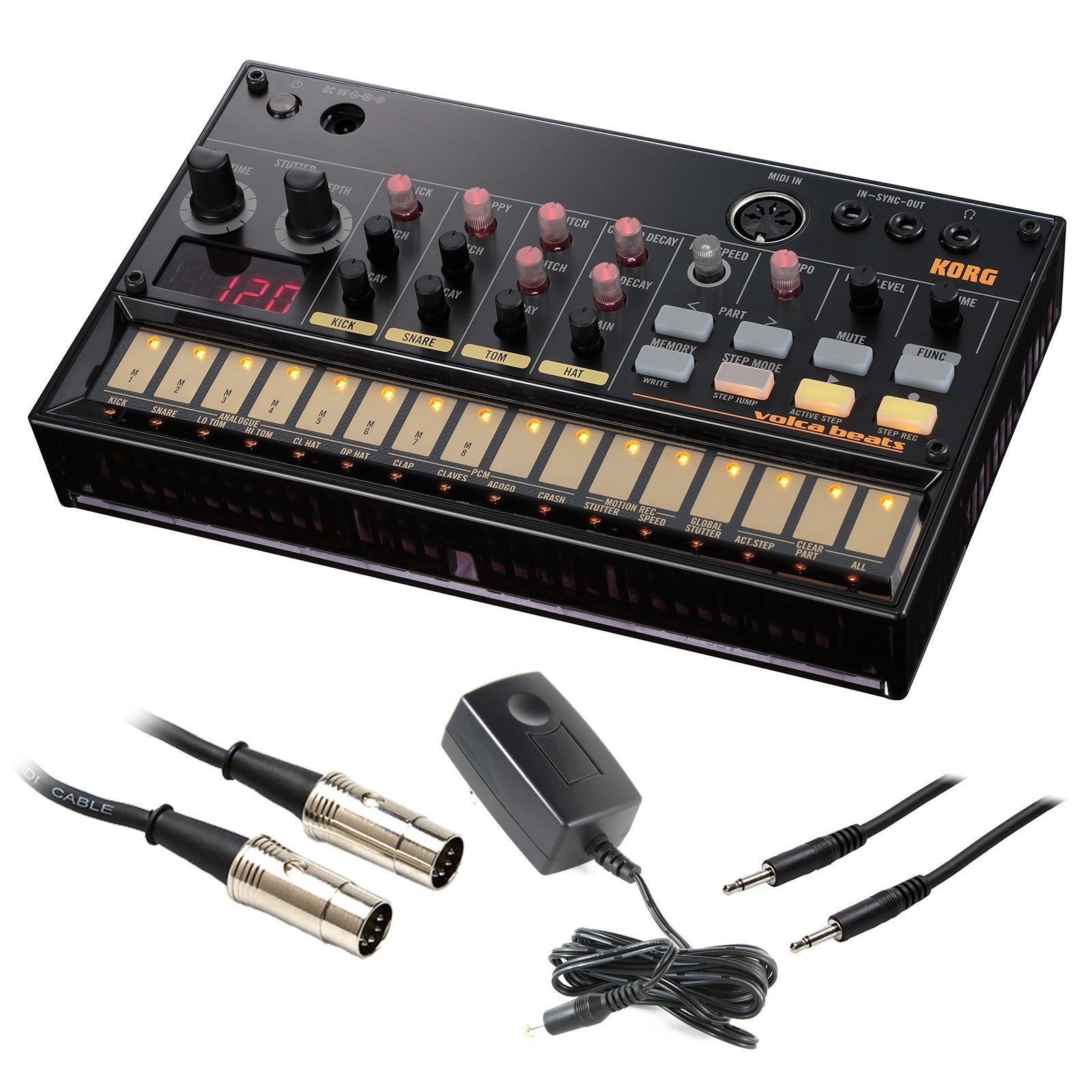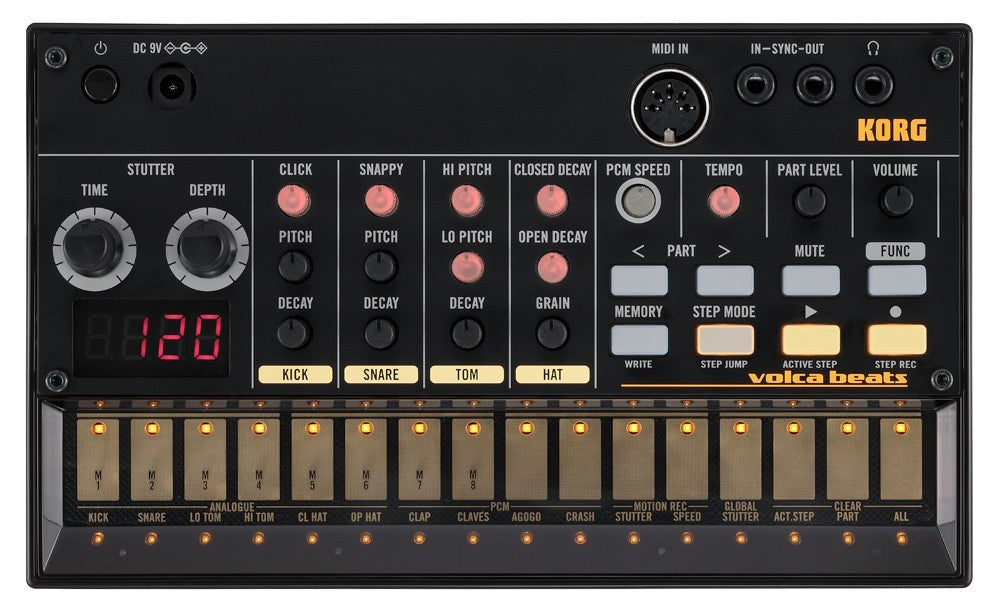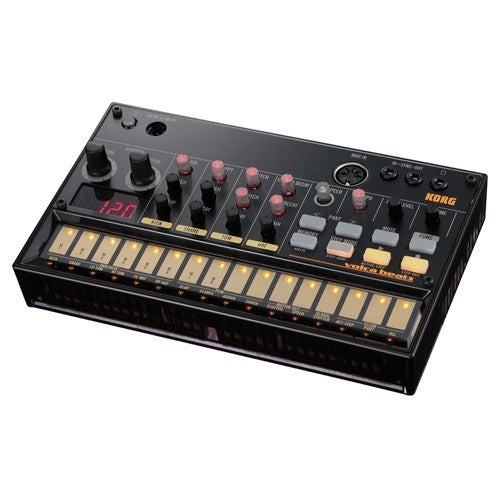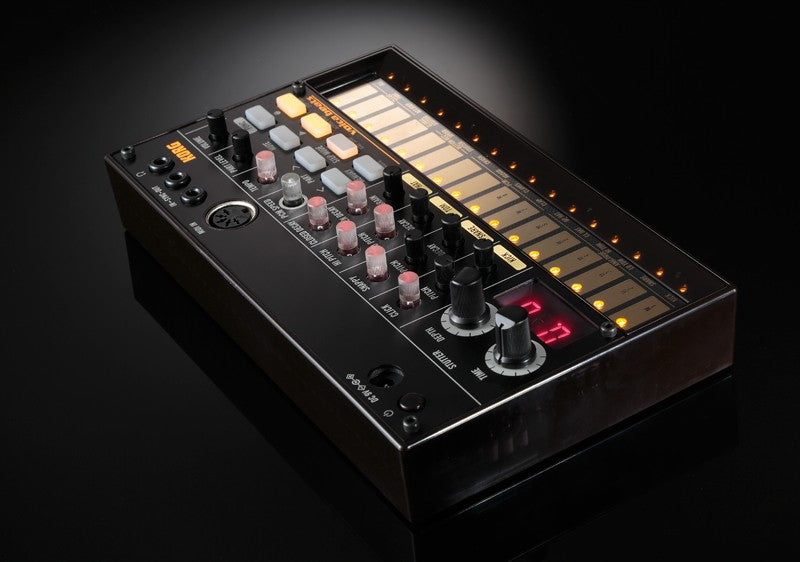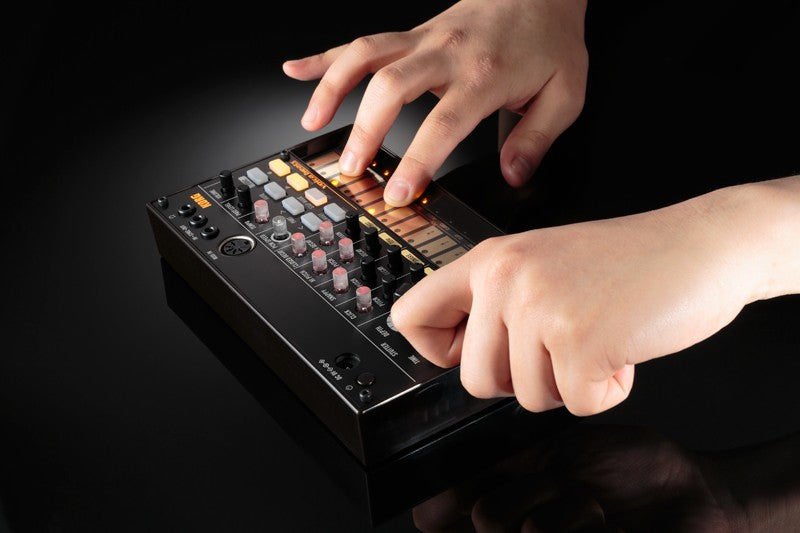 Korg Volca Beats Analog Rhythm Machine POWER & CABLE RIG
4 items included
This Kraft Music Bundle Includes
$173.99
Regular price
$187.88
You Save $13.89
Click on a product to view more details.
Even today, more than thirty years after the age dominated by analog synthesizers, we just can't let go of the sound of analog rhythm machines. Those thick sounds have the power to stand up to guitar and acoustic drums, and are still indispensable for track-making or live performance. Korg Volca Beats gives you those analog drums plus the easy-to-use step sequencer of the Electribe; it lets you turn your inspiration into reality and generate beats with the best high quality sounds.
Powerful analog drum sounds

Real analog sounds created with reference to classic rhythm machines
Six editable analog parts with one knob per function for easy editing
Maximum effect from minimal parameters, a unique advantage of analog
PCM sound engine expands possibilities when used with analog sounds

Loop sequencer distilled from Korg's Electribe series

Electribe-style 16-step sequencer with eight memory patches
Stutter function generates repeated triggers that dramatically change the sequence
Step Jump function instantly plays only the step you're pressing

Convenient functions for ease of use

Audio sync in and out allows clock sync of multiple instruments from the Volca Series as well as Korg's Monotribe, SQ-1, Electribe, Electribe S, Minilogue and Monologue
MIDI in for note entry plus external sync and control from your DAW
Go-anywhere analog: play anywhere with the built-in speaker and optional battery power
SYNC jack and MIDI in connector allow synchronized performances
By using the audio sync jack you can enjoy synchronized playback with multiple Volcas or with a growing list of other Korg instruments including Monologue, Minilogue, Electribe, Electribe S, SQ-1 and Monotribe. You can also use Korg's SyncKontrol iPhone app to wirelessly control tap tempo, swing settings and synchronized playback with iOS music apps via WIST.
The MIDI in connector lets you synchronize with other devices as well as play Volca from any MIDI keyboard. You can also send note messages from your DAW and use Volca as an analog sound module.
Enjoy anywhere
With its compact size, battery operation and built-in speaker, it's easy to take Volca anywhere and perform any time.
SKU
KOR-VOLCABEATSPCR
MPN
Volca Beats
Vendor
Korg
Analog Digital
Hybrid
Built In Speakers
Yes
Included From Manufacturer
1/8" instrument cable
(6) AA batteries
Midi
In
Mpn
VOLCABEATS
Product Unique Features
Electribe-style 16-step sequencer
Stutter function
Step Jump function instantly plays only the step you're pressing
Control Connections
1/8" sync input
1/8" sync output
Onboard Controllers
Multi-Touch Trigger Pad / Step Key
Audio Outputs
1/8" stereo headphone/main output
Oscillators per Voice
Varies by Sound Engine
Product Weight
0.82 lbs (excluding batteries)
Sequencer
(10) parts
(16) steps
(8) stored patterns
Speakers
Built-in mini speaker
Width
7.61"
Depth
4.54"
Height
1.78"
Korg USA Warranty Policy
All Korg products purchased from a Korg USA authorized dealer are warranted to be free from defects in material and workmanship to the original consumer for a period of one (1) year.
Register your new Korg keyboard, keyboard rack module or digital piano online and receive a certificate that extends the product warranty for an extra year from the date of purchase. Product must be registered within 90 days of purchase to receive an extra year of warranty.
Tuner and Metronome products are warranted to be free from defects in material and workmanship to the original consumer for a period of three (3) years.
Tubes, AC Adapters and Foot Switches are warranted to be free from defects in material and workmanship to the original consumer for a period of ninety (90) days.
The customer must provide proof of purchase in order to obtain warranty service. The dated sales slip or copy thereof is the only acceptable proof of purchase.
The product must be purchased from a Korg USA authorized dealer and have a valid serial number.
This warranty is valid only in the USA.
Damage resulting from the following causes are excluded from the warranty set forth above: misuse, including damage occurring during shipment, damage caused by battery leakage, accident, fire, unauthorized repairs, tampering, cosmetic damage or other types of damage which are the result of improper handling or abuse; the cleaning of controls or contacts due to exposure to dirty, dusty, or otherwise contaminated environment; damage resulting from modification; damage to units used for loan or rental.
Ground shipping is FREE for all orders $99 and up.