Skip product carousel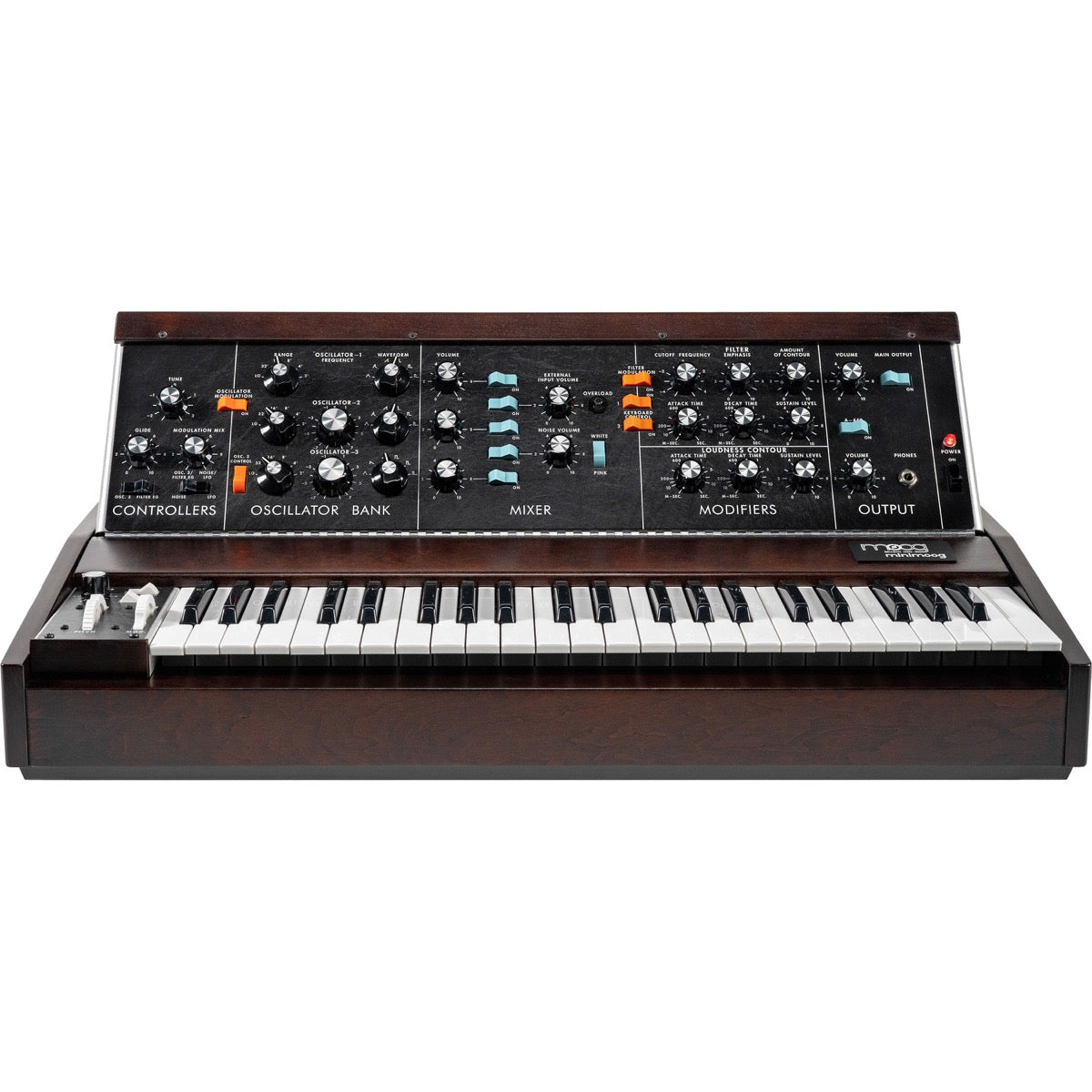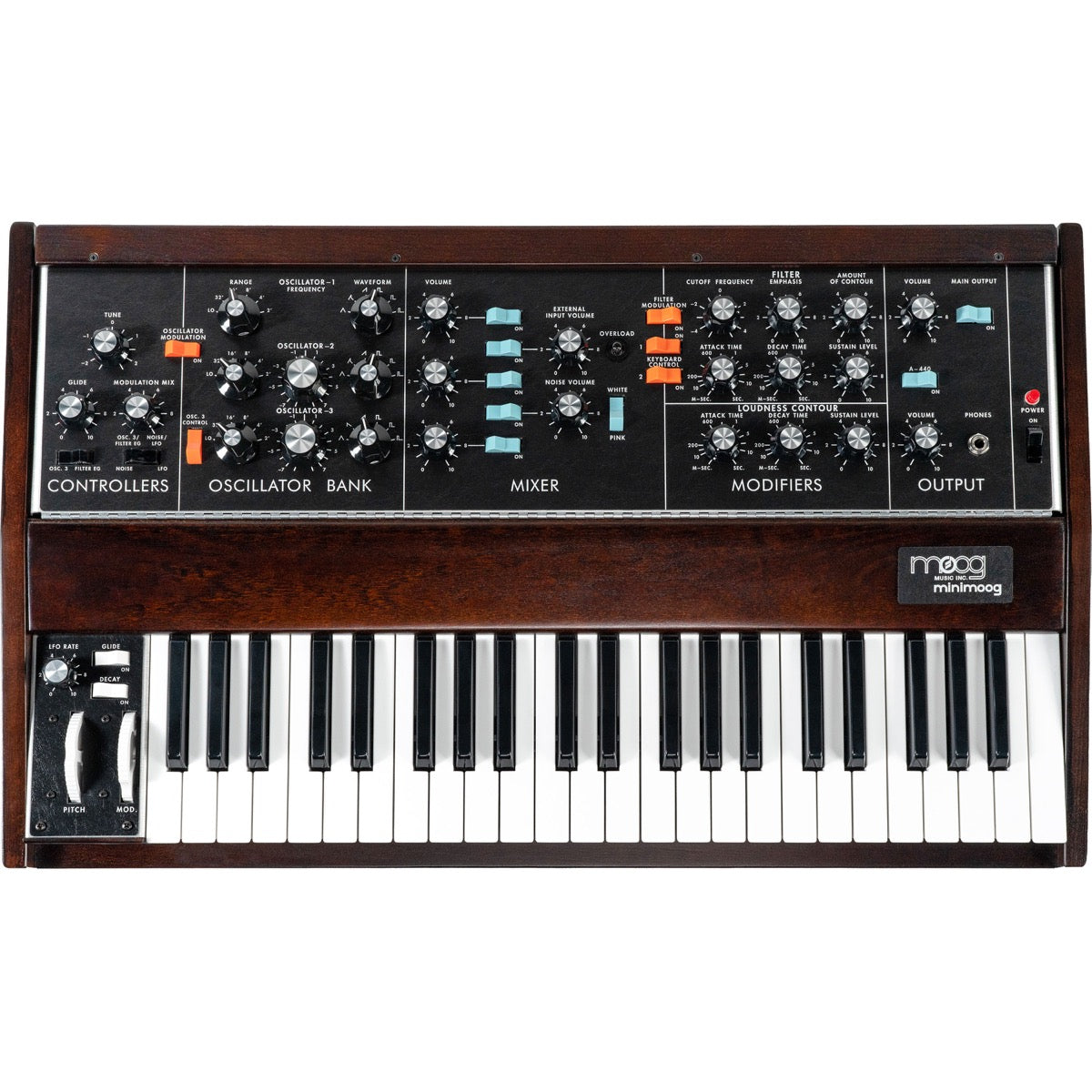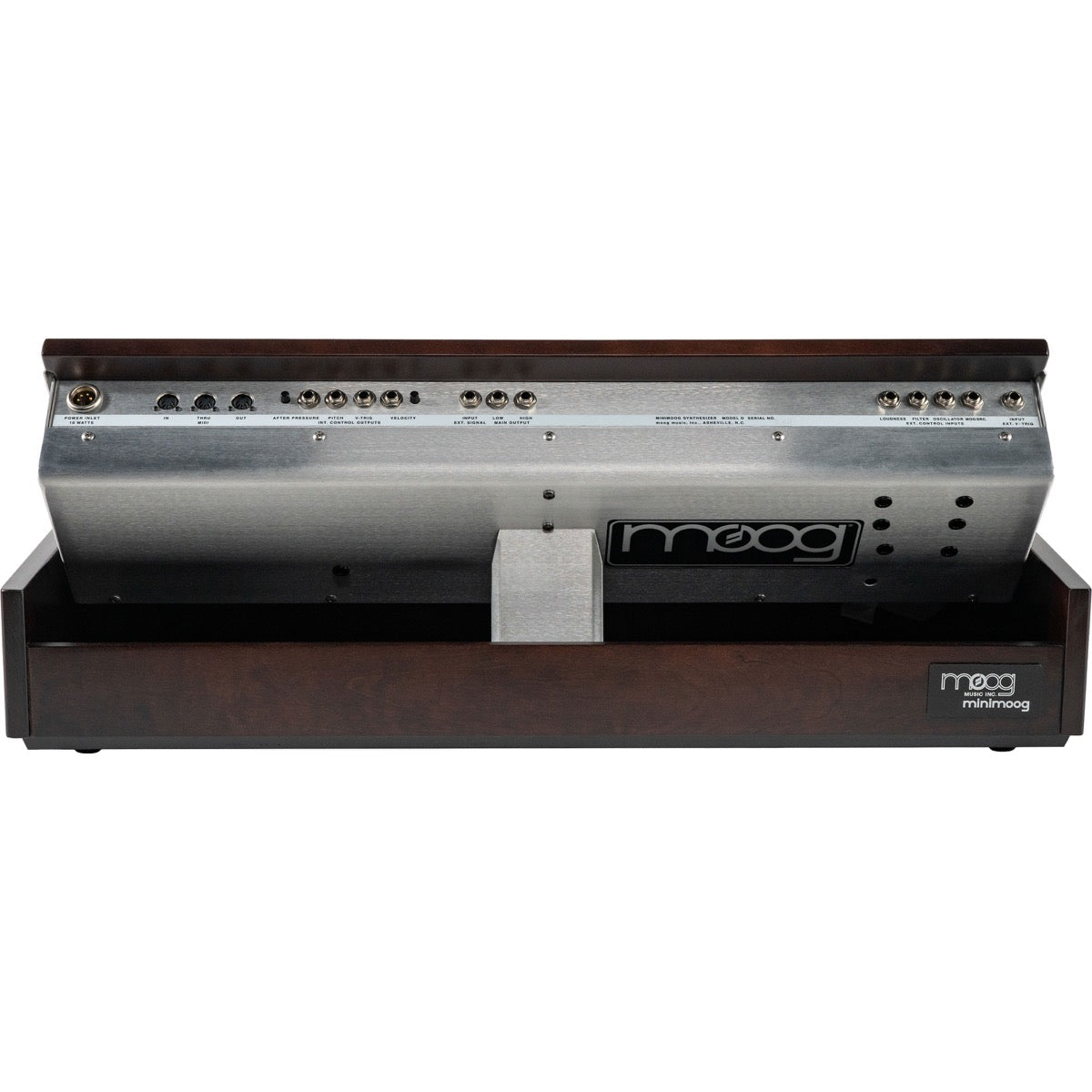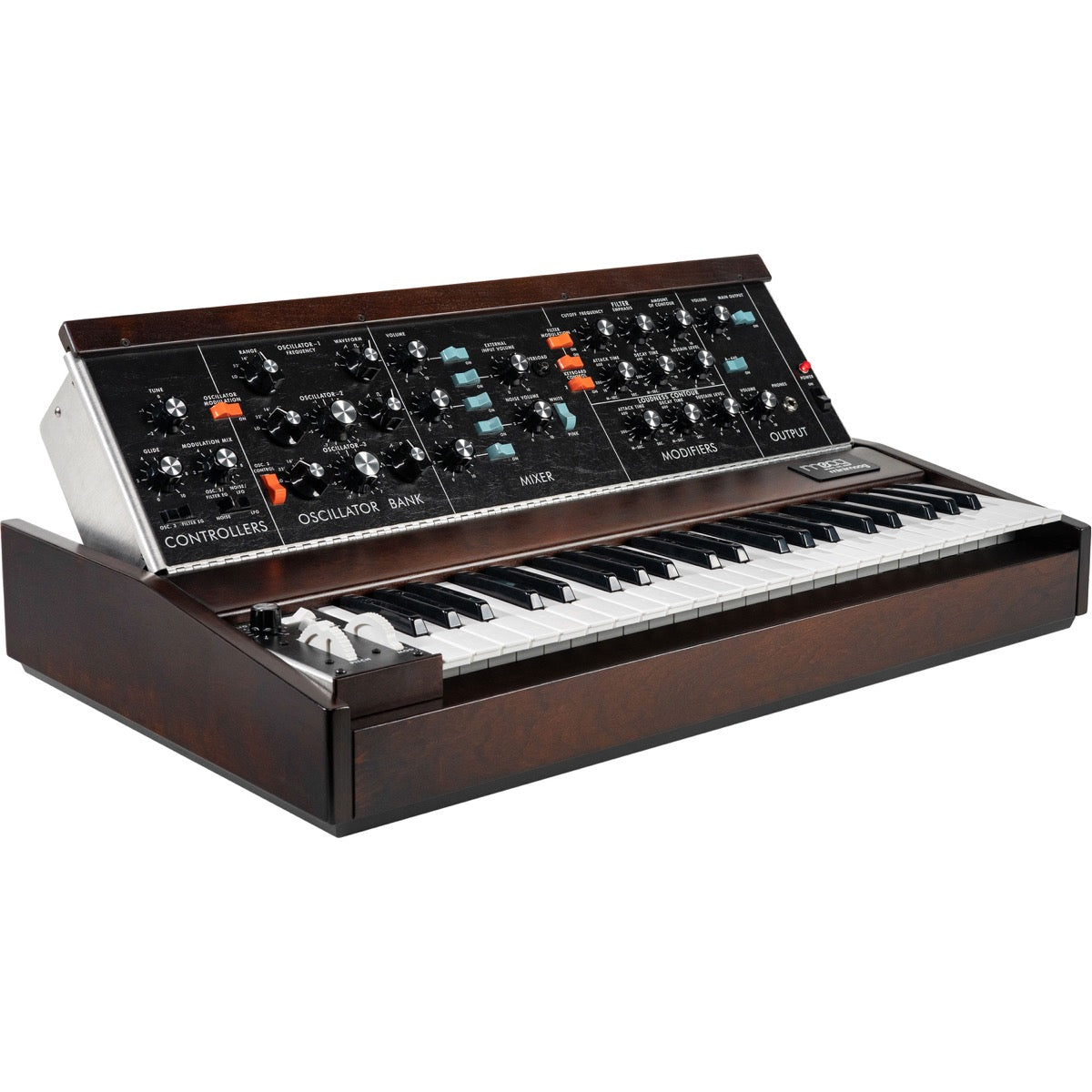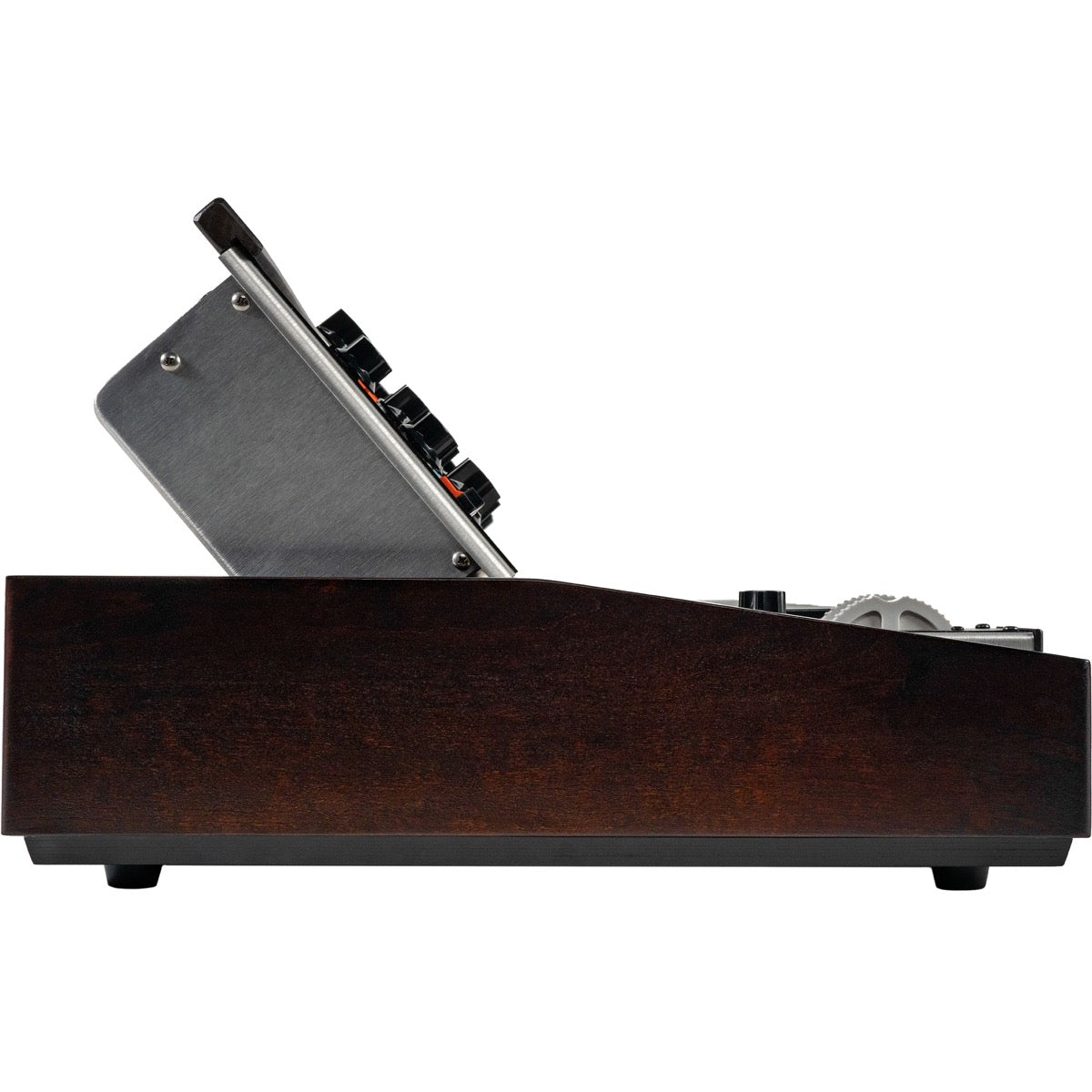 Moog Minimoog Model D Analog Synthesizer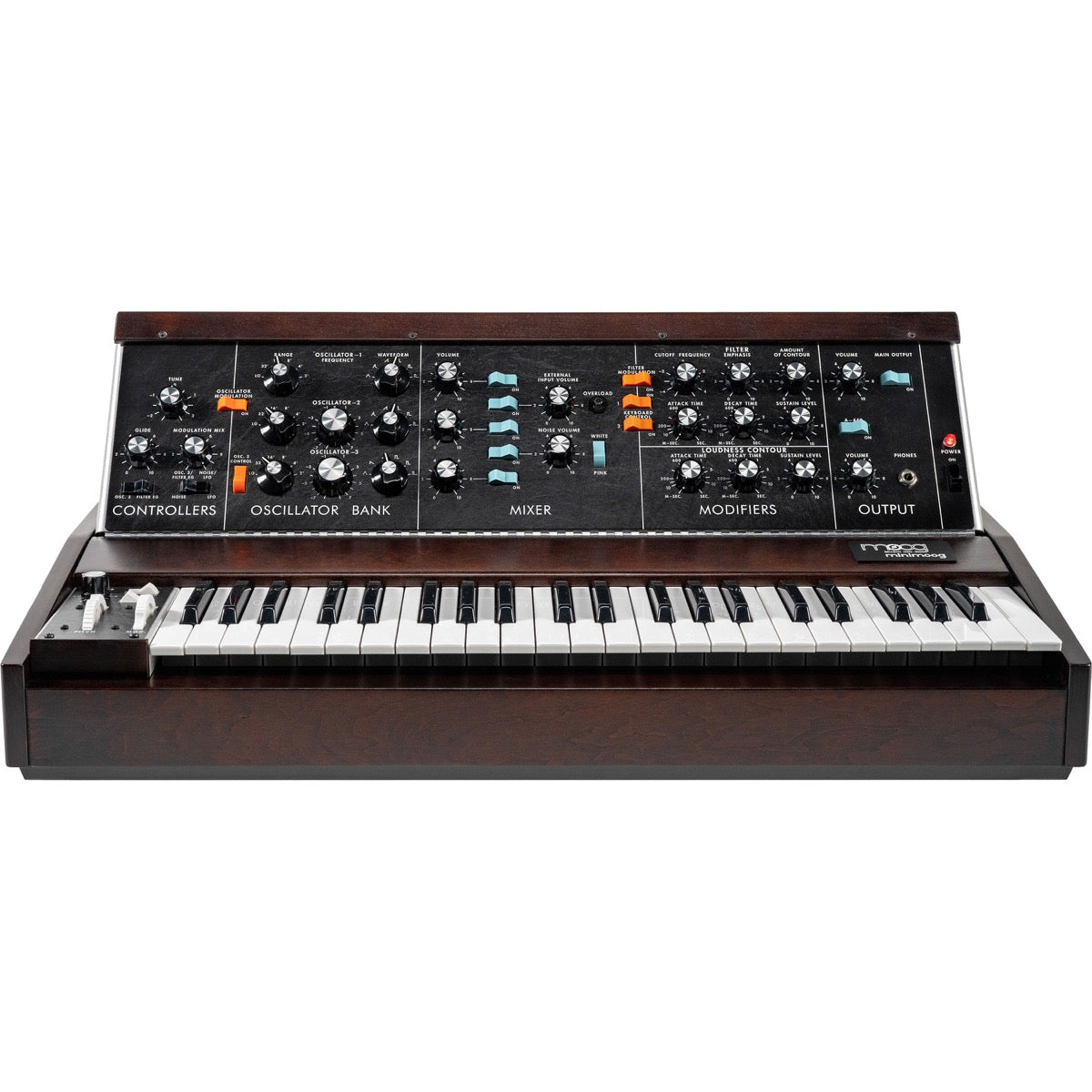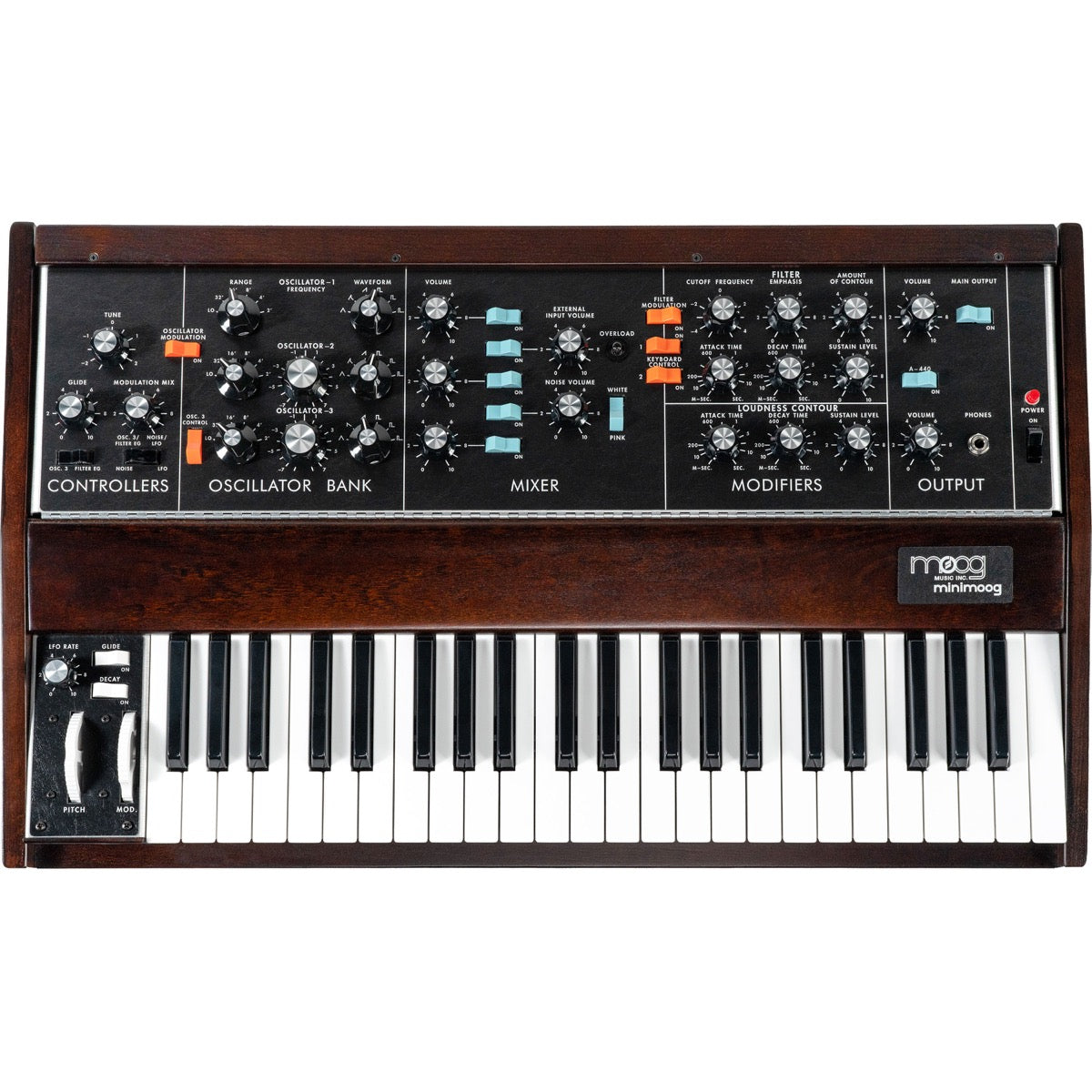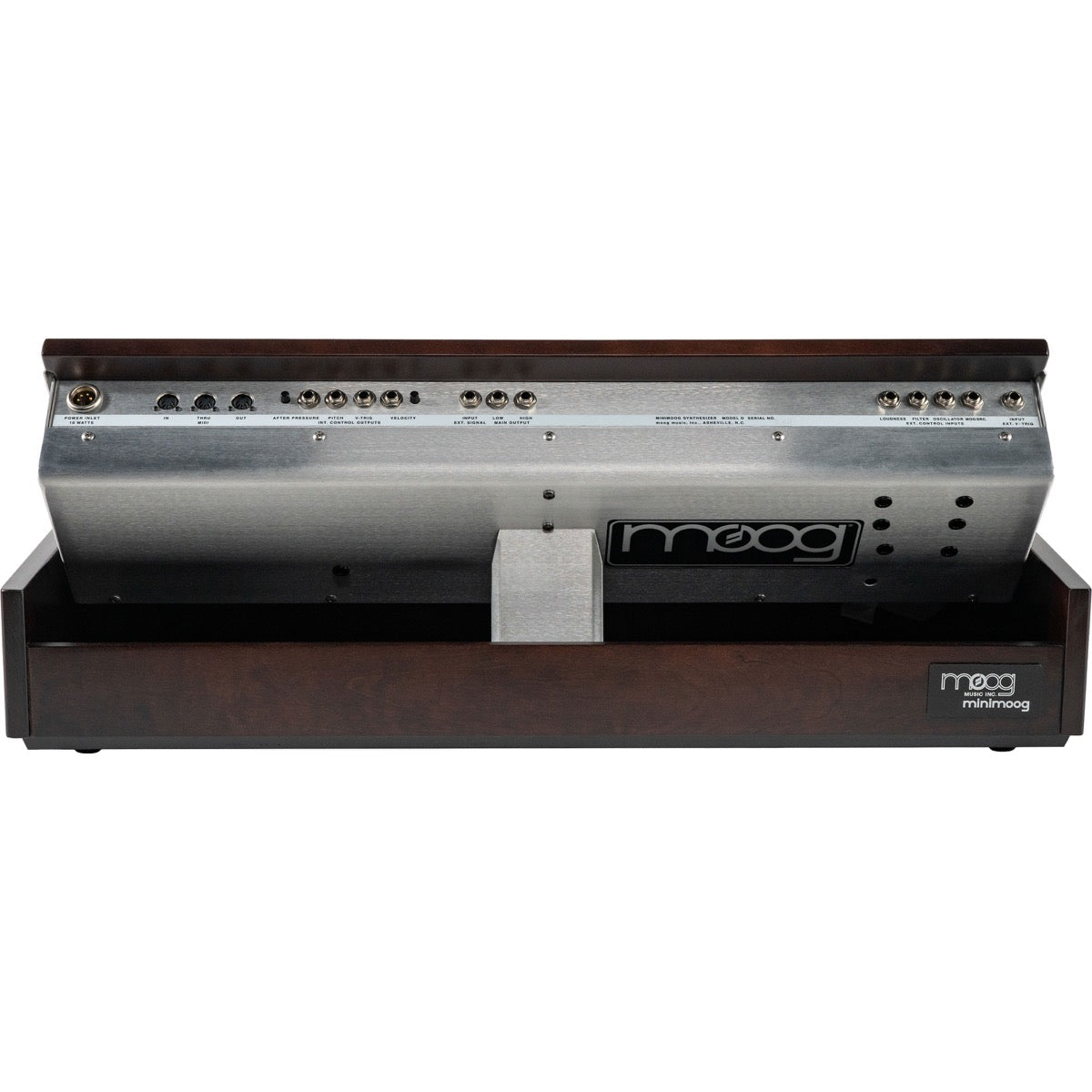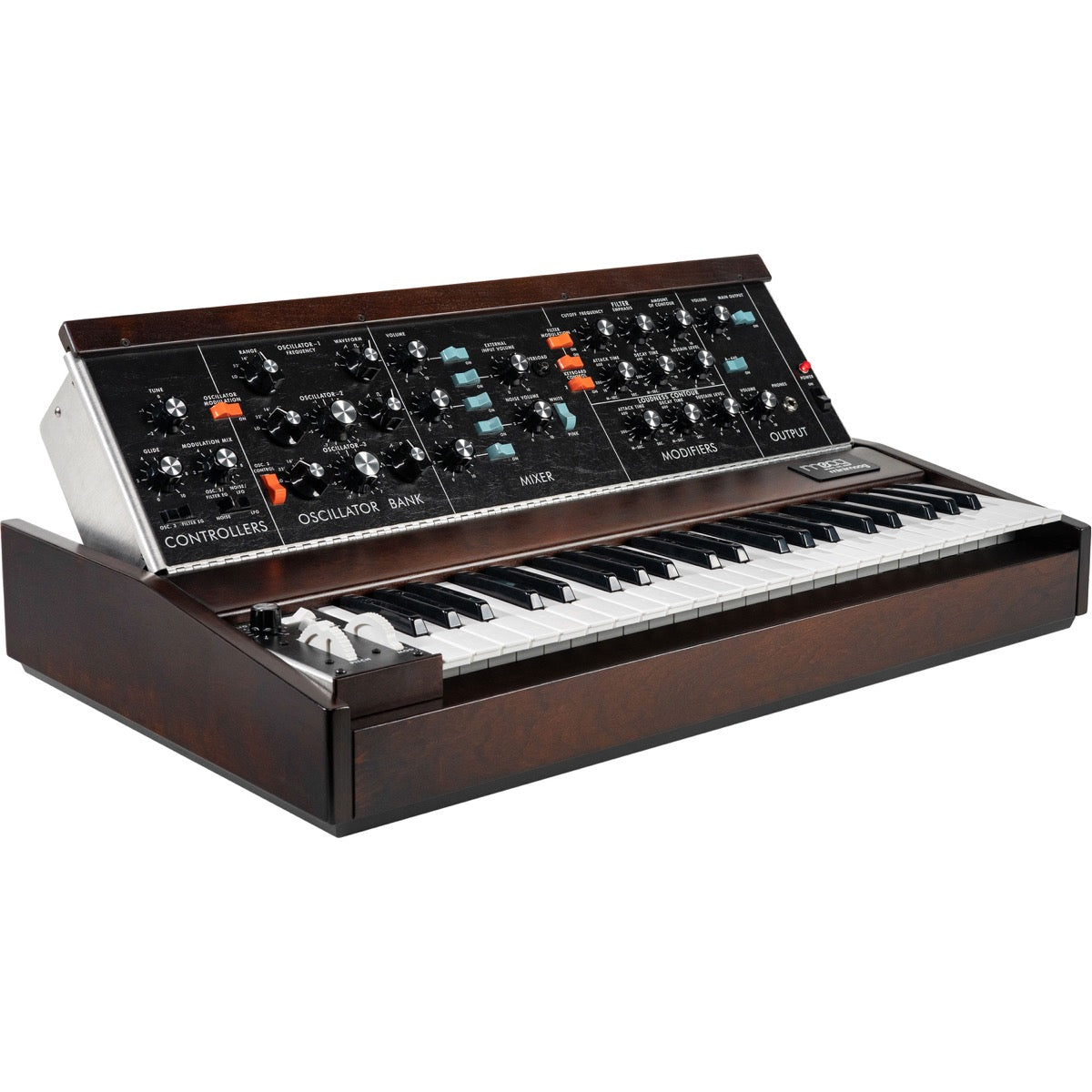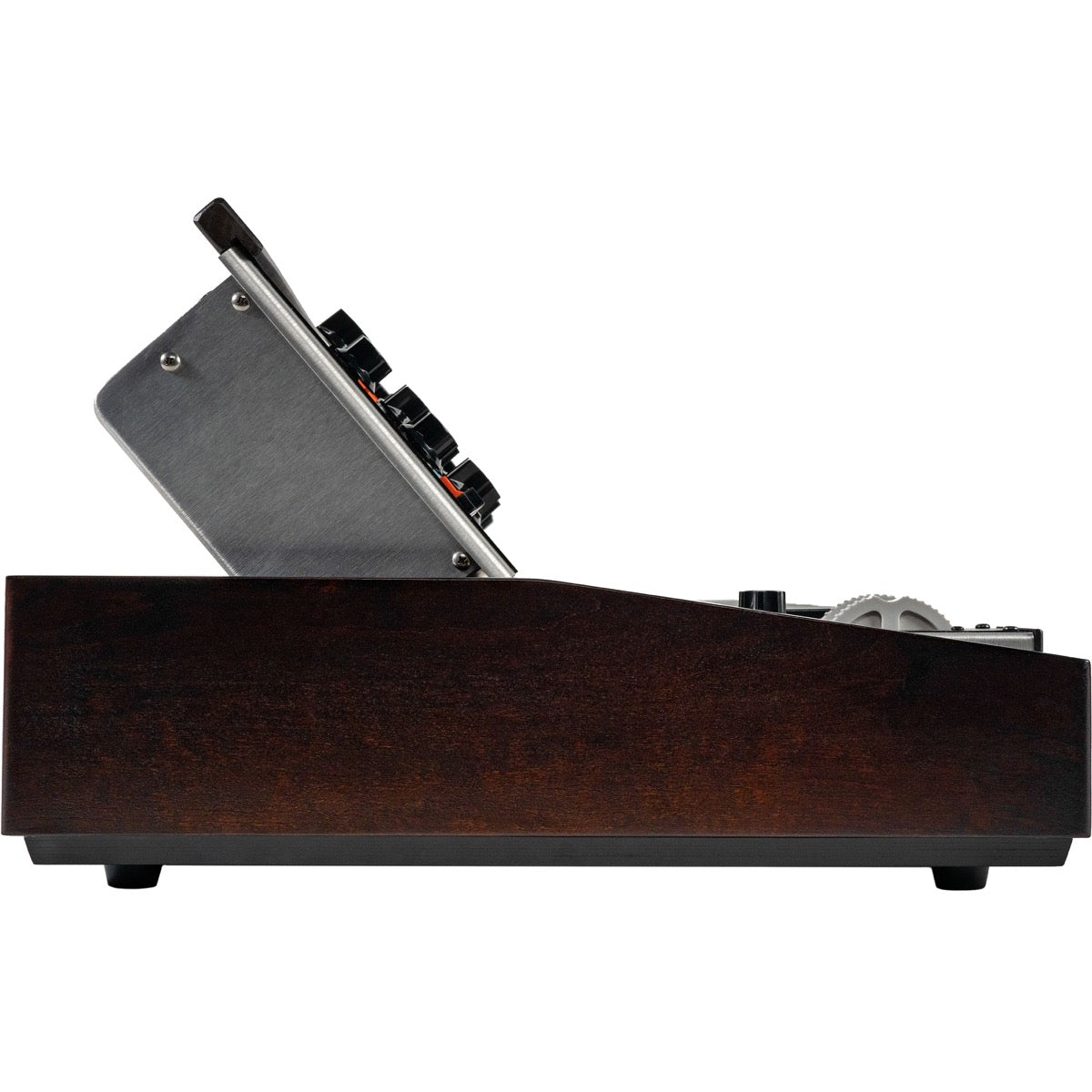 Moog Minimoog Model D Analog Synthesizer
Originally released in 1970, Moog Minimoog Model D was the world's first portable synthesizer and served as the archetype for all electronic keyboards that followed. The all-analog instrument gained acclaim for combining the colossal sound of 1960s Moog modular synthesizers with the accessibility of pre-wired modules, meaning that it could be played instantly and intuitively with no patch cables required. It was quickly embraced by a diverse roster of performers, with artists like Herbie Hancock, Kraftwerk, Rick Wakeman, Sun Ra, Piero Umiliani, Giorgio Moroder, Bernie Worrell and Gary Numan all shaping unique sounds and forging new musical genres using the instrument.
More than a half-century since its invention, Minimoog Model D is back in production at the Moog factory in Asheville, North Carolina. An exceptional sonic tool and one of the most beloved and iconic synthesizers ever designed, it returns to the hands of synthesists of all kinds and serves as inspiration for the next generation of electronic musicians.
3 vintage Moog oscillators
Classic Moog low pass ladder filter with resonance
Analog circuit boards recreated using original designs and component placement
Custom reissued transistors critical to sound quality and character
Military spec precision resistors
Precision Linear System matched JFETs in oscillators
Classic thermoset gnarled mod wheel and spring-loaded pitch wheel
CV outputs for pitch, aftertouch, velocity and gate (aftertouch and velocity have dedicated output level attenuators)
Dedicated analog triangle/square wave LFO and filter envelope added as modulation sources, as well as an external modulation CV input
Mixer overload modification: the output of Minimoog Model D is automatically scaled and fed back to the external audio input for instantly available overdrive
Improved circuit board connectors for touring reliability
Fatar TP-9 keybed with velocity and aftertouch
MIDI in, out and thru
The three-oscillator, monophonic, analog synthesizer is securely housed in a locally sourced Appalachian cherry cabinet and hand-finished aluminum chassis.
Sounding as vibrant and deep as ever, its legendary low pass ladder filter, powerful oscillators and rich, saturating mixer retain the exact component placement and through-hole design of a 1970s-era Minimoog Model D.
While no changes have been made to the original sound engine or audio signal path, the 2022 Minimoog Model D includes a series of popular functional modifications that expand this legendary instrument's sonic capabilities.
These modifications include a dedicated analog LFO with triangle and square waveshapes, a premium Fatar keybed with velocity and after pressure available via top panel CV jacks with onboard trimpots and MIDI integration.
There's also a mixer feedback modification that allows Minimoog Model D to overdrive and scream with the turn of a knob.
And, for the first time in its history, Minimoog Model D now features a spring-loaded pitch wheel with center deadband, allowing for improved playability and wild performance flourishes.
SKU
MOO-MINMOOGD
MPN
Minimoog Model D
Vendor
Moog
Aftertouch
Yes
Analog Digital
Analog
Built In Speakers
No
Included From Manufacturer
Power cord
Keys Weighted
Semi-Weighted
Key Num
44
Key Size
Full Size Keys
Midi
In, Out, and Thru
Mono Poly
Monophonic
Mpn
MIN-MOOG-D-04-01
Product Unique Features
Mixer overload modification: the output of Minimoog Model D is automatically scaled and fed back to the external audio input for instantly available overdrive
Arpeggiator
No
Control Connections
1/4" CV inputs for loudness, filter, oscillator pitch, modulation and gate
1/4" CV outputs for pitch, aftertouch, velocity and gate
Onboard Controllers
Classic thermoset gnarled mod wheel and spring-loaded pitch wheel
Audio Inputs
1/4" mono external audio input
Audio Outputs
1/4" 'low' and 'high' mono audio outputs
1/4" headphone output
Key Action
Fatar TP-9 keybed with velocity and aftertouch
Oscillators per Voice
3
Product Weight
32 lb
Voices of Polyphony
1
Width
28.63"
Depth
17.25"
Height
5.63"
Moog Music Inc. Limited Warranty
Moog warrants its products to be free of defects in materials or workmanship and conforming to specifications at the time of shipment. The Warranty Period is one year from the date of purchase.
If, in Moog's determination, it has been more than one year since the product shipped from its factory, Moog will determine whether or not to honor the warranty without regard to the date of the purchase.
Your new product warranty is transferrable to a new user with a proof of purchase dated less than one year prior to the current date. To initiate a warranty transfer, email Moog with a copy of the original proof of purchase, the serial number, and your personal information and Moog will update the warranty status.
During the Warranty Period, any defective products will be repaired or replaced, at Moog's option, on a return-to-factory basis. This warranty covers defects that Moog determines are no fault of the user.
The Moog Limited Warranty applies to USA purchasers only. Outside the USA the warranty policy and associated service is determined by the laws of the country of purchase and supported by the local authorized distributor. If you purchase outside of your country, you can expect to be charged for warranty as well as non-warranty service by the service center in your country.
You must obtain prior approval in the form of an RMA (Return Material Authorization) number from Moog before returning any product. Click 'Customer Service' at the Moog website to request the RMA # via email or call Moog.
All products must be packed carefully and shipped with the Moog supplied power adapter. The Voyager and Little Phatty must be returned in the original inner packing including the foam inserts. The warranty will not be honored if the product is not properly packed. Once you have received the RMA# and carefully packed your Moog, ship the product to Moog Music Inc. with transportation and insurance charges paid, and include your return shipping address.
Once received, Moog will examine the product for any obvious signs of user abuse or damage as a result of transport. If the product is abused, damaged in transit, or is out of warranty, Moog will contact you with an estimate of the repair cost. Warranty work will be performed and Moog will ship and insure your product to your United States address free of charge.
Please initiate your warranty online at the Moog Music Website by clicking 'Product Registration.' If you do not have web access, fill out all the information on the card included with your shipment and mail it to Moog.
Standard Shipping