Skip product carousel
Instant Rebate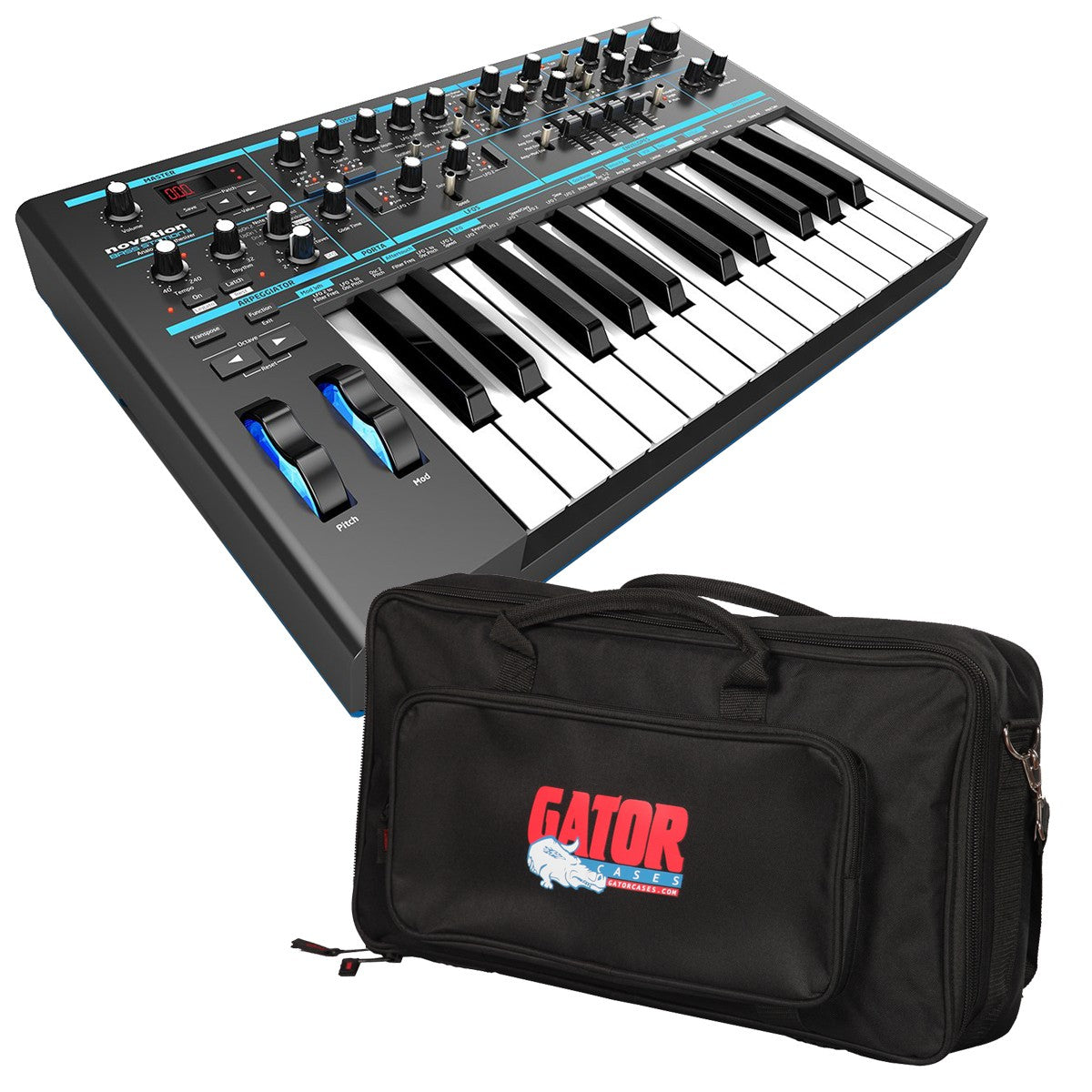 Novation Bass Station II Monophonic Analog Synthesizer CARRY BAG KIT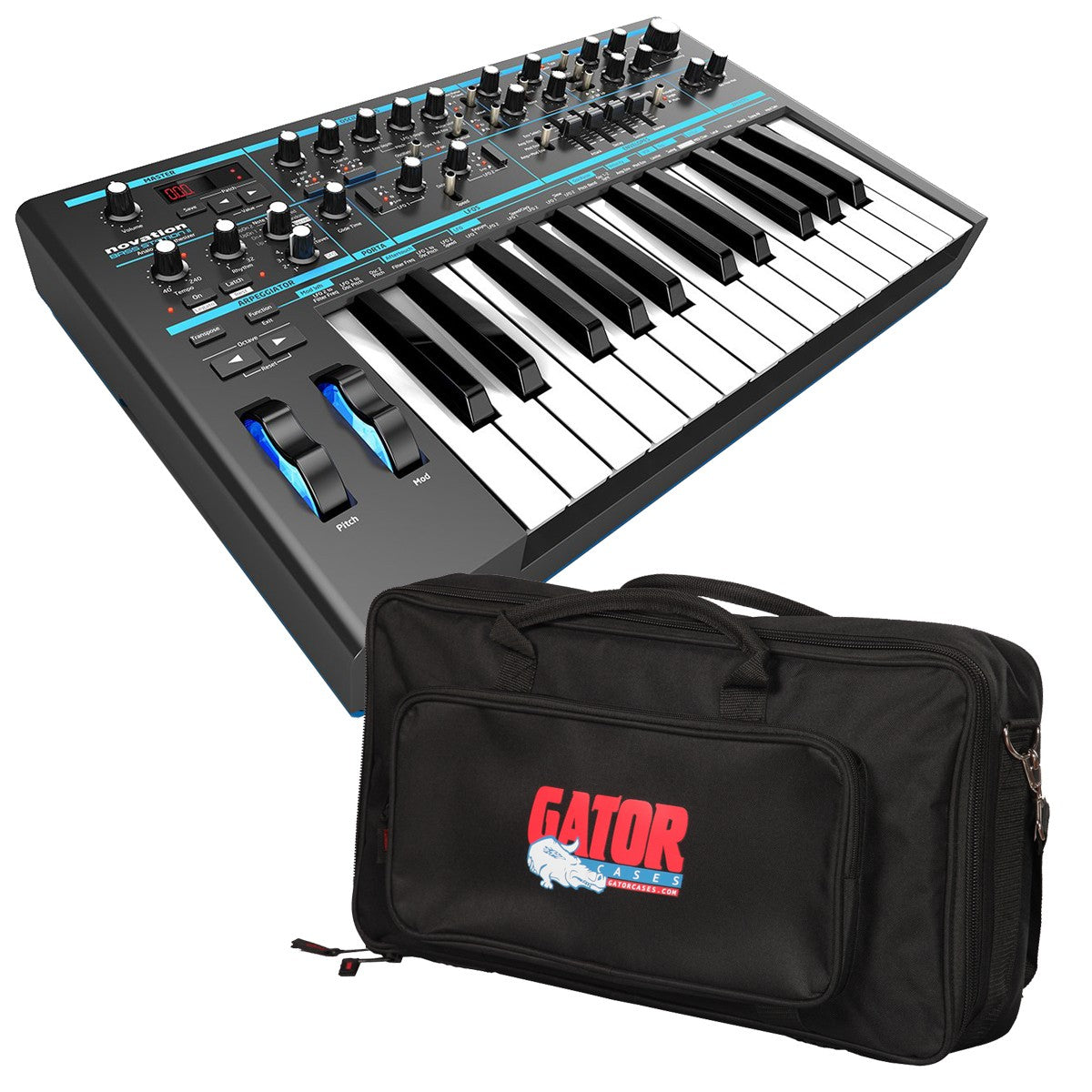 Novation Bass Station II Monophonic Analog Synthesizer CARRY BAG KIT
2 items included
This Kraft Music Bundle Includes
$534.99
Regular price
$559.98
Instant Rebate ends January 2, 2024
Save $24.99
Click on a product to view more details.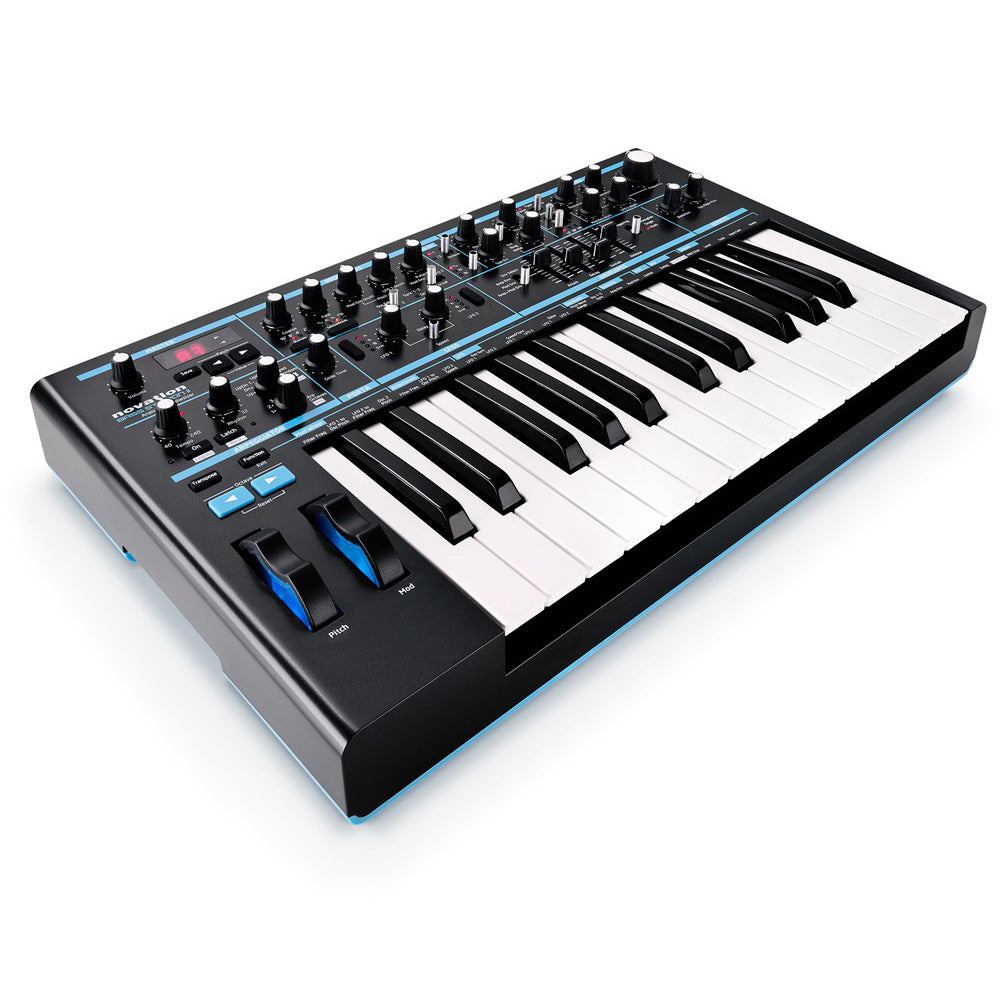 Novation Bass Station II Monophonic Analog Synthesizer
Sells separately for $449.99
Bass Station II is an analog mono-synth based on the classic original Bass Station but re-worked for the 21st century. It has two filters, three oscillators, patch save and a fully analog effects section.
Want to Customize the Contents of Your Bundle?
Want to add, remove or upgrade this item? Our expert sales advisors are happy to help customize a bundle for you.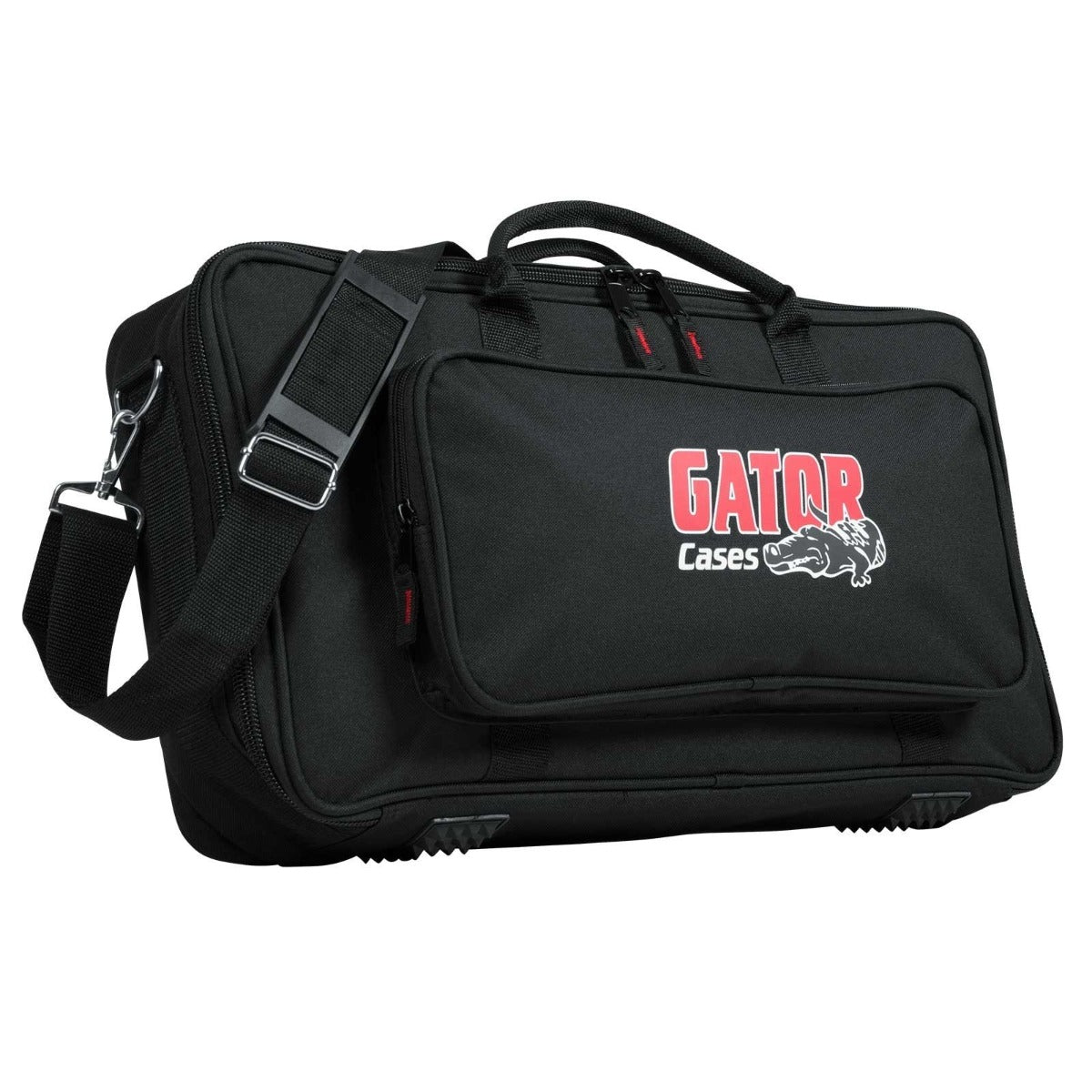 Gator Cases GK-2110 Micro Key/Controller Bag
Sells separately for $59.99
This micro keyboard bag features 20 mm padding, heavy duty zippers, a shoulder strap and web carrying handle. This case is perfect for the Korg Micro Keyboard or similarly sized keyboards, recorders and synthesizers.
Want to Customize the Contents of Your Bundle?
Want to add, remove or upgrade this item? Our expert sales advisors are happy to help customize a bundle for you.
Novation Bass Station II is an analog monosynth based on the classic original Bass Station but re-worked for the 21st century. It has two filters, three oscillators, patch save and a fully analog effects section. Add a step sequencer, arpeggiator, full-sized keys and a powerful modulation section and you have the makings of a synth that is built for bass but capable of so much more.
What is it?
Bass Station II is an analog monosynth with a talent for bass but a sound-engine that is versatile enough to kick out sharp leads and crisp arpeggios. It brings the best elements of Novation's original Bass Station into a brand new design with re-worked modulation, effects, filters and more - like the Bass Station, but much much bigger.
The signal path is pure analog, including the effects section. The hardware has been laid out in modules with dedicated pots, switches, sliders and buttons for all major parameters. Critically, you can store and recall patches on Bass Station II. It comes with 64 killer factory presets, space for 64 of your own sounds on the hardware, and you can store more on your computer.
The key mechanism consists of 25 full-sized keys that are velocity sensitive with assignable aftertouch. It has been developed as a synth action keyboard where each key is individually sprung, so it is light to the touch and highly responsive to the synth engine. Bass Station II is a fully class-compliant MIDI device with MIDI I/O on 5-pin DIN ports for connecting to other MIDI outboard gear. It can also interface with your computer over USB.
Oscillators
Bass Station II is built on three analog oscillators and a noise generator. There are two fully independent oscillators plus a sub-oscillator, which is the critical component in creating rich, analog bass sounds. Oscillators 1 and 2 are switchable among sine, sawtooth, square and variable pulse width, and oscillator 3, the sub-oscillator, can be set to one or two octaves below oscillator 1. It can be square, sine or narrow pulse width, delivering the characteristically 'fat' bass tone.
Filters
You can select between two discrete filters - Acid or Classic - each with a built-in overdrive for pushing filter tones from dry to warm to nasty. The Classic Bass Station filter can be switched among low pass, high pass and band pass at 12dB or 24dB slopes. The Acid filter is based on a diode ladder filter design that delivers a characteristically 303-esque sound that is designed to squelch/
Effects
Bass Station II has two effects, not including the filter overdrive. Analog distortion drives circuit components to add new frequencies to the sound. Bass Station II's distortion function can add gentle warmth, filthy granularity or anything in between. The second effect is 'Osc Filter Mod' which creates a distinctive FM-type sound by using oscillator 2 to modulate the filter frequency. This is very good for crunchy, sound-mulching effects that substantially fatten up bass and lead patches.
Modulation
There are two envelope generators and two low frequency oscillators (LFOs). The first envelope is an ADSR amp envelope and the second is a mod envelope that can be used to modulate filter frequency, oscillator pitch and oscillator pulse width. LFO 1 is dedicated to pitch modulation whereas LFO 2 is used to modulate oscillator pulse width and filter frequency. Although it looks like there are four LFO waveforms, the LFO slew function can be used freely to sculpt LFOs into smoother waveshapes.
Arpeggiator and step sequencer
Bass Station II's arpeggiator and step sequencer are killer performance and production tools. The arpeggiator can be directed to run through 32 different rhythmic patterns in different directions with a switchable octave range. The fun really starts when you engage the step sequencer. Up to four sequences can be played in - with legato and rests - and assigned to any one of the 32 rhythmic patterns. As well as getting ideas down quickly and programming performance sequences, this is a brilliant way to preview patches while you're editing them.

SKU
NOV-BASSSTATIONIICBK
MPN
Bass Station II
Vendor
Novation
Aftertouch
Yes
Analog Digital
Analog
Built In Speakers
No
Included From Manufacturer
Power supply
USB cable
Keys Weighted
Semi-Weighted
Number of Keys
25
Key Size
Full Size Keys
Midi
In, Out, and USB
Mono Poly
Monophonic
Mpn
NOVSYNTH03
Product Unique Features
Two filter types: Classic & Acid
Two ADSR Envelopes: amp, mod, combined
Two LFOs
Assignable aftertouch
Switch between DC power or USB bus power
Arpeggiator
Yes
Control Connections
1/4" sustain pedal input
Onboard Controllers
Pitch bend wheel
Modulation wheel
Effects
Analog distortion
Audio Inputs
1/4" external audio input
Audio Outputs
1/4" main output
1/4" headphone output
Key Action
Synth action with velocity and aftertouch
Oscillators per Voice
2 plus Sub
Product Weight
8.47 lb
Programs/Presets
64 factory presets
64 user patches
Sequencer
Store up to four sequences
Assign one of 32 preset rhythms or create your own
USB Port (to Host)
MIDI;System Updates;Editor/Librarian/Patch Manager
Voices of Polyphony
Monophonic
Width
18"
Depth
10.75"
Height
3"
Novation Limited Warranty
All Novation products are built to the highest standards and should provide reliable performance for many years, subject to reasonable care, use, transportation and storage.
Many of the products returned under warranty are found not to exhibit any fault at all. To avoid unnecessary inconvenience to you in terms of retuning the product please contact Novation support.
In the event of a Manufacturing Defect becoming evident during the warranty period, Novation will ensure that the product is repaired or replaced free of charge. The warranty period for any product purchased on or after January 24th, 2020 is a period of 36 months from the date of the original purchase.
A Manufacturing Defect is defined as a defect in the performance of the product as described and published by Novation. A Manufacturing Defect does not include damage caused by post-purchase transportation, storage or careless handling, nor damage caused by misuse.
While this warranty is provided by Novation, the warranty obligations are fulfilled by the distributor responsible for the country in which you purchased the product.
The distributor will advise you of the appropriate procedure for resolving the warranty issue. In every case it will be necessary to provide a copy of the original invoice or store receipt to the distributor. In the event that you are unable to provide proof of purchase directly then you should contact the reseller from whom you purchased the product and attempt to obtain proof of purchase from them.
Please note that if you purchase a Novation product outside your country of residence or business you will not be entitled to ask your local Novation distributor to honor this limited warranty, although you may request an out-of-warranty chargeable repair.
This limited warranty is offered solely to products purchased from an Authorized Novation Reseller (defined as a reseller which has purchased the product directly from Novation in the UK, or one of its Authorized Distributors outside the UK). This warranty is in addition to your statutory rights in the country of purchase.
Ground shipping is FREE for all orders $99 and up.