Skip product carousel
Instant Rebate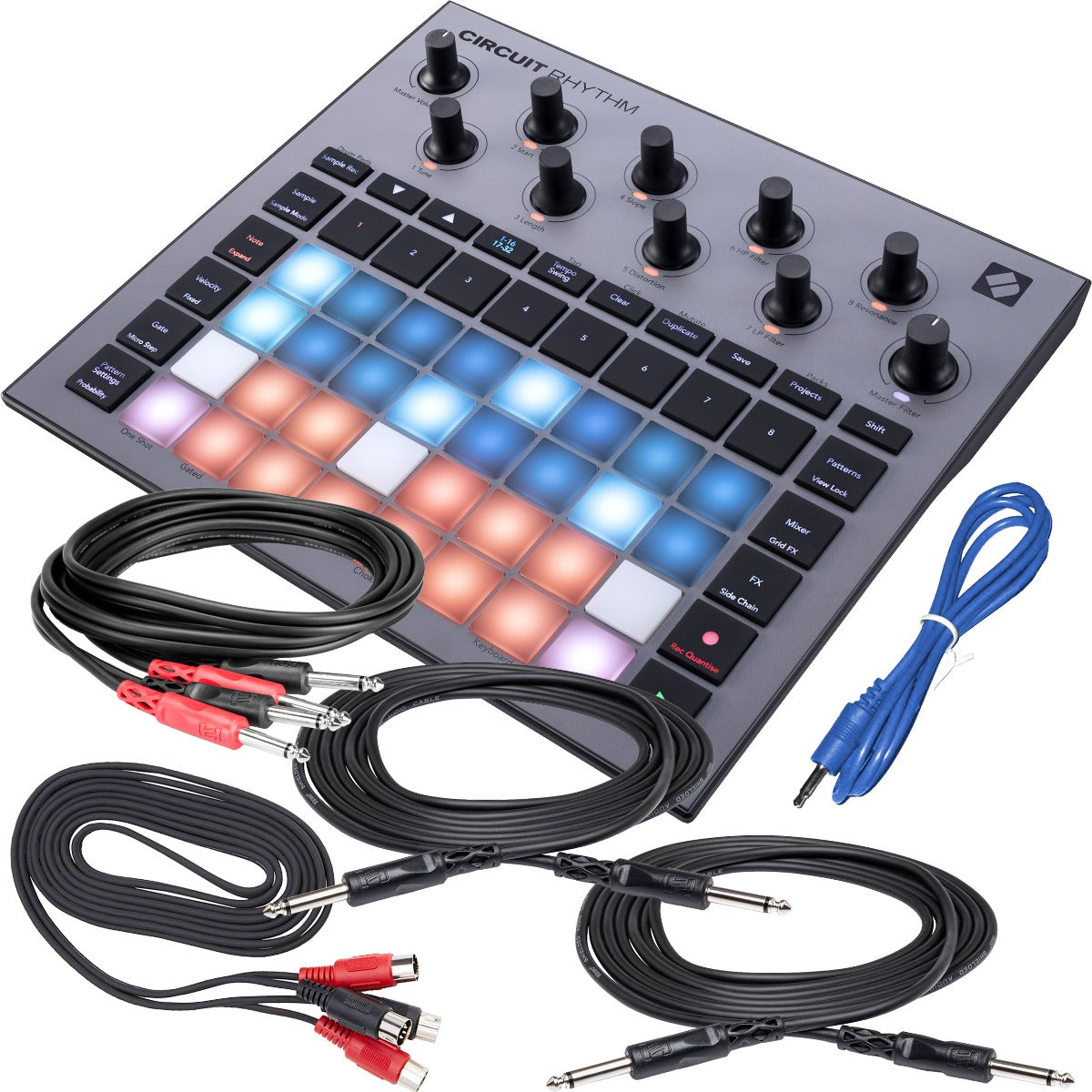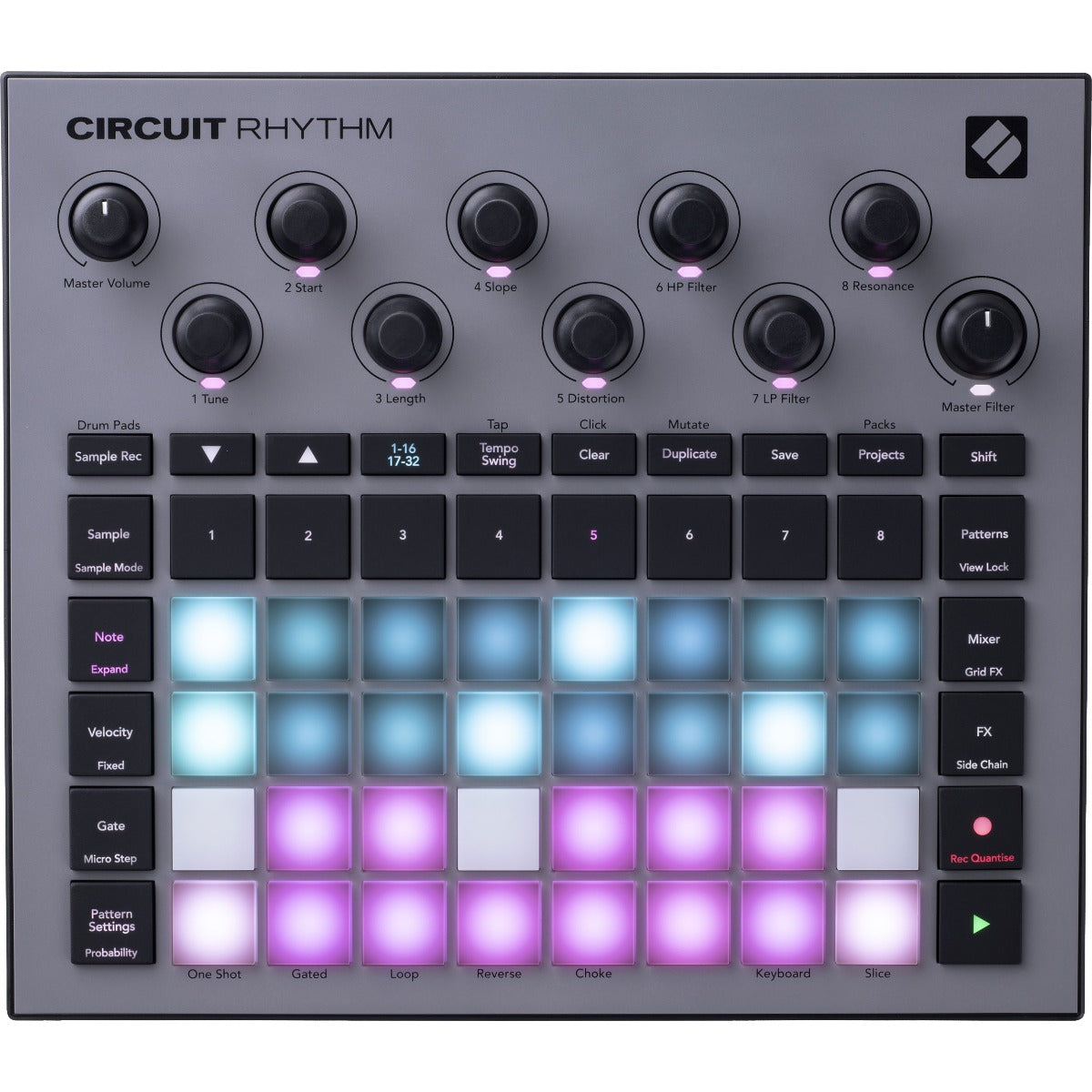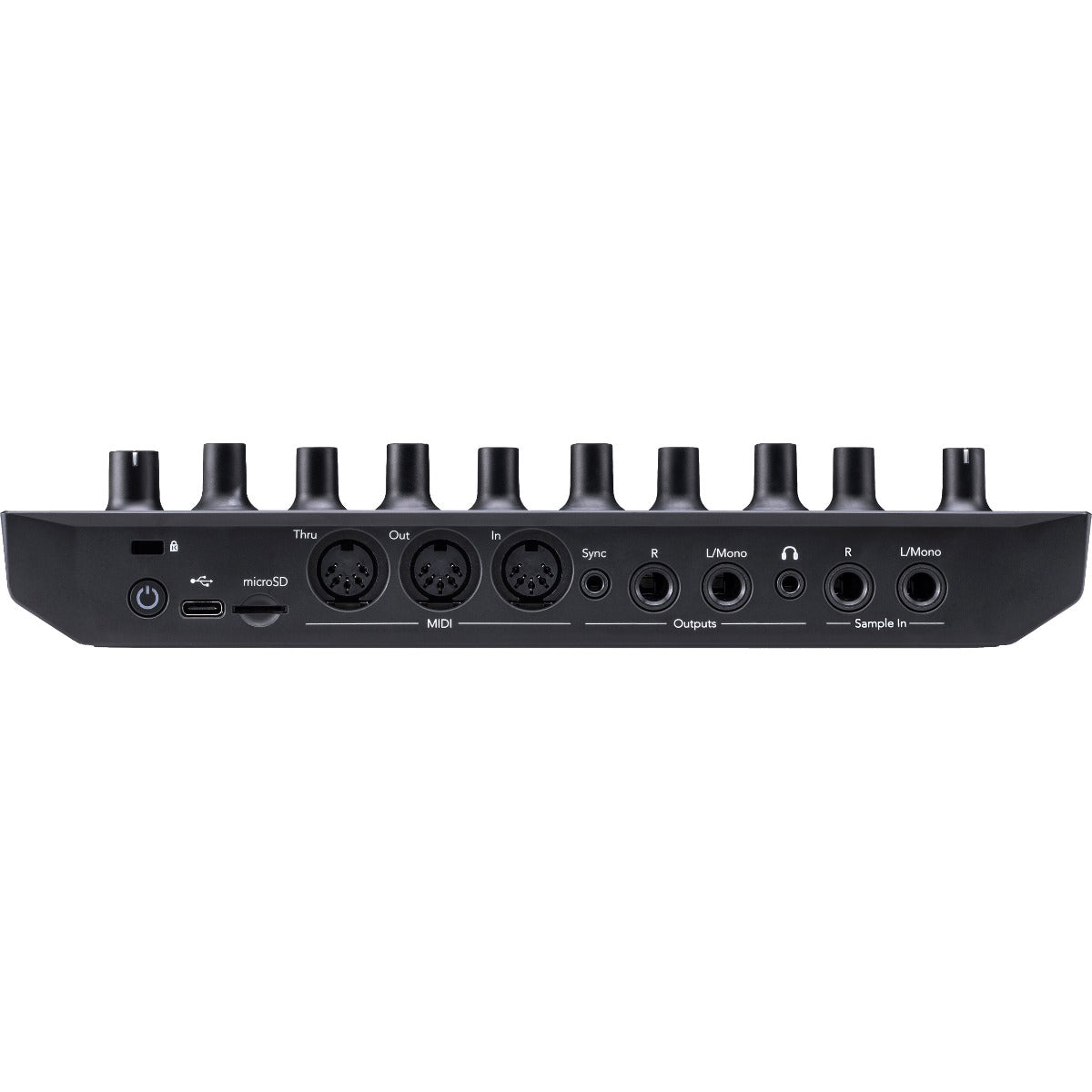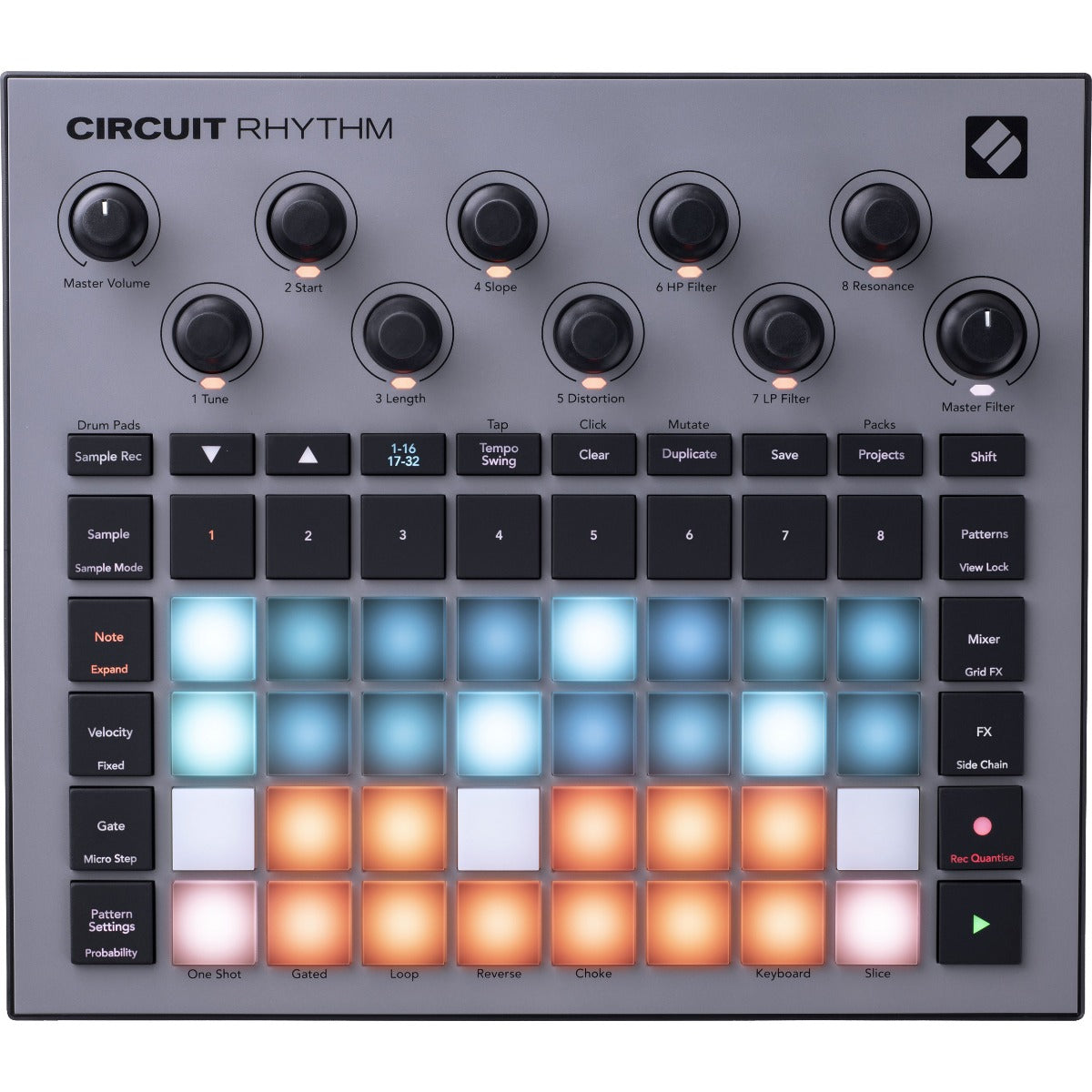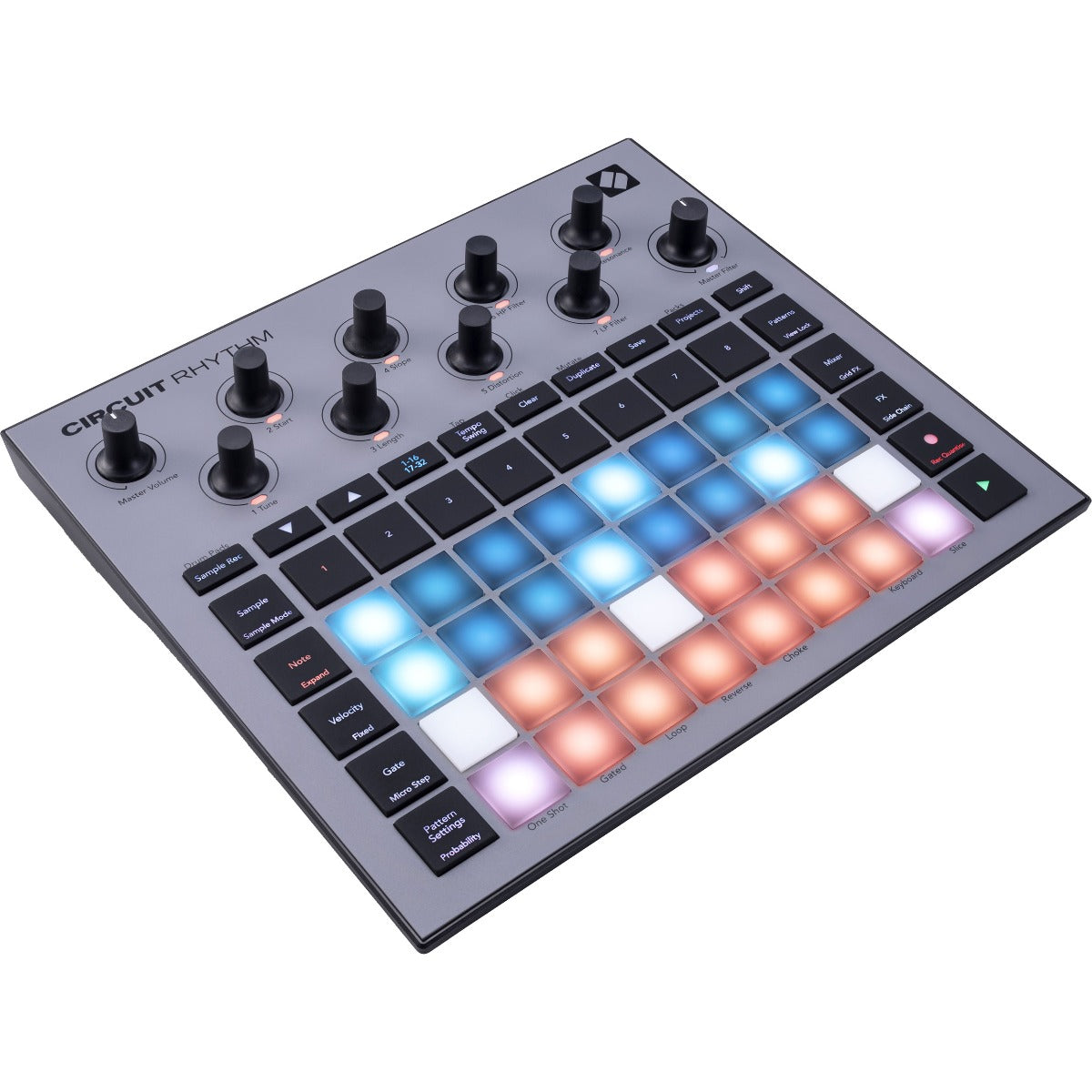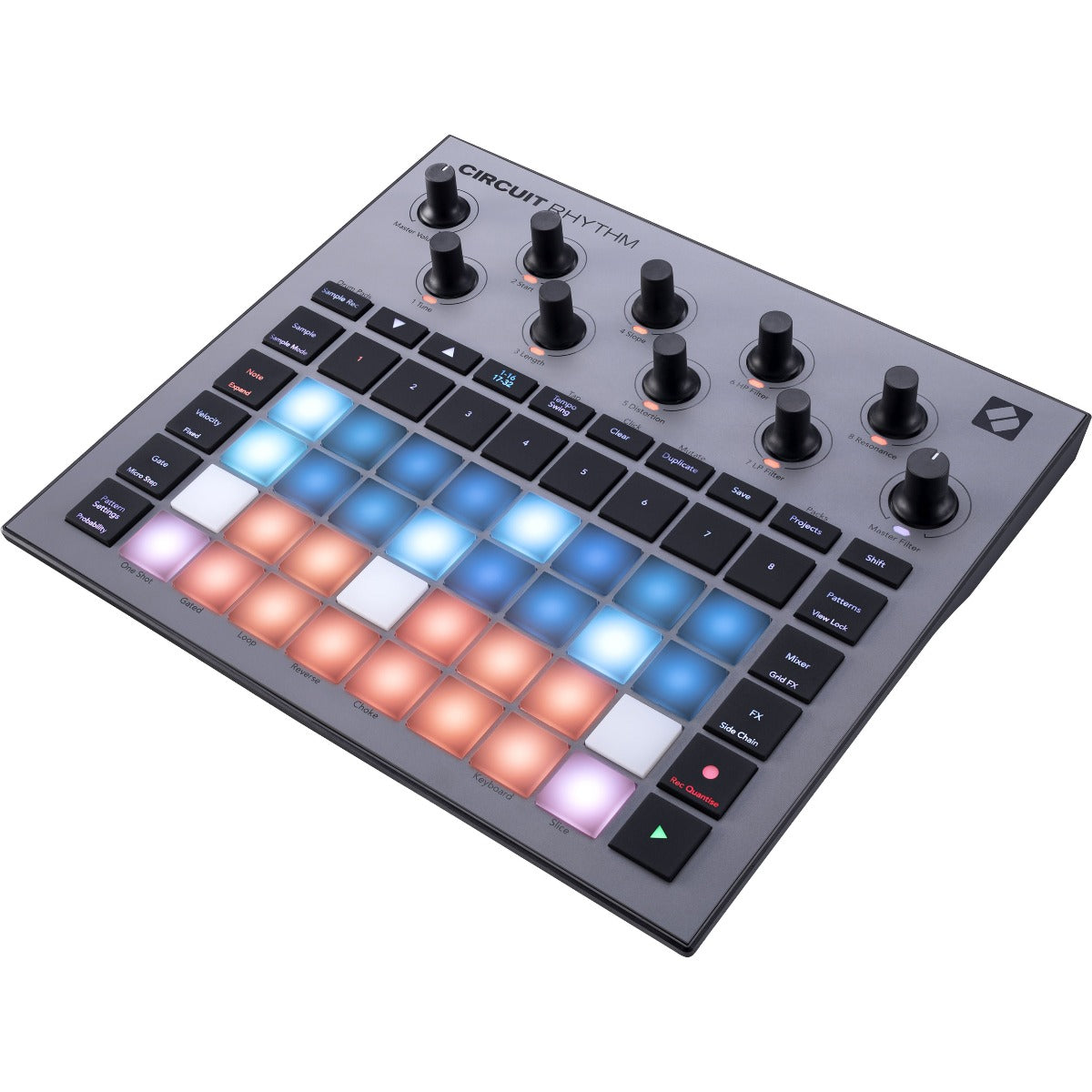 Novation Circuit Rhythm Standalone Beatmaking Sampler CABLE KIT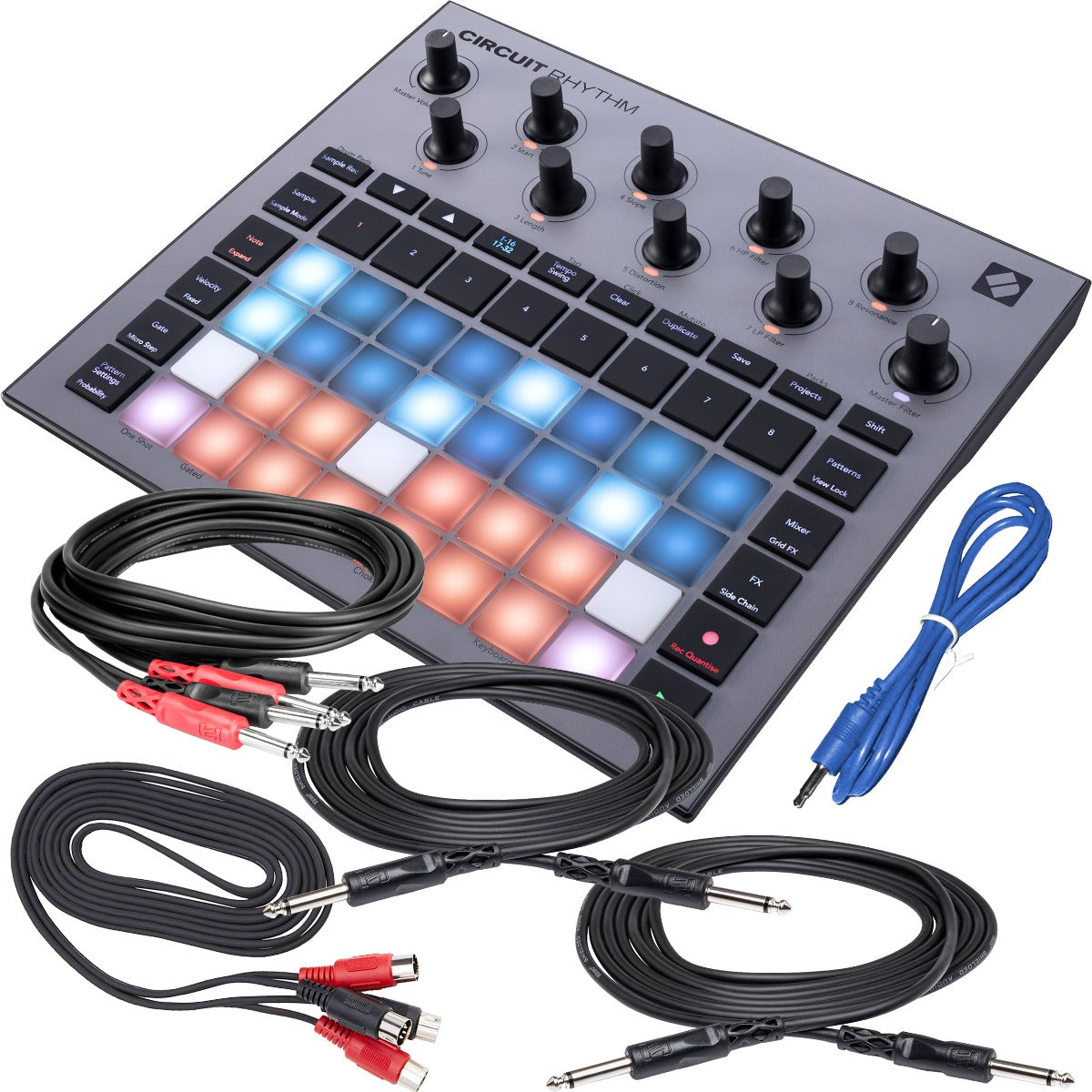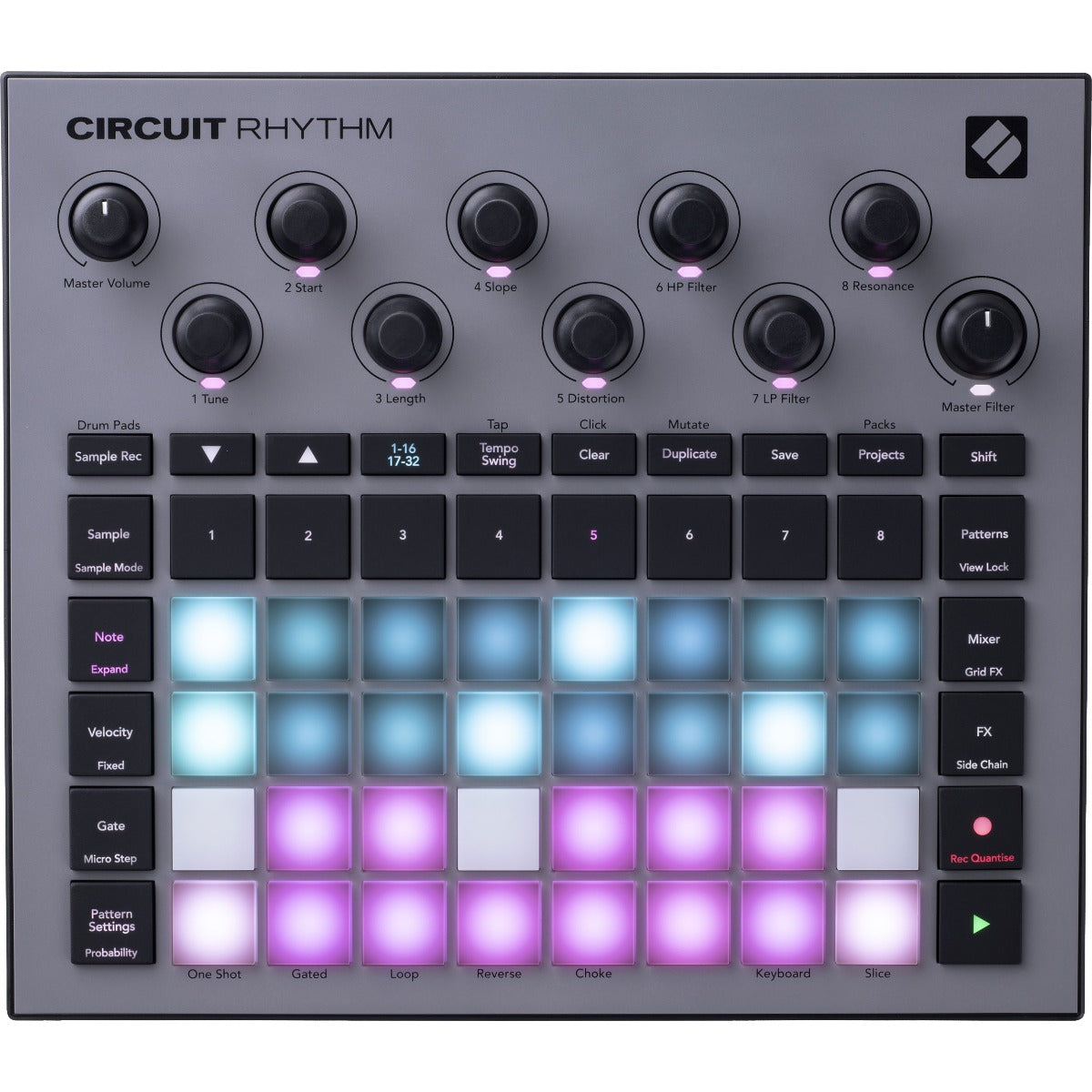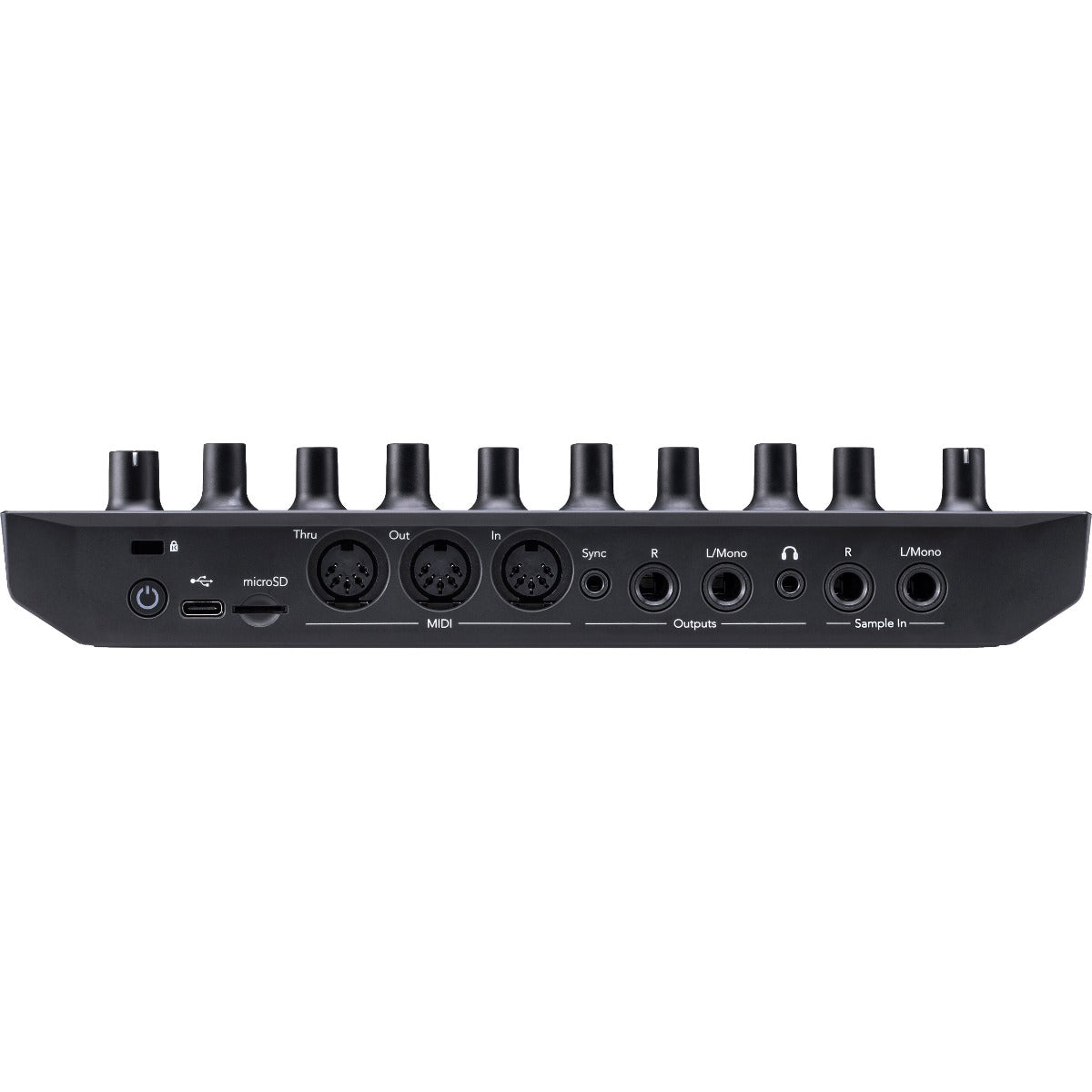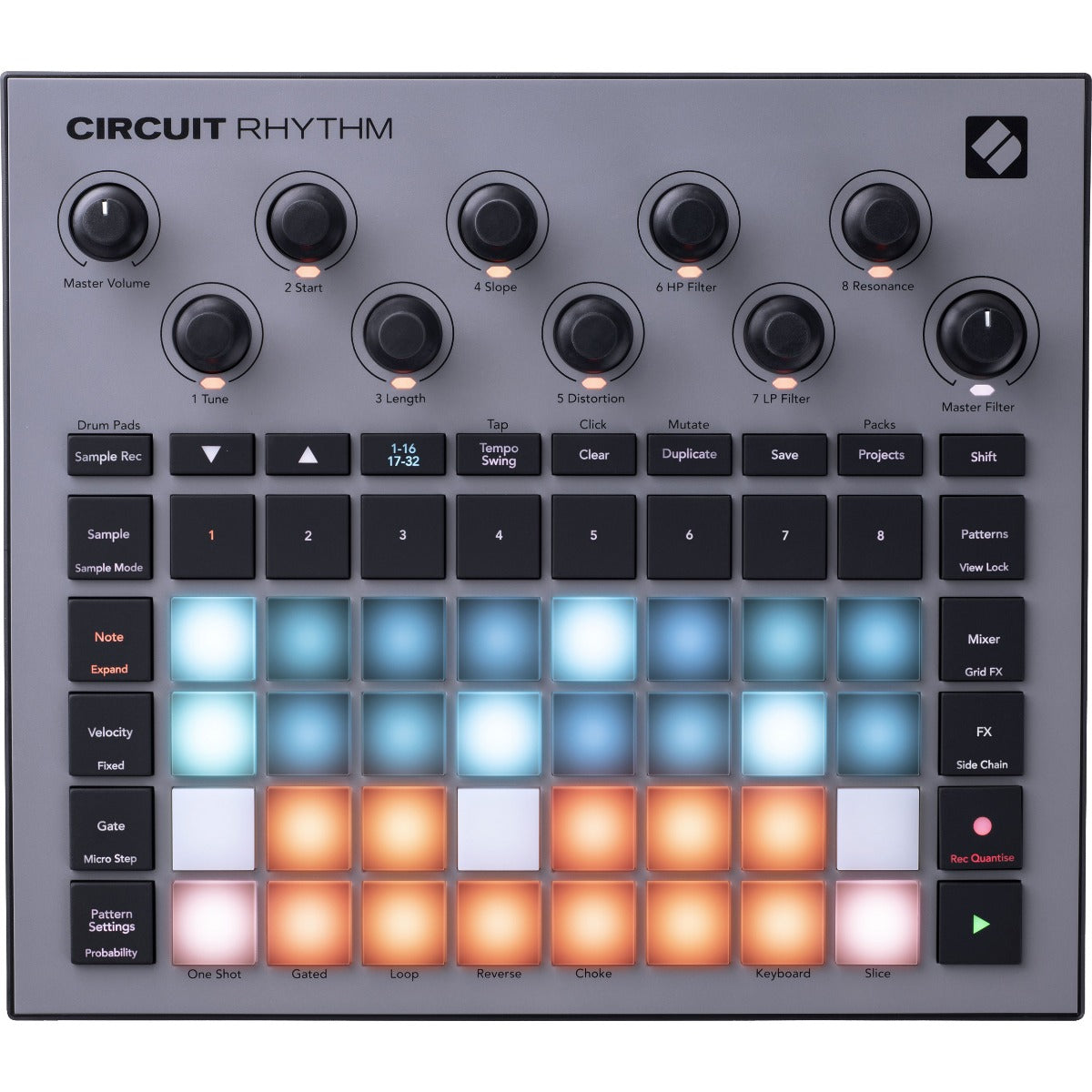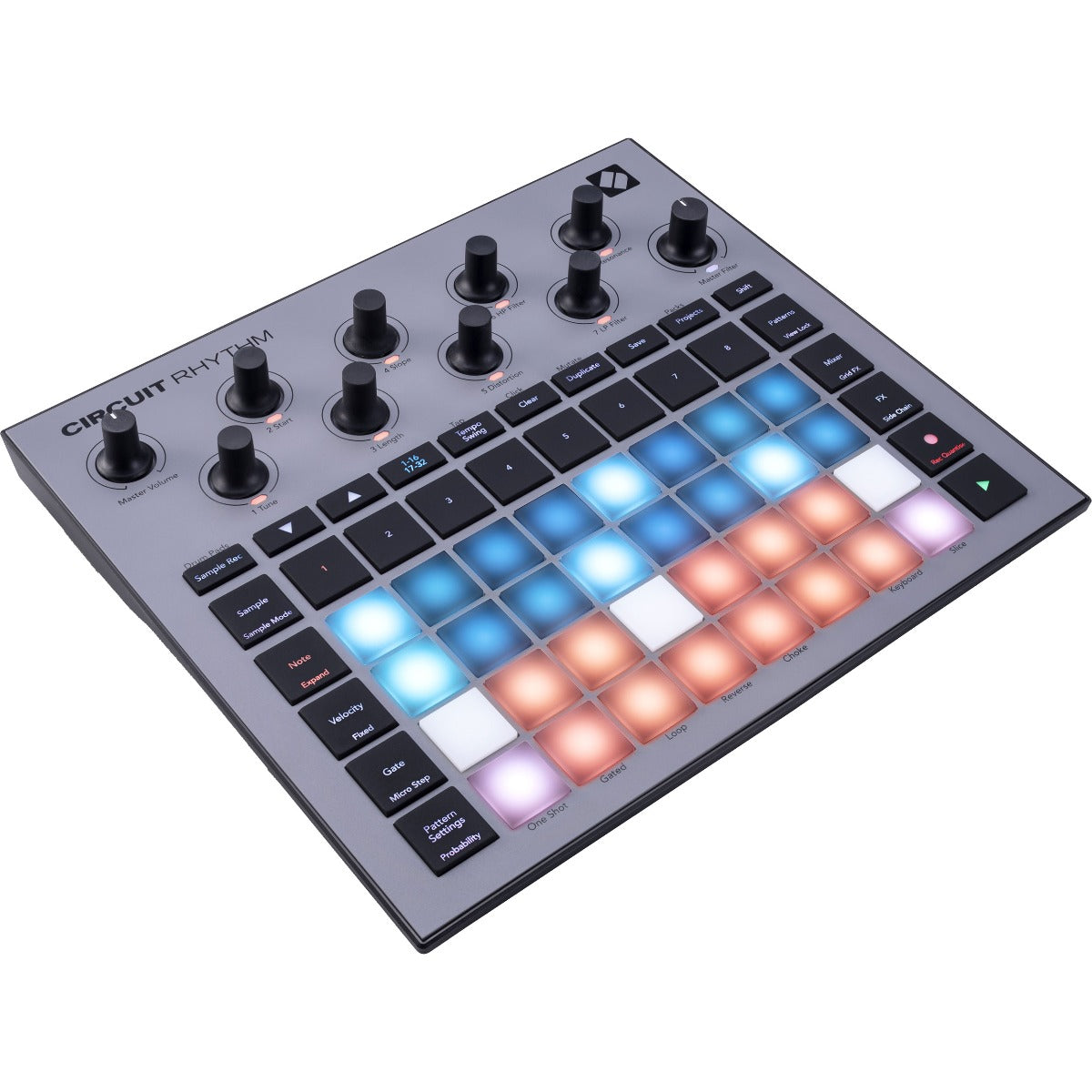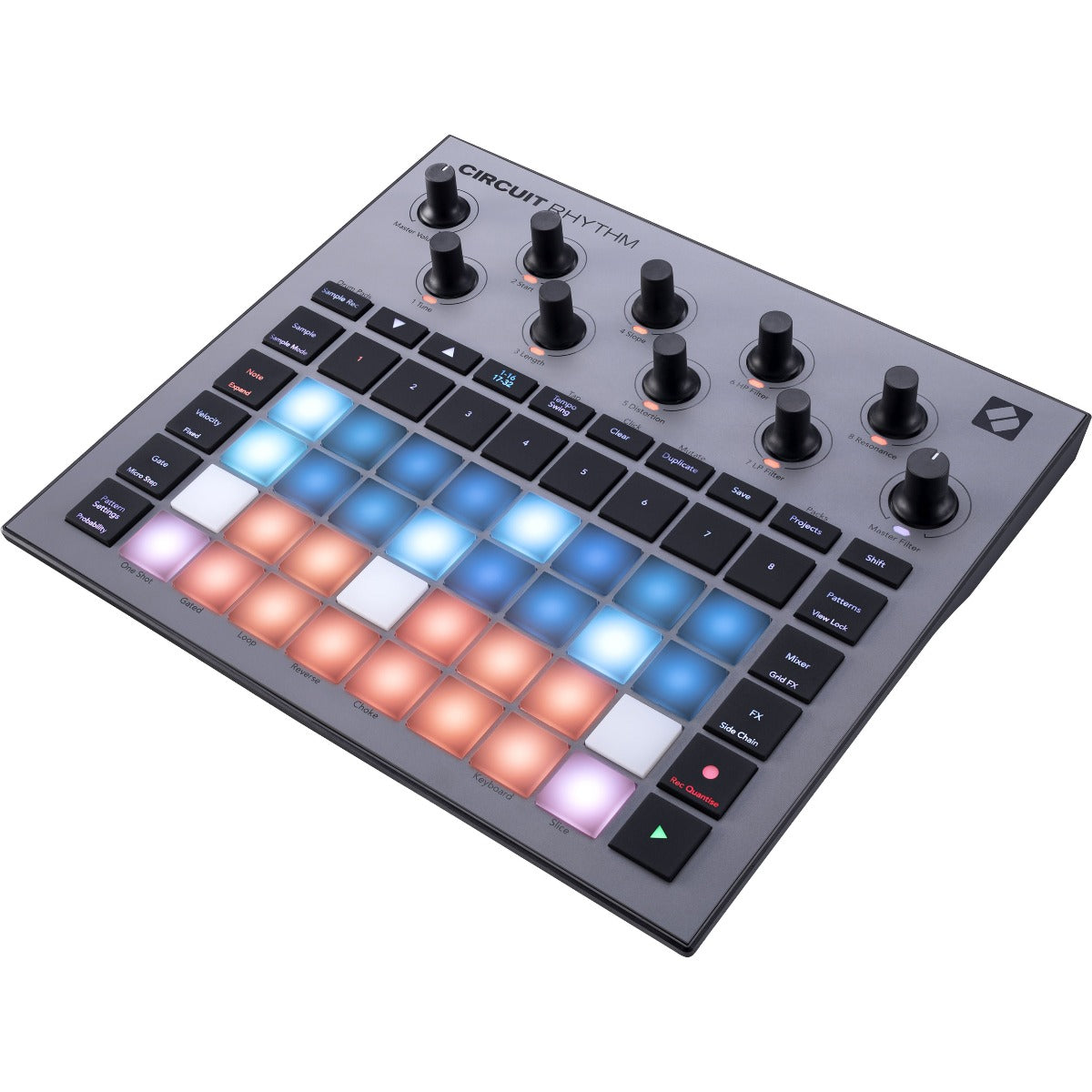 Novation Circuit Rhythm Standalone Beatmaking Sampler CABLE KIT
5 items included
This Kraft Music Bundle Includes
$349.99
Regular price
$446.74
Instant Rebate ends January 2, 2024
Save $96.75
Click on a product to view more details.
Novation Circuit Rhythm is a powerful and versatile standalone sampler for the modern beatmaker. Samples can be recorded directly to the hardware, sliced, sculpted, reversed, looped, resampled and played chromatically – all in the box. Grid FX invigorate your live performances with lo-fi tape, stutter, beat repeat effects and more.
Circuit Rhythm firmware 2.0 update
Firmware 2.0 update adds significant new features to Circuit Rhythm, making it more intuitive than ever to use with more ways for users to be expressive with their beats. With Beat Match, you can pitch your samples up or down to get drum breaks perfectly in time with your session and make your beats flow seamlessly. Fixed Length Recording lets you record samples so that they'll be perfectly in time with your current project. Beatmakers can create dynamic sonic performances and take control of grid FX parameters directly from Circuit Rhythm using editable Grid FX.
Eight sample tracks – each with their own 32-step patterns, chainable for up to 256 steps per track – provide a seamless beatmaking workflow. Go from a sample to a complete beat with ease using the powerful hands-on sequencer. Grooves can be quantized or captured off-grid into the sequencer, and probability and pattern mutate controls keep your beats evolving.
Circuit Rhythm's comprehensive connectivity includes full-size 5-pin MIDI in, out and thru as well as analog sync out, making it the perfect sampler partner to any studio rig. The built-in rechargeable battery provides up to four hours of battery life so you can make beats on the move, while Novation Components provides a platform to load samples and backup your work.
Sample and resample
Record samples directly to the hardware, then slice, reverse, loop and resample your sounds effortlessly, play them chromatically and more. Playback samples however you choose, whether you're chopping straight from vinyl, making basslines and melodies or punching in drums.
Perform with Grid FX
Invigorate your live set with performance effects: embrace imperfection with lo-fi tape, stutter your mix with beat repeat and more.
Eight sample tracks
Make beats with eight sample tracks, each with their own 32-step patterns, chainable for up to 256 steps per track.
Seamless beatmaking workflow
Go from a sample to a complete beat with ease using the powerful and hands-on sequencer.
Create anywhere
The built-in rechargeable battery provides up to four hours of battery life, so you can make beats on the move.
Go off grid
Capture your groove quantized or off-grid into the sequencer, and keep your beats evolving with probability and pattern mutate.
Effects on everything
Douse samples in lush reverb and delay, make your mix pump with sidechain and punch with the master compressor.
Comprehensive connectivity
Connect to your studio with full-size 5-pin MIDI in, out and thru and analog sync out. Sample through stereo inputs and listen through stereo out or with headphones.
Never stop creating
Insert a microSD card to save and access thousands of samples and projects.
Go further with Components
Novation Components is the online companion that lets you load samples and backup your work.

SKU
NOV-CIRCUITRHYTHMCK
MPN
Circuit Rhythm
Vendor
Novation
Analog Digital
Digital
Built In Speakers
No
Included From Manufacturer
USB-C to USB-A cable
USB power adapter
Number of Keys
None
Midi
In, Out, Thru, and USB
Mono Poly
Monophonic
Mpn
AMS-CIRCUIT-RHYTHM
Product Unique Features

Sample Pack Expansion provides six sample packs with over 550 royalty-free samples
Load and backup packs, samples, Projects and Grid FX with Novation Components online orusing the standalone Components appliciation
USB class compliant on macOS and Windows
USB bus powered
Built-in rechargeable lithium-ion battery with up to 4-hour run time

Control Connections
1/8" analog sync output
Onboard Controllers
32 RGB backlit velocity-sensitive pads
28 RGB backlit tactile click buttons
8 endless encoders with RGB indicators
Master volume pot
Master filter pot with center detent
Effects
Delay Send with 16 presets
Reverb Send with 8 presets
Side Chain with 7 presets
Grid FX: Vinyl Sim, Beat Repeat, Reverse, Filter, Gater, Phaser, Digitiser
Audio Inputs
Dual 1/4" stereo sample inputs
Audio Outputs
Dual 1/4" stereo main output
1/8" stereo headphone output
Internal Storage Capacity
Internal storage for 1 Pack with 128 samples
4,096 total recordable samples via SD card: 128 samples × 32 Packs (1 internal Pack, 31 Packs on microSD card)
Multitimbral Capability
8 sample tracks
Product Weight
1.94 lb
Programs/Presets
Storage for 32 Packs of 64 Projects each
Each Project contains 8 Tracks with 8 Patterns each
Sampling
Onboard sampling via dual 1/4" stereo sample inputs
Sample time: 228 seconds per Pack, 32 seconds max per pad
Sample playback: Slice, Chromatic, One-Shot, Gated, Looped, Reverse
Sequencer
Step sequencer with micro steps, probability, mutate
Realtime recording with or without quantization
Pattern length: 1/32 note to 64 bars
Playback direction: forwards, reverse, ping-pong, random
USB Port (to Host)
MIDI;System Updates;Editor/Librarian/Patch Manager
Voices of Polyphony
8
Width
9.45"
Depth
8.27"
Height
1.77"
Novation Limited Warranty
All Novation products are built to the highest standards and should provide reliable performance for many years, subject to reasonable care, use, transportation and storage.
Many of the products returned under warranty are found not to exhibit any fault at all. To avoid unnecessary inconvenience to you in terms of retuning the product please contact Novation support.
In the event of a Manufacturing Defect becoming evident during the warranty period, Novation will ensure that the product is repaired or replaced free of charge. The warranty period for any product purchased on or after January 24th, 2020 is a period of 36 months from the date of the original purchase.
A Manufacturing Defect is defined as a defect in the performance of the product as described and published by Novation. A Manufacturing Defect does not include damage caused by post-purchase transportation, storage or careless handling, nor damage caused by misuse.
While this warranty is provided by Novation, the warranty obligations are fulfilled by the distributor responsible for the country in which you purchased the product.
The distributor will advise you of the appropriate procedure for resolving the warranty issue. In every case it will be necessary to provide a copy of the original invoice or store receipt to the distributor. In the event that you are unable to provide proof of purchase directly then you should contact the reseller from whom you purchased the product and attempt to obtain proof of purchase from them.
Please note that if you purchase a Novation product outside your country of residence or business you will not be entitled to ask your local Novation distributor to honor this limited warranty, although you may request an out-of-warranty chargeable repair.
This limited warranty is offered solely to products purchased from an Authorized Novation Reseller (defined as a reseller which has purchased the product directly from Novation in the UK, or one of its Authorized Distributors outside the UK). This warranty is in addition to your statutory rights in the country of purchase.
Ground shipping is FREE for all orders $99 and up.