Skip product carousel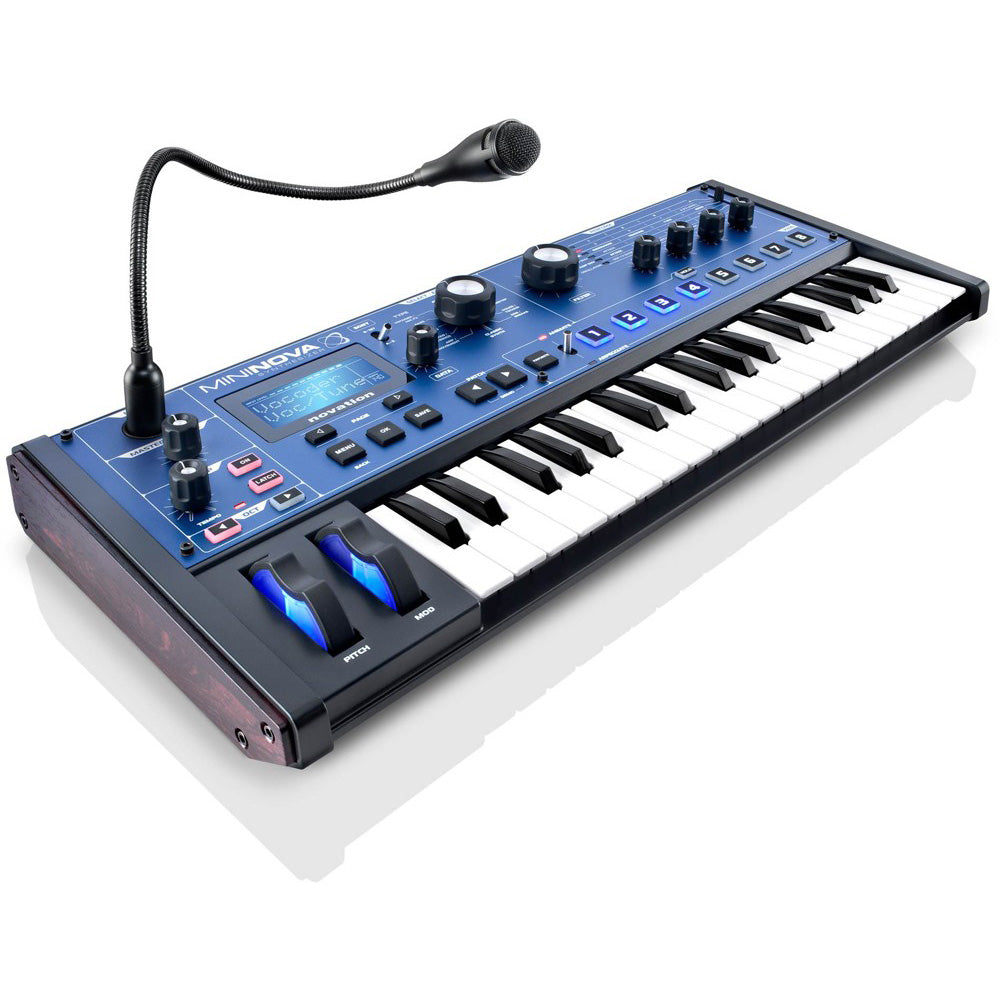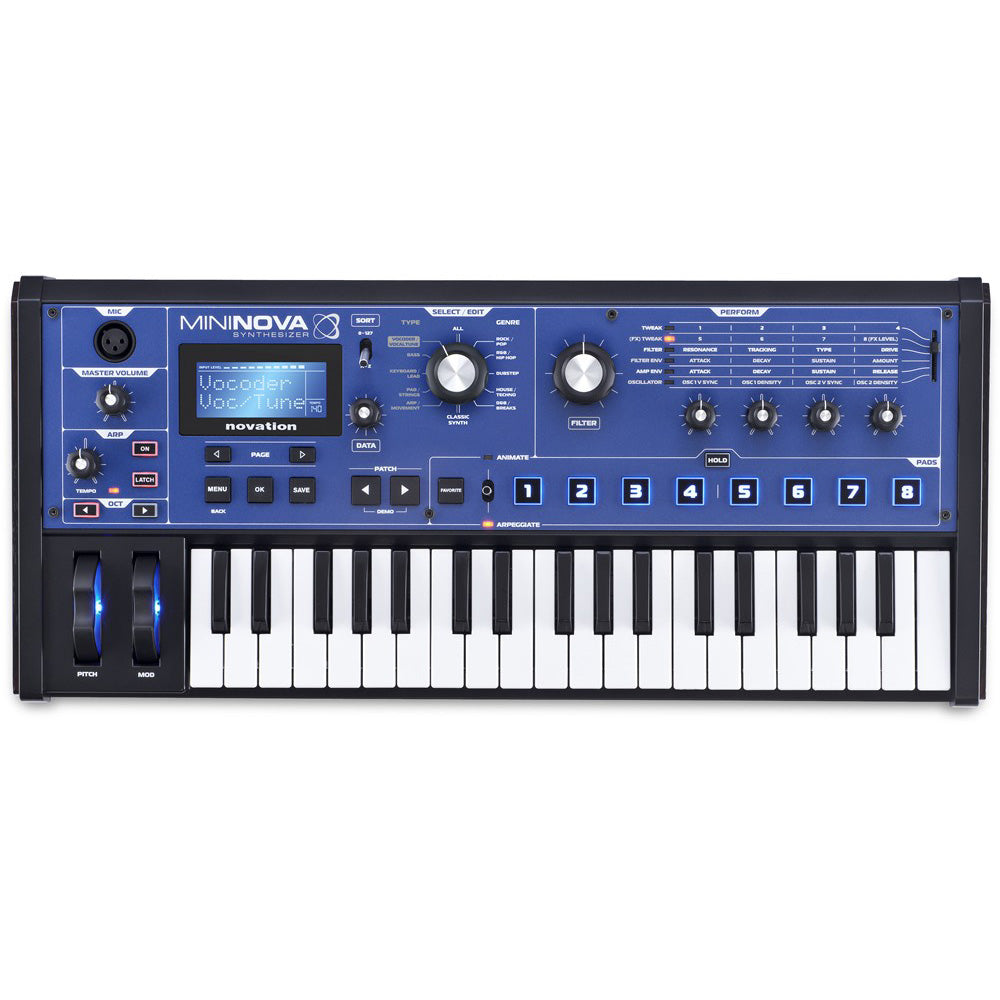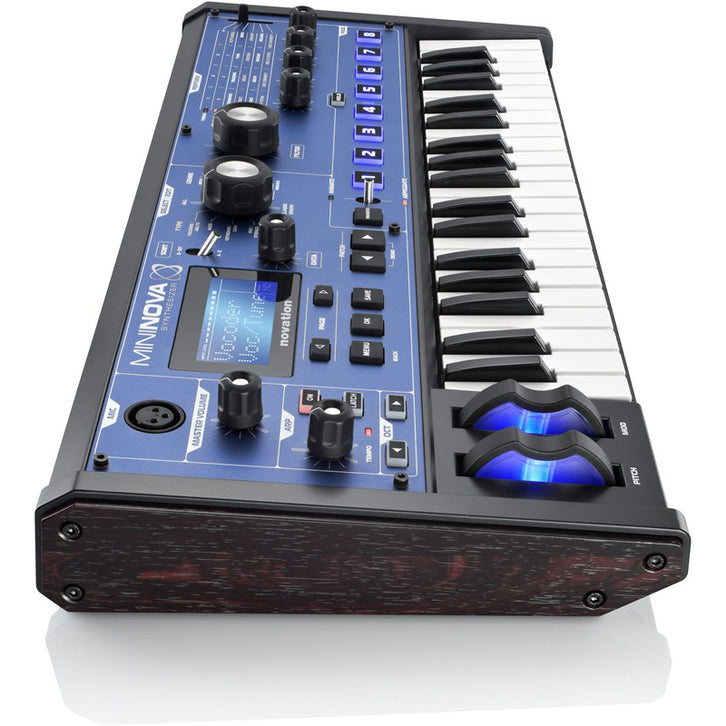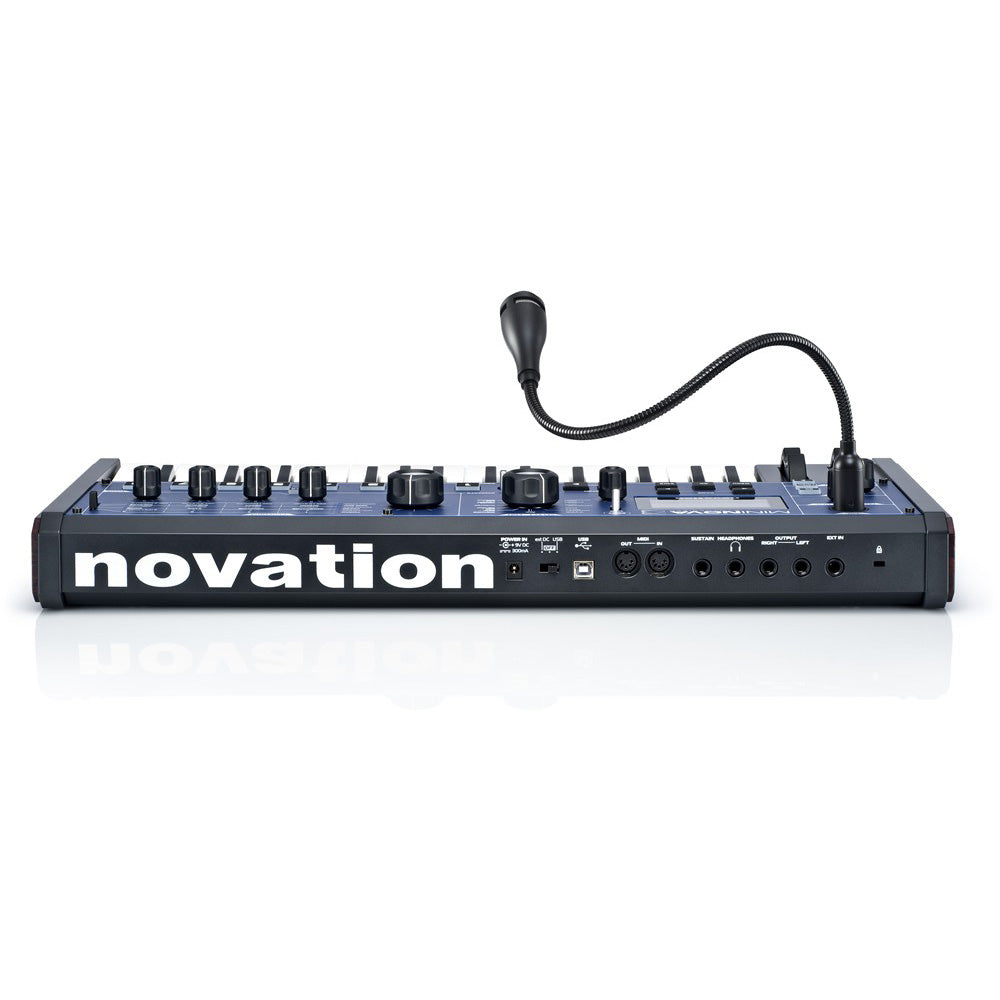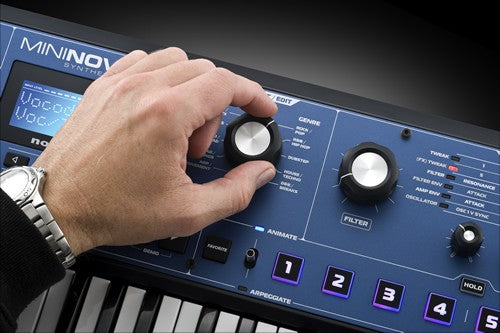 Novation MiniNova Analog Modeling Synthesizer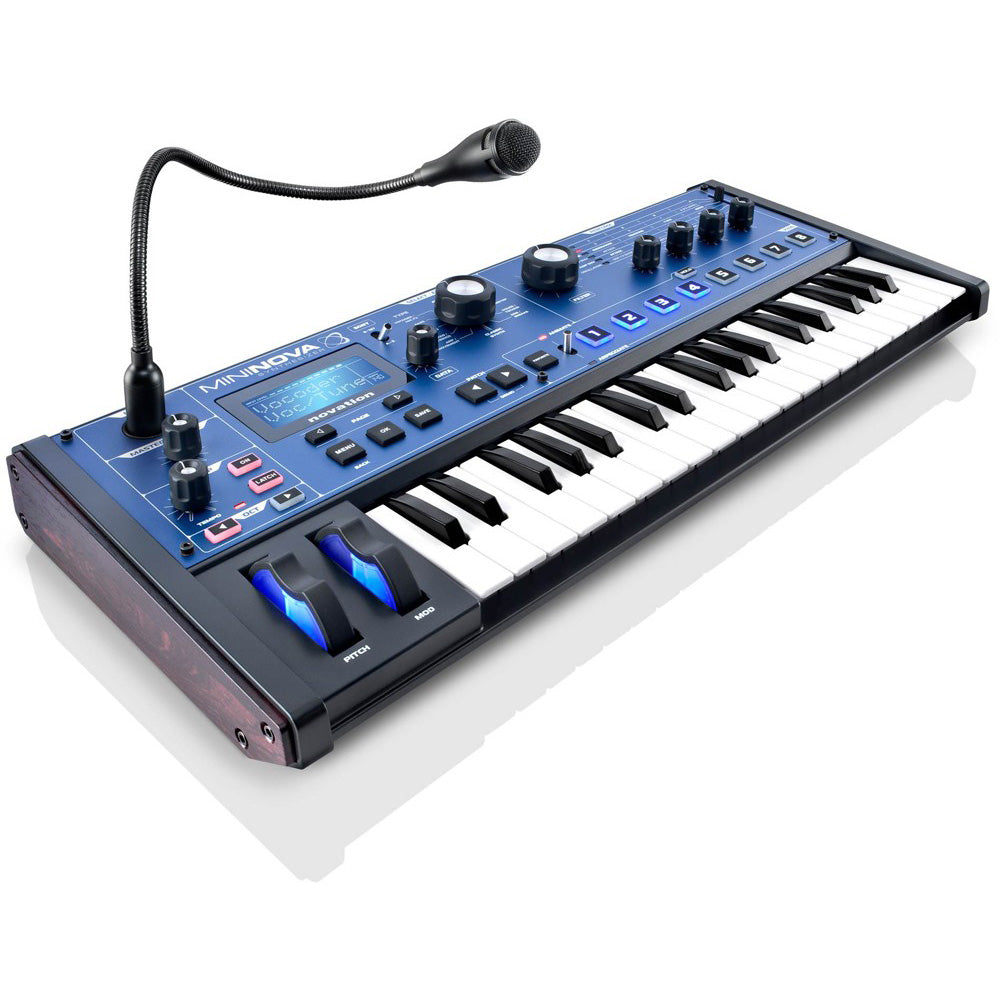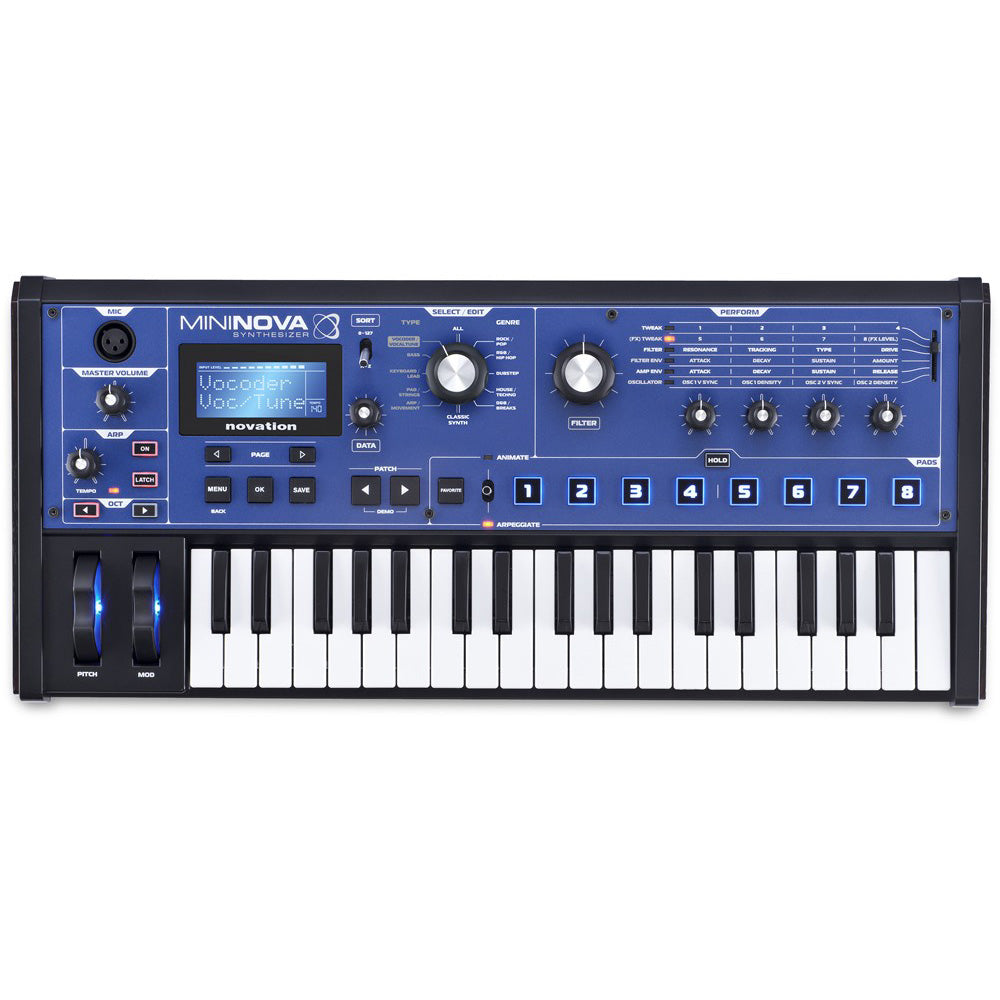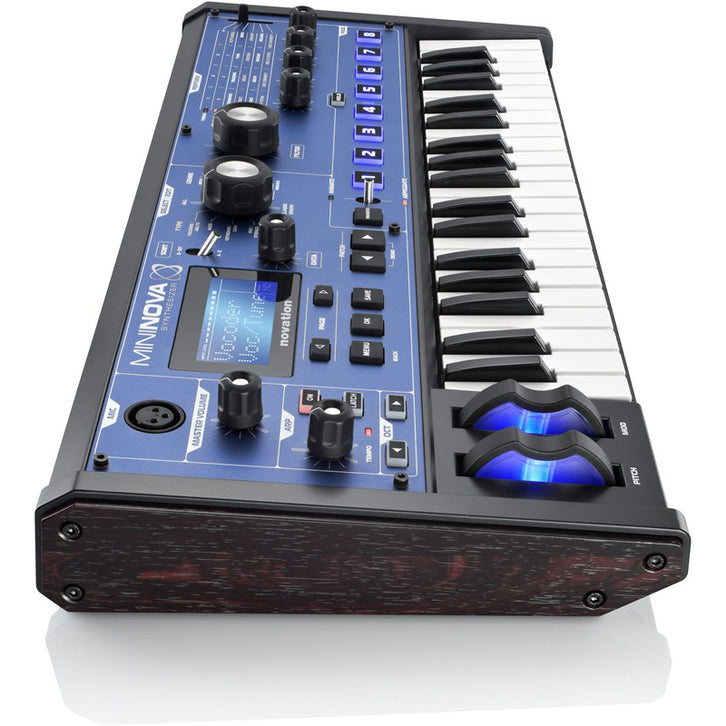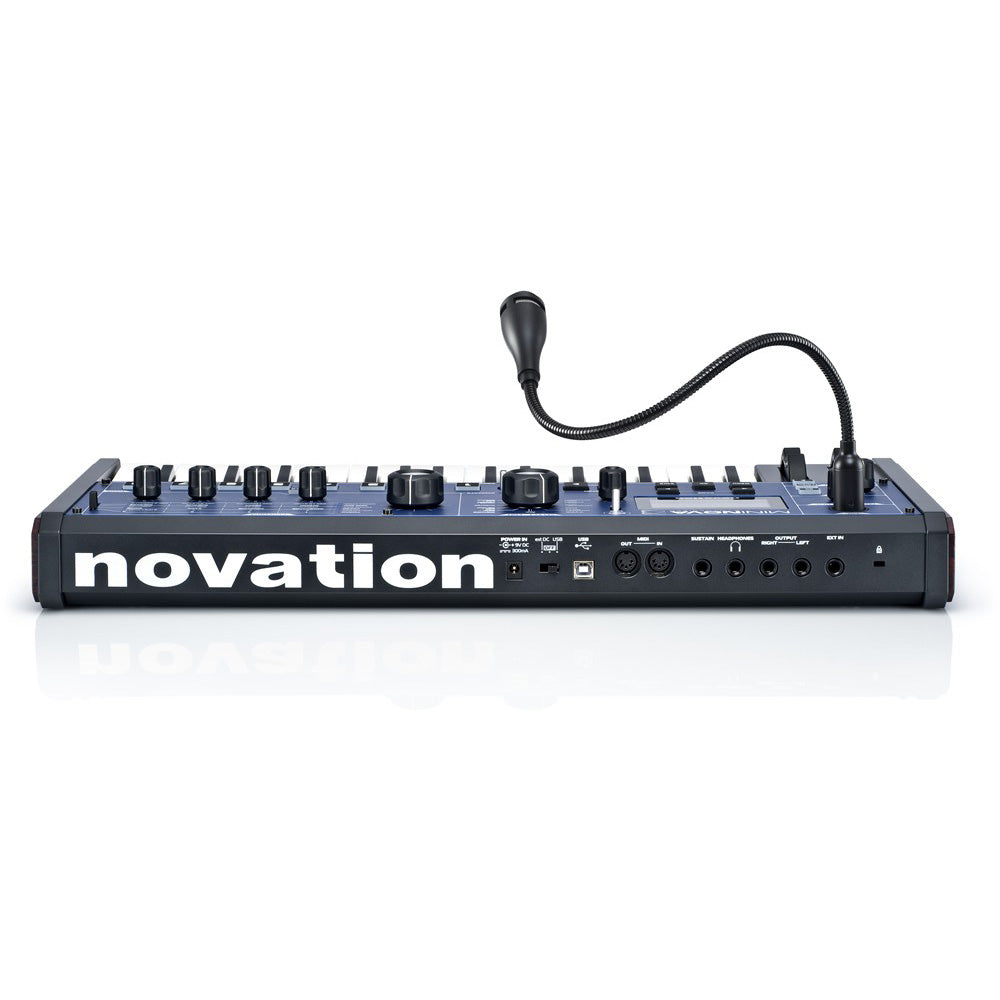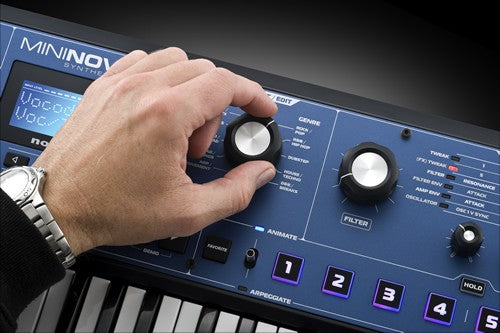 Novation MiniNova Analog Modeling Synthesizer
Novation MiniNova is a compact, super-cool studio and live synth with the same sound engine as its big brother, Novation UltraNova. It comes with 256 incredible onboard sounds that you can tweak with five knobs or totally warp with eight 'animate' buttons. It has up to 18 voices with as many as five synth effects on each sound. MiniNova also has an onboard VocalTune effect as well as a classic vocoder so you can recreate iconic vocal sounds from hip hop, urban and electronic music.
Small synth, big sounds
Don't let its size fool you: MiniNova is the latest in the 'nova' range of synths dating back to the legendary Supernova series. It has the same incredibly powerful sound engine and synth effects as Novation UltraNova, which means it is capable of creating dirty-fat bass synth sounds, soaring leads, lush pads and vintage synth sounds. All this in a 37 minikey form with a USB port and MIDI I/O so you can hook it up to your laptop and control your music software or connect it to another keyboard or sound module.
The synth engine and effects
MiniNova has an enormously powerful sound engine and synth effects, unheard of in a micro synth. There are 14 conventional waveforms to choose from (square, sine, sawtooth, pulse, triangle and combinations), 36 wavetables and 20 digital waveforms. Each of the 3 oscillators (per voice) have density/detune for fattening up sounds, virtual sync and 'hardness,' which acts as an additional lowpass filter. There are 14 filter types (and you can run 2 simultaneously), 6 envelope generators, 3 LFOs and 20 modulation slots where you can link modules of the synth engine together to shape sound. MiniNova can add up to 5 effects to each sound including distortion, reverb, chorus/phase, delay, compressor, EQ and Novation's unique gator effect.
Classic and brand new vocal effects
MiniNova takes vocal effects one step further. In addition to a vocoder, it has VocalTune. This means you can talk into the mic and play the tune you want your voice to follow on the keyboard, recreating those classic hip-hop/urban vocal effects. You can also run your voice through MiniNova's effects engine, adding reverb, distortion, chorus/phase, gator compression or EQ. This doesn't need to be limited to your voice: there is an input into which you can plug a guitar or any other instrument and give it the same treatment, i.e., effects or vocoder.
Choose your sound — and get more for free!
MiniNova has 256 onboard sounds and space to save another 128 of your own sounds. You can quickly search for sounds by selecting the style of music you're making or the type of sound you're after, whether it's bass synth, lead, hip-hop or techno. MiniNova comes with a free software patch librarian so you can store as many sounds as you want on your computer. If 256 is not enough, there are numerous soundpacks for MiniNova assembled by renowned artists and sound designers which include plenty of vintage synth sounds. They can be downloaded free from Novation's website.
Editing software included
Editing sounds in such a powerful synth can be overwhelming, so Novation created a software application that gives you visual access to the synth engine. MiniNova Editor works as a plug-in within your DAW or music software. You can fully edit MiniNova using the hardware; the software just makes it easier to see what you are doing.

SKU
NOV-MININOVA
Vendor
Novation
Aftertouch
No
Analog Digital
Digital
Built In Speakers
No
Included From Manufacturer
Vocoder mic
USB cable
Power supply
Software: MiniNova Software Editor, MiniNova Patch Librarian, Ableton Live Lite, Novation Bass Station softsynth, Loopmasters sample pack (1 GB)
Keys Weighted
Semi-Weighted
Number of Keys
37
Key Size
Mini Keys
Midi
In, Out, and USB
Mono Poly
Polyphonic
Mpn
MININOVA
Product Unique Features
12 band vocoder w/ VocalTune
Powered via AC power supply or USB
Includes software editor and librarian
Arpeggiator
Yes
Audio File Playback
No
Control Connections
Sustain
Onboard Controllers
Pitch wheel (LED lit)
Modulation wheel (LED lit)
(4) Edit/Performance pots
(1) Large Filter pot
(8) Animate/Arpeggiator/Favorite Patch-select buttons
Effects
5 effects slots per patch
Audio Inputs
(1) XLR - Mic
(1) 1/4" - External In
Audio Outputs
(2) 1/4" - Left, Right
(1) 1/4" Headphone
Key Action
Mini-synth with velocity
Oscillators per Voice
3
Product Weight
5.55 lbs
Programs/Presets
256 Preset / 128 User
USB Port (to Host)
MIDI;System Updates;Editor/Librarian/Patch Manager
Voices of Polyphony
18
Width
22.04"
Depth
9.84"
Height
2.95"
Novation Limited Warranty
All Novation products are built to the highest standards and should provide reliable performance for many years, subject to reasonable care, use, transportation and storage.
Many of the products returned under warranty are found not to exhibit any fault at all. To avoid unnecessary inconvenience to you in terms of retuning the product please contact Novation support.
In the event of a Manufacturing Defect becoming evident during the warranty period, Novation will ensure that the product is repaired or replaced free of charge. The warranty period for any product purchased on or after January 24th, 2020 is a period of 36 months from the date of the original purchase.
A Manufacturing Defect is defined as a defect in the performance of the product as described and published by Novation. A Manufacturing Defect does not include damage caused by post-purchase transportation, storage or careless handling, nor damage caused by misuse.
While this warranty is provided by Novation, the warranty obligations are fulfilled by the distributor responsible for the country in which you purchased the product.
The distributor will advise you of the appropriate procedure for resolving the warranty issue. In every case it will be necessary to provide a copy of the original invoice or store receipt to the distributor. In the event that you are unable to provide proof of purchase directly then you should contact the reseller from whom you purchased the product and attempt to obtain proof of purchase from them.
Please note that if you purchase a Novation product outside your country of residence or business you will not be entitled to ask your local Novation distributor to honor this limited warranty, although you may request an out-of-warranty chargeable repair.
This limited warranty is offered solely to products purchased from an Authorized Novation Reseller (defined as a reseller which has purchased the product directly from Novation in the UK, or one of its Authorized Distributors outside the UK). This warranty is in addition to your statutory rights in the country of purchase.
Ground shipping is FREE for all orders $99 and up.