Skip product carousel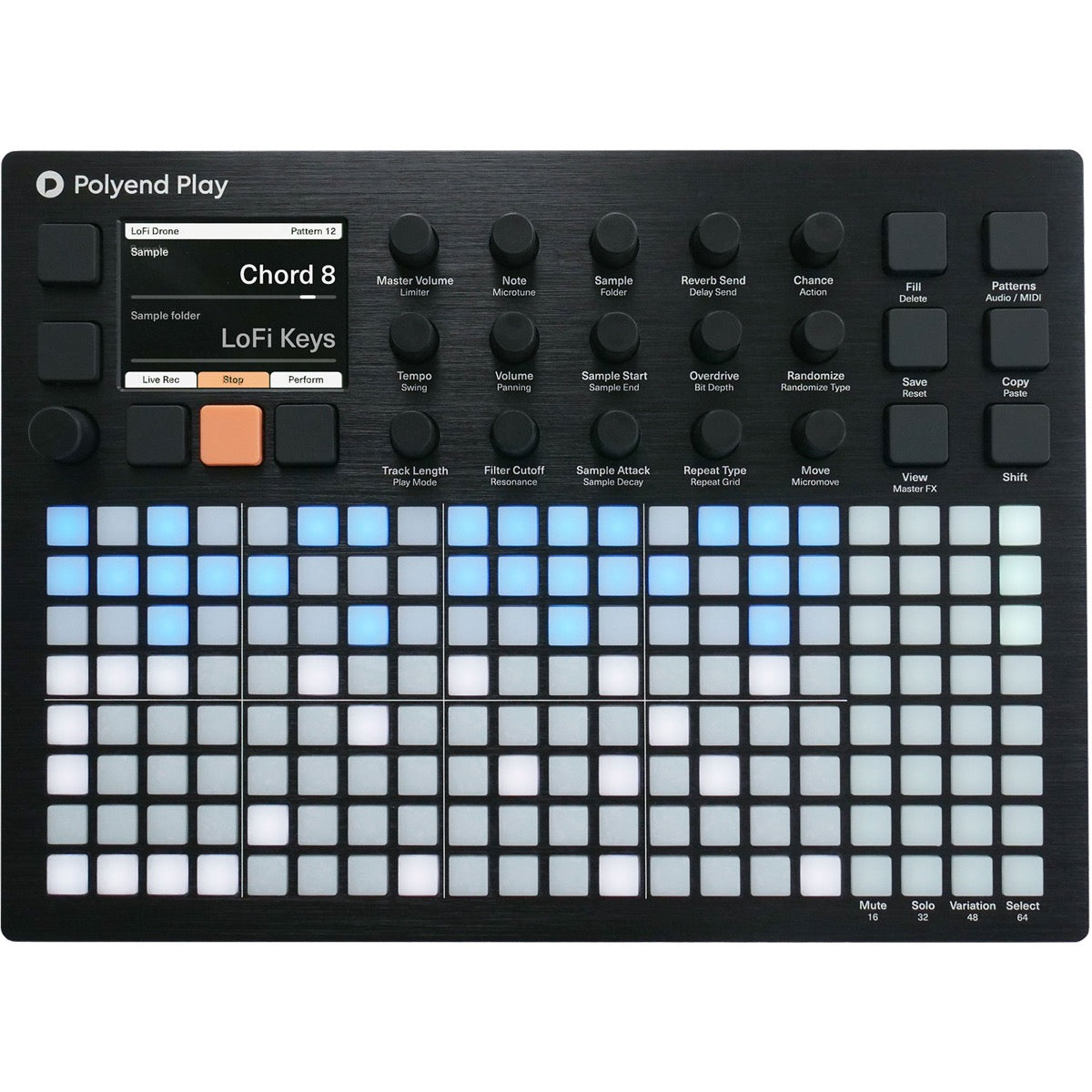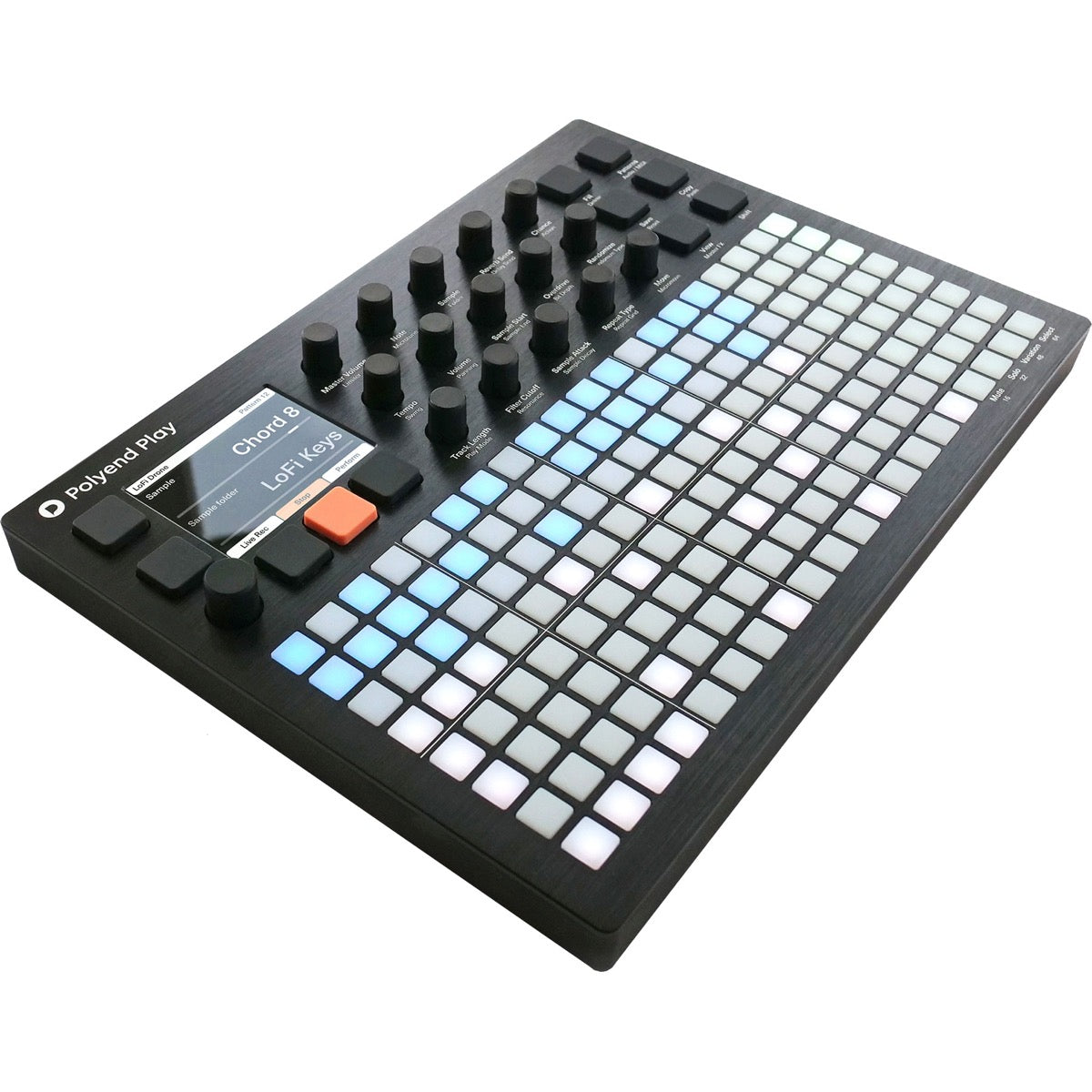 Polyend Play Sample- and MIDI-Based Groovebox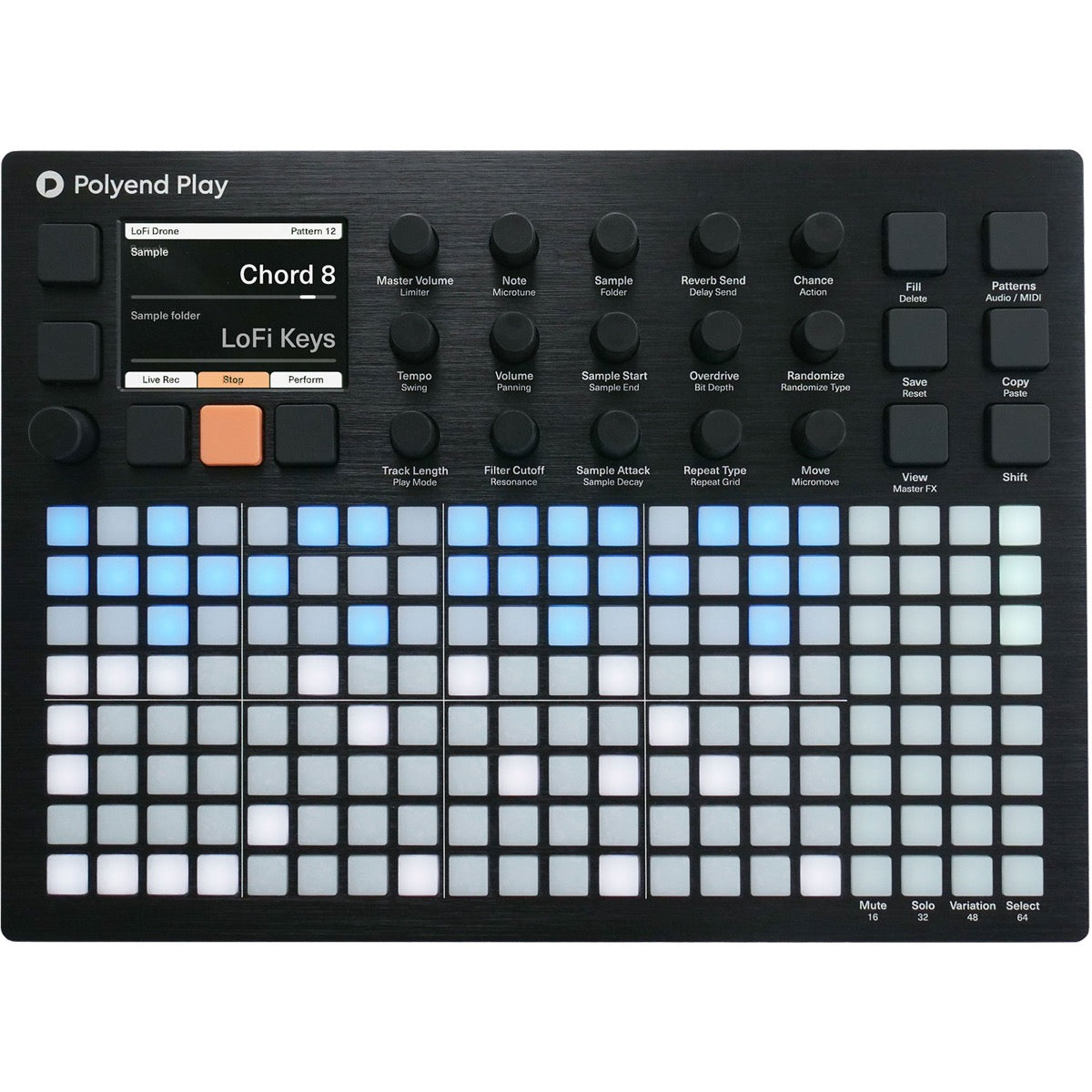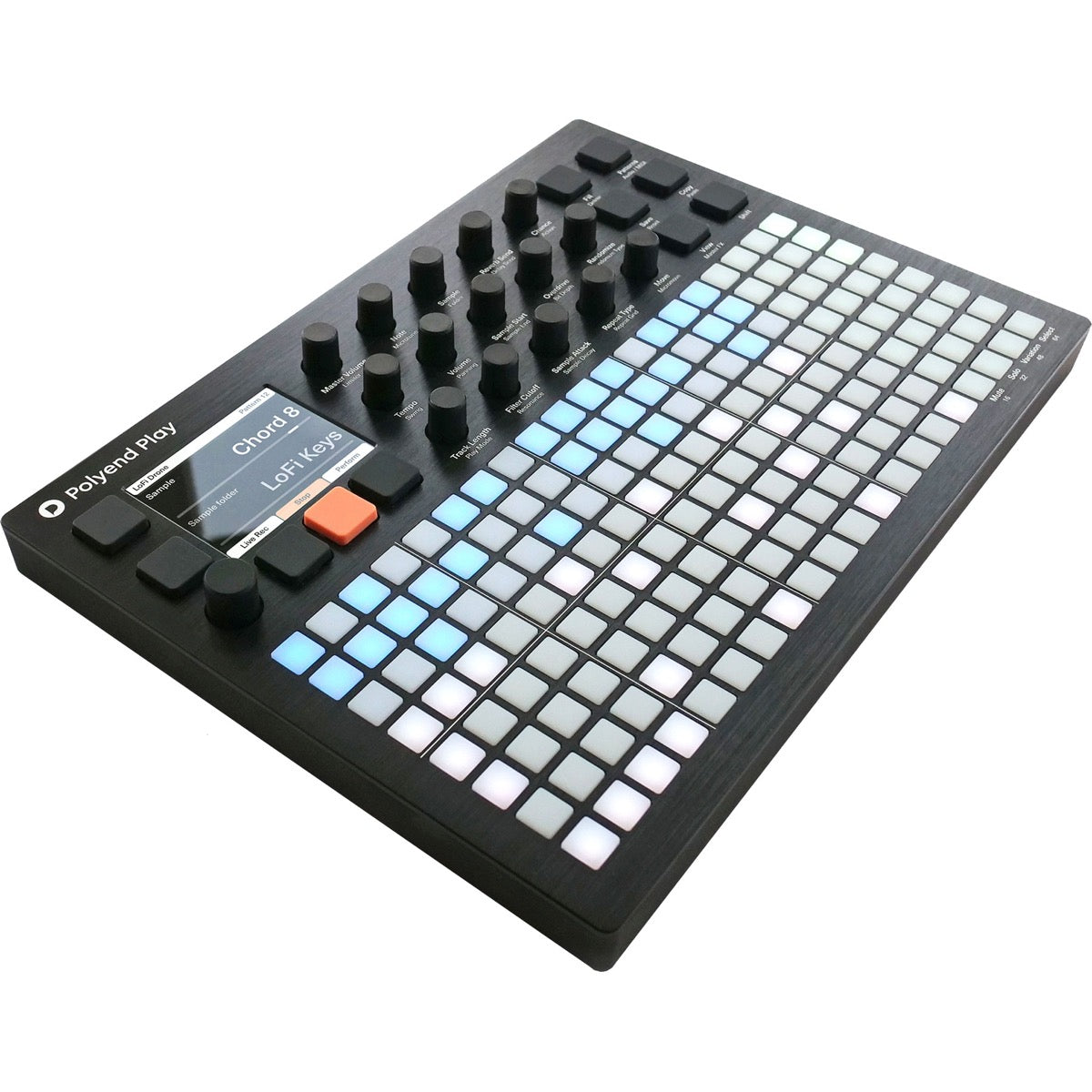 Polyend Play Sample- and MIDI-Based Groovebox
Polyend Play is incredibly powerful yet easy to learn. It's designed to let you create and perform music while having fun. It's a groovebox that comes packed with sample kits so it's ready to play right out of the box. Free, regular software updates will make it even better in the future. And if you already have other MIDI devices, Play can become the centerpiece of your setup.
8 internal audio tracks and 8 polyphonic MIDI tracks with independent track speed, length, swing
16 variations per track, 128 patterns per project
Advanced randomizer, unique Step Repeater and Chance-Action combo
DJ-style filter and master effects including reverb, delay, sound enhancer, limiter, saturation
Unique Perform mode with tons of presets
Intuitive and versatile Song Creator
High-quality sample packs included, add your own using included microSD card w/USB adapter
1/8" stereo output (1/8" to dual 1/4" stereo adapter included)
MIDI in and out (1/8" to 5-pin MIDI adapter included)
Large high-resolution screen
Sturdy anodized aluminum faceplate with high-quality keys/pads, durable encoder and potentiometers
Sequence, perform, play
Polyend Play is possibly the most flexible and inspirational groovebox ever created. Loaded with over 3,000 samples and 8 tracks of audio sequencing, you can create beats straight out of the box and truly make them your own with a wide variety of playback tools and effects. Pick and place your sounds anywhere on the grid for a truly 'sandbox' approach to beatmaking. Switch to Perform mode for even more ways to create new grooves, and if that's not enough, take advantage of Play's powerful sequencer to control your outboard gear with a further 8 polyphonic MIDI tracks.
Play
Find your sound among over 3,000 included samples and place it anywhere on the grid to start building your tracks, then easily adjust step parameters independently with familiar sample-based controls. Make each track your own with 35 different play modes, Chance-and-Action Combo, Randomizer and Step Repeater functions.
Stuck for inspiration? Utilize Smart Fill to automatically fill any area you choose with an entire beat, a random placement of steps or even a Euclidean spread. Quickly move data around, such as steps, tracks, track pages, variations and patterns, with simple selection and copy/paste controls. Keep it musical with scale filtering, allowing only notes within the selected scale to be output by the entire sequence.
Perform
Play's Perform mode lets you make non-destructive changes to your tracks via performance effects including Tune, Filter, Overdrive, Rearranger, Reverb and many more. Live record automation or change individual step values on the fly and even record mono or polyphonic MIDI from an external controller or the onboard grid keyboard.
You can instantly save and recall patterns, perfect for when things go wrong during a live performance, and customizable pattern chaining allows you to map out entire sequences anywhere on the grid and then perform them live. Reverb, delay, sound enhancer, limiter and saturator master effects are included to spice up your entire mix.
Sequence
8 internal audio tracks and 8 individual polyphonic MIDI tracks combine for powerful integration with your existing instruments. Over 30,000 track variations are available! That's 128 patterns holding 16 tracks with each individual track holding up to 16 variations. Each track can benefit from independent 1-64 step lengths, different BPM-related speeds, playback modes and even swing values – perfect for polymetric and polyrhythmic sequences. Control your synths and drum machines on their own individual tracks with the ability to output a separate set of MIDI values per track. Play has full MIDI capabilities with flexible MIDI CC mapping per track for the individual rotary knobs and you can connect an external controller for MIDI note input. On the output side you can send MIDI chords, arpeggios, program and bank changes, pitch bend, clock and much more.
SKU
PLY-PLAY
MPN
Play
Vendor
Polyend
Analog Digital
Digital
Built In Speakers
No
Included From Manufacturer
Power supply
USB-C to USB-C cable
1/8" to dual 1/4" stereo adapter
1/8" to 5-pin MIDI adapter
16GB microSD card
microSD to USB-A adapter
Midi
In, Out, and USB
Mono Poly
Polyphonic
Mpn
PLY-PLAY
Product Unique Features
Advanced randomizer, unique Step Repeater and Chance-Action combo
Unique Perform mode with tons of presets
Intuitive and versatile Song Creator
Arpeggiator
Yes
Effects
DJ-style filter
Master effects including reverb, delay, sound enhancer, limiter and saturator
Performance effects including tune, filter, overdrive, rearranger, reverb and more
Audio Outputs
1/8" stereo output
1/8" to dual 1/4" stereo adapter included
Product Weight
2.2 lb
Programs/Presets
3,000+ preset samples
Import samples via included microSD card
Sampling
Sample playback only
Import samples using included 16GB microSD card
Sequencer
8 tracks of internal audio sequencing
8 MIDI tracks for control of external instruments
128 patterns with 16 tracks each
1-64 steps and up to 16 variations per track
USB Port (to Host)
MIDI
Voices of Polyphony
8
Width
11"
Depth
8"
Height
1.8"
Polyend Warranty
Polyend warrants this product, to the original owner, to be free of defects in materials or construction for one year from the date of purchase. Proof of purchase is necessary when a warranty claim is processed. Malfunctions resulting from improper power supply voltages, abuse of the product or any other causes determined by Polyend to be the fault of the user won't get covered by this warranty (standard services rates will be applied). All defective products will be replaced or repaired at the discretion of Polyend. Products must be returned directly to Polyend with the customer paying the shipping cost. Polyend implies and accepts no responsibility for harm to a person or apparatus through the operation of this product.
Please go to the Polyend website in order to start a return-to-manufacturer authorization or for any other related inquiries.
Standard Shipping