Skip product carousel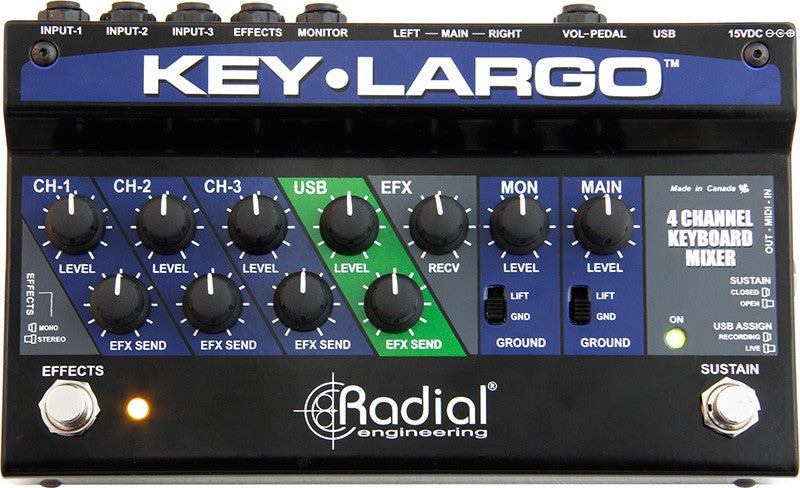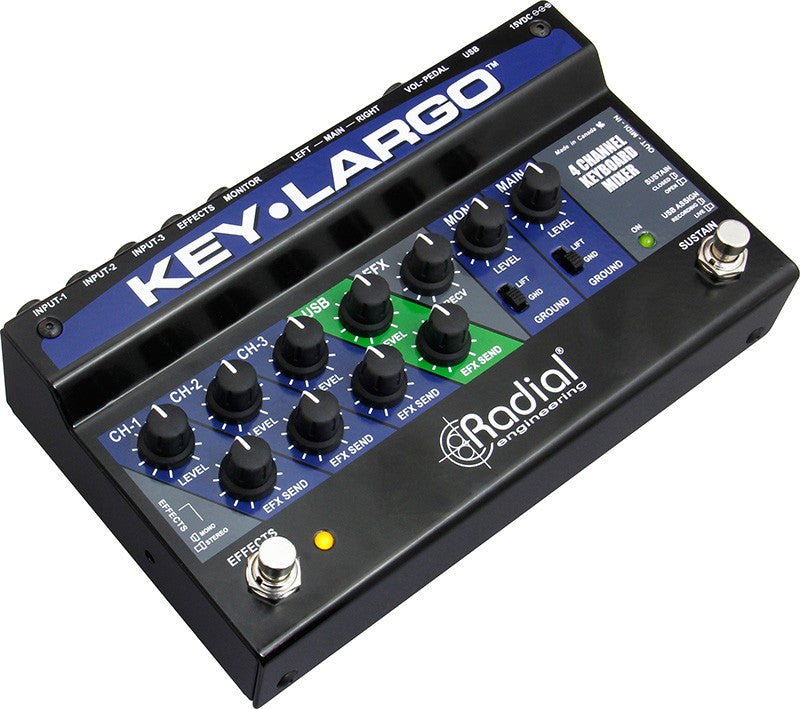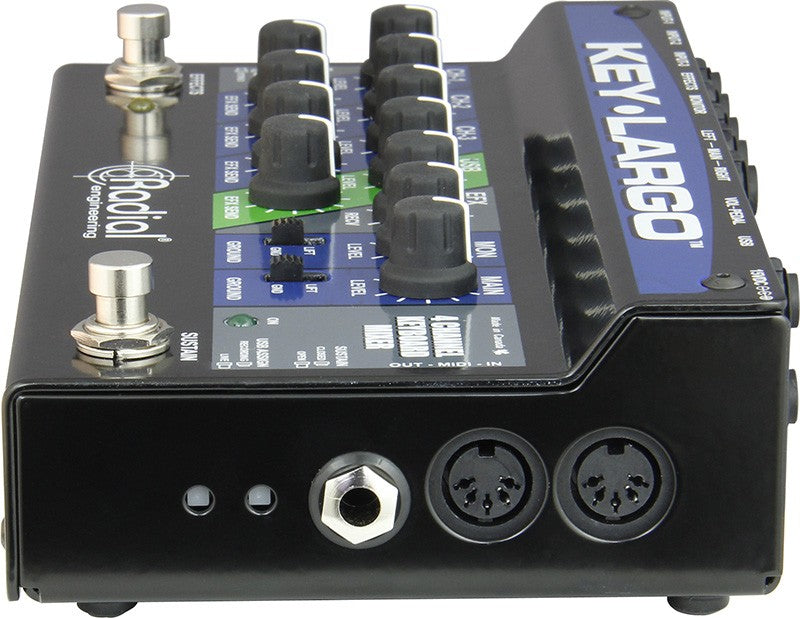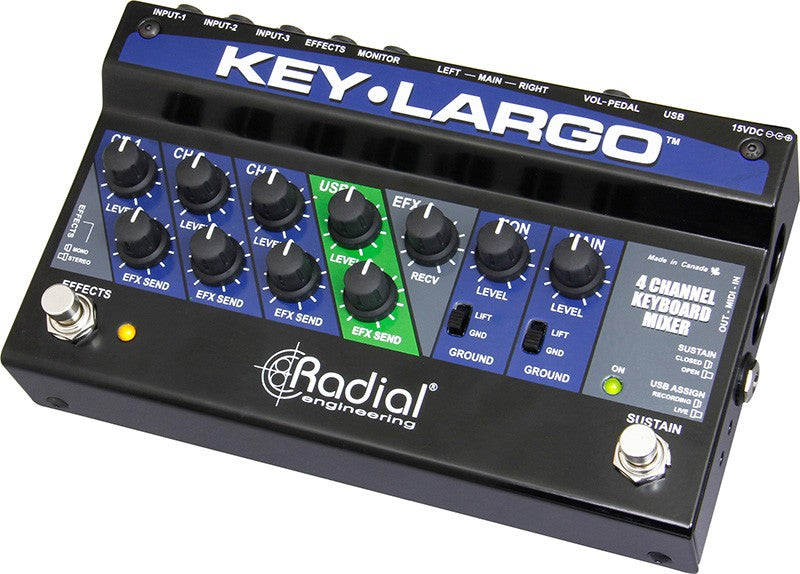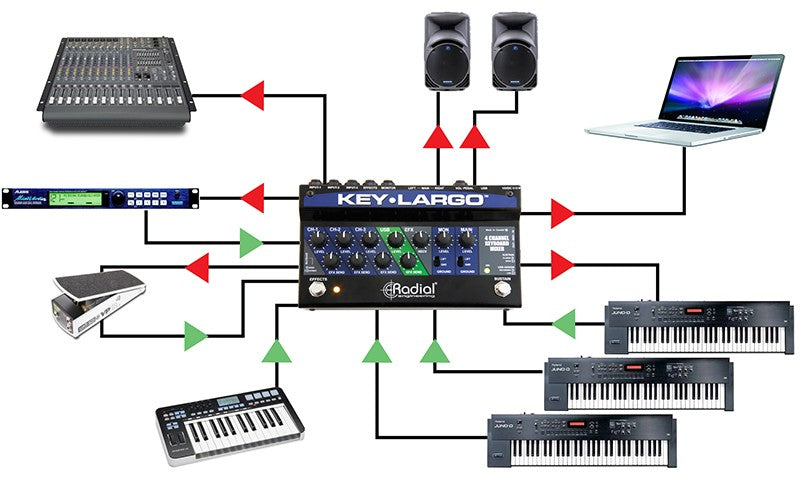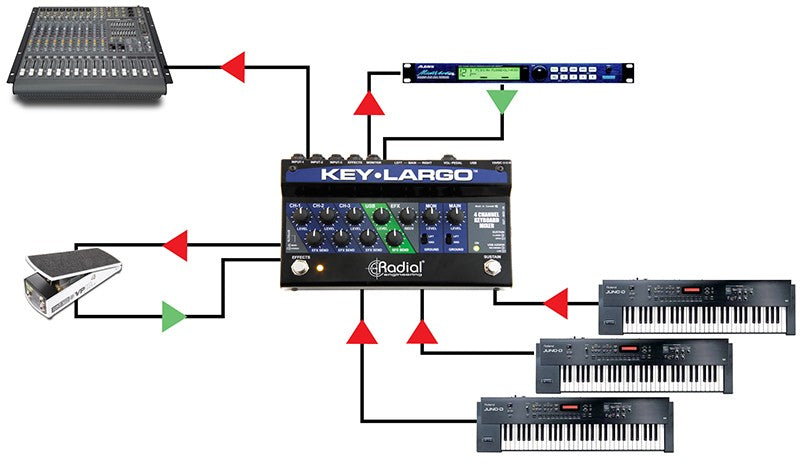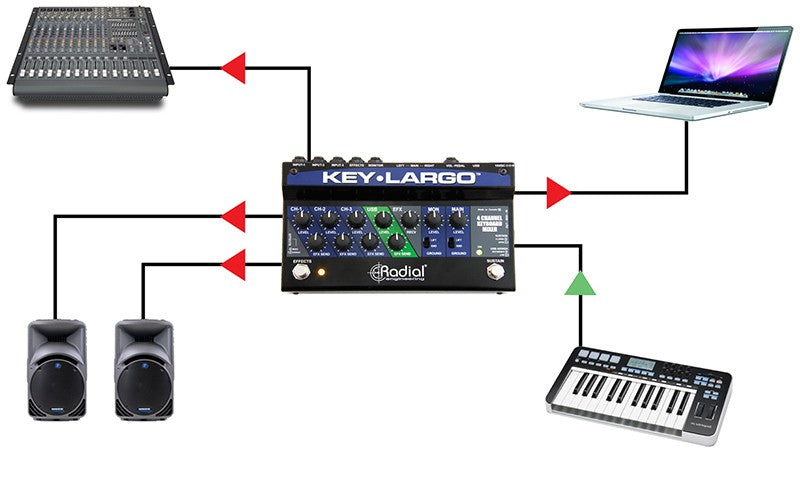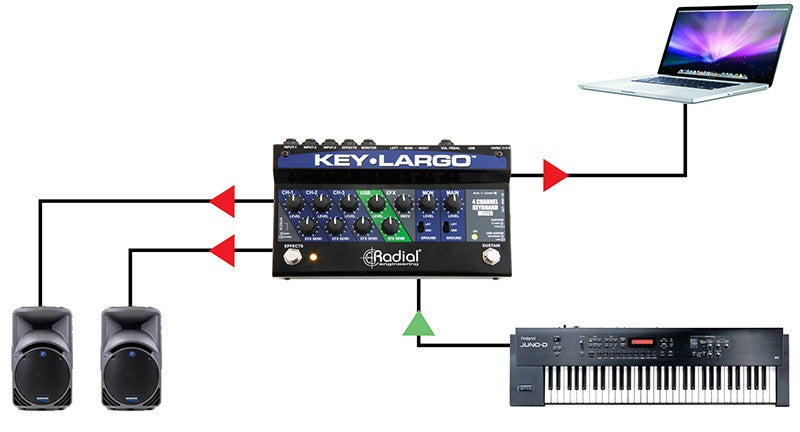 Radial Key-Largo Keyboard Mixer and Performance Pedal COMPLETE CABLE KIT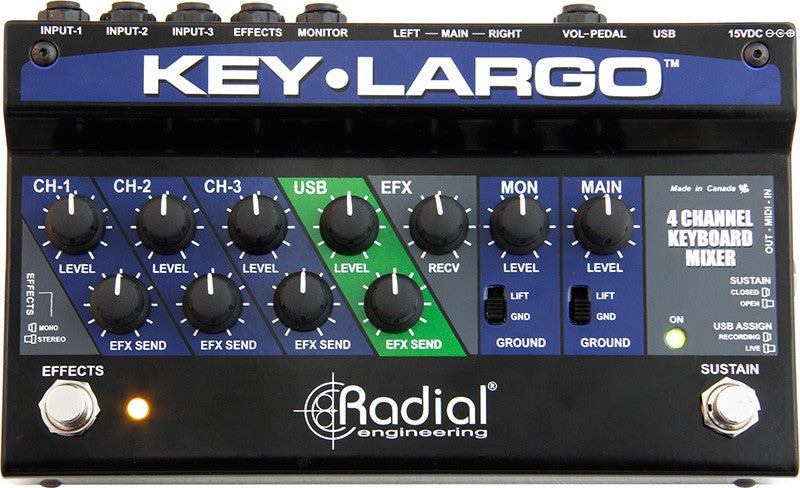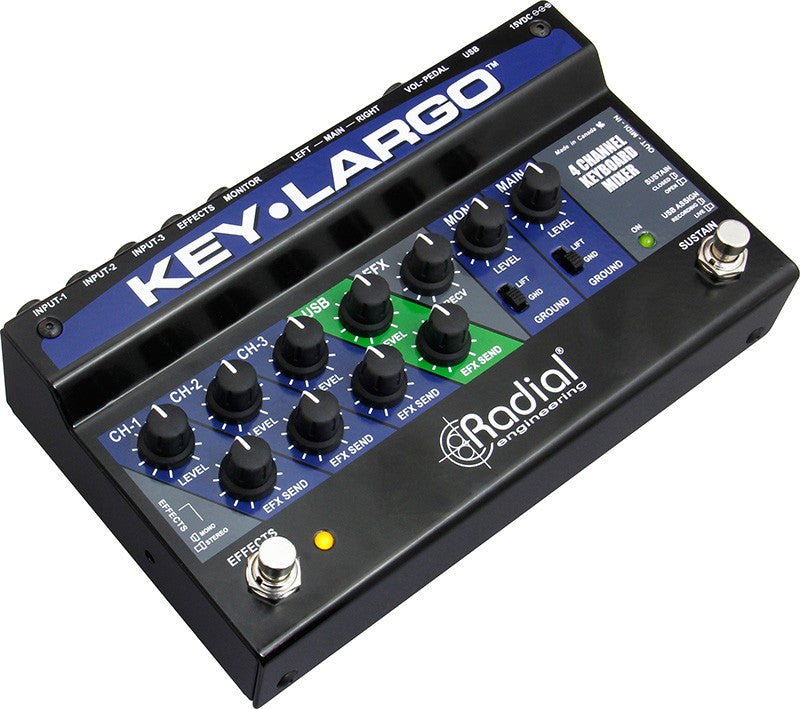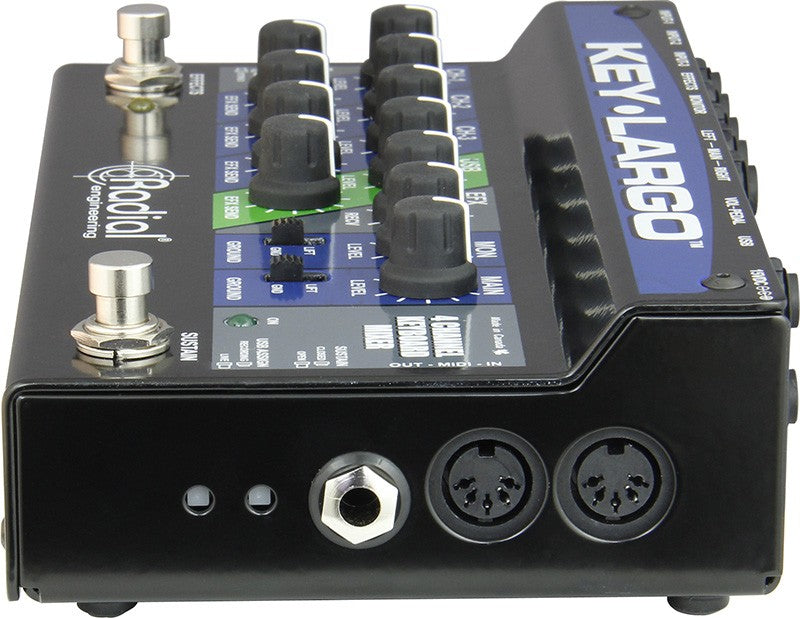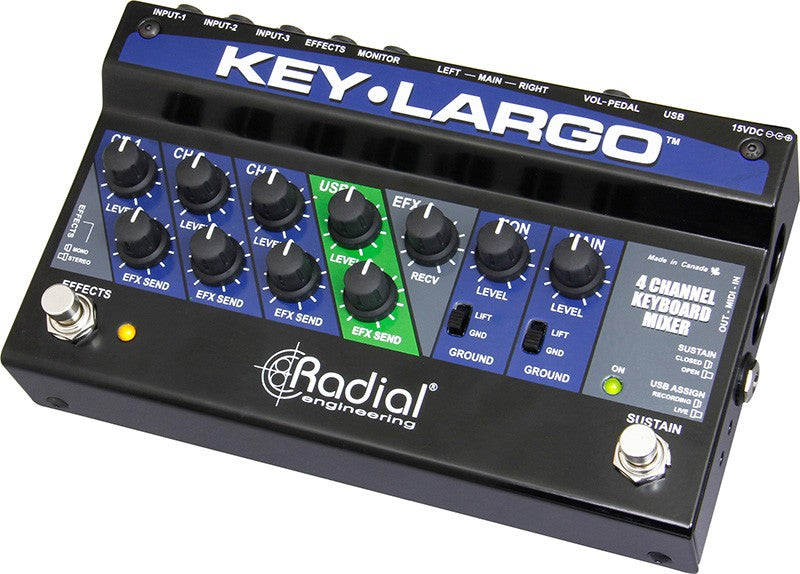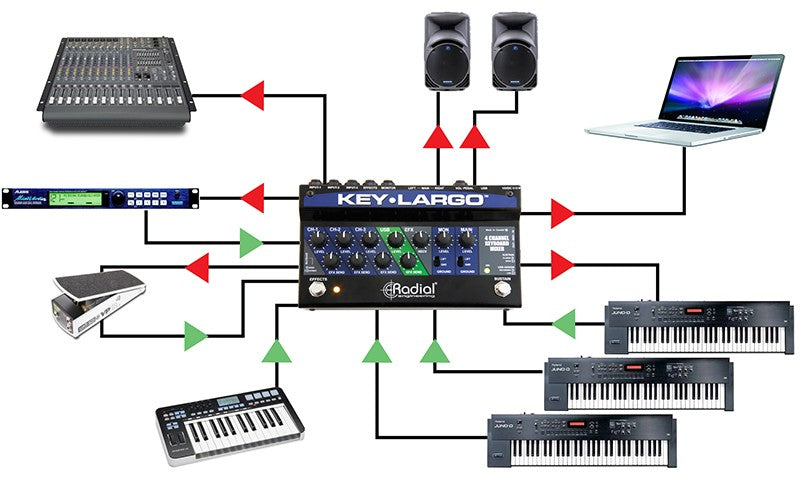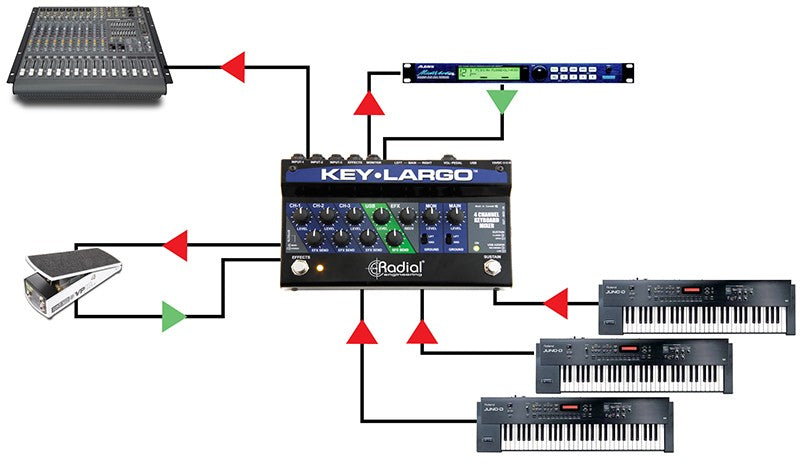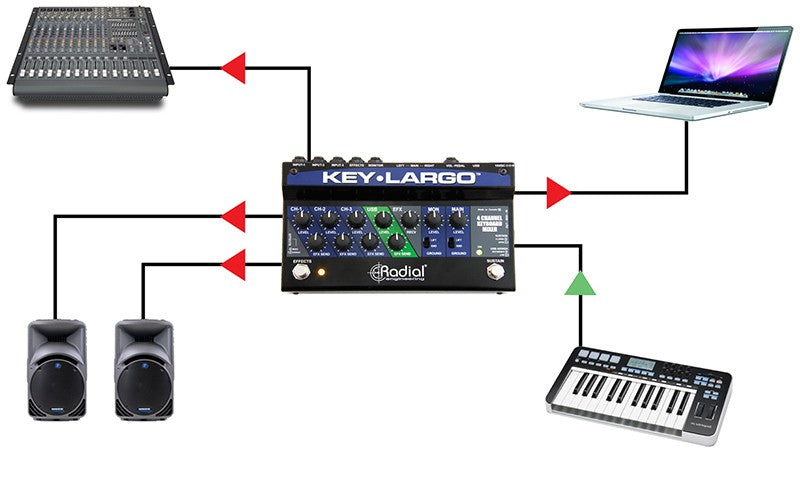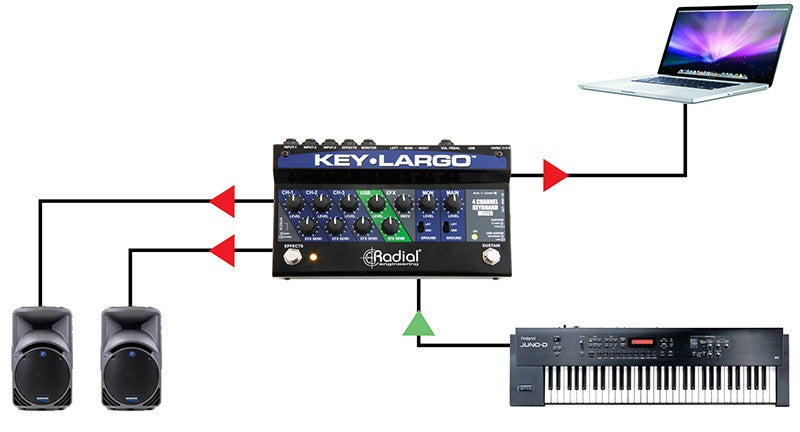 Radial Key-Largo Keyboard Mixer and Performance Pedal COMPLETE CABLE KIT
8 items included
This Kraft Music Bundle Includes
$549.99
Regular price
$736.39
You Save $186.40
Click on a product to view more details.
Radial Engineering Key-Largo is a unique and powerful device that combines a multi-channel keyboard mixer with the performance attributes of real-time footswitch control.
Designed for stage use, the compact design features three dual 1/4" analog inputs for standard performance keyboards along with a USB interface to connect a laptop for use with software instruments. Each stereo input is equipped with an individual level control for quick onstage adjustments along with an effects loop to interface an external effects processor. The effects loop can then be turned on or off using the built-in footswitch to activate, say, an echo or reverb when desired. The effects bus is stereo but may be summed to mono when using guitar-style pedals. To add even more fun to the performance, a built-in sustain footswitch lets you connect Key-Largo to your master keyboard or digital piano using a standard guitar cable, eliminating the need to bring a separate sustain footswitch to the gig.
As with all Radial products, Key-Largo is built tough and sounds great. It features solid 14-gauge steel construction with steel-shafted potentiometers and switches to handle the abuse of being on the road. Inside, a switch-mode power supply elevates the rail voltage to 24 volts for extra headroom to handle the most dynamic digital keyboards and fattest analog synths without fear of overload or distortion. Separate monitor outputs allow the artist to adjust the level on stage while the XLR main outputs provide a balanced connection to the PA system. The main outputs are transformer isolated to eliminate hum and buzz caused by ground loops and all outputs are equipped with ground lift switches to further abate noise.
With both USB and 5-pin MIDI connectivity, Key-Largo easily integrates with all types of keyboard setups. High quality 24-bit/192kHz converters allow playback of the best sample libraries and software instruments and also provide the ability to record over USB with excellent audio quality. This means Key-Largo can also be used as a robust recording interface, ideal for recording tracks on the road or for capturing your live performance.
Manage a multi-keyboard setup with ease
Key-Largo effortlessly mixes multiple keyboard outputs down to a stereo feed for the PA system over XLRs. Add more excitement to the performance with a switchable effects loop and master volume pedal.
Integrate software instruments on stage
Key-Largo can take the MIDI output from a controller to play a soft synth on your laptop. High quality digital-to-analog converters give you great sound quality on local monitors and at the PA system.
Combine analog and digital on stage
Mix three keyboards together with the output of a laptop soft-synth, making Key-Largo the center of your performance setup. Connect a 1/4" cable to the footswitch input on your main keyboard to utilize Key-Largo as a sustain pedal, fully implementing the many features of this powerful pedal.
Key-Largo as a recording interface
24bit/192kHz converters provide more than just high quality playback on stage: Key-Largo can also be used to record pristine tracks using your favorite audio program. This allows you to easily record studio-quality tracks while on the road or to capture your live performance.
SKU
RDL-KEYLARGOCCK
Vendor
Radial
Audio Recording
Stereo over USB
Connectivity
USB and MIDI
Included From Manufacturer
Power Supply
Mic Preamps
0
Mixer Channel Filterable
4
Mixer Type
Analog
Mpn
R800 1427
Product Unique Features

USB audio/MIDI interface allows integration of computer-based software instruments as well as recording at 24-bit/192kHz
Built-in sustain footswitch connects to your keyboard's sustain input via 1/4" cable

Simultaneous Inputs
3
Aux/Effect Sends
1/4" TRS stereo effects send/receive loop
Busses/Groups
n/a
Channel EQ
None
Channel Inserts
None
Effects
None
Number of Faders
n/a
Audio Inputs
(3) Dual 1/4" stereo inputs
Dedicated USB channel
Audio Outputs
Dual transformer isolated XLR stereo main output
Dual balanced 1/4" stereo monitor output
Main EQ
None
Phantom Power
n/a
Product Weight
3.25 lbs.
Rackmountable
No
Width
8.4"
Depth
5"
Height
1.9"
Radial Limited Warranty
This product comes with a 3-Year Transferable Warranty. This means that if you buy the product and decide to sell it, the warranty can be transferred to the person that buys it from you, thus providing continuous warranty support and added value. If you sell the product, you must provide the buyer with a copy of your original invoice so that he, in turn, may be able to submit this should a warranty claim be required.
The warranty does not cover any consequential or inconsequential damage or any losses. Specifically, if you have a problem due to defect, you must make the arrangements and cover the costs to return the product to Radial with a copy of the original sales invoice and Radial will repair the product and return it to you at its cost.
All warranty claims require a return authorization. Contact the Radial customer service department for details.
As with all typical warranties, only manufacturing defects are covered. Furthermore, parts that are subject to wear and tear such as switches, potentiometers and tubes are not covered under this warranty. This, however, does not mean that these will not be repaired or replaced free of charge. We pride ourselves in supporting the products we sell and will often exchange these parts free of charge pending the age of the device. This decision will be undertaken by RADIAL and in no way obliges the company to perform such tasks.
Ground shipping is FREE for all orders $99 and up.