Skip product carousel
Price Drop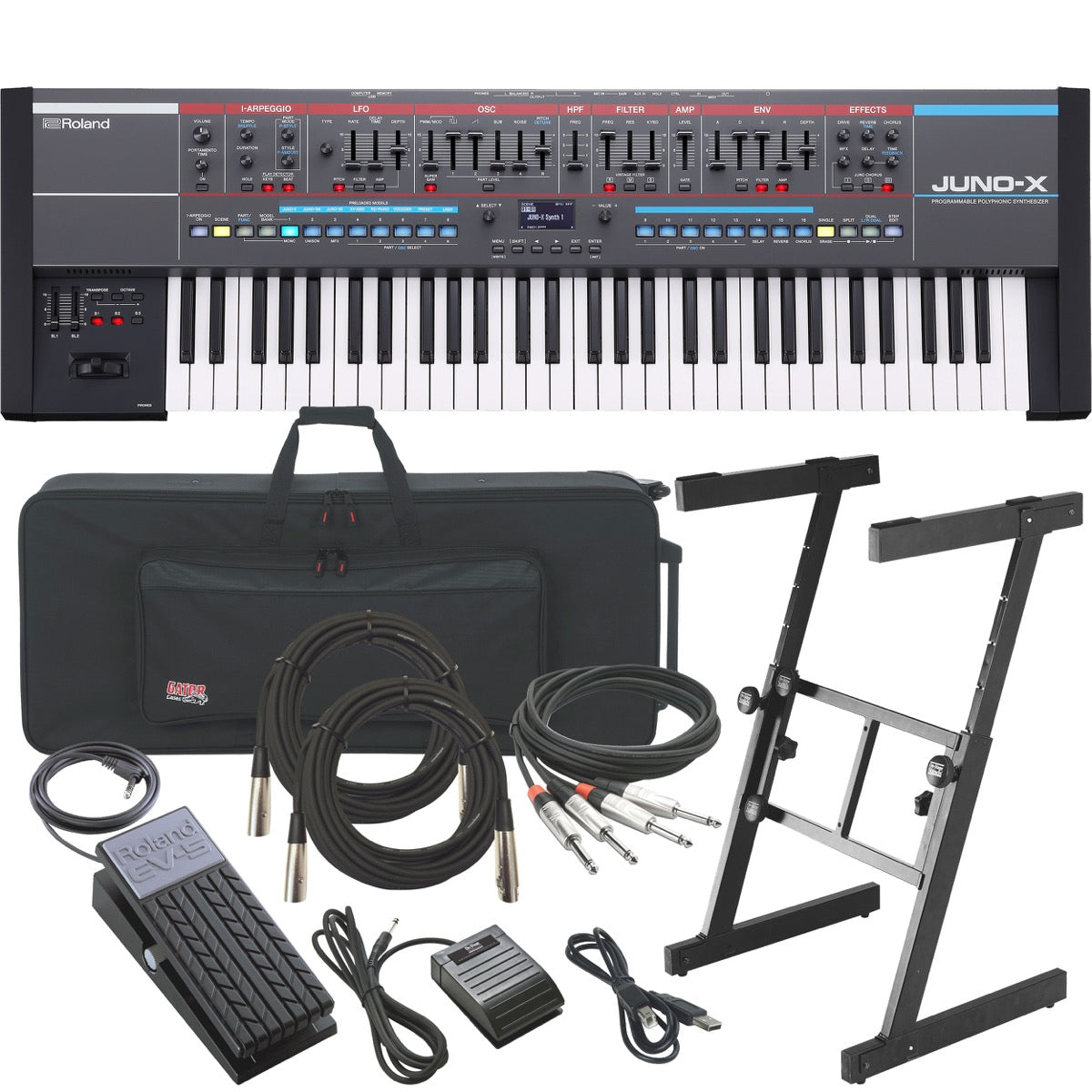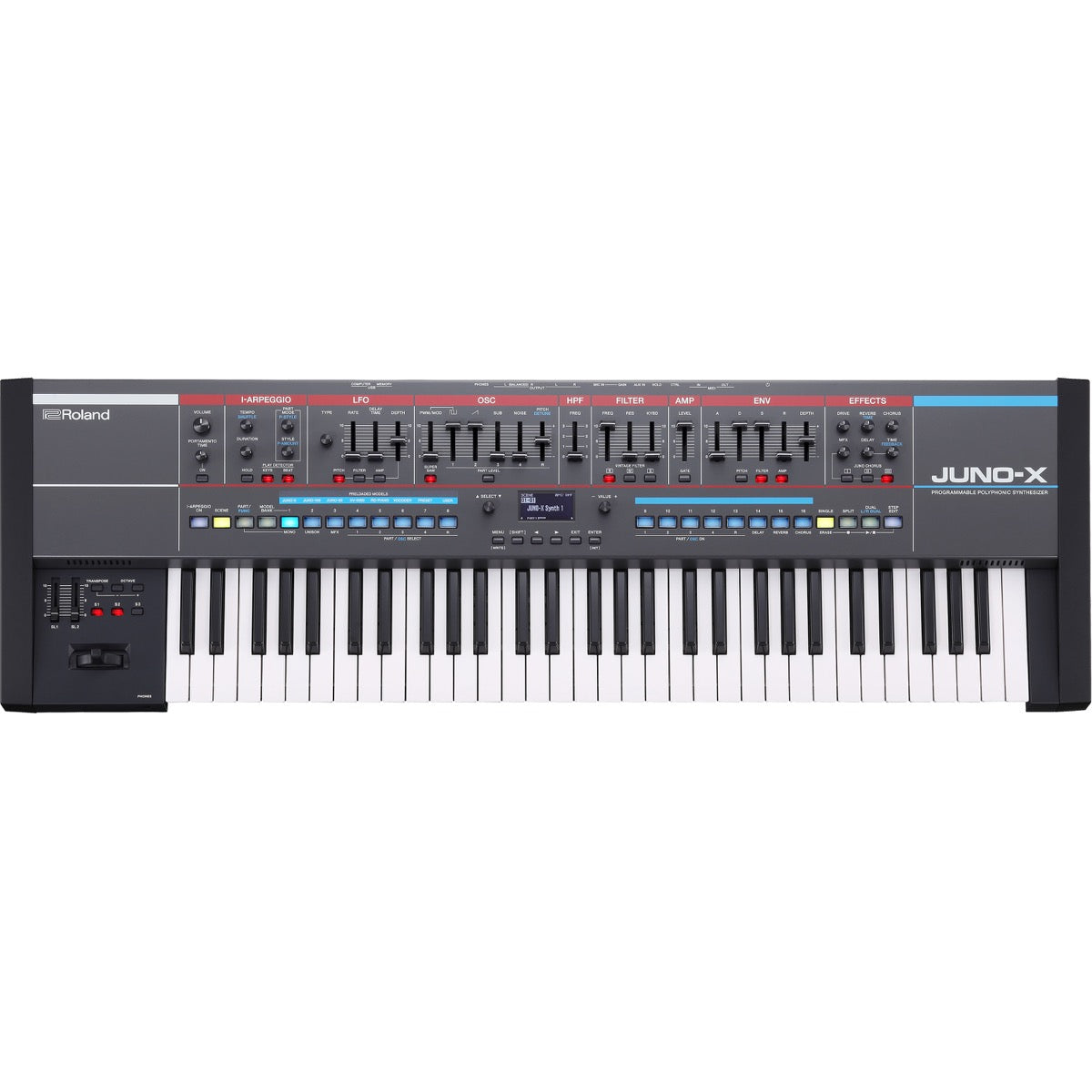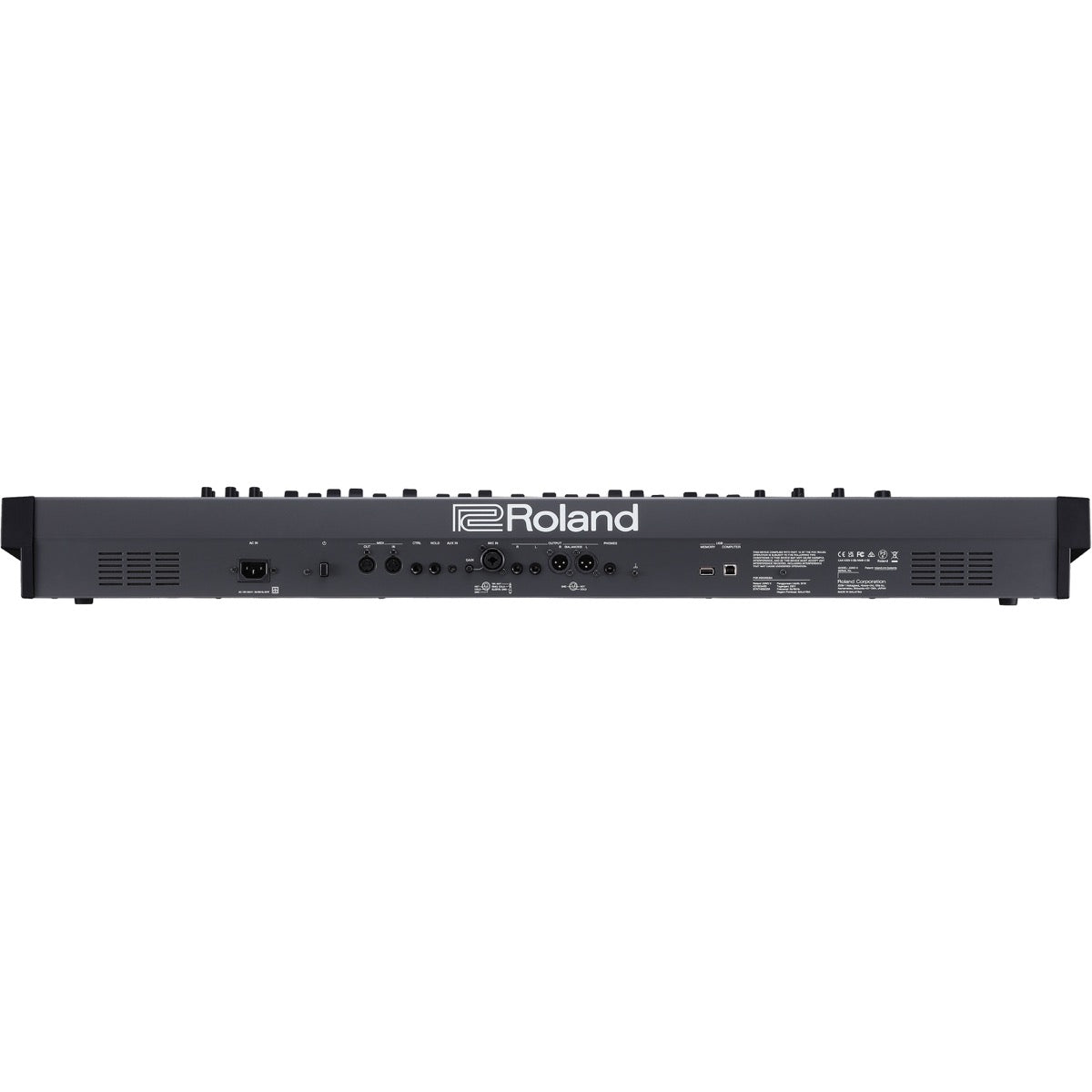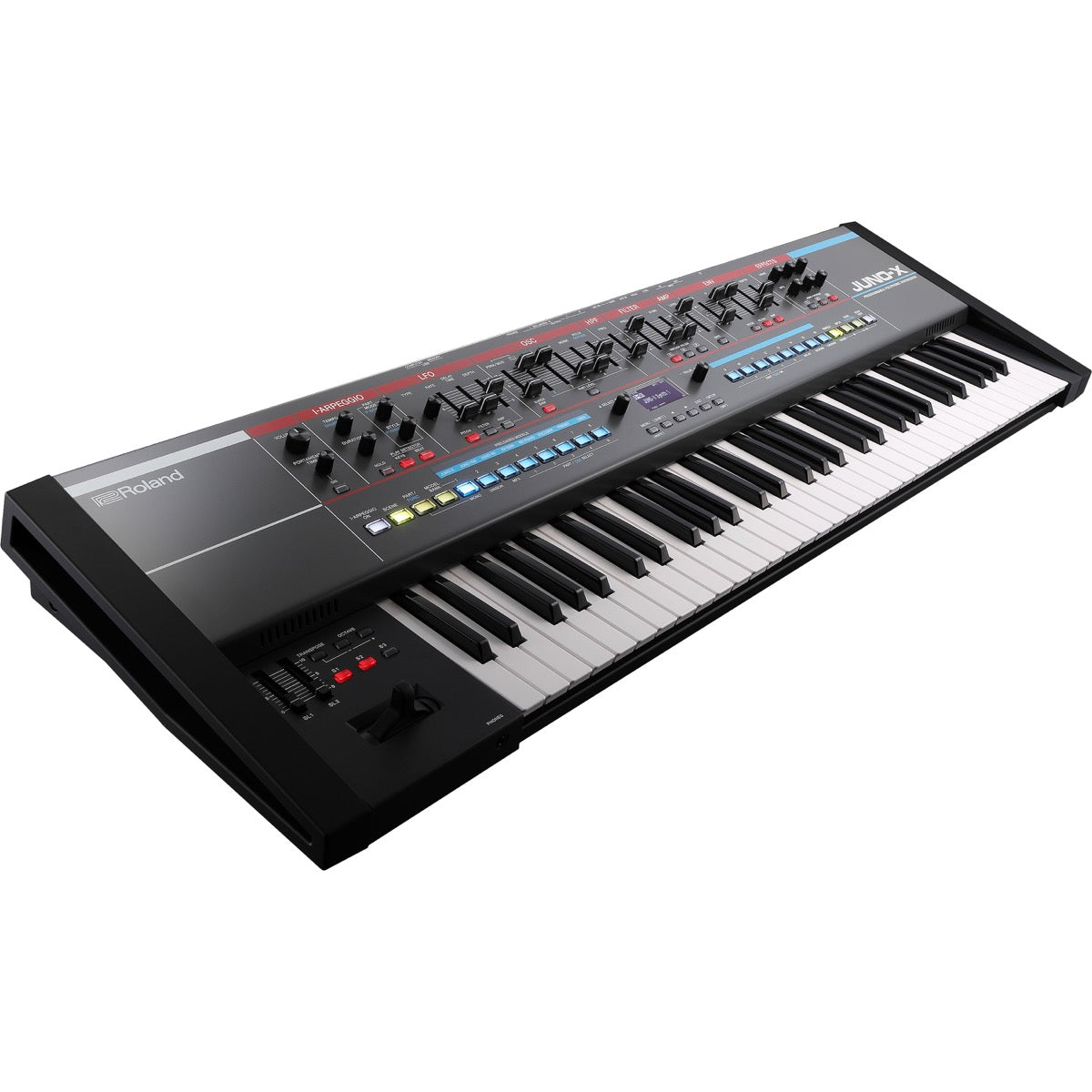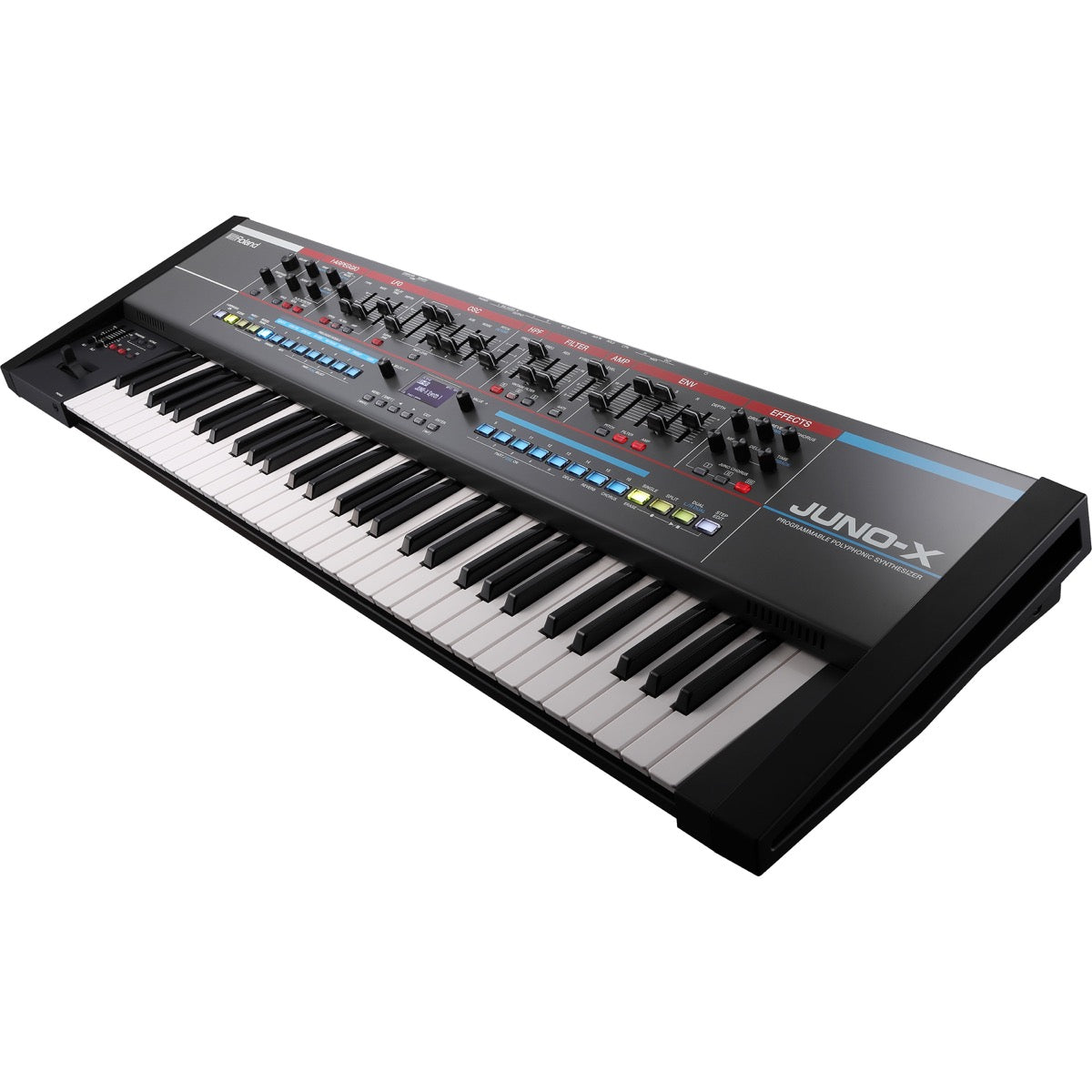 Roland Juno-X 61-Key Programmable Polyphonic Synthesizer STAGE RIG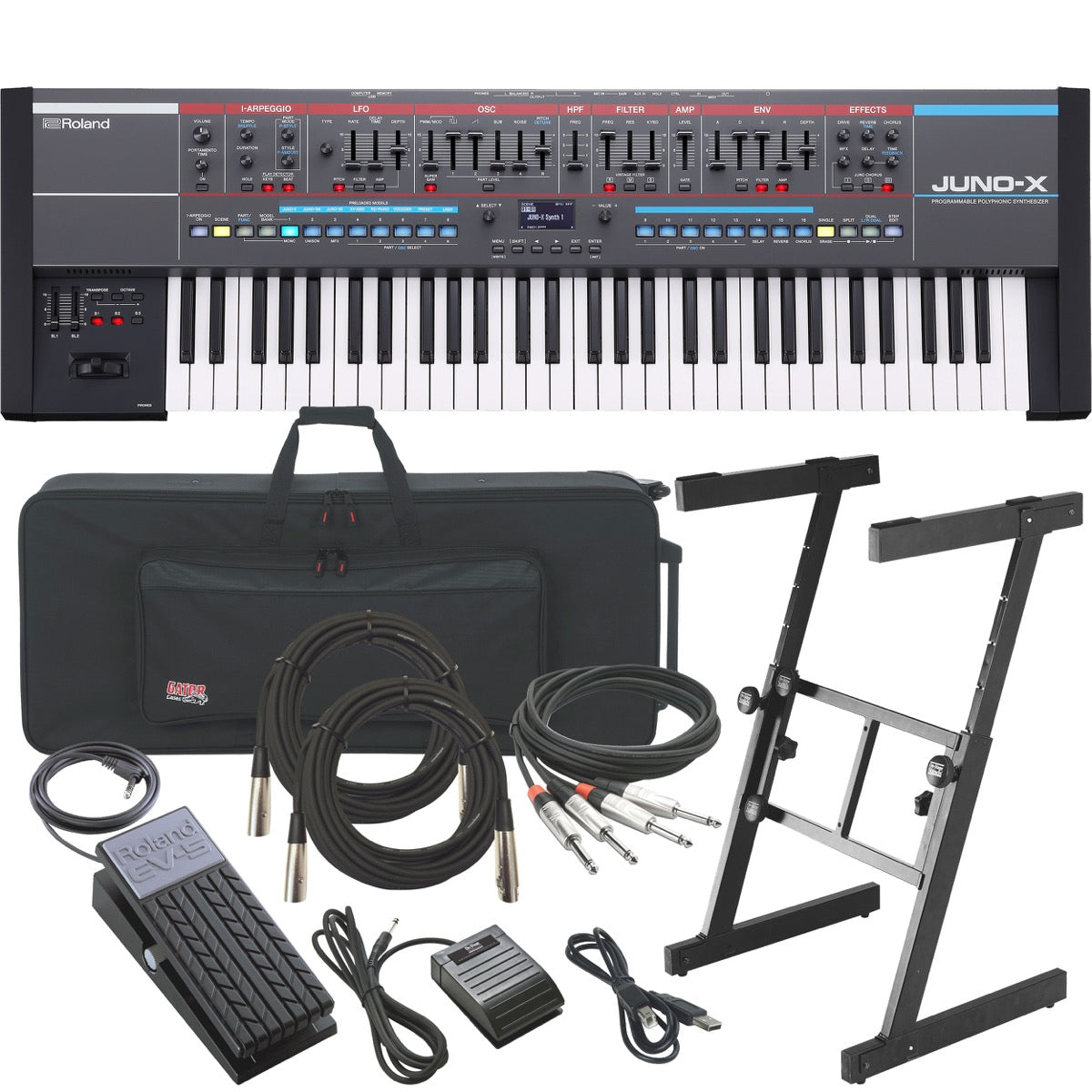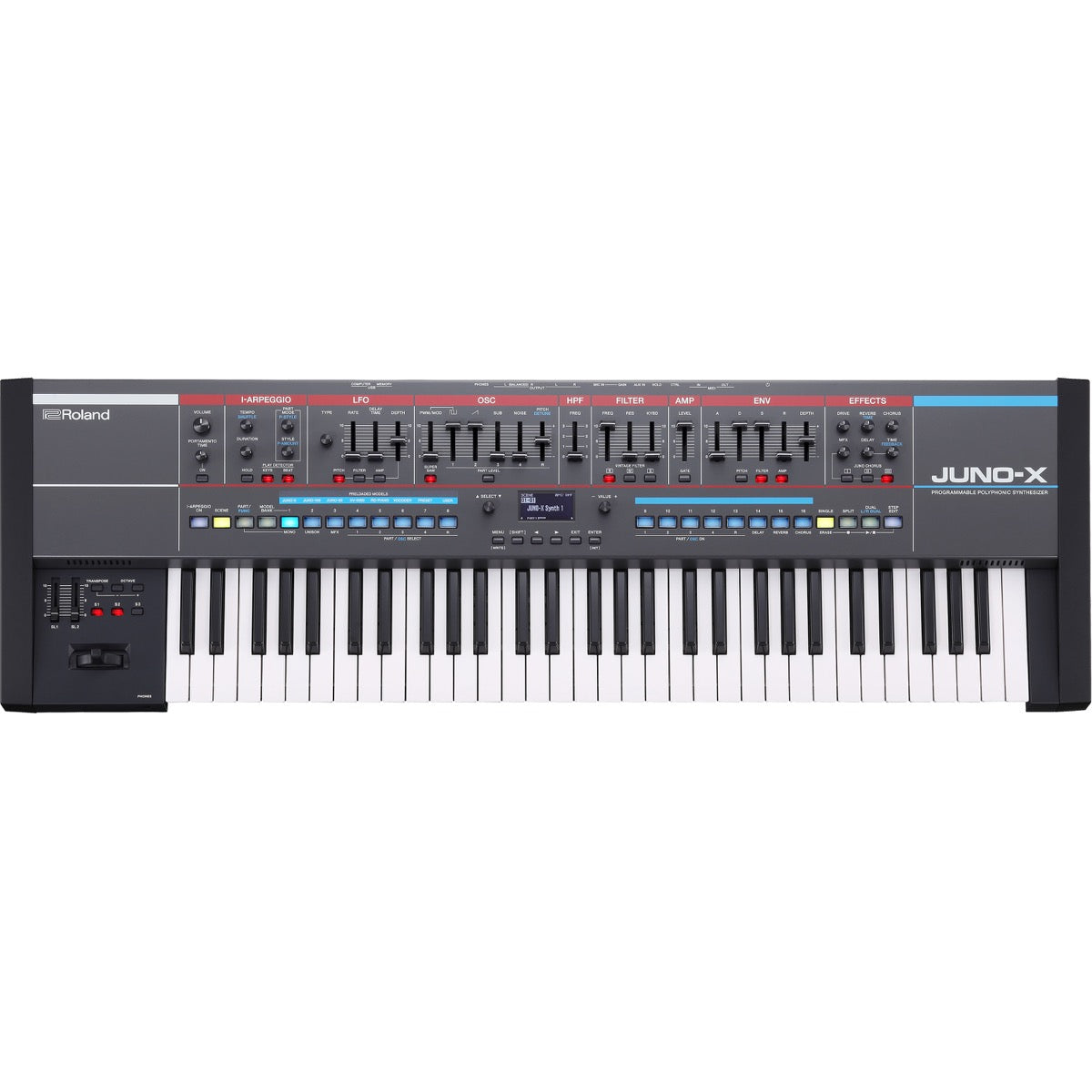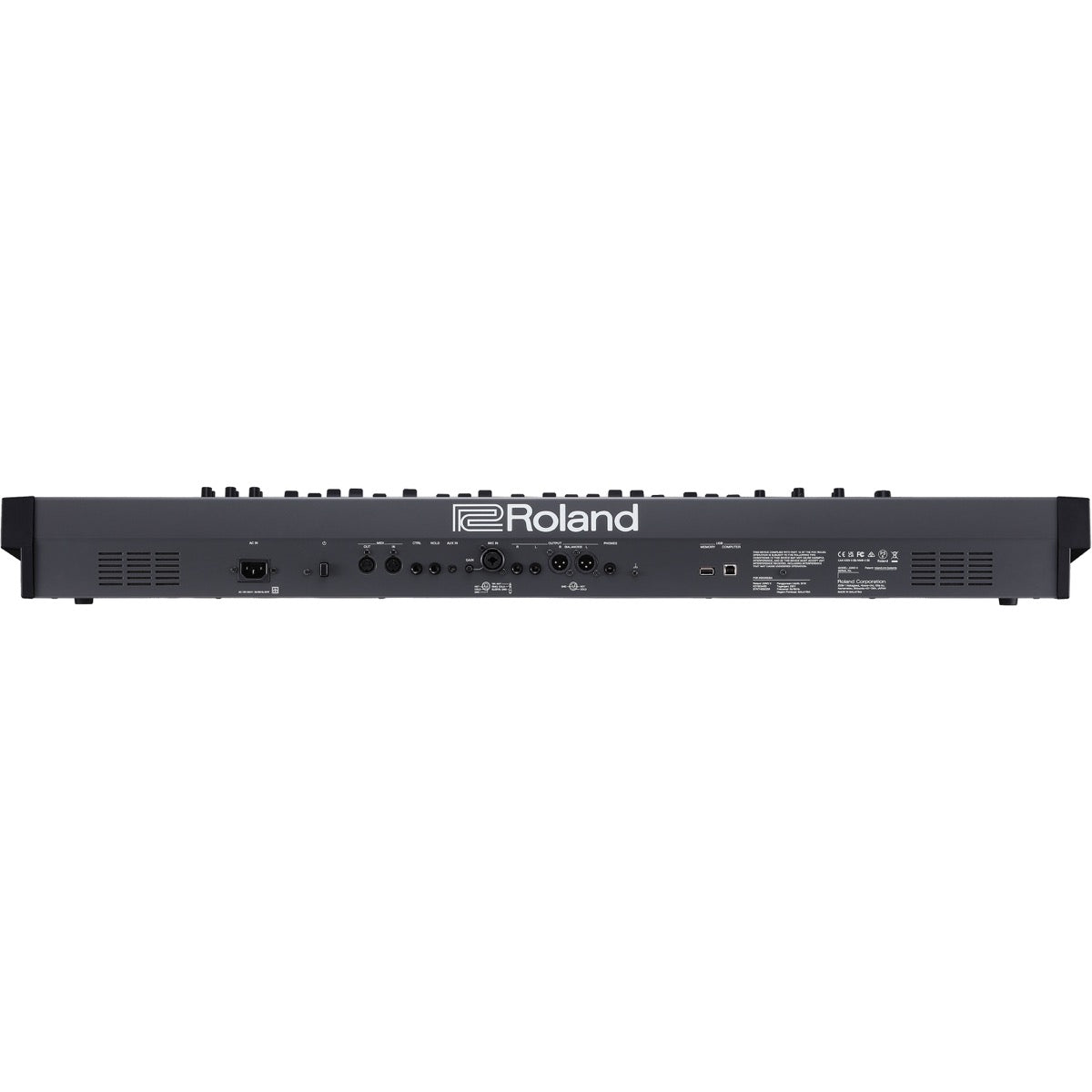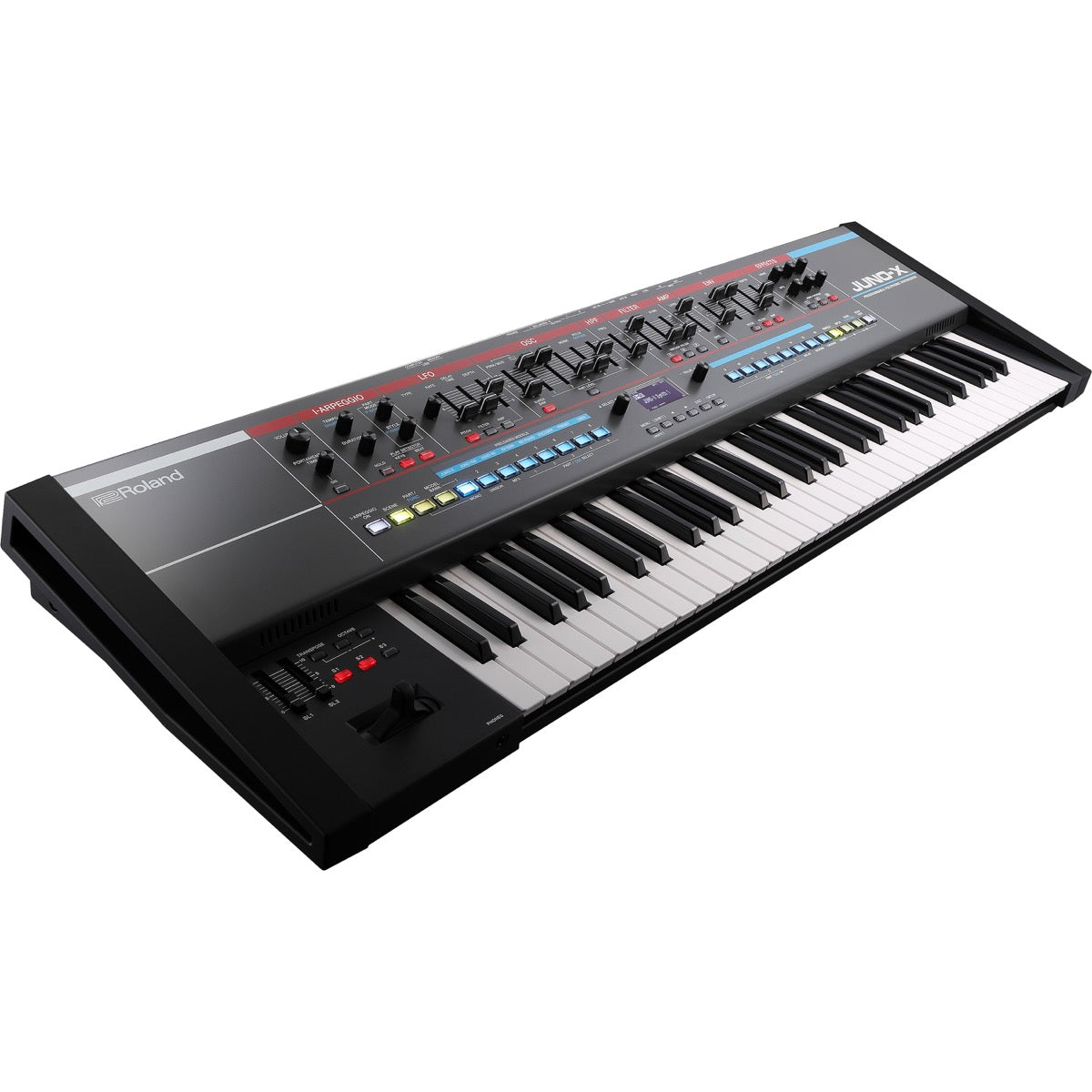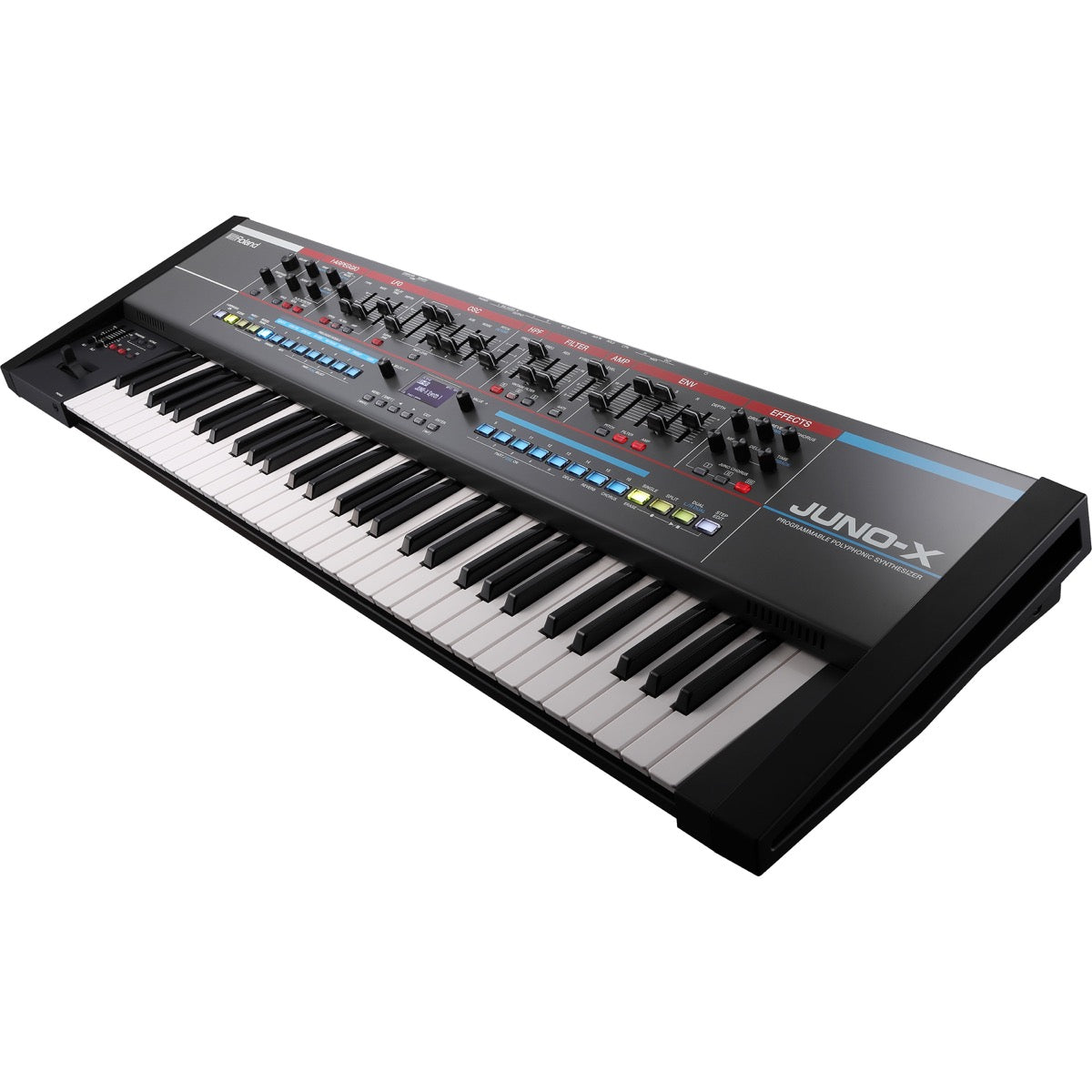 Roland Juno-X 61-Key Programmable Polyphonic Synthesizer STAGE RIG
8 items included
This Kraft Music Bundle Includes
$2,189.99
Regular price
$2,607.71
Total Savings of $417.72
Click on a product to view more details.
Roland Juno-X elevates a legendary synthesizer series into a new era, fusing authentic vintage spirit with modern creative power. Compose and perform with the next-generation Juno-X engine, historic Juno-60 and Juno-106 Models, sounds from the XV-5080 and RD pianos, Model Expansions and more. And bring them all together with a familiar hands-on interface that welcomes you like an old friend. Backed by the immense range of Roland's Zen-Core Synthesis System, Juno-X goes wherever your music lives – past, present or future.
The legendary Juno synthesizer experience reimagined with the power of the Zen-Core Synthesis System
Newly developed Juno-X Model with Super Saw oscillator, velocity sensitivity, Chorus III effect and more
Authentic Models of the Juno-60 and Juno-106 synths from the 1980s
Versatile sounds from XV-5080, RD-series pianos and Roland's classic vocoder
User slot for loading Model Expansions such as the Jupiter-8, JD-800, Vocal Designer and others from Roland Cloud
Fast and intuitive workflow based on Scenes
Instant sound creation with a hands-on panel inspired by historic Juno synths
High-resolution knobs and sliders for precision control
Traditional arpeggiator and advanced I-Arpeggio driven by intelligent algorithms
Expressive 61-note keyboard with aftertouch
Onboard stereo speakers and Bluetooth audio support
USB audio/MIDI interface and USB Memory port for data backup to a flash drive
Free Juno-X Editor software for macOS and Windows
Browse and load Model Expansions, Sound Packs and more over wi-fi via Roland Cloud Connect (sold separately)
10 free Sound Packs available from Roland Cloud with purchase
The next chapter in the Juno legacy
Standing among the greatest analog synthesizers ever created, Roland's iconic Juno lineup has had a massive impact on music for over four decades. The warm, organic sounds of the Juno-60 and Juno-106 defined countless 80s pop hits and played a huge role in the emergence of techno, house, synthwave and other electronic styles. Distinctive and timeless, the classic Juno voice continues to inspire leading music creators everywhere.
Juno-X brings the best of the past together with Roland's latest technologies, reimagining the vintage Juno experience with vastly expanded sound possibilities and free-flowing tools tuned for today's music. It delivers the full capabilities of the native Zen-Core engine, along with genuine recreations of Juno synths and other legacy Roland instruments.
Three Junos in one
Juno-X gives you the authentic sounds of the Juno-60 and Juno-106 in all their glory, plus a new Juno-X engine that imbues the Juno spirit with more sonic muscle and expression.
Juno-X
The newly developed Juno-X Model presents a natural evolution of the historic Juno voice. Create even fatter sounds with an enhanced version of Roland's famous Super Saw waveform and go deeper with velocity sensitivity, pitch envelope control and more. There's also a new Chorus III mode to complement the two beloved chorus modes from the original Junos.
Juno-60
Introduced in 1982, the Juno-60 was a landmark instrument that greatly influenced the synth landscape to come. Succeeding the similar Juno-6, it offered affordable polyphonic synthesis with a stable digitally controlled oscillator (DCO). Juno-60's rich character, friendly interface and rock-solid tuning – along with a rich chorus effect and the ability to store sounds in onboard memories – made this synth an instant classic.
Juno-106
In 1984, Juno-106 built on the success of its predecessor with more memories and the revolutionary new MIDI interface. It also featured a slightly smoother and cleaner sonic character and the Juno-60's arpeggiator was replaced with a cool polyphonic portamento function. Embraced by an even wider audience, the more affordable Juno-106 went on to become one of the best-selling synths of all time.
Beyond Juno
The versatile Juno-X also includes more onboard Models from the legendary Roland canon and the ability to go even further with Model Expansions and other sound content from Roland Cloud.
XV-5080, RD-Piano and Vocoder
Explore over 900 PCM-based presets from the famous XV-5080 module, from acoustic instruments and vintage synths to drums and world sounds. Play expressive acoustic pianos derived from Roland's renowned RD stage piano series. Or plug in a mic and use the Vocoder Model with any Juno-X sound to create expressive ensemble tones, futuristic pads and funky robot voices.
Model Expansions and more
With support for Model Expansions from Roland Cloud, you can transform Juno-X with the sounds and character of additional Roland instruments both old and new. Load up authentic versions of the Jupiter-8, JD-800 and other classics, or get creative with the newly developed Vocal Designer. Roland Cloud is also home to a growing range of Wave Expansions, Sound Packs, Sample Packs and more to keep the music flowing.
Wireless expansion with Roland Cloud Connect
Juno-X also provides integrated support for Roland Cloud Connect (sold separately), a powerful option that includes the WC-1 wireless adapter and Roland Cloud membership. Browse, audition and load Model Expansion titles and other content directly to the keyboard via the convenience of Wi-Fi. With Roland Cloud Connect, a universe of fresh inspiration is always at your fingertips.
Feel the music
A key element of the Junos' appeal was a straightforward interface that made it easy to craft inspiring sounds and evolving textures in the heat of the moment. With a familiar panel adorned with responsive controls, Juno-X invites you to fully immerse in the music and create without limits.
Tactile workflow
The Juno-X workflow is direct and intuitive, and everything is right where you need it. High-res sliders deliver analog feel with precise digital control, while dedicated buttons let you call up sounds and functions in a flash. When you need to dive deeper, the informative LCD provides clear navigation through an array of advanced parameters.
Layer it on
Vintage Juno synths had modest sound capabilities with a single DCO. With Juno-X, you can layer multiple Junos to create all manner of analog-flavored goodness, from massive leads and basses to rich, lush pads. Or stack Model Expansions and the onboard sounds to build dream synths never heard before. Layer up to four tones at once with enough polyphony to take on any creative venture.
Scenic view
With 256 custom creative spaces called Scenes, you can instantly recall complete Juno-X setups with a single touch. Store sound parameters for four instrument parts and the dedicated drum part, plus I-Arpeggio settings, effects and more.
Extra swirl
One of the most-loved Juno features was a characterful stereo chorus effect that instantly added richness and depth. Juno-X provides both modes from the originals, plus a third mode with even more fatness and swirl. Better still, you can combine them to create seven different chorus effects for use with any Juno-X tone.
Modern multi-effects
Along with the Juno choruses, Juno-X includes a huge variety of additional effects to color sounds. Independent MFX and EQ are available for different parts, plus drive, delay and reverb. Master EQ and compressor effects are also on tap, along with dedicated vocal effects for the mic input.
Arpeggio action
Whether you want classic arpeggios or something beyond, Juno-X delivers. Call up the traditional arpeggiator for a retro vibe. Or journey to the future with I-Arpeggio, which uses intelligent algorithms to infuse your music with naturally evolving note changes and movement. It's also possible to export I-Arpeggio MIDI performances for further development in any DAW.
Juno-X Editor
With the full-featured Juno-X Editor software, you can take your creativity further with the large screen on your Mac or Windows computer. Tweak sounds, effects and Scenes in microscopic detail, organize performance setups and much more.
Perform with confidence
From studio to stage and everywhere in-between, Juno-X has everything you need to keep the music moving.
Meet the moment
Juno-X is built to last, pairing vintage Juno design elements with light-yet-rugged metal construction that's ready for the road. It's also a dream to play, thanks to an expressive 61-note keyboard with aftertouch and Roland's famous pitch bend/mod lever.
Get connected
The Juno-X rear panel is loaded with connectivity for any situation. Balanced and unbalanced audio outputs are available, plus a stereo audio input and 5-pin MIDI I/O. There's also an XLR mic input for vocal performing or feeding the onboard vocoder. USB audio/MIDI support lets you interface with your favorite production software, and you can even back up Juno-X settings to a flash drive via the USB Memory port.
A sound machine
Harkening back to the lesser-known Juno-106S, Juno-X is equipped with a high-quality stereo speaker system for personal sound monitoring. And with onboard Bluetooth, you can stream and jam along with music from a phone or tablet.
SKU
ROL-JUNOXSR
MPN
Juno-X
Vendor
Roland
Aftertouch
Yes
Analog Digital
Digital
Bluetooth
Audio Receiving
Built In Speakers
Yes
Included From Manufacturer
Power cord
Keys Weighted
No
Number of Keys
61
Key Size
Full Size Keys
Midi
In, Out, and USB
Mono Poly
Polyphonic
Mpn
JUNO-X
Product Unique Features
10 free Sound Packs available from Roland Cloud with purchase
Traditional arpeggiator and advanced I-Arpeggio driven by intelligent algorithms
Free Juno-X Editor software for macOS and Windows
Arpeggiator
Yes
Control Connections
1/4" sustain pedal input
1/4" expression pedal input
Onboard Controllers
Pitch bend / modulation lever
2 × assignable sliders
3 × assignable switches
Effects
4 × multi-effects systems with 93 types
5 × part EQ systems
8 × reverb types
5 × chorus types
5 × delay types
Overdrive
Mic input compressor
Master EQ/compressor
Expansion Options
Browse and load Model Expansions, Sound Packs and more over wi-fi via Roland Cloud Connect (sold separately)
Audio Inputs
XLR / 1/4" combo microphone input
1/8" stereo external audio input
Audio Outputs
Dual 1/4" stereo main output
Dual XLR balanced stereo main output
1/4" rear stereo headphone output
1/8" front stereo headphone output
Key Action
Synth action with velocity and channel aftertouch
Multitimbral Capability
5 parts: 4 play parts, 1 rhythm part
Oscillators per Voice
Varies by Sound Engine
Product Weight
25 lb 10 oz.
Programs/Presets
4,000+ preset tones
256 user tones
90+ drum kits
Speakers
2 × full-range 1.38" × 3.15" speakers
2 × 0.79" tweeters
2 × 4W speaker amplifier power output
USB Flash Drive Port (to Device)
Program/Preset Storage
USB Port (to Host)
MIDI;Audio;System Updates;File Transfer;Editor/Librarian/Patch Manager
Width
42.25"
Depth
13.125"
Height
4.6875"
Roland Limited Warranty
This product is warranted to be free from defects in material and workmanship under normal use for a period of one (1) year for parts and and ninety (90) days for labor from the date of purchase.
Ground shipping is FREE for all orders $99 and up.