Skip product carousel
Bonus Item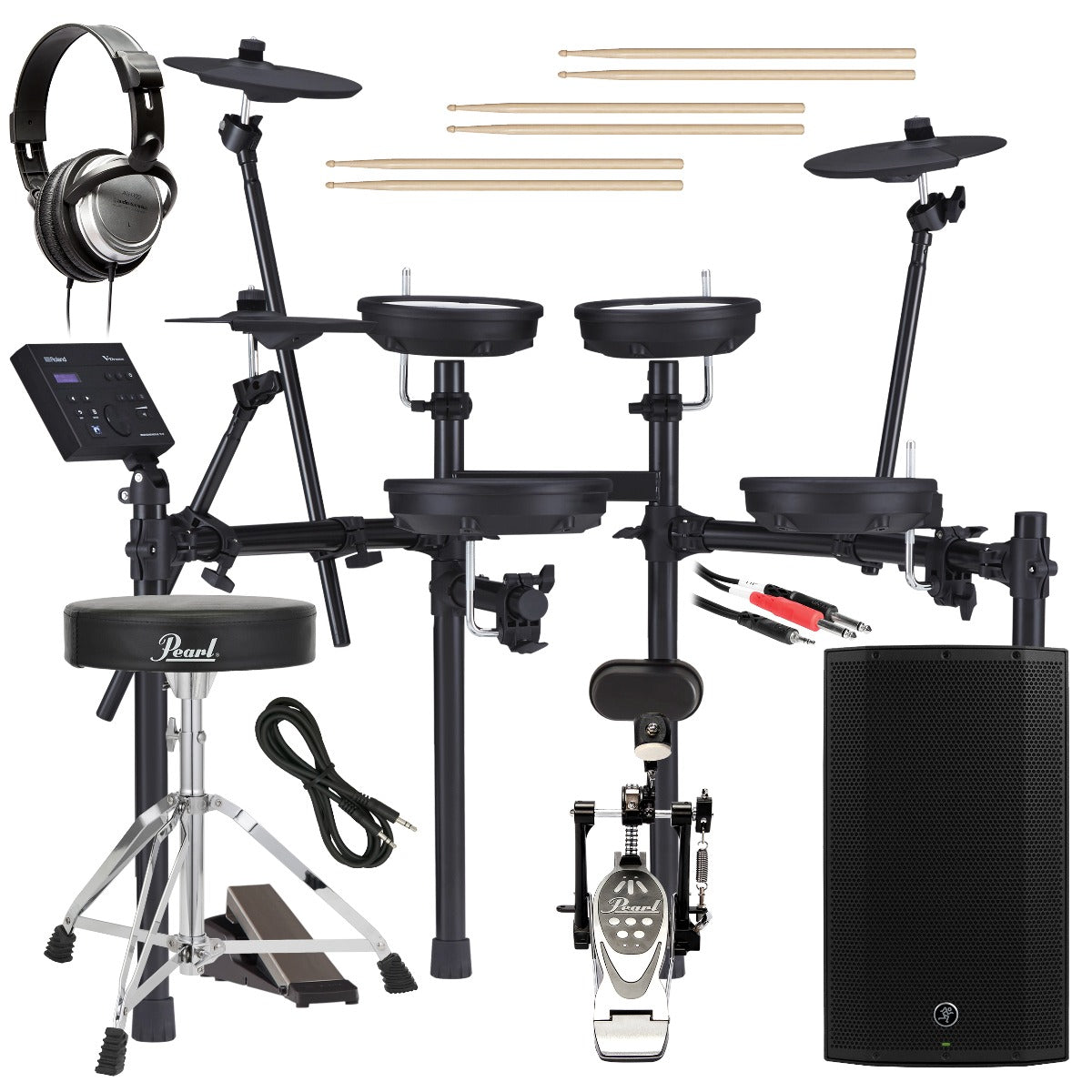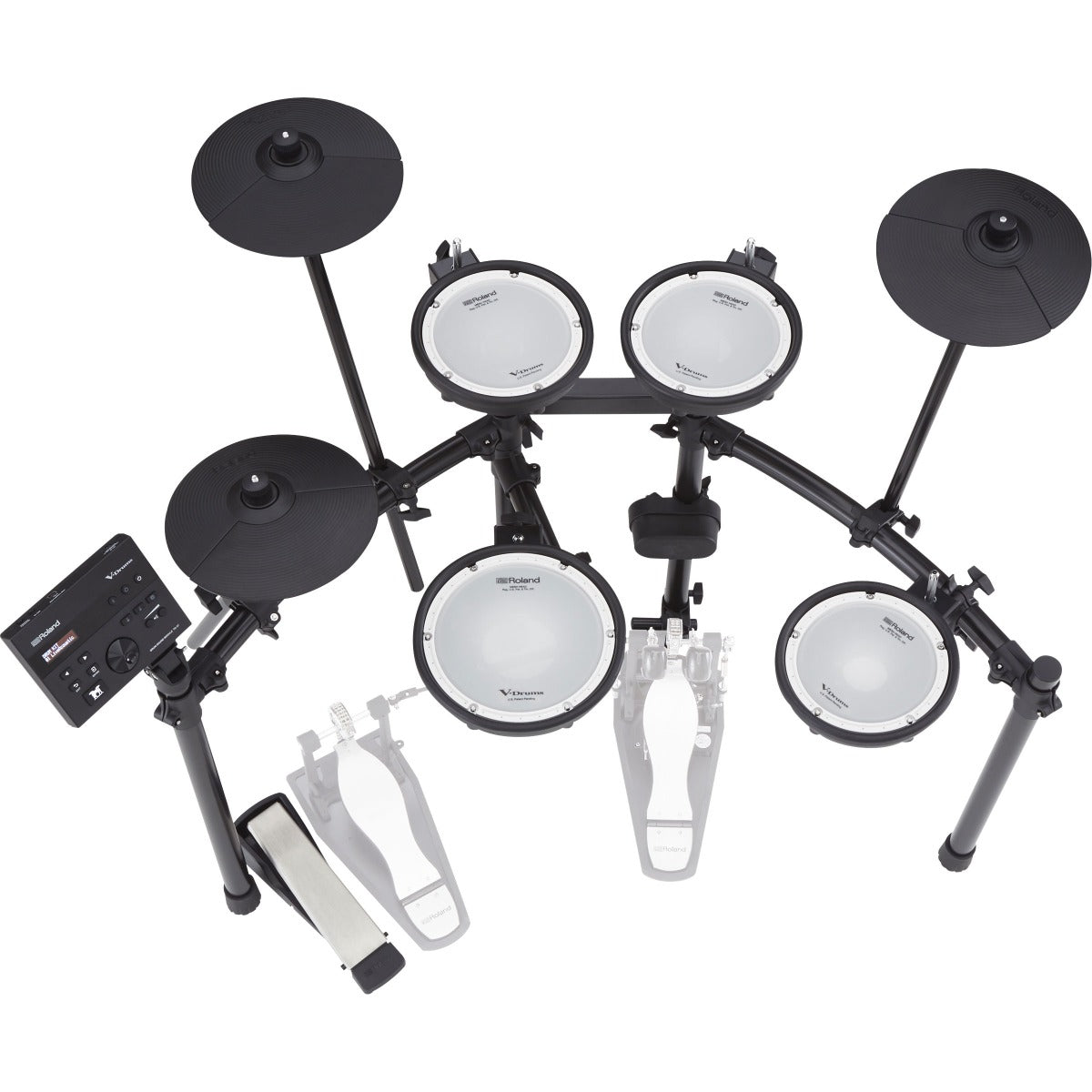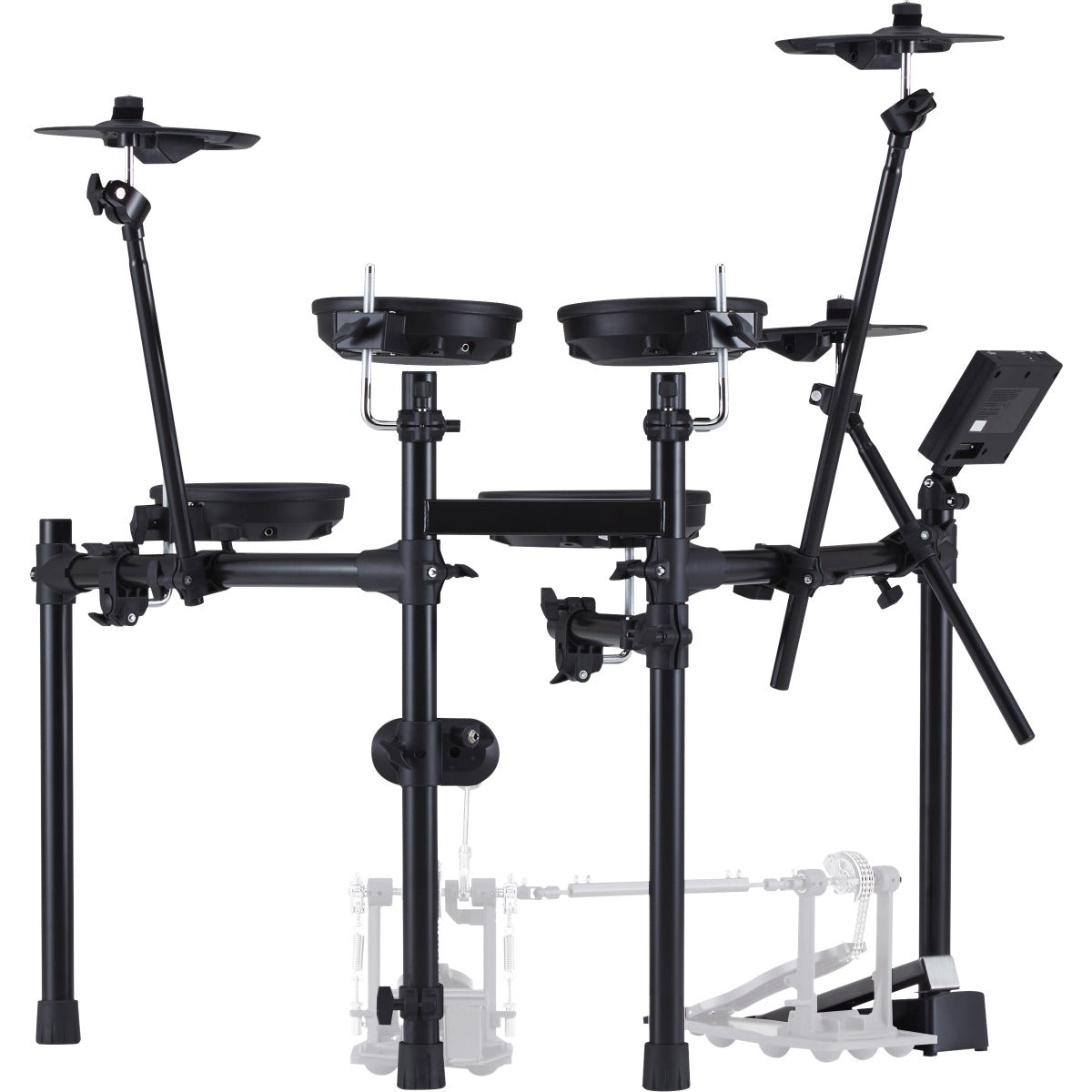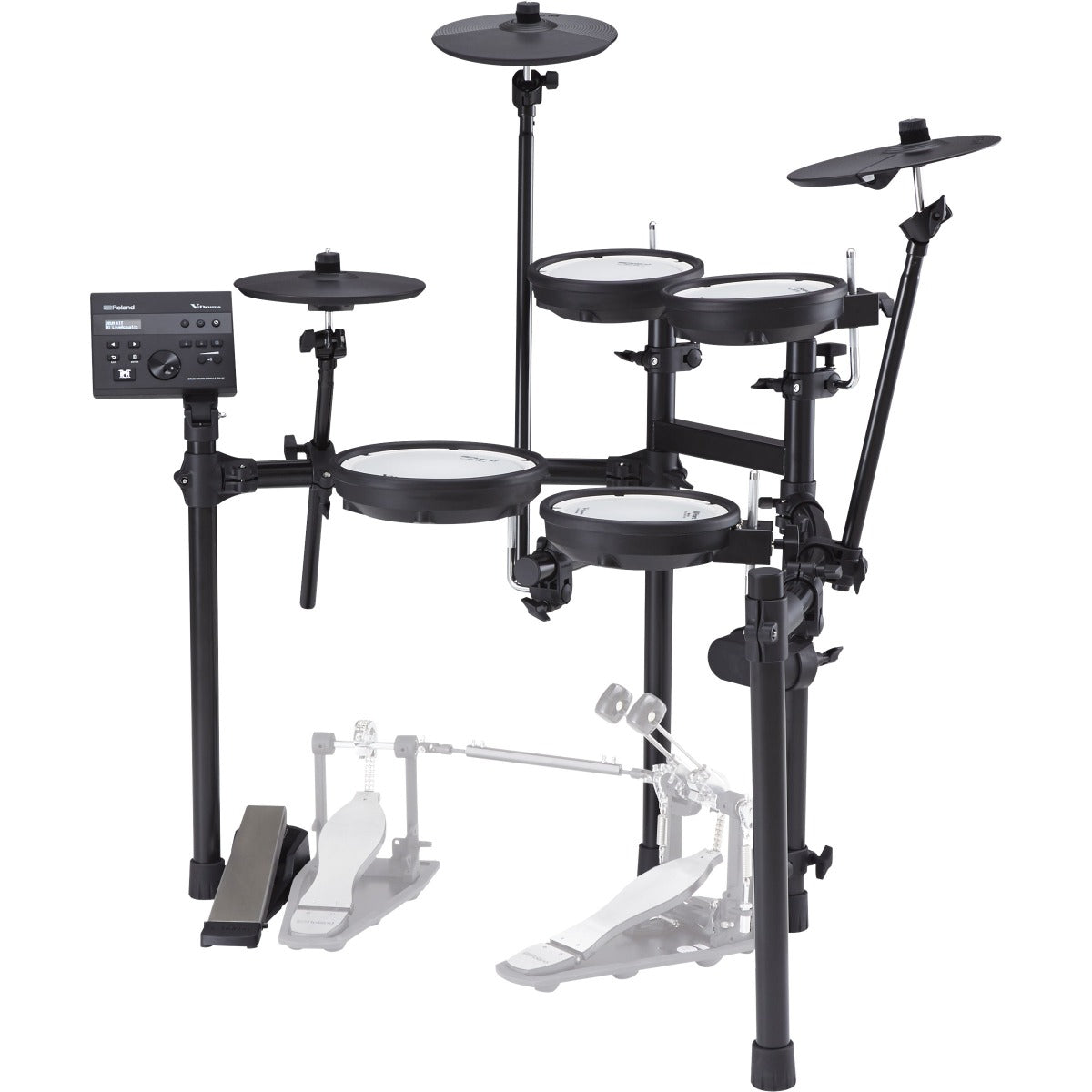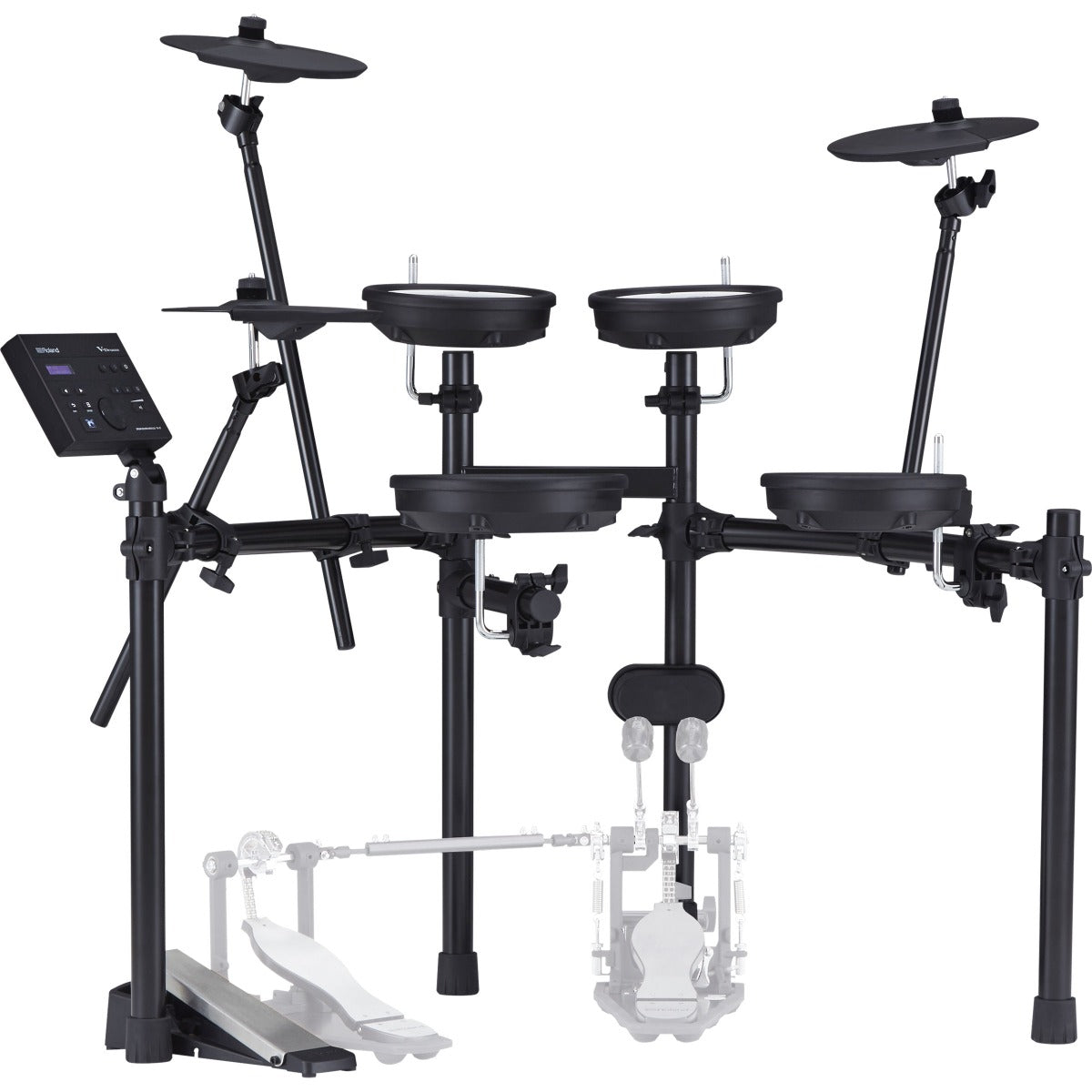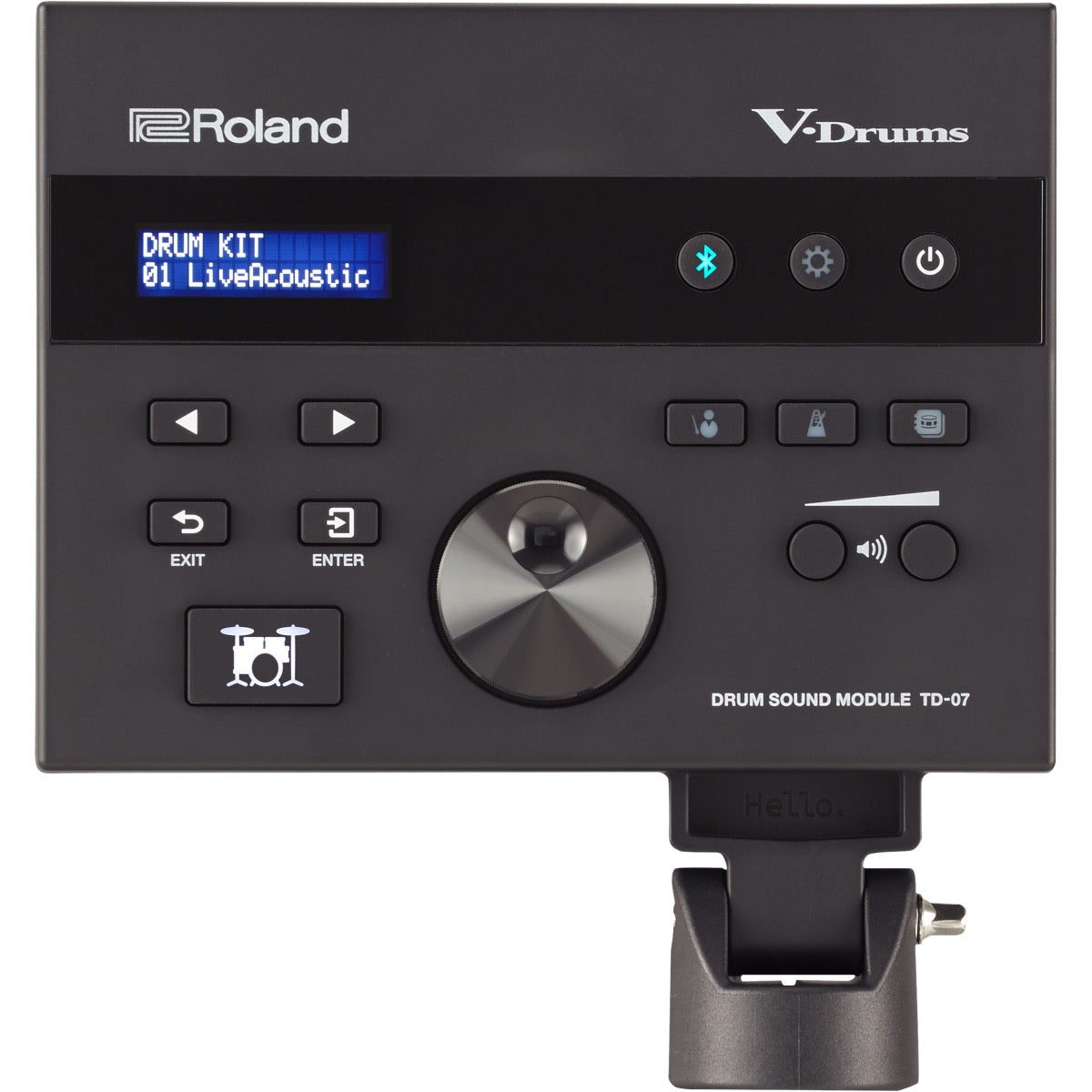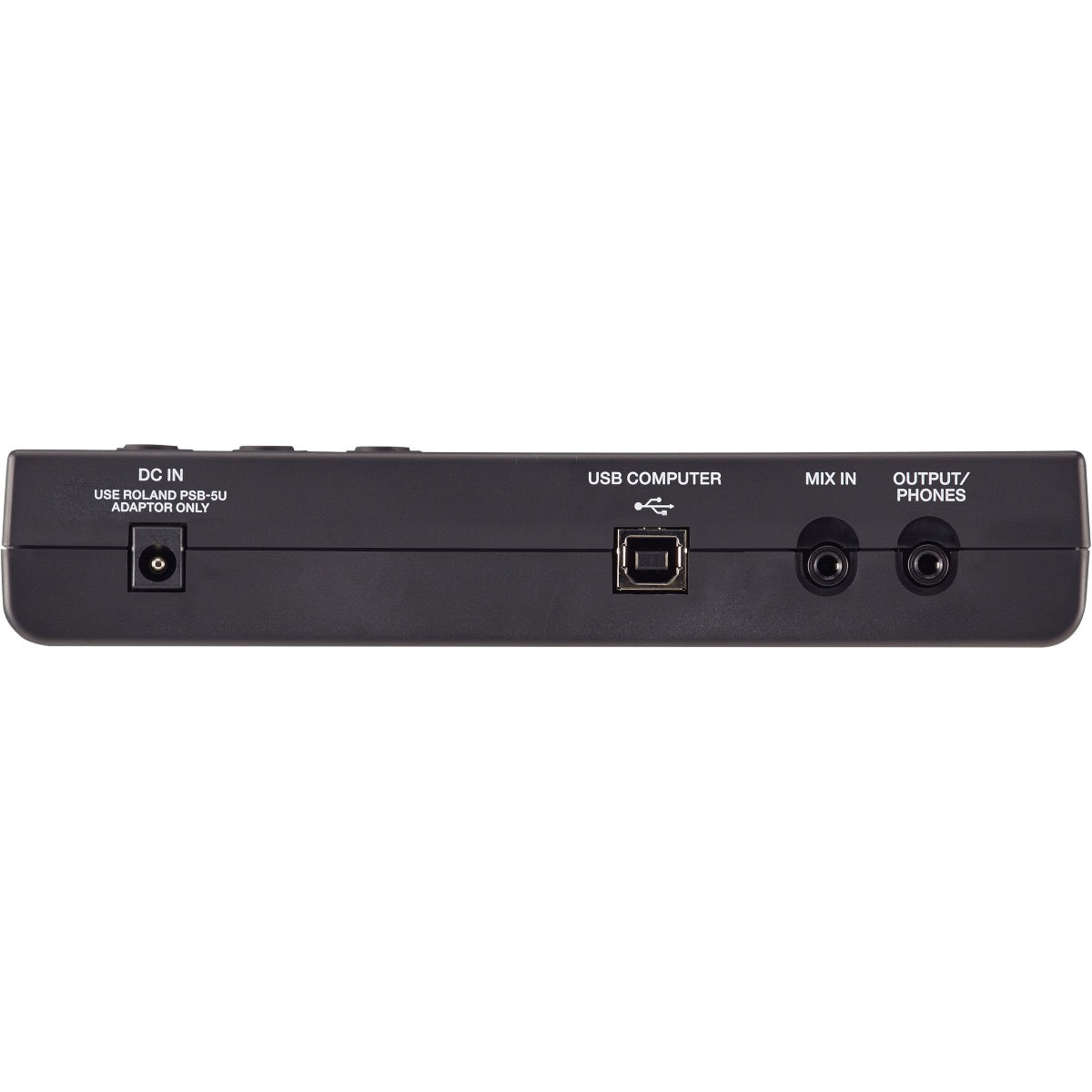 Roland TD-07DMK V-Drums Electronic Drum Set COMPLETE DRUM BUNDLE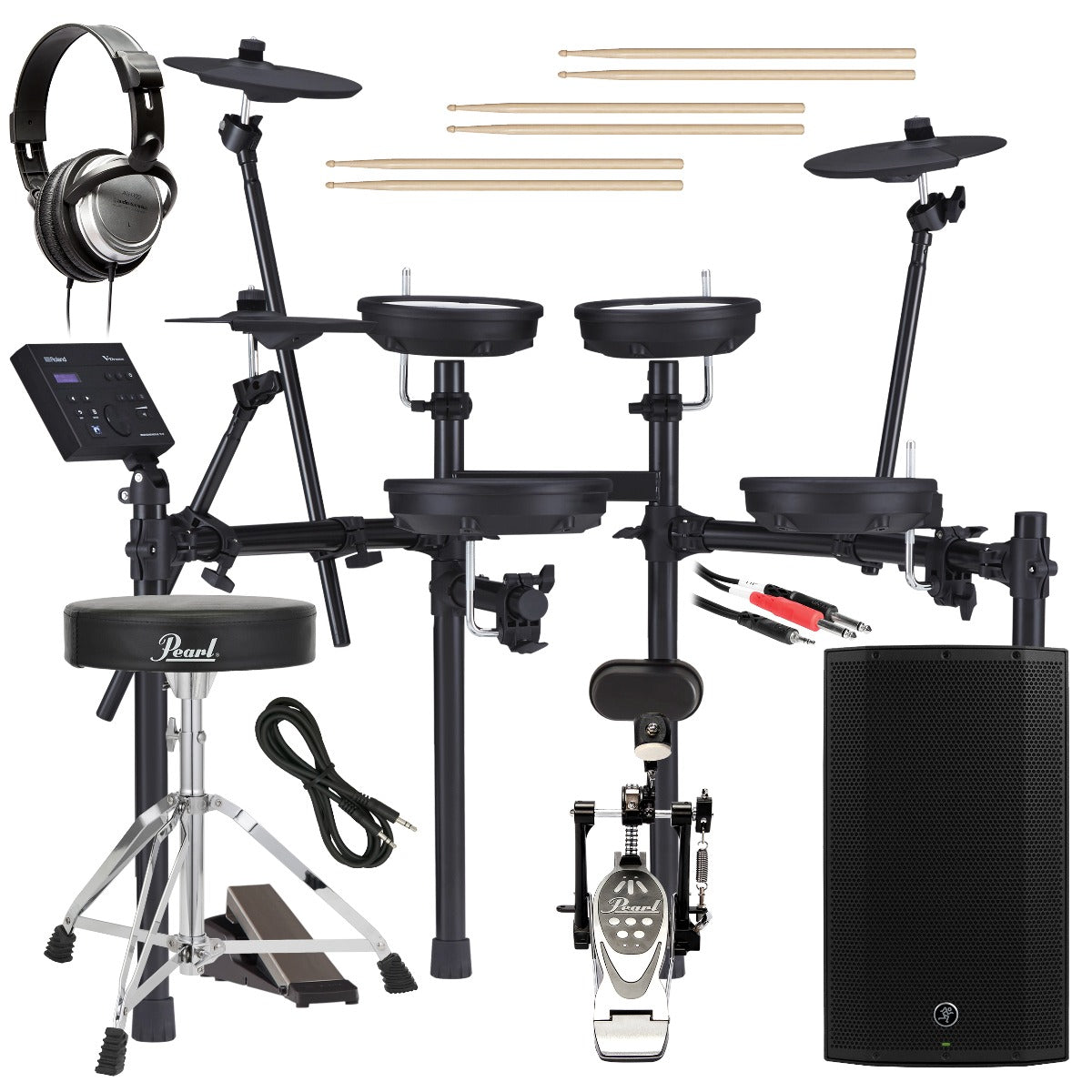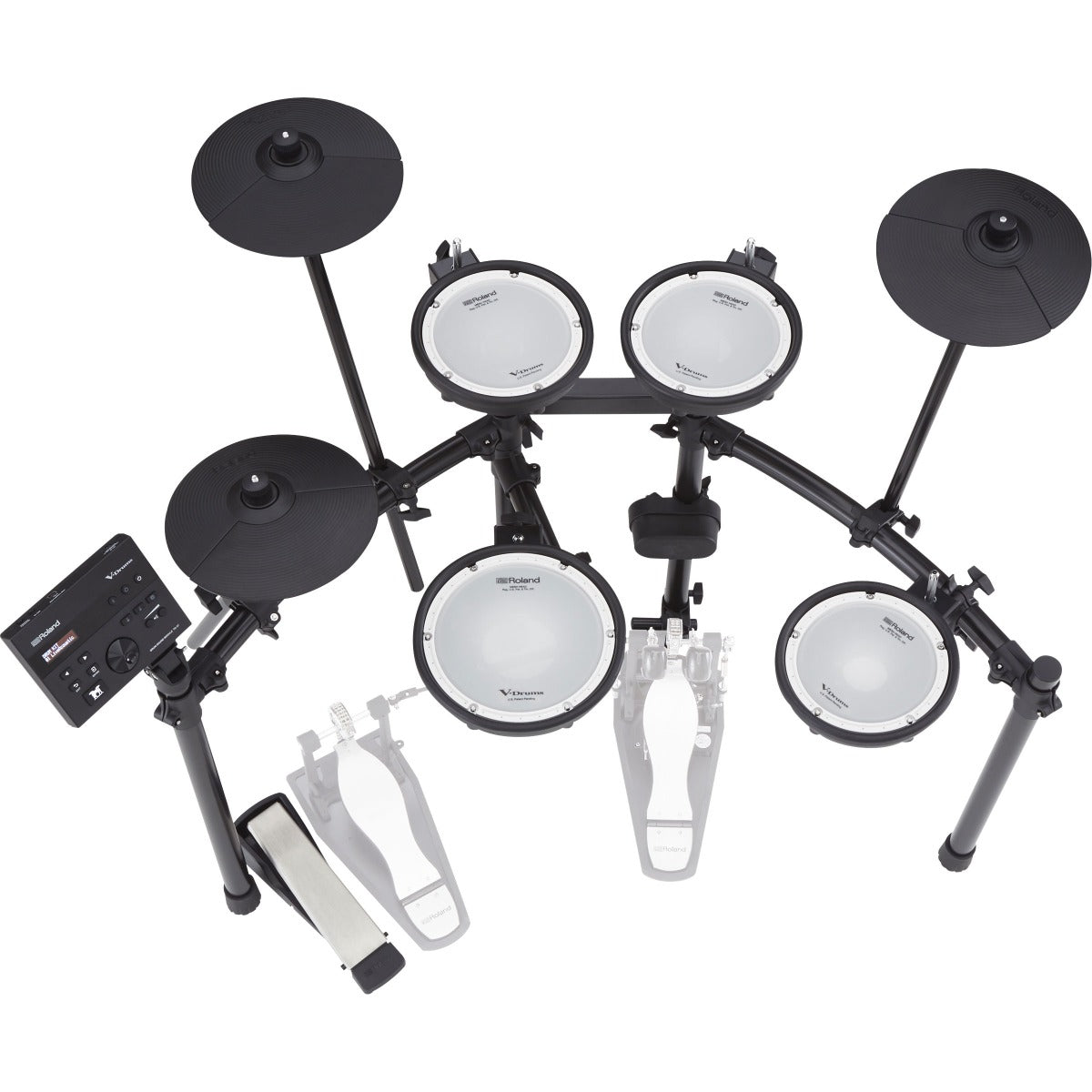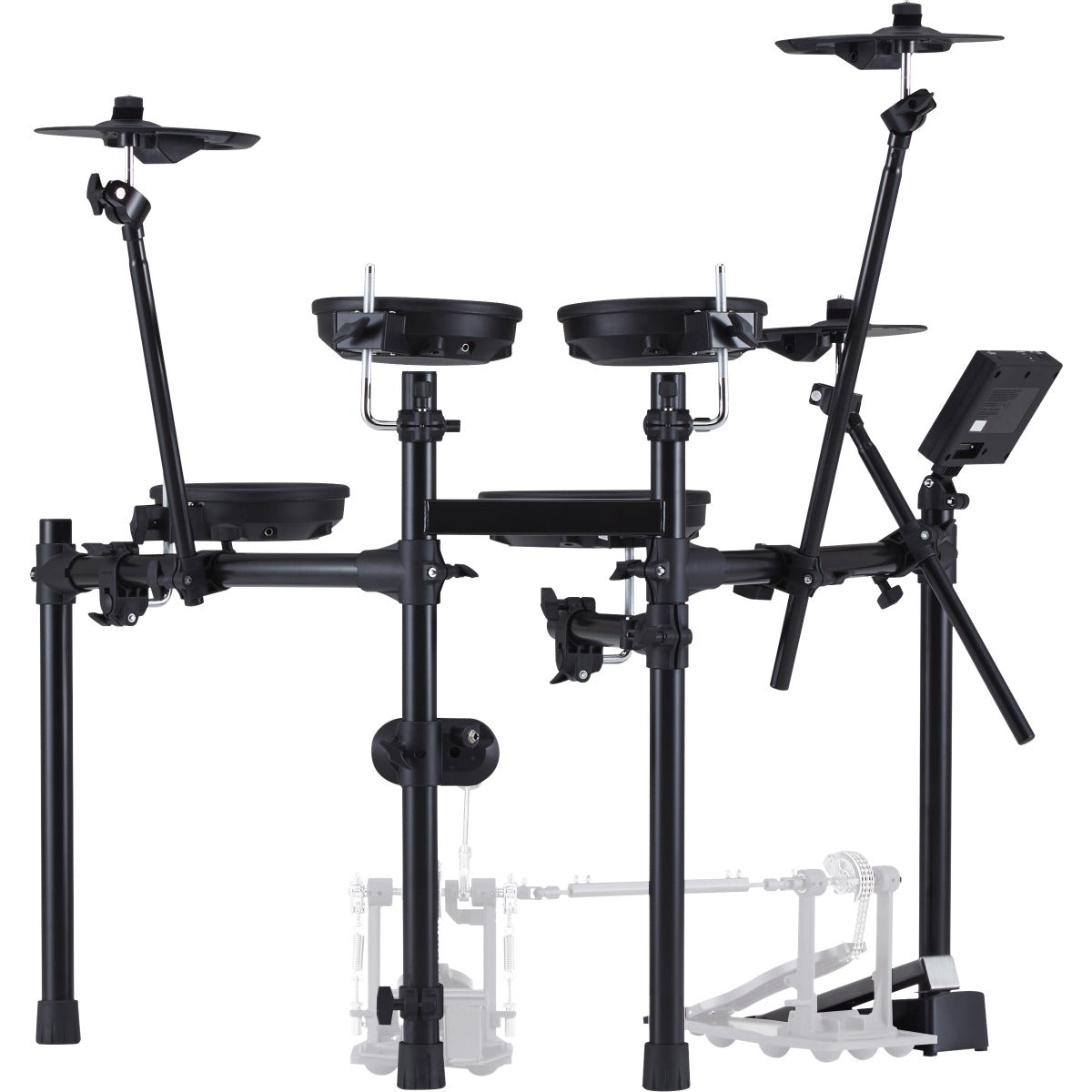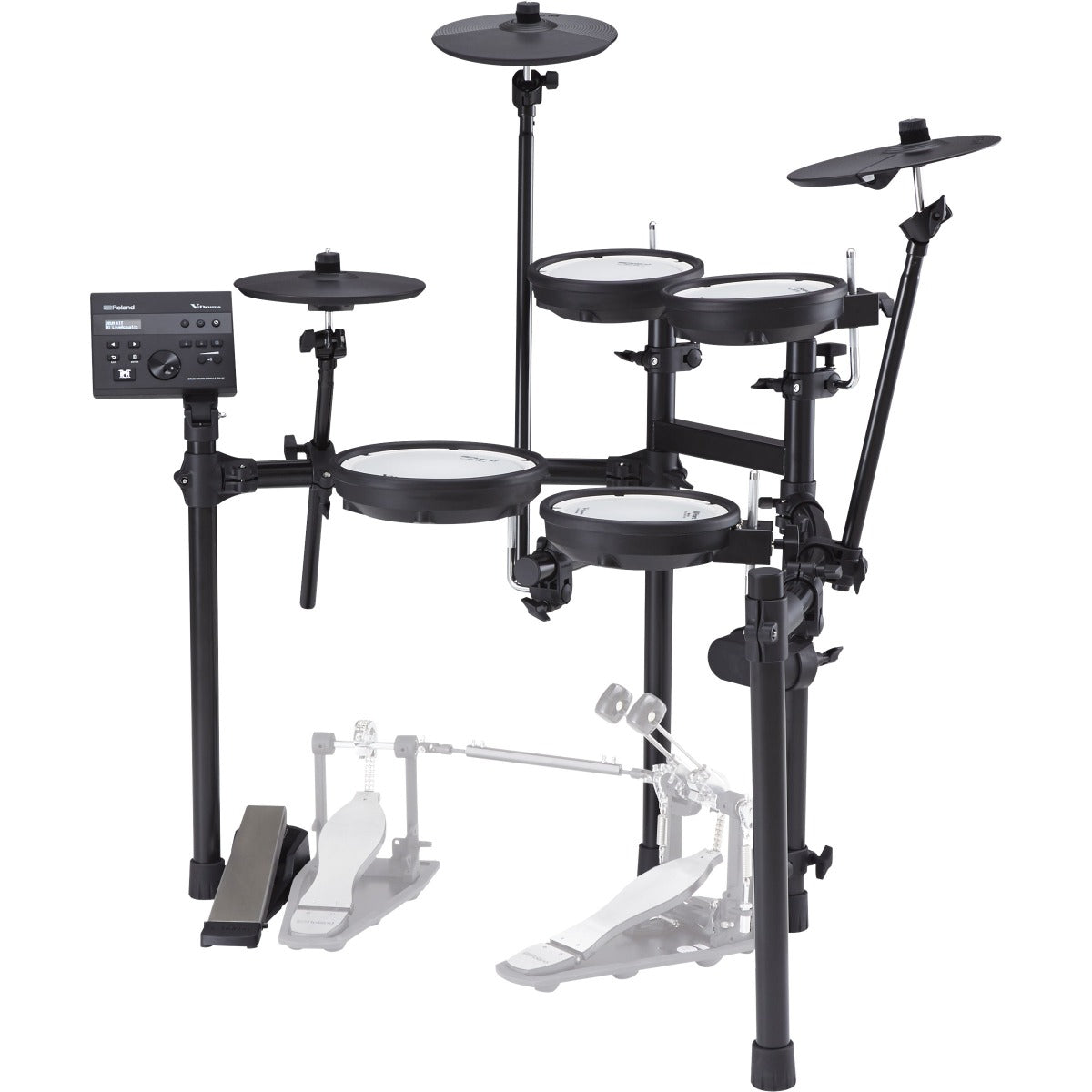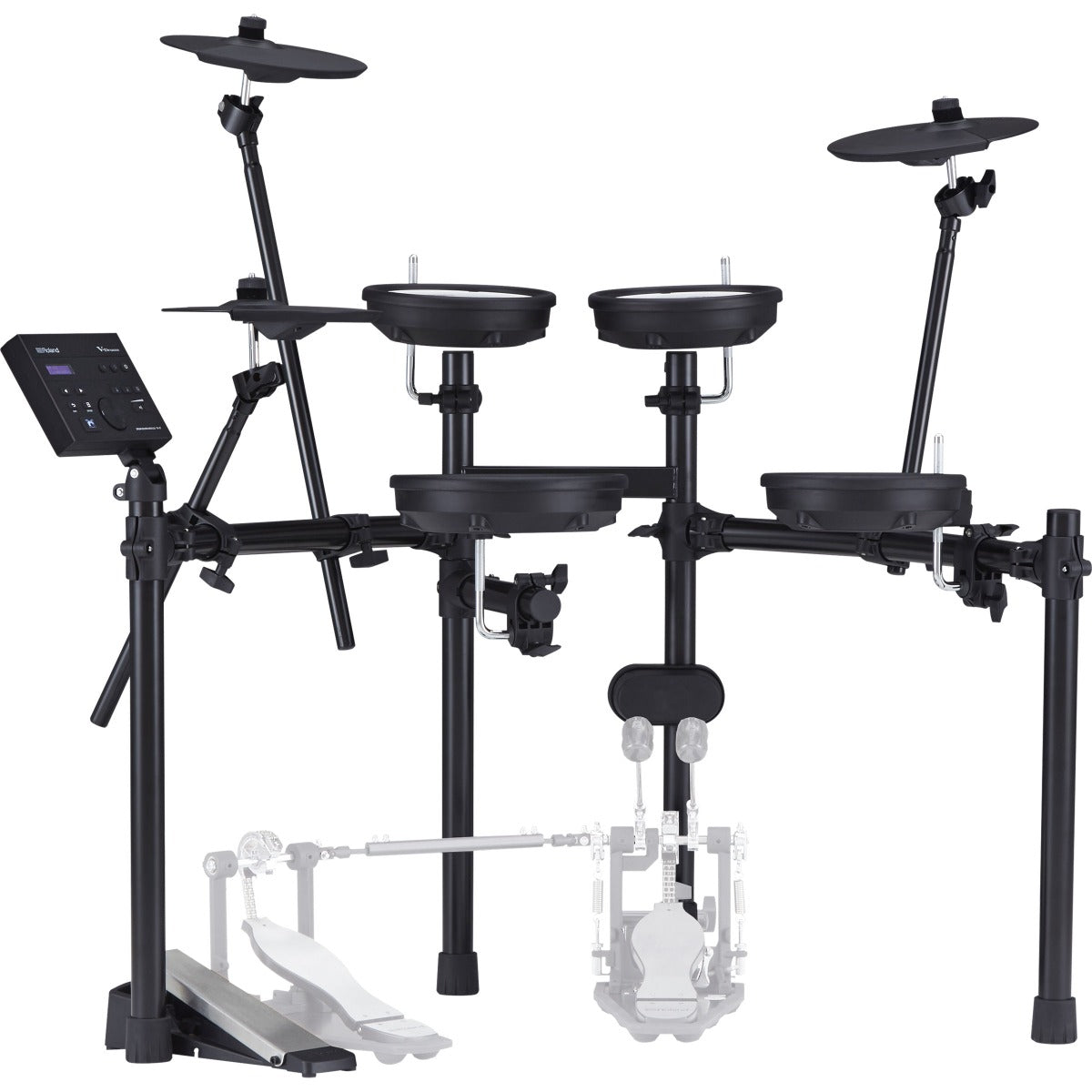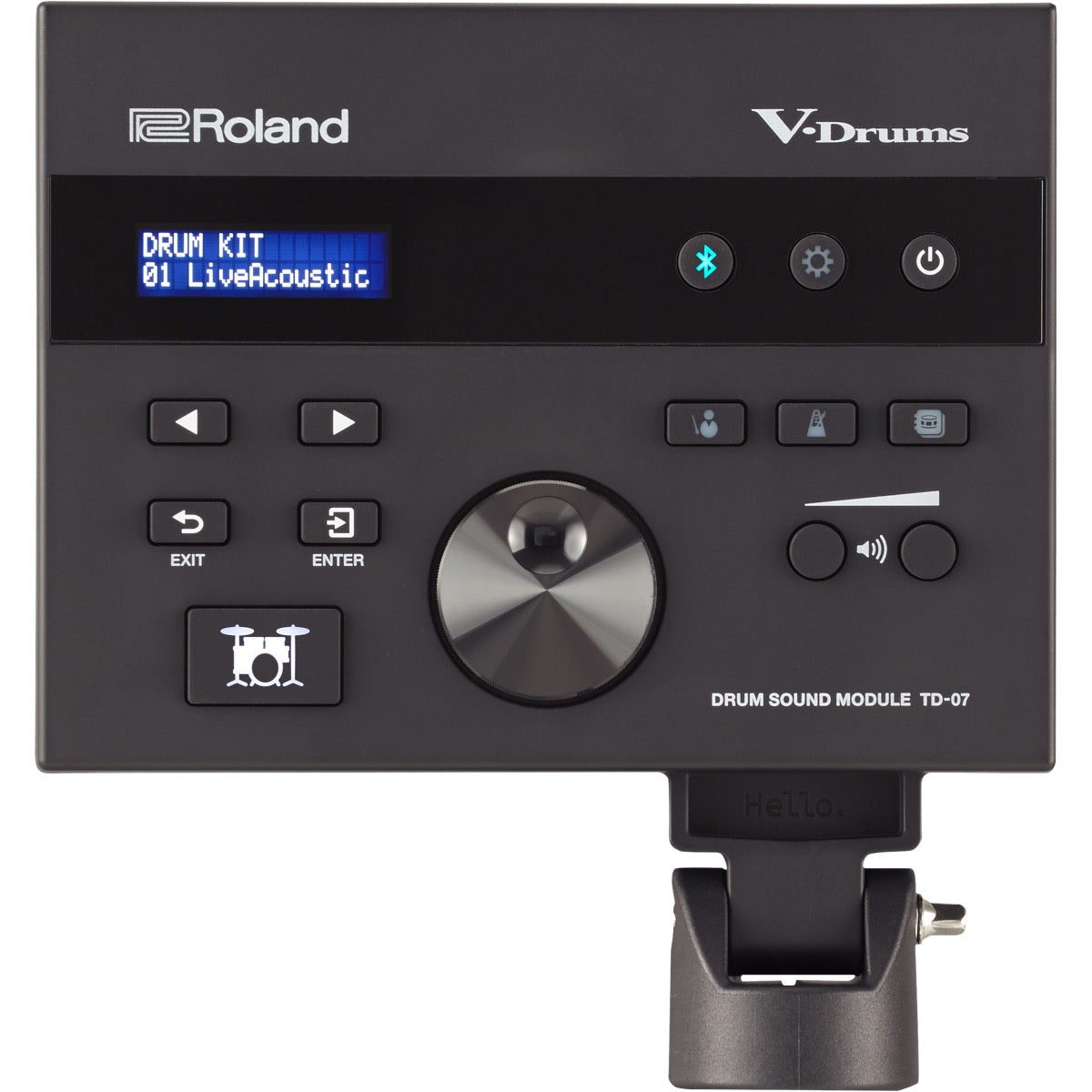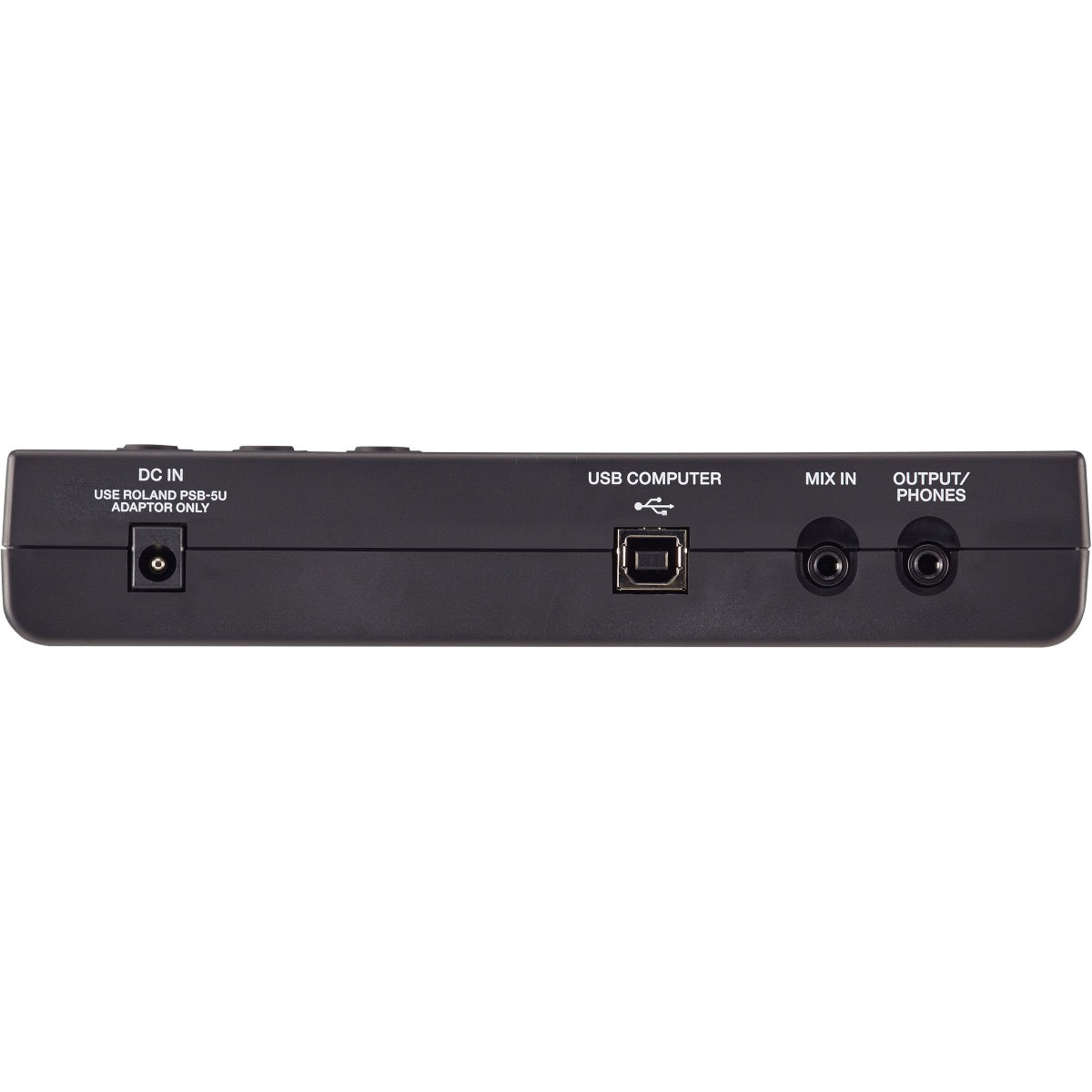 Roland TD-07DMK V-Drums Electronic Drum Set COMPLETE DRUM BUNDLE
8 items included
This Kraft Music Bundle Includes
Click on a product to view more details.
Compact and keenly priced but with the professional tone, feel and features to move your drumming on fast, Roland TD-07DMK is the entry point to the V-Drums TD-07 series. While the pads are smaller than the kits higher up the range, you'll appreciate the satisfying feel from the PDX-8 snare and three PDX-6A toms, all featuring Roland's ultra-quiet, double-ply mesh heads. The compact CY-5 crash and ride cymbals let you play with expression where space is tight, while a stand-mounted kick pad combines with the TD-07 range's tightest footprint to make the perfect home kit. Despite the compact size, you can still give big thanks to creative features that stretch beyond any acoustic kit, including authentic drum kits covering a range of styles and genres plus deep tone editing so you can create your perfect kit, onboard coach mode to help you learn, Bluetooth connectivity so you can play along with music streamed from your phone, tablet or computer, plus USB to connect with computer-based recording software.
TD-07 module with 25 preset kits, 25 user kits and 143 instruments
V-Edit, EQ, ambience and 30 multi-effects offer deep editing tools to create your perfect drum kit sounds
Snare and tom pads with Roland's legendary double-ply, tension-adjustable mesh drumheads
One PDX-8 10" snare pad with independent head and rim zones for assigning different sounds
Three PDX-6A 6" single-zone tom pads
KD-2 kick pad attaches directly to the drum stand
CY-5 10" crash and ride cymbals with choke support
CY-5 10" hi-hat cymbals and integrated foot pedal with fine incremental control between open and closed positions
Four-post drum rack stand with metal construction and sturdy clamps with strong grip
Integrated Bluetooth lets you wirelessly stream sound from smartphones, tablets and other Bluetooth devices and send MIDI data to music apps
Advanced built-in metronome with the ability to adjust time signature, note value and click tone
Onboard coach function provides interactive tools to build timing skills and track progress
USB for recording audio and MIDI data to computer music software
Support for kit expansion with a second crash cymbal (CY-8 V-Cymbal and MDY-Standard cymbal arm sold separately)
Authentic V-Drums performance
Since 1997, Roland V-Drums have earned their position as the industry standard in electronic drums. Often imitated but never equalled, V-Drums offer the sound, feel and playing experience of an acoustic kit, backed up by technology, features and reliability that you won't find anywhere else. And as the entry level kit in the TD-07 series, TD-07DMK brings this proud heritage within reach of all drummers, from those just starting out to seasoned players.
Powerful TD-07 sound module
The secret to a superior electronic drum kit is a powerful sound module, and the TD-07DMK features the same TD-07 'brain' used in kits higher up in the series. Choose from acoustic drums, electronic drums and a range of percussion instruments, all recorded in professional studios and brought to life by advanced V-Drums technology.
Digital drums that don't disturb
TD-07DMK is the electronic drum kit that excels for home use: set the volume low while you warm up or practice in peace with headphones. The drum stand and mesh pads are also far quieter than lesser digital drum kits, very important if you're drumming in a space where you could disturb other people. Roland mesh heads minimize pad noise without compromising on playing feel, while specially designed damping in the kick pad cuts noise and vibration. Even the drum stand is designed to reduce noise transfer to the room below, further supplemented with Roland's range of optional noise-reduction solutions if required (sold separately).
Play out of the box – or go deeper
Jump on the drum throne and you'll find inspiring preset kits that compel you to start playing. And when you're ready for more, dive into a huge library of drum sounds: switching up snares, mixing toms, trying out different kicks or swapping out heavy crashes and rides for more refined variations. You can tune your drums, add damping to make the sound warmer, change the sound of the 'room' in which the drums are played or even become your own sound engineer, shaping your drum 'tone' to perfection with the powerful drum-specific EQs of the TD-07 module.
Authentic acoustic tone and response
V-Drums deliver a rich array of sounds to keep you inspired. And despite their smaller size, TD-07DMK's drum and cymbal pads have precision sensors, accurately responding to your hits, strokes, rolls, flams, cymbal chokes and ghost notes, with the TD-07 module relaying your performance with total accuracy and lightning speed. But best of all, this technology is completely invisible so all you need to do is sit down and drum.
Genuine Roland mesh-head pads
Roland developed the world's first mesh drumhead and it's led the way ever since. Having two custom mesh layers gives natural stick resistance and rebound that's incredibly close to an acoustic drumhead, alongside adjustable tension that lets you fine-tune for feel with a standard drum key. Once you've experienced the unbeatable feel and accuracy of V-Drums mesh pads there's no going back.
Rugged and reliable drum stand and hardware
When you're drumming hard, there's nothing more frustrating than an unstable stand or a pad that moves away as you play. Despite the compact footprint, TD-07DMK's robust construction provides the rock-solid stability that drummers need with a custom drum stand and precision clamps that lock all components in place. Upholding V-Drums' reputation for durability, TD-07DMK can be relied upon to endure many years of demanding performance.
Play back audio and jam along with Bluetooth
TD-07DMK makes it easy to drum along with your favorite bands. Just select the music on your smartphone, tablet or computer, then wirelessly stream the audio through to the TD-07 module as you join in. Video sound is transmitted, too, so you can play along with online songs and video lessons, while MIDI transmission over Bluetooth is also supported for cable-free recording of MIDI data in music apps. And if you don't have a Bluetooth device, just bring in stereo sound via a cable.
Make drum practice fun with 40 free lessons from Melodics
Connect your V-Drums kit to Melodics, a desktop app that lets you play along to step-by-step lessons and tracks. You'll master new beats, tighten up your timing and record yourself drumming to highlight areas for improvement. There's no limit to how many times you can play your 40 free lessons, and when you're ready to go further you can subscribe for unlimited tutorials. Say goodbye to aimless practice sessions: with TD-07DMK and Melodics, every minute spent at the kit will count.
Go from strength to strength, track your progress
Imagine having a coach by your side whenever you pick up the sticks to guide you, challenge you, show what you're doing well and where you can improve. The built-in coach mode inside the TD-07 module does exactly that, with timing and accuracy exercises ranging from easy to hard, along with scoring that helps make learning fun. And don't forget the metronome, a rock-solid timing partner to help develop your inner rhythm clock.
Connect and record via USB
TD-07DMK is more than just a great drum kit: the TD-07 module is also a high-quality audio/MIDI interface for recording. With just a single USB cable you can send stereo audio and MIDI data directly to your Mac or Windows music production software. Or use the kit to trigger software-based drum instruments for studio or live playing. And if you already play another instrument and want to add some drum parts to your music, TD-07DMK is a great no-fuss addition to your home studio: just set up, connect and add realistic-sounding drums to your productions.

SKU
ROL-TD07DMKCD
MPN
TD-07DMK
Vendor
Roland
Connectivity
USB
Included From Manufacturer
TD-07 module
PDX-8 snare pad
3 × PDX-6A tom pads
KD-2 kick pad
CY-8 crash and ride cymbals
Hi-hat cymbals with integrated foot pedal
Four-post drum rack stand
Power supply
Mpn
TD-07DMK
Cymbal Choke Capability
Yes
Number of Cymbal Zones
Single zone with choke support
Number of Drum Kits
50 kit storage locations
20+ preset kits
Hi-Hat Stand Included
N/A
Audio Inputs
1/8" MIX IN input
Audio Outputs
1/8" stereo OUTPUT/PHONES output
Number of Instrument Sounds
143
Kick Pedal Included
Kick Pedal Included In Bundle
Metronome
Yes
Number of Pads
8
Sequencer/Recording
No
Snare Pad Zones/Surface
Independent head and rim zones
Snare Stand Included
No
Throne Included
Throne Included In Bundle
Tom Pad Zones/Surface
Single zone
Trigger Inputs
DB-25 type (Kick, Snare, Tom 1, Tom 2, Tom 3, Hi-hat, Crash 1, Crash 2, Ride, Hi-hat control)
Roland/Boss Consumer Limited Warranty
This limited warranty applies only to Roland and Boss products purchased in the United States of America.
Roland Corporation U.S. warrants to the first consumer only of a covered product purchased from an authorized Roland dealer in the U.S. that this product will be free from defects in materials for a period of one (1) year or defects in workmanship for a period of ninety (90) days. Please register this product online to establish the date of purchase (not a requirement for warranty service).
To exercise your rights under this Warranty as a purchaser, you must ship this product in appropriate packaging at your expense (insurance is recommended), together with proof of purchase, to Roland Corporation U.S., or to such other address as may be instructed by Roland Corporation U.S. (This shipping requirement shall not apply to those Roland products covered by in-home warranties). You should submit a new service request to obtain a Return Authorization number for the returned product. Any products shipped to Roland Corporation U.S. without a Return Authorization number shall be refused.
Roland Corporation U.S. will repair or replace this product at its sole option at no charge to you for parts or for labor within the warranty period; provided, however, that Roland Corporation U.S. reserves the right to determine whether the product is 'defective' for purposes of this Limited Warranty. This Warranty does not apply to damage to this product that occurred as a result of abuse or misuse, abnormal service or handling, battery leakage or failure, damage which may have been caused either directly or indirectly by another product, or if the product has been altered or modified in any way, or if the damage was caused by repairs or service provided or attempted by anyone other than Roland Corporation U.S. or a Roland Authorized Service Center.
In no event shall Roland Corporation U.S. be liable for any indirect, incidental, collateral, exemplary, punitive, consequential or special damages or losses arising out of your purchase of products and/or out of this warranty, including without limitation, loss of use, profits, goodwill or savings or loss of data, music, electronic files, or programs that may have been stored by a user of the product even if Roland Corporation U.S. has been advised of the possibility of such damages or claims. Some states do not allow the exclusion or limitation of incidental, punitive, or consequential damages, so the above limitation or exclusion may not apply to you.
Where applicable, if you qualify as a 'consumer' under the Magnuson-Moss Warranty Act, then you shall be entitled to any implied warranties allowed by law for the period of the Limited Warranty as set forth above. Some states do not allow limitations on how long an implied warranty lasts, so the above limitation may not apply to you. Except as stated above, the foregoing warranties are in lieu of all other conditions or warranties, express, implied or statutory, including without limitation, an implied condition or warranty of merchantability or fitness for a particular purpose and of any other warranty obligation on the part of Roland Corporation U.S.
Roland Corporation U.S. does not assume or authorize assumption of liability for it or any other warranty, either express or implied. This Limited Warranty gives U.S. purchasers specific legal rights, and you may also have other rights which vary from State to State.
Ground shipping is FREE for all orders $99 and up.