Skip product carousel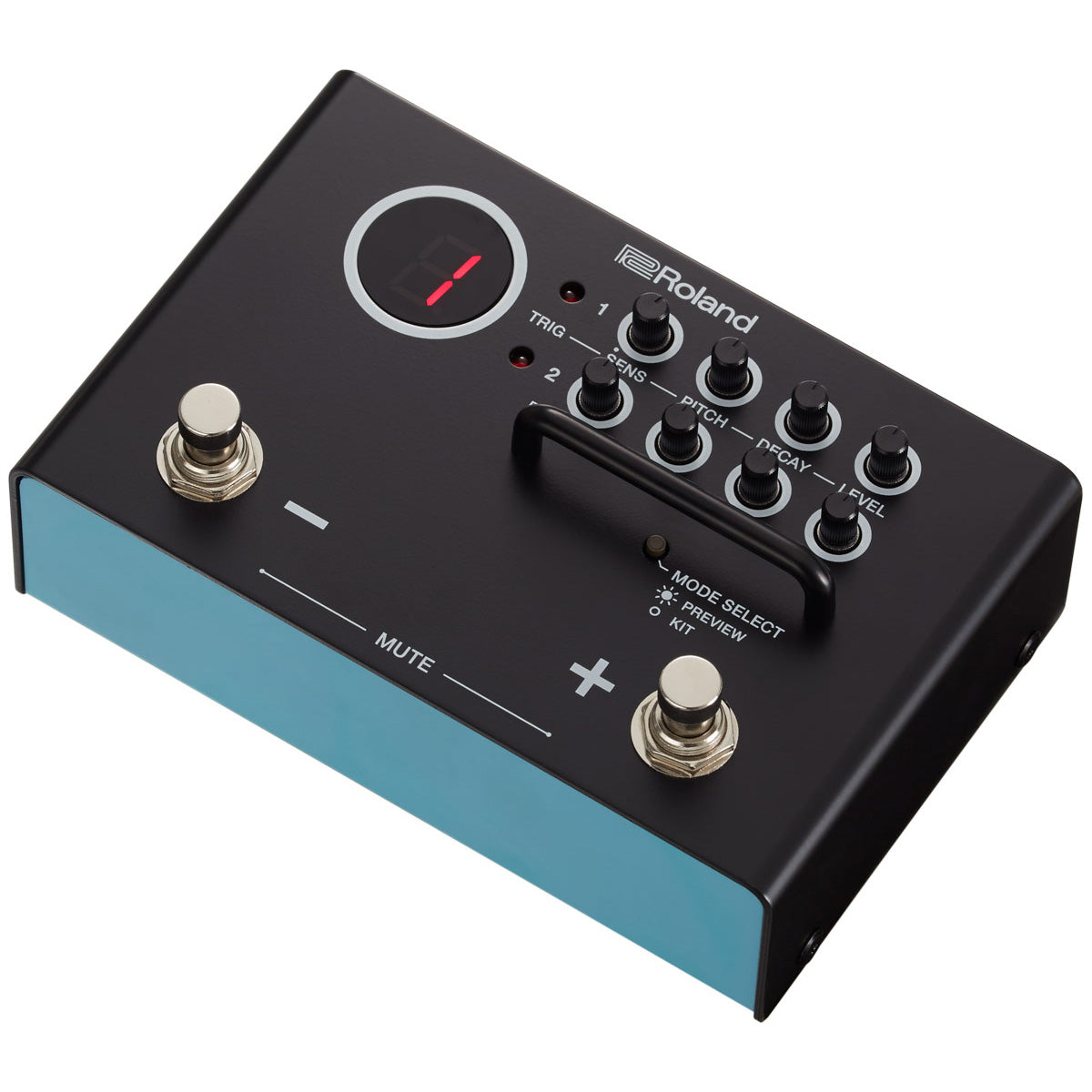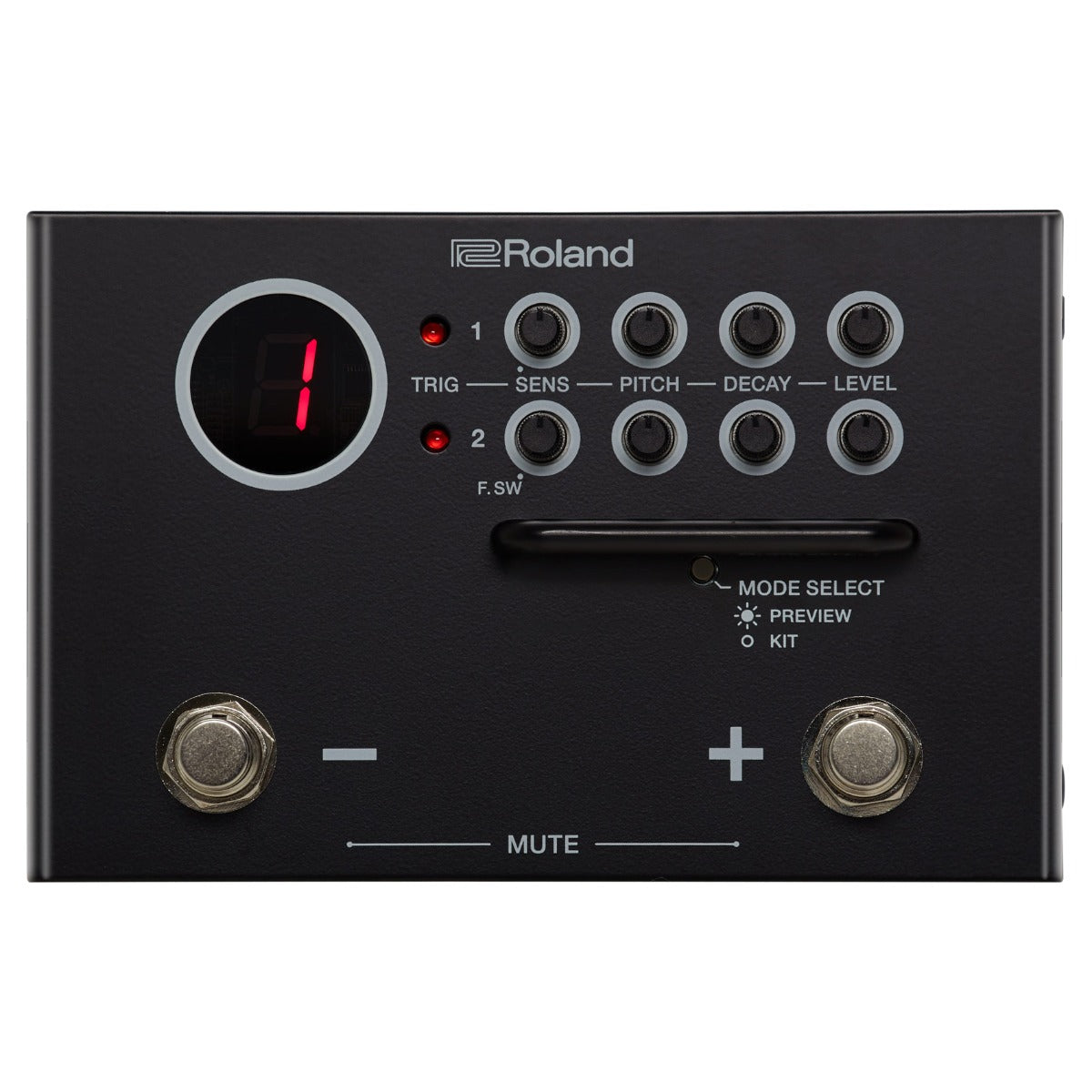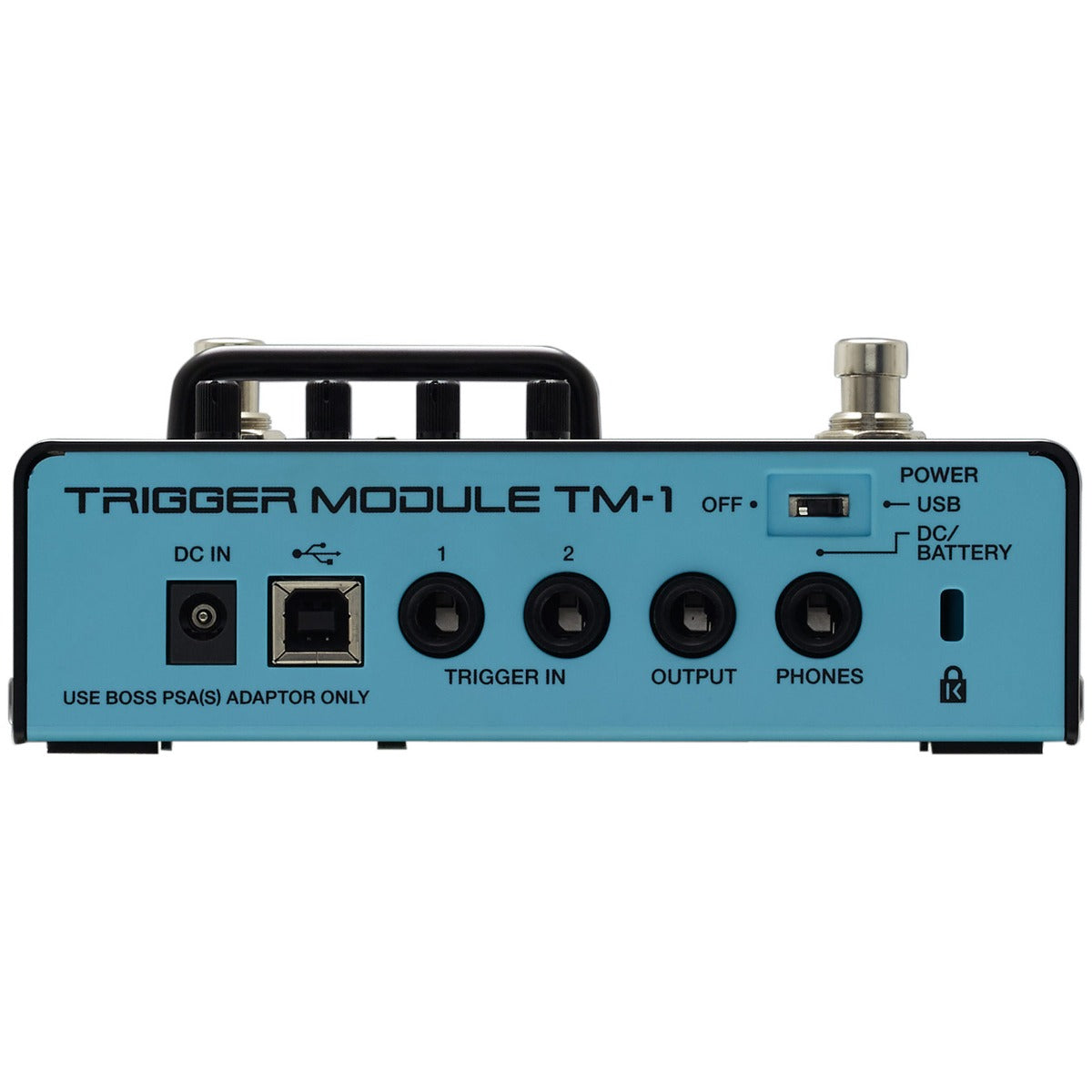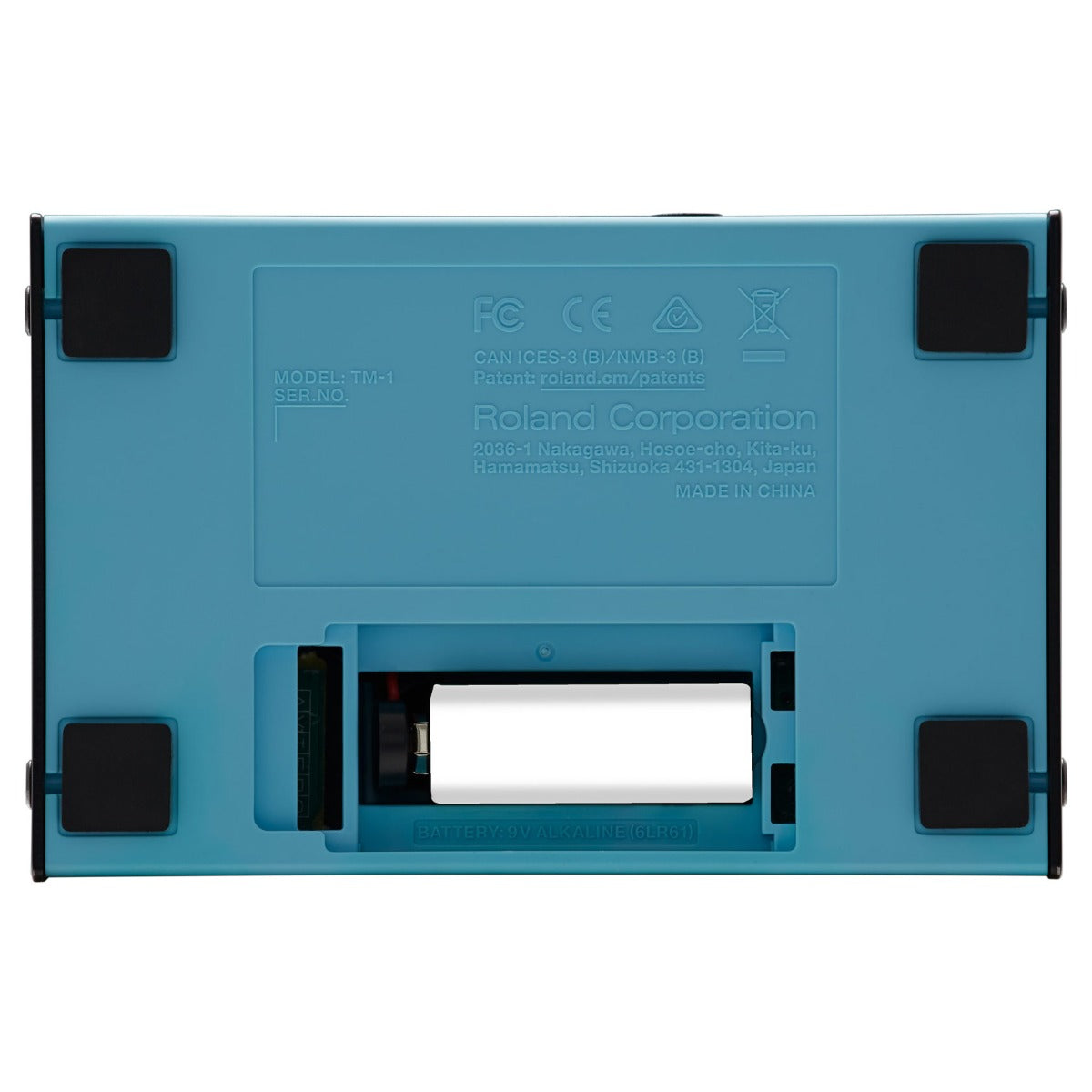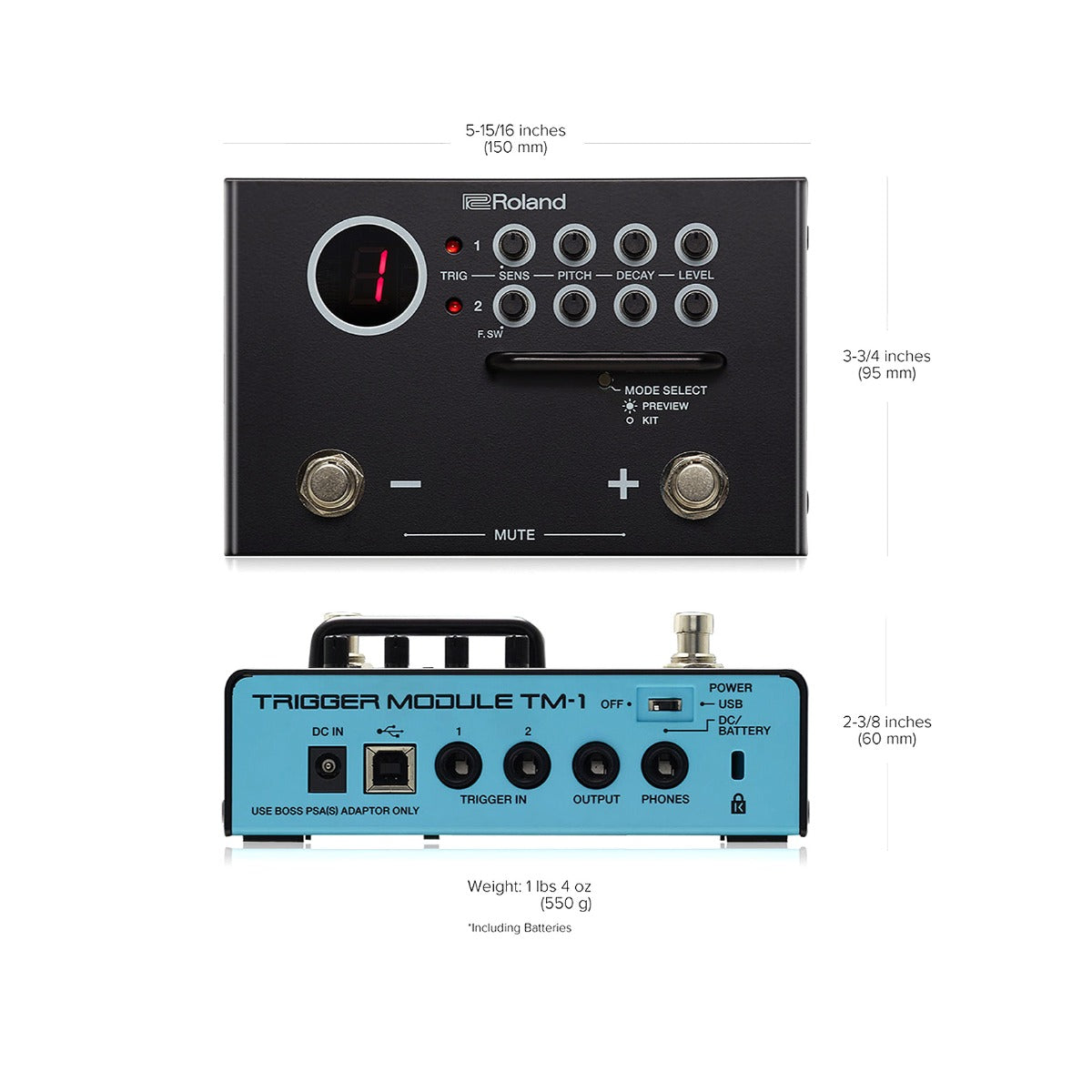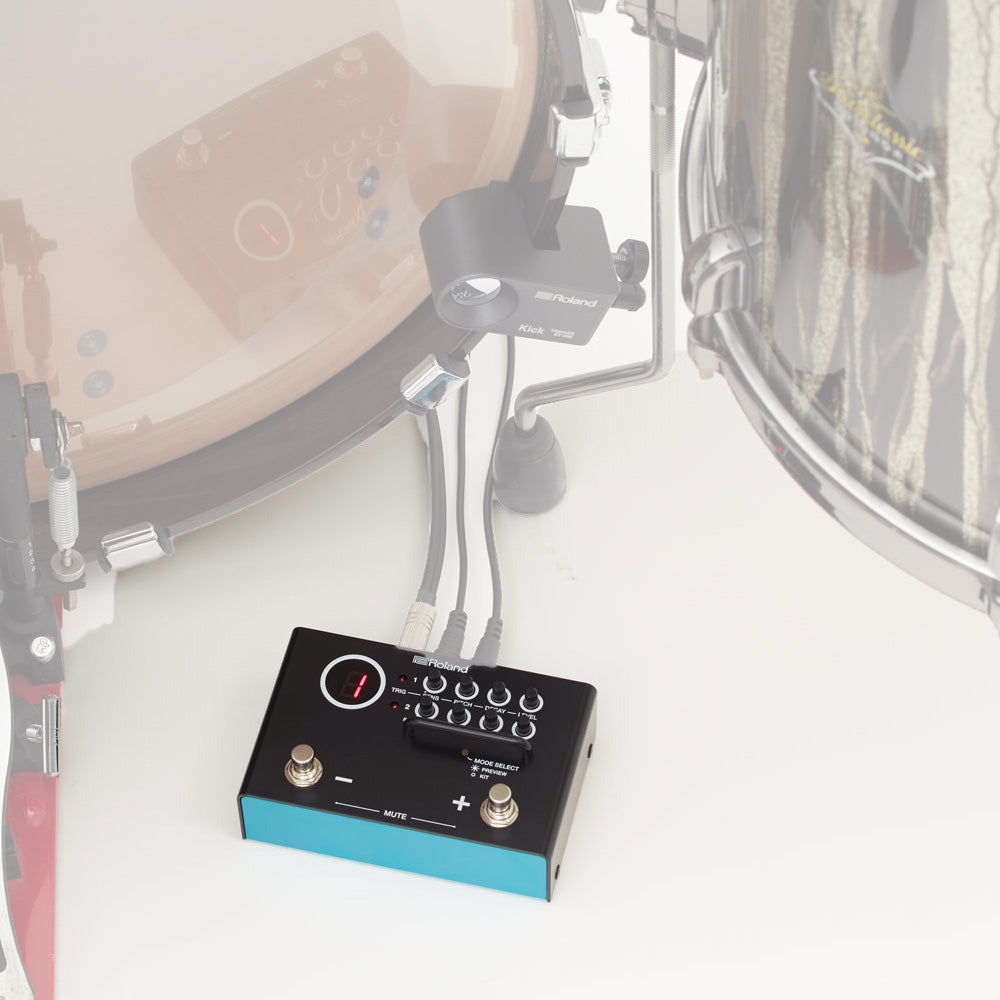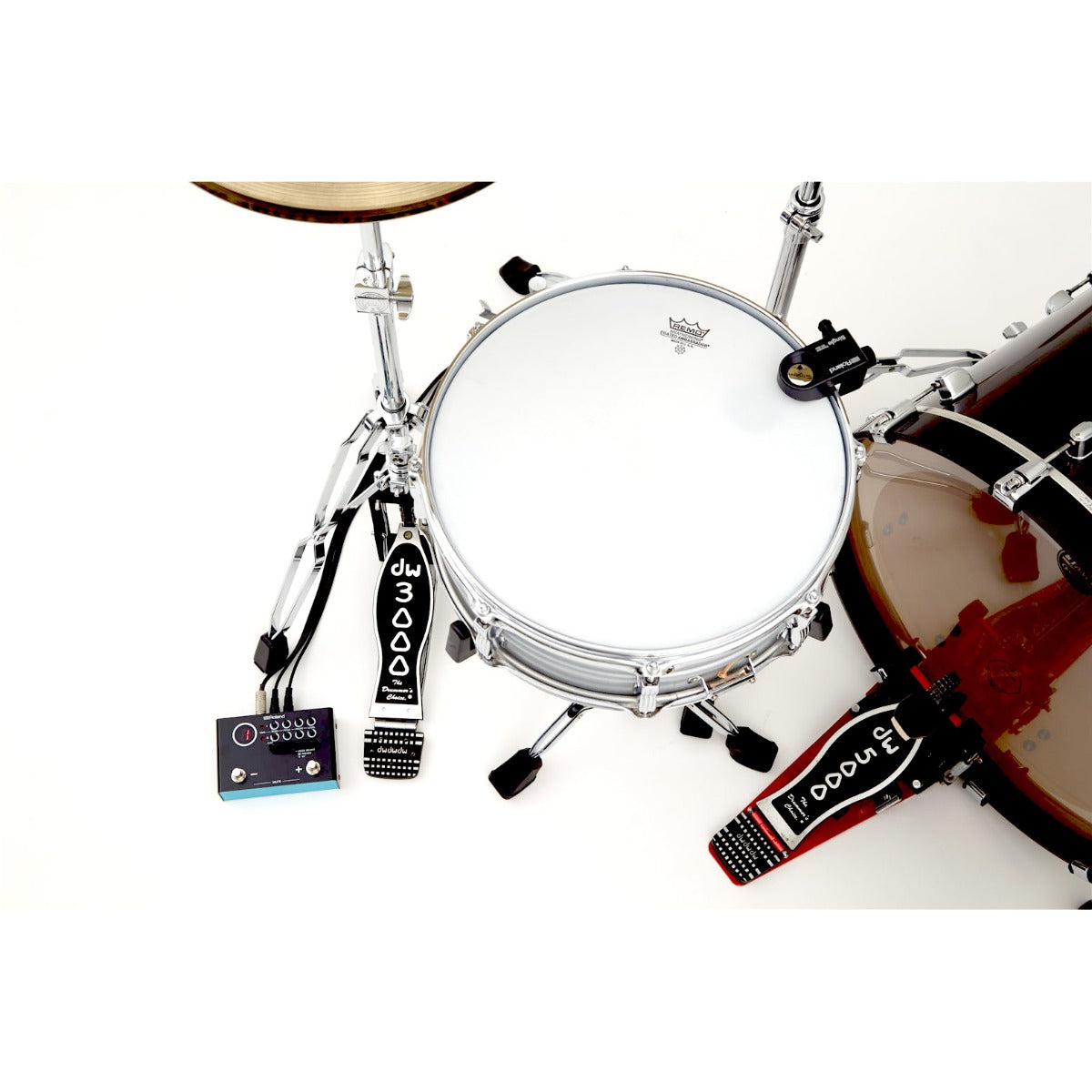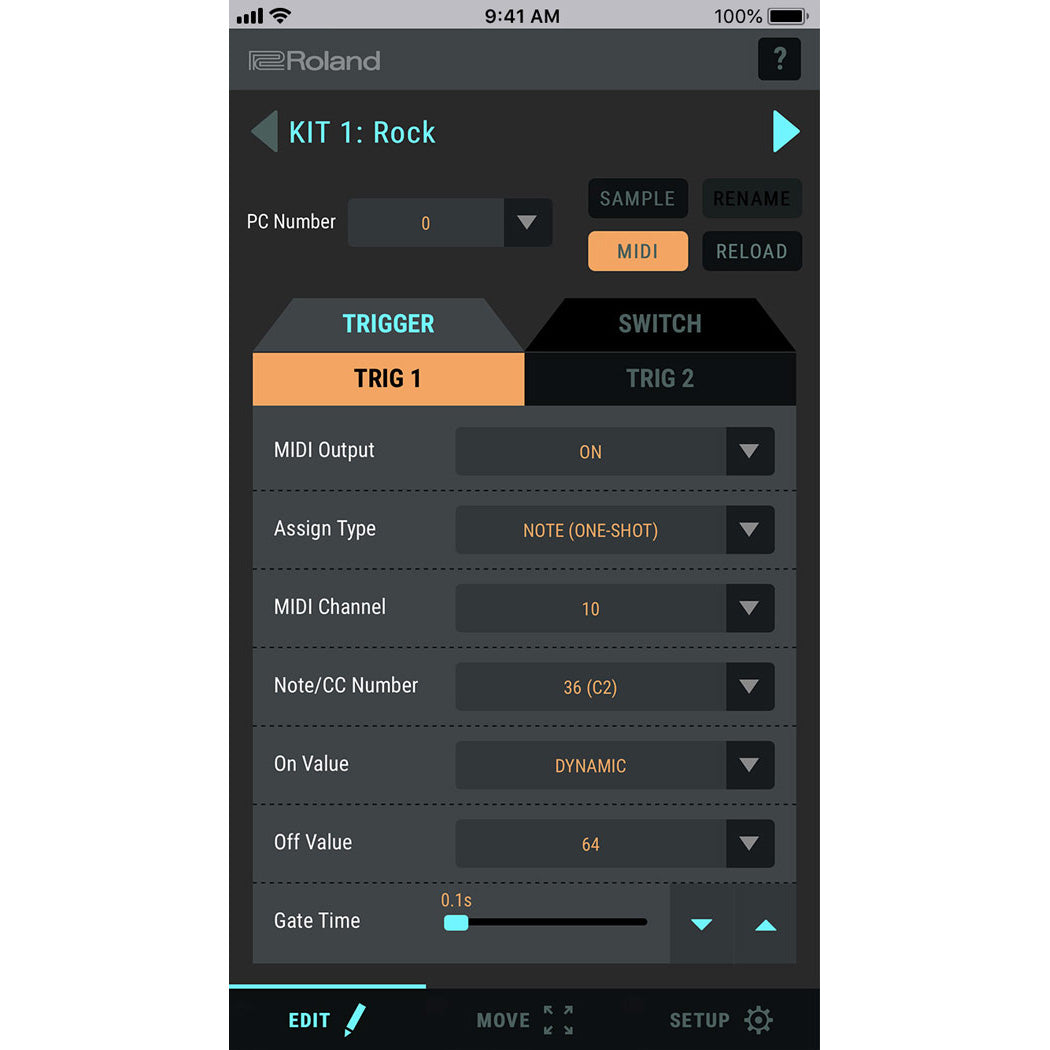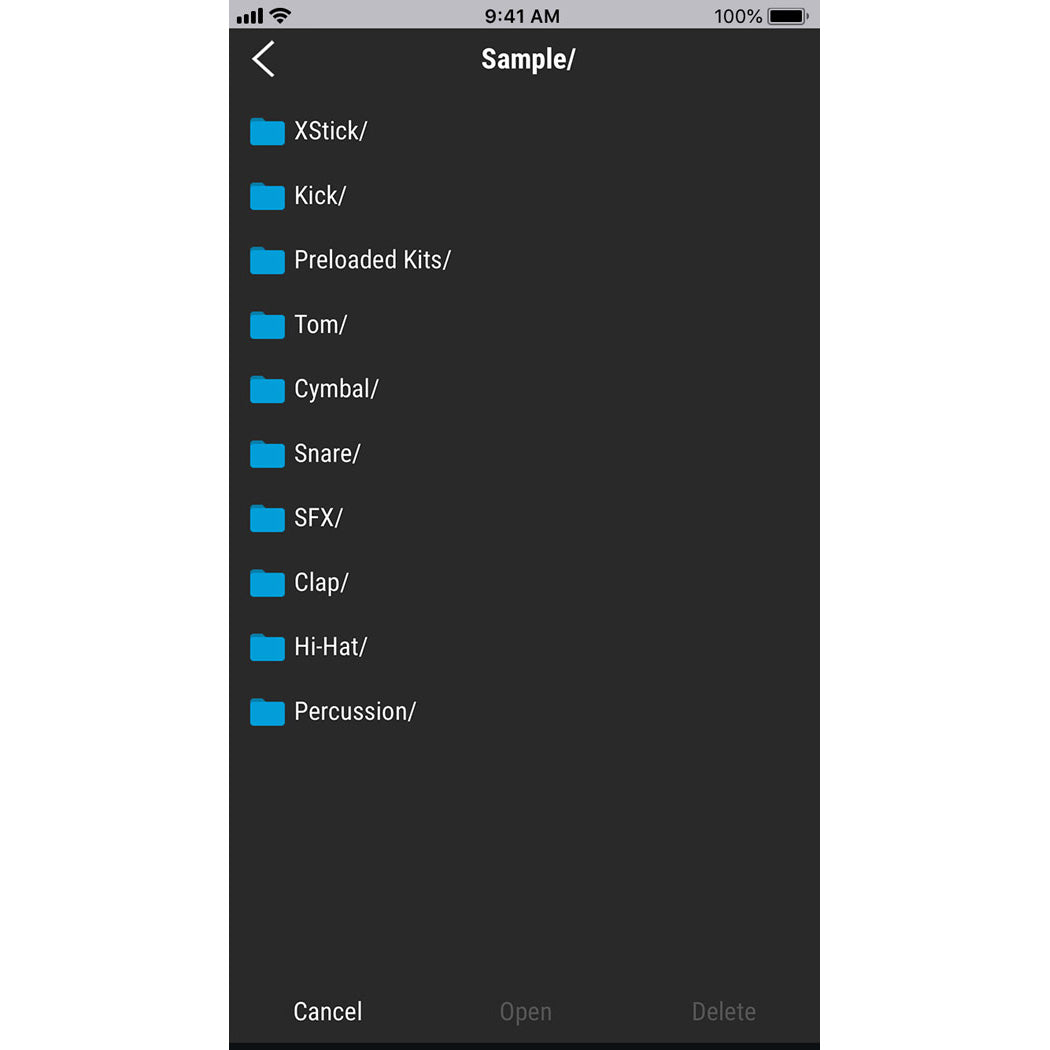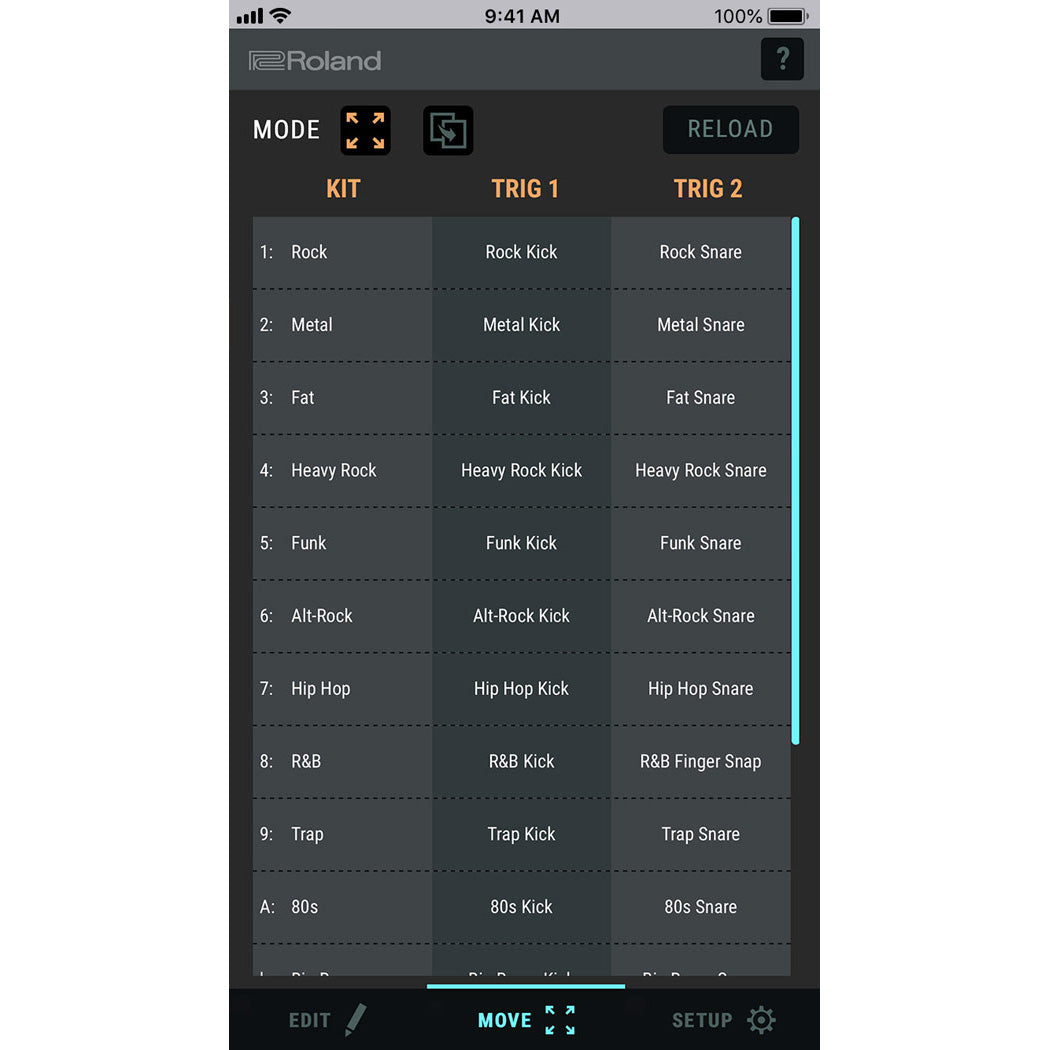 Roland TM-1 Trigger Module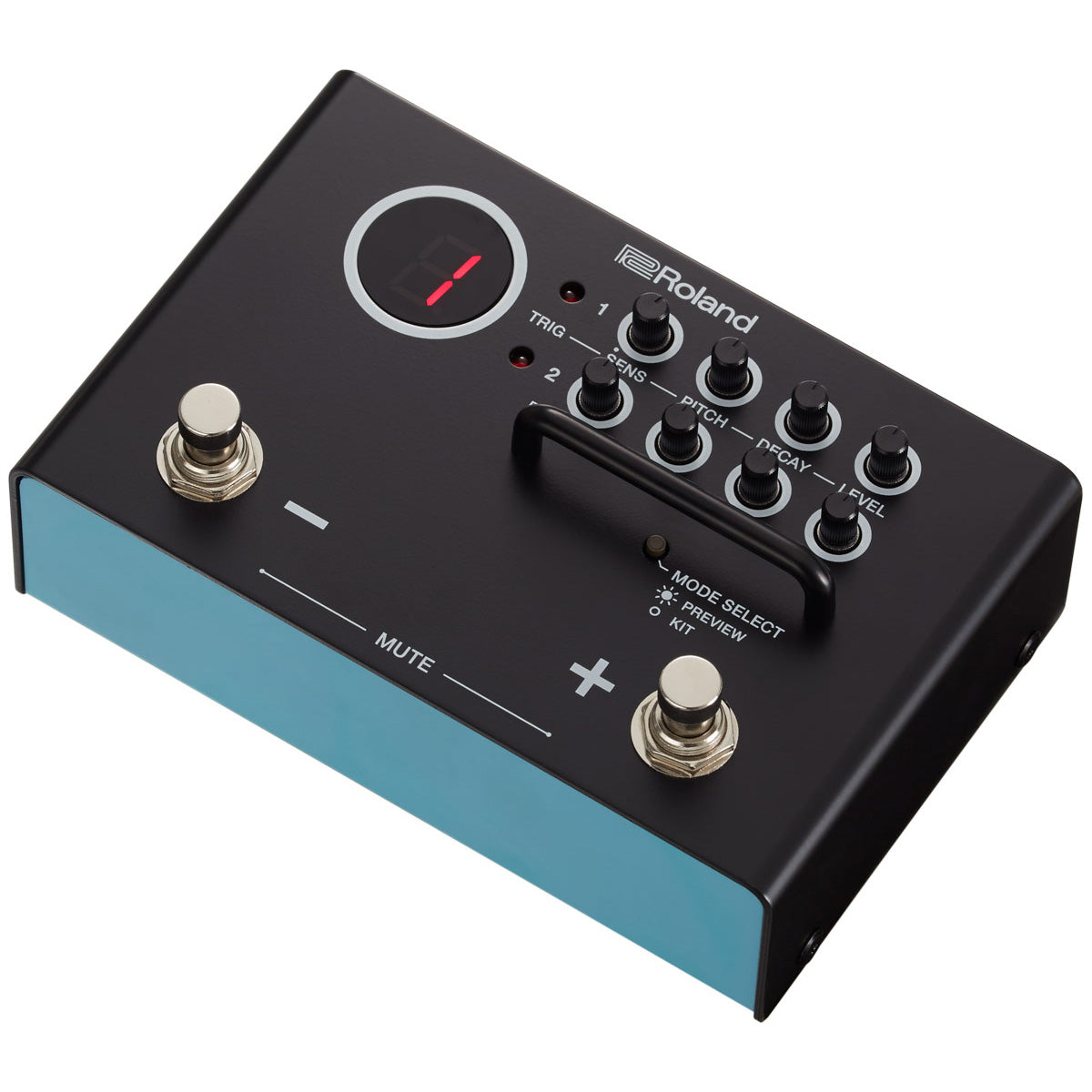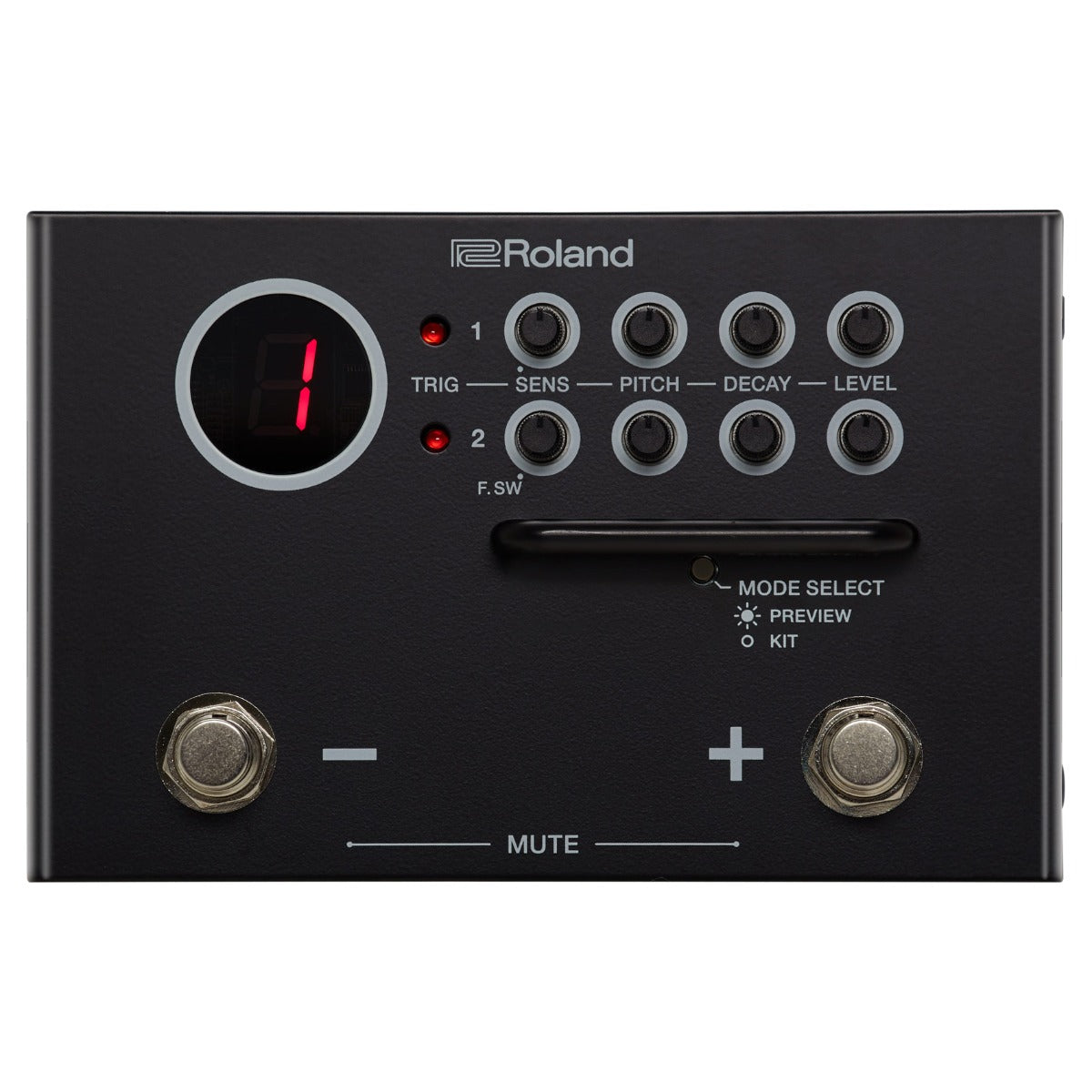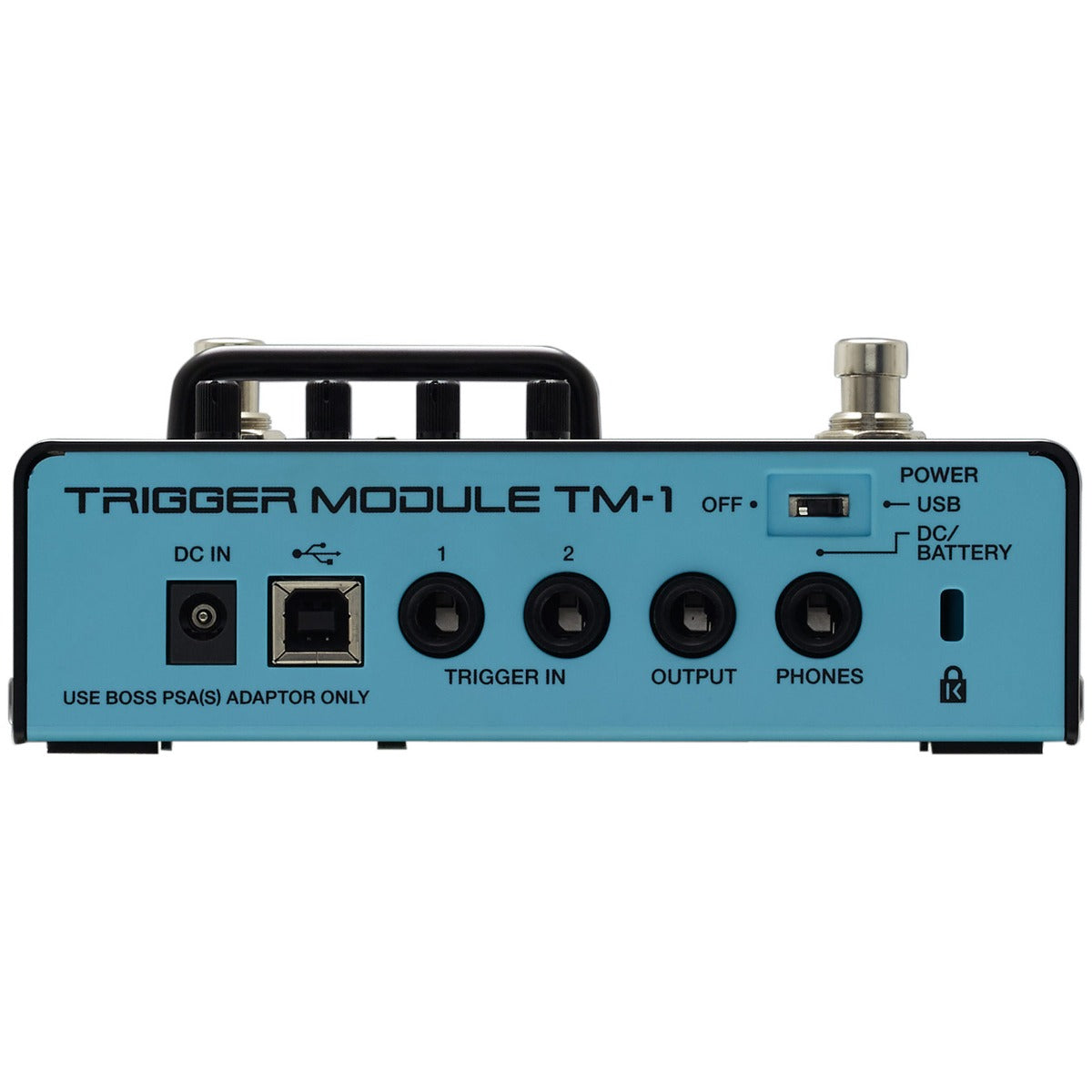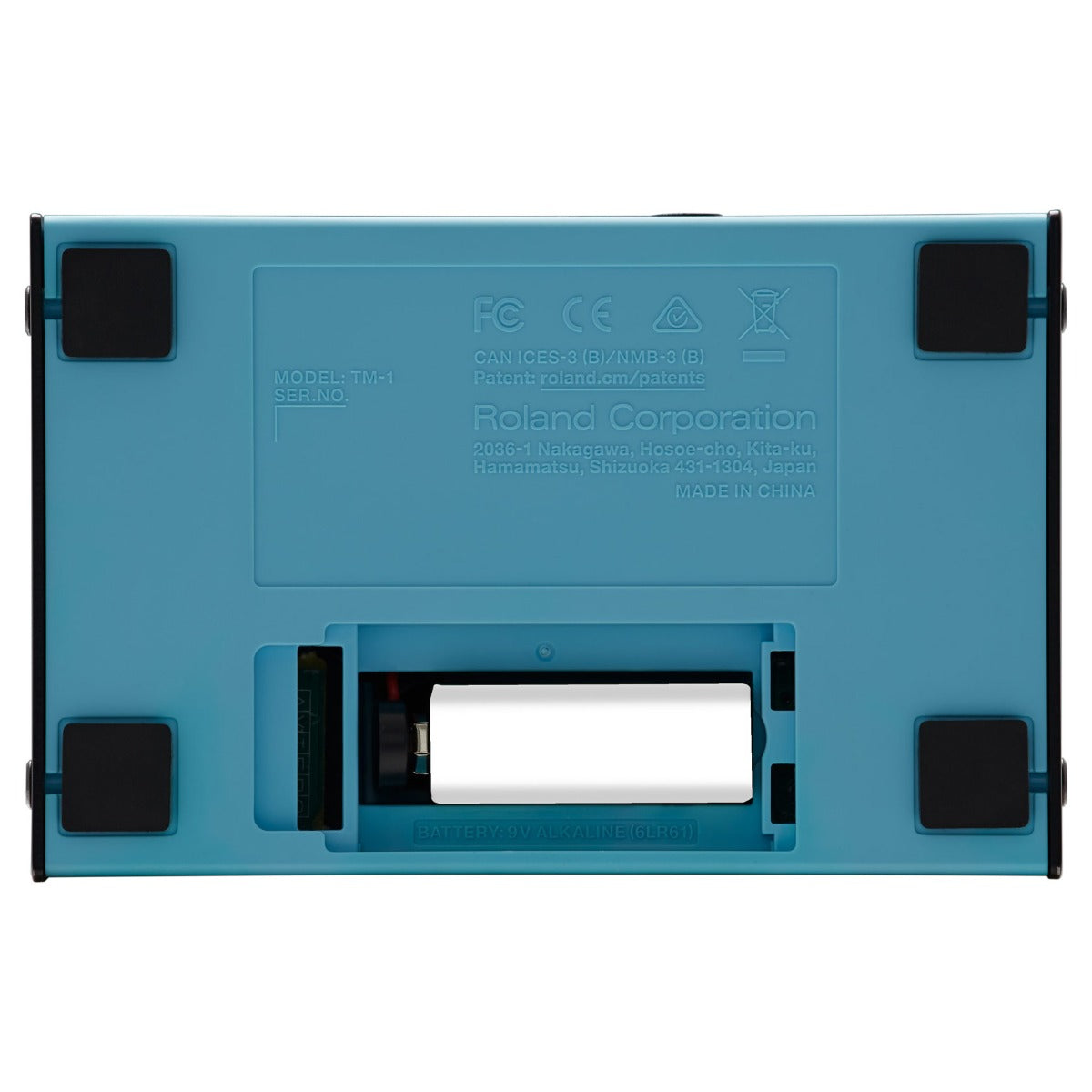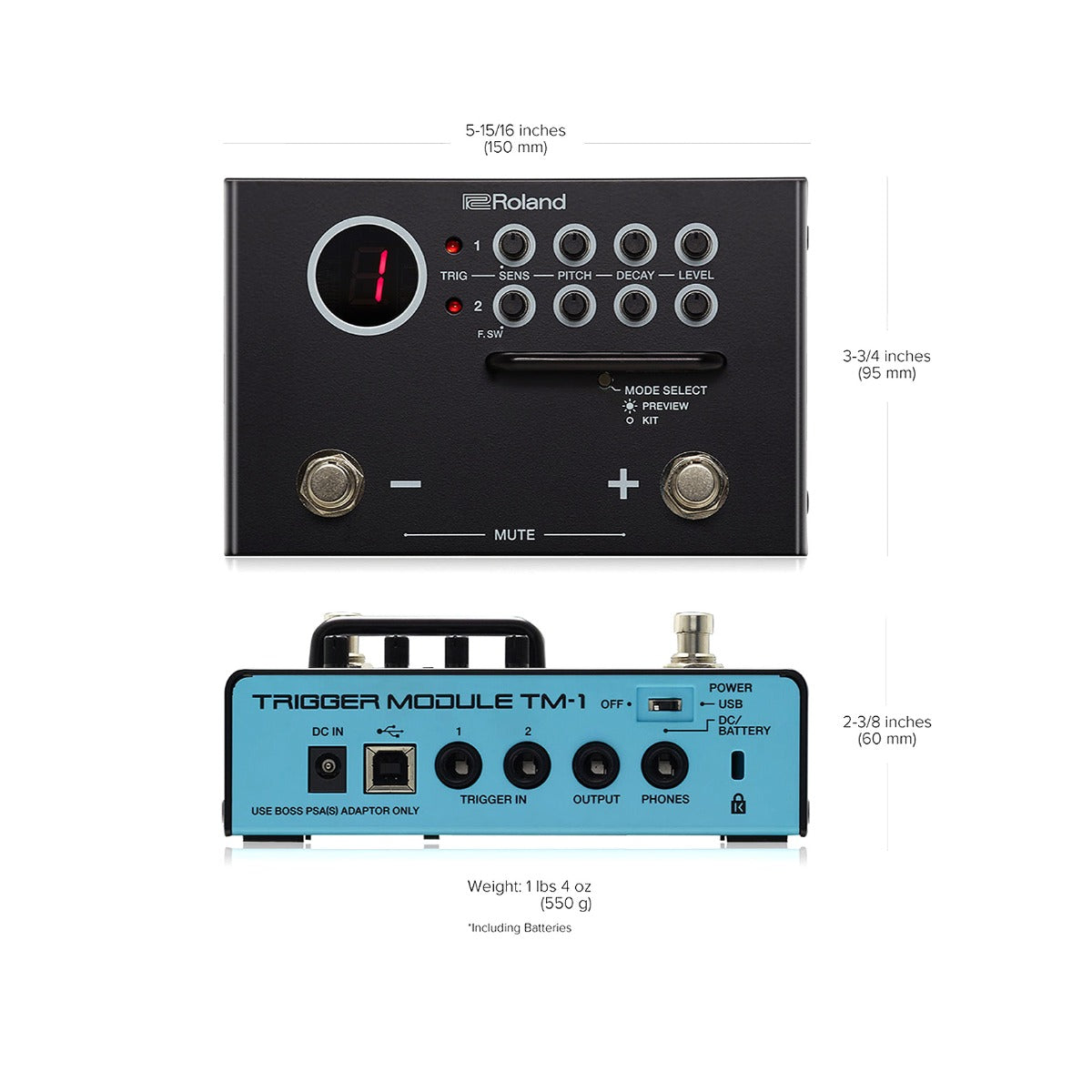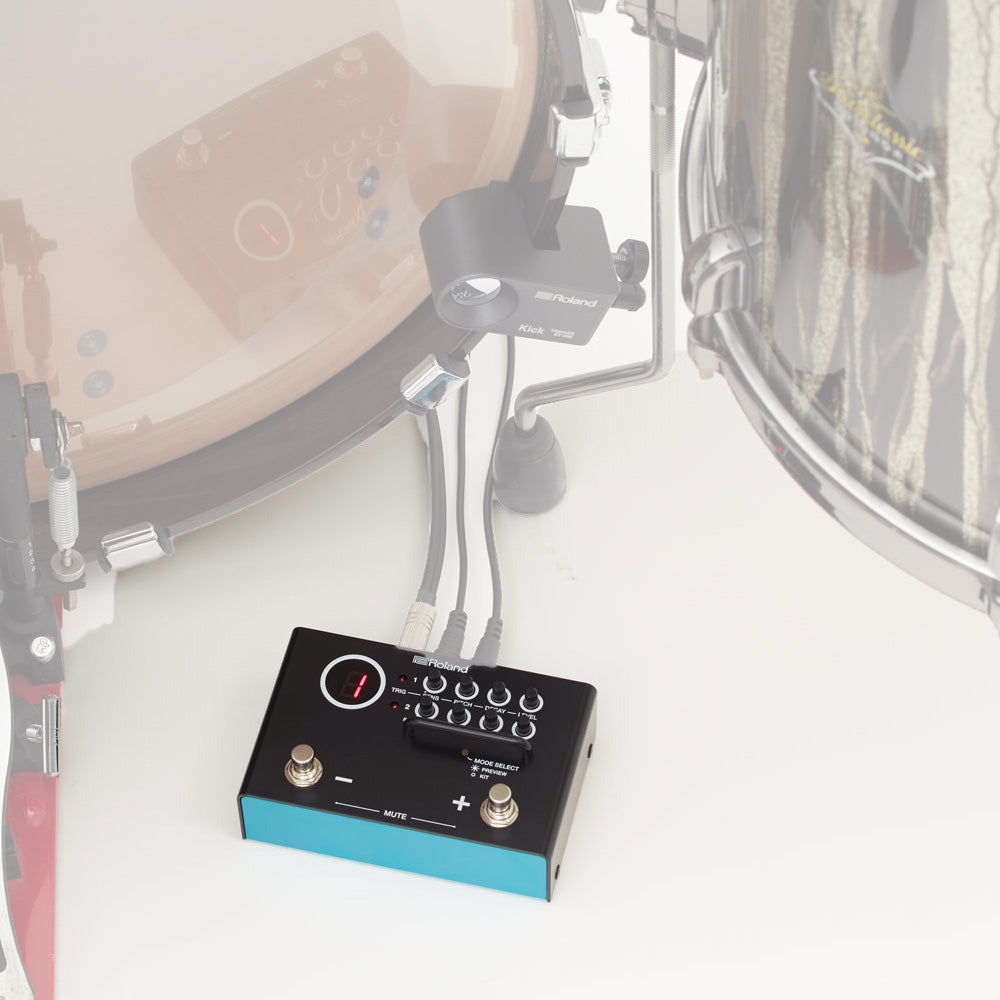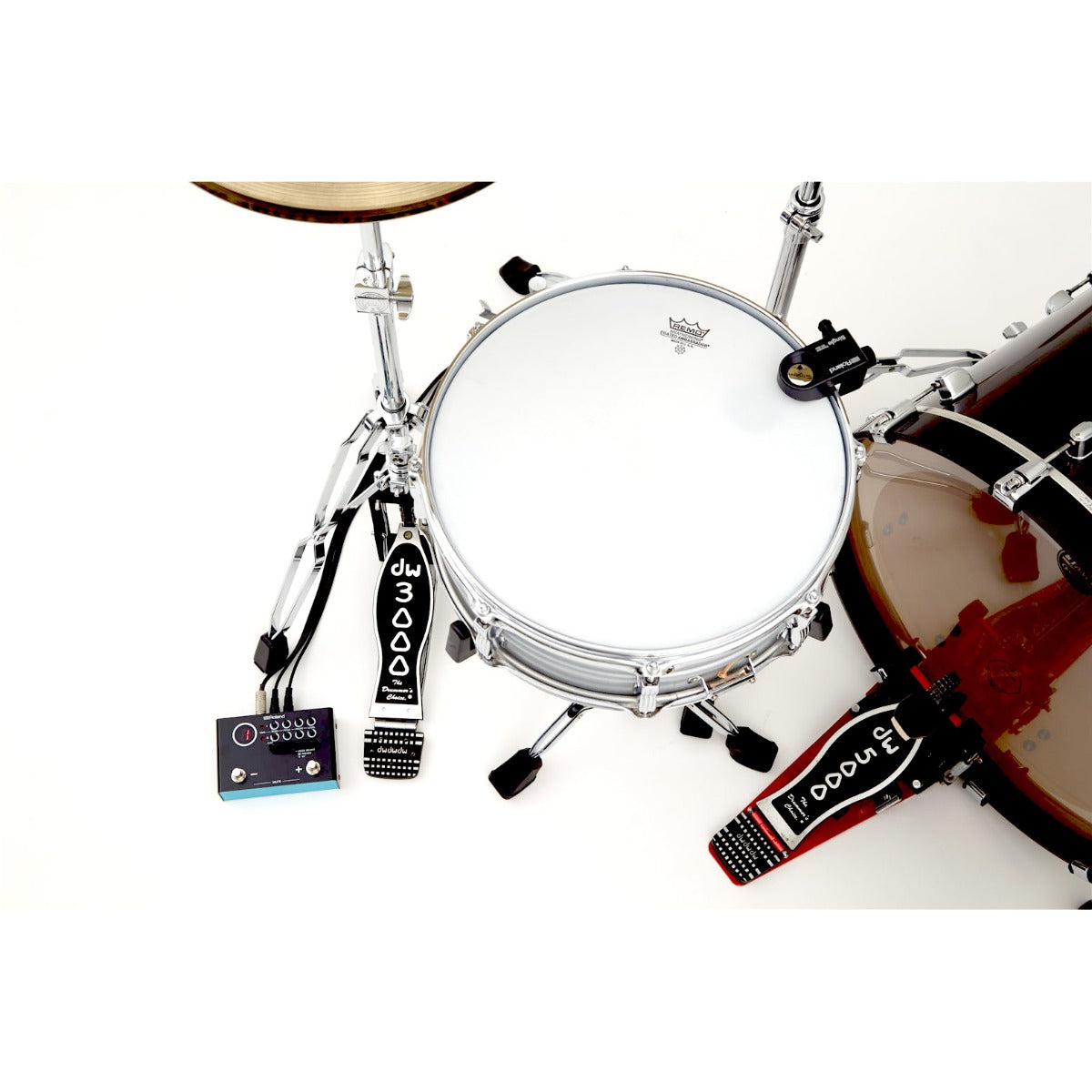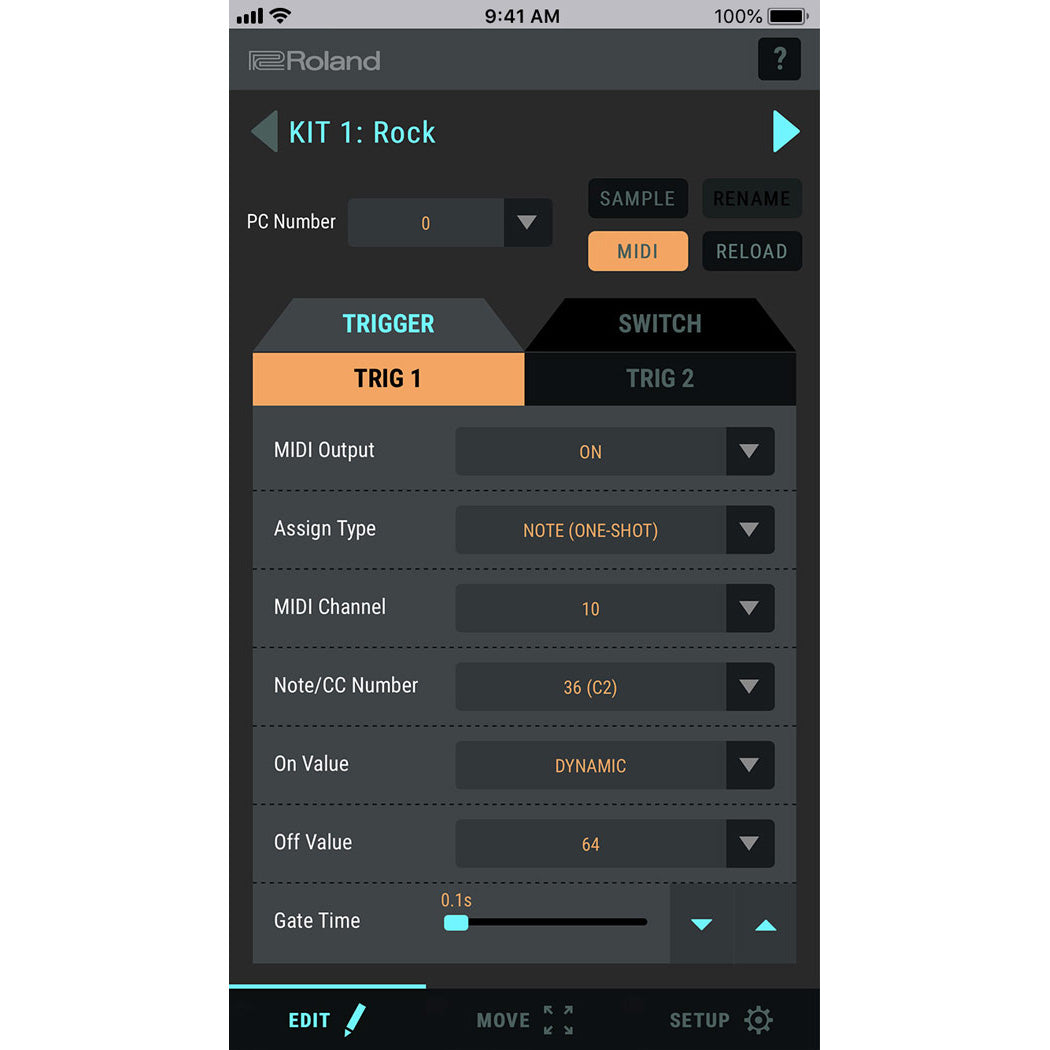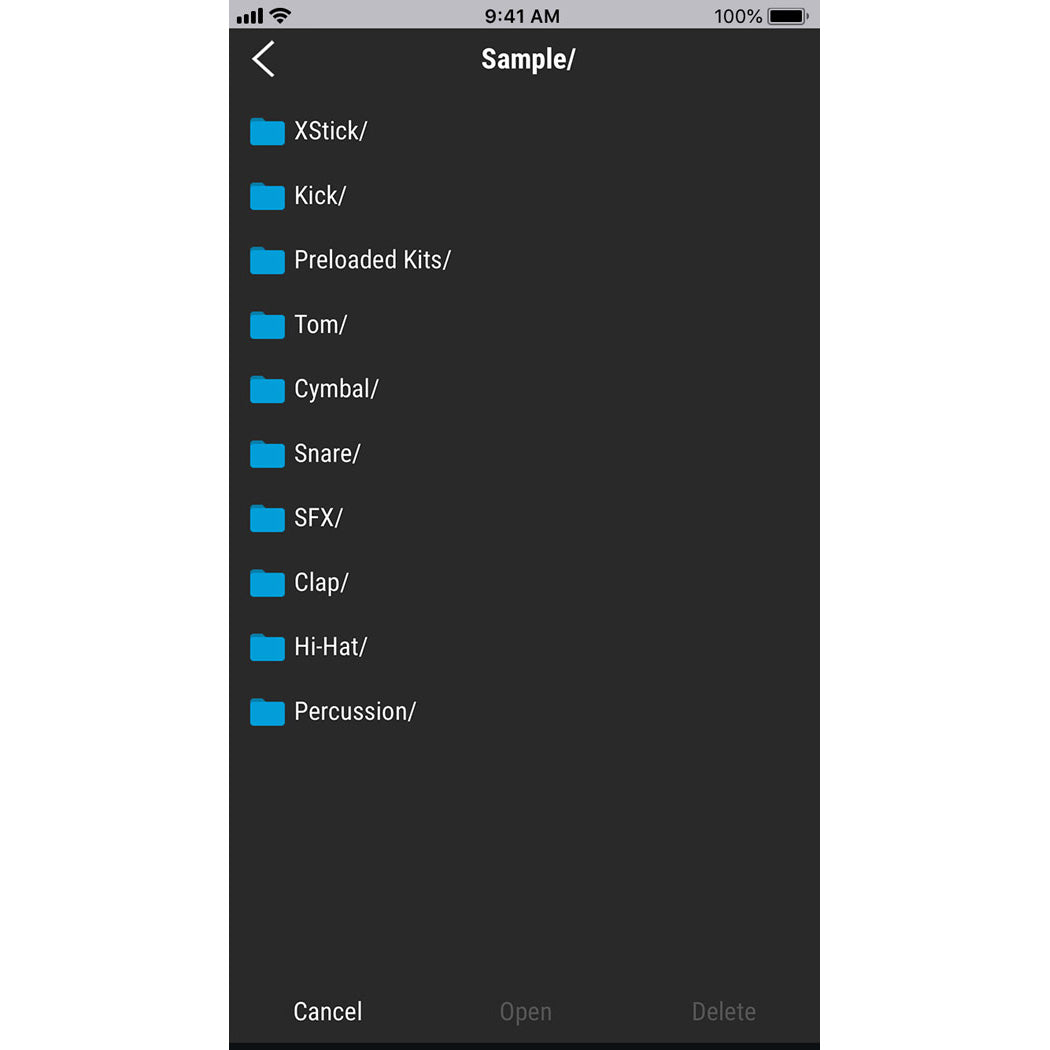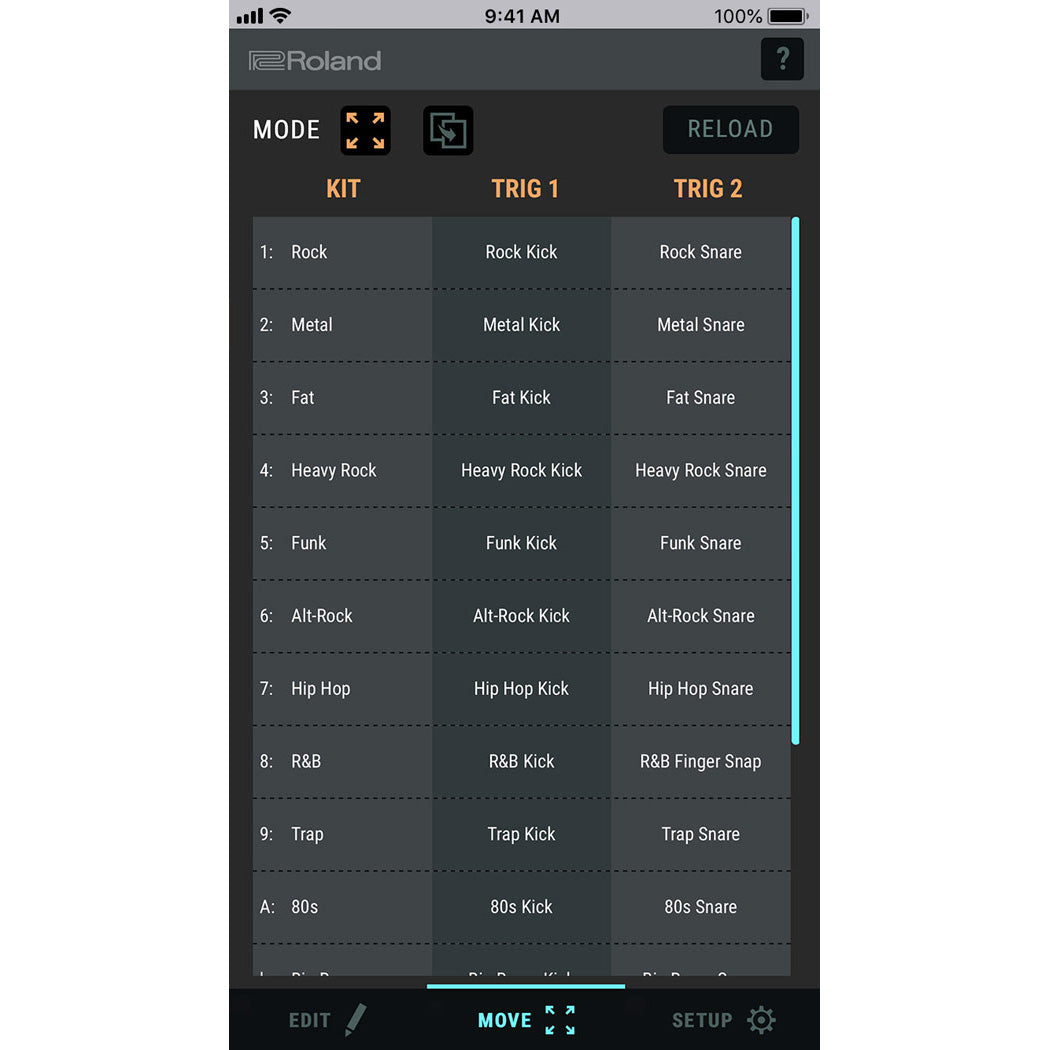 Roland TM-1 Trigger Module
Hybrid drumming begins here
No two drummers are the same, and every player has their own distinctive style. Getting a sound that you're happy with, not to mention having the right sound for the gig, is vital. But it can be expensive and time consuming trying to find out what works. Enter the TM-1—a unique trigger module that makes it easy to add more sounds to your acoustic drum kit. And those sounds can be anything you like, from the TM-1's onboard kick, snare, tom, cymbal, and percussion samples to your own samples and loops. Just connect any compatible Roland trigger pad to the TM-1 and directly play the sounds you need, or mount an RT-series trigger to one of your acoustic drums and play with your preferred sample layered on top in perfect sync, with no lag whatsoever.
Getting your own custom sounds into the TM-1 is a breeze, thanks to the free editor app for Mac/Windows and iOS/Android. Simply connect the TM-1 to your device, open the app, import samples from your library, and tweak the settings as needed. When it comes to performing on stage, the battery- or mains-powered TM-1 can be easily controlled with your foot via built-in switches. It's even possible to mute the hybrid sound with a foot press, letting you go all-acoustic in the verses before bringing in some extra hybrid power for the chorus. Every working drummer can benefit from a hybrid setup these days, and the TM-1 is the easiest and most affordable place to start.
The easiest way to get started with the power of hybrid drums
Simple and intuitive to use, with direct controls for all trigger functions
Small size, battery operation, and sturdy floor-based design integrates easily with your regular drum set
Two built-in footswitches for triggering sounds, changing kits, and muting the module
Suitable for any music style, from rock and metal to electronic music and beyond
15 ready-to-play onboard kits and nearly unlimited sound customization via a convenient editor app
Free TM-1 Editor (Mac/Windows, iOS/Android) provides access to over 150 additional sounds, plus user sample import and much more
Compatible with Roland RT-series acoustic drum triggers and a wide variety of Roland trigger pads
Connect up to two pads or triggers (two single-trigger devices or one dual-trigger device)
Also works as a trigger-to-MIDI convertor when connected to a computer
USB for editor communication and trigger-to-MIDI conversion
The Simple Solution to Bring Hybrid Power to Your Acoustic Kit
Hybrid drum setups are everywhere these days, from stadium concerts to small clubs and bars. Busy working drummers love the ability to bring studio-style impact to their core acoustic sounds and be able to cover the electronic percussion parts that are so essential to modern music styles. At first, creating a hybrid acoustic-electronic setup can seem daunting. But with the TM-1, it's easy for any player to start their hybrid journey. Just mount one or more Roland trigger devices within your setup, connect them to the TM-1, and access any sound you need. With dedicated controls for sensitivity, pitch, and more, there's no technical knowledge required for operation—simply turn the knobs until the sound is right to you and start playing!
Cover Any Gig with 15 Ready-to-Play Kits
When playing on stage with just your acoustic kit, it's difficult or impossible to change your sound on the fly. But with a hybrid drum kit, changes can be made in an instant. Now you can play the sound of that unique drum you couldn't bring to the gig, or incorporate samples and loops to enhance and expand your main drum sound. Out of the box, the TM-1 has 15 ready-to-go kits with two instruments in each. The free editor app unlocks access to a library of over 150 additional sounds, including kick, snare, and other drums, and even synth loops. And with the ability to add your own sounds via the editor as well, the sonic possibilities are virtually endless. Whatever you want to achieve, changing your kit's sound during the set has never been easier.
Editor App for Sample Import and Quick Sound Creation
A hybrid drum setup lets you choose and customize the sounds for your entire setlist, so each song gets the perfect drum sound. With the TM-1 Editor, you're able to access all the module's internal sounds, import your own original samples, assign sounds to each trigger pad, and quickly customize them however you like. Samples up to six seconds long can be imported from your computer, tablet, smartphone, or even cloud storage. And you don't have to take your laptop to the gig to change up sounds at the last second—just use your smartphone!
Enhance Your Acoustic Drum Sounds with Roland RT-Series Triggers
Your acoustic drum sound is king, but it can nearly always benefit from some sonic reinforcement at live gigs. The kick and snare are the backbone to a band's sound, but it can be a challenge to get them to cut through when playing with loud guitars, bass, and keys. By using Roland's RT-series acoustic triggers, you can layer samples from the TM-1 with your own kick and snare and amplify them together through the PA, providing increased punch, clarity, and depth that perfectly complements your core acoustic sound. For years, metal drummers have been enhancing their kick drums with electronic samples—especially when playing fast double-kick phrases—as it really helps cut through a dense mix. But this technique isn't just for speed players; every drummer can take advantage of these powerful hybrid benefits with the TM-1.
Expand Your Percussion Palette with Roland Trigger Pads
The TM-1 is also a great way to expand the variety of sounds available from your acoustic drum kit. By adding an electronic drum pad, you can perform with any sound assigned to it. There are two trigger inputs available, allowing you to connect two single-trigger pads or one dual-trigger pad. Most Roland drum pads work with the TM-1, including the compact BT-1 Bar Trigger Pad, KT-10 Kick Trigger Pedal, V-Pads, and V-Cymbals. It's even possible to connect BOSS footswitches like the FS-5U or FS-6 and use them as compact floor-based triggers. And don't forget that you can use the TM-1's built-in footswitches to trigger sounds as well.
Ultra-Portable and Built for the Road
The TM-1's compact size lets you take it wherever you want, and the stompbox-style design fits easily alongside your other floor-mounted gear. Better still, support for battery operation eliminates the hassle of finding AC power when you need to set up in a hurry or perform outdoors. The TM-1 is lightweight enough to throw into a bag or instrument case, and robust enough to travel thanks to its metal-body construction and rugged footswitches.
Trigger-to-MIDI Conversion for Your Computer
Whether you're producing at home, working in the studio, or performing live, you sometimes need to send a MIDI signal when you hit a pad. The TM-1 performs this trigger-to-MIDI conversion simply by connecting it to a computer via USB, allowing you to trigger sounds in drum samplers and plug-in instruments, record MIDI tracks in a DAW, or control clips and other functions in performance software like Ableton Live.
SKU
ROL-TM1
Vendor
Roland
Connectivity
USB
Included From Manufacturer
USB cable
Battery
Mpn
TM-1
Number of Drum Kits
15
Hi-Hat Stand Included
N/A
Audio Outputs
(1) 1/4" MONO
(1) 1/4" Phones
Number of Instrument Sounds
30
Kick Pedal Included
N/A
Metronome
No
Number of Pads
N/A
Sequencer/Recording
No
Snare Stand Included
N/A
Throne Included
N/A
Trigger Inputs
2
Roland/Boss Consumer Limited Warranty
This limited warranty applies only to Roland and Boss products purchased in the United States of America.
Roland Corporation U.S. warrants to the first consumer only of a covered product purchased from an authorized Roland dealer in the U.S. that this product will be free from defects in materials for a period of one (1) year or defects in workmanship for a period of ninety (90) days. Please register this product online to establish the date of purchase (not a requirement for warranty service).
To exercise your rights under this Warranty as a purchaser, you must ship this product in appropriate packaging at your expense (insurance is recommended), together with proof of purchase, to Roland Corporation U.S., or to such other address as may be instructed by Roland Corporation U.S. (This shipping requirement shall not apply to those Roland products covered by in-home warranties). You should submit a new service request to obtain a Return Authorization number for the returned product. Any products shipped to Roland Corporation U.S. without a Return Authorization number shall be refused.
Roland Corporation U.S. will repair or replace this product at its sole option at no charge to you for parts or for labor within the warranty period; provided, however, that Roland Corporation U.S. reserves the right to determine whether the product is 'defective' for purposes of this Limited Warranty. This Warranty does not apply to damage to this product that occurred as a result of abuse or misuse, abnormal service or handling, battery leakage or failure, damage which may have been caused either directly or indirectly by another product, or if the product has been altered or modified in any way, or if the damage was caused by repairs or service provided or attempted by anyone other than Roland Corporation U.S. or a Roland Authorized Service Center.
In no event shall Roland Corporation U.S. be liable for any indirect, incidental, collateral, exemplary, punitive, consequential or special damages or losses arising out of your purchase of products and/or out of this warranty, including without limitation, loss of use, profits, goodwill or savings or loss of data, music, electronic files, or programs that may have been stored by a user of the product even if Roland Corporation U.S. has been advised of the possibility of such damages or claims. Some states do not allow the exclusion or limitation of incidental, punitive, or consequential damages, so the above limitation or exclusion may not apply to you.
Where applicable, if you qualify as a 'consumer' under the Magnuson-Moss Warranty Act, then you shall be entitled to any implied warranties allowed by law for the period of the Limited Warranty as set forth above. Some states do not allow limitations on how long an implied warranty lasts, so the above limitation may not apply to you. Except as stated above, the foregoing warranties are in lieu of all other conditions or warranties, express, implied or statutory, including without limitation, an implied condition or warranty of merchantability or fitness for a particular purpose and of any other warranty obligation on the part of Roland Corporation U.S.
Roland Corporation U.S. does not assume or authorize assumption of liability for it or any other warranty, either express or implied. This Limited Warranty gives U.S. purchasers specific legal rights, and you may also have other rights which vary from State to State.
Ground shipping is FREE for all orders $99 and up.