Skip product carousel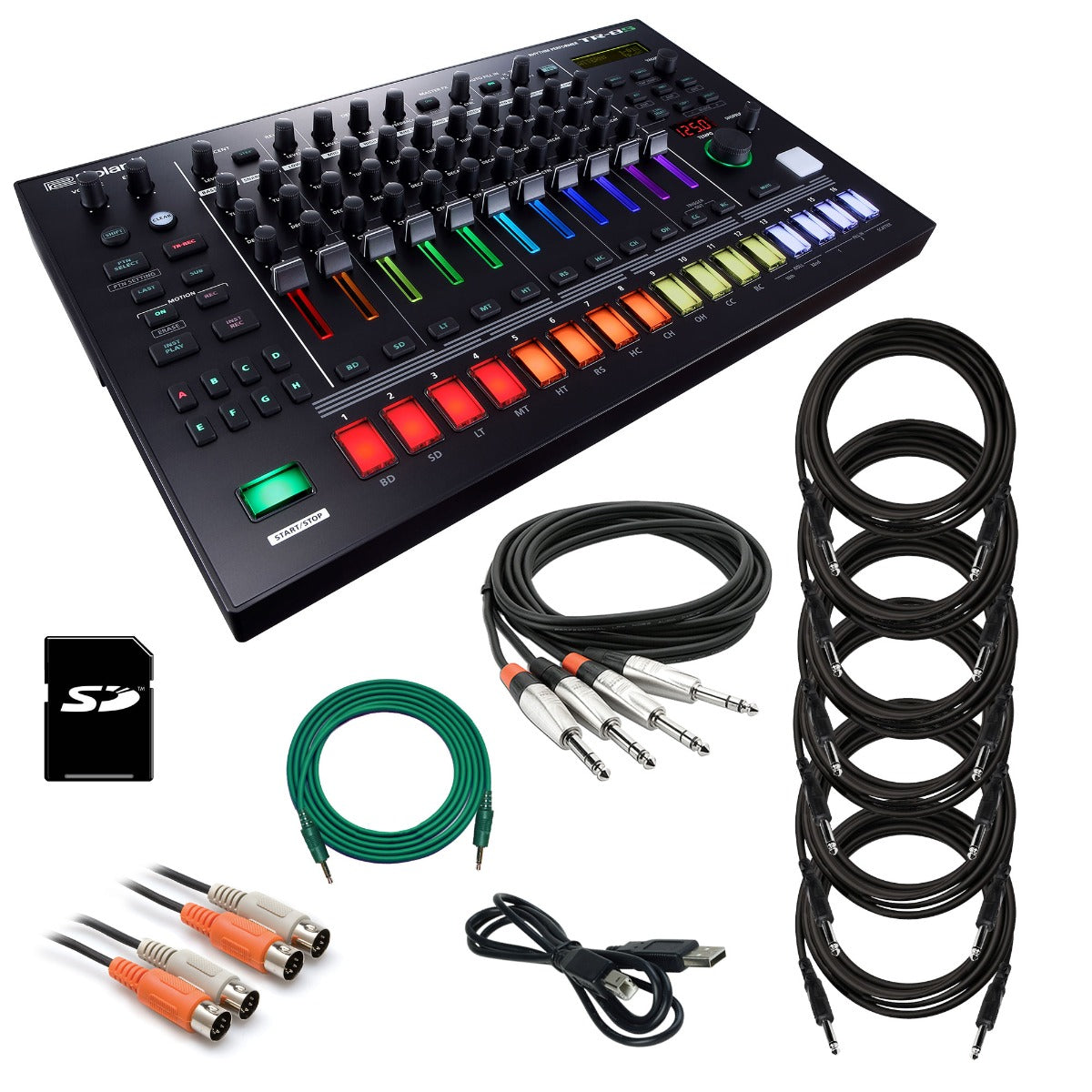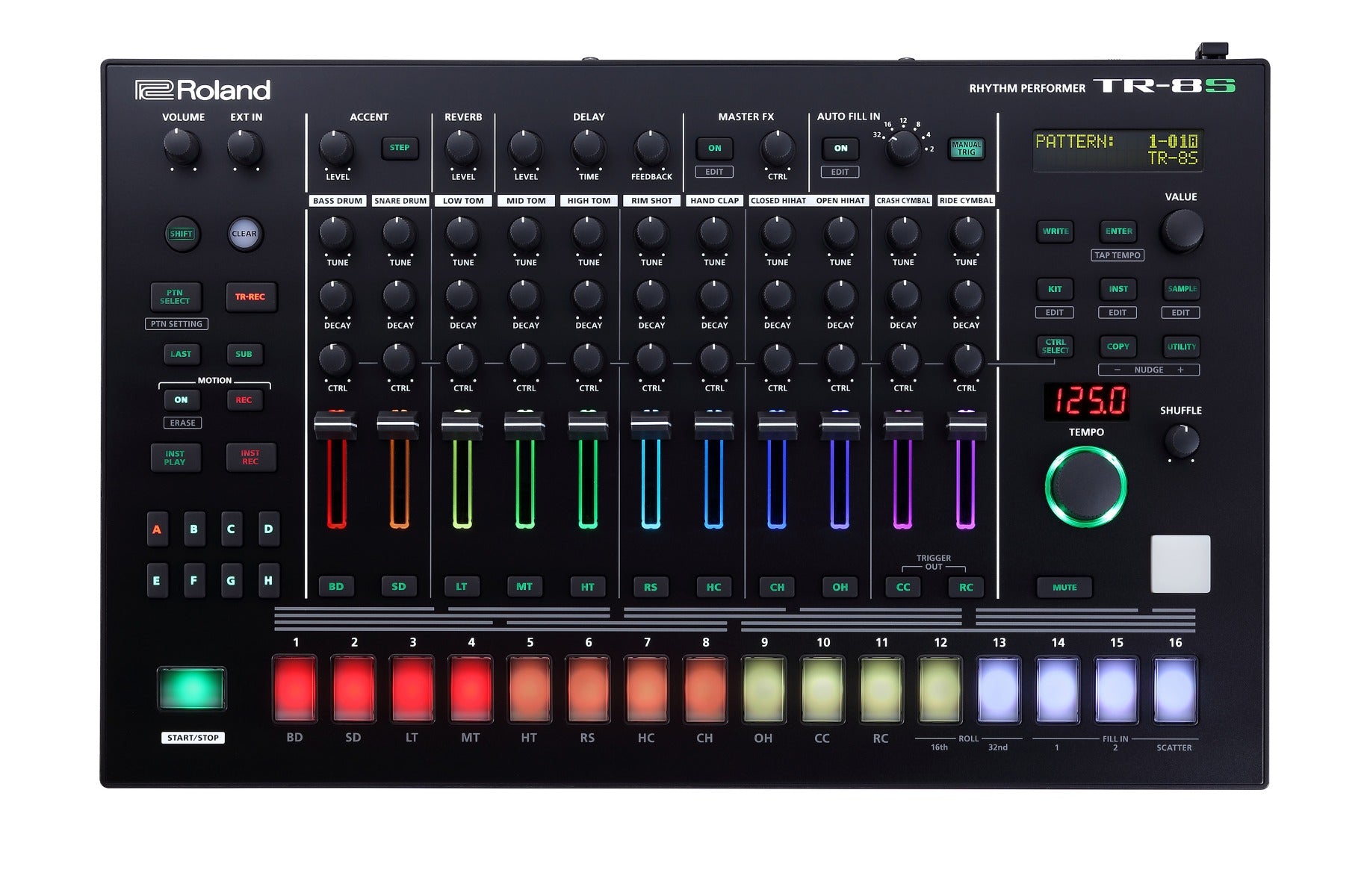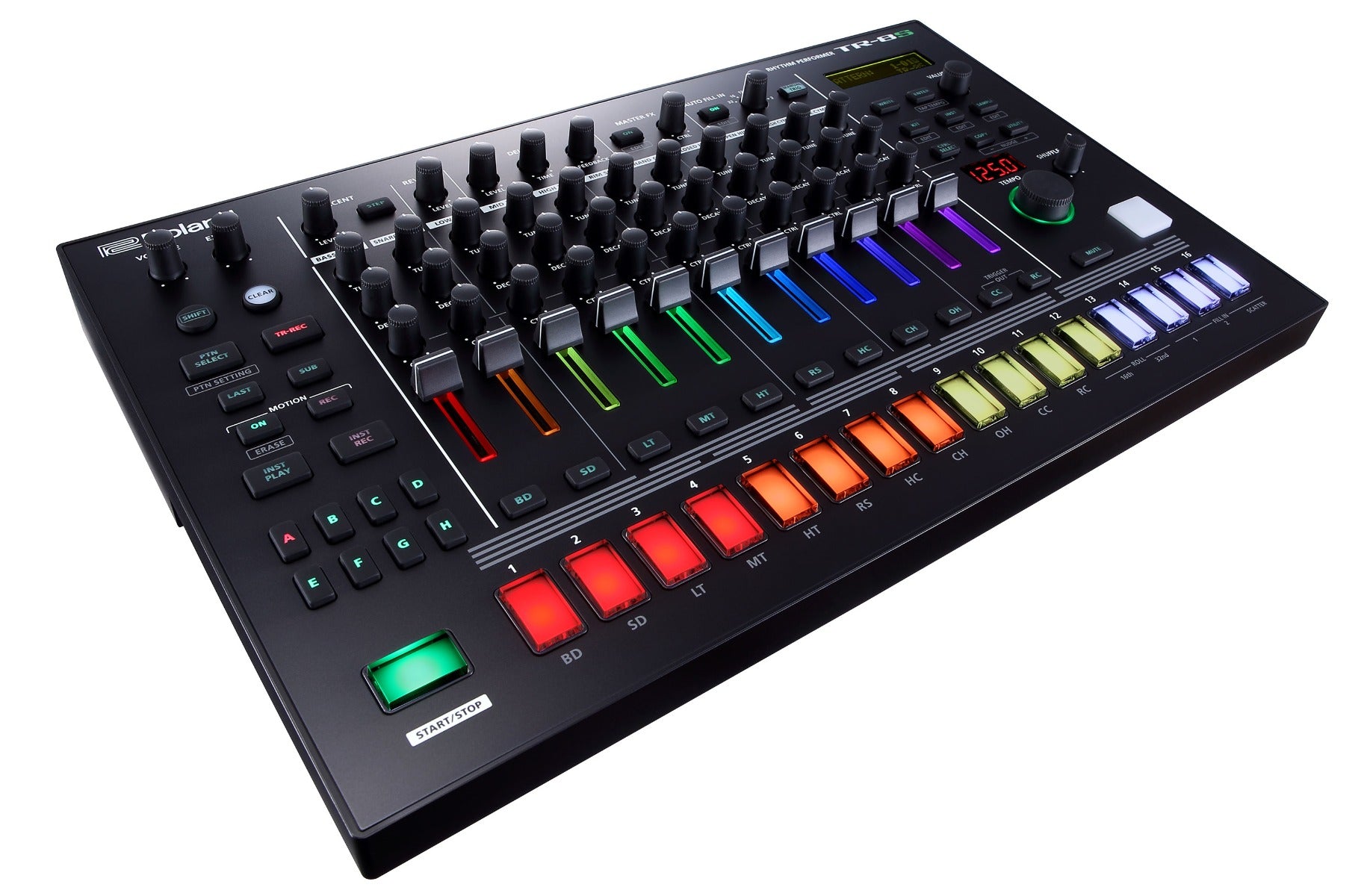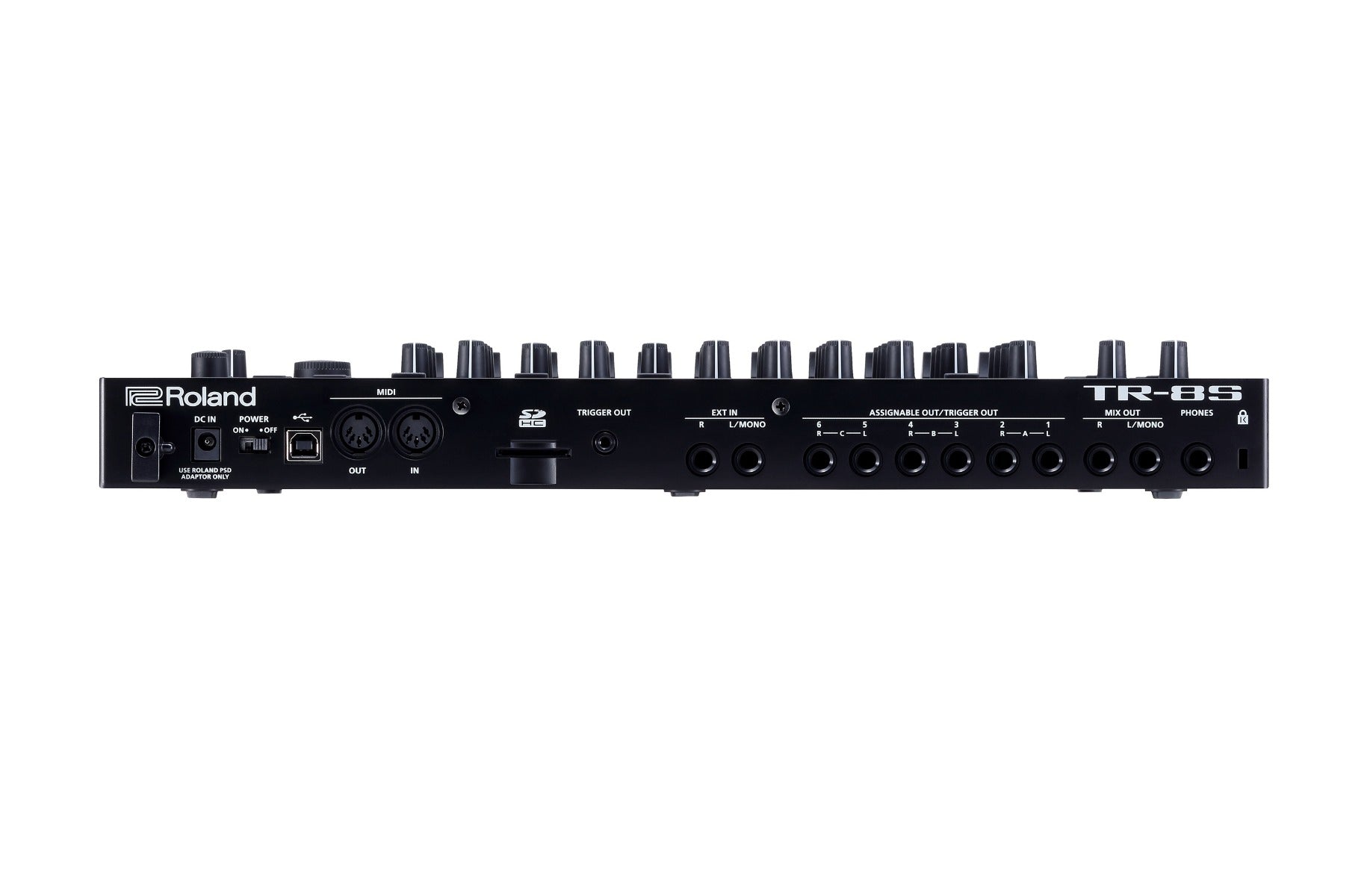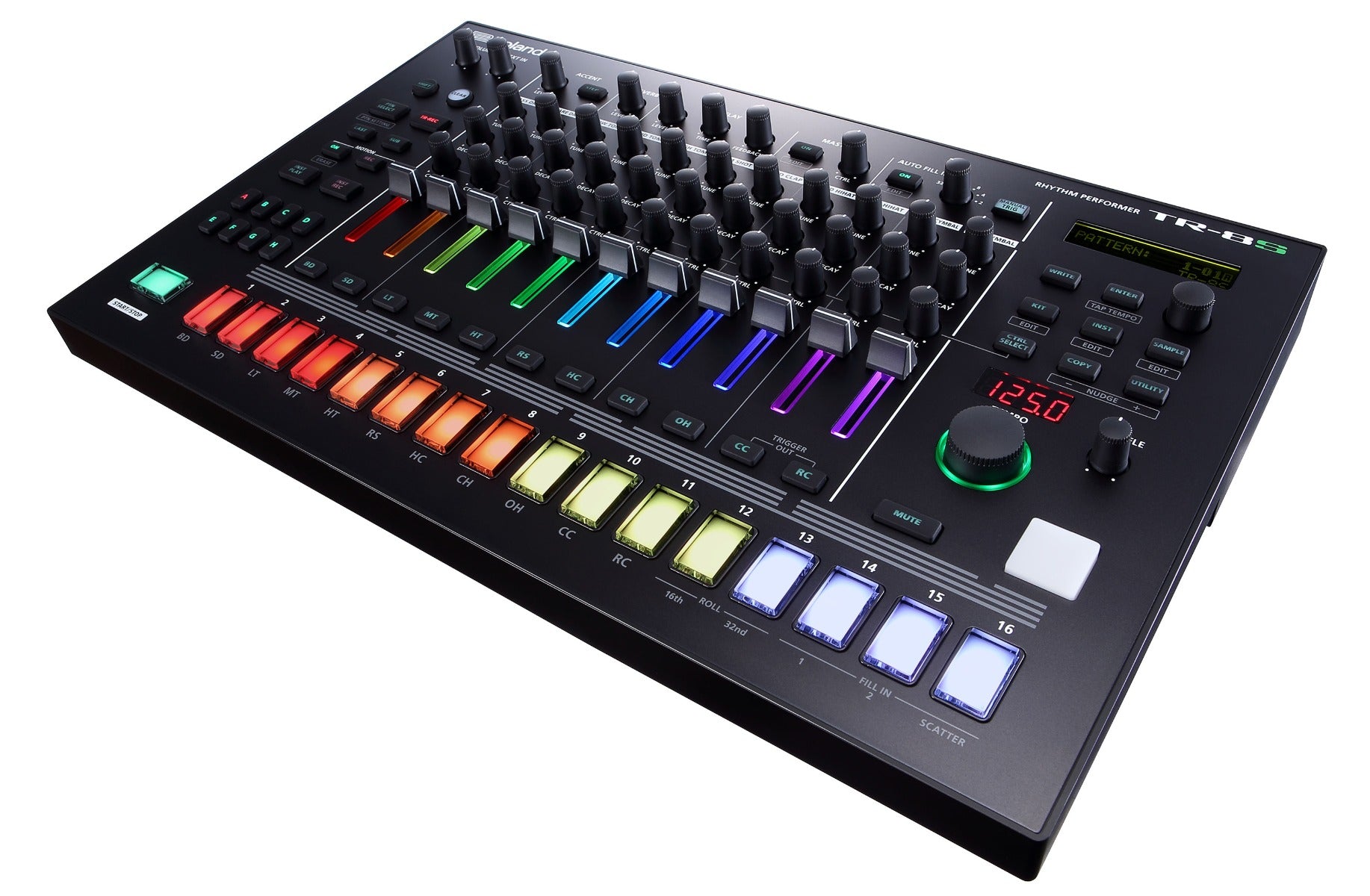 Roland TR-8S Rhythm Performer COMPLETE CABLE KIT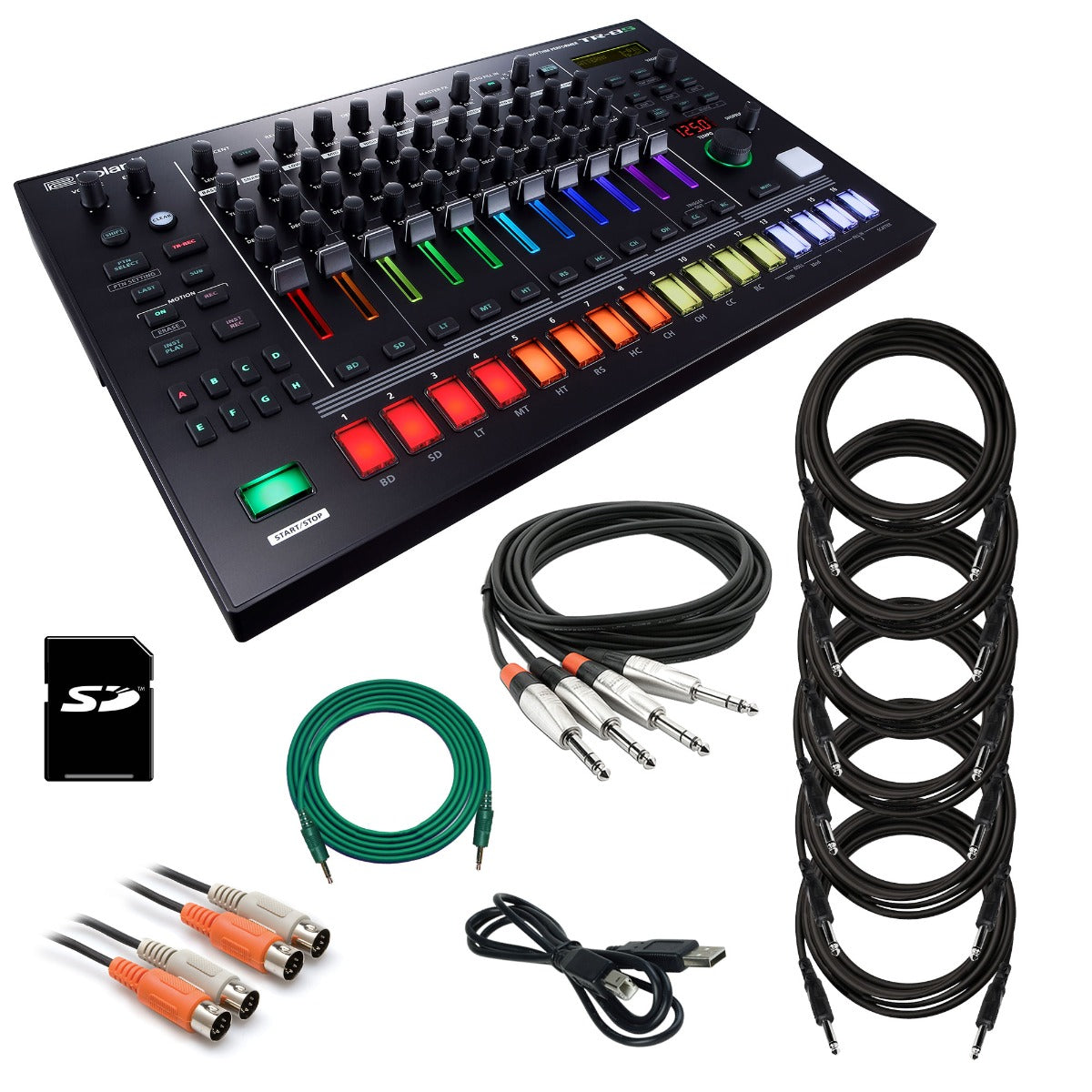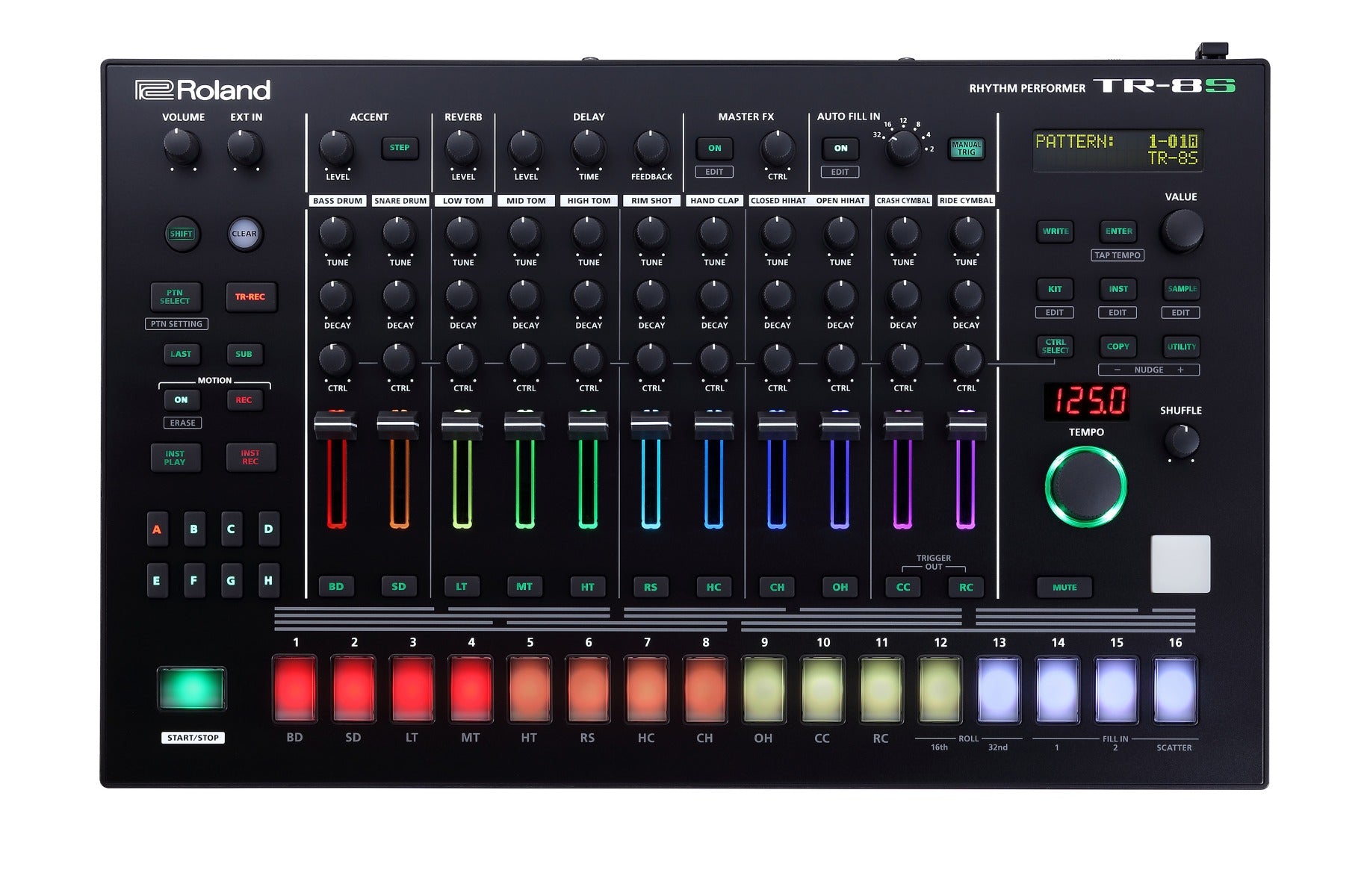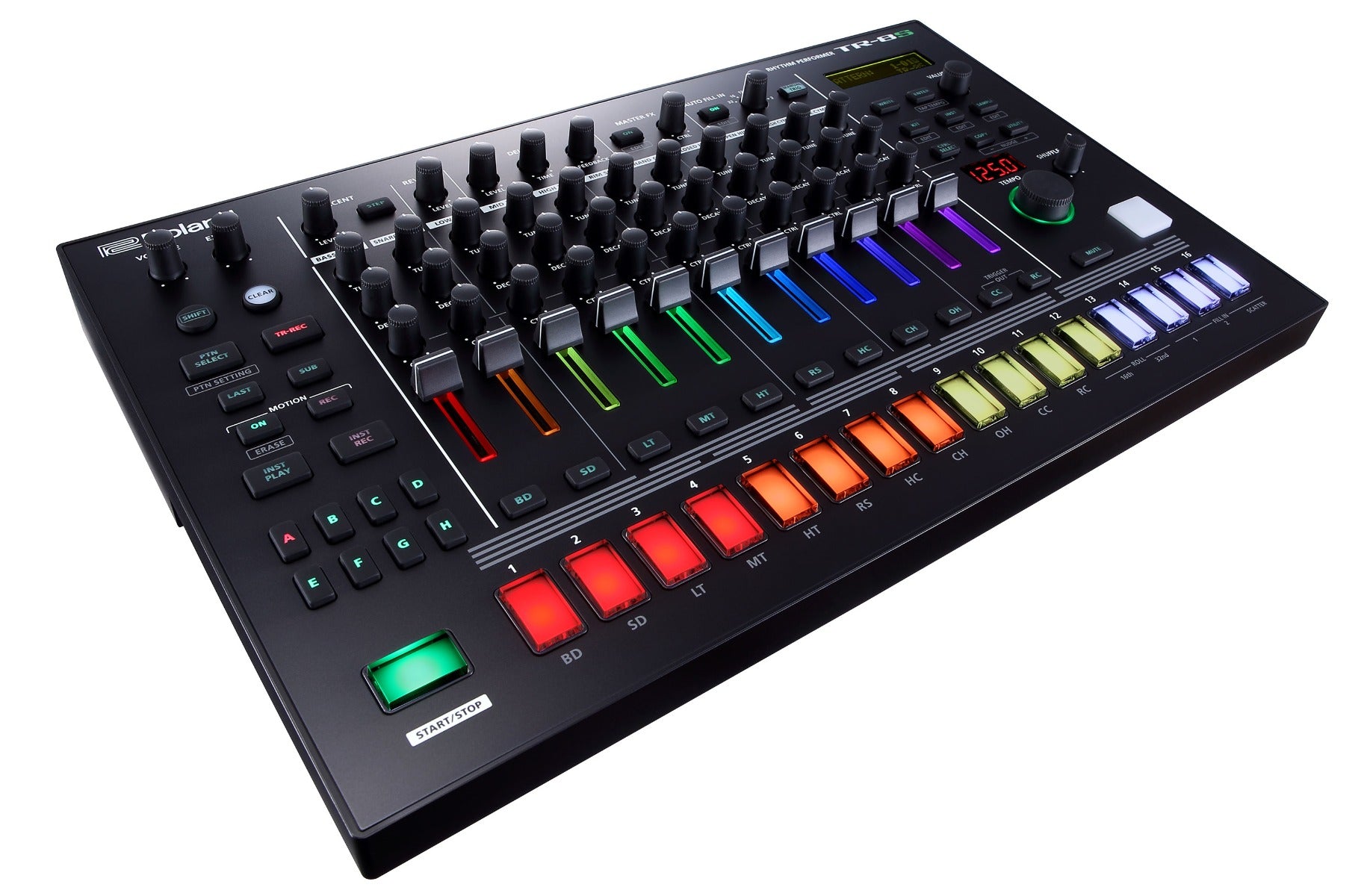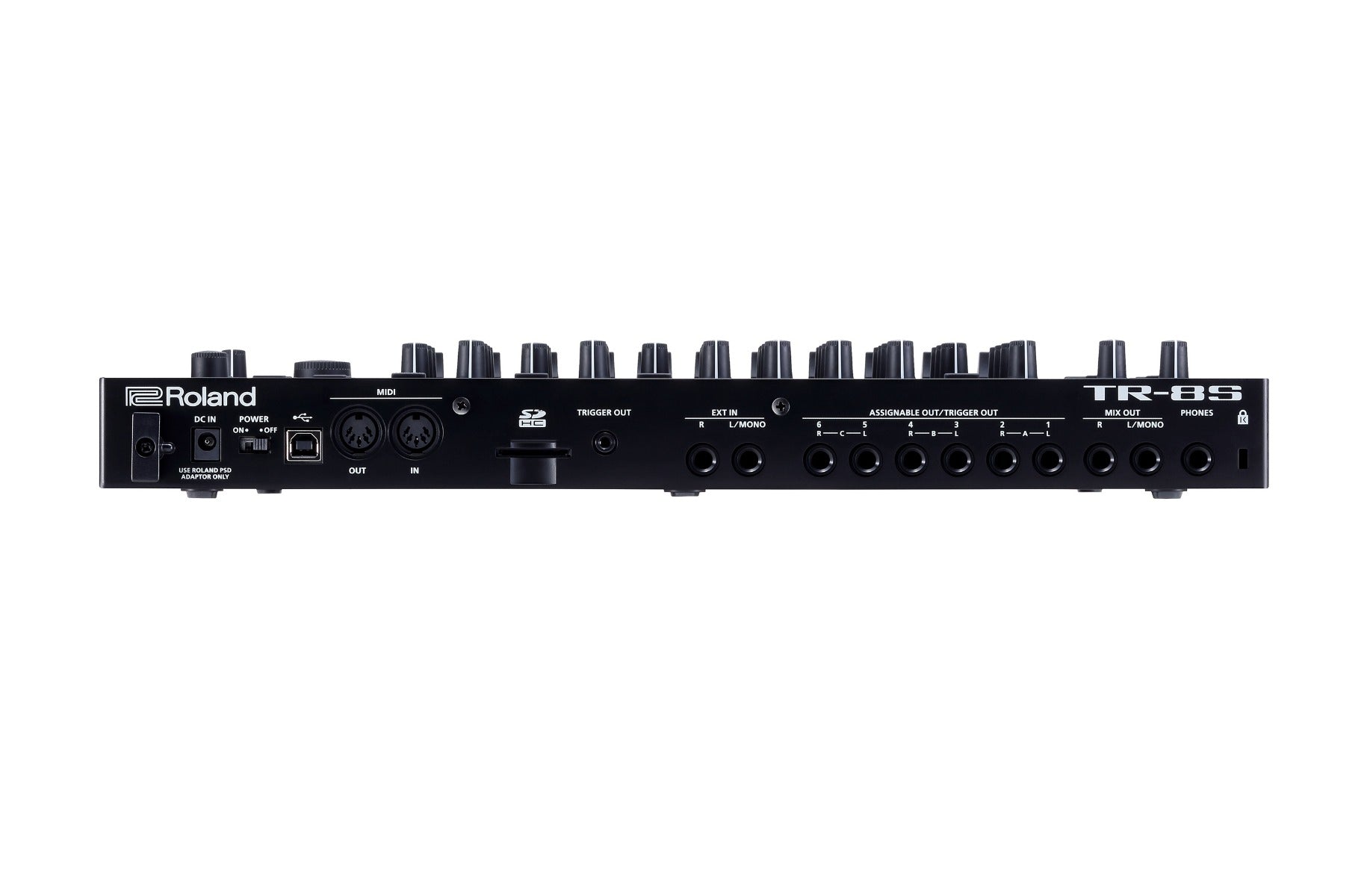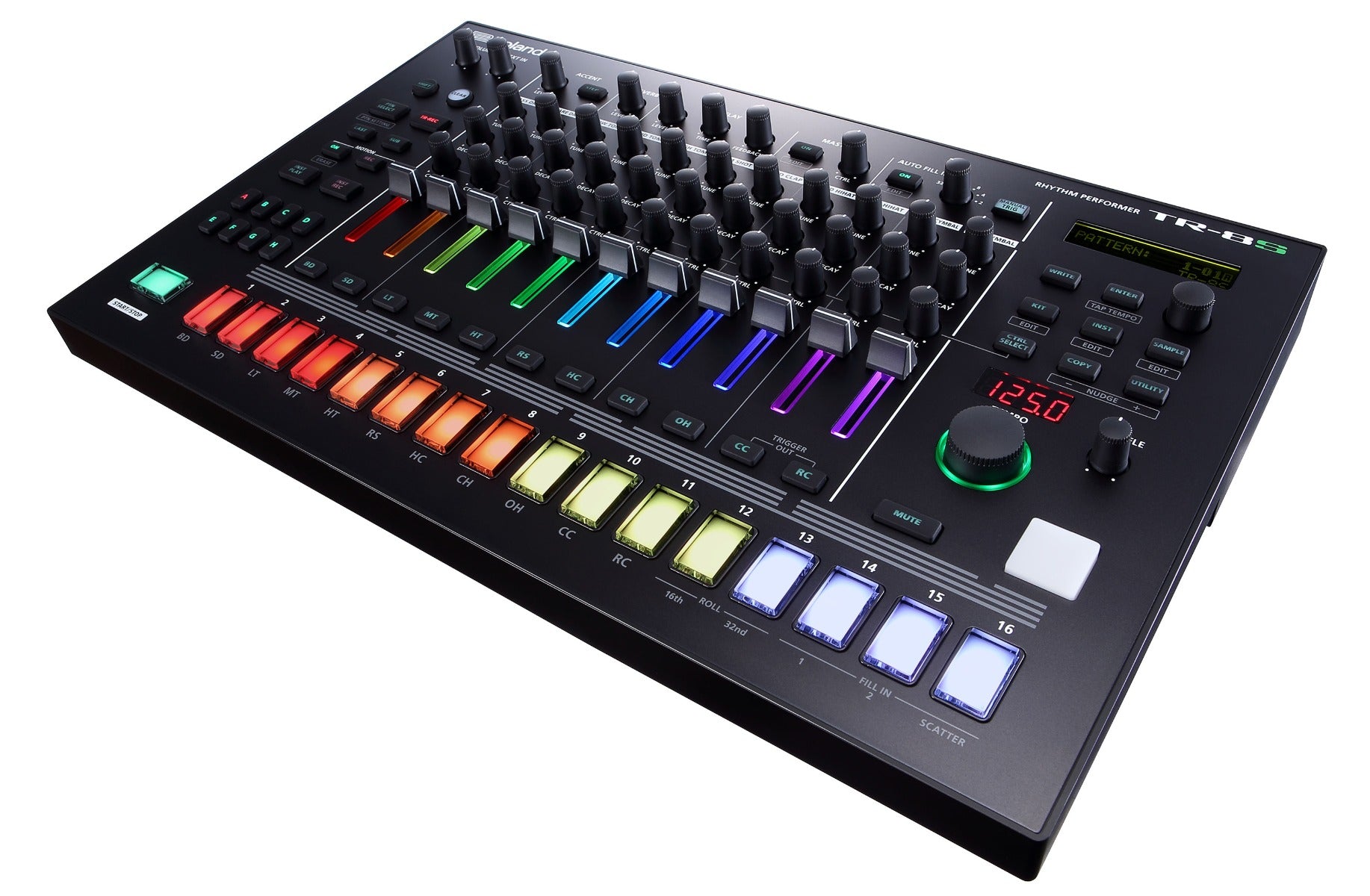 This Kraft Music Bundle Includes
$804.99
Regular price
$903.43
You Save $98.44
Click on a product to view more details.
Born of the most famous and influential drum machines ever made, Roland TR-8S combines the best of its Roland heritage with modern production techniques and professional sound design. The result? A forward-thinking, performance-tuned instrument unlike any other. Build your dream kit from the most iconic drum sounds of all time, plus the finest selection of stereo samples from Roland's vast library – or import your own custom samples. Tap, tune and tweak with hands-on controls and production tools that make your patterns move and groove. And why keep this kind of percussive power confined to the studio? TR-8S was literally made to play live.
Full reproduction of classic TR-808, TR-909, TR-606, TR-707 and TR-727 rhythm machines, based on original design spec sheets and detailed analog circuit analysis of many original TR machines including Roland's own pristine units
Analog Circuit Behavior (ACB) technology allows part-by-part analyses and faithful recreations of tonality and behavior, including the smooth variations of tone that occur when you work the controls of each instrument
Obsessive attention to detail, such as reproducing the original TR's unique variations in tone that occur when multiple instruments are entered in accented steps
Authentic 16-step sequencer with faithful TR-REC behavior, including A and B pattern variations and the ability to play instruments and record to steps in real time
Design kits with authentic TR drums, sampled sounds and effects
TR-8S comes loaded with the largest, most authentic collection of TR drum machines available. The powerful new processor gives Roland's next-generation ACB models a whole new level of detail and nuance, giving you that classic Roland boom, snap and sizzle. And now you can incorporate preset and custom samples, creating unique hybrid and layered kits, and enhance them with specialized effects that inject professional sound design into the TR formula.
Transistor rhythms
TR-8S has every sound from the most sought-after TR drum machines, with detailed circuit-models of the 808, 606, 909, 707, 727 and even several modified versions. These are not soundalike sample packs or mere recordings of TR drum sounds; each machine is a detailed, down-to-the-circuit-model that sounds and behaves exactly like the original hardware. All these sounds are yours, at your fingertips and ready to use in your own productions and performances.
ACB meets samples
Today's rhythm tracks require a diverse set of sounds and production techniques, and it's harder than ever to sound truly unique. While authentic TR sounds are vital for producing drum tracks, mixing and layering sounds opens a world of modern styles and the exciting potential to craft your own signature sound. Pull from the extensive collection of preset stereo samples or import your own using the SD card slot. Like the TR sounds, you can deeply manipulate samples with immediate hands-on control. Adjust decay and tuning and alter sample start points, speed and direction. You can create a kit entirely from samples or mix and match with TR sounds for genre-defying drum tracks that demand attention.
Drum-atic effects
The right effects can make a drum part stand out by creating depth and space. Whether it's delay on a rimshot, overdrive on a kick, filters on toms and cymbals or just the right amount of reverb on select instruments, TR-8S has percussion-tuned effects that simply sound great. In addition to the MASTER FX knob, each channel has a customizable CTRL knob, placing all this sound-shaping power within easy reach. The attack of the kick, the snap of the snare, phaser depth, distortion amount – whatever parameter you need direct and immediate access to – can be assigned to the CTRL knob or MASTER FX knob and saved with the kit. Both individual instrument and master effects, along with their precise settings, are saved with each kit, making your productions always performance-ready.
Create evolving patterns with variations, fills and motion
Pattern creation on TR-8S feels natural and intuitive, thanks to the Roland TR-REC step sequencer that's been the beating heart of electronic music production for decades. Now it's been enhanced and modernized to be better than ever.
Fast, fluid and fun
You can program on the 16 TR-REC buttons or use the velocity-sensitive performance pad to play live, or record into the sequencer. And you can move seamlessly between playing and editing, reshaping your drum parts without ever interrupting your flow. Create intricate grooves and detailed fills using velocity, accents, flams and adjustable sub-steps for modern rolls and ratcheting. Get experimental with unusual polyrhythms and complex meters by adjusting the length or last step of each drum part.
Variations on a theme
Keep things fresh and exciting, even during extended live sets. TR-8S can store 128 patterns – each with eight variations and three kinds of fills – and patterns and variations can be played or chained in any order. In performance situations you can copy patterns on the fly and even stay ahead of the beat and work on patterns that aren't currently playing. Each pattern can include the kit, knob positions, effect settings and tempo, providing instant recall and enough storage and flexibility to play an entire set without ever repeating a single measure in the same way.
Filling in
Well-placed fills can create thrilling moments in a track or a live set. Each pattern in TR-8S can contain two fills, which you can customize or create from scratch. There's also an adjustable 'scatter' fill that will slice and dice a measure into short bursts of cool and controlled chaos. But at times, your hands may be too busy to trigger every fill manually. That's where auto-fill comes in: automating fills every 2, 4, 8, 16 or 32 measures keeps your hands free while adding interesting dynamics to your performances.
In motion
Professional sounding drum tracks require detailed production techniques. TR-8S not only makes crafting this detail possible, it makes it fast and fun. Locking parameters to steps or recording motion into patterns can give you everything from subtle movements to dramatic tonal shifts. Automate bass drum tuning, snare pitch, panning, effects – whatever you want. You can create melodies and basslines or change the sound of a kit for different song sections. Motion recording is immediate and effortless, and motion playback can be instantly enabled or disabled.
At home in the studio, made for the stage
For the last four years, Roland has taken feedback from enthusiastic TR-8 fans and artists from around the world, leaving them with a pretty clear idea of they we could make it even better, both for studio production and live performance. Roland put these user-requested features – and more – into TR-8S while keeping the immediacy and fun factor of the original TR-8 fully intact.
Eight analog outputs
Like some of its famous siblings, TR-8S has eight separate analog outputs so you can process individual drum sounds through external effects or send them into separate channels of your mixer or DAW. Take control of your sound and decide which instruments or groups are sent to which outputs. And whatever you choose, know that TR-8S sounds big, punchy and spacious thanks to its high-resolution 24-bit/96kHz digital-to-analog converters.
Trigger out, external in
TR-8S has a stereo external audio input and a dedicated trigger output; additionally, its assignable outputs can be used as additional triggers. This lets you control external instruments and mix them with TR-8S's internal sounds, greatly expanding your creative possibilities in the studio and performance possibilities on stage. Each pattern has a dedicated trigger track for access to all kinds of variations with no need to 'use up' an instrument track. Rim-shots and triggered analog bass patterns? Yes, you can!
Audio and MIDI interface
Aside from being the most powerful drum machine ever made, TR-8S is a complete multi-channel audio and MIDI interface. When you connect TR-8S to a computer or AIRA Link host, you can transfer MIDI and high-resolution audio over a single USB cable. Record each drum instrument to a different channel for individual processing and recording, automate parameter movements from your DAW by CC messages or sync TR-8S to your computer or Roland MX-1 Mix Performer for live sets or late night jam sessions.
Refined design with a modern touch
Aesthetic and ergonomic improvements can be found throughout TR-8S, giving it a timeless design that fits any creative space. The shape, colors and overall feel have been refined to be more substantial, elegant and inviting. RGB color faders and TR-REC buttons let you customize the brightness, glow and color of each element. Not only does it look amazing, it also gives crucial visual feedback about what's playing, what's muted, which instruments are grouped and so on. And then there's that lava lamp mode…
Total recall
The life of a musician can be pretty unpredictable, whether due to touring mishaps or studio calamities. Take comfort in the fact that every kit, every pattern and every setting for literally everything can be backed up on an SD card. Just pop it into a fresh TR-8S and you're back up and running in no time.
Sync with Serato DJ Pro
The Serato x Roland TR-SYNC update brings the power of Roland's iconic drum machines to your DJ setup. Simply connect your Roland TR drum machine to Serato DJ Pro and they'll sync to the same BPM. Now you can easily add your own drum loops with the same drum sounds used on your favorite music. Flip genres, beef up classic tracks, remix, and transition between songs in new ways. Anyone can play the next big track, but how many DJs can make it their own?
SKU
ROL-TR8SCCK
Vendor
AIRA
Analog Digital
Digital
Included From Manufacturer
Power supply
Midi
In, Out, and USB
Mpn
TR-8S
Control Connections
1/8" trigger output with dedicated sequencer track
Onboard Controllers
Velocity-sensitive performance pad
Effects
Reverb (5 types), delay (3 types), low pass / high pass filter, high/low boost, isolator, transient, compressor, drive, overdrive, distortion, fuzz, crusher, phaser, flanger, side chain (used w/external audio input), scatter (used w/AUTO FILL IN function)
Audio Inputs
Dual 1/4" stereo external audio input
Audio Outputs
Dual 1/4" stereo main output
6 individual assignable 1/4" outputs
1/4" stereo headphone output
Product Weight
4 lb 11 oz.
Programs/Presets
128 user drum kits
128 user patterns
Sampling
Sample playback only. User samples may be loaded via SD card.
Sequencer
Pattern sequencer supports parameter locking, motion sequencing eight variations per pattern, three kinds of fills, auto-fill and 'scatter' functions
USB Port (to Host)
MIDI;Audio;System Updates
Voices of Polyphony
11 instrument parts
Width
16.125"
Depth
10.375"
Height
2.3125"
Roland Limited Warranty
This product is warranted to be free from defects in material and workmanship under normal use for a period of one (1) year for parts and and ninety (90) days for labor from the date of purchase.
Ground shipping is FREE for all orders $99 and up.