Skip product carousel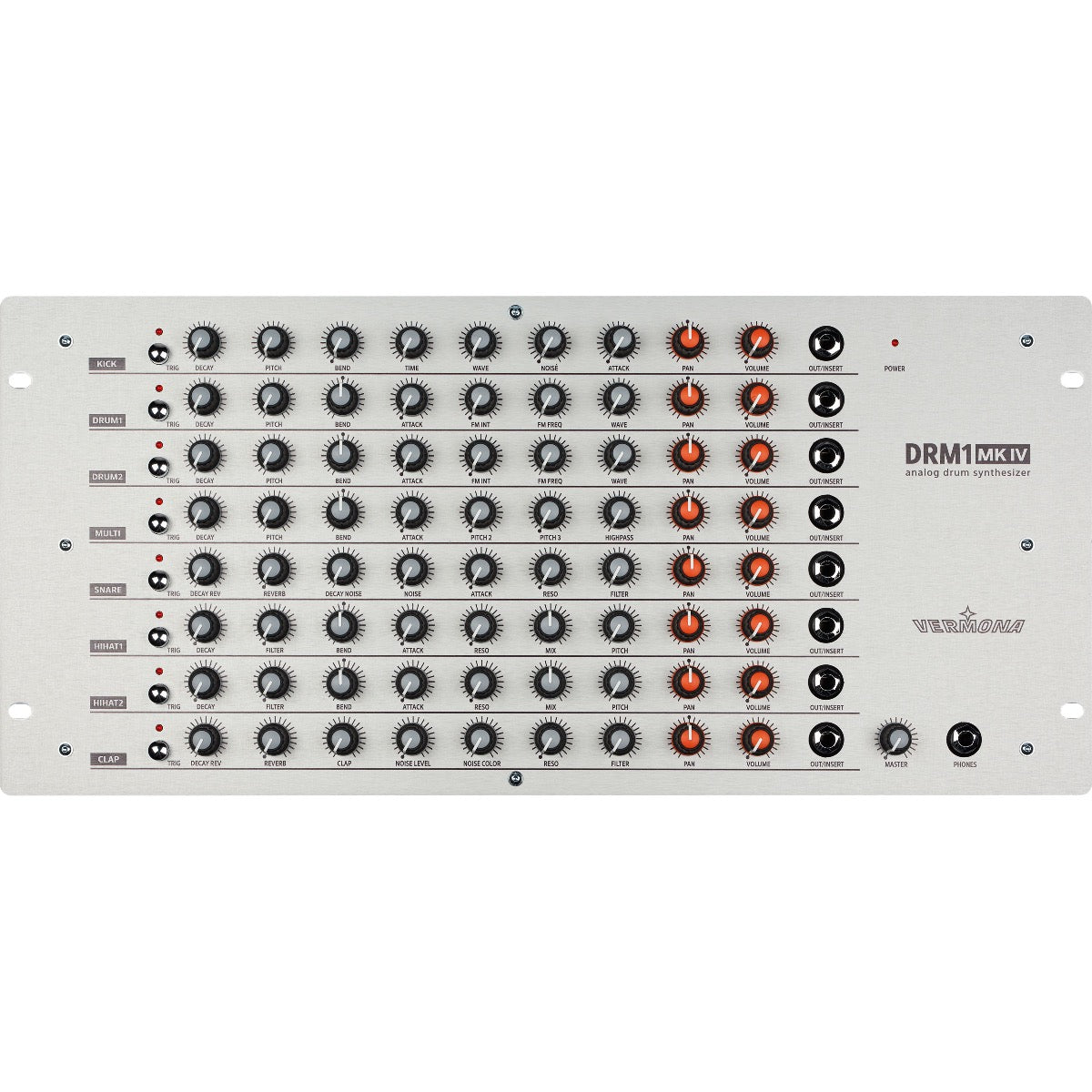 Vermona DRM1 MKIV Analog Drum Synthesizer with Trigger Inputs CABLE KIT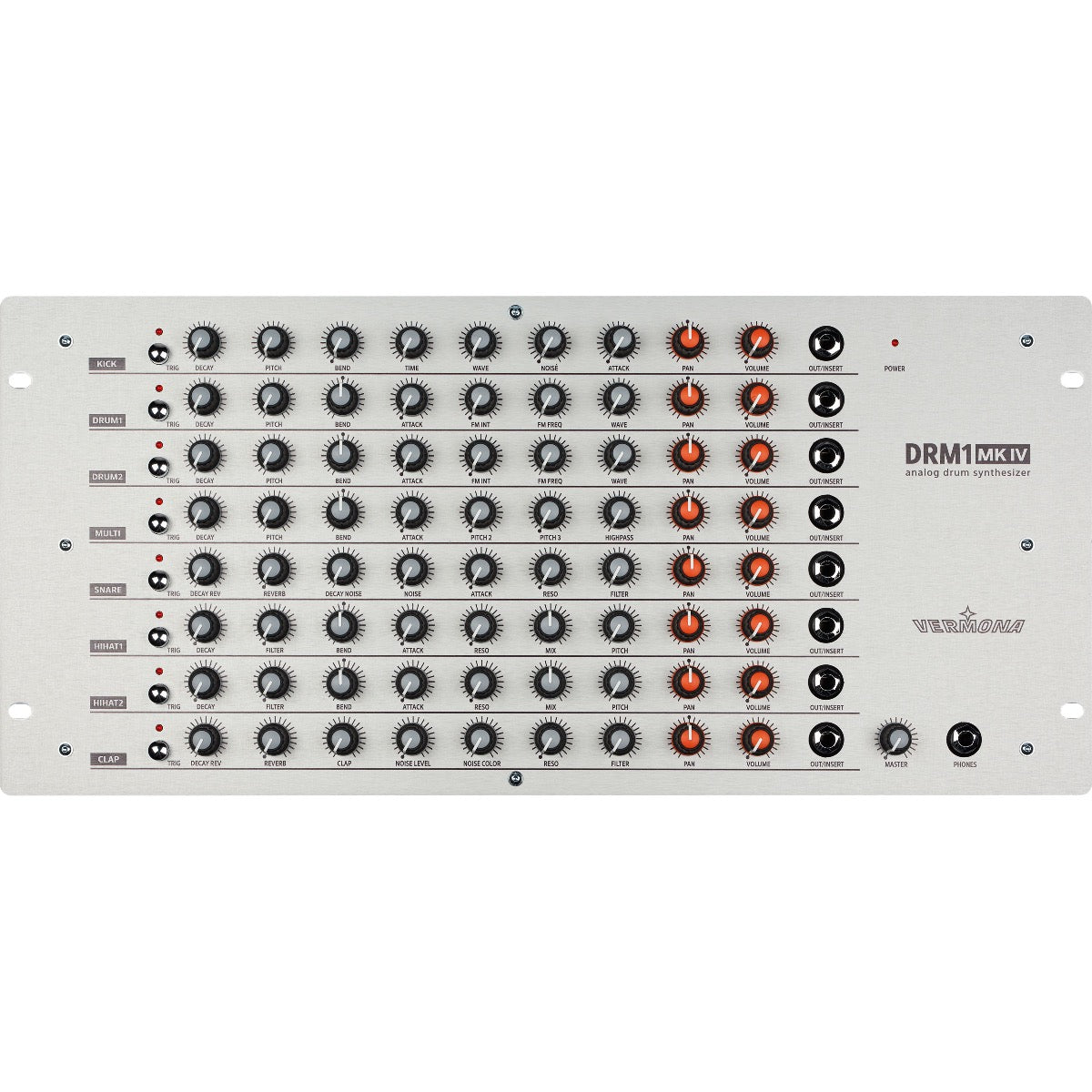 Vermona DRM1 MKIV Analog Drum Synthesizer with Trigger Inputs CABLE KIT
6 items included
This Kraft Music Bundle Includes
$919.00
Regular price
$1,006.75
You Save $87.75
Click on a product to view more details.
Since the mid-90s, Vermona DRM1 has been synonymous with electronic drum and percussion sounds based on analog circuitry coupled with an uncompromising control surface. DRM1 MKIV continues this tradition.
8 analog instrument channels
Analog trigger inputs recognize dynamic levels and convert gate signals to MIDI messages
73 knobs for realtime access to all parameters
Individual output/insert per instrument channel
Stereo and headphone outputs
MIDI triggering via 5-pin DIN or USB port
Switching power supply 100–240 V AC, 50/60 Hz
Structure
DRM1 MKIV has eight channels that, like the components of a real drum kit, are specialized to produce specific percussive instrument sounds.
KICK: covers a huge spectrum of bass drum sounds from soft to hard and from short to long
DRUM 1 and DRUM 2: toms, metallic percussion sounds, wood blocks, bongos, kick drums and more
MULTI: cowbells, zaps, laser sounds and bongos
SNARE: all kinds of snares including rimshots
HIHAT 1 and HIHAT 2: hi-hats, cymbals and triangles, each in open and closed versions
CLAP: handclaps of all kinds
Controls
Each channel has seven soft-grip knobs for controlling channel-specific sound-related parameters, complete with individual pan and volume controls and sturdy trigger buttons that are super handy while you're dialing in sounds. All these control elements make DRM1 MKIV a playground for beats, a true musical instrument that wants to be touched and played.
Connectivity
The instrument channels can be triggered by MIDI via USB or 5-pin DIN jacks with easy remapping of default MIDI note triggers. Besides its master left/right 1/4" stereo outputs, DRM1 MKIV also offers an individual output per channel, which when connected to a 1/4" TRS to dual 1/4" TS cable can be used as a channel insert to apply external effects to individual channels and then feed the effected signal back to the main mix and outputs.
Analog trigger inputs
This version of DRM1 MKIV is equipped with analog trigger inputs, allowing control from vintage analog sequencers with gate signals or integration with modular systems. In addition, DRM1 MKIV's trigger option can convert incoming analog trigger impulses into MIDI messages and pass them along to other gear via USB or 5-pin MIDI out. Both MIDI and trigger inputs support dynamics/velocity, including varying voltage levels at the trigger inputs.
A classic's makeover
The MKIV update started with taking time to thoroughly listen to each circuit and put energy and care into its details: thoughtfully tweaking frequency ranges, revamping control curves, adjusting levels and redesigning sub-circuits, making MKIV the best-sounding drum synthesizer Vermona's ever built. A revamped, more energy-efficient international power supply and expanded MIDI connectivity round out the MKIV package.
SKU
VER-DRM1MKIVTRIGCK
MPN
DRM1 MKIV with Trigger Inputs
Vendor
Vermona
Analog Digital
Analog
Included From Manufacturer
Power cable
Midi
In, Out, Thru, and USB
Mpn
801006
Product Unique Features
8 × 1/4" analog trigger inputs with support for dynamics/velocity
Audio Outputs
Dual 1/4" stereo main output
Individual 1/4" mono output for each instrument channel
Individual outputs may also be used as channel inserts
Oscillators per Voice
Varies by Sound Engine
Product Weight
7.7 lb
Programs/Presets
KICK
DRUM 1 and DRUM 2
MULTI
SNARE
HI HAT 1 and HI HAT 2
CLAP
USB Port (to Host)
MIDI
Voices of Polyphony
8
Width
19"
Depth
8.9"
5U rack height
Height
5"
90mm rackmount depth
Vermona Limited Warranty
The manufacturer warrants this product to be free of defects in material and/or workmanship for a period of one (1) year from the date of purchase.
The manufacturer's warranty does not apply to products that have been damaged due to and/or subjected to improper handling by shipping companies (forwarders), negligence, accidents, improper use or alteration not authorized by the manufacturer.
This warranty is in lieu of and excludes all other warranties, expressed or implied. The manufacturer will not be liable for incidental or consequential loss or damage whatsoever, whether based upon allegations or negligence, breach of warranty, or otherwise. This disclaimer of incidental or consequential damages includes, but is not limited to, property damages, loss of profits, loss of time or other losses or inconvenient resulting from any defect in the material or workmanship of this product or any other connection with the purchase, operation or use of this product.
Ground shipping is FREE for all orders $99 and up.