Skip product carousel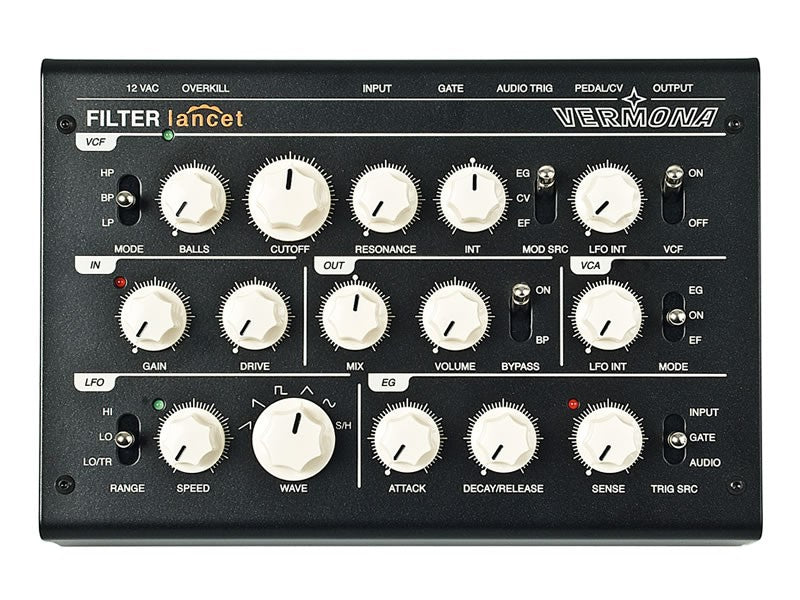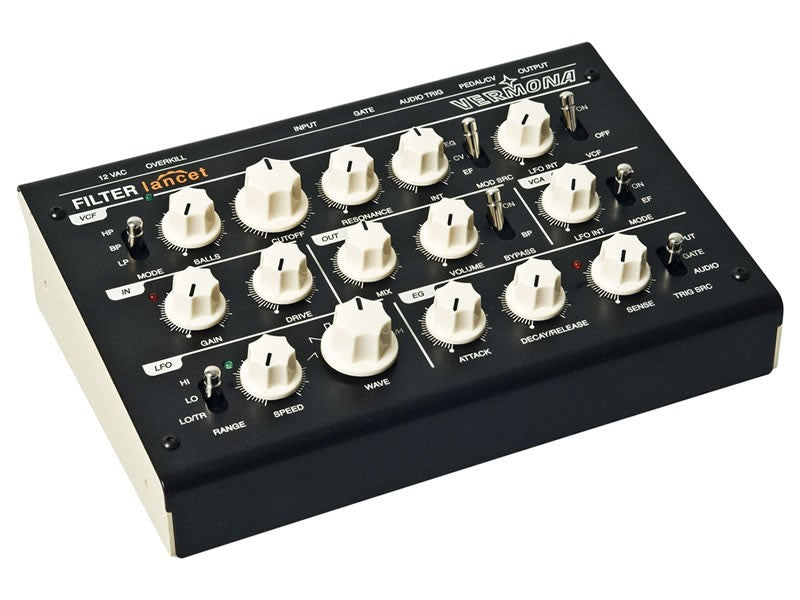 Vermona Filter Lancet Desktop Analog Multimode Filter Module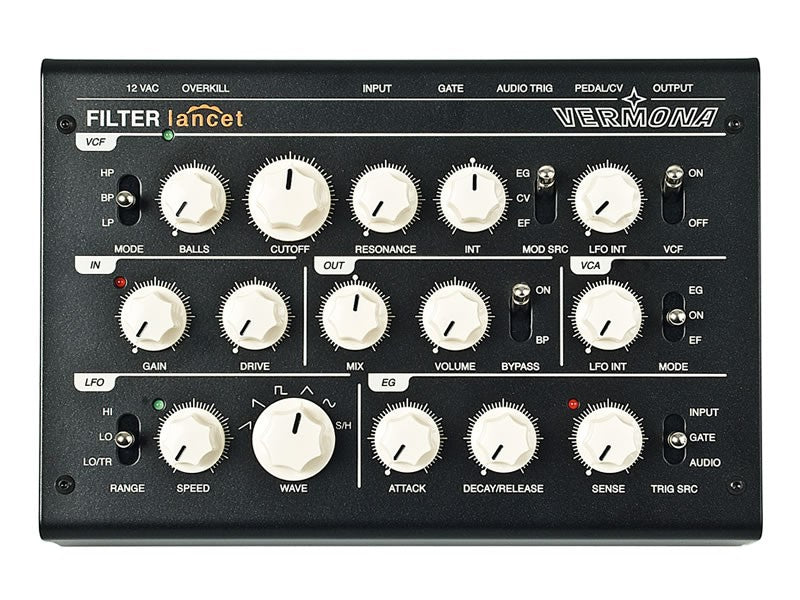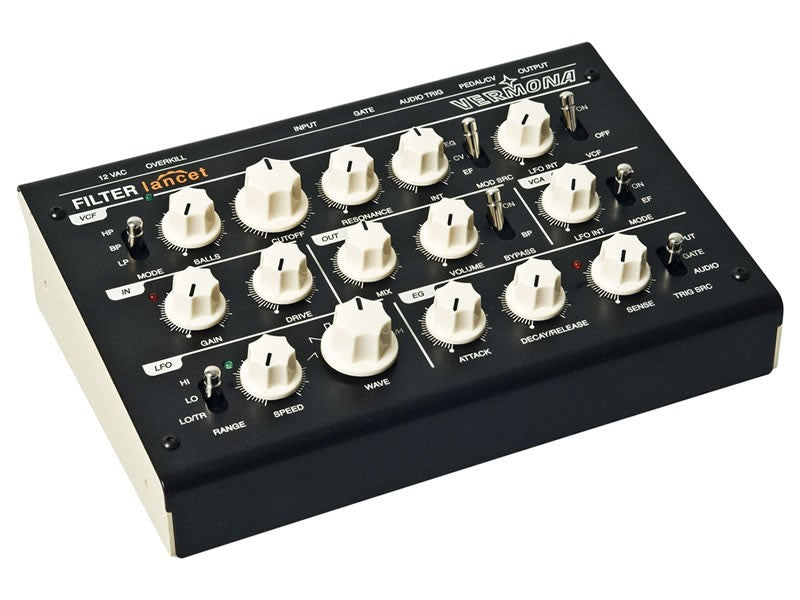 Vermona Filter Lancet Desktop Analog Multimode Filter Module
The filter is the most essential part of every synthesizer. It allows easy sound manipulation with drastic results. But why should synthesizers have all the fun? Drum machines, grooveboxes, guitars and other instruments are equally suited for filtering. This is why external filter boxes like the Filter Lancet exist! They allow sound manipulation for different kinds of audio signals. In addition, such manipulation should be intuitive. A good filter box therefore demands lots of knobs, switches and connections. Filter Lancet was created to be a highly flexible and easy to use filter box with multiple possibilities to be controlled. As you can expect from Vermona, this unit uses the finest analog technology.
Filter Lancet is packed with useful features. It's a great and powerful addition to any synthesizer including the Vermona Mono Lancet (sold separately). But Filter Lancet is also designed for stringed instruments. It creates standard effects like WahWah and tremolo with ease and even adds a palette of extraordinary sounds to any effect repertoire.
Filter Lancet is the right weapon against static sound and boredom and is made for any kind of audio signal.
Compact but versatile standalone multimode filter for your desktop
24dB low- and high-pass filters
12dB band-pass filter
BALLS knob pushes low and high frequencies of the signal before being filtered for extra punch
Triggered via MIDI, fully velocity sensitive
LFO has two frequency ranges and goes up to 250Hz
LFO can be re-triggered by gate or audio signals at low frequencies
LFO has sample and hold and five waveforms: saw up, saw down, square, sine and triangle
Envelope follower transforms the contour of the input signal into control voltages that can serve as modulation source
LFO modulation intensity can be set separately from modulation intensity of envelope generator and envelope follower on the VCF and VCA sections
Features drive circuit built right into the input section to add subtle shades of overdrive up to solid distortions
SKU
VER-FILTERLANCET
Vendor
Vermona
Effect Type
Wah/Filter
Included From Manufacturer
Power Supply
Mpn
802005
Product Unique Features
BALLS knob for extra punch
Modulation: LFO, envelope generator, envelope follower
Control Connections
GATE input to trigger envelope follower
AUDIO TRIG input to trigger envelope generator
PEDAL/CV input to control filter cutoff frequency
Effects
24dB/octave low pass filter
24dB/octave high pass filter
12dB/octave band pass filter
Audio Inputs
1/4" mono
Audio Outputs
1/4" mono
On-board Expression Pedal
No
Number of Patches/Programs
n/a
Number of Pedal Switches
n/a
Power Adaptor
Included
Product Weight
1.65 lbs.
Width
8.27"
Depth
5.71"
Height
2.17"
Vermona Limited Warranty
The manufacturer warrants this product to be free of defects in material and/or workmanship for a period of one (1) year from the date of purchase.
The manufacturer's warranty does not apply to products that have been damaged due to and/or subjected to improper handling by shipping companies (forwarders), negligence, accidents, improper use or alteration not authorized by the manufacturer.
This warranty is in lieu of and excludes all other warranties, expressed or implied. The manufacturer will not be liable for incidental or consequential loss or damage whatsoever, whether based upon allegations or negligence, breach of warranty, or otherwise. This disclaimer of incidental or consequential damages includes, but is not limited to, property damages, loss of profits, loss of time or other losses or inconvenient resulting from any defect in the material or workmanship of this product or any other connection with the purchase, operation or use of this product.
Ground shipping is FREE for all orders $99 and up.