Skip product carousel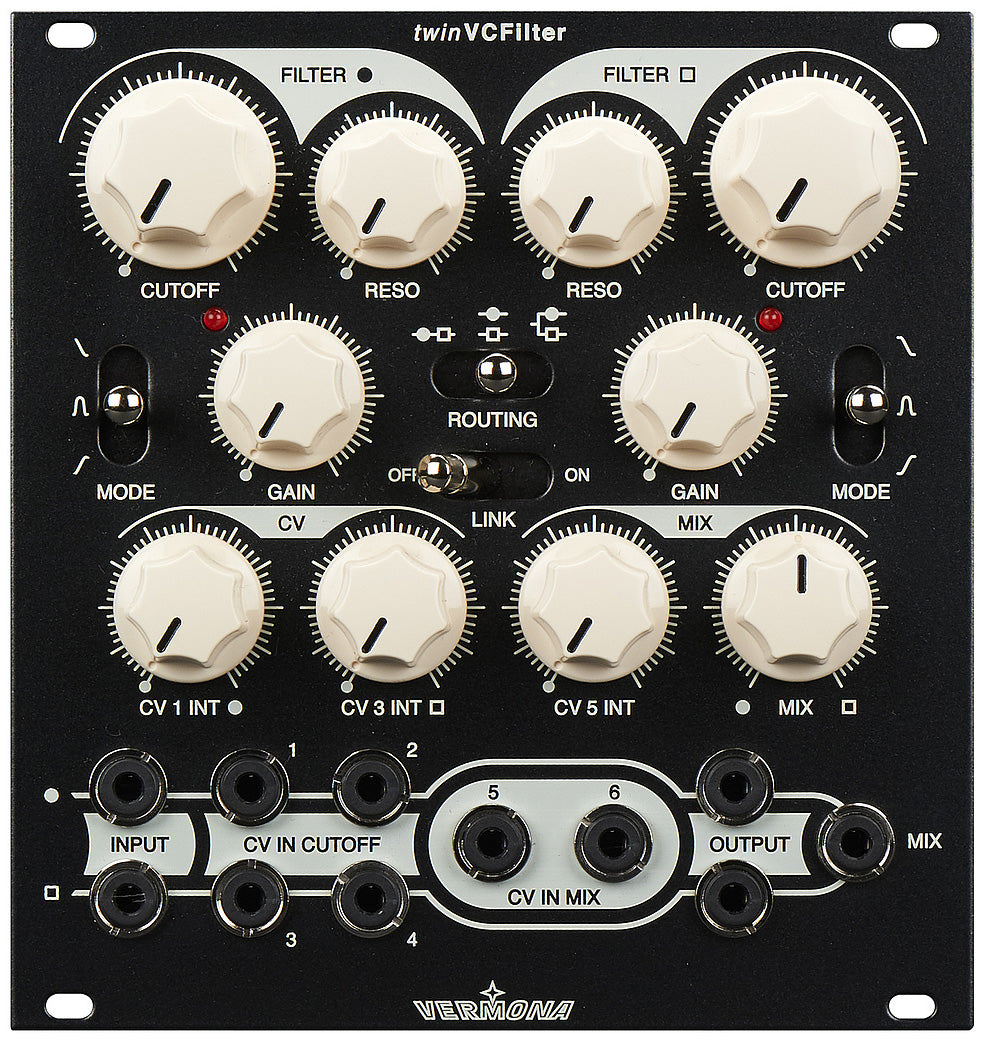 Vermona twinVCFilter Dual Multimode Filter Eurorack Module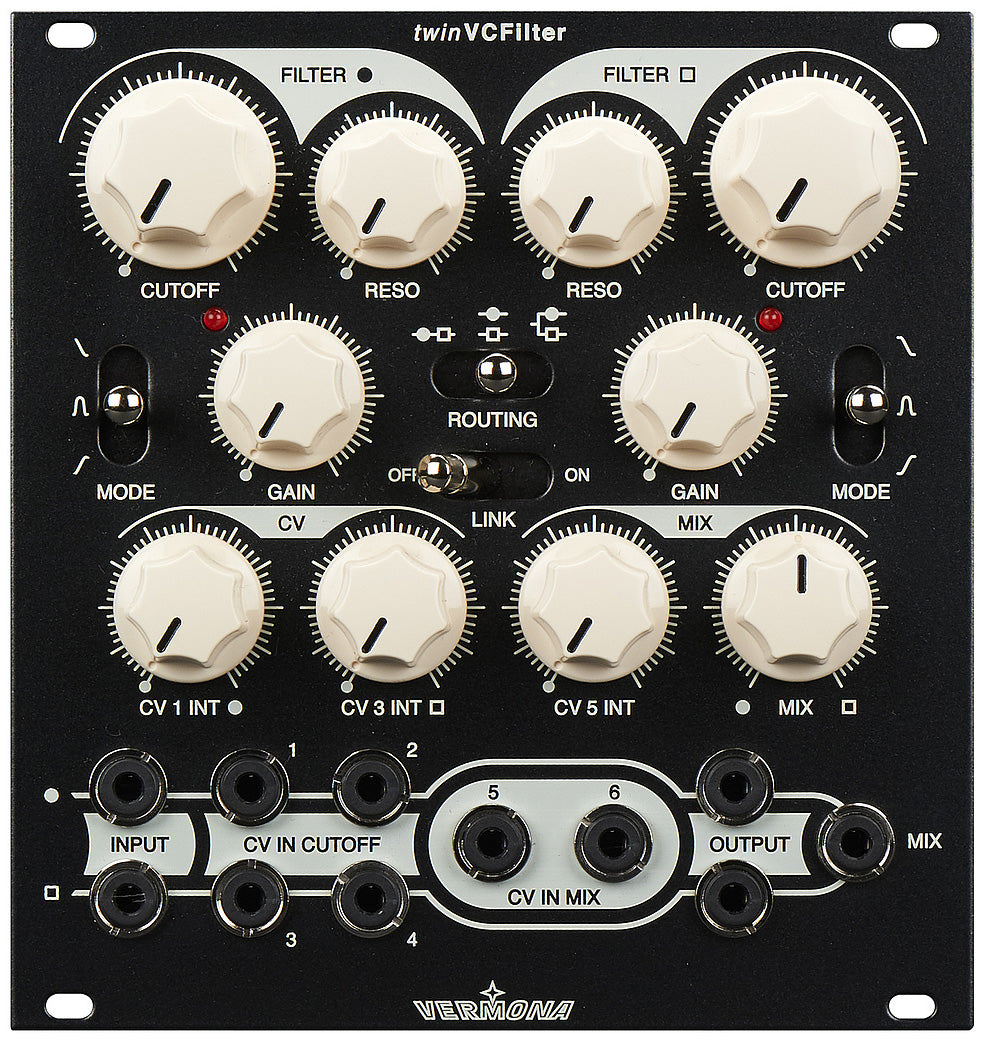 Vermona twinVCFilter Dual Multimode Filter Eurorack Module
Most eurorack modular systems will contain at least one filter module; one could view them as the stars of the eurorack show. Vermona twinVCFilter is one such star. A dual filter module with flexible routing and excellent audio properties, it covers a huge range of different applications with minimal effort.
Features and routing
Each filter section of twinVCFilter works as a low pass or high pass filter with a slope of 12 dB/octave or as a band pass filter with a slope of 6 dB/octave. Signals can be directed in three ways through the module:
Serial: the incoming signal passes through both filter sections, one after the other.
Parallel: the incoming signal passes through both filters at the same time.
Dual: the filter sections act independently of one another, as if they were two individual filter modules.
With these routings you can, for example, generate band passes or notches with variable slopes and different resonance settings or double the filter's slope. These are some of the more obvious combinations, but there's much more to discover.
The convenient link feature allows you to couple the cutoffs and resonances of both filter sections for straightforward stereo use in dual mode.
Mix section
The flexible signal routing is supplemented by the mix section. Here you can crossfade both filter sections manually or using control voltages. Seamless transitions from low pass to high pass filter are as easy as crossfading from half to doubled slope. Of course you can mix two individual signals or toggle between them by using a rectangle LFO modulation CV.
Resonance
Resonance is a key factor in the context of sound shaping and sound generation using a filter. Vermona therefore carefully trimmed twinVCFilter's resonance to be as musical and stable as possible. You can apply subtle, frequency-dependent emphasis to signals or tear them up into self-oscillation. The latter generates a solid sine wave, an excellent basis for percussive sounds, and potential cross-modulations significantly enhance these sound generation features. By the way, if you are missing a vibrato LFO in a patch, twinVCFilter can do that job, too.
twinVCFilter offers a huge set of features to form impressive soundscapes. It can apply a subtle influence to signals or massively truncate frequencies and leaves nothing to be desired. Nevertheless, for those who need additional possibilities, Vermona also offers the tVCF-Extension companion module (sold separately).
Physical specifications

Size: 24hp
Module depth: 40mm
Power usage: 75mA @ +12V, 55mA @ -12V
Power usage with tVCF-Extension (sold separately): 105mA @ +12V, 75mA @ -12V
SKU
VER-TWINVCFILTER
Vendor
Vermona
Module Type
Filter
Module Width
24hp
Mpn
805008
Module Power Usage
75mA @ +12V
55mA @ -12V
105mA @ +12V with tVCF-Extension (sold separately)
75mA @ -12V with tVCF-Extension (sold separately)
1U Module
No
+5V Required
No
Depth
40mm
Vermona Limited Warranty
The manufacturer warrants this product to be free of defects in material and/or workmanship for a period of one (1) year from the date of purchase.
The manufacturer's warranty does not apply to products that have been damaged due to and/or subjected to improper handling by shipping companies (forwarders), negligence, accidents, improper use or alteration not authorized by the manufacturer.
This warranty is in lieu of and excludes all other warranties, expressed or implied. The manufacturer will not be liable for incidental or consequential loss or damage whatsoever, whether based upon allegations or negligence, breach of warranty, or otherwise. This disclaimer of incidental or consequential damages includes, but is not limited to, property damages, loss of profits, loss of time or other losses or inconvenient resulting from any defect in the material or workmanship of this product or any other connection with the purchase, operation or use of this product.
Ground shipping is FREE for all orders $99 and up.