Skip product carousel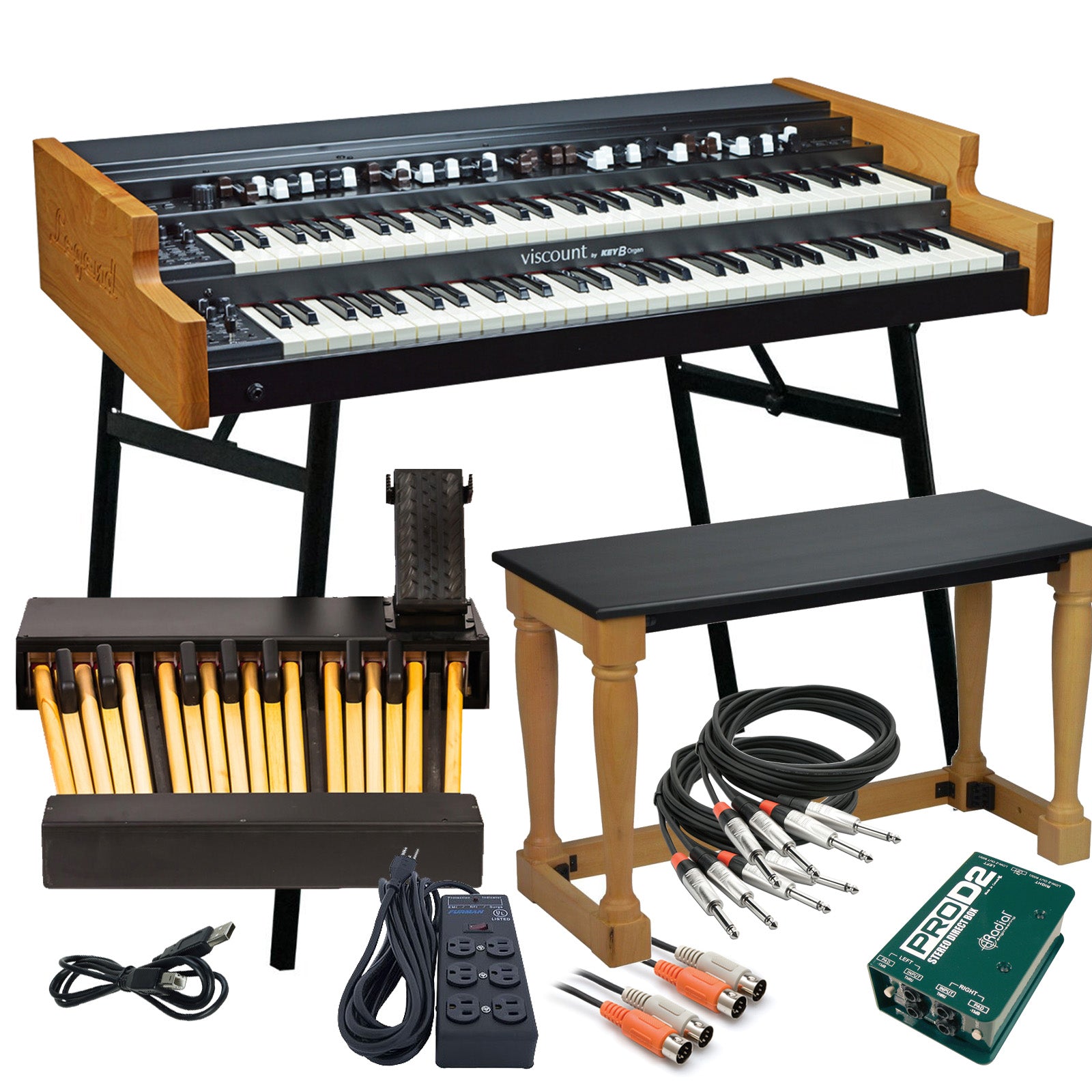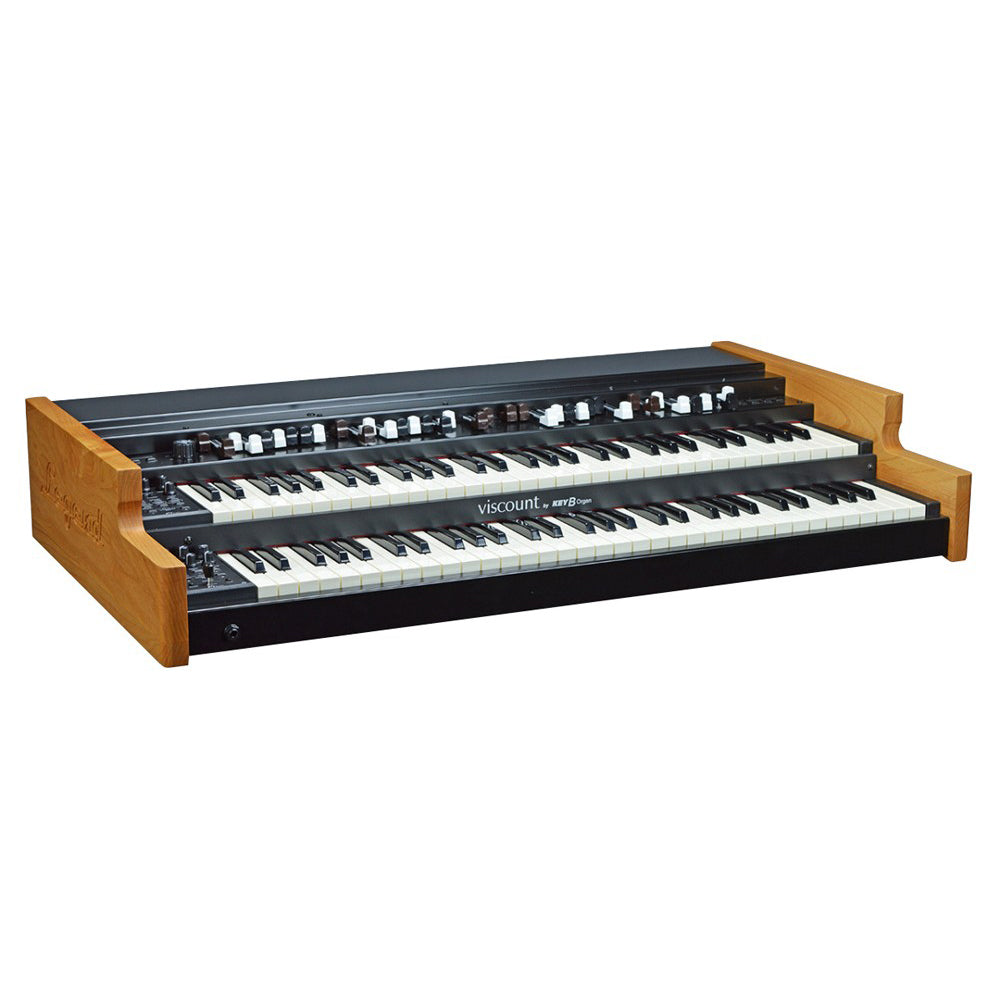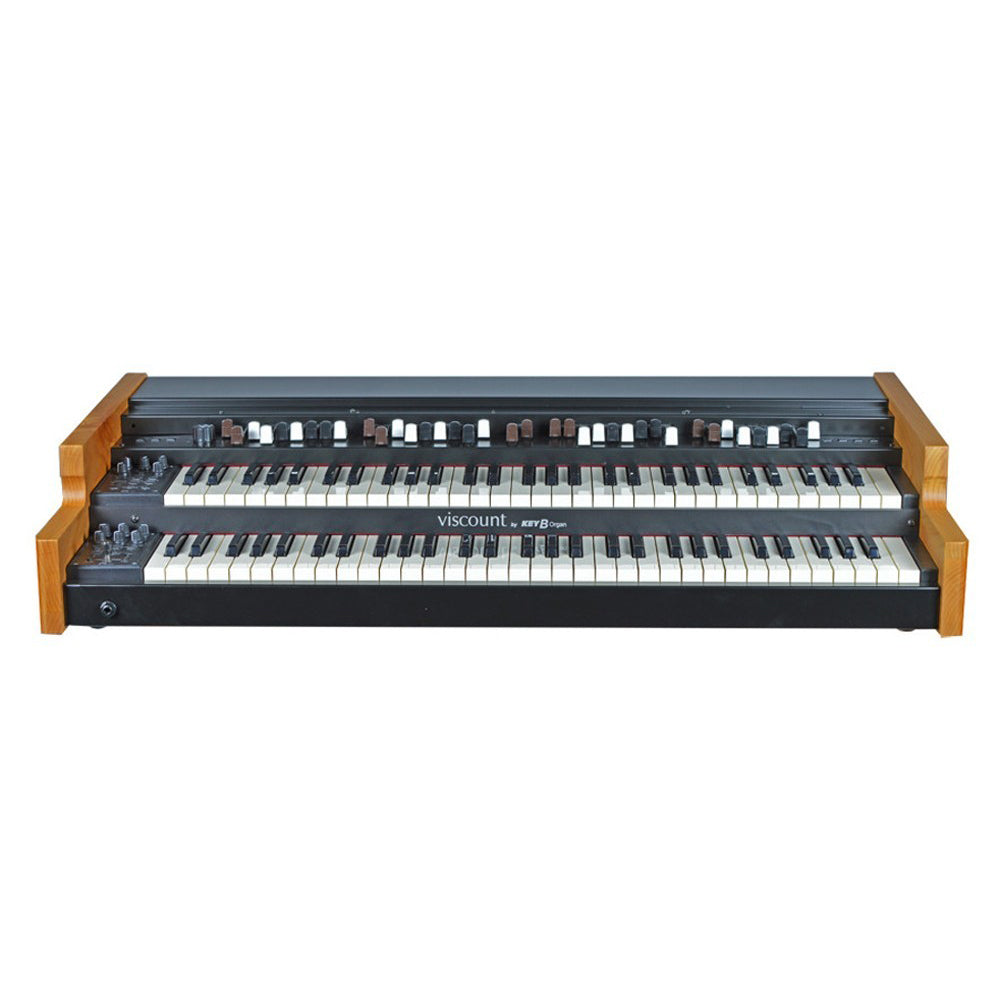 Viscount Legend Live Organ ULTRA BUNDLE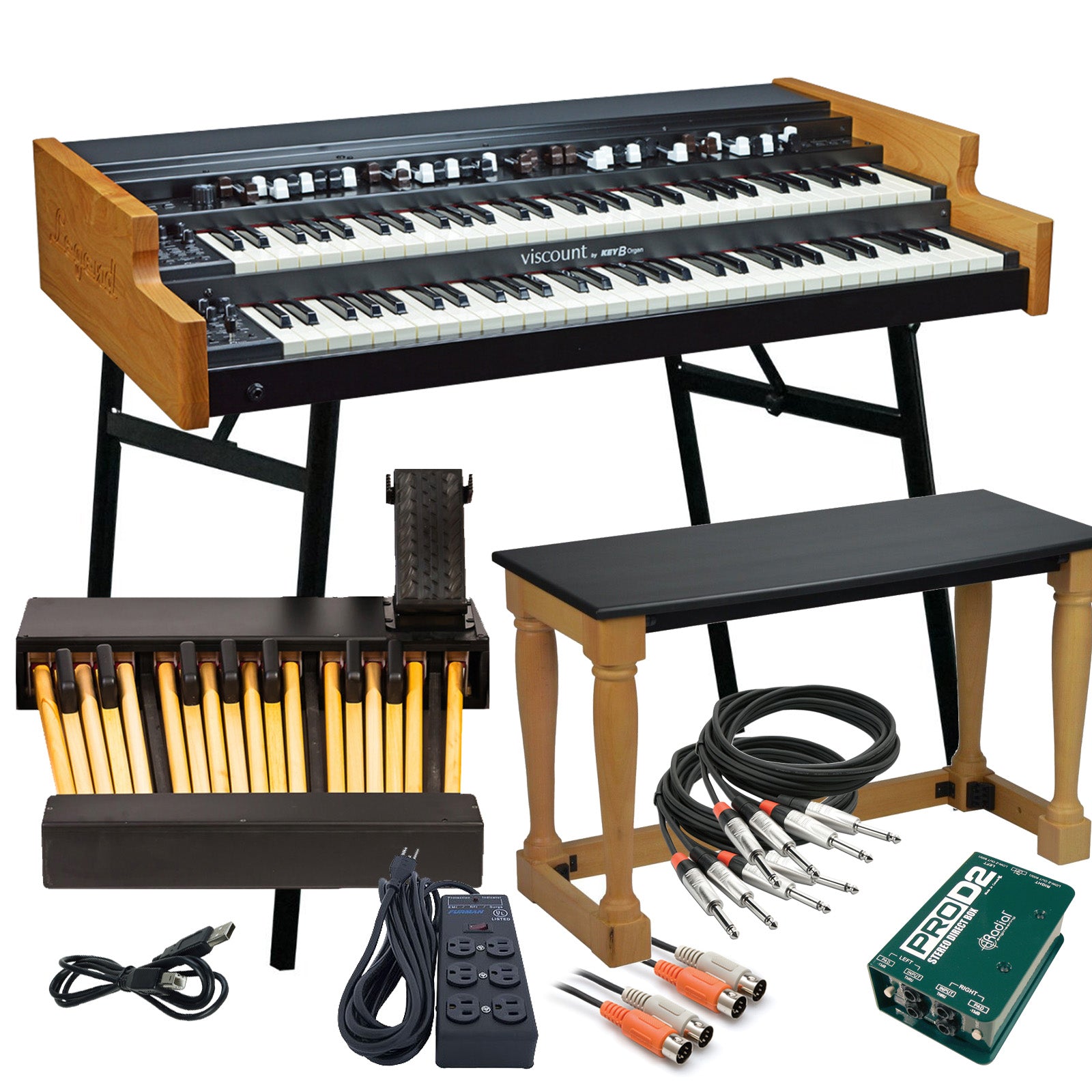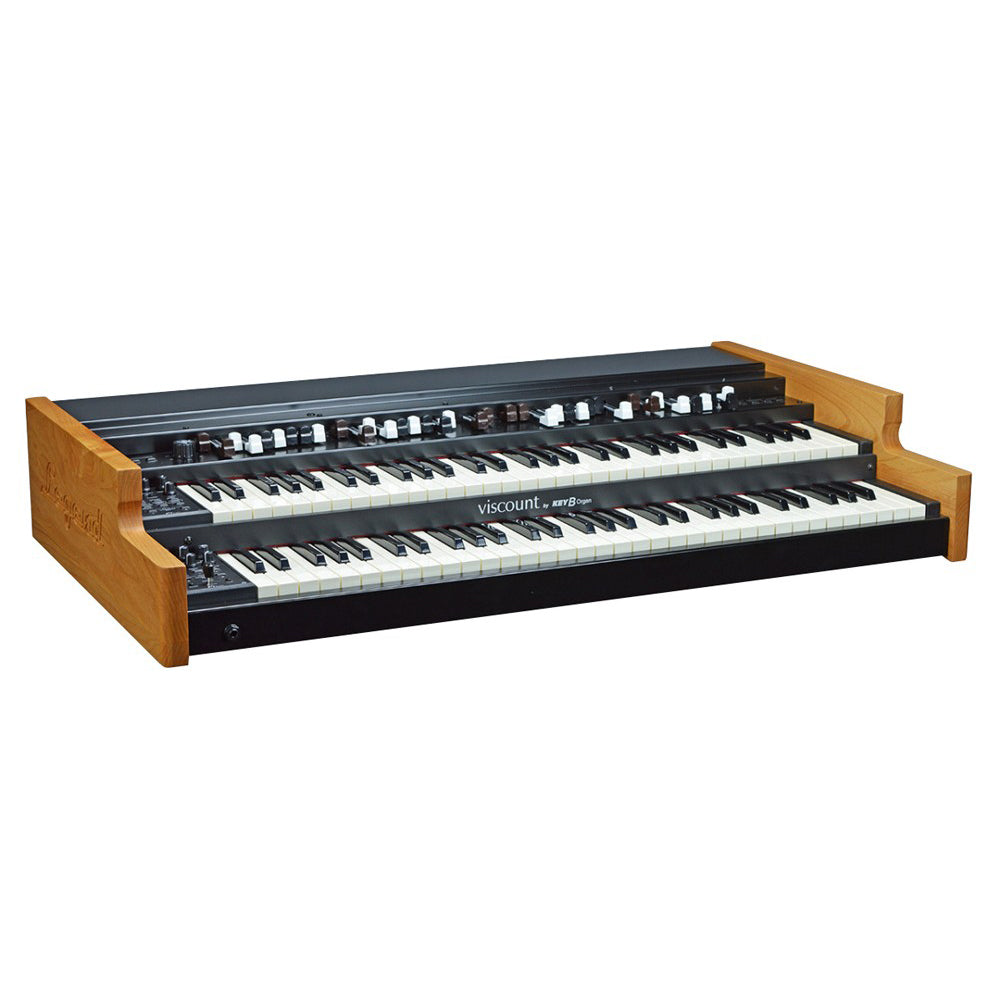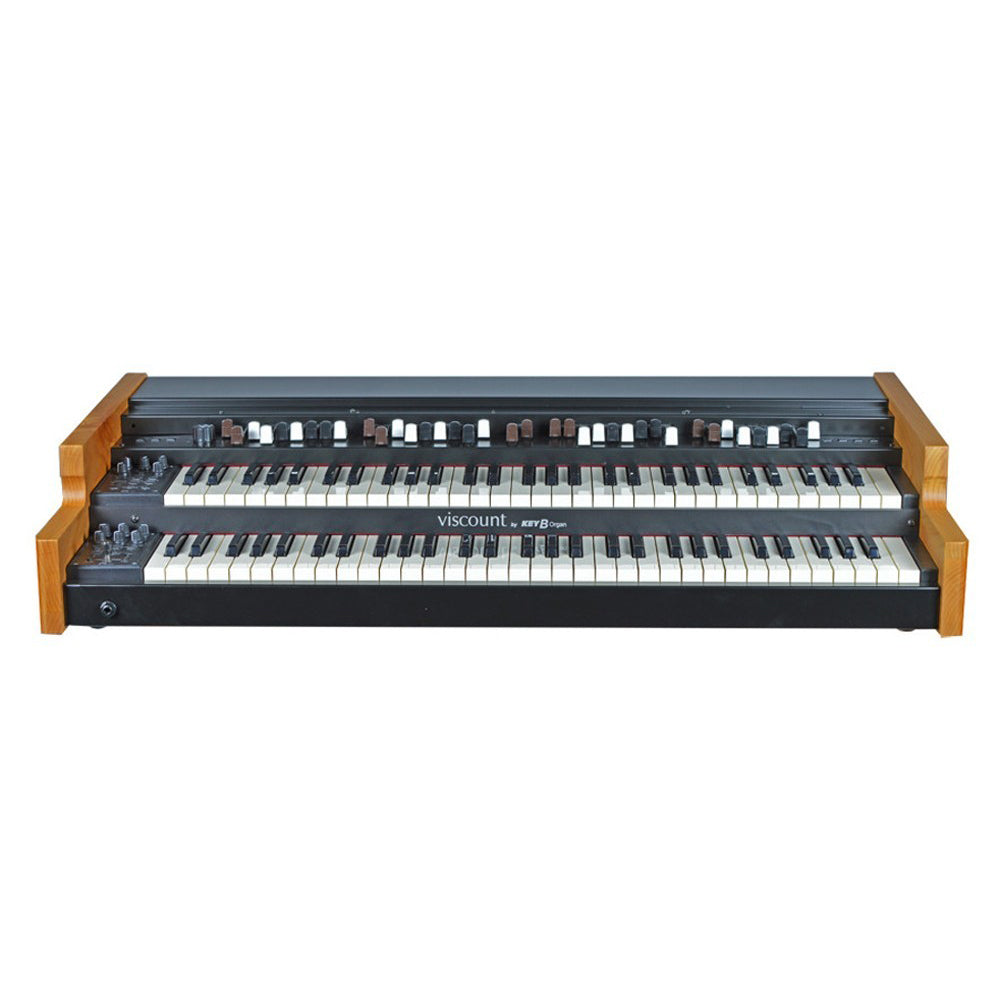 Viscount Legend Live Organ ULTRA BUNDLE
9 items included
This Kraft Music Bundle Includes
$5,949.99
Regular price
$6,175.74
You Save $225.75
Click on a product to view more details.
The Legend Live organ is able to perfectly recreate the sound of tonewheels organs offering you again the "vintage feeling". With four sets of drawbars and double keyboards, this organ stands apart from all the rest in advanced technology sound, feel and much more affordable pricing. Every aspect of a tonewheel keyboard and sound is so perfectly duplicated that players all over the world are saying "it's the best ever! 
Perfect Arragement
The new VISCOUNT Legend Live organ designed and engineered in Italy in cooperation with KeyB, provides incredible expressive capabilities in an easy-to-use interface in a perfect portable solution. The Legend Live uses the latest in tonewheel modeling technology allowing exigent musicians to play without compromise the fabulous organ sound.
Easy to Play
When you sit down at the Legend Live, all you have to do is turn it on and play. Everything you need and are familiar with, on a classic tonewheel organ, is there right where it belongs. No confusing menus or LCD screens full of features that you most likely don't or won't use. After all, it's an organ.
Full set of Drawbars
If you have been playing a classic tonewheel organ, then you will feel at home with the Legend Live. It has two full sets of 9 drawbars for the upper keyboard, two full sets of 9 drawbars for the lower keyboard and 2 pedal drawbars.
Harmonic Percussion
Located right where they belong are the rocker tabs to control the 2nd and 3rd harmonic percussion. Soft and normal percussion volume, fast and slow percussion attack.
Vibrato and Chorus
Easy control of Vibrato and Chorus.
Upper / Lower Realtime Controls
Legend Upper Manual Realtime Controls include: Volume; Reverb; Drive; Keyclick; Fine Tuning; Crosstalk; Tone Controls; Pedals Sustain; Percussion (Decay, Volume). Legend Lower Manual Realtime Controls include: Reverb (Post/Pre, Hall/Spring); Drive (Classic, Rock); Tonewheel Model ('30, '50, '70); Transpose; Rotary (Direct, Classic/Rock); Pedals (Direct, To Lower).
Volume (Soft/Normal) Vibrato and Chorus
You can use vibrato/chorus independently for the upper and lower manuals or together. Use the familiar rotary control to select all three Vibrato and Chorus settings.
Waterfall Keyboards
Along with the best sound and being easy to play, the Legend Live has two heavy-duty 61-note keyboards with the feel of an organ, not a synthesizer or cheap portable keyboard. If you play pedals, then you can purchase the optional 25 full-sized console pedals. The Legend Live pedals are heavy-duty and are same radius as the classic tonewheel organs, which makes playing the pedals feel right.
Sound Generation
The new VISCOUNT by KeyB Legend Live organ, designed in cooperation with NEWTONE, uses the innovative TMT (Tonewheel Modeling Technology) able to perfectly clone the classic tonewheel organ. The result is a natural sound that can't be obtained by traditional sampling. Legend reproduces also important characteristics of a tonewheel organ including cross talk, tonewheels flutter, electric hum and octave tapers. Moreover there is also an accurate Rotary Simulation. Maybe you don't have one or it's not convenient to take a rotary speaker with you. Don't worry! The new Legend Simulation is incredibly realistic. It's so good you'll have to look twice to see where the rotors are, this is because of the TMT engine.
SKU
VIS-LEGENDLIVEUB
Vendor
Viscount
Built In Speakers
No
Drawbar Sets
4 Sets
Drawbar Style
Physical
Included From Manufacturer
Music Rest
Power Cable
Keys Weighted
No
Number of Keys
61 x 2 (Dual Manual)
Midi
In, Out, Out/Thru, and USB
Mpn
9A13LEGENDLIVE
Accompaniments
No
Control Connections
(1) Expression Pedal
Rotary Footswitch
Onboard Controllers
(2 x 9) Upper Drawbars
(2 x 9) Lower Drawbars
(2) Pedal Drawbars
Duet Mode
No
Effects
Reverb, Overdrive, Vibrato/Chorus, Rotary, Harmonic Percussion, Key Click
Finish
Black with Natural Wood Sides
Half-Damper Support
No
Half Moon Switch Input
No
Audio Inputs
1/4" Analog In
FX Return
Audio Outputs
1/4" Stereo L+R
11-pin Rotary Speaker
2 x 1/4" Headphones
FX Send
Key Action
Waterfall Organ
Layer Feature
No
Leslie Output
11-Pin
Metronome
No
Number of MIDI Control Zones
3
Organ Models
Tonewheel
Pedal Board Input
Dedicated 5-Pin MIDI
Pedal Drawbars
Yes
Product Weight
39.68 lbs
Reverse Key Presets
Yes
Rhythm Patterns
N/A
Rotary Simulation
Yes
Number of Songs
N/A
Split Feature
No
Number of Tracks
N/A
Transpose Feature
Yes
USB Port (to Host)
MIDI;System Updates
Voices of Polyphony
Full
Width
40.16"
Depth
23.2"
Height
7.4"
Viscount Legend Limited Warranty
Viscount Legend, Legend Pedalboard 25, Legend Wooden Stand, Legend Wooden Bench, Legend Transport Bag, Legend Live, Legend Live Pedalboard 18, Legend Live Metal Stand, and Legend Live Transport bag are warranted against normal use and manufacturing defects for one year on parts and 90 days on labor from date or purchase.
Owner must supply copy of dated sales receipt for this warranty to be honored.
Ground shipping is FREE for all orders $99 and up.