Skip product carousel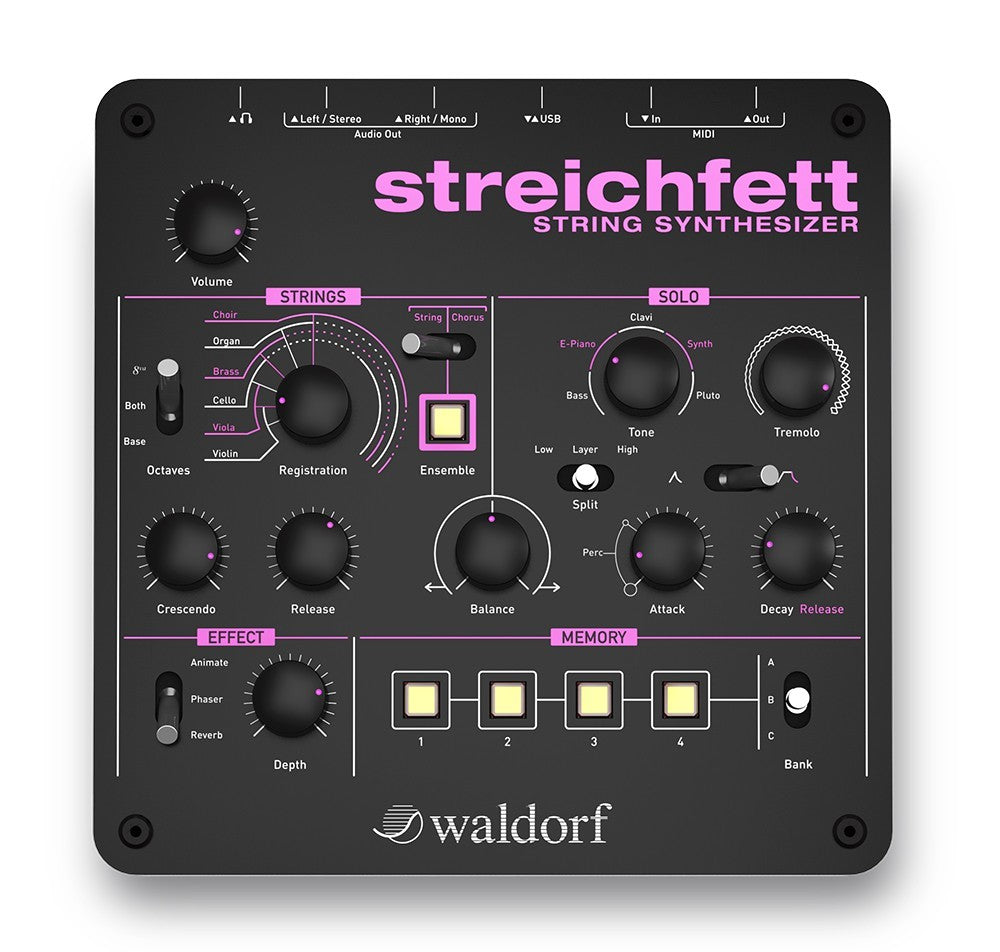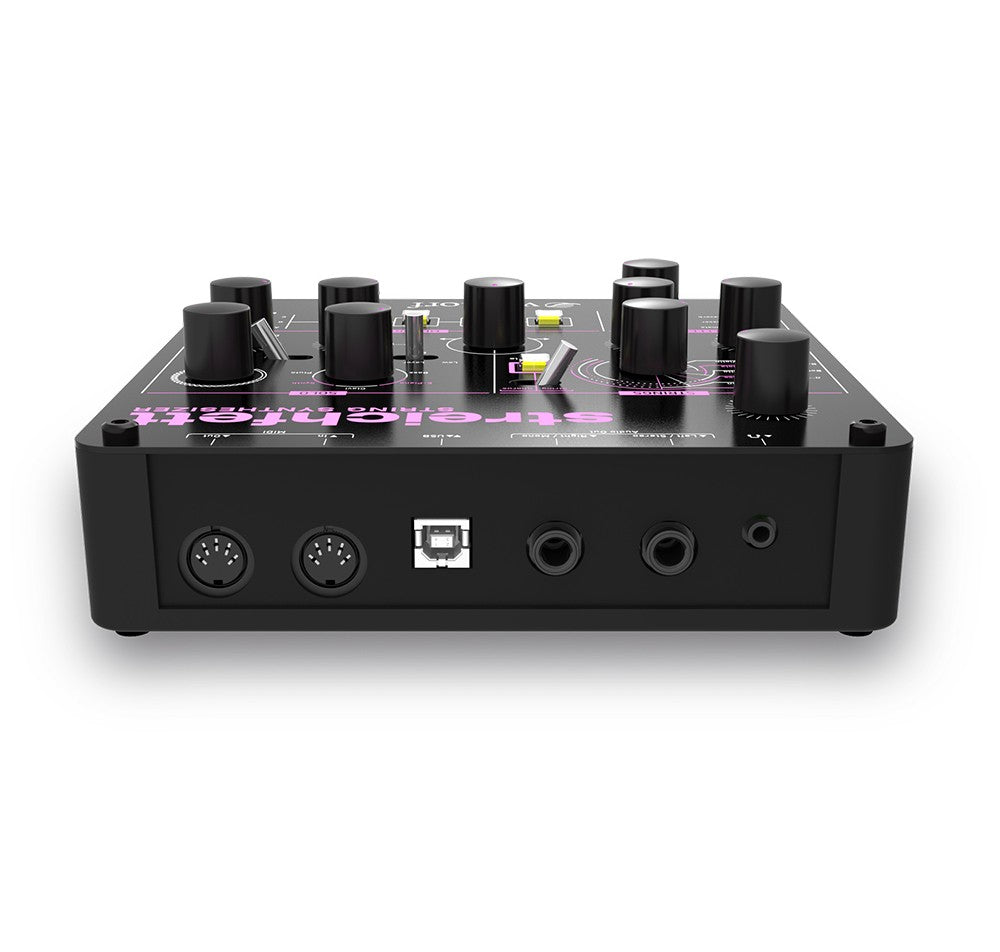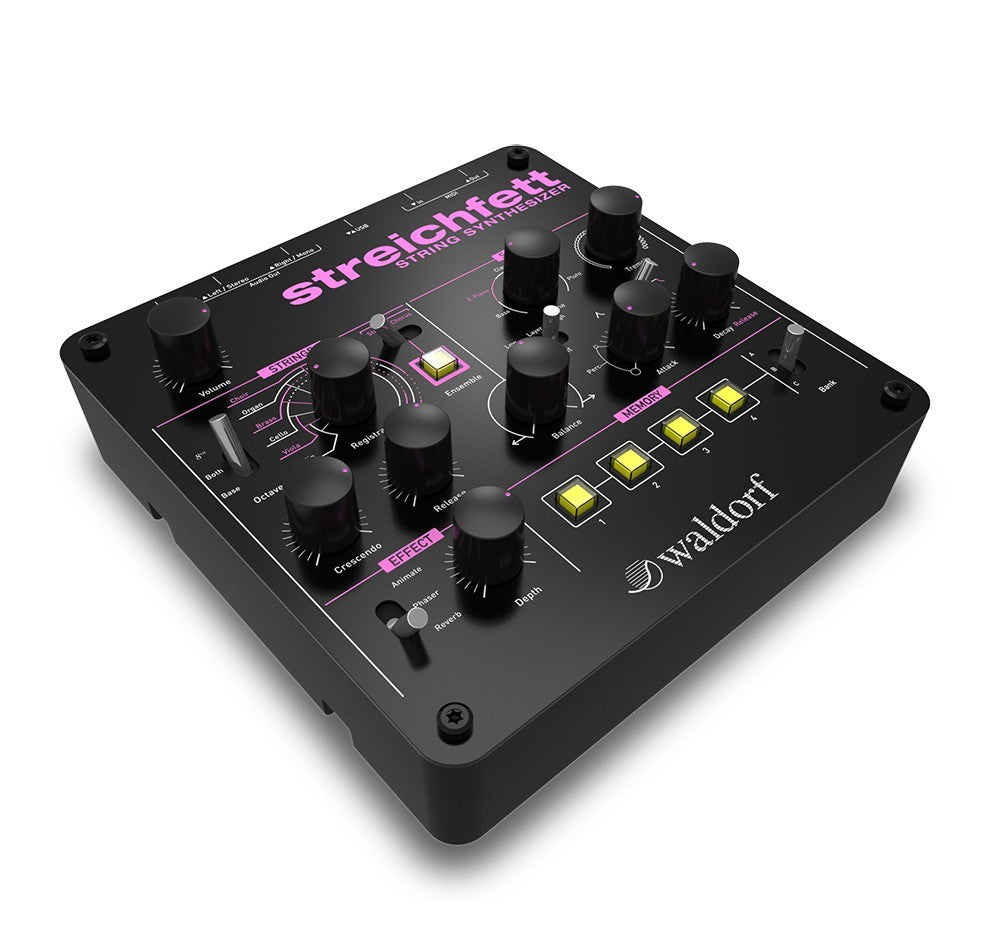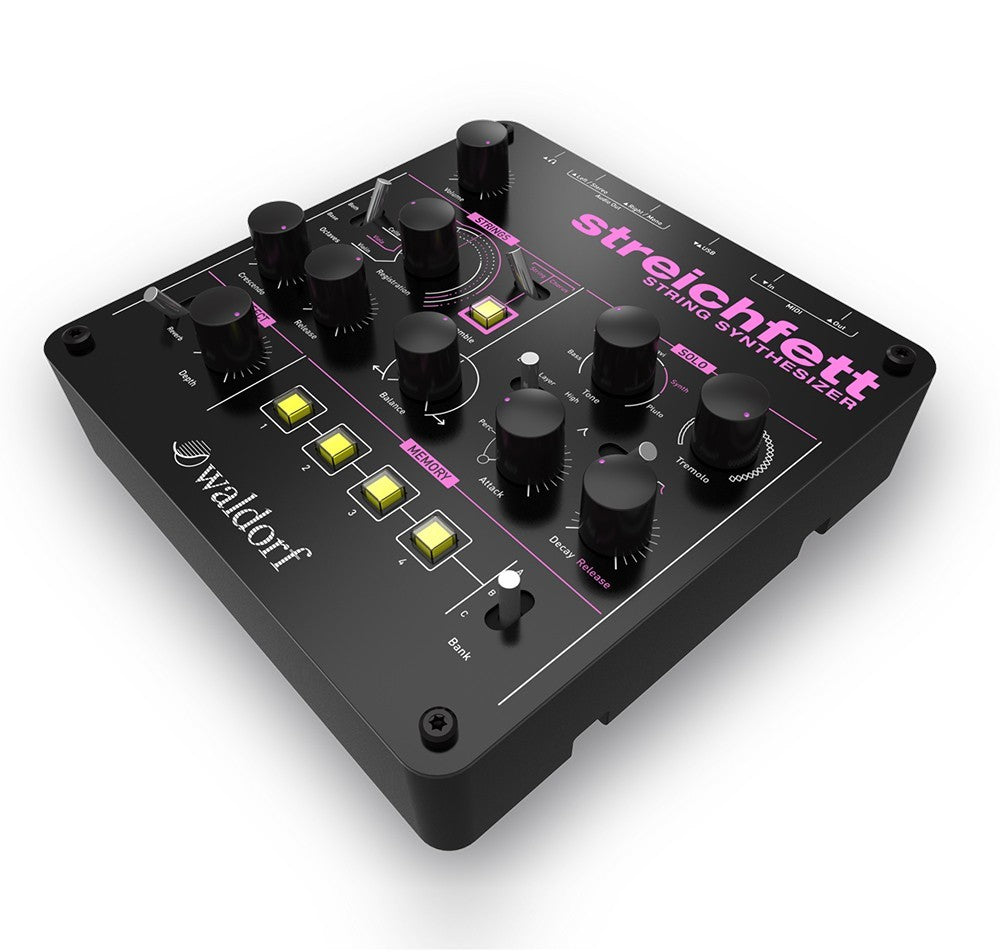 Waldorf Streichfett String Synthesizer Desktop Module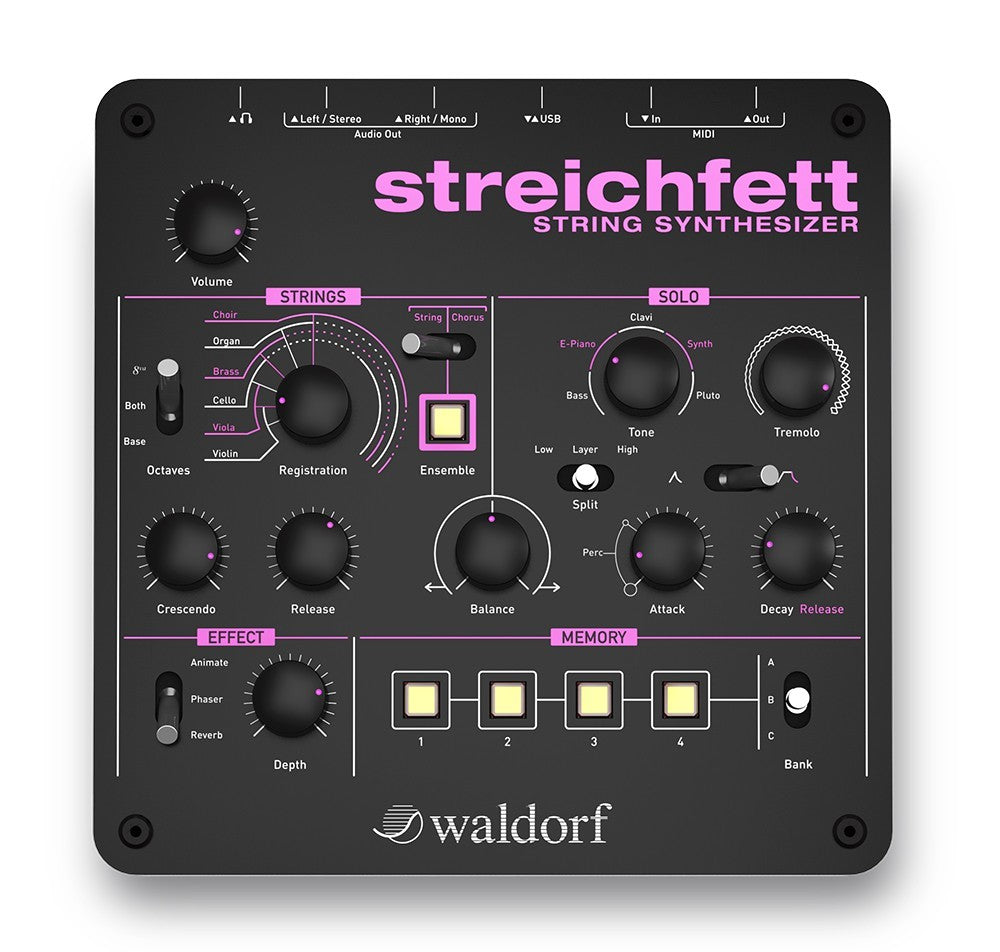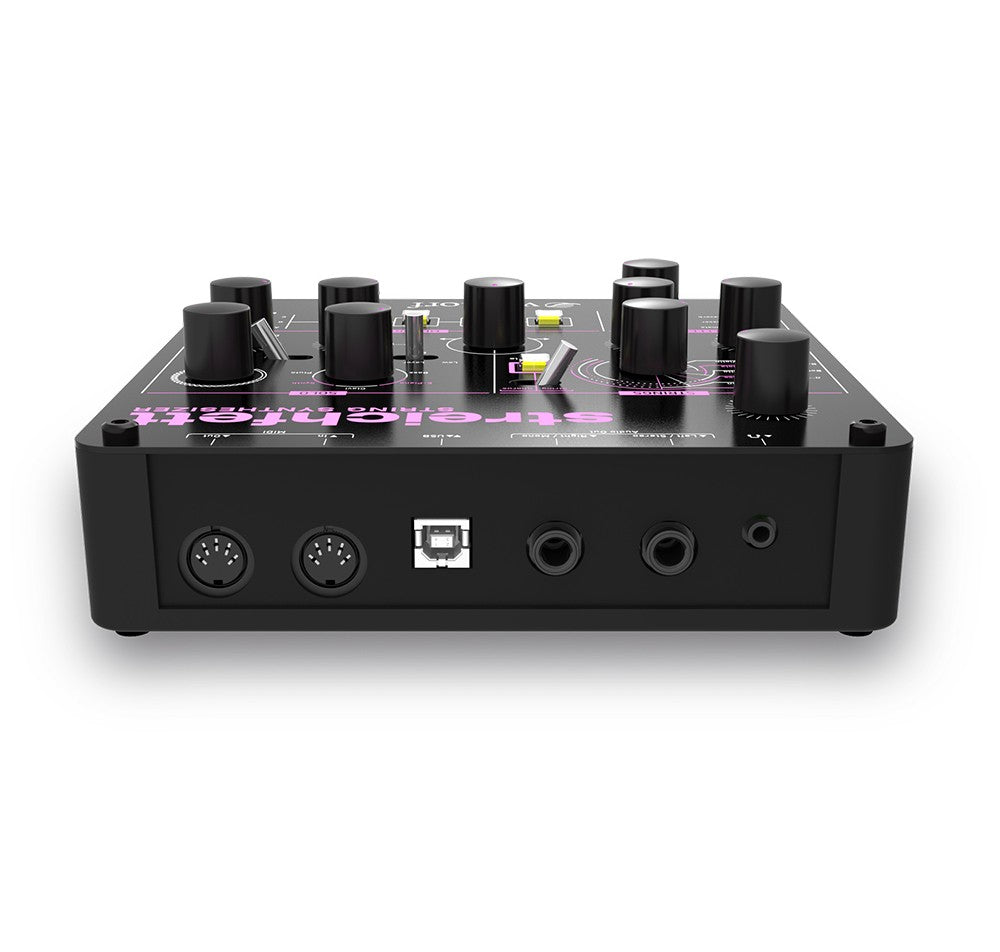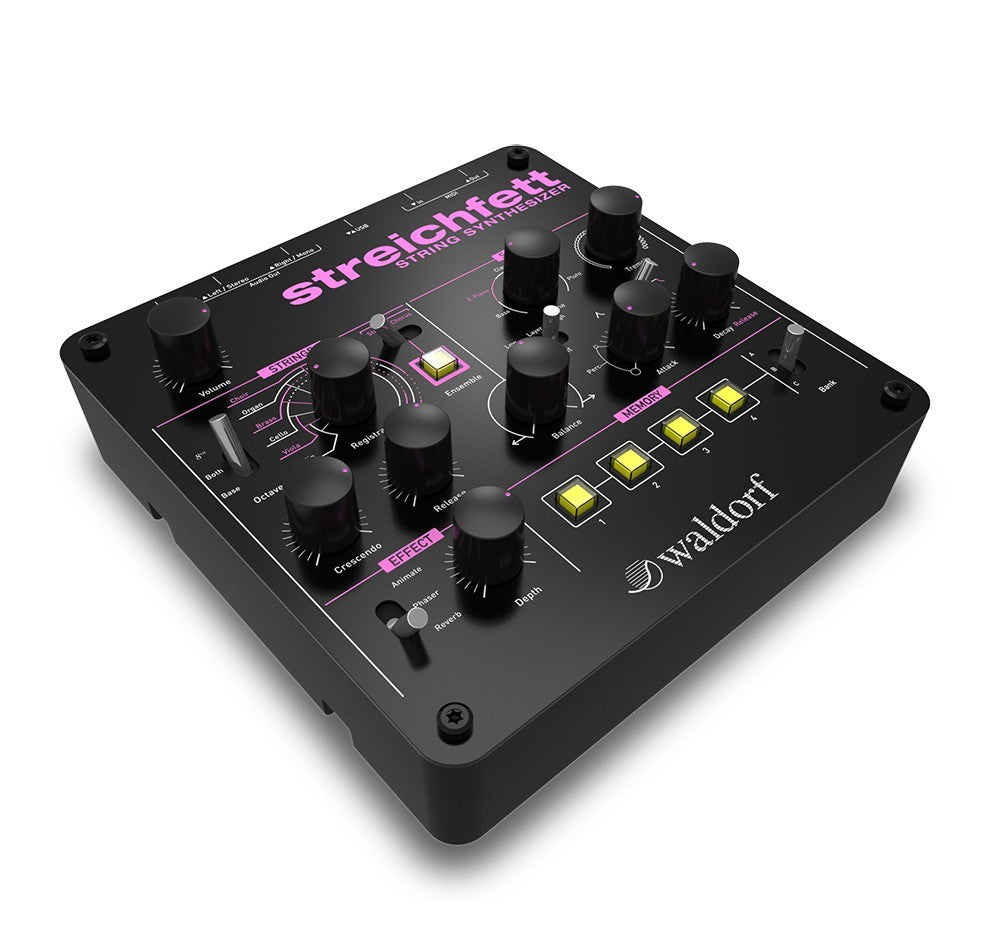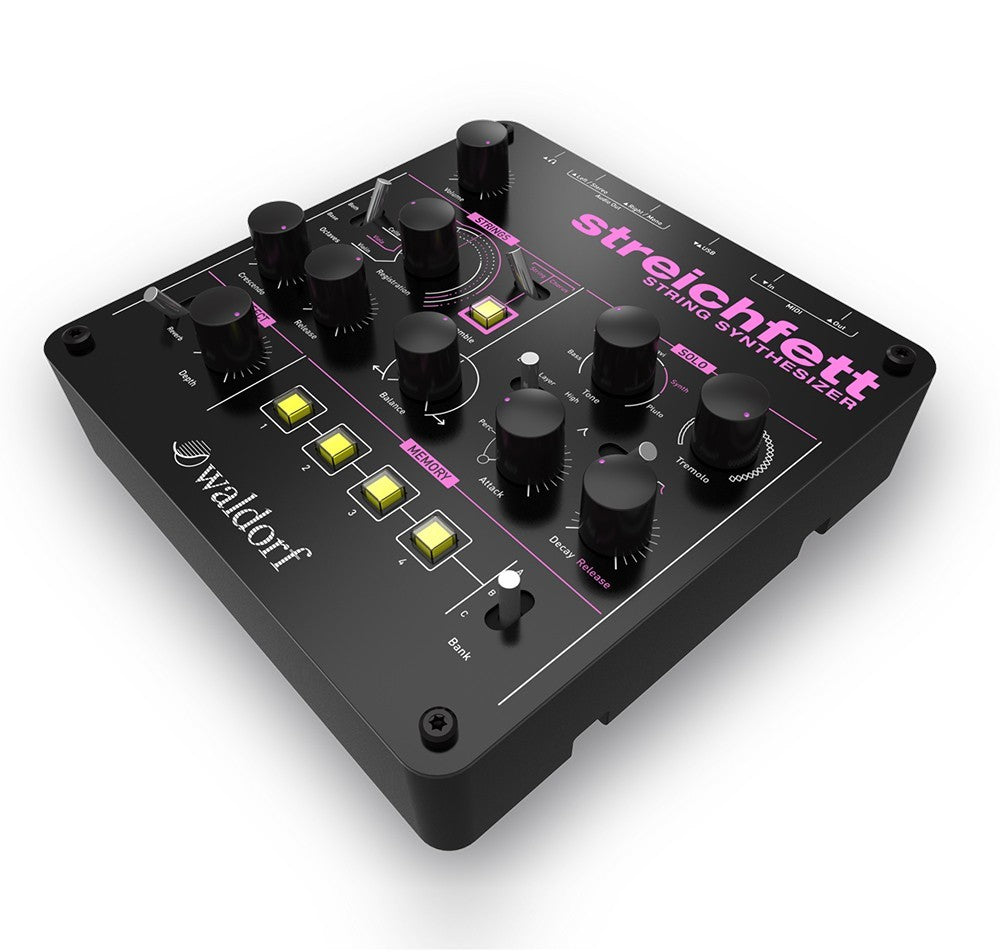 Waldorf Streichfett String Synthesizer Desktop Module
Waldorf Streichfett combines the best of the previously extinct species of string synthesizers of the 70s and early 80s. Its dual sound engine features a fully polyphonic strings section and an eight voice solo section. The Ensemble effect handles the string section, while the effects section adds adjustable phaser and reverb. Additionally, the Animate effect can be used to modulate the strings registration, allowing spectacular sound morphs.
The Solo section offers presets named Bass, E-Piano or Clavi, and just like in your typical string machine the sound has little to do with that name. Instead, these are shimmering and slightly percussive sounds that blend well with the string section.
Although the user interface is simple and easy to comprehend, it controls a rather complex sound engine which is capable of delivering rich and creamy pads unlike any other instrument. Twelve patches can be stored and selected in the Memory section, and USB and MIDI are of course on board.
128-voice fully polyphonic strings section
Continuous morphing of violin, viola, cello, brass, organ, choir and more registrations
Animate effect for modulation of strings registration
Ensemble effect for strings
Eight voice polyphonic Solo section
Layer/split for Solo section
Continuous morphing of bass, e-piano, clavi, synth and Pluto for solo tone
Tremolo for Solo section
Phaser
Reverb
12 programmable patches
Stereo output
Headphone output
USB
MIDI in/out
SKU
WAL-STREICHFETT
Vendor
Waldorf
Analog Digital
Digital
Built In Speakers
No
Included From Manufacturer
USB Power Supply
Number of Keys
None
Midi
In, Out, and USB
Mono Poly
Polyphonic
Mpn
Streichfett
Product Unique Features
Dual sound engine features a fully polyphonic strings section and an eight voice solo section
Robust MIDI implementation with CCs for all controls
Arpeggiator
No
Audio File Playback
No
Effects
Animate (modulates Strings Registration value)
Phaser
Reverb
Audio Outputs
1/4" stereo unbalanced
1/8" stereo headphone out
Internal Storage Capacity
n/a
Key Action
n/a
Multitimbral Capability
2 parts
Oscillators per Voice
Varies by Sound Engine
Product Weight
1.98 lbs.
Programs/Presets
12 programable patches
Sampling
No
Sequencer
No
Speakers
None
USB Port (to Host)
MIDI;System Updates
Voices of Polyphony
128
Width
7.28"
Depth
7.28"
Height
2.5"
Waldorf Limited Warranty
This warranty covers all defects in material and workmanship for a period of one year from the date of original purchase.
During this time, Waldorf Music will repair or replace the product without charge for materials or labor, provided the product was first inspected and found faulty by Waldorf Music or an authorized service center.
You must first contact your dealer or distributor by telephone. Products that were mailed without prior agreement cannot be exchanged or repaired free of charge. The unit must be insured and sent prepared in its original package. Please include a detailed description of the defect. Products that were not send prepared or in the original package will be returned unopened. Waldorf Music reserves the right to upgrade the unit with the latest technological advances if necessary.
This warranty does not cover defects due to abuse, operation under other than specified conditions, or repair by unauthorized persons. The warranty covers only those malfunctions caused by material or workmanship defects that occur during normal operation.
Ground shipping is FREE for all orders $99 and up.