Skip product carousel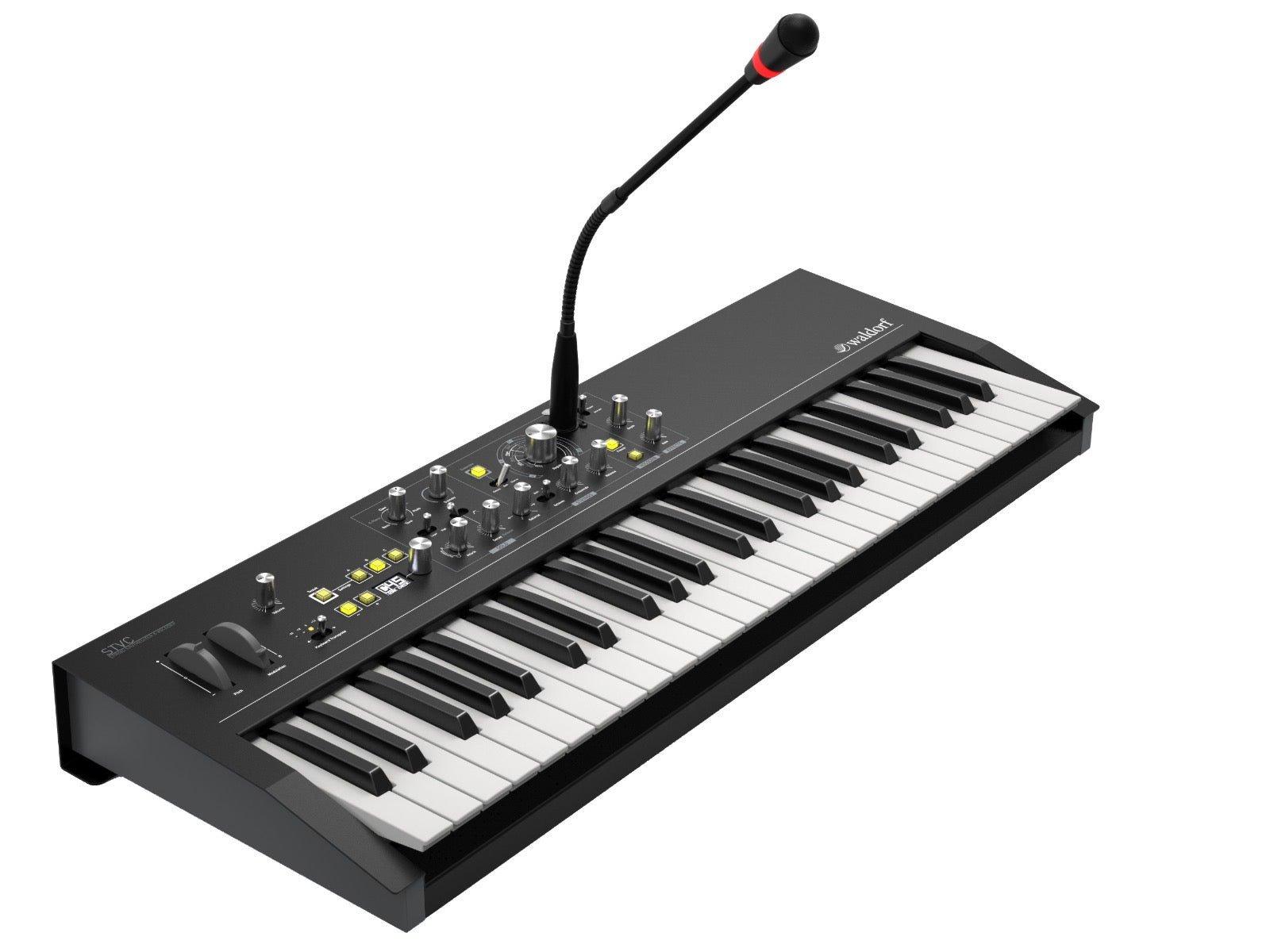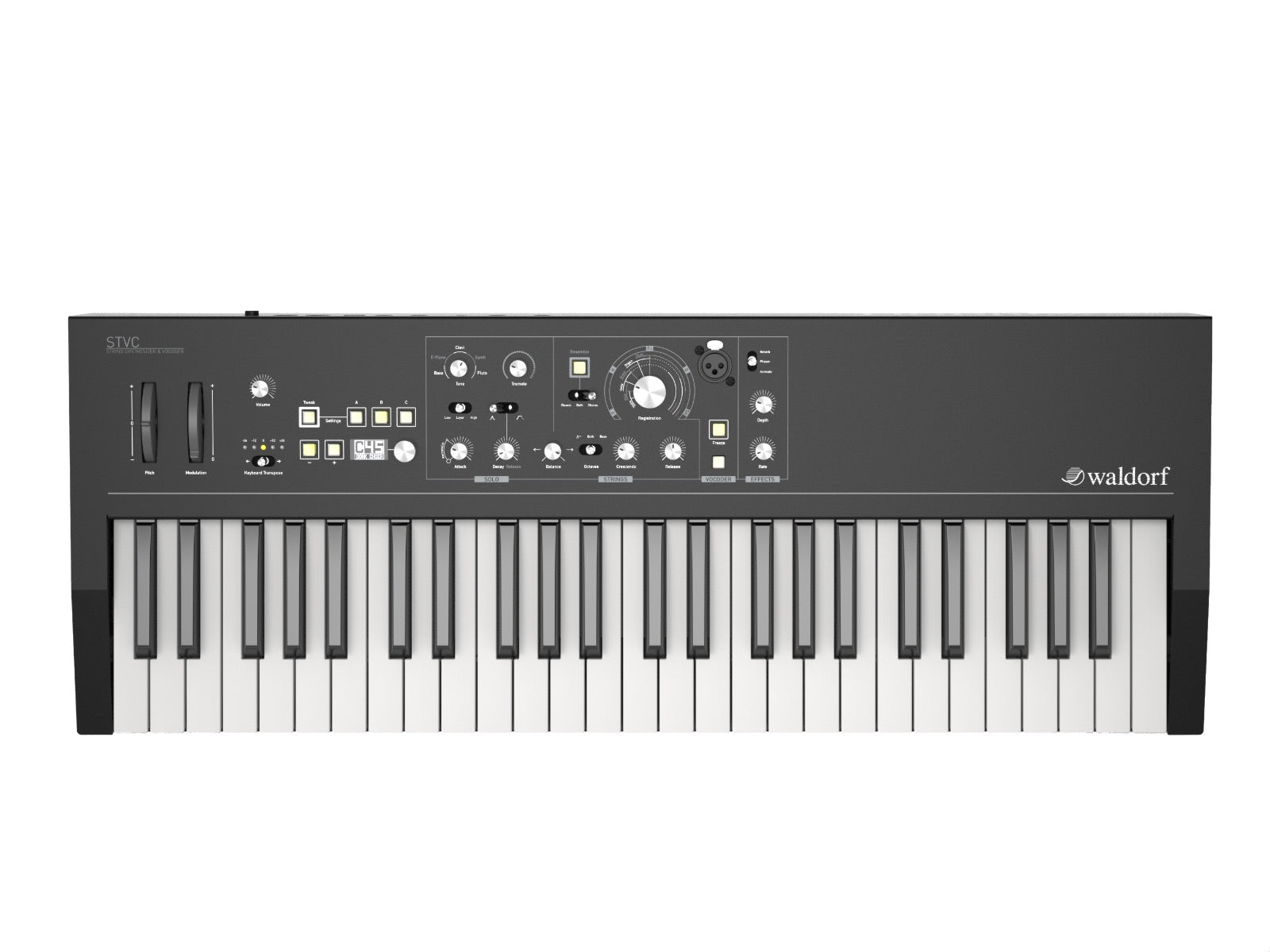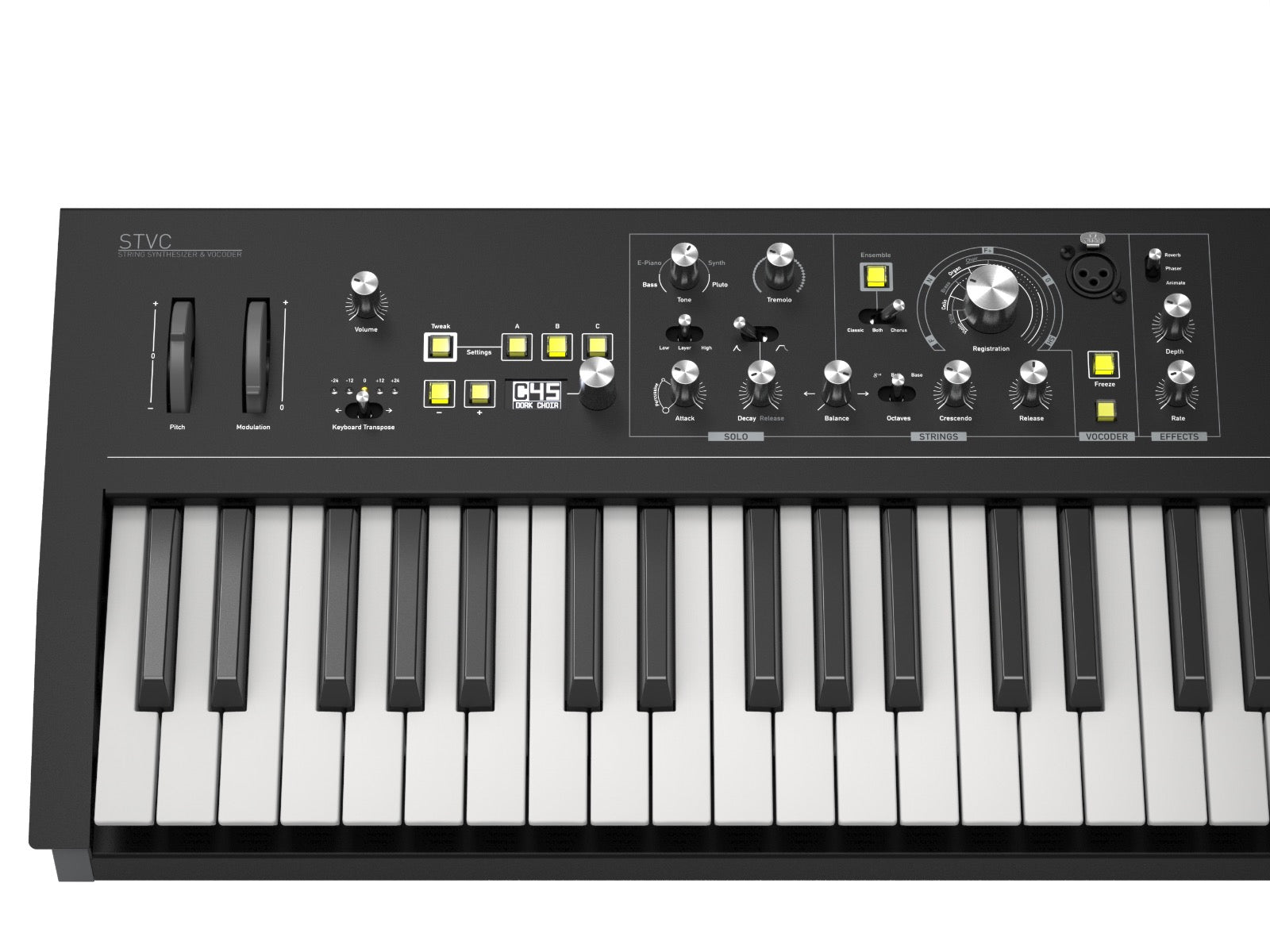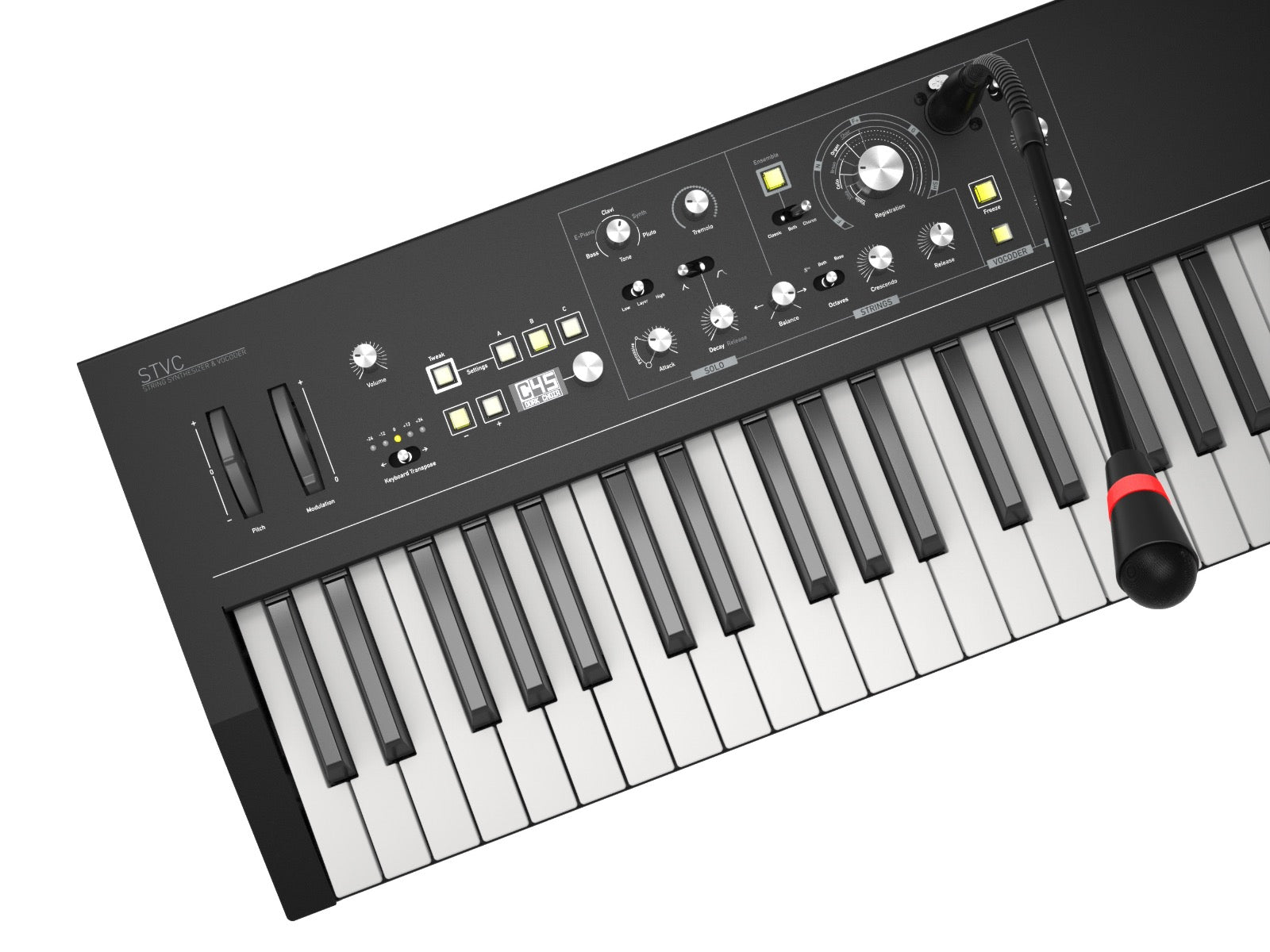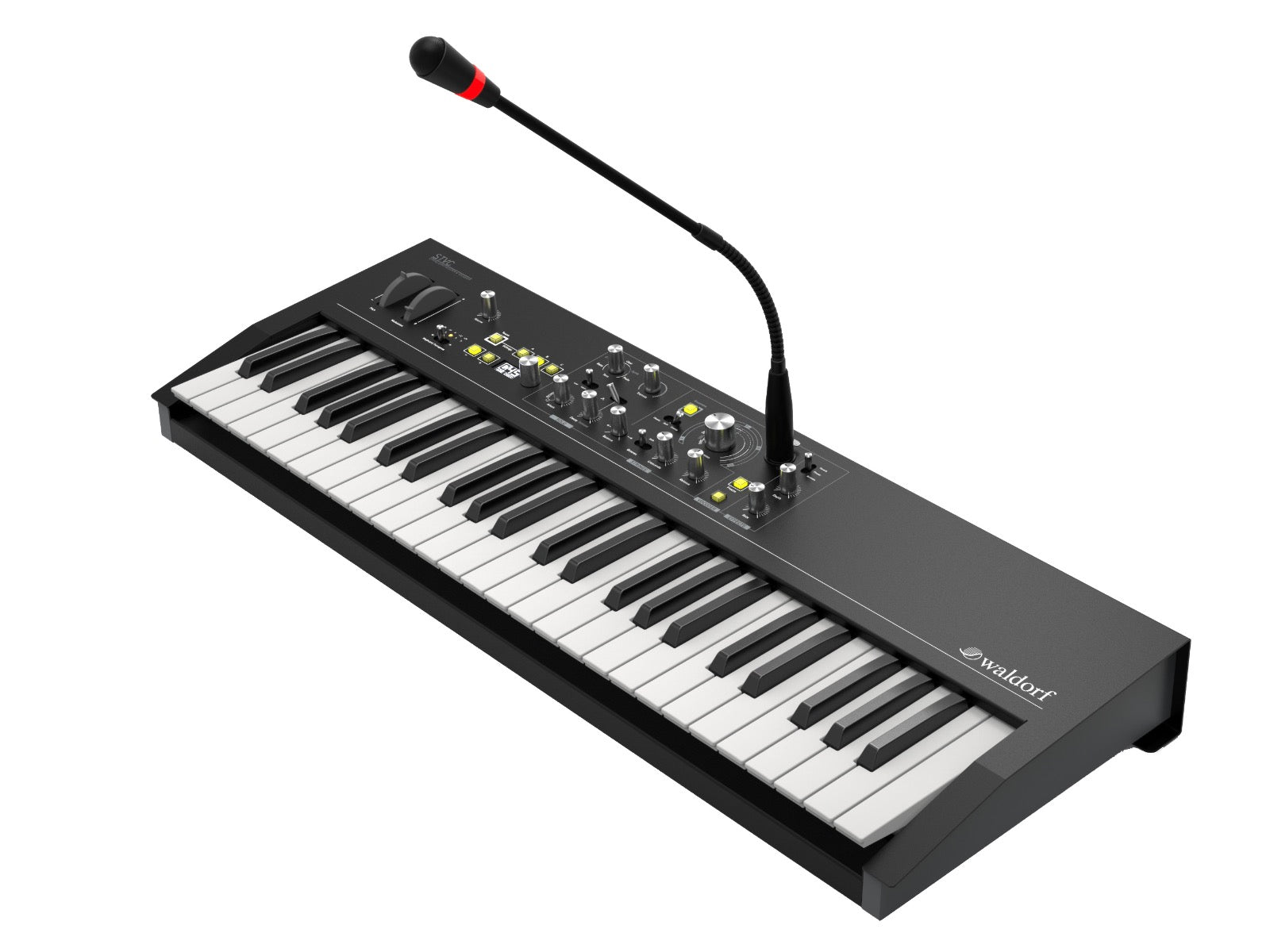 Waldorf STVC String Synthesizer and Vocoder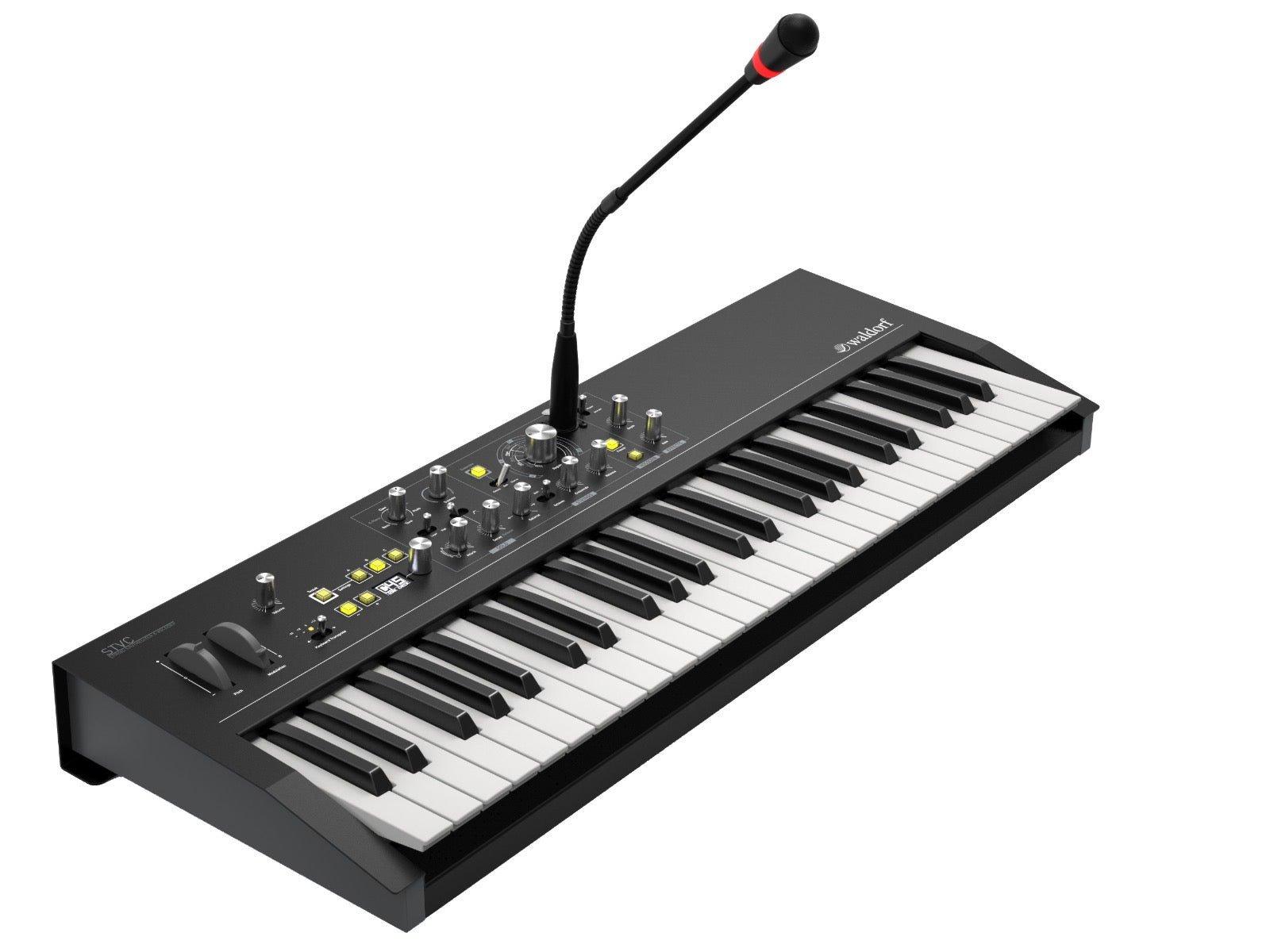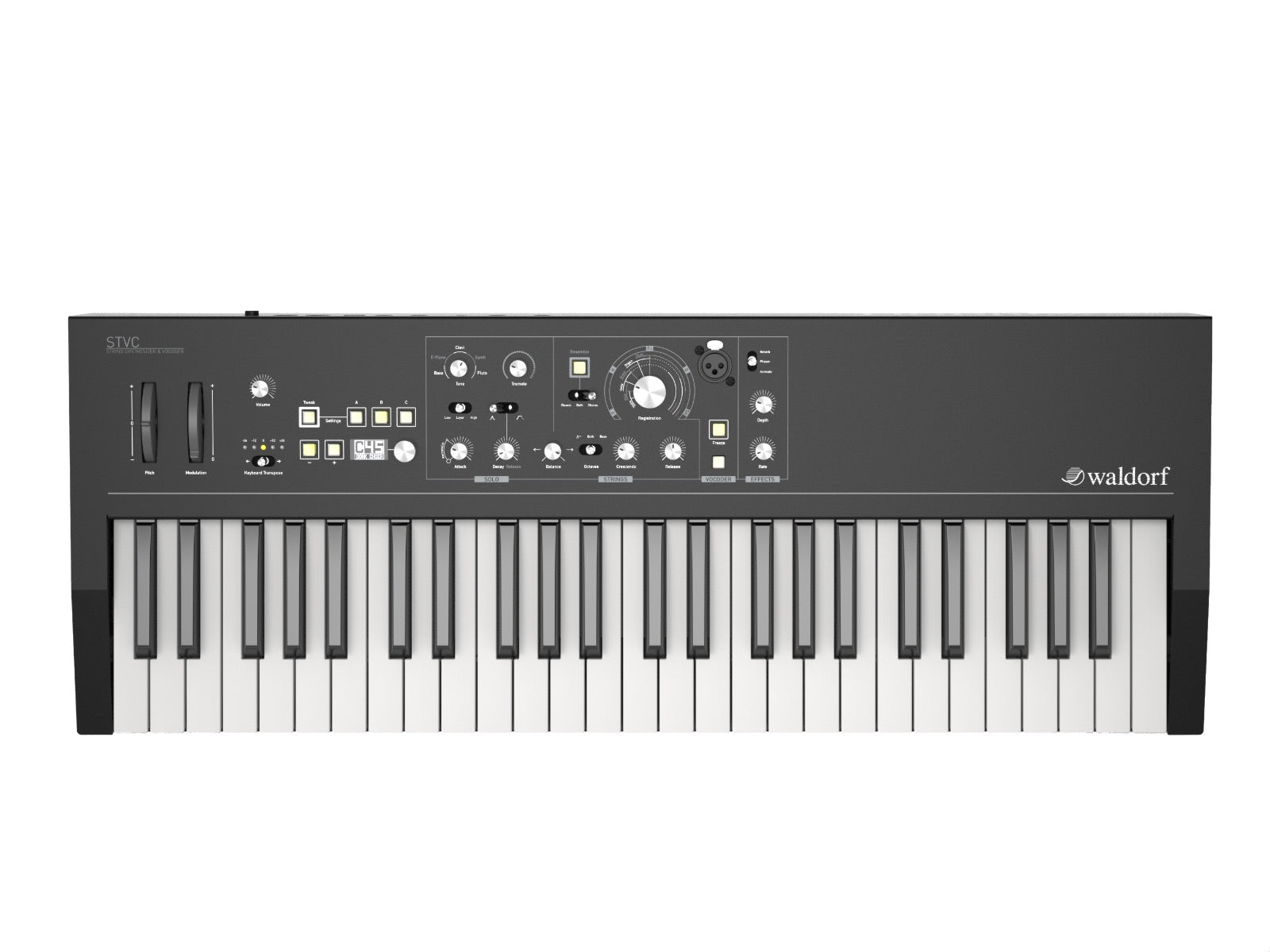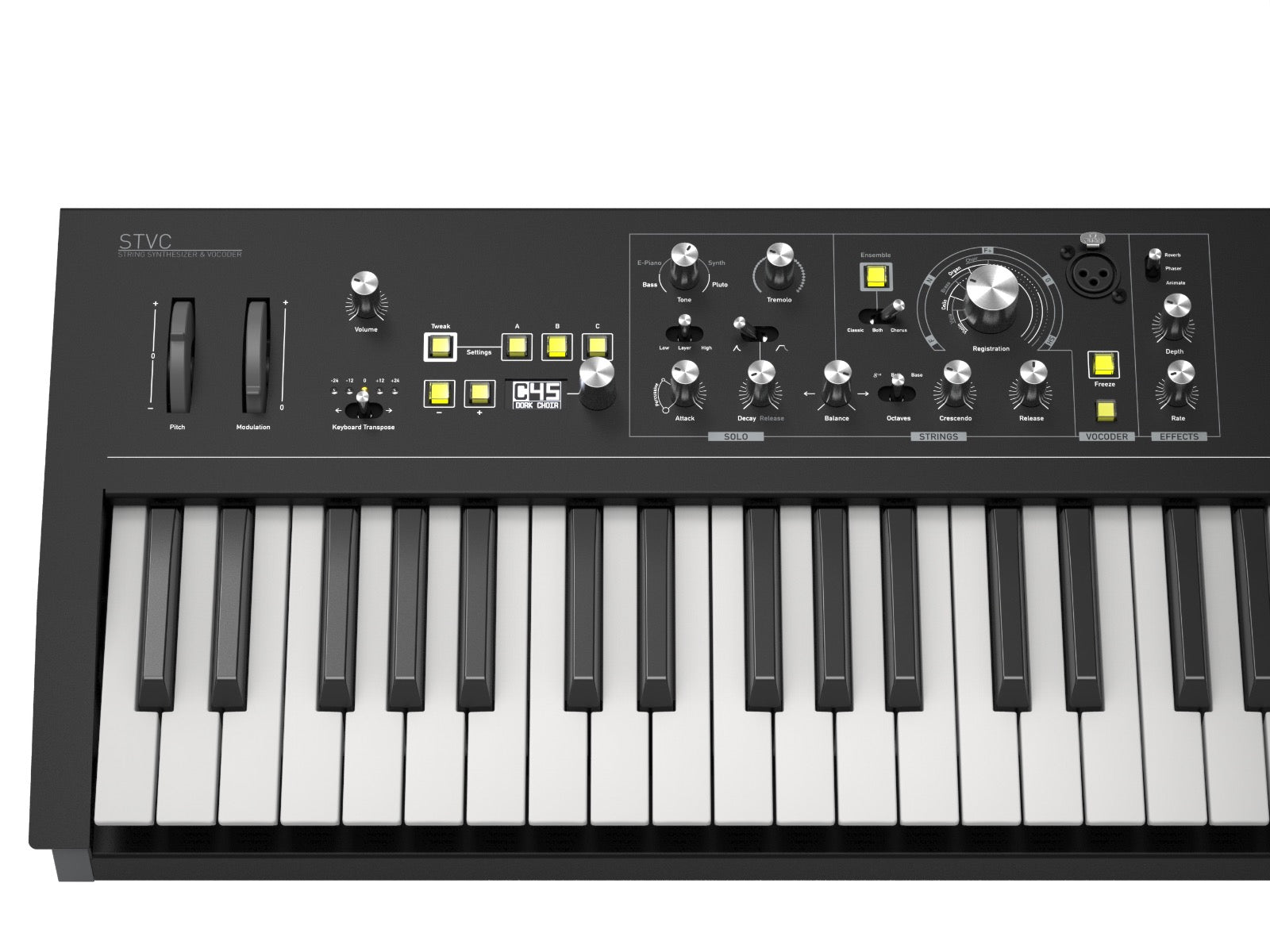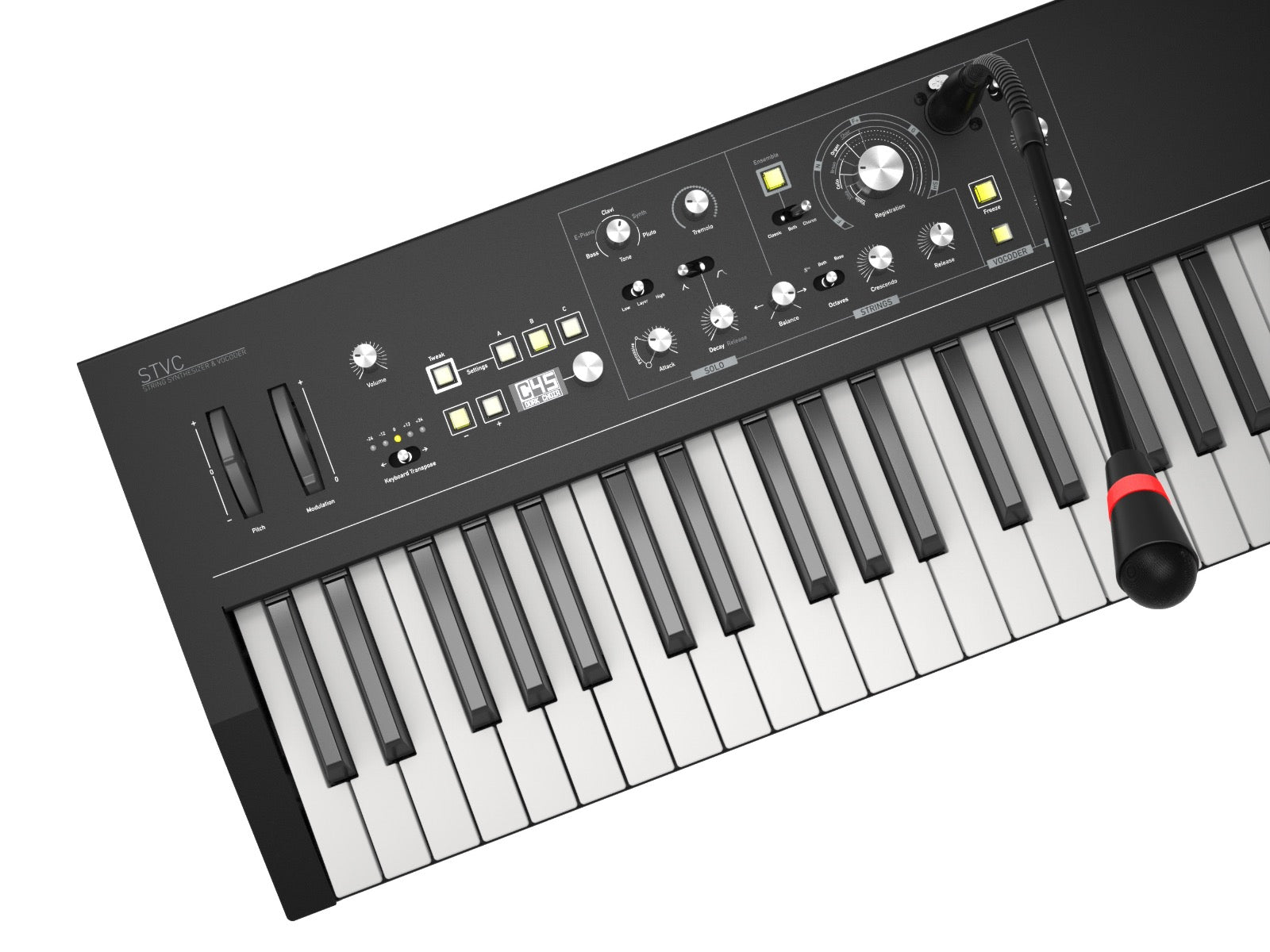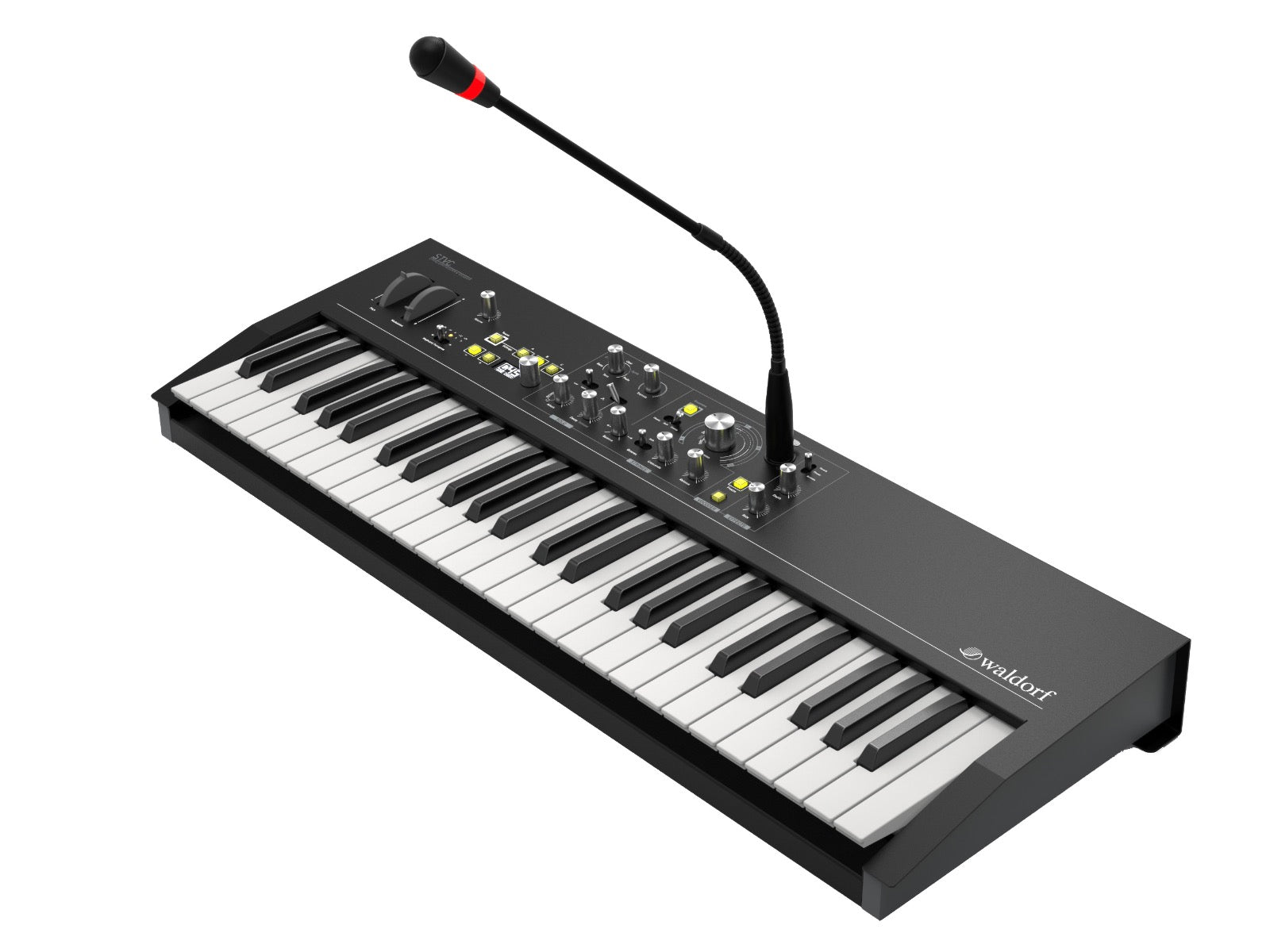 Waldorf STVC String Synthesizer and Vocoder
Based on Waldorf's popular Streichfett string synthesizer module, Waldorf STVC combines the sound engine of Streitchfett with a powerful vocoder, all inside a rugged Blofeld-style chassis with the same great keybed as Blofeld.
The String section starts with an oscillator bank using octave dividers, followed by a complex mixer, an equalizer and an ensemble effect, just like string machines from the 70s. A single Registration knob sweeps through mixer and EQ settings for violin, viola, cello, brass, organ, choir and more for creating rich and creamy sonic textures.
The Solo section is a 16-voice synthesizer that complements the string sounds. A single Tone knob sweeps through many useful settings. Solo is the sidekick to the strings, but it is powerful enough to be the lead character every now and then.
The Vocoder replaces the equalizer in the string section with a filter bank that models the vocal tract from speech input. This can produce quite intelligible speech or singing using the fully polyphonic oscillator bank. Formants can be modified, which can result in a perceived change of gender. Adjustable jitter of the string oscillators renders the voice hoarse, creaky or a complete whisper. Solo can pass through the Vocoder or play in parallel.
The Freeze button lets you freeze a short speech fragment, which is then repeated by the Vocoder whenever a key is pressed. Change of playback speed, like faster, backwards or a complete stop are possible and fun, as well as formant change.
A novel Tweak function allows for modification or modulation of details like the solo cutoff frequency or the Chorus LFO rate. It is similar to a modulation matrix, but it also allows to alter implicit settings with a fixed value or an offset.
Three effects operate simultaneously. Animate is a modulation of the string or vocoder registration, while a Phaser is a must for any decent string machine. A high quality Reverb with adjustable size can be mixed to the output.
STVC comes with a high quality gooseneck microphone that plugs right into the front panel where it belongs.
SKU
WAL-STVC
Vendor
Waldorf
Aftertouch
Yes
Analog Digital
Digital
Built In Speakers
No
Included From Manufacturer
Gooseneck vocoder microphone
Keys Weighted
No
Number of Keys
49
Key Size
Full Size Keys
Midi
In, Out, and USB
Mono Poly
Polyphonic
Mpn
STVC
Audio File Playback
No
Control Connections
1/4" expression pedal input
1/4" sustain footswitch input
Onboard Controllers
Pitch/mod wheels
Effects
Animate (modulates Strings Registration value)
Ensemble/Chorus
Phaser
Reverb
Audio Inputs
Vocoder microphone XLR input on top panel
Audio Outputs
Dual 1/4" stereo output
1/8" stereo headphone output
Key Action
Synth action with velocity and aftertouch
Multitimbral Capability
2 parts
Oscillators per Voice
Varies by Sound Engine
Product Weight
18 lbs.
Programs/Presets
126
USB Flash Drive Port (to Device)
MIDI Recording
USB Port (to Host)
MIDI;System Updates
Voices of Polyphony
128
Width
29.13"
Depth
10.83"
Height
3.94"
Waldorf Limited Warranty
This warranty covers all defects in material and workmanship for a period of one year from the date of original purchase.
During this time, Waldorf Music will repair or replace the product without charge for materials or labor, provided the product was first inspected and found faulty by Waldorf Music or an authorized service center.
You must first contact your dealer or distributor by telephone. Products that were mailed without prior agreement cannot be exchanged or repaired free of charge. The unit must be insured and sent prepared in its original package. Please include a detailed description of the defect. Products that were not send prepared or in the original package will be returned unopened. Waldorf Music reserves the right to upgrade the unit with the latest technological advances if necessary.
This warranty does not cover defects due to abuse, operation under other than specified conditions, or repair by unauthorized persons. The warranty covers only those malfunctions caused by material or workmanship defects that occur during normal operation.
Ground shipping is FREE for all orders $99 and up.