Skip product carousel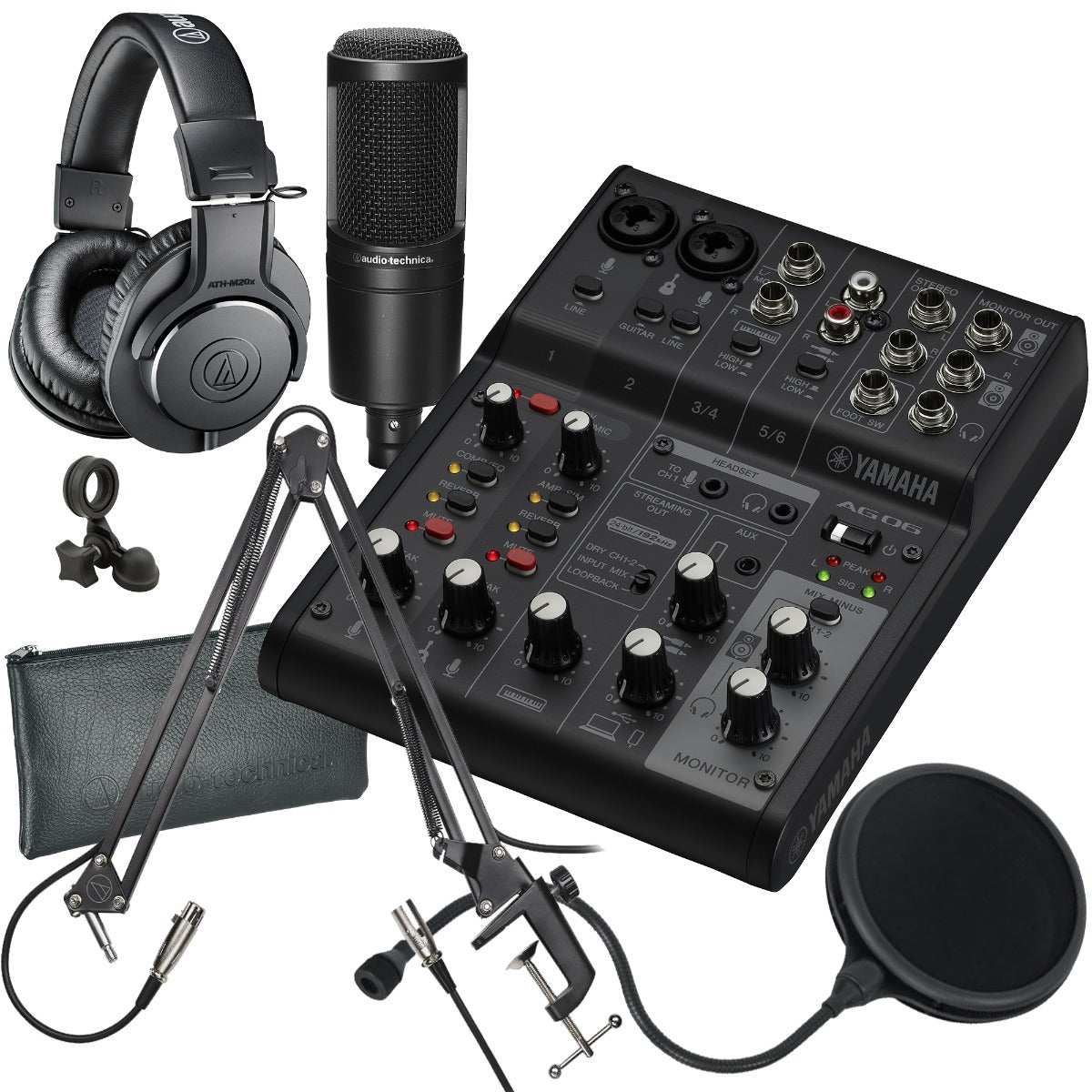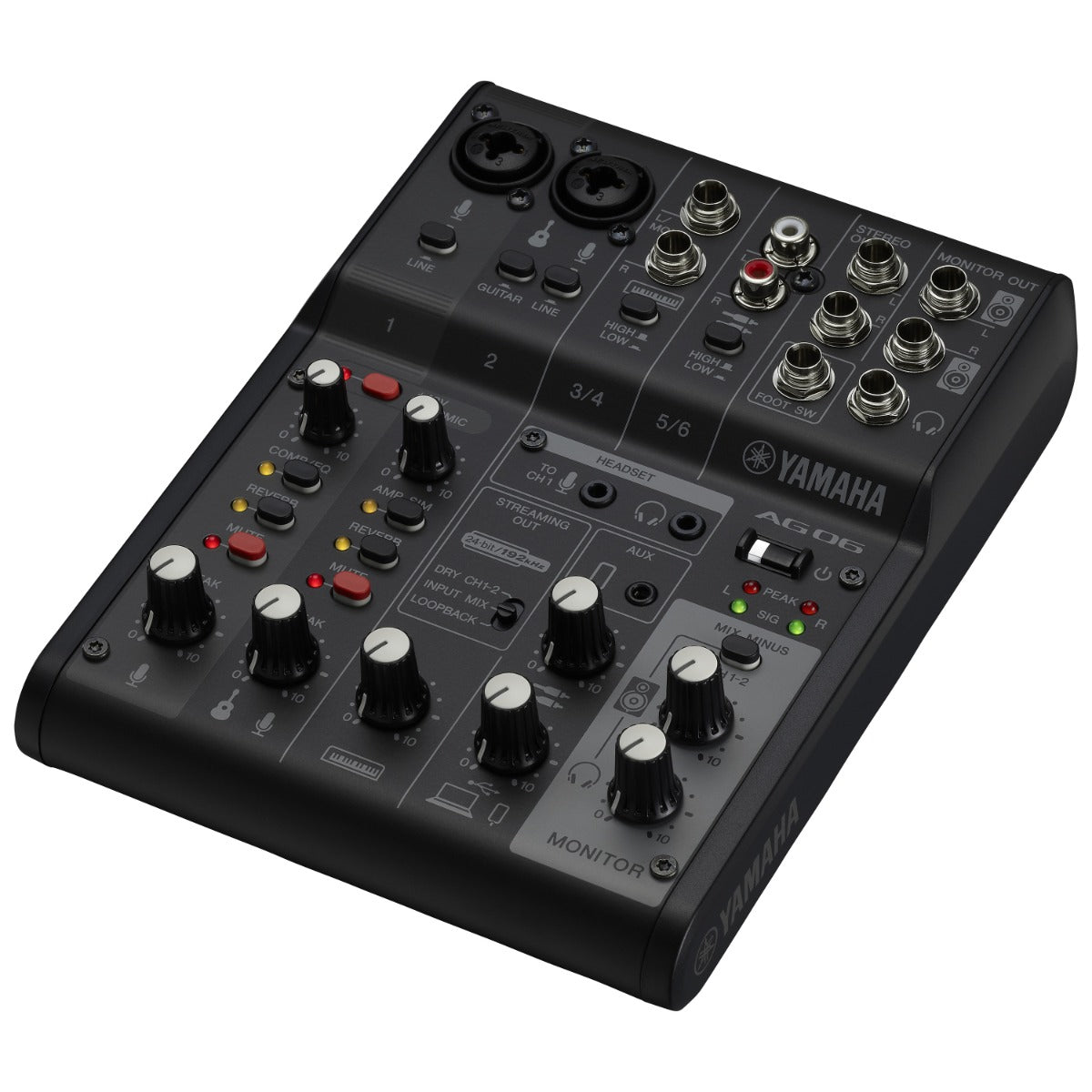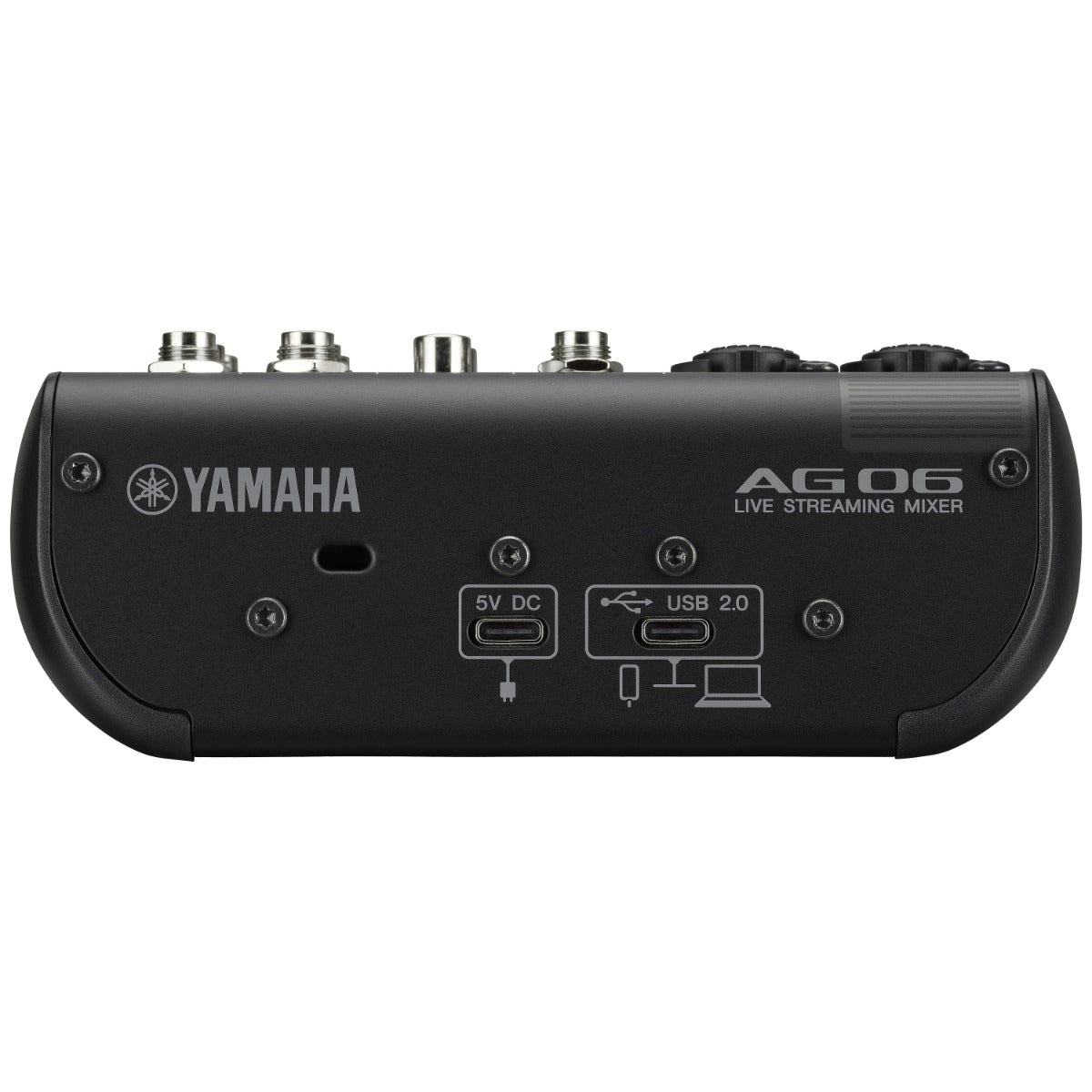 Yamaha AG06 Mk2 Live Streaming Mixer and USB Audio Interface - Black PODCASTING PAK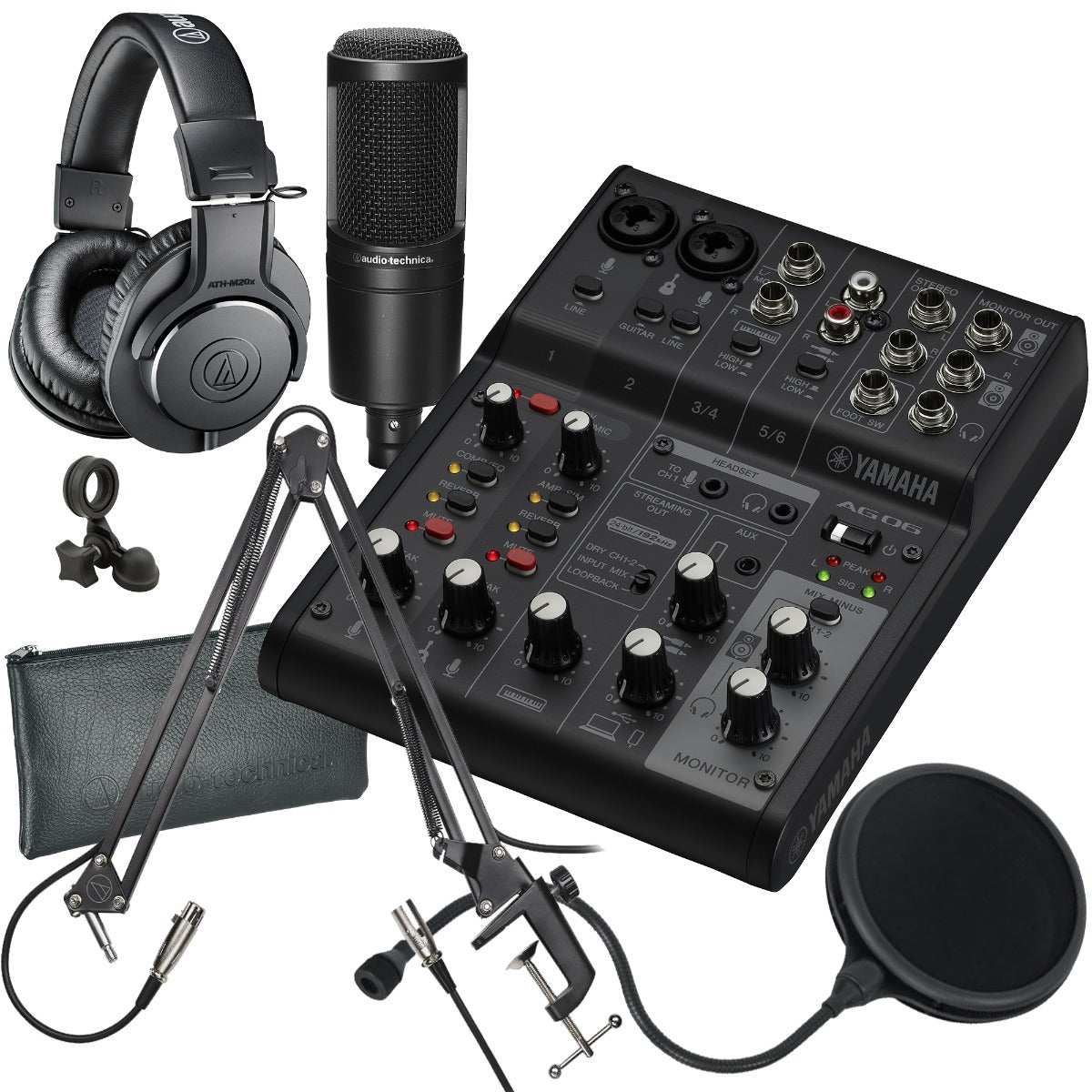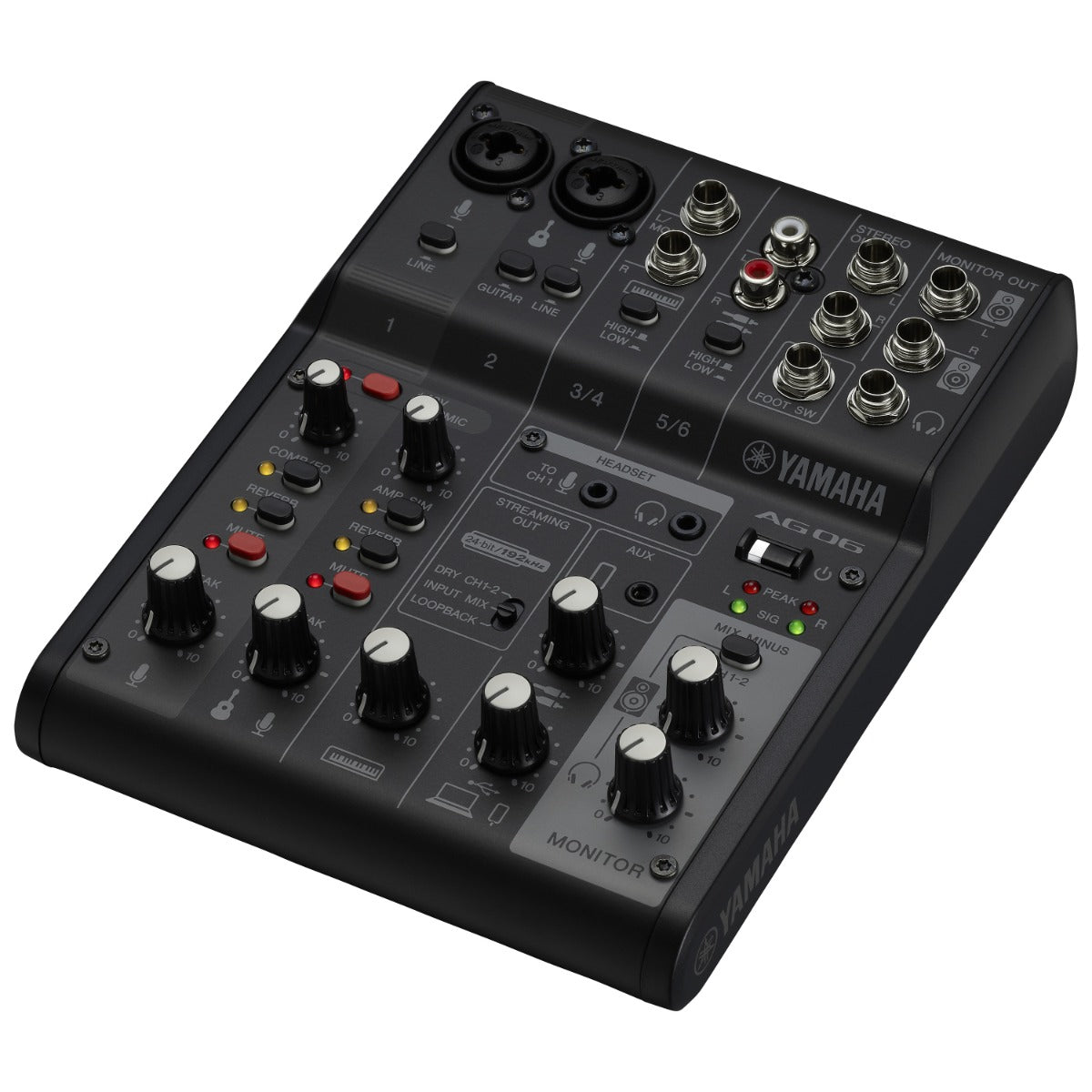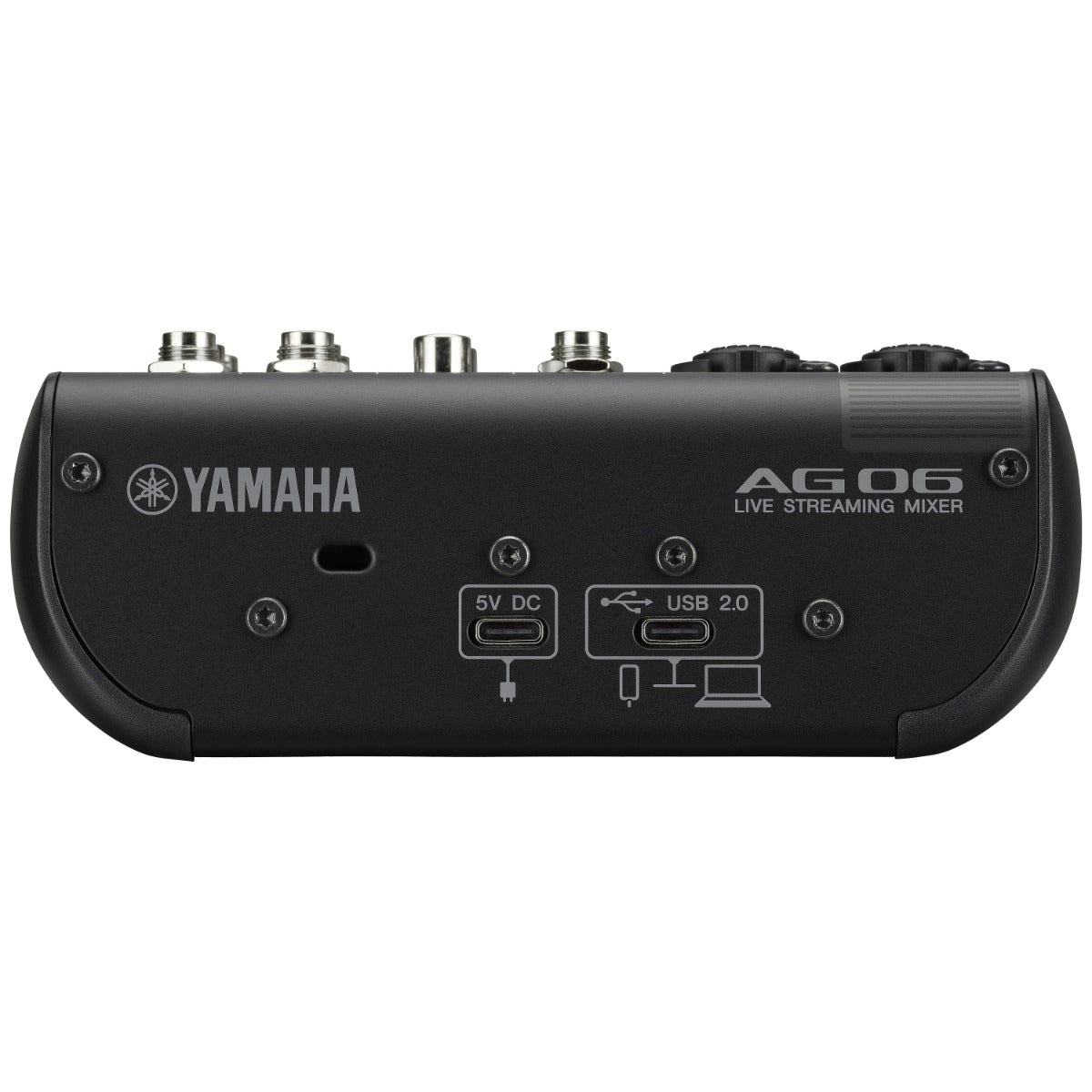 Yamaha AG06 Mk2 Live Streaming Mixer and USB Audio Interface - Black PODCASTING PAK
3 items included
This Kraft Music Bundle Includes
Click on a product to view more details.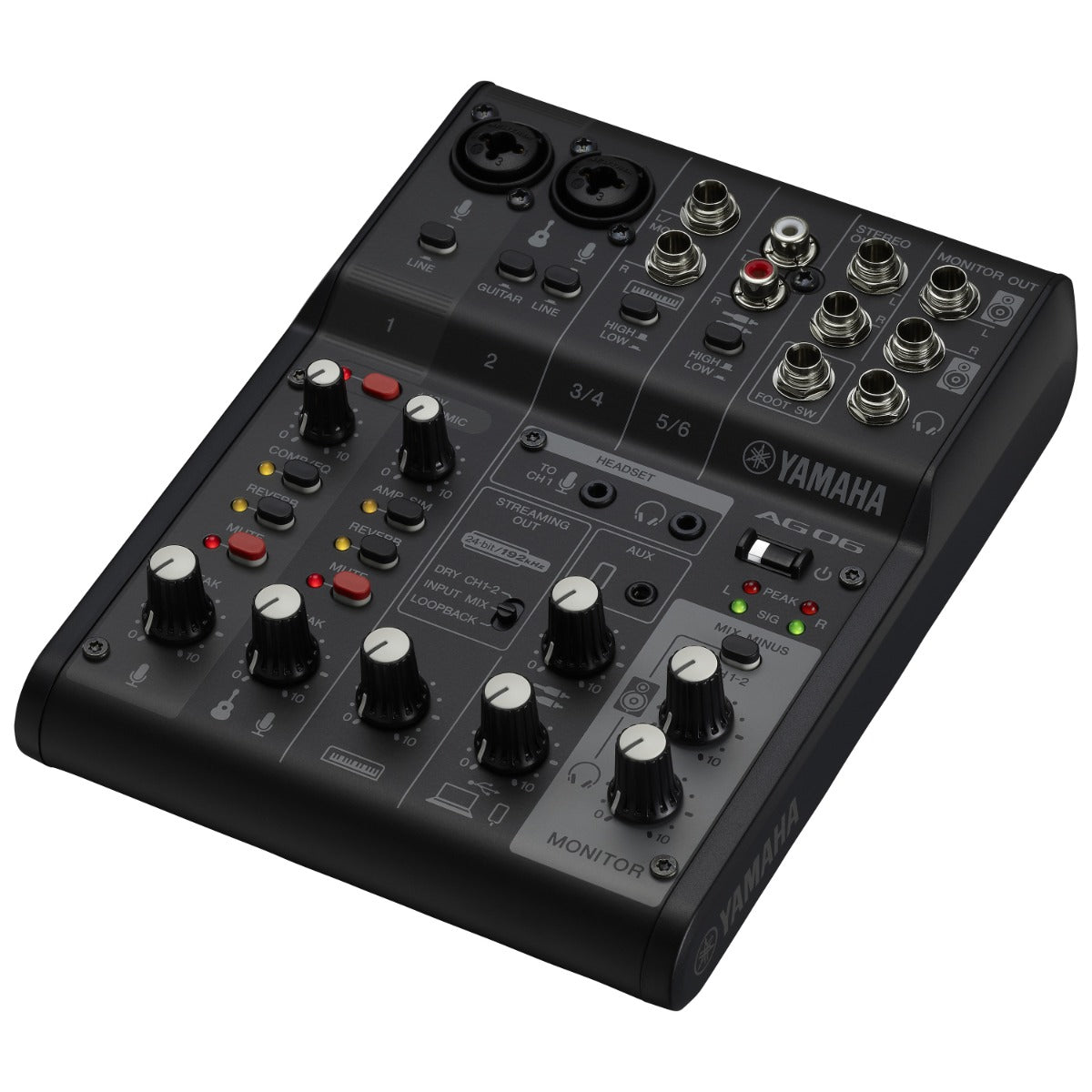 Yamaha AG06 Mk2 Live Streaming Mixer and USB Audio Interface - Black
Sells separately for $229.99
The AG06MK2 is a 6-channel live streaming mixer with a USB audio interface that includes two microphone inputs with phantom power, 1/8" 4-pole mini i/o (TRRS). The AG06MK2 can support a wider range of streaming styles, including dialogue, interviews, and music ensemble.
Want to Customize the Contents of Your Bundle?
Want to add, remove or upgrade this item? Our expert sales advisors are happy to help customize a bundle for you.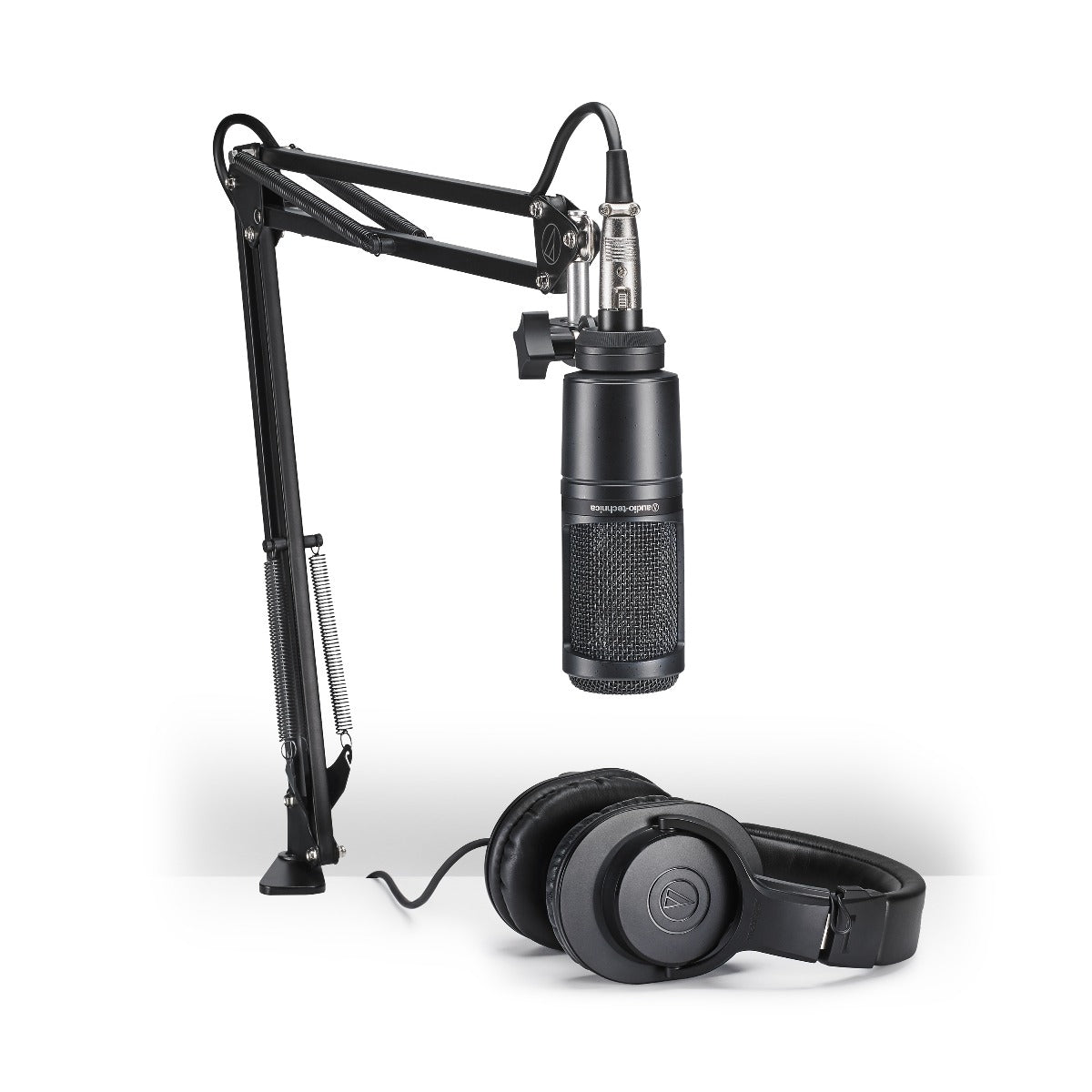 Audio-Technica AT2020PK Streaming/Podcasting Pack
Sells separately for $149.00
The AT2020PK vocal microphone pack is designed for streamers, podcasters, and other content creators who need a versatile, easy-to-install, easy-to-adjust boom microphone setup. The pack includes an AT2020 cardioid condenser microphone, a pair of ATH-M20x professional monitor headphones and a studio boom arm threaded with a XLR cable.
Want to Customize the Contents of Your Bundle?
Want to add, remove or upgrade this item? Our expert sales advisors are happy to help customize a bundle for you.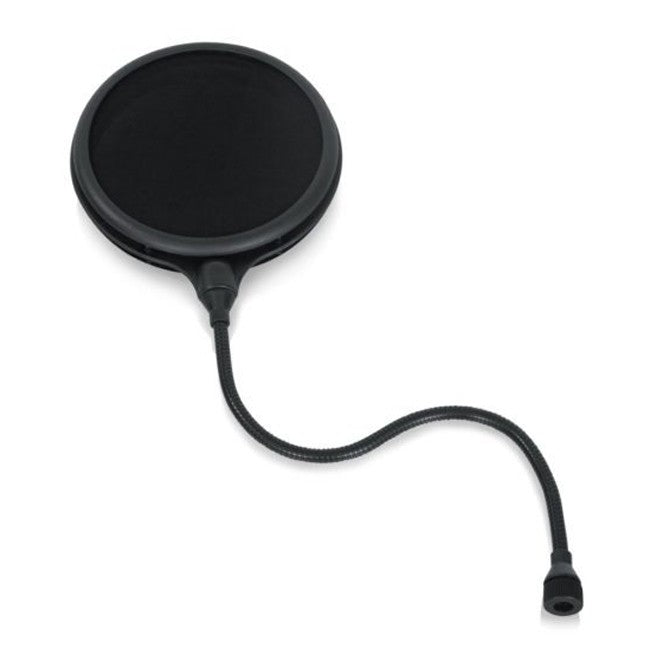 Rok-It Microphone Popfilter by Gator
Sells separately for $13.99
This pop filter removes unwanted P and B consonants in recorded vocals. The universal mounting clamp fits onto most mic stands and the flexible gooseneck allows for precise positioning.
Want to Customize the Contents of Your Bundle?
Want to add, remove or upgrade this item? Our expert sales advisors are happy to help customize a bundle for you.
Two heads are better than one, and when it comes to live streaming, the same can be said for microphone inputs. The AG06MK2 offers the same user-friendly configuration and operation that has become synonymous with the AG series, but also comes equipped with two phantom powered mic inputs for condenser microphones. Combined with a flexible range of inputs includes with an additional 1/8" 4-pole mini i/o (TRRS), the AG06MK2 opens up a broader range of ensemble dialogue, interview, or musical performance streaming styles.
Expand your Streaming Capabilities
The AG06MK2 allows you to connect two condenser microphones of your choice, as well as two stereo line inputs for instruments, and an upgraded 4-pole mini jack (TRRS) for smartphone input/output capability. Of course, it's also possible to add audio from devices connected via USB in LOOPBACK mode as with previous AG models. This diverse range of connectivity makes it possible to use high-sensitivity microphones, along with each of the audio sources, for a variety of streaming applications such as podcasts with dialogue, interviews, vocal performances with an acoustic instrument, or even a live band.
Fast, intuitive sonic control
With a design similar to a mixing console, the AG06MK2 is equipped with a variety of physical controls that help you shape and manage the audio you stream to your audience. The newly added mute button allows you to cut your mic input at a moment's notice if your situation demands it, and can even be controlled using Yamaha's FC5 dedicated foot switch (sold separately) which can also add reverb to your signal while keeping your hands free for other tasks.
Improved internal circuitry for more professional-sounding audio
Sound quality can often be a deciding factor for whether someone will tune in to your live streaming content. With the adoption of USB-C, and the requisite improved internal circuitry, the AG06MK2 significantly elevates sound quality, giving your streaming a more professional edge.
Shape your sound like a pro with zero-latency DSP effects
Regardless of your particular streaming application, you'll want to give it some depth and dimension, which adds a level of professionalism. The AG06MK2 comes equipped with optimized 1-TOUCH COMP/EQ and REVERB controls to dial in the sound that best suits your style, and a 1-TOUCH amp simulator to add authenticity and punch to your guitar input. All these tools are processed by the internal DSP chip so there's no delay, making it particularly valuable for live streaming when real-time accuracy is crucial. And when you want to capture pure, raw recordings through your preferred microphone and edit them later, you have the option to turn these effects off completely.
AG Controller provides precise control
AG Controller software allows users to easily and precisely check and configure the DSP audio processing inside the AG. Offering two modes of operation, "Simple" and "Detail," AG Controller gives users of varying music production experience detailed management of their audio from any Windows/Mac or iOS device connected to the AG06MK2 via USB.
Adapt to your surroundings
The sleek, slim, and compact body of the AG06MK2 can be placed on virtually any flat surface. By combining it with the optional BMS-10A adaptor, it can be installed on a microphone stand. It can also be connected to a mobile battery to configure a minimalistic, mobile streaming station anywhere.
*For stable operation of the AG06MK2, a power supply of DC 5V 900mA or more is required.
*BMS-10A and mobile battery are sold separately.
Powerful bundled software
The AG06MK2 comes bundled with Cubase AI music production software, as well as WaveLab Cast for audio production and editing. The AG06MK2 is also compatible with Rec'n'Share and Cubasis LE applications for iOS devices which are available free of charge from Yamaha and Steinberg to support and inspire your audio content creation.

SKU
YAM-AG06MK2BPCP
MPN
AG06 Mk2 Live Streaming Mixer and USB Audio Interface - Black
Vendor
Yamaha
Connectivity
USB
Included From Manufacturer
USB 2.0 Cable (1.5m)

Wavelab Cast Download Information
Mic Preamps
2
Mixer Channel Filterable
6
Mixer Type
Analog
Mpn
AG06MK2 B
Simultaneous Inputs
4
Number of Faders
(5) Potentiometers
Audio Inputs
(2) XLR Mic
(1) 1/8" Headset Mic
(2) 1/4" Guitar
(1) Stereo Dual 1/4"
(1) 1/8" 4-pole mini i/o (TRRS)
Audio Outputs
(1) Stereo Dual RCA
(2) Stereo Dual 1/4"
(1) 1/8" Headphone
(1) 1/4" Headphone
Main EQ
1-TOUCH EQ
Phantom Power
+48 V
Product Weight
2.866 lbs
Width
9.016"
Depth
9.331"
Height
4.528"
Yamaha Live Sound Products Limited Warranty
Thank you for selecting a Yamaha product. Yamaha products are designed and manufactured to provide a high level of defect-free performance. Yamaha Corporation of America ('Yamaha') is proud of the experience and craftsmanship that goes into each and every Yamaha product. Yamaha sells its products through a network of reputable, specially authorized dealers and is pleased to offer you, the Original Owner, the following Limited Warranty, which applies only to products that have been (1) directly purchased from Yamaha's authorized dealers in the fifty states of the USA and District of Columbia (the 'Warranted Area') and (2) used exclusively in the Warranted Area. Yamaha suggests that you read the Limited Warranty thoroughly, and invites you to contact your authorized Yamaha dealer or Yamaha Customer Service if you have any questions.
This warranty covers the listed products against defects in materials or workmanship for the following periods:
DBR series powered loudspeakers: seven (7) years
DSR series powered loudspeakers: seven (7) years
DXR series powered loudspeakers: seven (7) years
DXS series powered subwoofers: seven (7) years
BR series passive loudspeakers: three (3) years
CBR series passive loudspeakers: three (3) years
Club series passive loudspeakers: three (3) years
P series power amplifiers: three (3) years
MSR series powered loudspeakers: three (3) years
MG series mixers: one (1) year
EMX series powered mixers: one (1) year
STAGEPAS series PA system: one (1) year
SPX/Q signal processors: one (1) year
Loudspeaker accessories: one (1) year
Other Yamaha live sound products: one (1) year
Yamaha will, at its option, repair or replace the product covered by this warranty if it becomes defective, malfunctions or otherwise fails to conform with this warranty under normal use and service during the term of this warranty, without charge for labor or materials. Repairs may be performed using new or refurbished parts that meet or exceed Yamaha specifications for new parts. If Yamaha elects to replace the product, the replacement may be a reconditioned unit. You will be responsible for any installation or removal charges and for any initial shipping charges if the product(s) must be shipped for warranty service. However, Yamaha will pay the return shipping charges to any destination within the USA if the repairs are covered by the warranty.
This warranty does not cover (a) damage, deterioration or malfunction resulting from accident, negligence, misuse, abuse, improper installation or operation or failure to follow instructions according to the Owner's Manual for this product; any shipment of the product (claims must be presented to the carrier); repair or attempted repair by anyone other than Yamaha or an authorized Yamaha Service Center; (b) any unit which has been altered or on which the serial number has been defaced, modified or removed; (c) normal wear and any periodic maintenance; (d) deterioration due to perspiration, corrosive atmosphere or other external causes such as extremes in temperature or humidity; (e) damages attributable to power line surge or related electrical abnormalities, lightning damage or acts of God; or (f) RFI/EMI (Interference/noise) caused by improper grounding or the improper use of either certified or uncertified equipment, if applicable.
Any evidence of alteration, erasing or forgery of proof-of-purchase documents will cause this warranty to be void. This warranty covers only the Original Owner and is not transferable.
Warranty service will only be provided for defective products within the Warranted Area. Contact your local authorized Yamaha dealer who will advise you of the procedures to be followed. If this is not successful, contact Yamaha directly. Yamaha may request that you send the defective product to a local authorized Yamaha Servicer or authorize return of the defective product to Yamaha for repair. If you are uncertain as to whether a dealer has been authorized by Yamaha, please contact Yamaha's Service Department or check Yamaha's website.
Product(s) shipped for service should be packed securely and must be accompanied by a detailed explanation of the problem(s) requiring service, together with the original or a machine reproduction of the bill of sale or other dated, proof-of-purchase document describing the product, as evidence of warranty coverage. Should any product submitted for warranty service be found ineligible therefore, an estimate of repair cost will be furnished and the repair will be accomplished only if requested by you and upon receipt of payment or acceptable arrangement for payment.
Any implied warranties, including warranties of merchantability and fitness for a particular purpose shall be limited in duration to the applicable period of time set forth above. Yamaha shall not be responsible for incidental or consequential damages or for damages based upon inconvenience, loss of use, damage to any other equipment or other items at the site of use or interruption of performances or any consequences. Yamaha's liability for any defective product is limited to repair or replacement of the product, at Yamaha's option.
Some states do not allow limitations on how long an implied warranty lasts or the exclusion or limitation of incidental or consequential damages, so the above limitation or exclusion may not apply to you. This Warranty gives you specific legal rights, and you may also have other rights which vary from state to state. This is the only express warranty applicable to the product specified herein; Yamaha neither assumes nor authorizes anyone to assume for it any other express warranty.
Standard Shipping