Skip product carousel
Bonus Item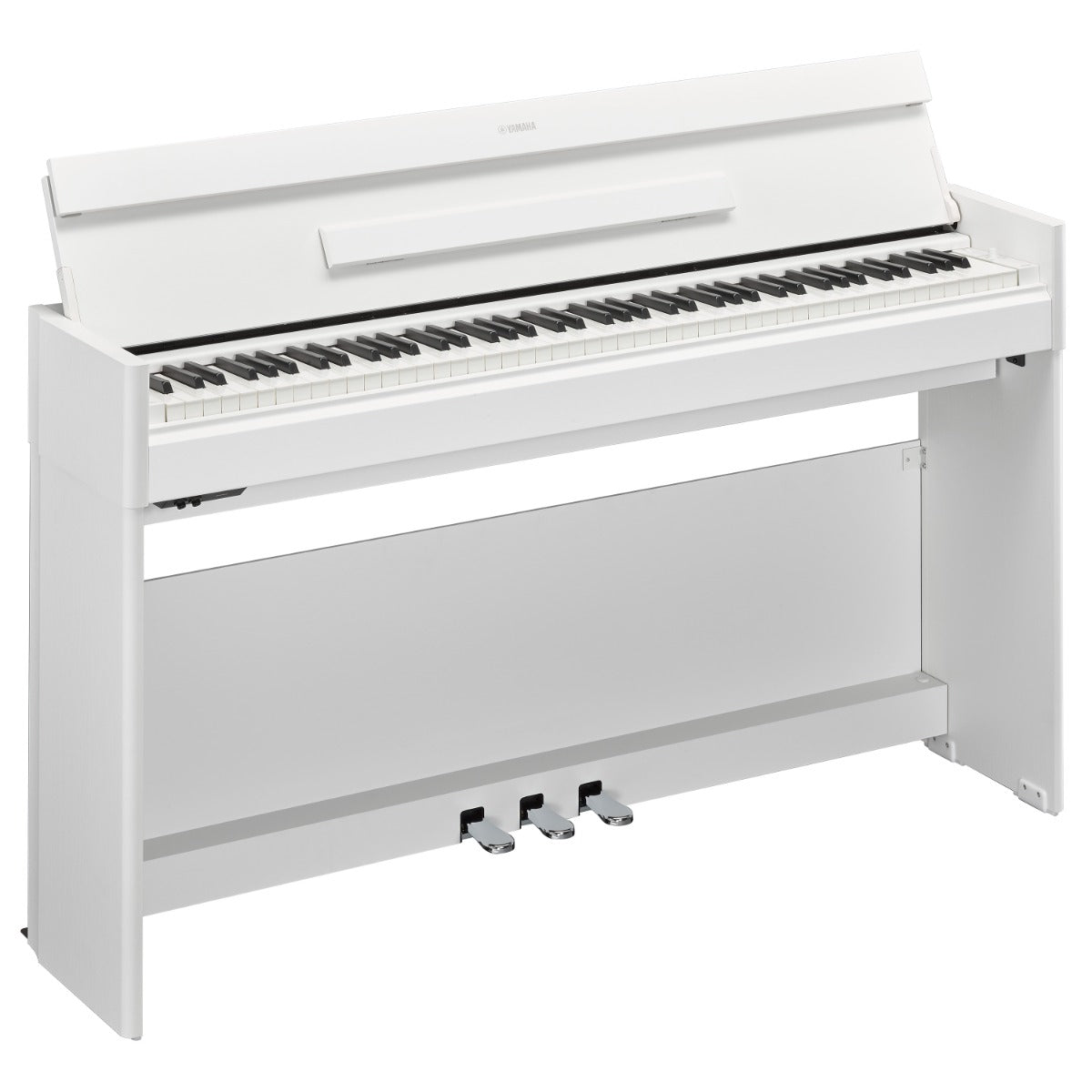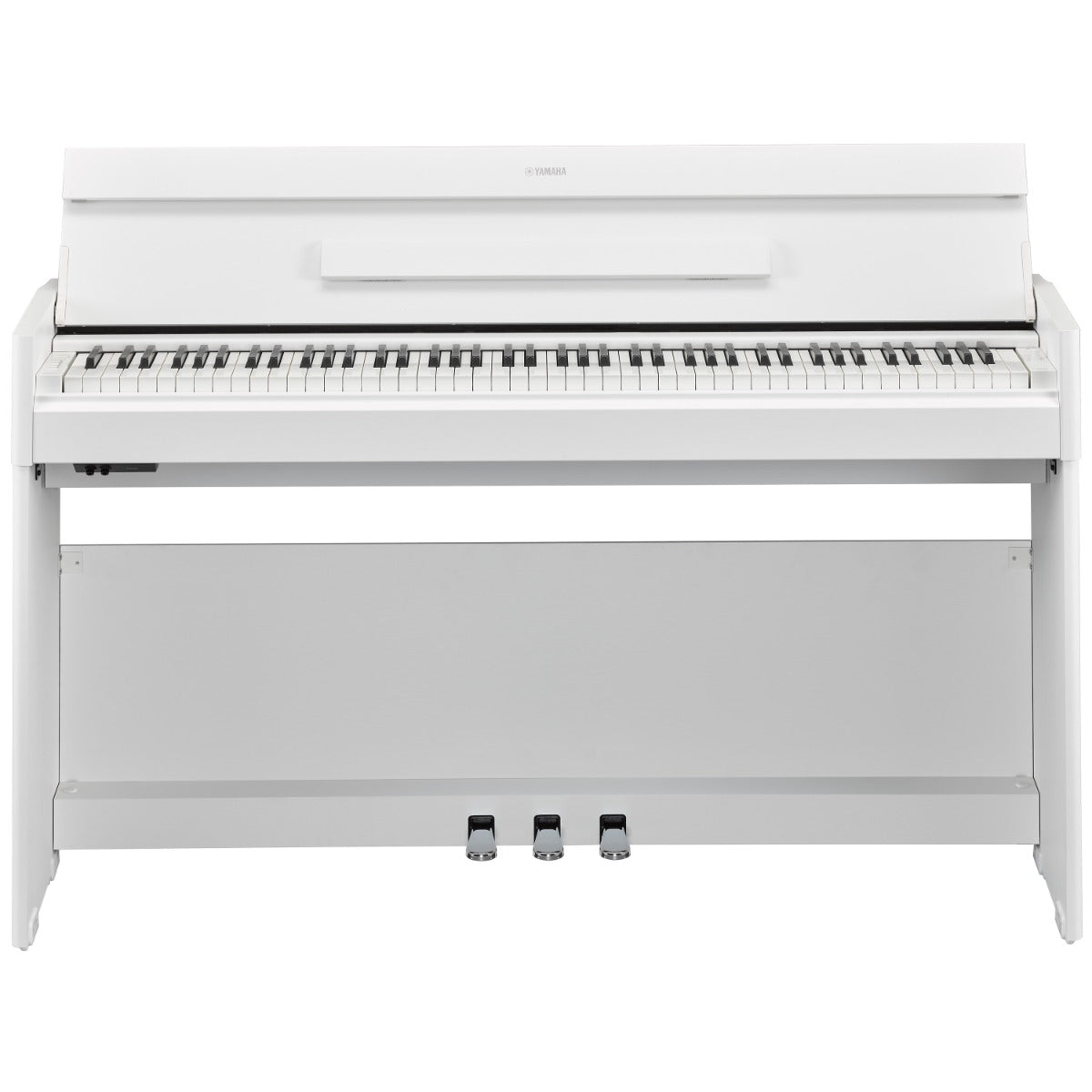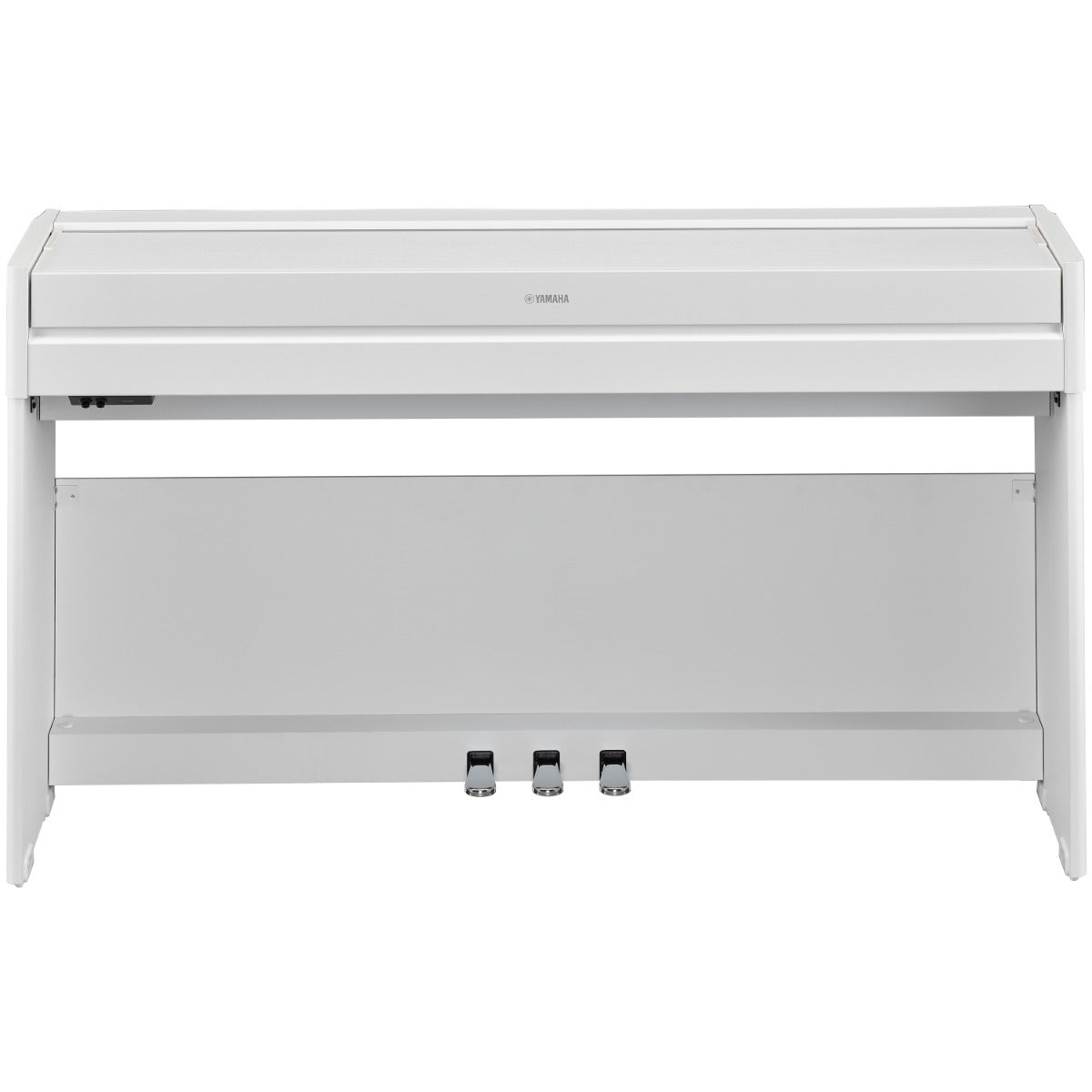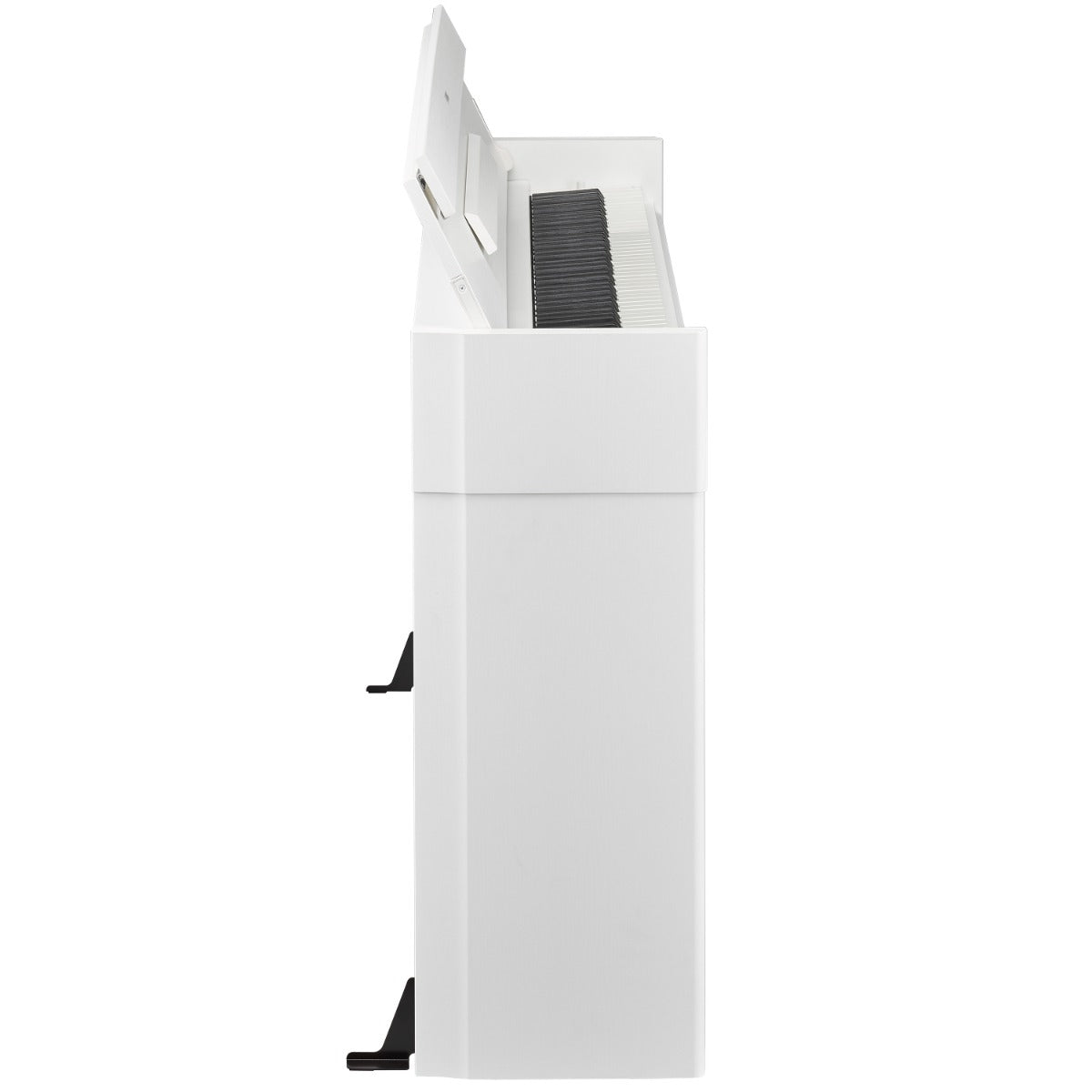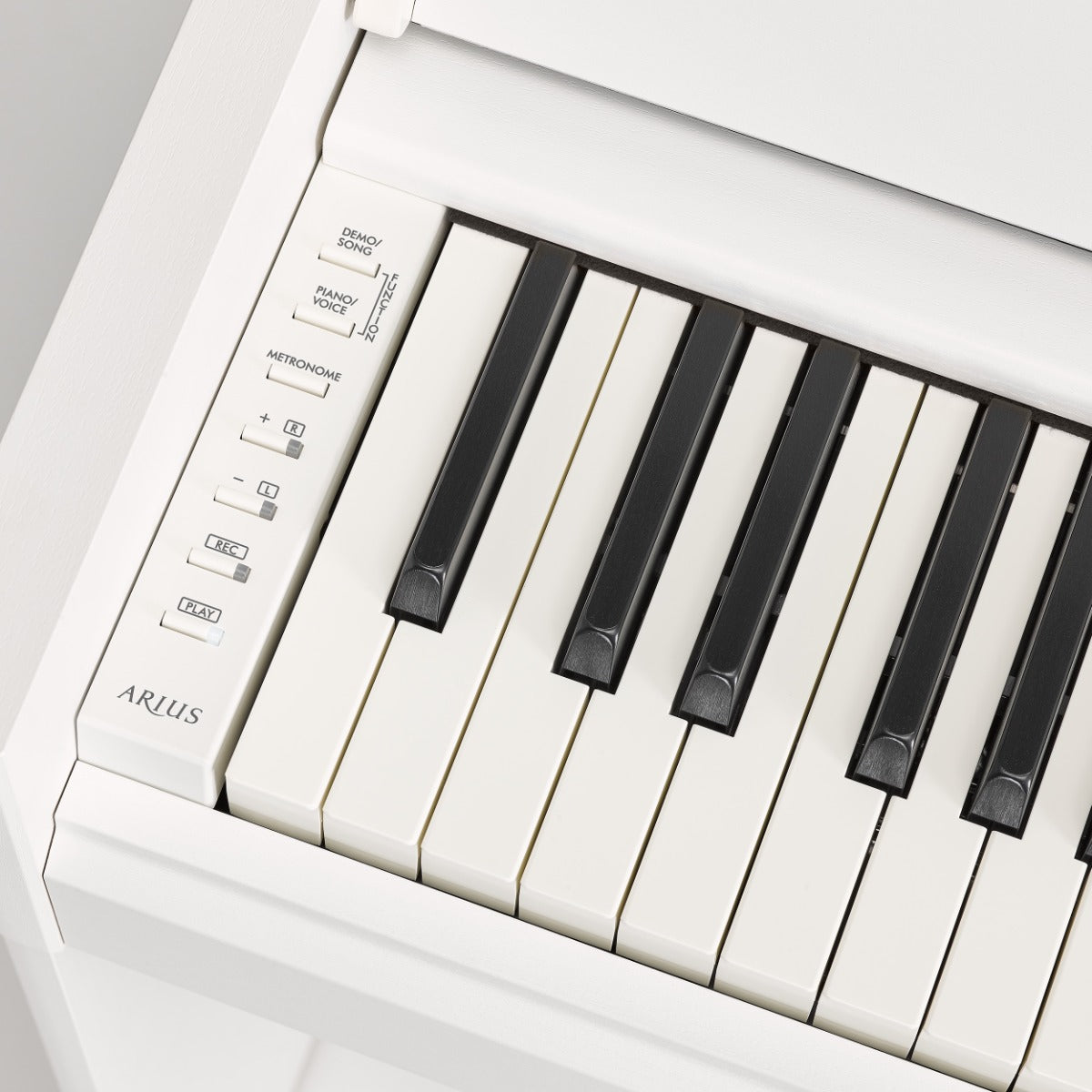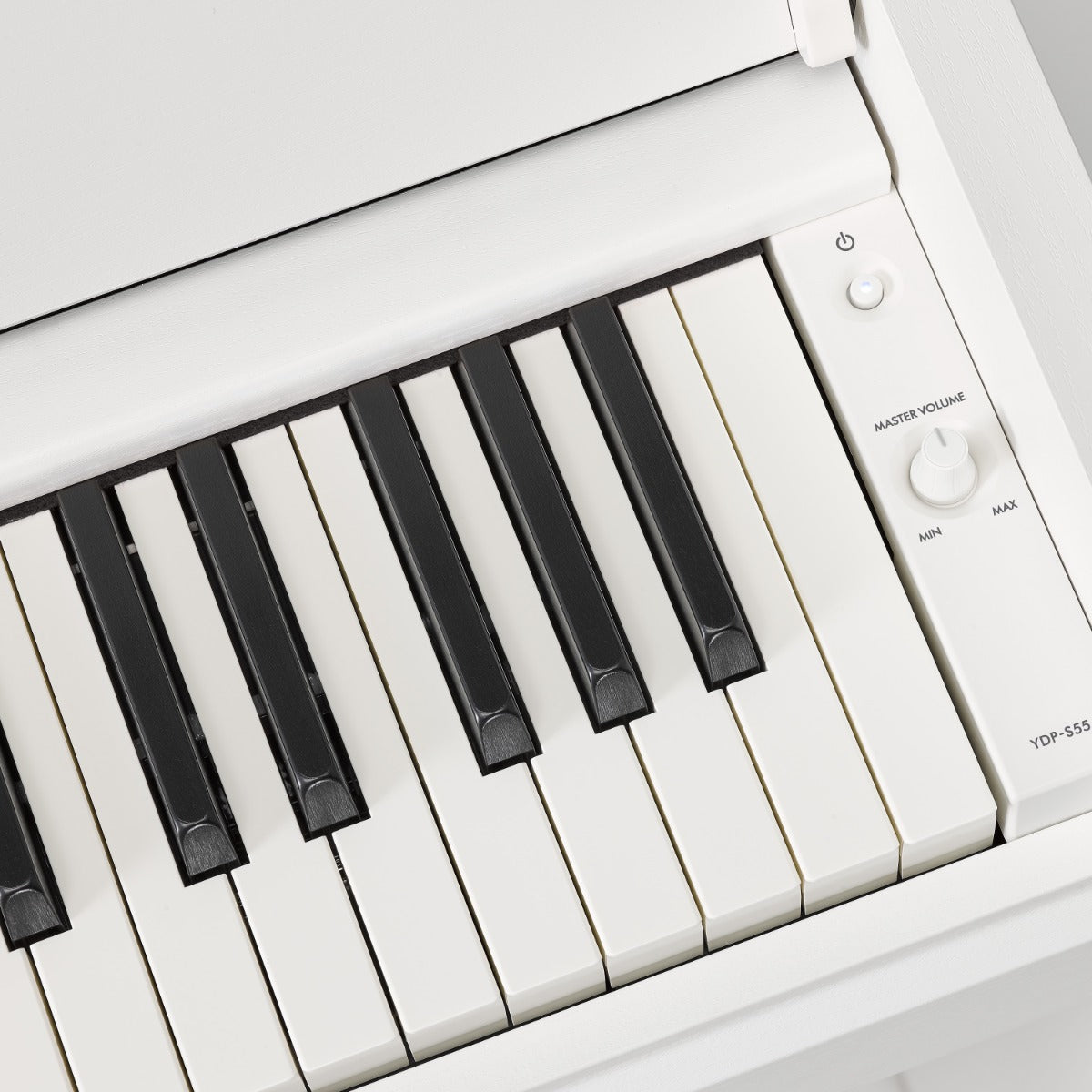 Yamaha Arius YDP-S55 Digital Piano - White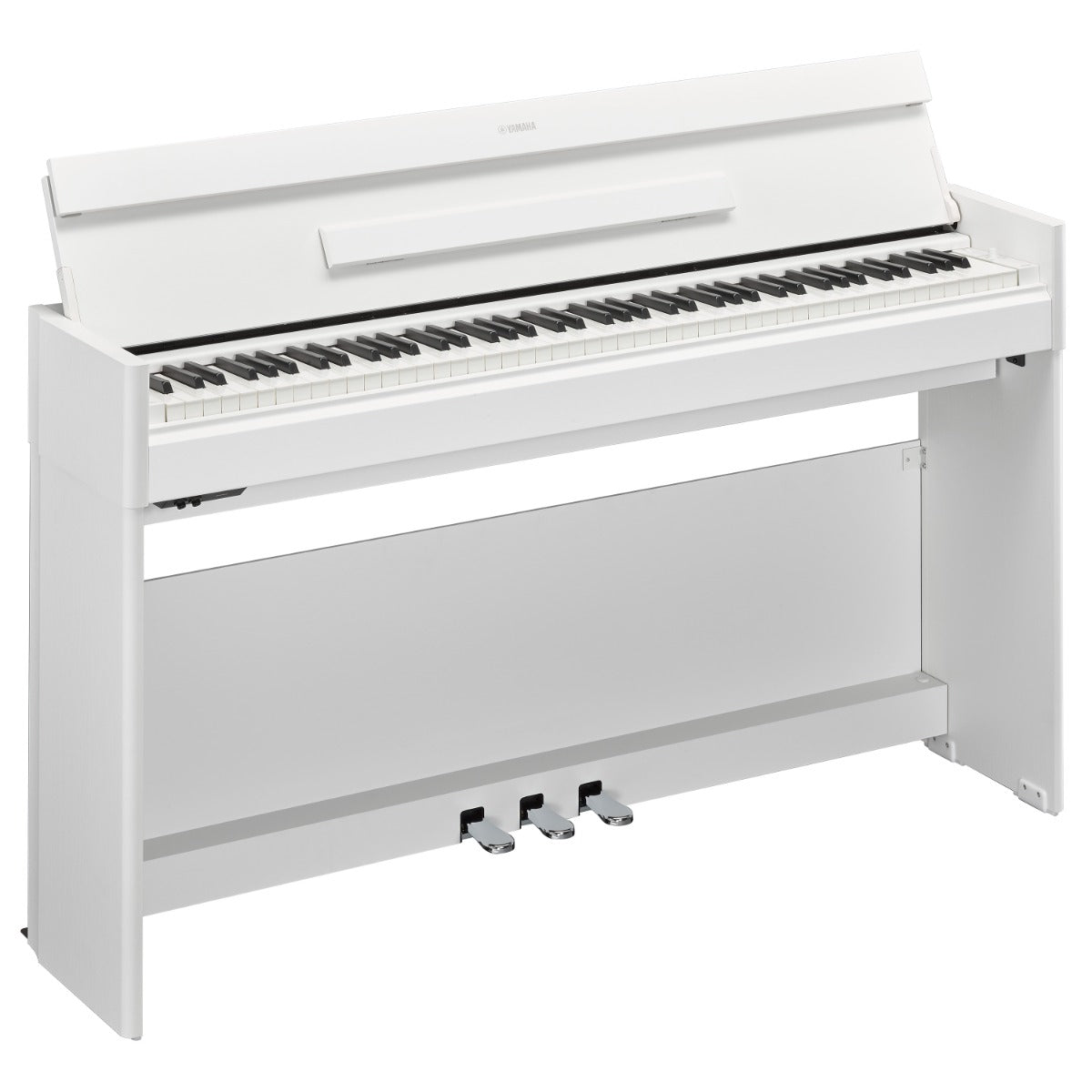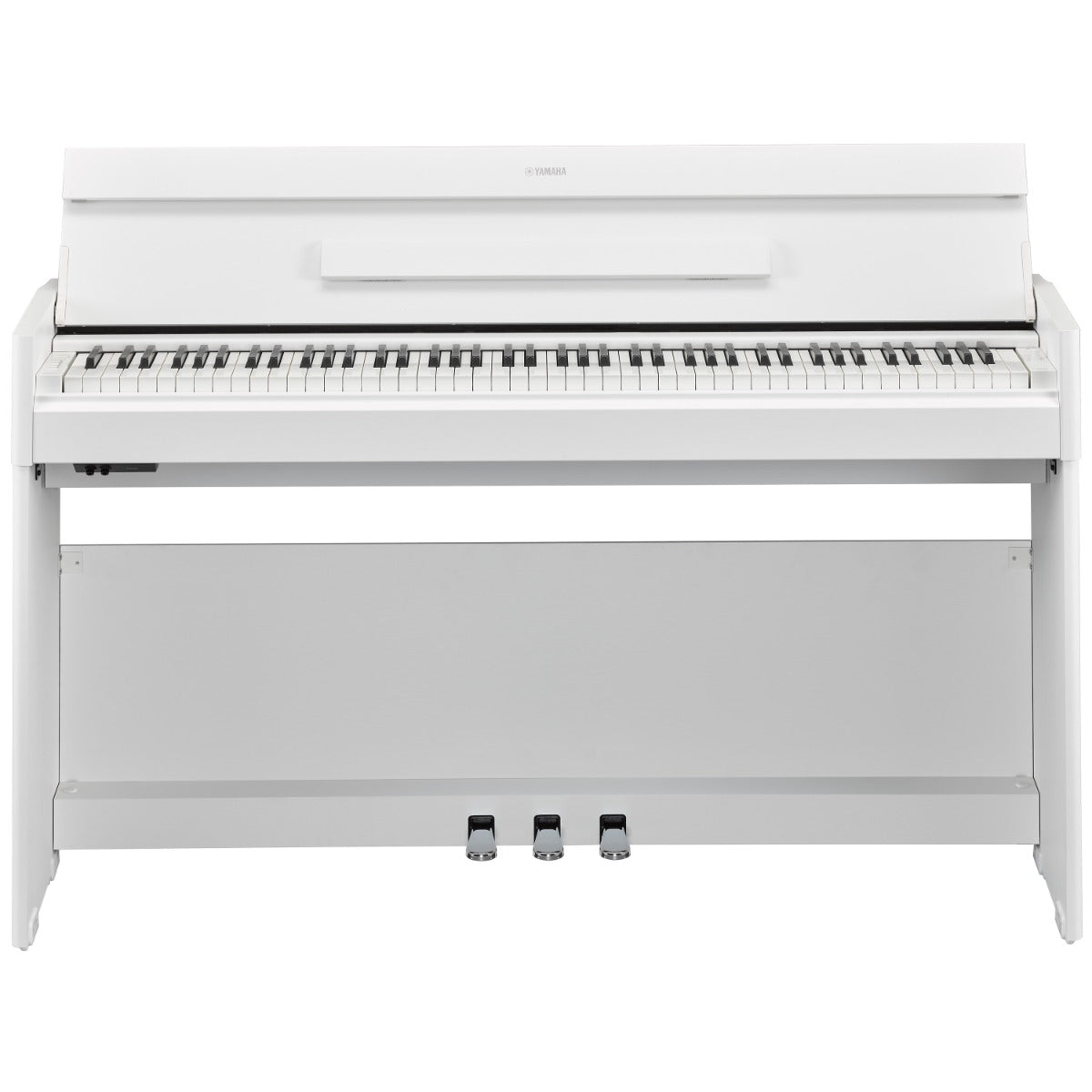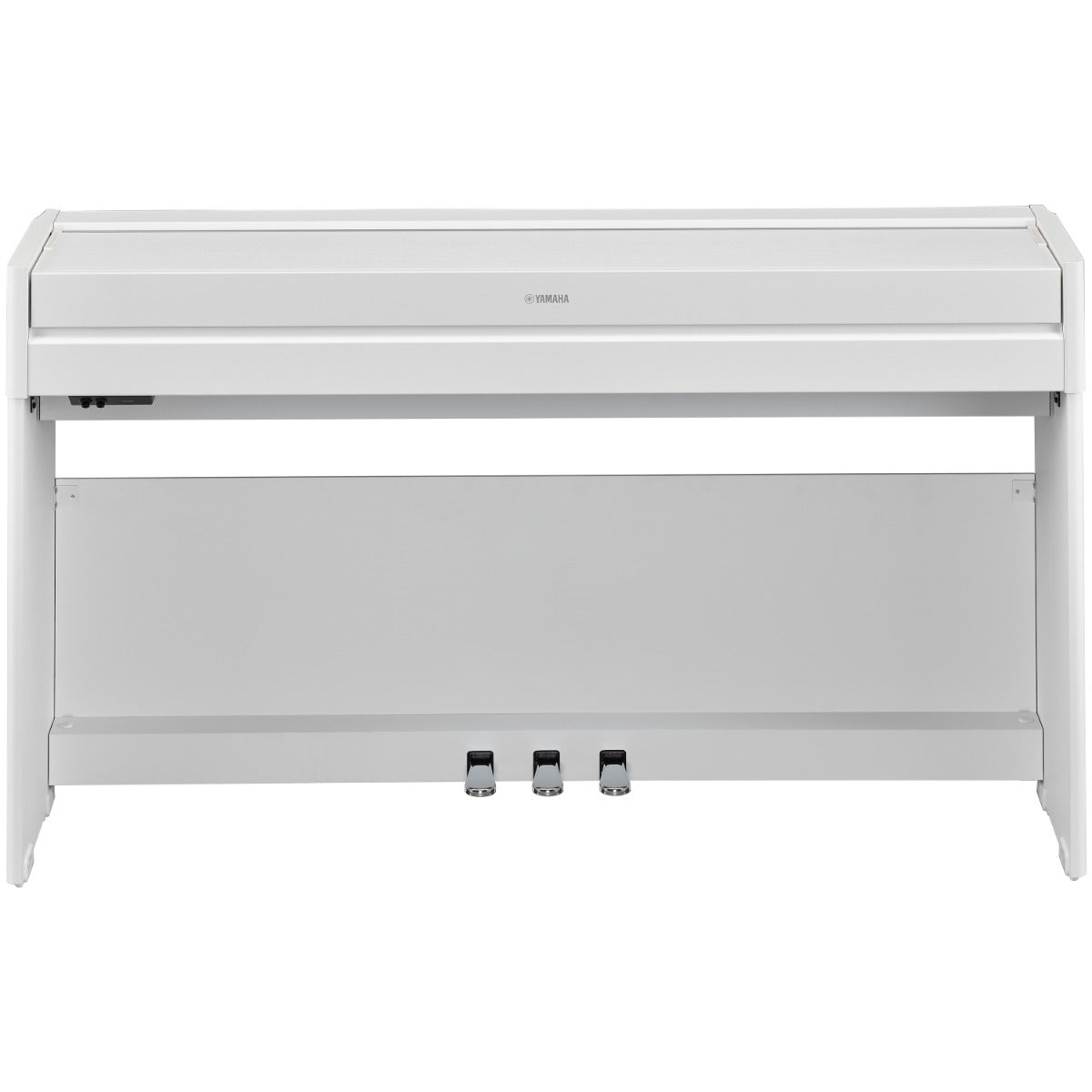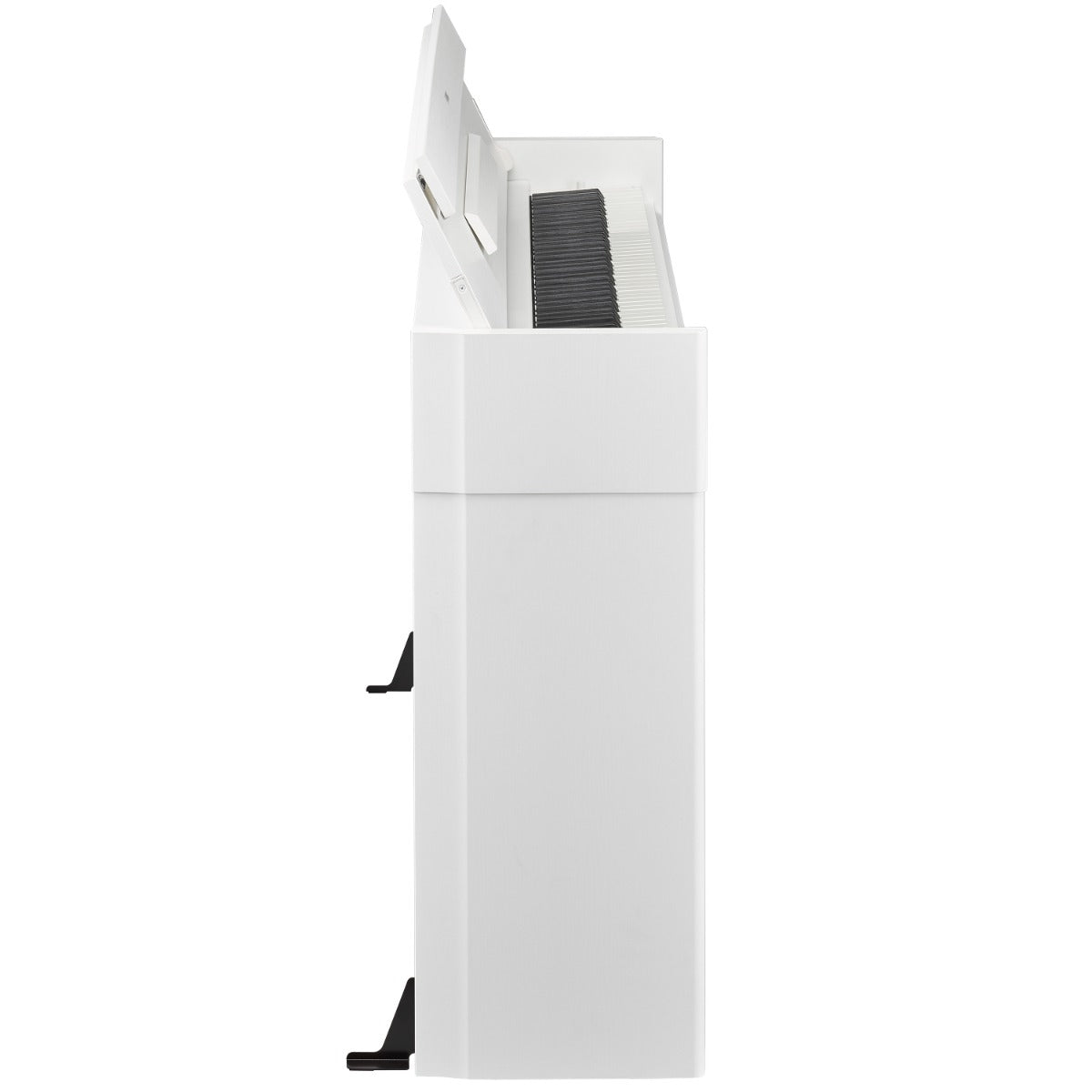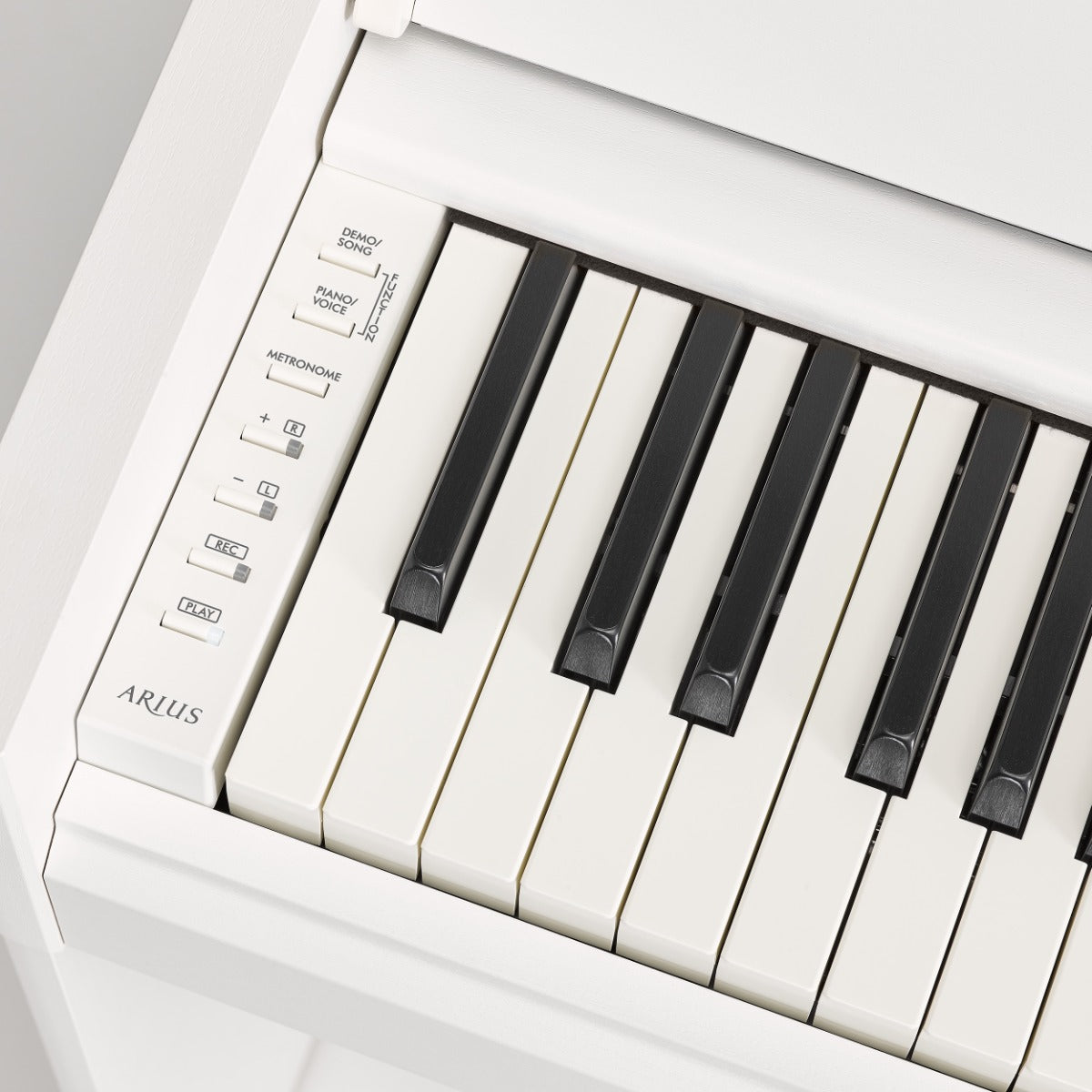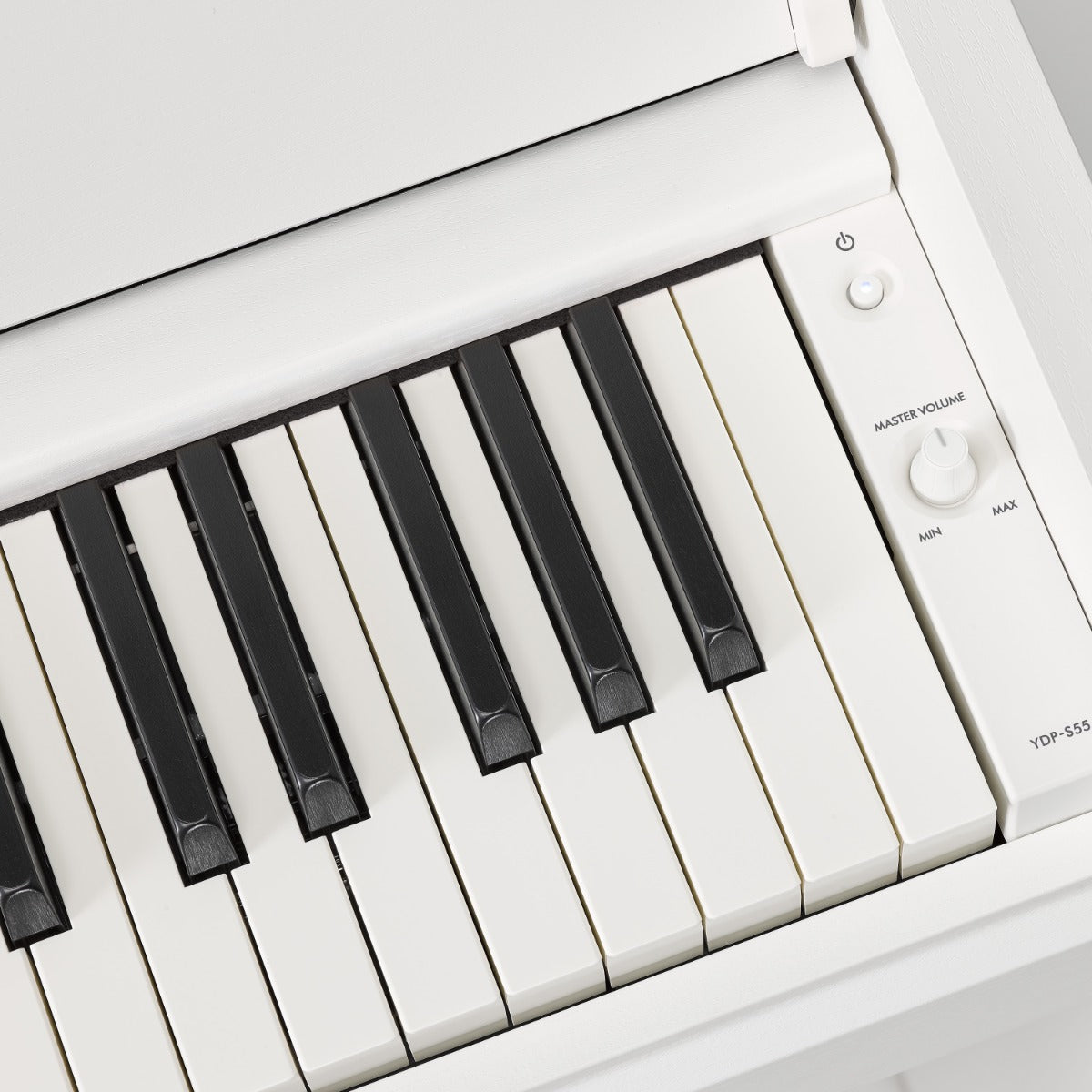 Yamaha Arius YDP-S55 Digital Piano - White
Designed for beginner to advanced pianists, the YDP-S55 features an improved Yamaha CFX concert grand piano sound engine and the touch of the revered Graded Hammer 3 (GH3) keyboard with synthetic ebony and ivory key tops. The YDP-S55 features a slim design, making it an ideal choice for those with space constraints such as college students or those living in smaller apartments. Connecting to the Smart Pianist app for iOS adds a graphic user interface that makes selecting Voices or configuring settings even easier. Smart Pianist can even analyze songs stored in your music library and display a chord chart, allowing you to learn and play along with your favorite songs.
CFX Premium Grand Piano voice
Graded Hammer 3 (GH3)
3 piano-style pedals
VRM (Virtual Resonance Modeling) Lite technology
Intelligent Acoustic Control (IAC)
Stereophonic Optimizer
Volume Limiter
10 Voices
Yamaha CFX Concert Grand piano samples
The YDP-S55 models all feature a piano voice sampled from Yamaha's flagship CFX concert grand piano—a renowned piano that delivers sparkling highs and a powerful resonant bass combined in a superbly expressive sound.
Authentic playability and control
With an 88-key piano action, the GH3 (Graded Hammer 3) keyboard reproduces the touch of an acoustic piano, from a naturally heavy feel in the lower key to a lighter touch in the upper octaves. The GH3 keyboard provides a grand piano-style response and feel, allowing rapid note repetition and authentic expressive control. Moreover, there's a half-damper feature that authentically replicates the damper action on a grand piano, providing rich expressive variation.
Virtual Resonance Modeling Lite
One of the allures of the grand piano is the sympathetic resonance created by the vibration of the entire instrument. The YDP-S55 elaborately reproduces this rich sympathetic resonance through a groundbreaking technology called Virtual Resonance Modeling Lite (VRM Lite). VRM Lite creates a richly varied sound by simulating the complex sympathetic tones created when the vibrations of the strings are propagated to the soundboard and other strings, corresponding to the timing and intensity of key playing and pedaling.
Built-in songs and Smart Pianist app compatibility
The YDP-S55 has 353 built-in songs, including 50 famous classical songs, and 303 comprehensive practice exercises from famous methods. With the Smart Pianist app, you can easily operate the various Voice functions of the instrument and use it to call up scores of the built-in songs. It also features a comprehensive Piano Room function for changing the tonal quality and resonance settings of the piano sound.
Greater listening comfort for headphones
The YDP-S55 employs new technology that corrects the sound balance optimally according to the volume you set—giving you an exceptionally natural sound that's easy to listen to and is gentle on the ears, even when playing for a long time. It also has Stereophonic Optimizer effect that lets you enjoy the natural, spacious sound you experience sitting in front of an acoustic grand piano, even when wearing headphones.
Slim, stylish design
The piano cabinet has a slim depth that lets you neatly install it in any room, and makes for a chic, stylish design that effortlessly enhances your living space. Moreover, closing the keyboard lid gives the instrument a flat, unassuming look.
SKU
YAM-YDPS55WH
MPN
YDP-S55
Vendor
Yamaha
Built In Speakers
Yes
Connectivity
USB
Included From Manufacturer
Song Book
Power Supply
Keys Weighted
Hammer Weighted
Key Cover
Yes
Number of Keys
88
Mpn
YDPS55WH
Piano Cabinet Style
Slimline
Accompaniments
No
Duet Mode
Yes
Finish
White
Half-Damper Support
Yes
Audio Inputs
N/A
Audio Outputs
2 x Stereo Headphone Outputs
Key Action
GH3 Graded Hammer Action with Synthetic Ebony and Ivory Keytops
Layer Feature
Yes
Metronome
Yes
Pedals
3
Product Weight
88 lbs 3 oz
Rhythm Patterns
None
Song Recorder
MIDI
Number of Songs
1
Number of Sounds
10
Speaker Power
2 x 20 Watts
Speaker Size
(2) 4.72"
Number of Tracks
2
Transpose Feature
Yes
Voices of Polyphony
192
Width
53 1/4"
Depth
15 3/64"
Height
38 27/64"
Yamaha Digital Piano Limited Warranty
Thank you for selecting a Yamaha product. Yamaha products are designed and manufactured to provide a high level of defect-free performance. Yamaha Corporation of America ('Yamaha') is proud of the experience and craftsmanship that goes into each and every Yamaha product. Yamaha sells its products through a network of reputable, specially authorized dealers and is pleased to offer you, the Original Owner, the following Limited Warranty, which applies only to products that have been (1) directly purchased from Yamaha's authorized dealers in the fifty states of the USA and District of Columbia (the 'Warranted Area') and (2) used exclusively in the Warranted Area. Yamaha suggests that you read the Limited Warranty thoroughly, and invites you to contact your authorized Yamaha dealer or Yamaha Customer Service if you have any questions.
This warranty covers Yamaha Digital Pianos against defects in materials or workmanship for three (3) years.
Yamaha will, at its option, repair or replace the product covered by this warranty if it becomes defective, malfunctions or otherwise fails to conform with this warranty under normal use and service during the term of this warranty, without charge for labor or materials. Repairs may be performed using new or refurbished parts that meet or exceed Yamaha specifications for new parts. If Yamaha elects to replace the product, the replacement may be a reconditioned unit.
You will be responsible for any installation or removal charges and for any initial shipping charges if the product(s) must be shipped for warranty service. However, Yamaha will pay the return shipping charges to any destination within the USA if the repairs are covered by the warranty.
This warranty does not cover (a) damage, deterioration or malfunction resulting from accident, negligence, misuse, abuse, improper installation or operation or failure to follow instructions according to the Owner's Manual for this product; any shipment of the product (claims must be presented to the carrier); repair or attempted repair by anyone other than Yamaha or an authorized Yamaha Service Center; (b) any unit which has been altered or on which the serial number has been defaced, modified or removed; (c) normal wear and any periodic maintenance; (d) deterioration due to perspiration, corrosive atmosphere or other external causes such as extremes in temperature or humidity; (e) damages attributable to power line surge or related electrical abnormalities, lightning damage or acts of God; or (f) RFI/EMI (Interference/noise) caused by improper grounding or the improper use of either certified or uncertified equipment, if applicable.
Any evidence of alteration, erasing or forgery of proof-of-purchase documents will cause this warranty to be void. This warranty covers only the Original Owner and is not transferable.
Warranty service will only be provided for defective products within the Warranted Area. Contact your local authorized Yamaha dealer who will advise you of the procedures to be followed. If this is not successful, contact Yamaha directly. Yamaha may request that you send the defective product to a local authorized Yamaha Servicer or authorize return of the defective product to Yamaha for repair. If you are uncertain as to whether a dealer has been authorized by Yamaha, please contact Yamaha's Service Department or check Yamaha's website.
Product(s) shipped for service should be packed securely and must be accompanied by a detailed explanation of the problem(s) requiring service, together with the original or a machine reproduction of the bill of sale or other dated, proof-of-purchase document describing the product, as evidence of warranty coverage. Should any product submitted for warranty service be found ineligible therefore, an estimate of repair cost will be furnished and the repair will be accomplished only if requested by you and upon receipt of payment or acceptable arrangement for payment.
Any implied warranties, including warranties of merchantability and fitness for a particular purpose shall be limited in duration to the applicable period of time set forth above. Yamaha shall not be responsible for incidental or consequential damages or for damages based upon inconvenience, loss of use, damage to any other equipment or other items at the site of use or interruption of performances or any consequences thereof. Yamaha's liability for any defective product is limited to repair or replacement of the product, at Yamaha's option. Some states do not allow limitations on how long an implied warranty lasts or the exclusion or limitation of incidental or consequential damages, so the above limitation or exclusion may not apply to you. This Warranty gives you specific legal rights, and you may also have other rights which vary from state to state. This is the only express warranty applicable to the Product specified herein; Yamaha neither assumes nor authorizes anyone to assume for it any other express warranty.
Ground shipping is FREE for all orders $99 and up.