Skip product carousel
Instant Rebate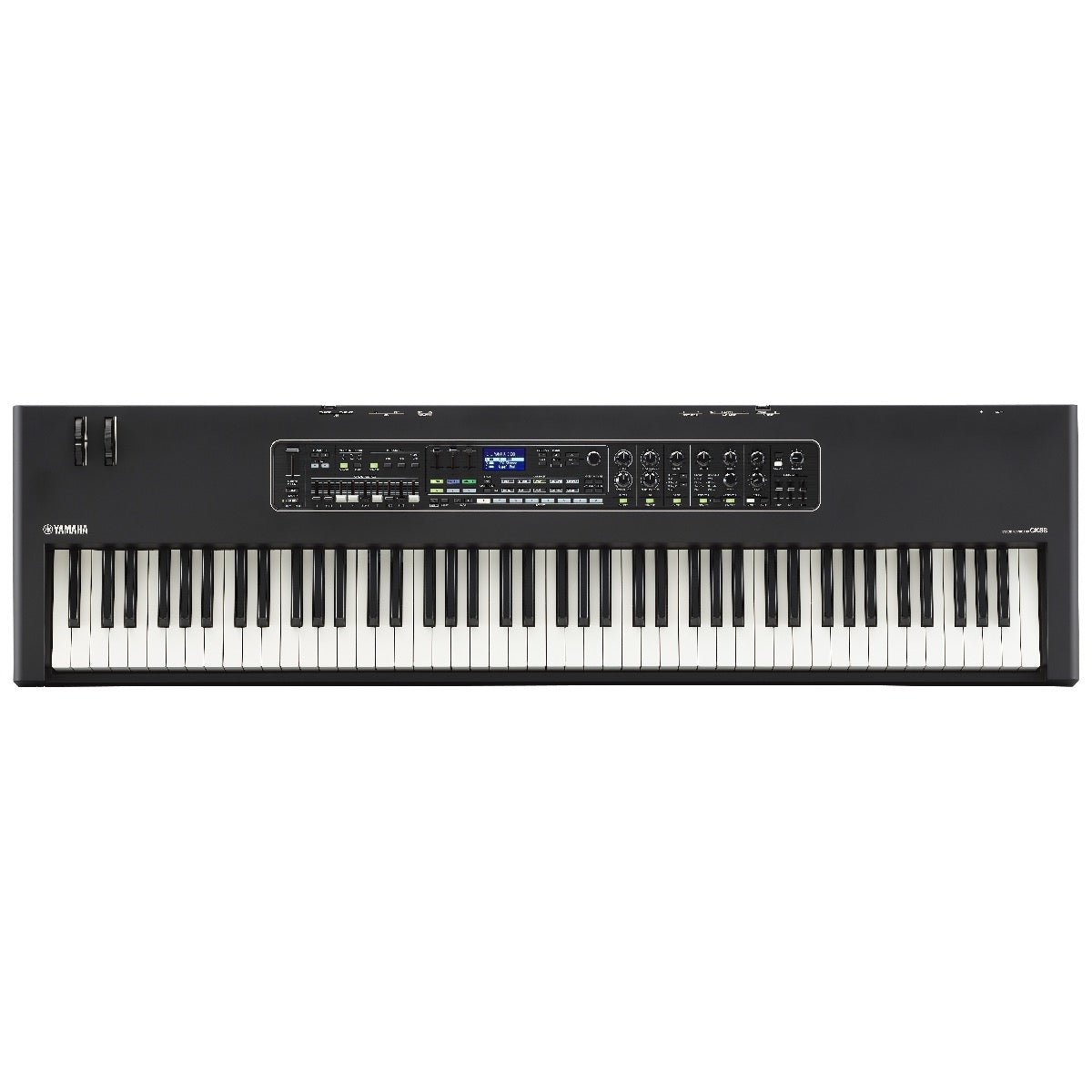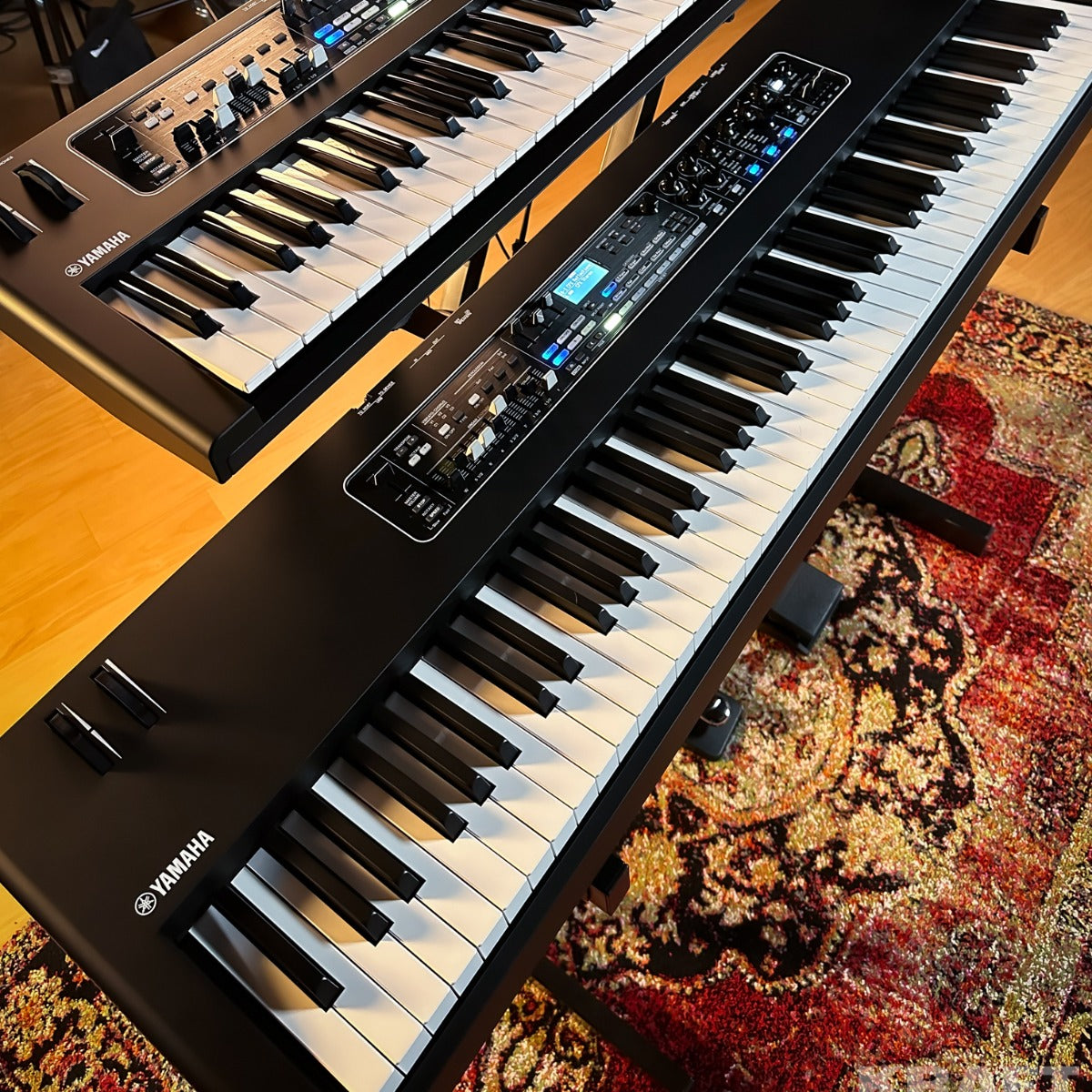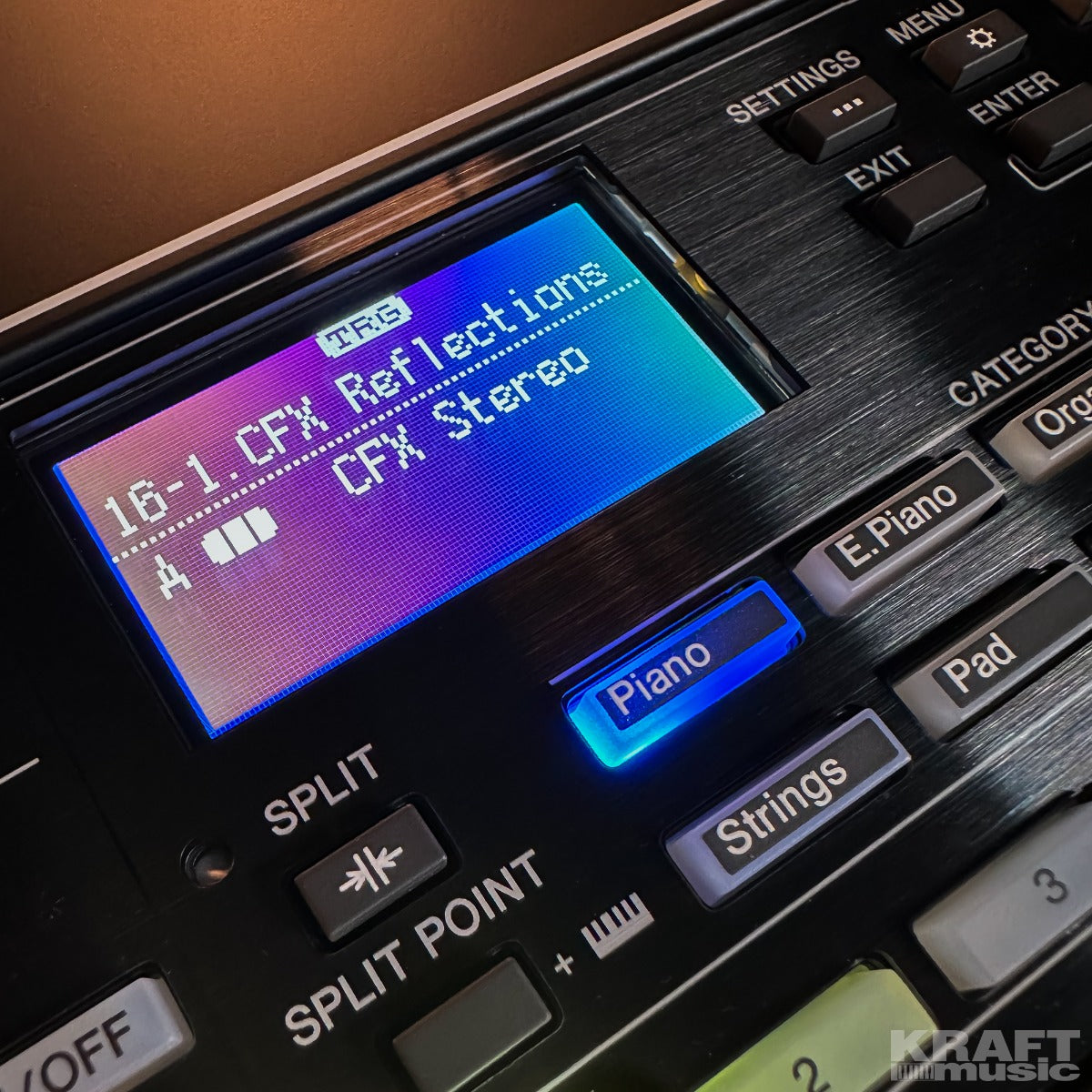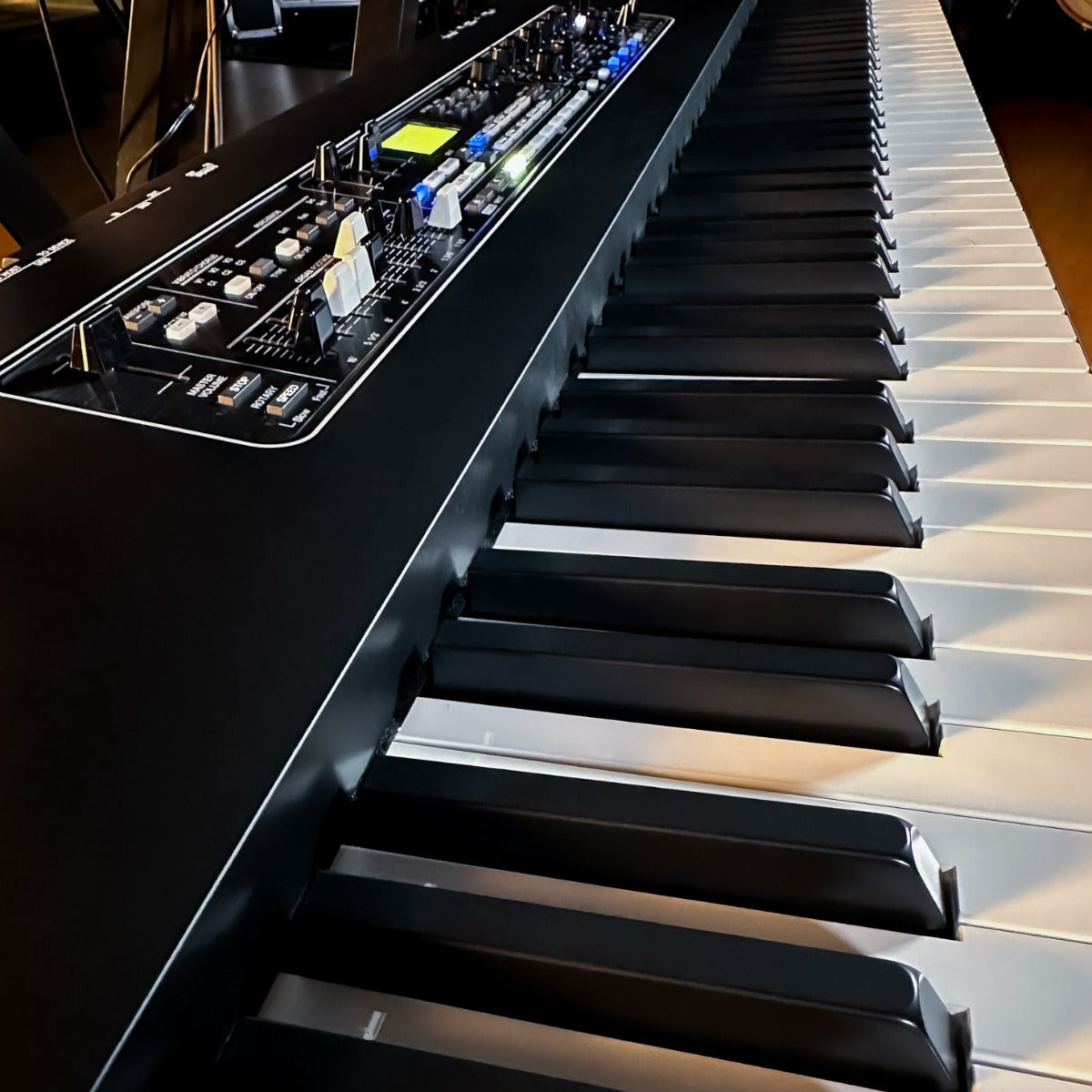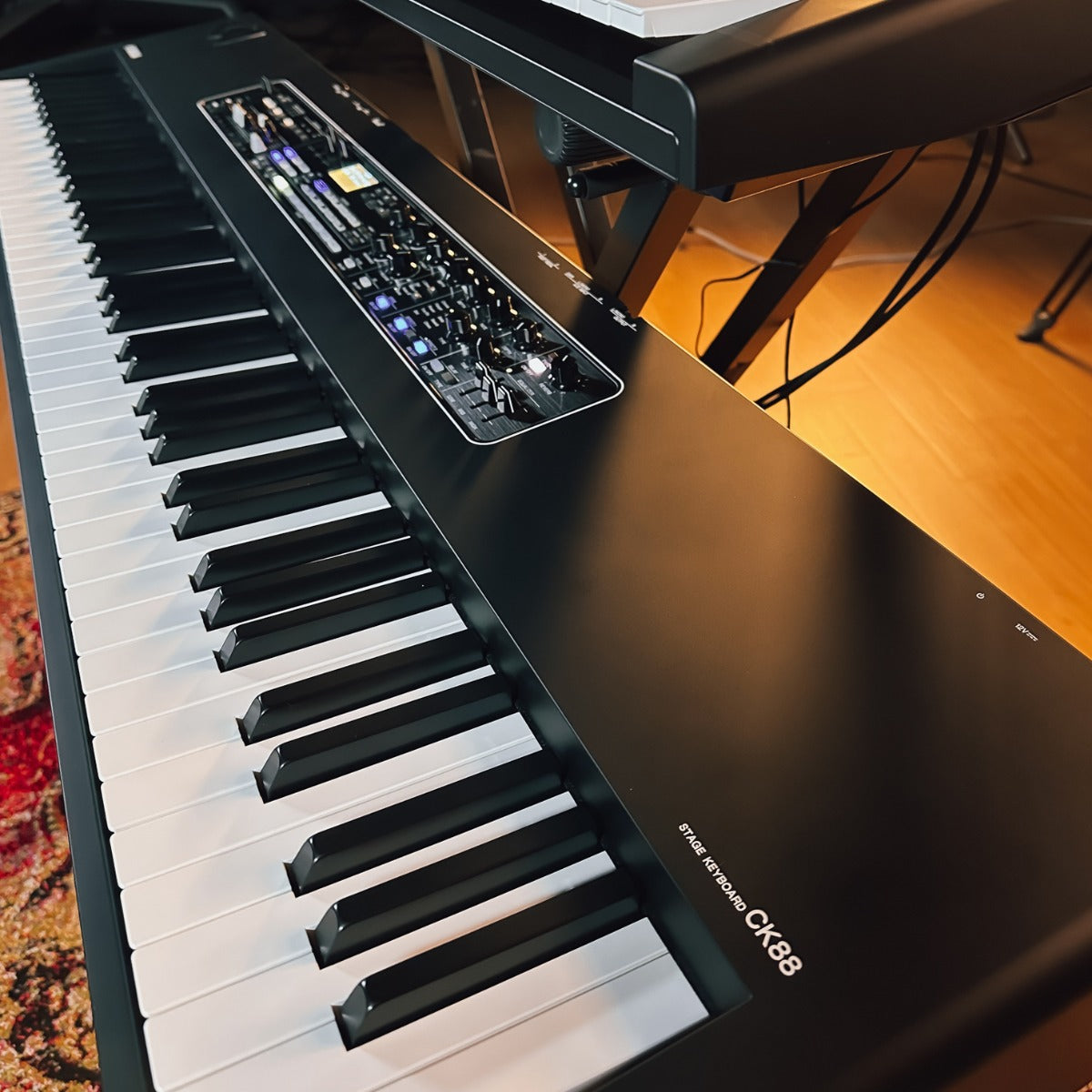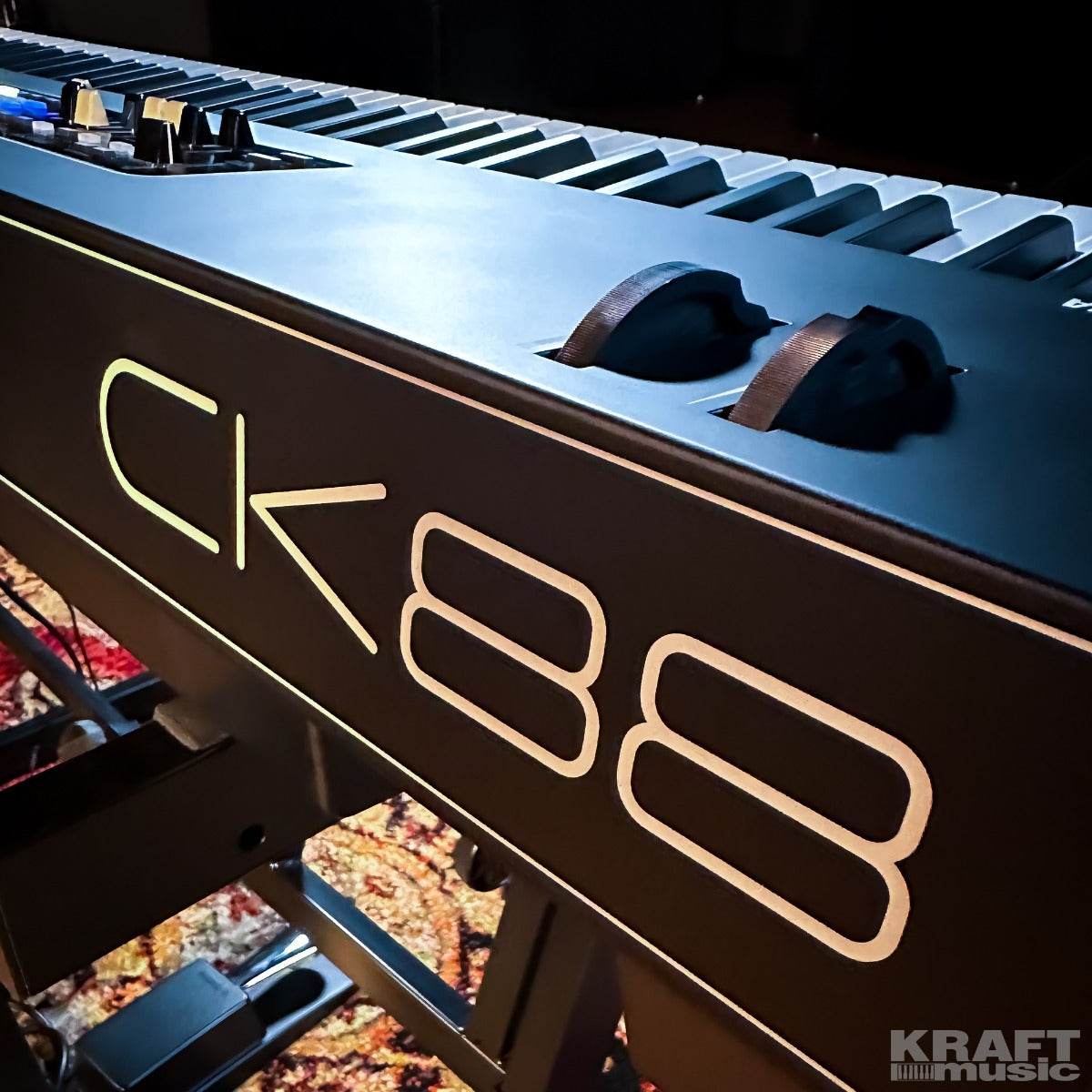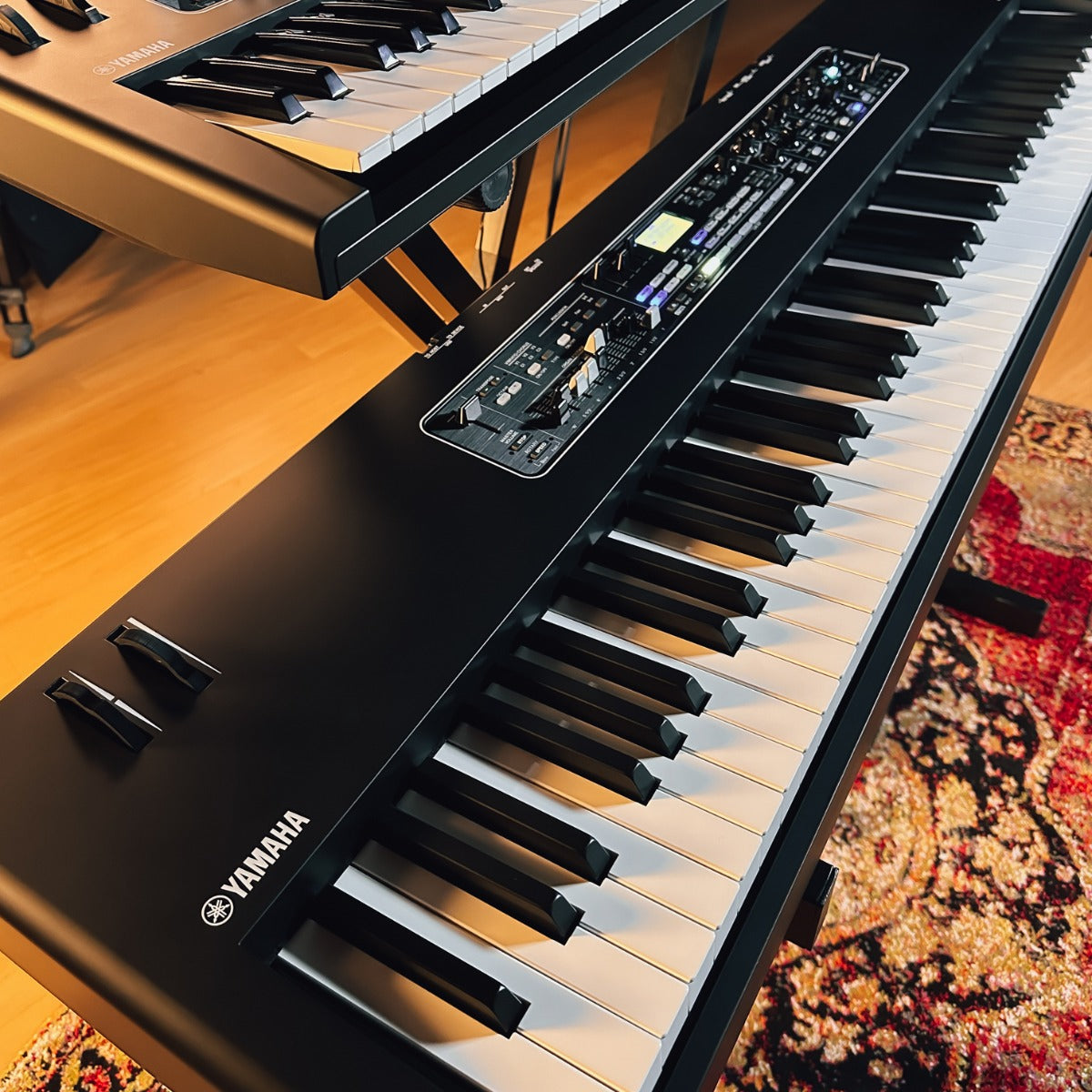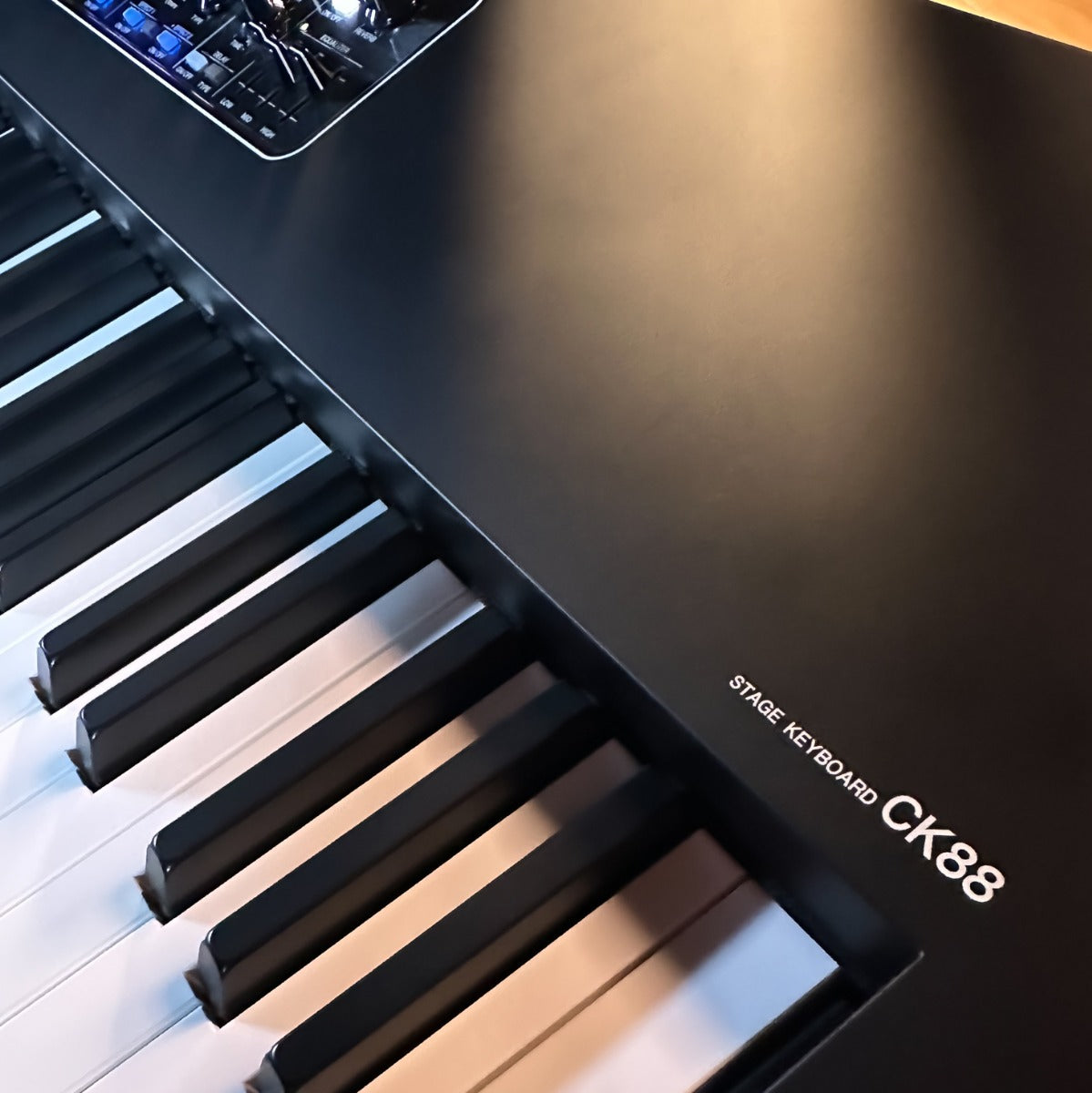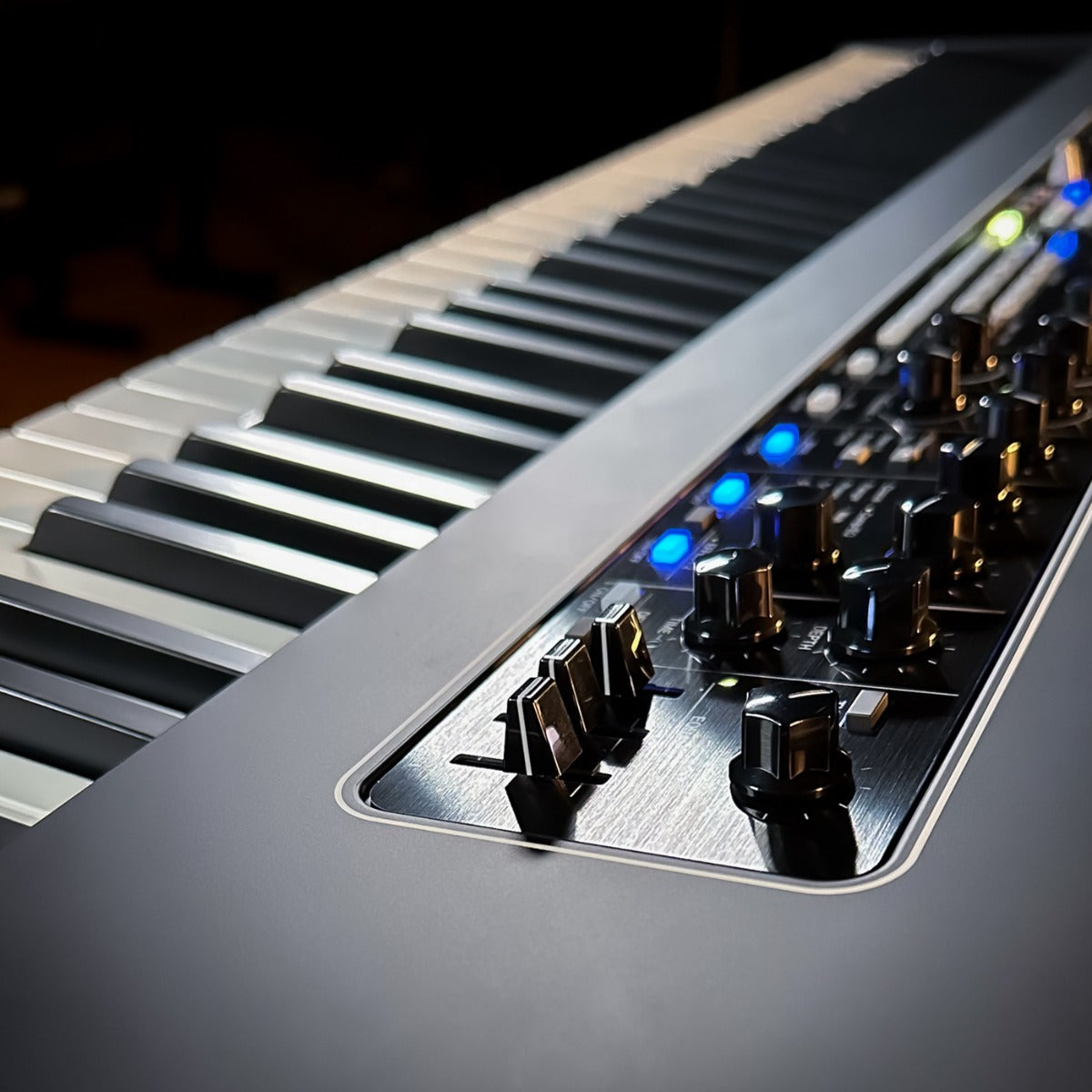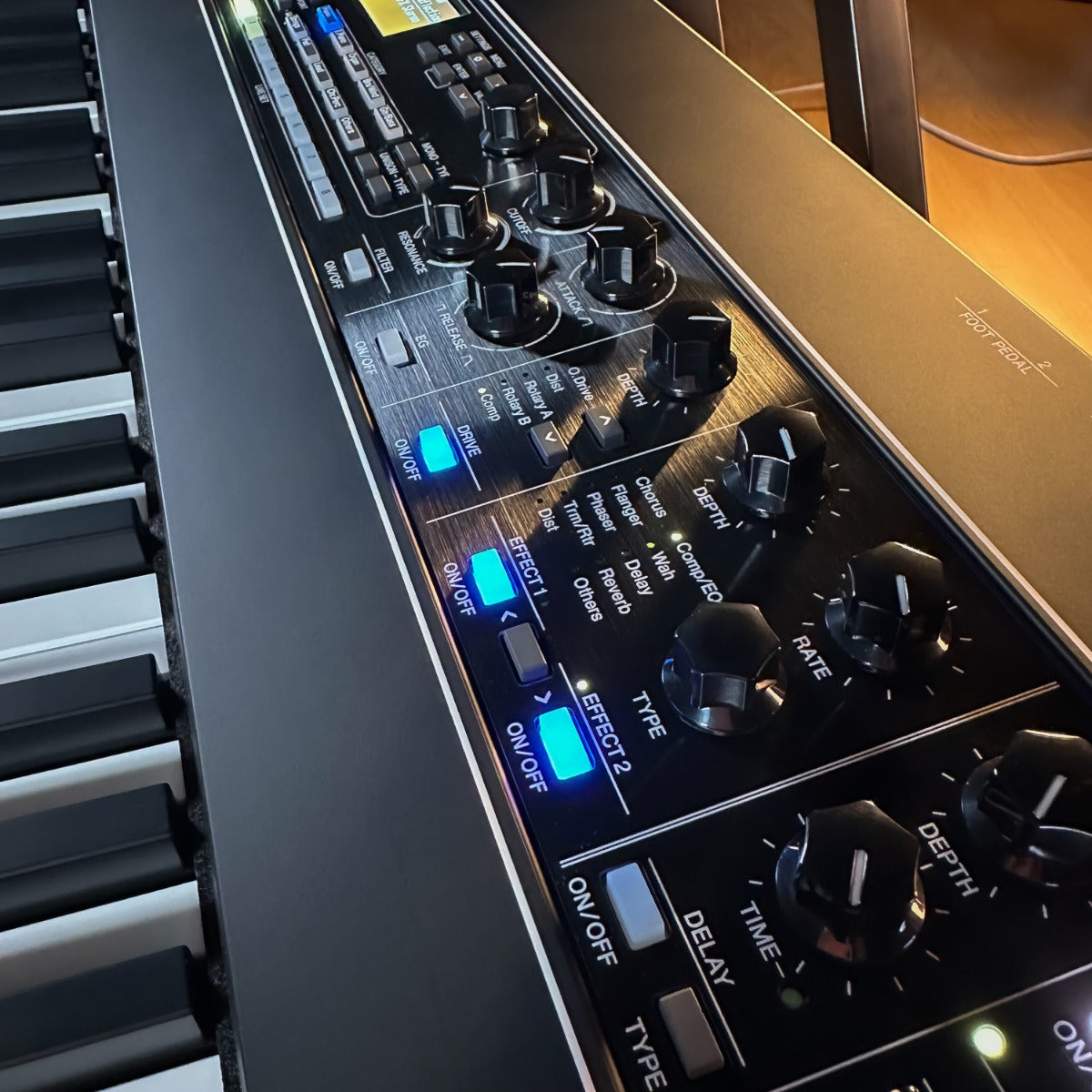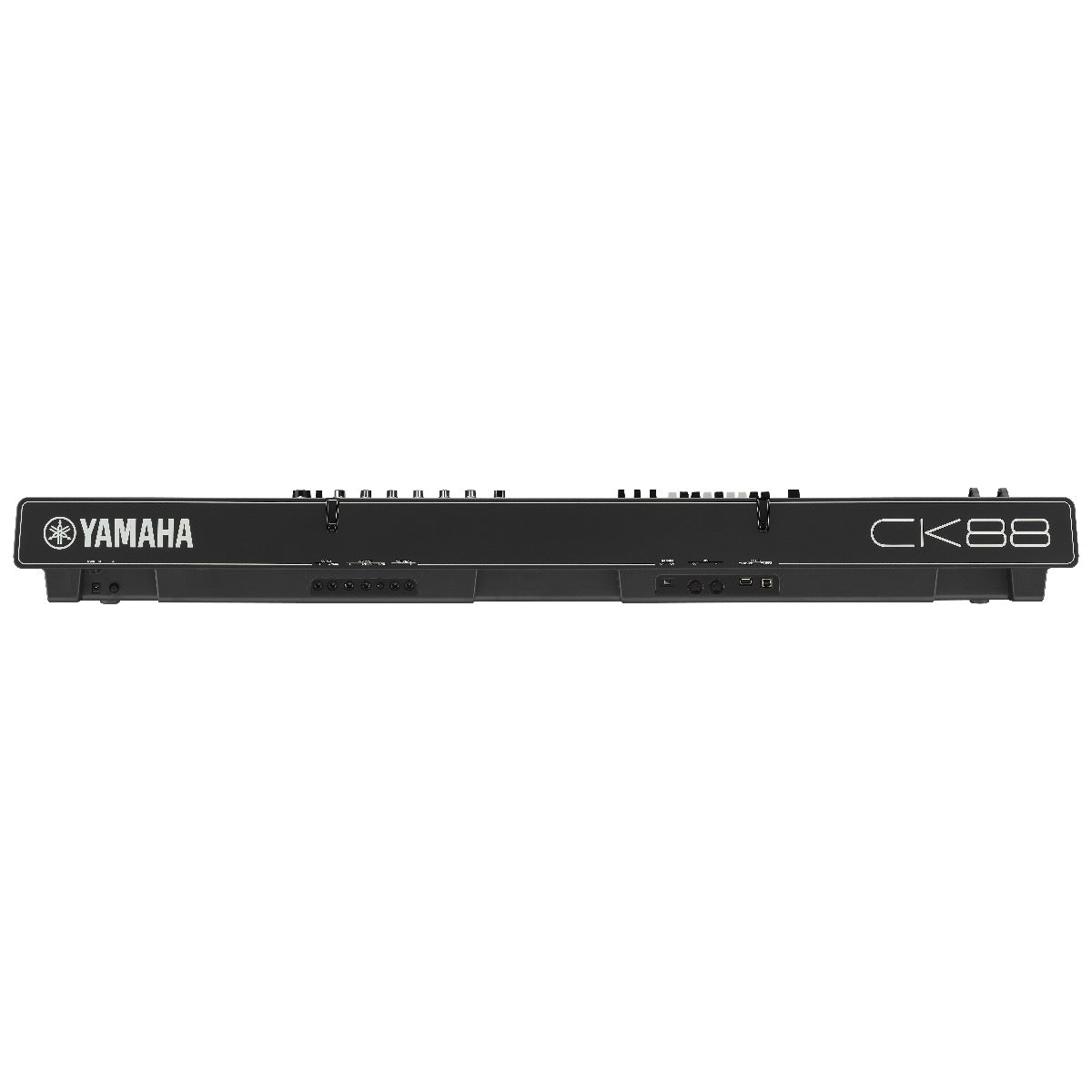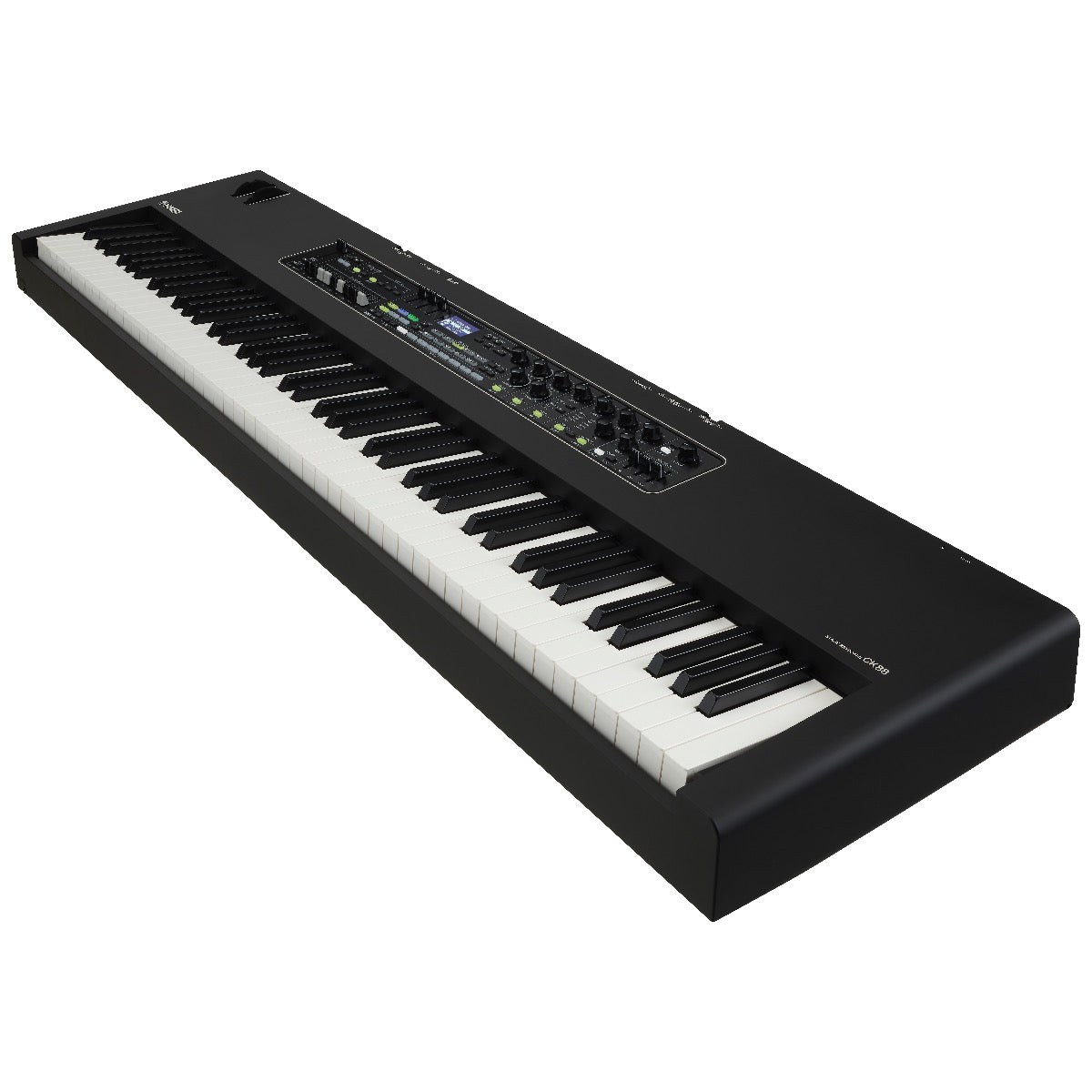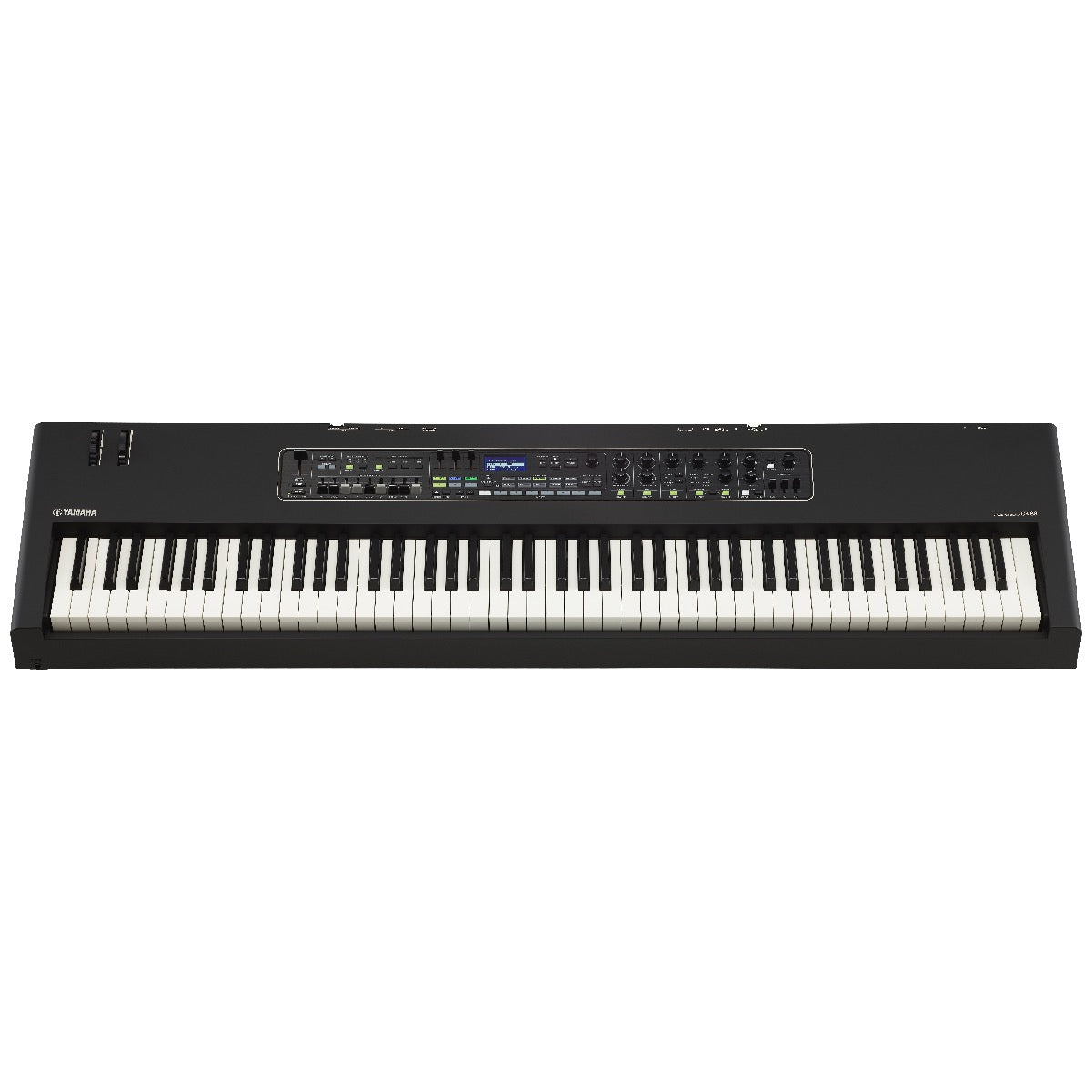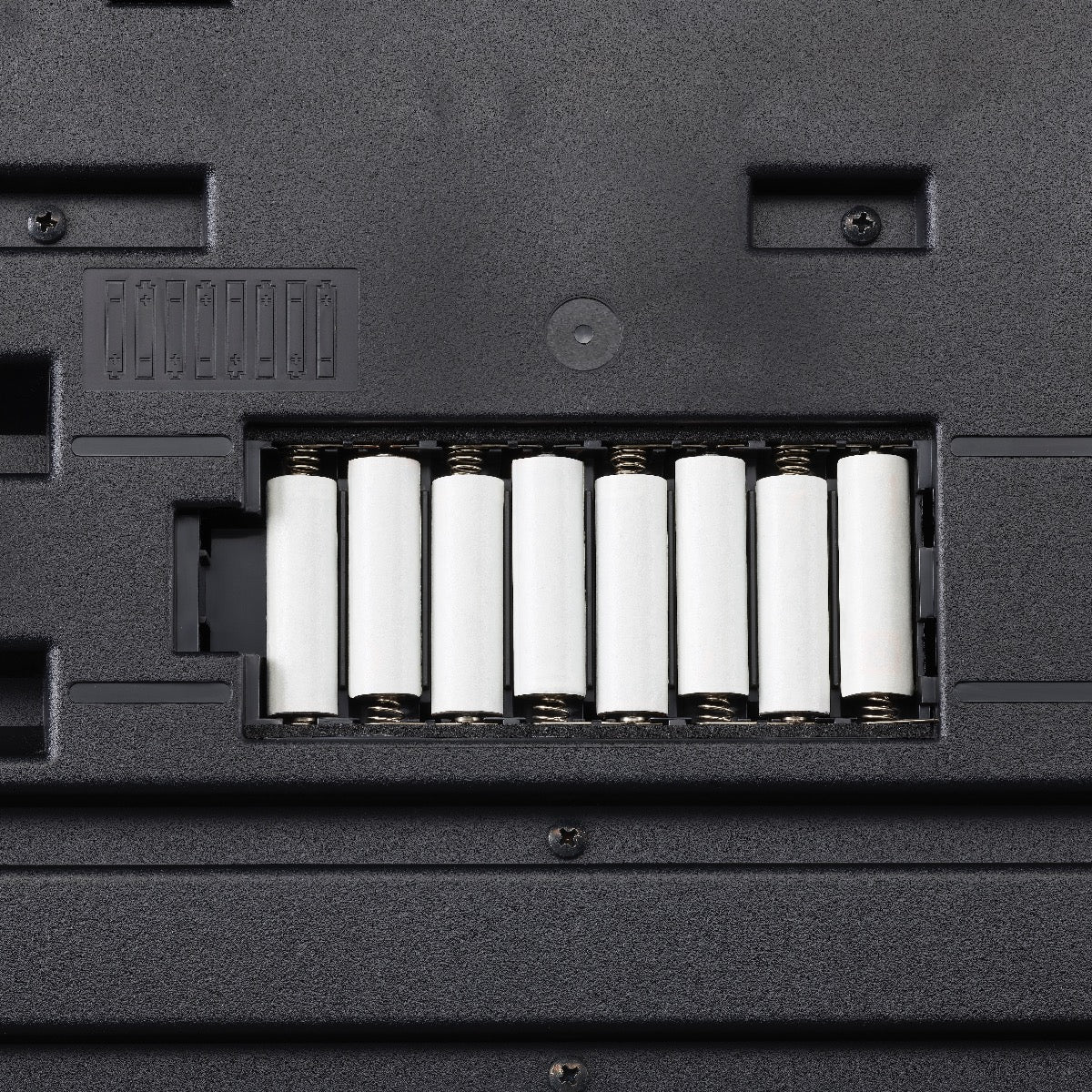 Yamaha CK88 Stage Keyboard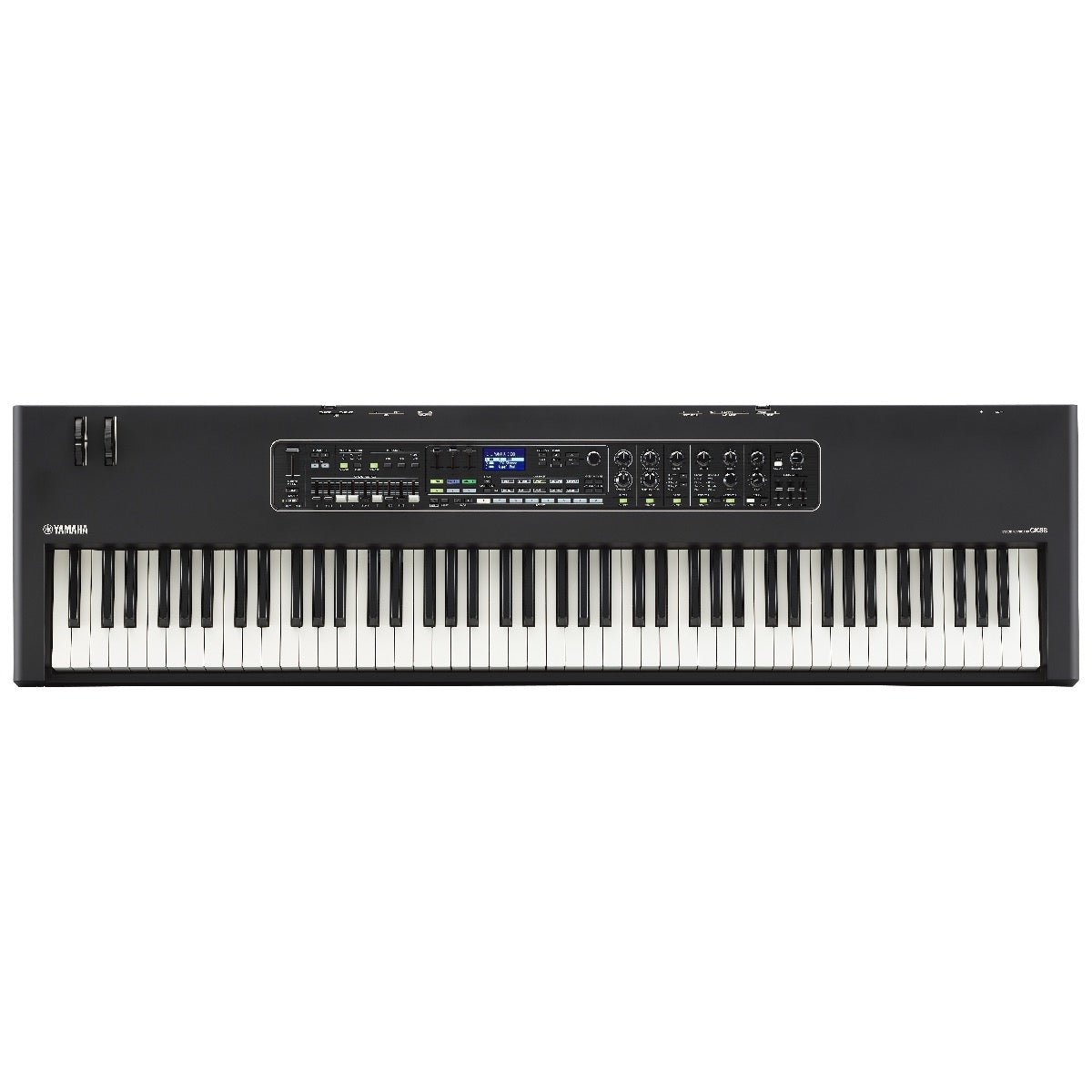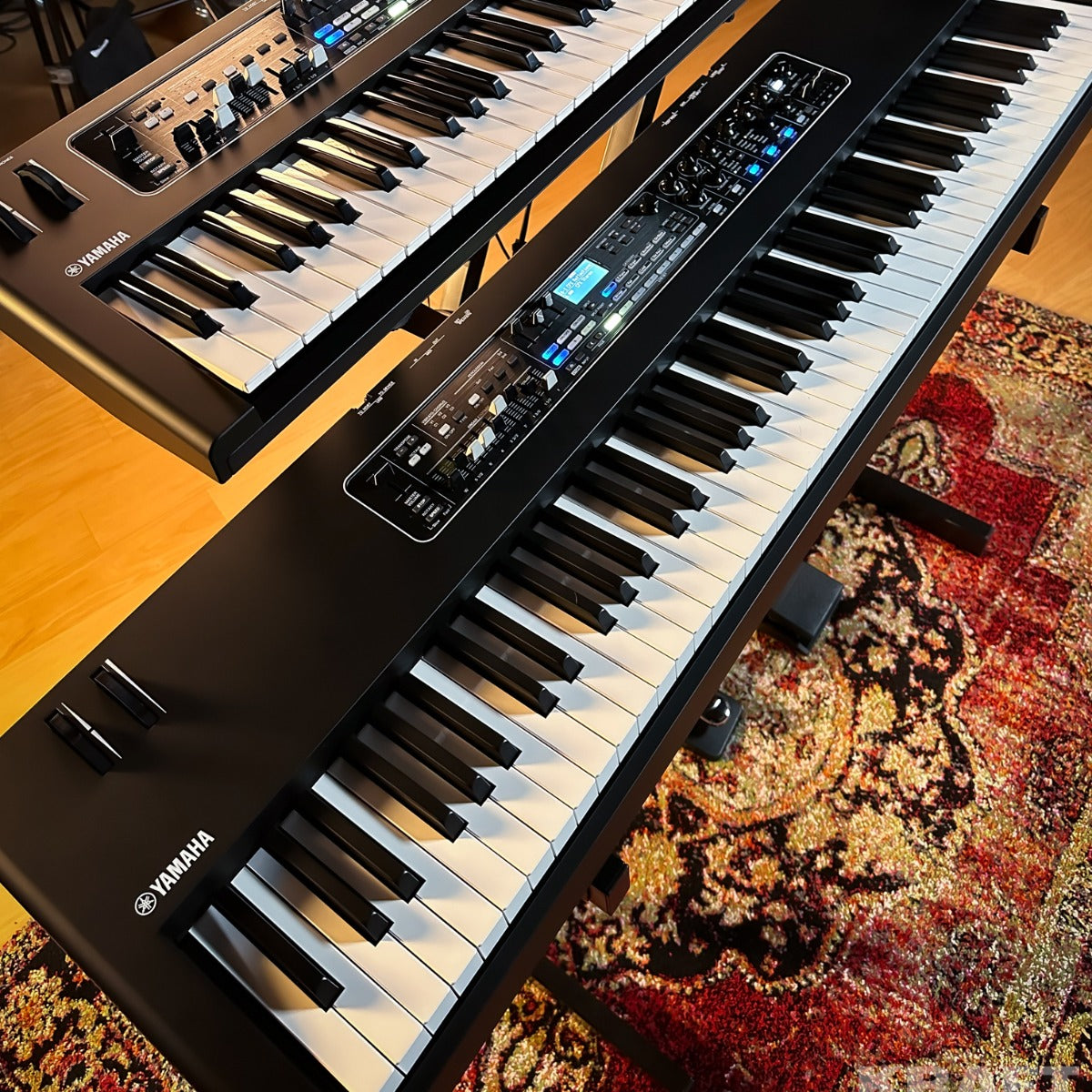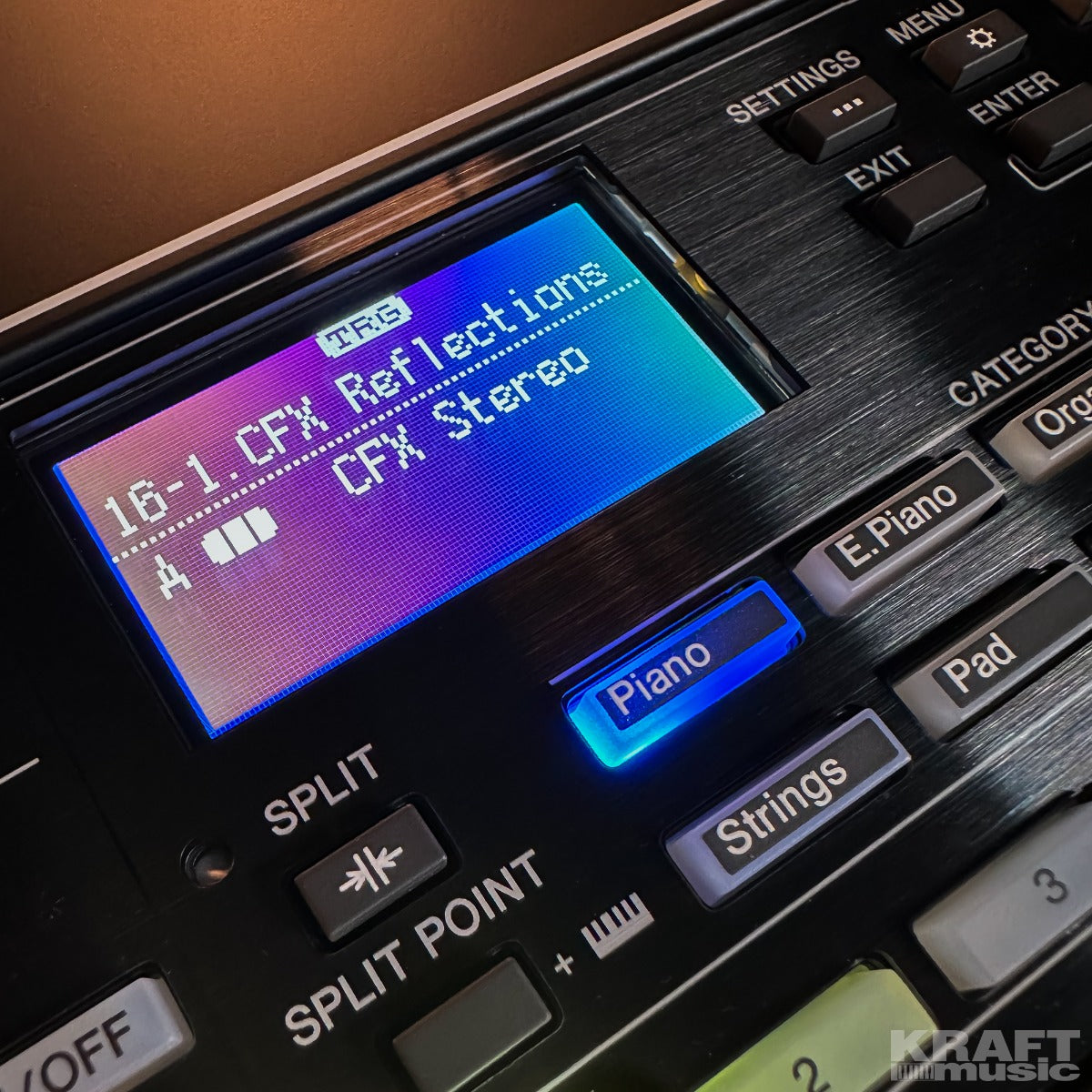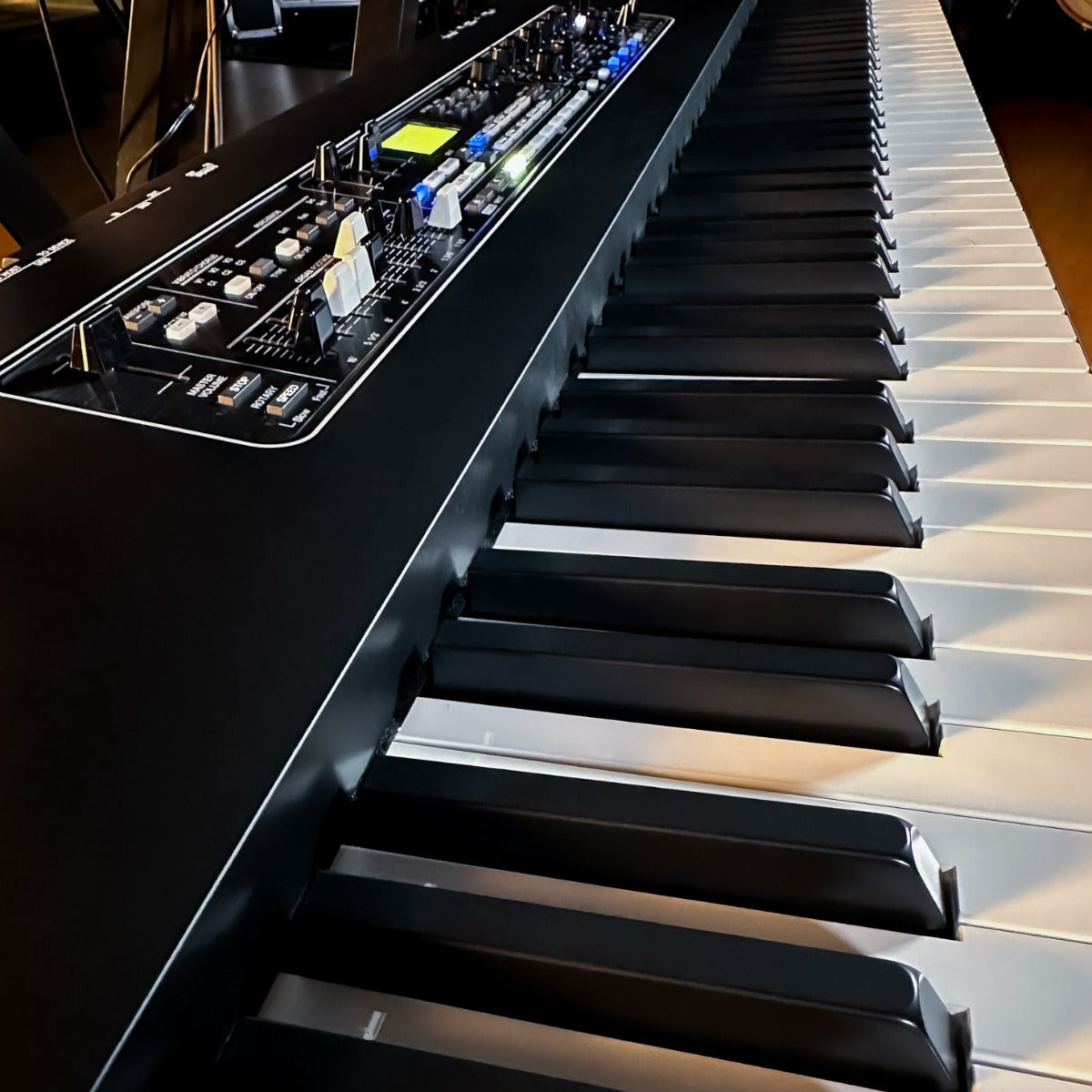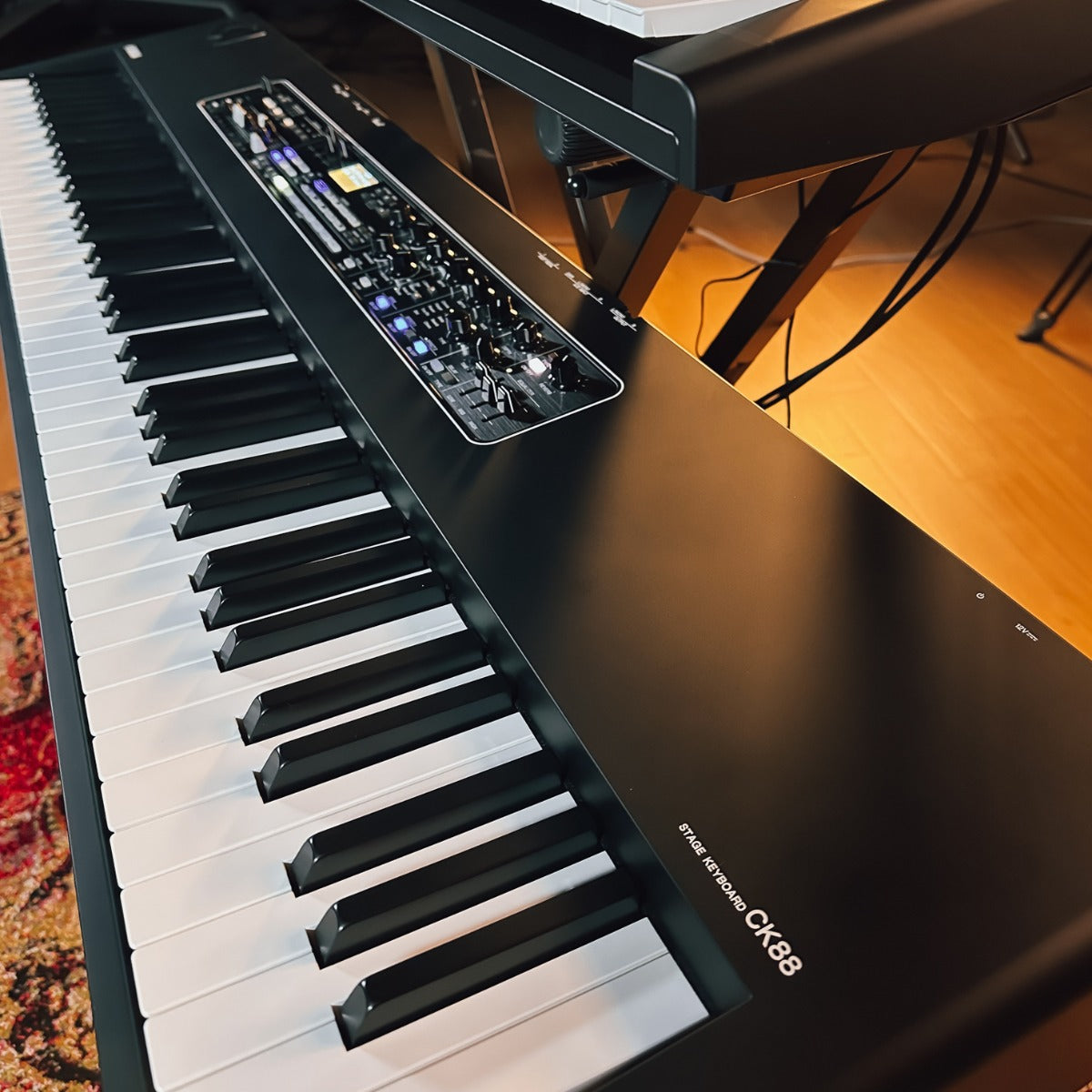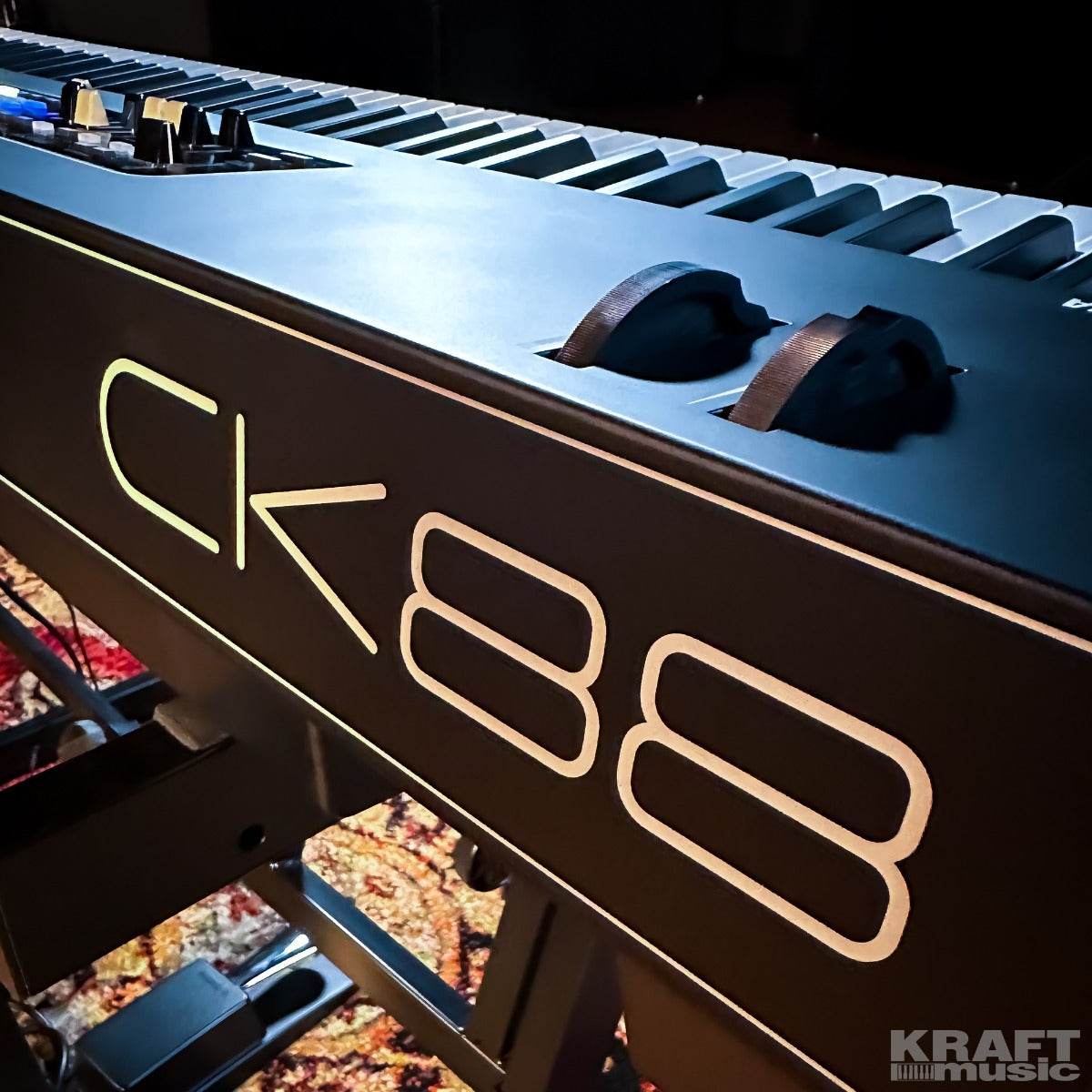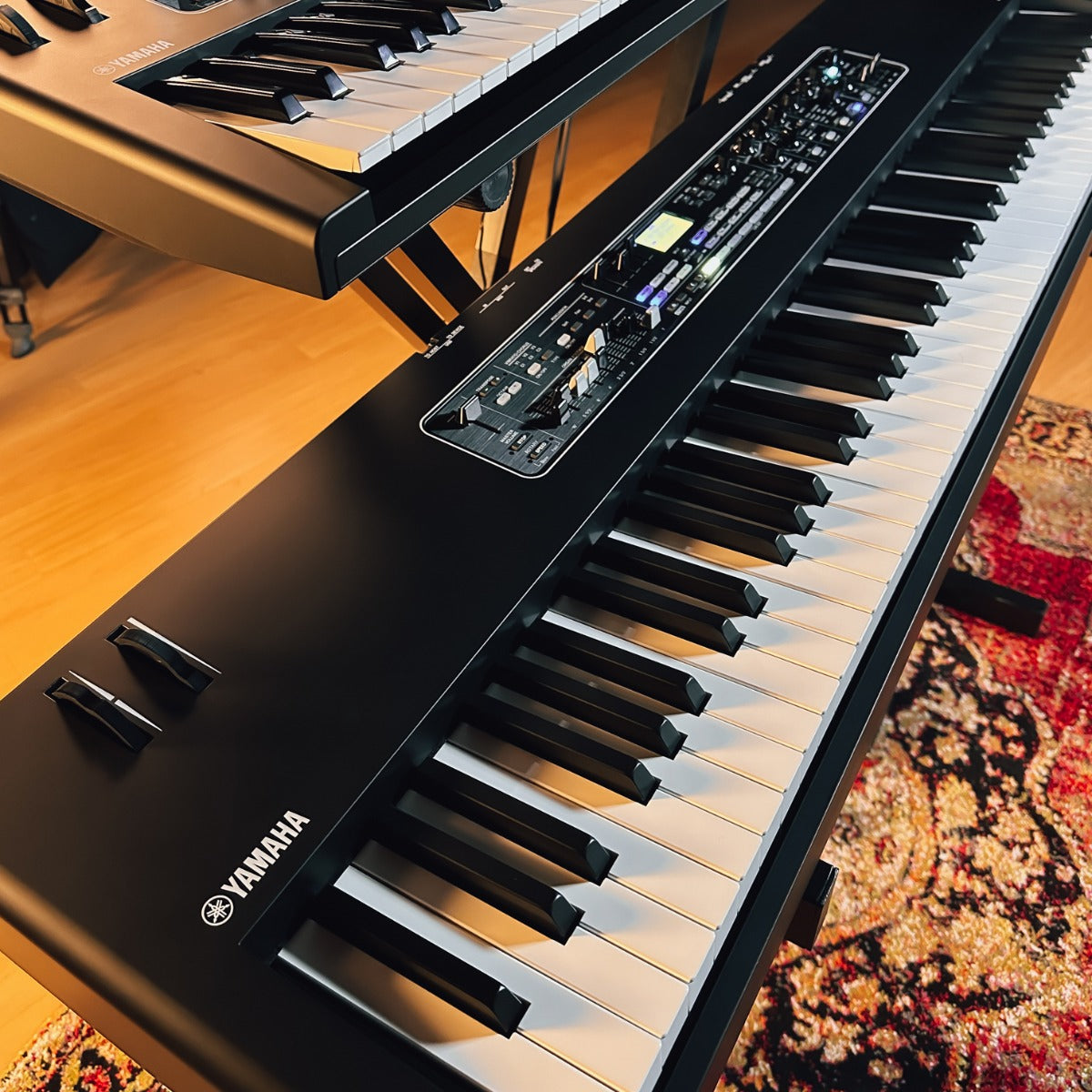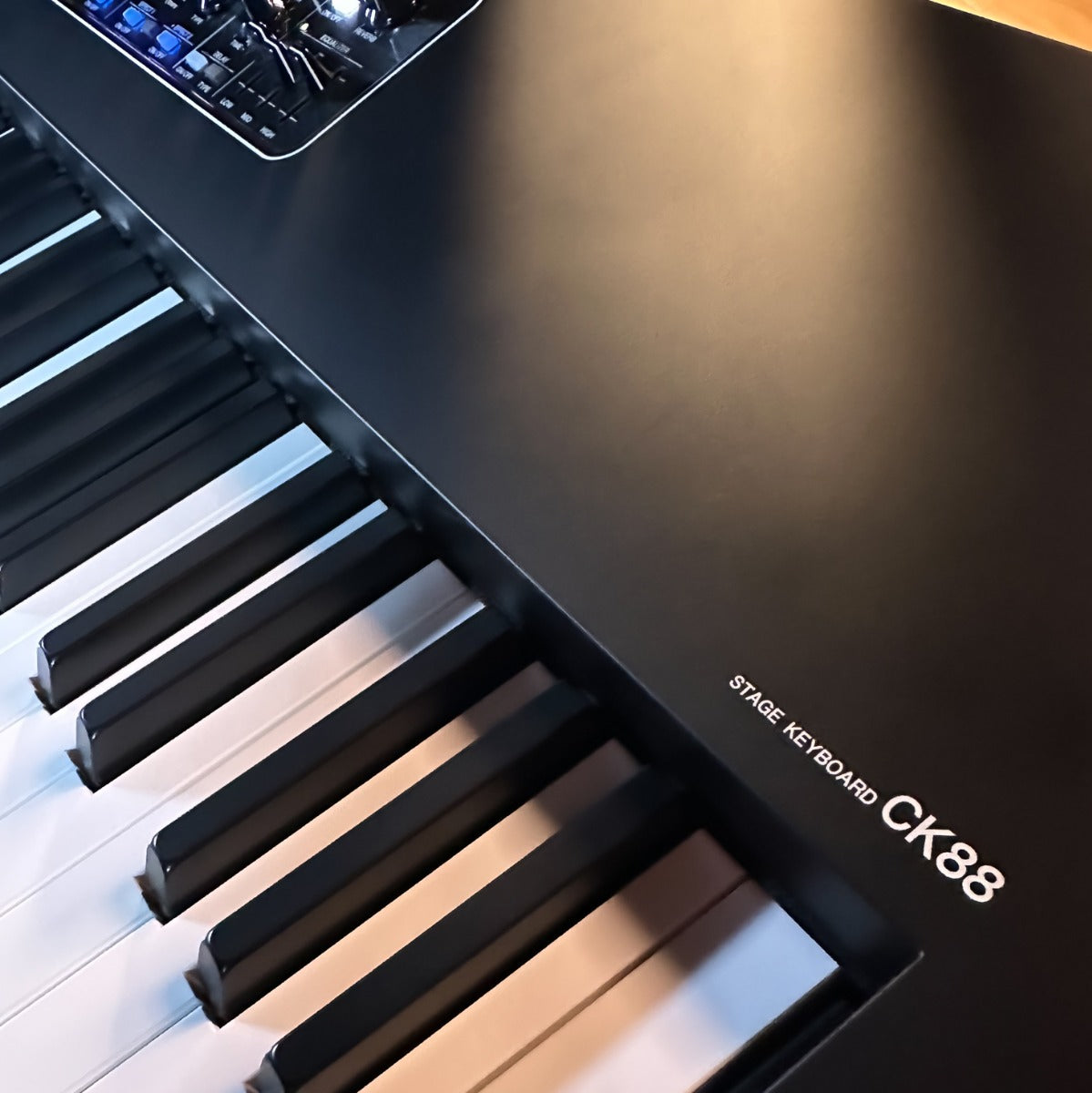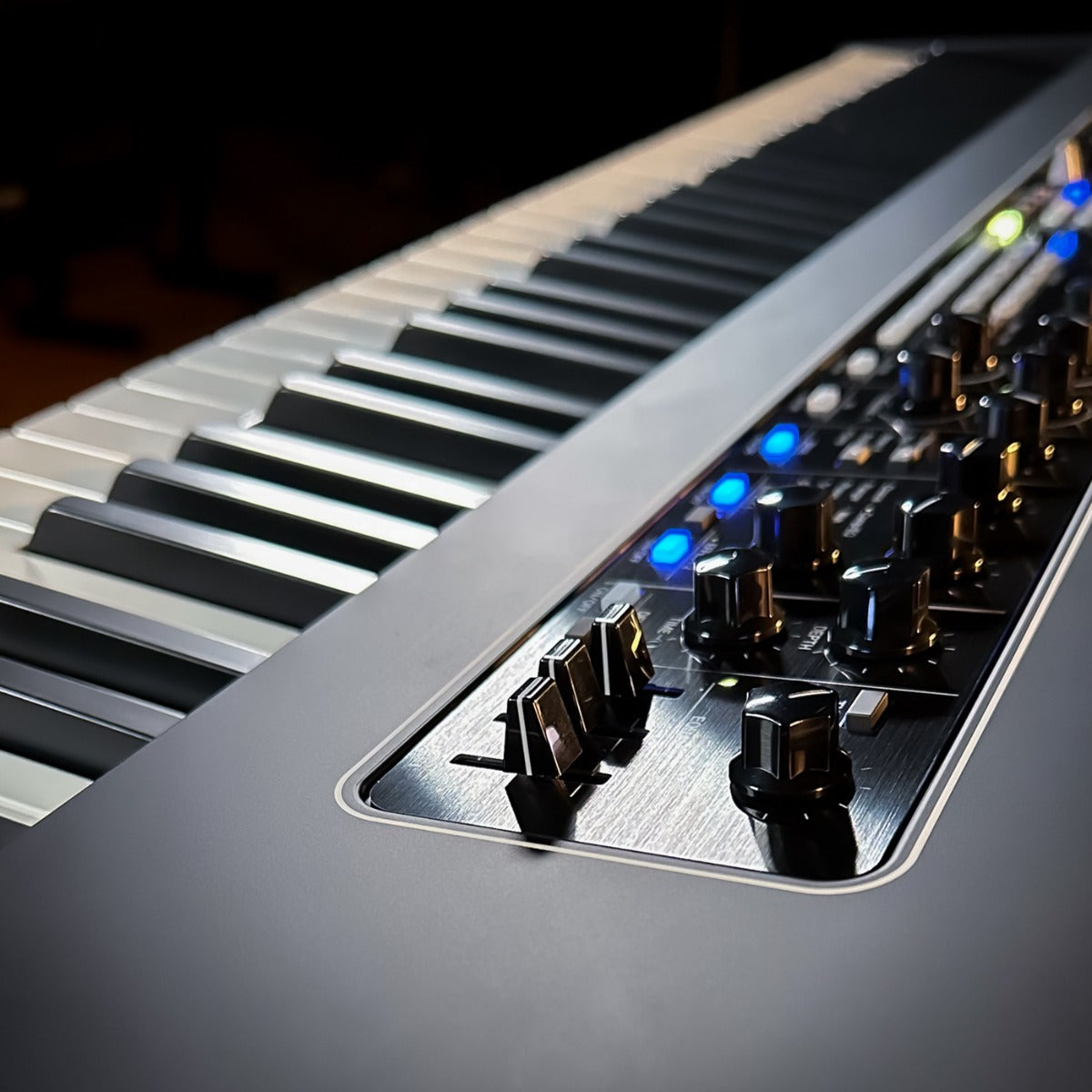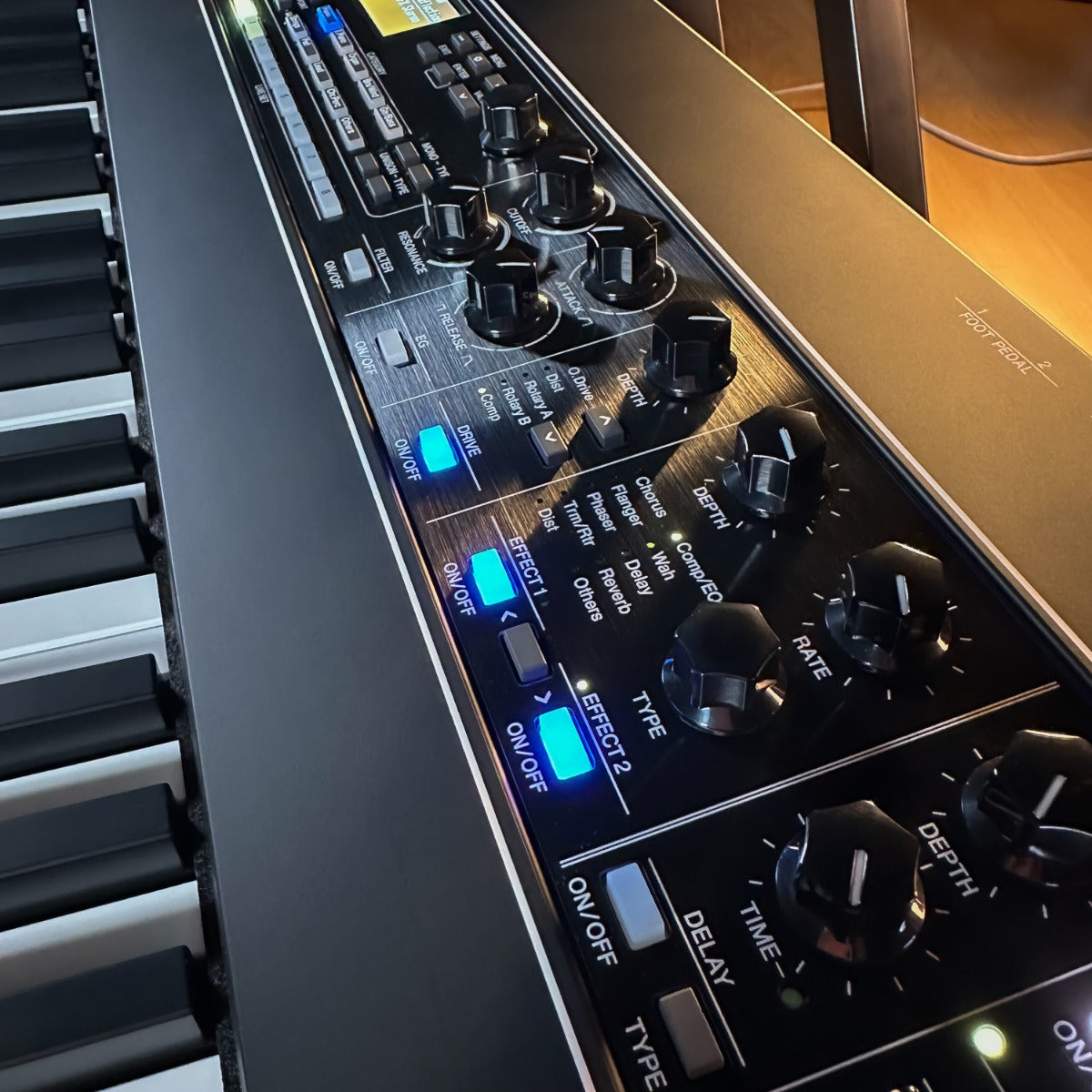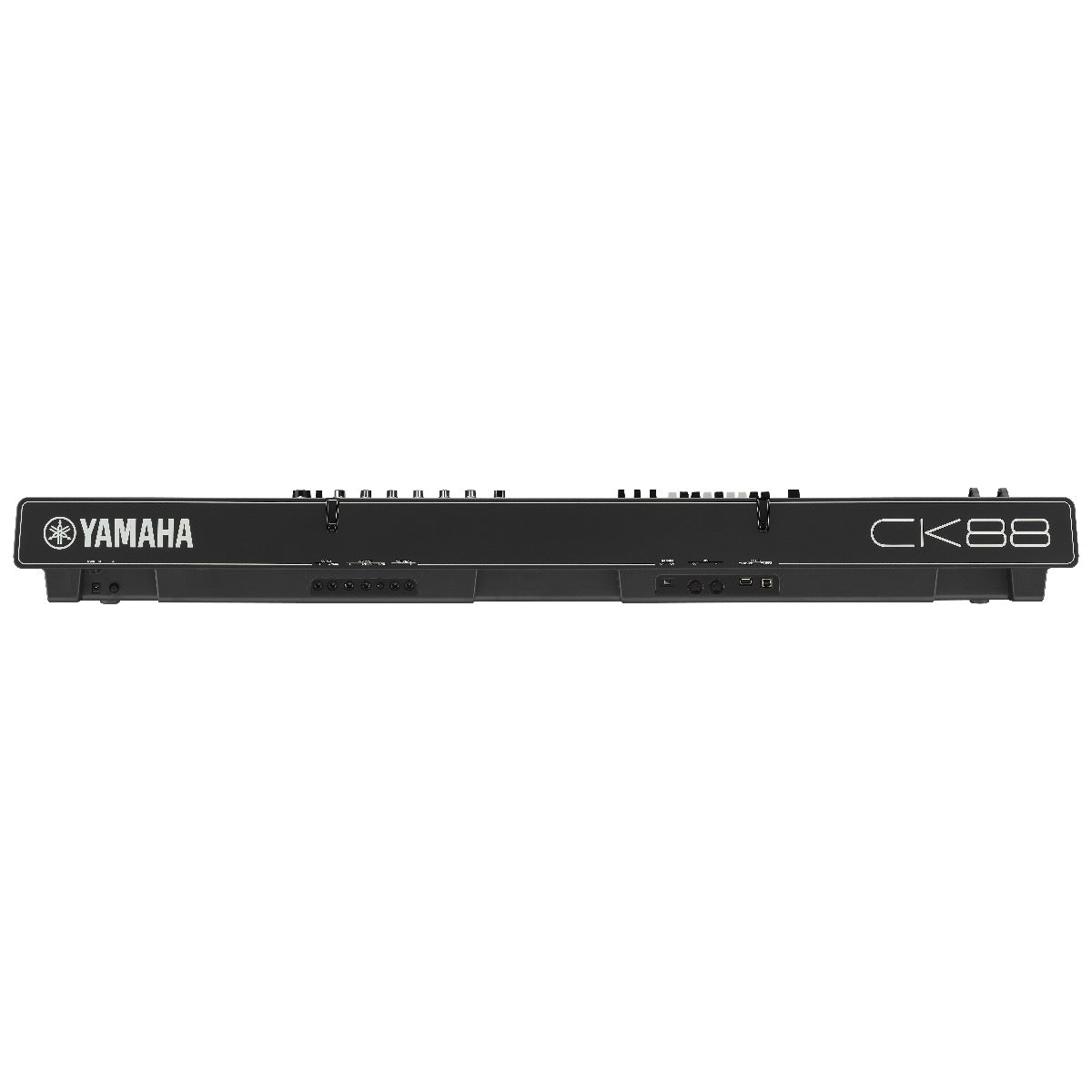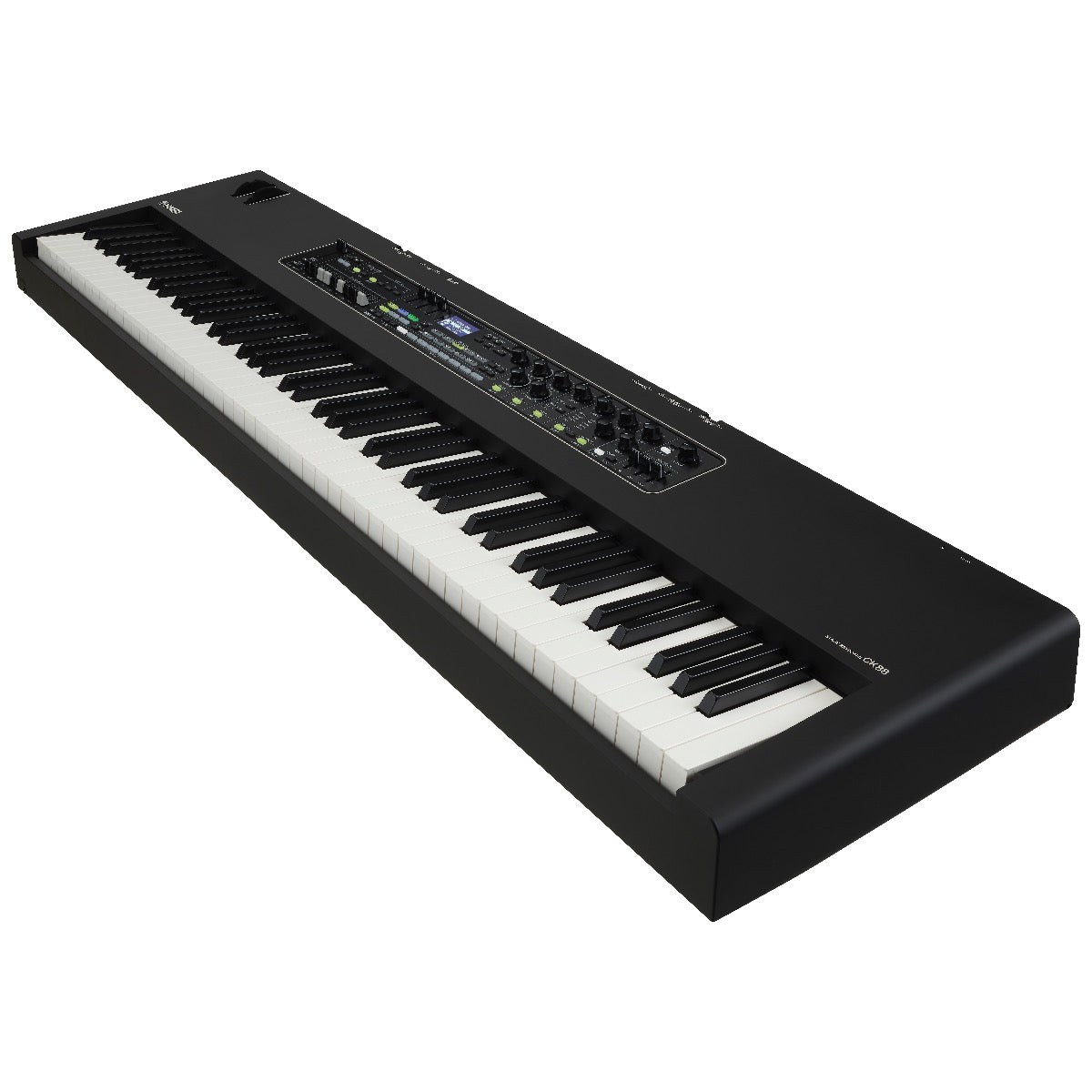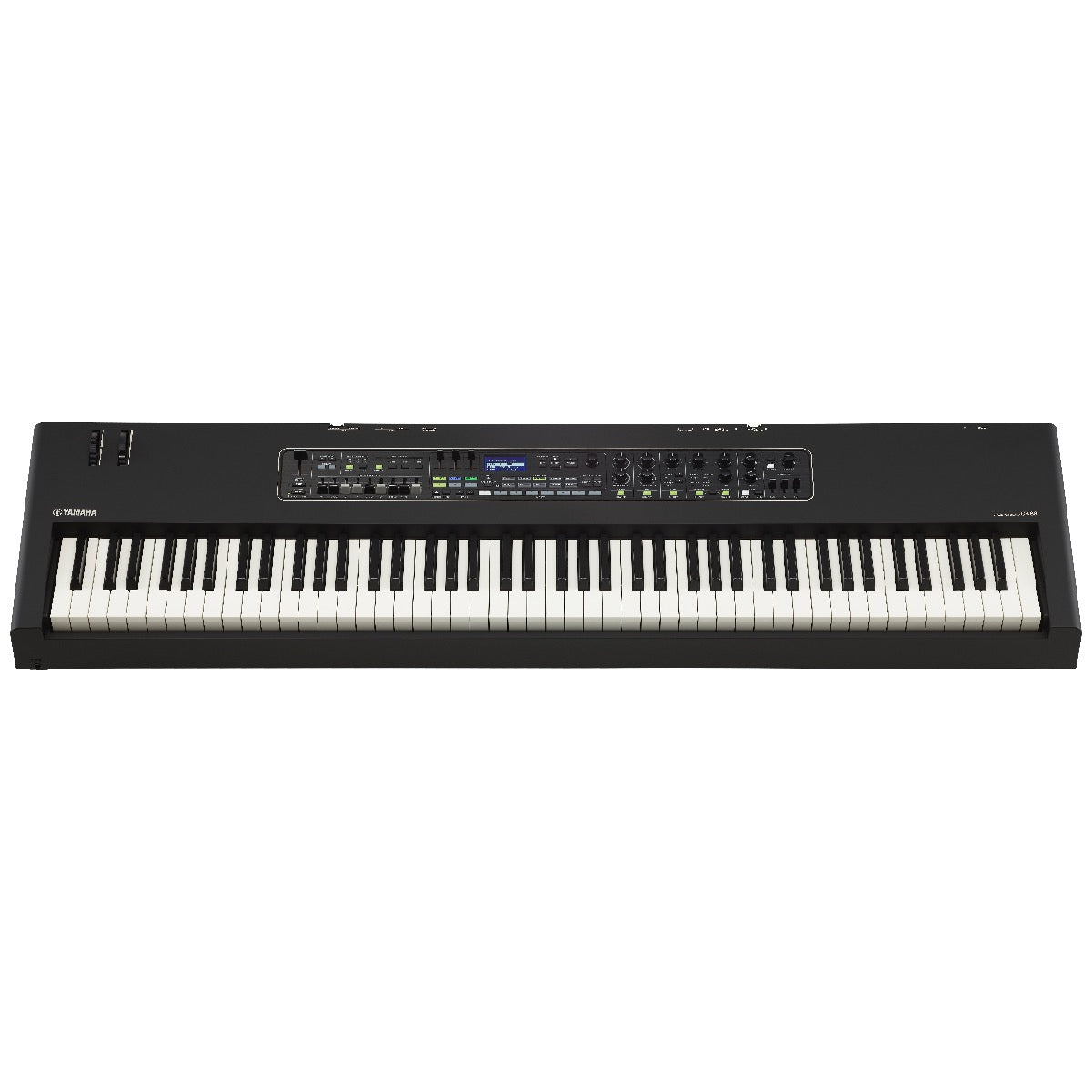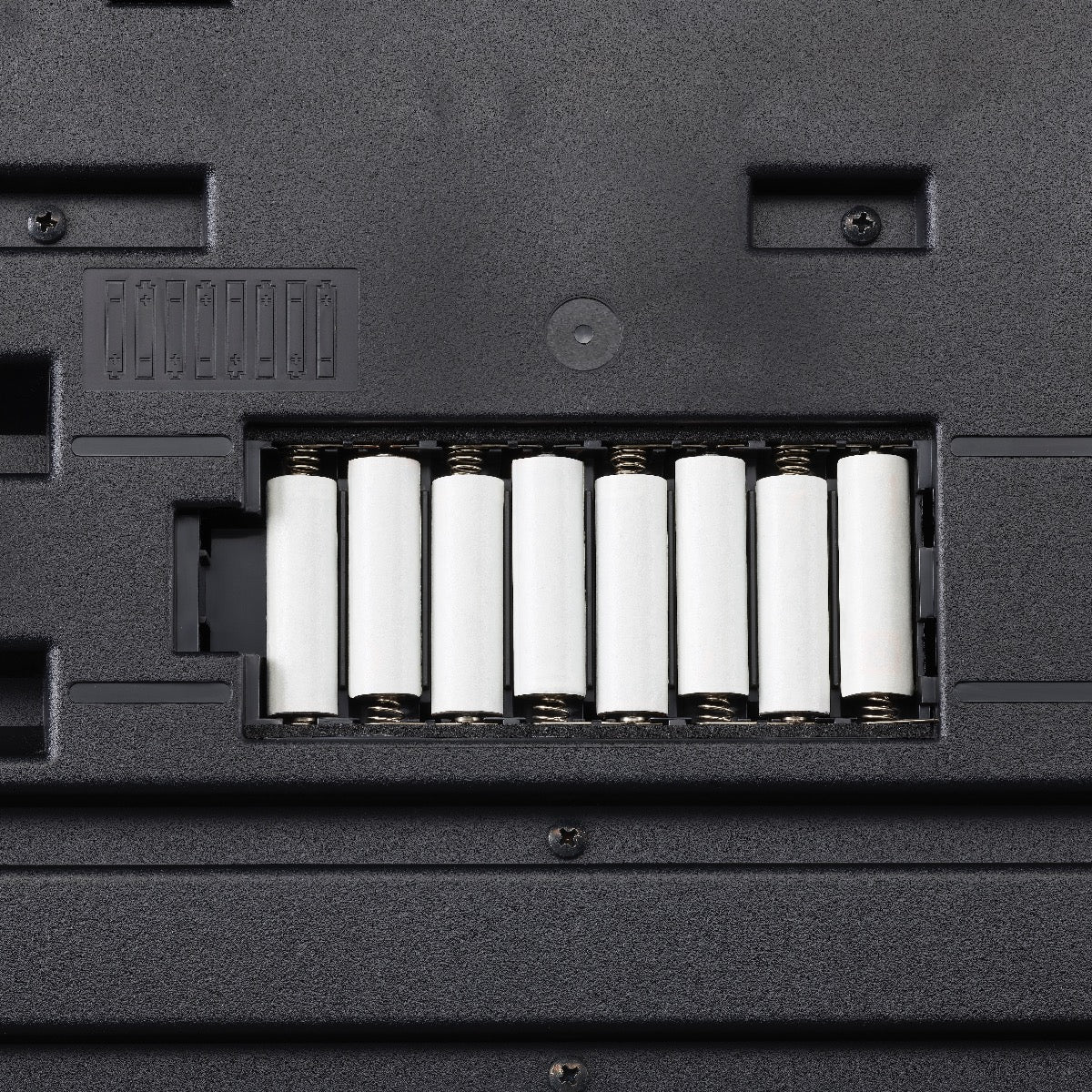 Yamaha CK88 Stage Keyboard
The CK88 Stage Keyboard offers authentic piano, organ, and synth sounds in a portable package that's perfect for any musician on the go. Its 88 keys feature a Graded Hammer Standard action, making it ideal for both acoustic and electric piano styles. With a range of sounds and effects, including pianos, electric pianos, strings, brass, organ, and modern synth sounds, you can explore new sonic palettes with ease. The easy-to-use controls allow you to focus on the music, not the menu, with dedicated organ controls and Synth and Effect controls. With its long battery life, the CK88 is perfect for turning any place into a stage or studio, from campgrounds and tour buses to hotel rooms.
Graded Hammer Standard (GHS) weighted keyboard action ideal for piano players.
Two split points increase flexibility to play three different sounds across the keyboard
Focused piano and keyboard sound set that's expressive and authentic for any musical need
Features a variety of organ types, from vintage drawbar to combo transistor-based from Reface YC, for classic rock, pop, jazz, R&B and country
Imitative sounds with realistic string sections, brass ensembles, and more add to the musical versatility
A collection of fat, deep and expressive synth sounds that can be controlled in real-time
Extensive onboard effects feature hands on controls to easily create your own sound
One-to-one interface keeps you out of menus so you can focus on the music
Dedicated Part controls allow quick and deep tweaking without menu diving
Two customizable pedal inputs provide extra control for more expression
Four Zone MIDI Master Keyboard Control allows powerful control over hardware and soft synths
Sound
CK combines the sounds of the Yamaha CP Stage Piano with the organ and synth focused YC Stage Keyboard to give you a totally new sonic palette. All with an intuitive interface that lets you focus on the music, not the menus. You'll have piano, electric pianos, strings and brass plus a dedicated organ section and modern synth sounds. Onboard special effects to make it your own. There's even Analog to Digital (A/D) Input to plug in a mic or another instrument, apply effects and record directly to your laptop. Not to mention CK has built-in speakers and batteries to take your new sound to new places. The options are nearly endless.
Pianos, EP & Keys
CK features piano sounds from three legendary Yamaha grands: the CFX, S700 and CF3, plus the character-rich U1 upright piano from the Yamaha YC Series. "Digi Piano" sounds let you get your 90s dance party on. There's also a selection of vintage electric piano sounds in both the reed and tine style, funky Clavi sounds and the classic 80s DX7-style FM electric pianos Yamaha helped make famous. You'll have all the keyboard sounds you need to bring down the house, arena or backyard barbecue.
Organ
When it comes to organ, the versatile CK is all about options. Classic 60s surf rock? Check. Soulful R&B? Check. Gospel and everything in between? Amen. CK has a dedicated organ section based on the Yamaha reface YC mobile mini keyboard featuring five different organ types, rotary speaker effect, percussion and a newly enhanced vibrato/chorus. You get nine dedicated drawbars with controls for the rotary speaker, percussion and a vibrato/chorus section.
Synths
CK gives you a variety of complex synth sounds without the complex menus. You get analog style pads, leads and basses, synth brass, strings and pads. Even synth bells and textures to add to your synth sound palette. All with modern synth controls to tweak your sound without menu diving. Elegant filter and envelope generator (EG) controls to shape the tone and amplitude of all of them. Mono mode with panel switch and customization features that are great for synth leads and basses. Unison mode with panel switch, three modes and deeper adjustments. Make massive sounding synths for stabs, pads, leads, basses or anything you can imagine.
Effects
CK effects simplify sound customization with three dedicated processors: Drive, Effects 1, and Effects 2, along with an A/D Input having two unique effects. Drive offers five overdrive/distortion types to add edge, while Effects 1 and 2 provide modulation effects like Chorus, Flanger, Phaser, Delay, Reverb, Wah, Tremolo, experimental synth effects (e.g., Ring Modulation, Slicer, Lo-Fi), and EQ. With 36 effects, it's like having a customizable guitar pedal board. Master Delay and Reverb offer four and three effects, respectively, with individual send levels from each of the three CK parts and A/D Input. Lastly, the Master EQ allows for final tone adjustments. A mic or instrument can be connected to the A/D input, apply effects, and hear the sound via CK's speakers or outputs. You can also record anything connected to the A/D input through the built-in USB audio interface.
Three Parts
CK lets you split, layer, mix and process all from the front panel. Making it easy to create with a nearly endless combination of sounds. Split bass and piano. Layer organ with strings. Experiment with modern synth sounds. CK gives you three parts that let the music go wherever you want.
A/D Input
Analog to Digital (A/D) Inputs let you apply two dedicated effects to the audio and store them to a LIVE SET.
Control
CK features an intuitive, 1 to 1 interface that gives you the freedom to explore your sound. Everything, from dedicated Organ controls to Synth and Effects controls, is designed to keep you making music instead of diving into menus.
USB Audio/MIDI Interface
CK is much more than a pretty MIDI interface. Built-in stereo in/out USB Audio Interface lets you record and play back audio to and from CK to your computer or iOS device, including whatever is plugged into the A/D input. It even has USB MIDI and 5-pin DIN In/Out. Perfect for recording MIDI data, controlling softsynths or connecting to Soundmondo.
Bluetooth Audio Input
CK goes wireless with Bluetooth Audio to accept tracks from your phone or bandmates. You can even use the built-in speakers to play a tune or run tracks from your phone.
SKU
YAM-CK88
MPN
CK88
Vendor
Yamaha
Bluetooth
Audio Receiving and App Connectivity
Built In Speakers
Yes
Drawbar Sets
1 Set
Drawbar Style
Physical
Included From Manufacturer
Power Cord
Keys Weighted
Hammer Weighted
Number of Keys
88
Midi
In, Out, and USB
Mpn
CK88
Control Connections
2 x 1/4" Pedal Inputs
MIDI In/Out
Onboard Controllers
Pitch / Mod Wheel
9 Drawbars
Effects
Delay, Reverb, Master EQ
Half-Damper Support
Yes (With Optional Pedal Unit)
Audio Inputs
1/4" (L/Mono, R)
Audio Outputs
1/4" (L/Mono, R)
1/4" Phones
Key Action
Graded Hammer Standard (GHS)
Layer Feature
Yes
Number of MIDI Control Zones
4
Product Weight
28 lbs. 14 oz (without batteries)
Programs/Presets
160
Speaker Power
6 W x 2
Speaker Size
2 x 4.72" / 2.36" (Switchable on/off)
Split Feature
Yes
USB Flash Drive Port (to Device)
Song File Playback
USB Port (to Host)
MIDI;Audio
Voices of Polyphony
128
Width
52-1/2"
Depth
13-15/16"
Height
5-13/16"
Yamaha Digital Piano Limited Warranty
Thank you for selecting a Yamaha product. Yamaha products are designed and manufactured to provide a high level of defect-free performance. Yamaha Corporation of America ('Yamaha') is proud of the experience and craftsmanship that goes into each and every Yamaha product. Yamaha sells its products through a network of reputable, specially authorized dealers and is pleased to offer you, the Original Owner, the following Limited Warranty, which applies only to products that have been (1) directly purchased from Yamaha's authorized dealers in the fifty states of the USA and District of Columbia (the 'Warranted Area') and (2) used exclusively in the Warranted Area. Yamaha suggests that you read the Limited Warranty thoroughly, and invites you to contact your authorized Yamaha dealer or Yamaha Customer Service if you have any questions.
This warranty covers Yamaha Digital Pianos against defects in materials or workmanship for three (3) years.
Yamaha will, at its option, repair or replace the product covered by this warranty if it becomes defective, malfunctions or otherwise fails to conform with this warranty under normal use and service during the term of this warranty, without charge for labor or materials. Repairs may be performed using new or refurbished parts that meet or exceed Yamaha specifications for new parts. If Yamaha elects to replace the product, the replacement may be a reconditioned unit.
You will be responsible for any installation or removal charges and for any initial shipping charges if the product(s) must be shipped for warranty service. However, Yamaha will pay the return shipping charges to any destination within the USA if the repairs are covered by the warranty.
This warranty does not cover (a) damage, deterioration or malfunction resulting from accident, negligence, misuse, abuse, improper installation or operation or failure to follow instructions according to the Owner's Manual for this product; any shipment of the product (claims must be presented to the carrier); repair or attempted repair by anyone other than Yamaha or an authorized Yamaha Service Center; (b) any unit which has been altered or on which the serial number has been defaced, modified or removed; (c) normal wear and any periodic maintenance; (d) deterioration due to perspiration, corrosive atmosphere or other external causes such as extremes in temperature or humidity; (e) damages attributable to power line surge or related electrical abnormalities, lightning damage or acts of God; or (f) RFI/EMI (Interference/noise) caused by improper grounding or the improper use of either certified or uncertified equipment, if applicable.
Any evidence of alteration, erasing or forgery of proof-of-purchase documents will cause this warranty to be void. This warranty covers only the Original Owner and is not transferable.
Warranty service will only be provided for defective products within the Warranted Area. Contact your local authorized Yamaha dealer who will advise you of the procedures to be followed. If this is not successful, contact Yamaha directly. Yamaha may request that you send the defective product to a local authorized Yamaha Servicer or authorize return of the defective product to Yamaha for repair. If you are uncertain as to whether a dealer has been authorized by Yamaha, please contact Yamaha's Service Department or check Yamaha's website.
Product(s) shipped for service should be packed securely and must be accompanied by a detailed explanation of the problem(s) requiring service, together with the original or a machine reproduction of the bill of sale or other dated, proof-of-purchase document describing the product, as evidence of warranty coverage. Should any product submitted for warranty service be found ineligible therefore, an estimate of repair cost will be furnished and the repair will be accomplished only if requested by you and upon receipt of payment or acceptable arrangement for payment.
Any implied warranties, including warranties of merchantability and fitness for a particular purpose shall be limited in duration to the applicable period of time set forth above. Yamaha shall not be responsible for incidental or consequential damages or for damages based upon inconvenience, loss of use, damage to any other equipment or other items at the site of use or interruption of performances or any consequences thereof. Yamaha's liability for any defective product is limited to repair or replacement of the product, at Yamaha's option. Some states do not allow limitations on how long an implied warranty lasts or the exclusion or limitation of incidental or consequential damages, so the above limitation or exclusion may not apply to you. This Warranty gives you specific legal rights, and you may also have other rights which vary from state to state. This is the only express warranty applicable to the Product specified herein; Yamaha neither assumes nor authorizes anyone to assume for it any other express warranty.
Ground shipping is FREE for all orders $99 and up.