Skip product carousel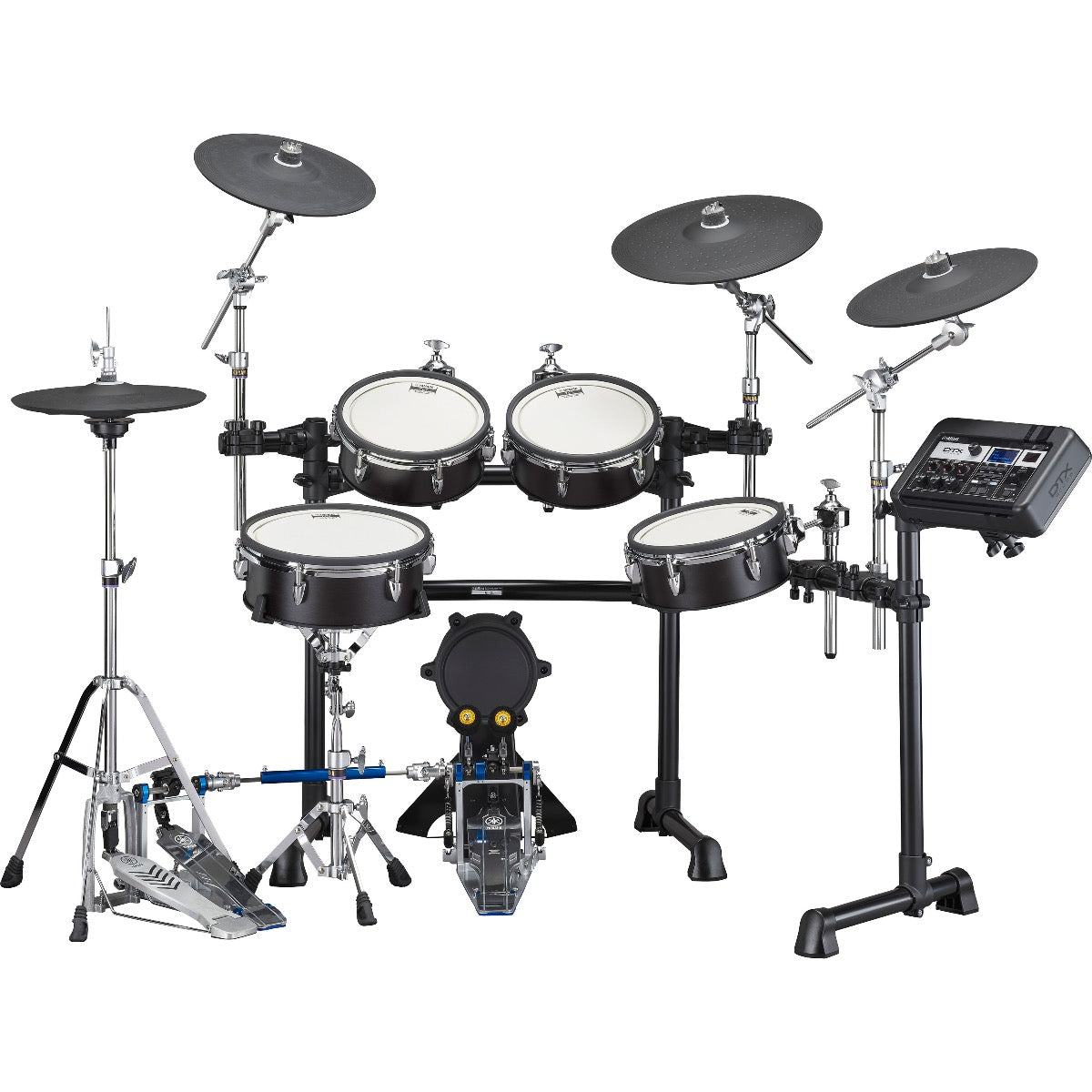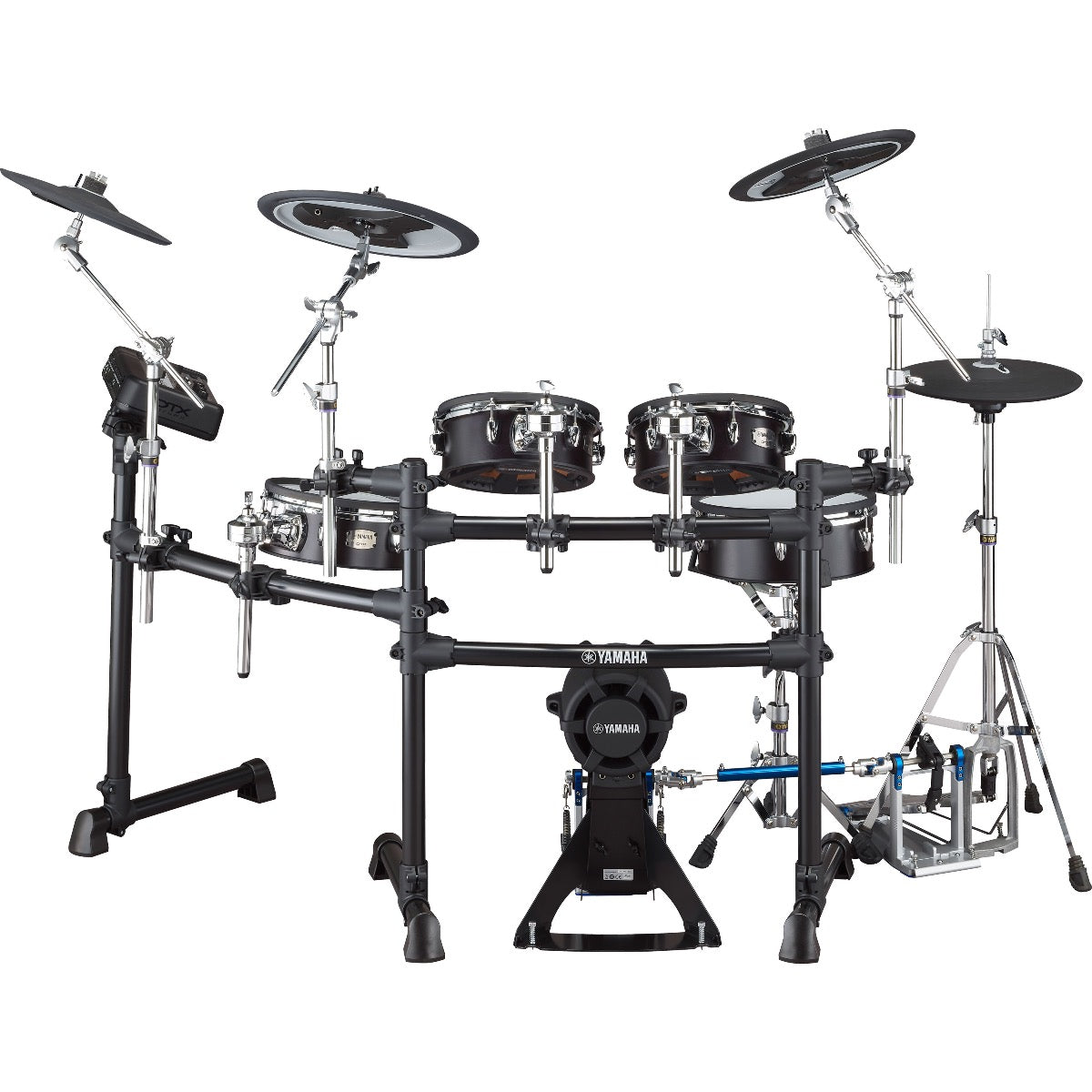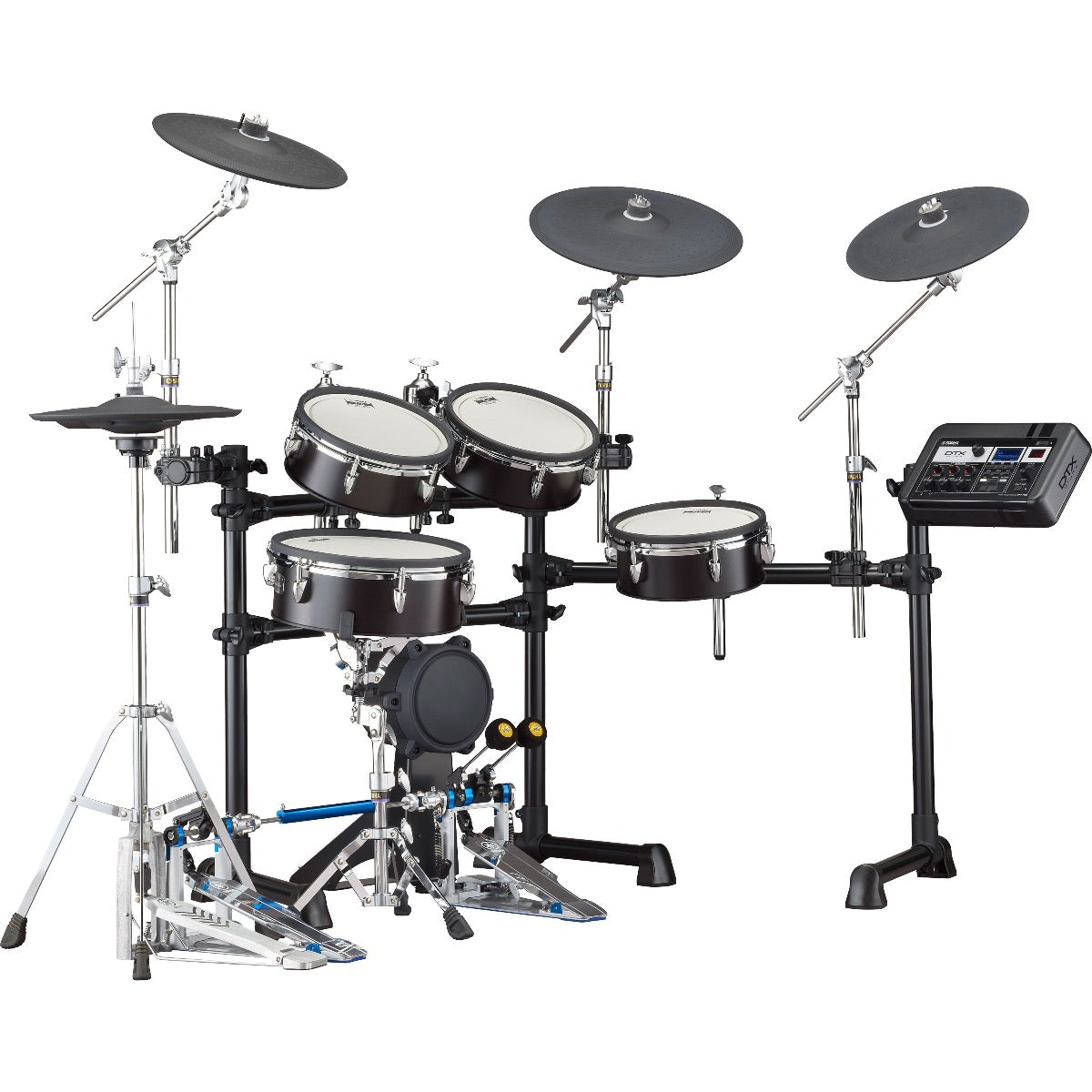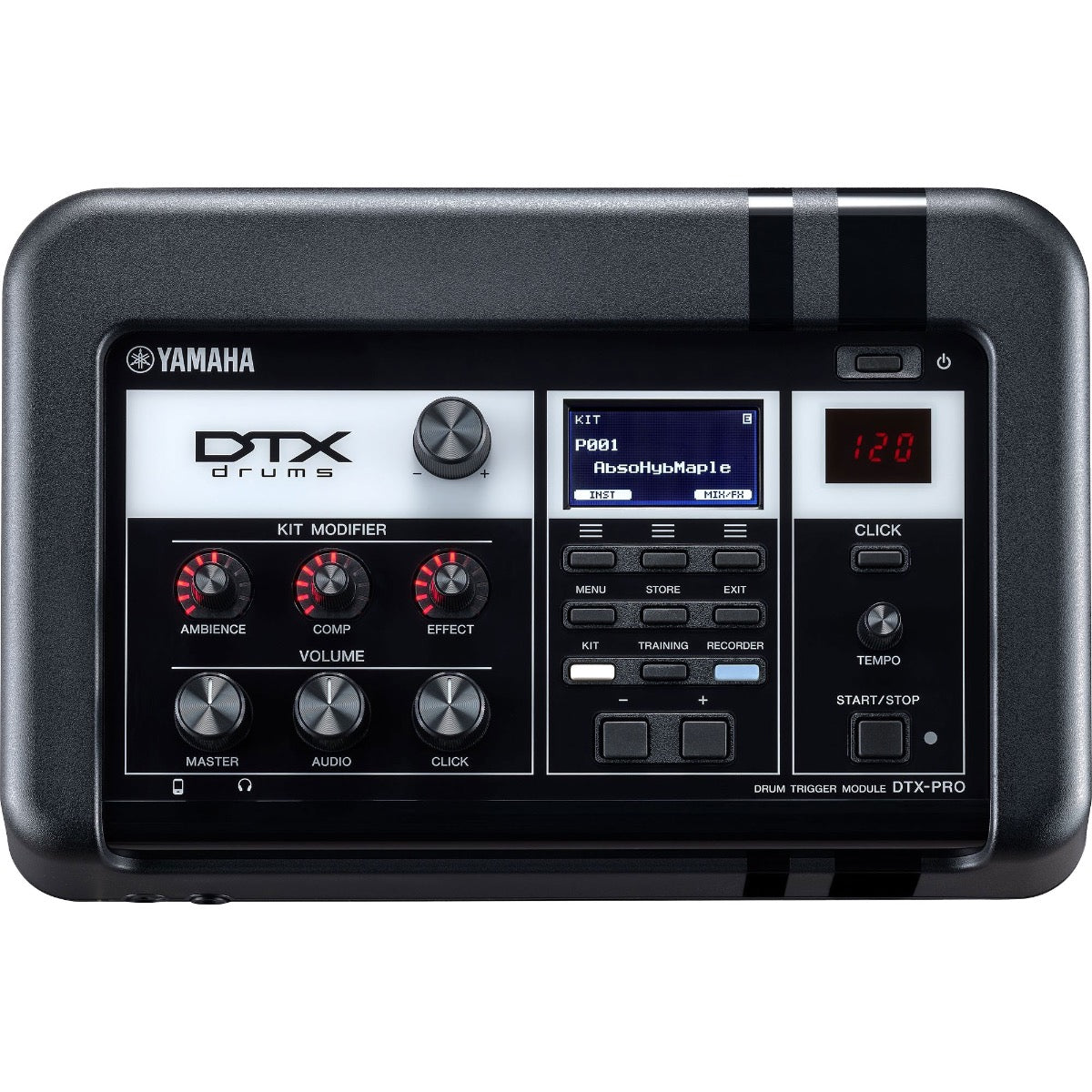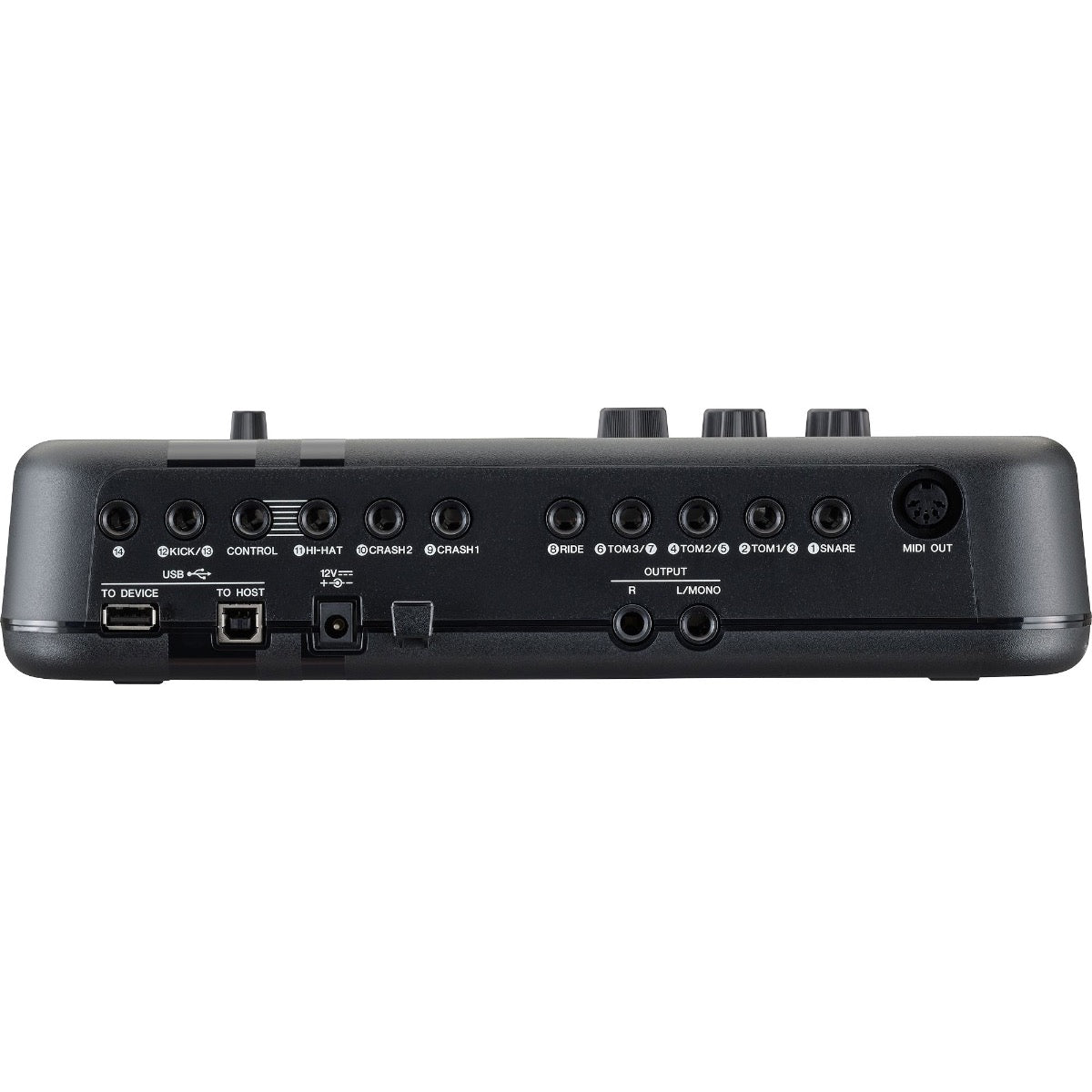 Yamaha DTX8K-X BF Electronic Drum Set - Black Forest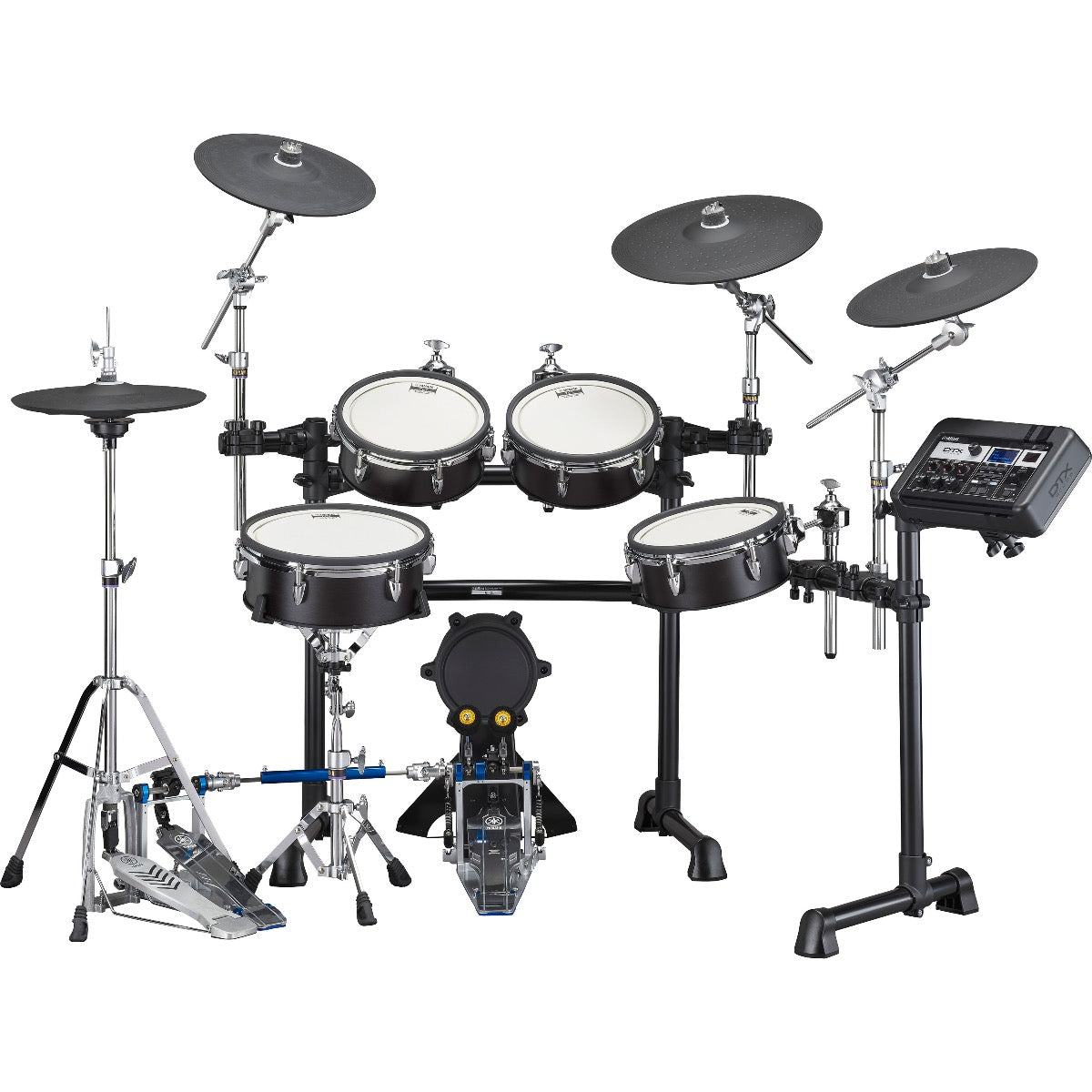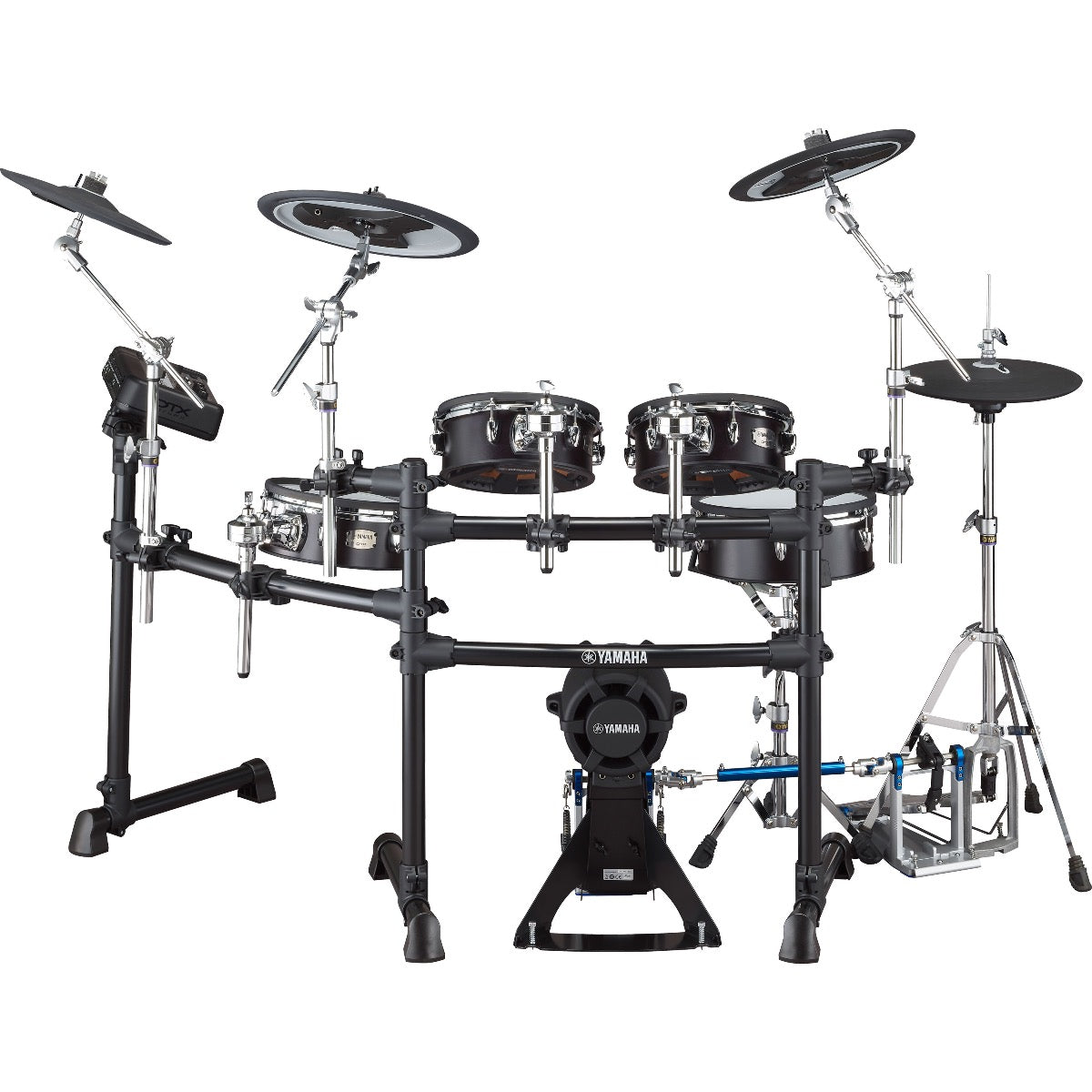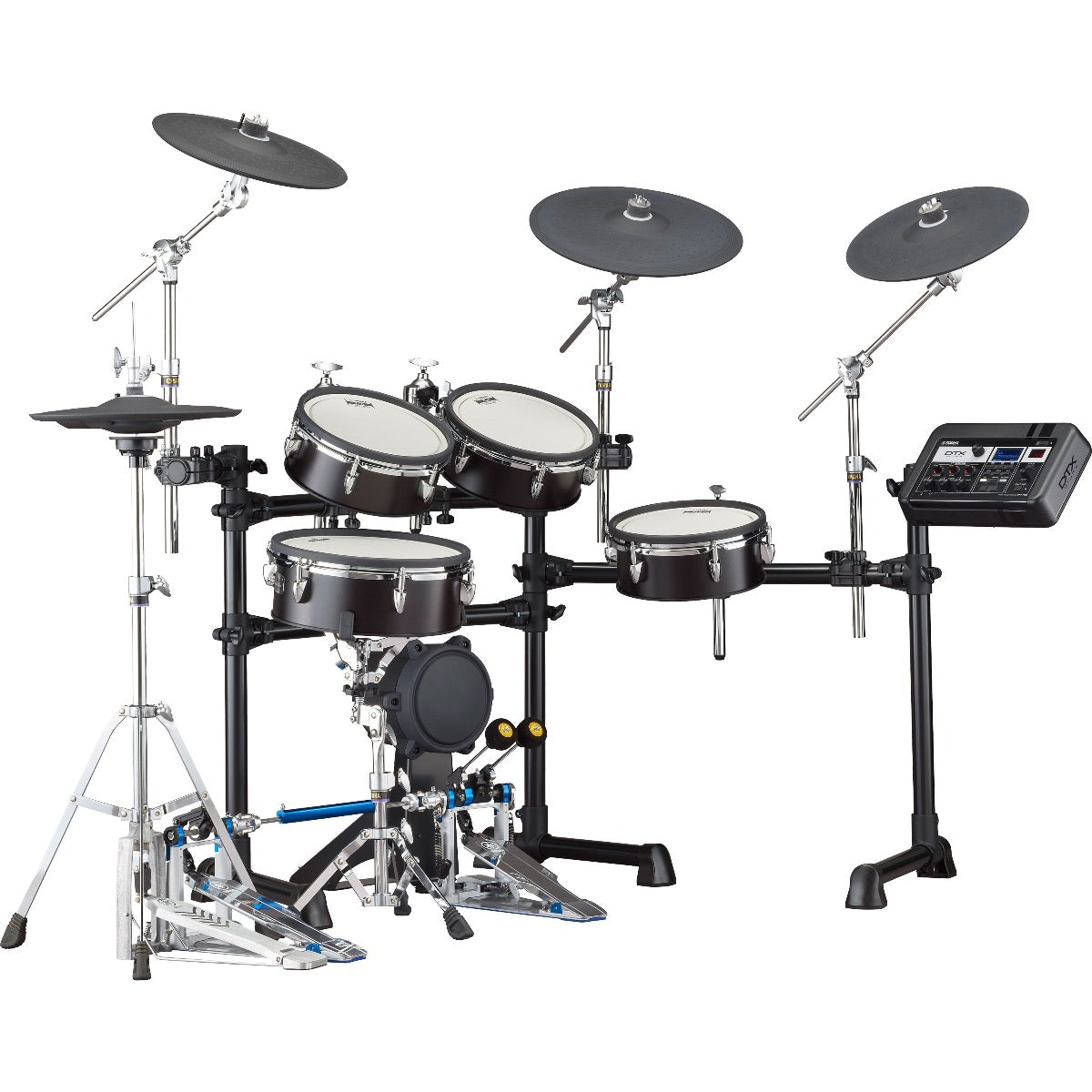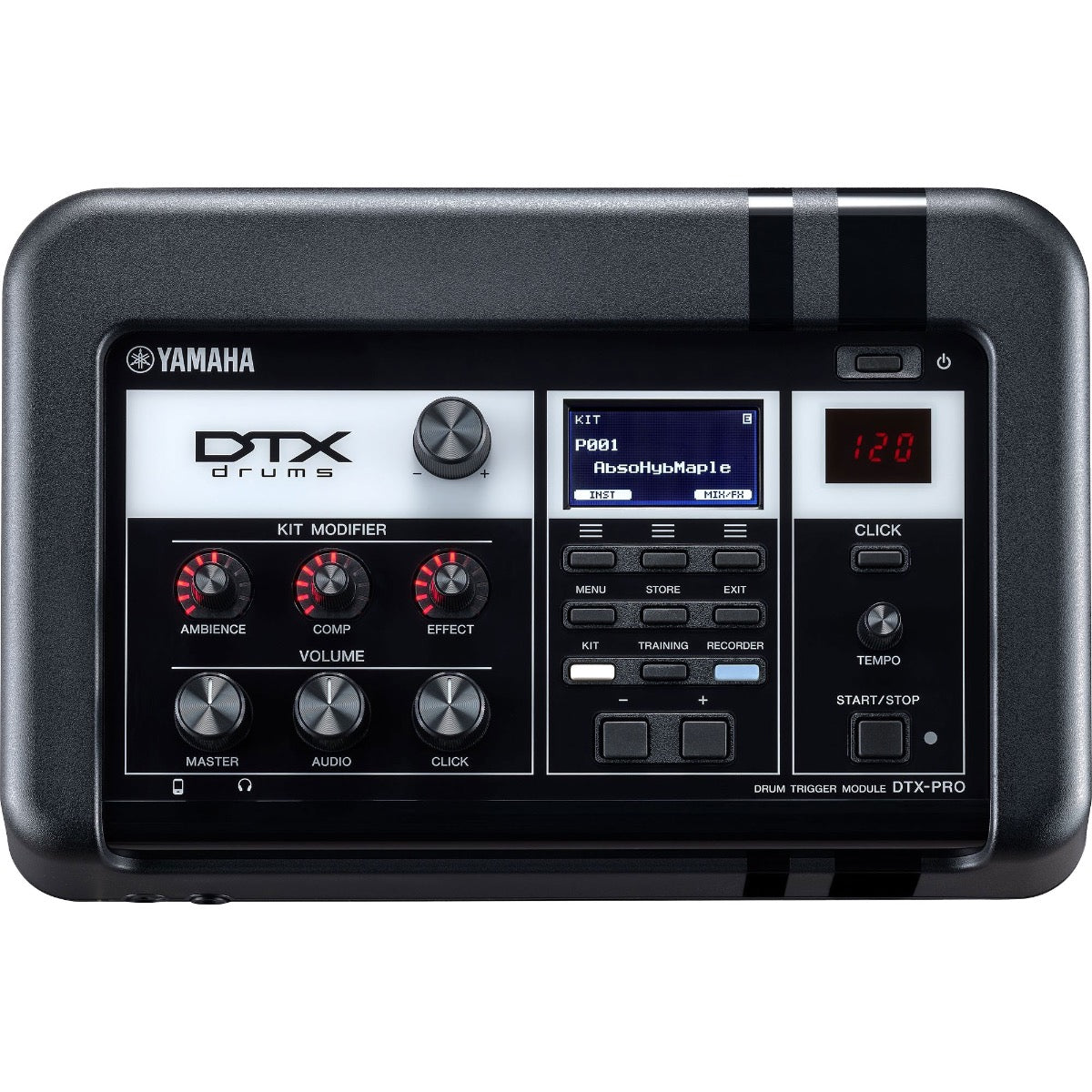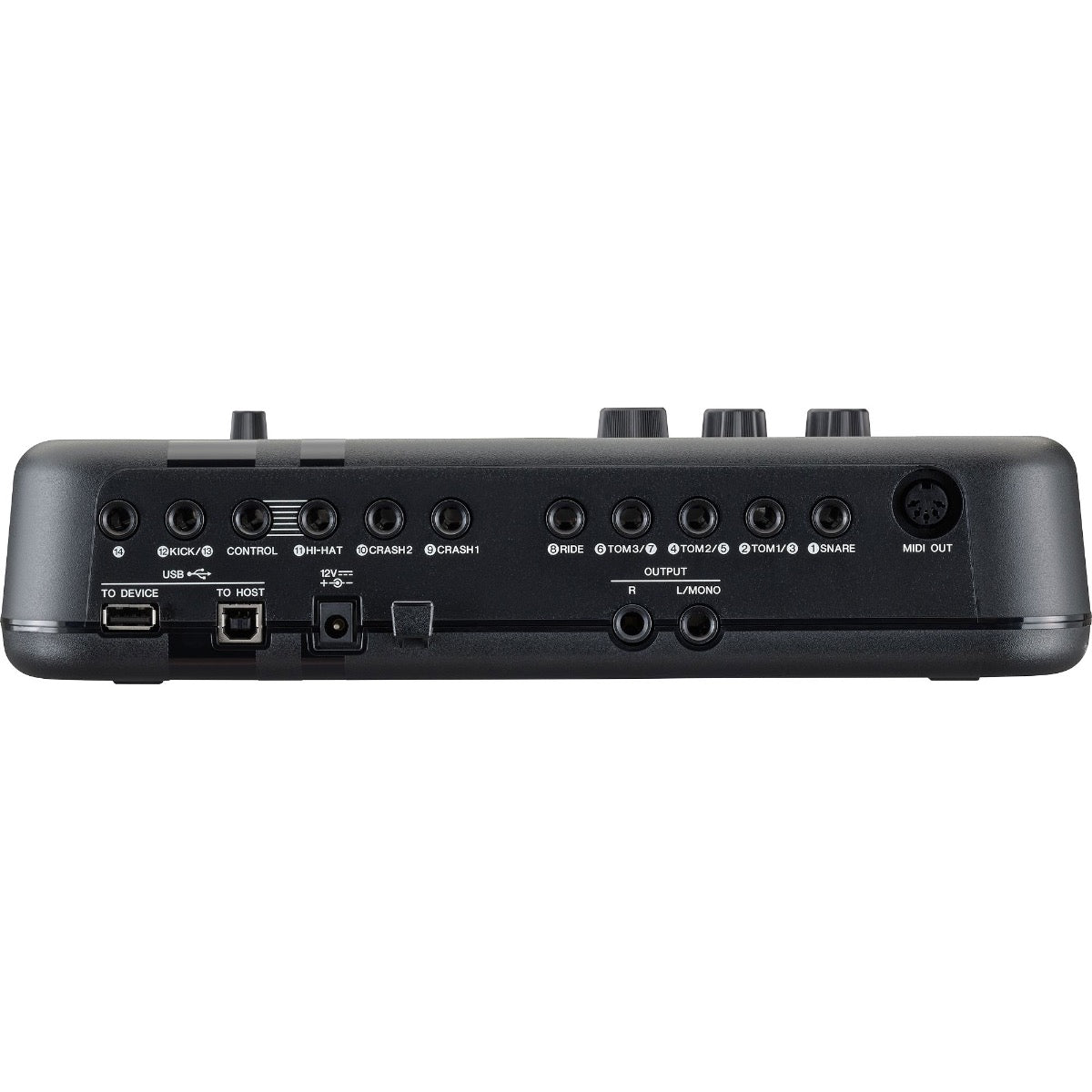 Yamaha DTX8K-X BF Electronic Drum Set - Black Forest
Yamaha DTX8K-X with the DTX-PRO module featuring Kit Modifier delivers the highest quality sounds and puts drummers in control of unbound creative expression. The real sound and ambience, the tactile feel of TCS pads and positional sensing on the snare and ride cymbal provide natural feel and expressiveness. Real wood birch-wrapped shells handcrafted and stained in the same factory as Yamaha acoustic drums provide the presence and beauty of premium acoustic drums.
40 preset kits, 200 user kits and over 700 voices
Faithful reproduction of real sound and ambience recorded in world-renowned studios
Use Kit Modifier AMBIENCE, COMP and EFFECT controls to create your own sound
Beautiful wood shells molded and finished at the Yamaha Drum factory
Yamaha TCS heads provide a natural feel and rebound for enhanced playability
Large 12" snare pad and 15" ride cymbal pad equipped with hit point detection for more expressive playing
Built on Yamaha's interchangeable hardware, including Yamaha ball clamps
Includes KP90 kick tower with 7.5" pad, wide enough for a double bass pedal (sold separately)
Kick pedal is not included.
DTX8K-X offers the uncompromising sound, feel and playing surface that allow drummers to perform at their best. The DTX-PRO module delivers sounds that have been fine-tuned to naturally follow the drummer's performance and allow for maximum expression. DTX-PRO features real sounds and real sampled room ambience recorded in world-renowned studios.
For Kit Modifier, the experience of Yamaha and its drum voicing that has been cultivated over many years has been condensed into three knobs: AMBIENCE, COMP and EFFECT. With the simple twist of a knob, it is possible to express a wide range of sounds from natural/acoustic to the unique sounds created by professional engineers and producers.
Yamaha TCS (textured cellular silicone) heads feature a unique internal structure that provides a realistic response with realistic hardness and rebound, as well as a treated surface that prevents stick sliding. The result is a natural drum feel that encourages you to keep playing.
The pads feature wooden birch drum shells made and painted at Yamaha acoustic drum factories. The badges, lugs and hoops are also standard acoustic drum parts. These shells offer the presence and beauty of authentic acoustic drums and give this kit great stage appeal.
All cymbal pads feature 3 zones – meaning they produce different sounds at the edge, bow and cup – as well as choke and mute functionality. The ride cymbal is equipped with a hit point detection function, allowing it to reproduce delicate stick work.
USB audio and MIDI allows connectivity to numerous devices for recording, streaming and the Rec'n'Share app without additional input gear. Create high-quality videos without leaving the drum throne. The module includes individual inputs allowing for hybrid setups or easily augmenting the kit with more pads. The ability to layer up to four sounds per pad, along with stacking two different effects ignites creativity and allows you to customize your sound with professional studio quality.
The rich practice functions of DTX-PRO make you a better drummer, quicker! There's a sophisticated metronome, a recorder function, 10 training functions that are perfect for training drummer's sense of rhythm, various genres of 37 training songs and more. Whether you're a beginner or a professional, you'll find useful functions for daily training.
With unparalleled sounds, functionality and stage presence, DTX8K-X is recommended for all drummers looking for a superior performance when rehearsing, performing live or recording.
SKU
YAM-DTX8KXBF
MPN
DTX8K-X BF
Vendor
Yamaha
Connectivity
USB and MIDI (Out Only)
Included From Manufacturer
DTX-PRO module with module holder and wing bolts
RS8 rack
XP125 SD-X 12" snare with SS662 stand
3 × XP105T-X 10" toms with CL940MB mounting clamps
RHH135 13" hi-hat with HS650A stand
2 × PCY135 13" crash cymbals with CH755 stands
PCY155 15" ride cymbal with CH755 stand
KP90 7.5" kick tower
10-channel cable
Power supply
Mpn
DTX8K-X BF
Product Unique Features
Beautiful wood shells molded and finished at the Yamaha Drum factory
Yamaha TCS heads provide a natural feel and rebound for enhanced playability
Use Kit Modifier AMBIENCE, COMP and EFFECT controls to create your own sound
Built on Yamaha's interchangeable hardware, including Yamaha ball clamps
Cymbal Choke Capability
Yes
Number of Cymbal Zones
3
Ride cymbal pad has positional sensing
Number of Drum Kits
40 preset kits
200 user kits
Hi-Hat Stand Included
Yes
Audio Inputs
1/8" stereo auxiliary input
Audio Outputs
Dual 1/4" stereo main output
1/4" stereo headphone output
Number of Instrument Sounds
400+
Internal Storage Capacity
1,000 files
760 seconds (44.1 kHz, 16 bit, mono)
380 seconds (44.1 kHz, 16 bit, stereo)
Kick Pad Surface
Multi-layer cushion
Kick Pedal Included
No
Metronome
Yes
Number of Pads
9
Sampling
Sample import only
Sequencer/Recording
Yes
Snare Pad Zones/Surface
2 zones with positional sensing
Snare Stand Included
Yes
Number of Songs/Patterns
37 preset songs
1 user song
Maximum of 90 seconds recording to internal memory
Maximum of 90 minutes per file recording to USB flash drive
Storage Type
USB
Throne Included
No
Tom Pad Zones/Surface
2
Trigger Inputs
14
Yamaha Electronic Drums Limited Warranty
Thank you for selecting a Yamaha product. Yamaha products are designed and manufactured to provide a high level of defect-free performance. Yamaha Corporation of America ('Yamaha') is proud of the experience and craftsmanship that goes into each and every Yamaha product. Yamaha sells its products through a network of reputable, specially authorized dealers and is pleased to offer you, the Original Owner, the following Limited Warranty, which applies only to products that have been (1) directly purchased from Yamaha's authorized dealers in the fifty states of the USA and District of Columbia (the 'Warranted Area') and (2) used exclusively in the Warranted Area. Yamaha suggests that you read the Limited Warranty thoroughly, and invites you to contact your authorized Yamaha dealer or Yamaha Customer Service if you have any questions.
This warranty covers Yamaha Electronic Drums against defects in materials or workmanship for one (1) year.
Yamaha will, at its option, repair or replace the product covered by this warranty if it becomes defective, malfunctions or otherwise fails to conform with this warranty under normal use and service during the term of this warranty, without charge for labor or materials. Repairs may be performed using new or refurbished parts that meet or exceed Yamaha specifications for new parts. If Yamaha elects to replace the product, the replacement may be a reconditioned unit.
You will be responsible for any installation or removal charges and for any initial shipping charges if the product(s) must be shipped for warranty service. However, Yamaha will pay the return shipping charges to any destination within the USA if the repairs are covered by the warranty.
This warranty does not cover (a) damage, deterioration or malfunction resulting from accident, negligence, misuse, abuse, improper installation or operation or failure to follow instructions according to the Owner's Manual for this product; any shipment of the product (claims must be presented to the carrier); repair or attempted repair by anyone other than Yamaha or an authorized Yamaha Service Center; (b) any unit which has been altered or on which the serial number has been defaced, modified or removed; (c) normal wear and any periodic maintenance; (d) deterioration due to perspiration, corrosive atmosphere or other external causes such as extremes in temperature or humidity; (e) damages attributable to power line surge or related electrical abnormalities, lightning damage or acts of God; or (f) RFI/EMI (Interference/noise) caused by improper grounding or the improper use of either certified or uncertified equipment, if applicable.
Any evidence of alteration, erasing or forgery of proof-of-purchase documents will cause this warranty to be void. This warranty covers only the Original Owner and is not transferable.
Warranty service will only be provided for defective products within the Warranted Area. Contact your local authorized Yamaha dealer who will advise you of the procedures to be followed. If this is not successful, contact Yamaha directly. Yamaha may request that you send the defective product to a local authorized Yamaha Servicer or authorize return of the defective product to Yamaha for repair. If you are uncertain as to whether a dealer has been authorized by Yamaha, please contact Yamaha's Service Department or check Yamaha's website.
Product(s) shipped for service should be packed securely and must be accompanied by a detailed explanation of the problem(s) requiring service, together with the original or a machine reproduction of the bill of sale or other dated, proof-of-purchase document describing the product, as evidence of warranty coverage. Should any product submitted for warranty service be found ineligible therefore, an estimate of repair cost will be furnished and the repair will be accomplished only if requested by you and upon receipt of payment or acceptable arrangement for payment.
Any implied warranties, including warranties of merchantability and fitness for a particular purpose shall be limited in duration to the applicable period of time set forth above. Yamaha shall not be responsible for incidental or consequential damages or for damages based upon inconvenience, loss of use, damage to any other equipment or other items at the site of use or interruption of performances or any consequences. Yamaha's liability for any defective product is limited to repair or replacement of the product, at Yamaha's option. Some states do not allow limitations on how long an implied warranty lasts or the exclusion or limitation of incidental or consequential damages, so the above limitation or exclusion may not apply to you. This Warranty gives you specific legal rights, and you may also have other rights which vary from state to state. This is the only express warranty applicable to the product specified herein; Yamaha neither assumes nor authorizes anyone to assume for it any other express warranty.
Standard Shipping