Skip product carousel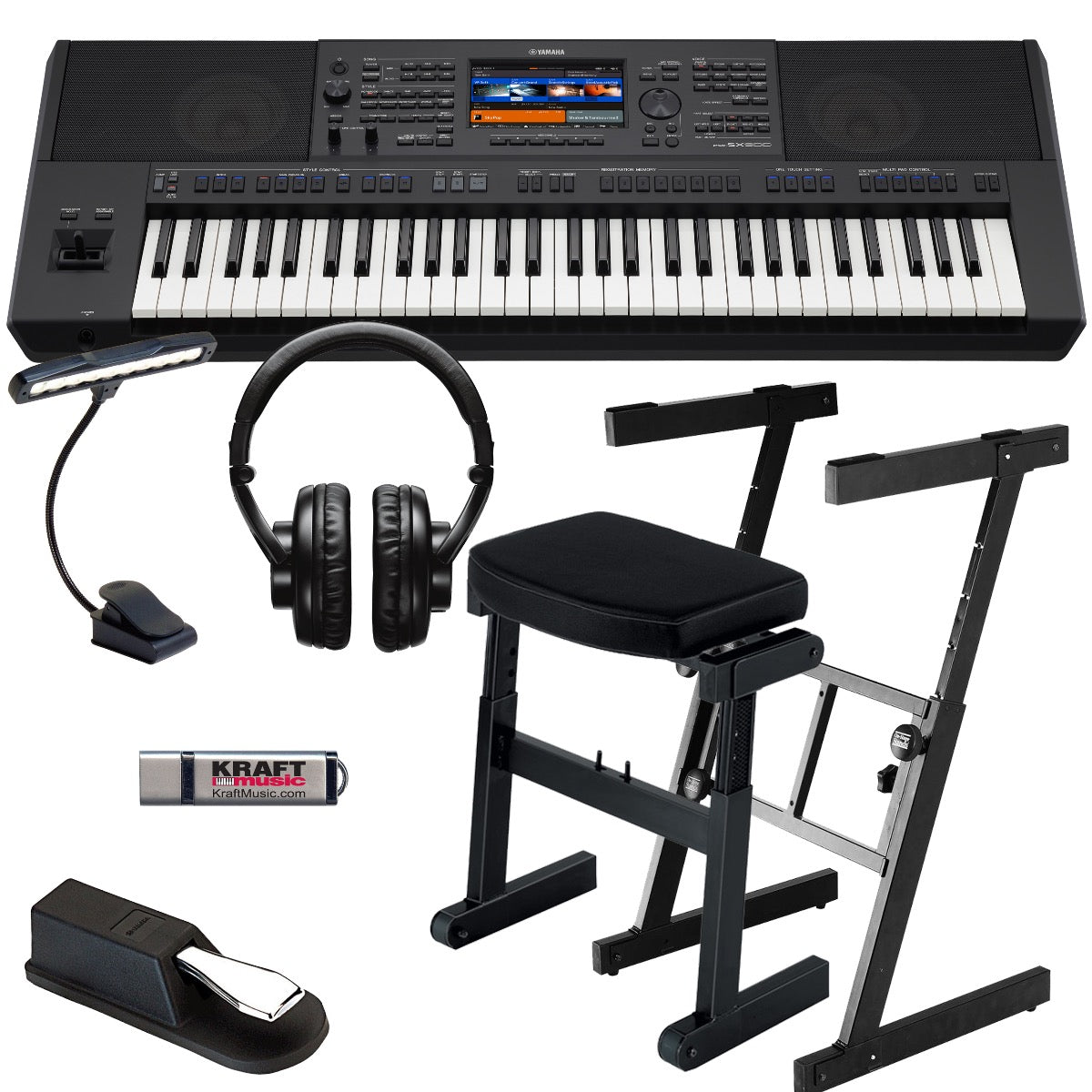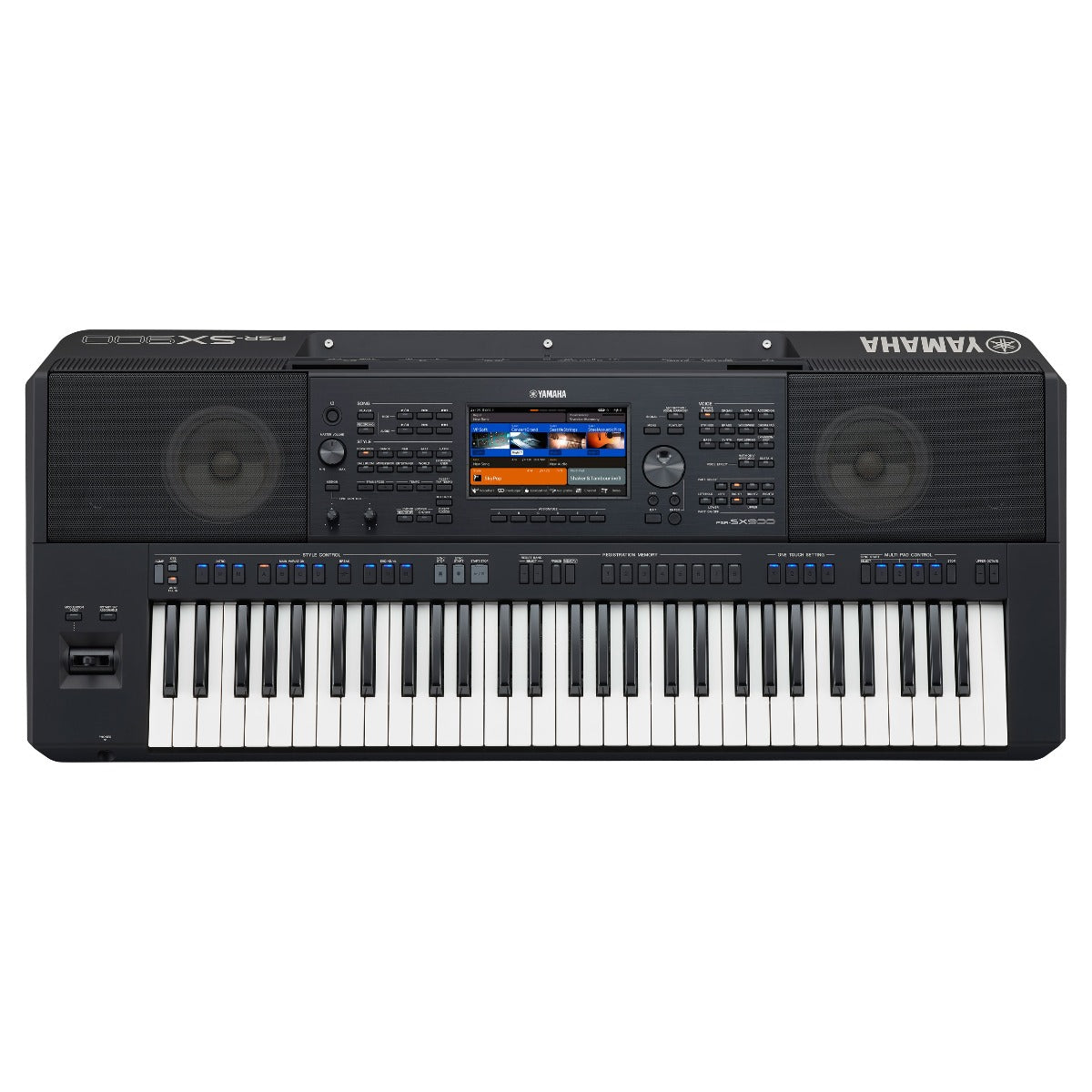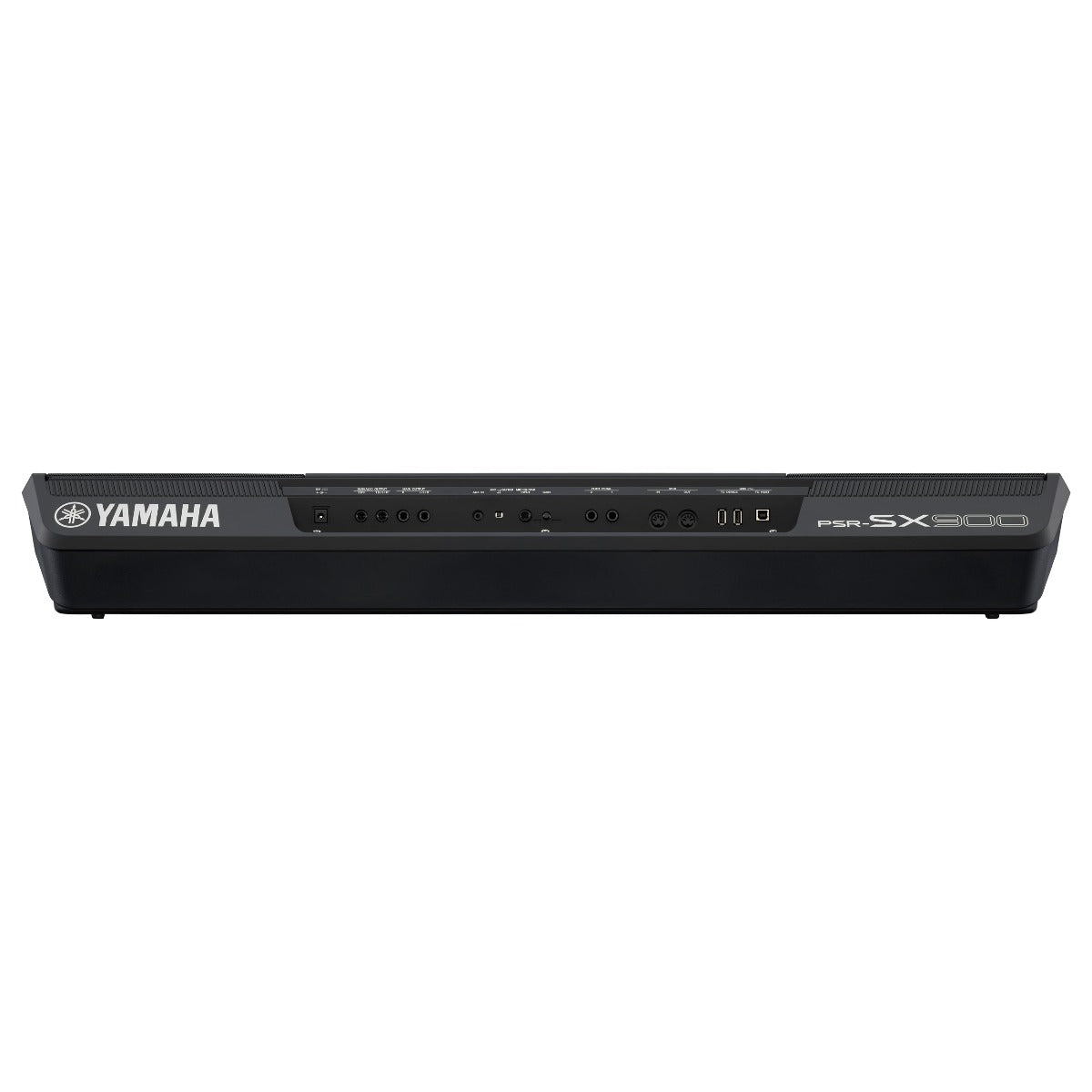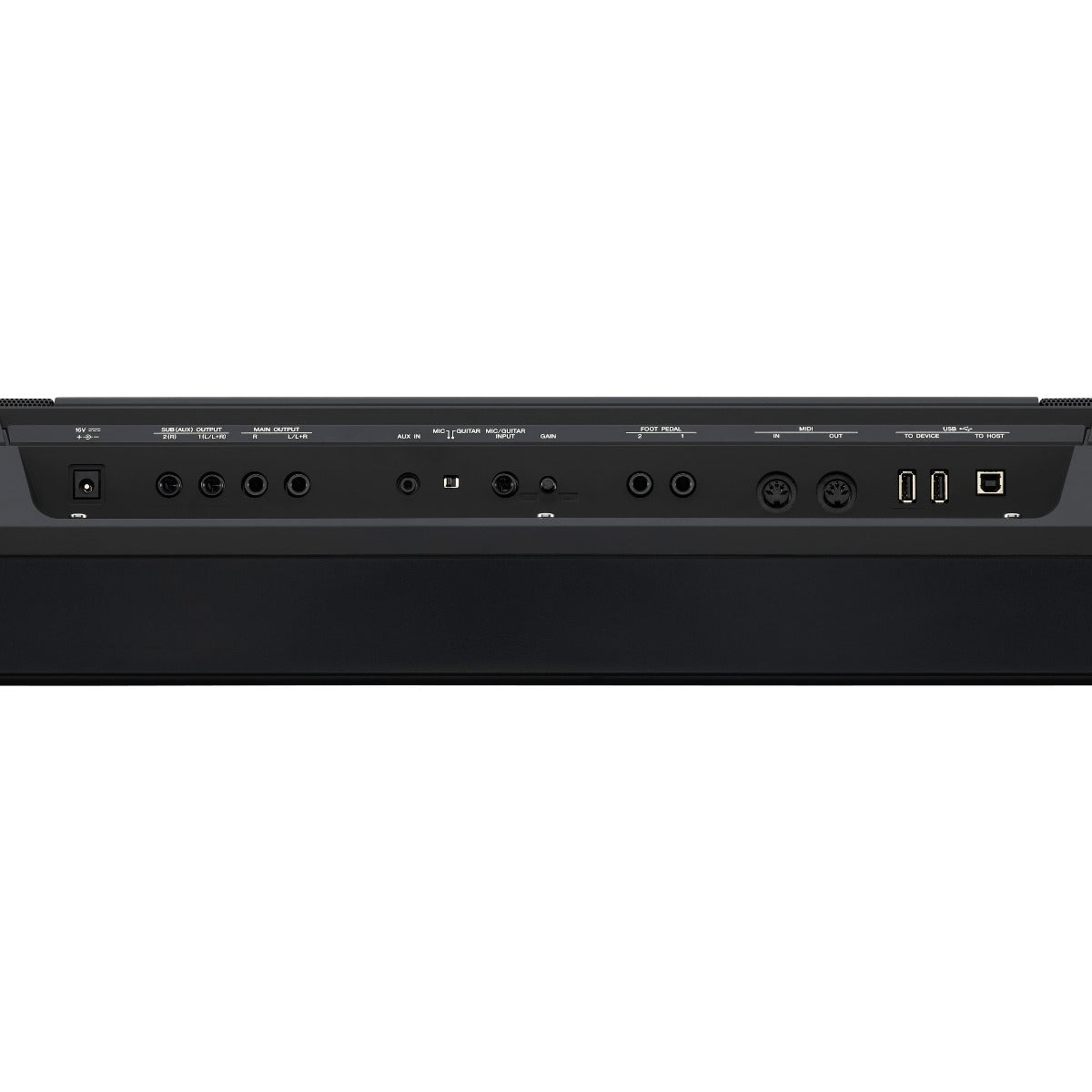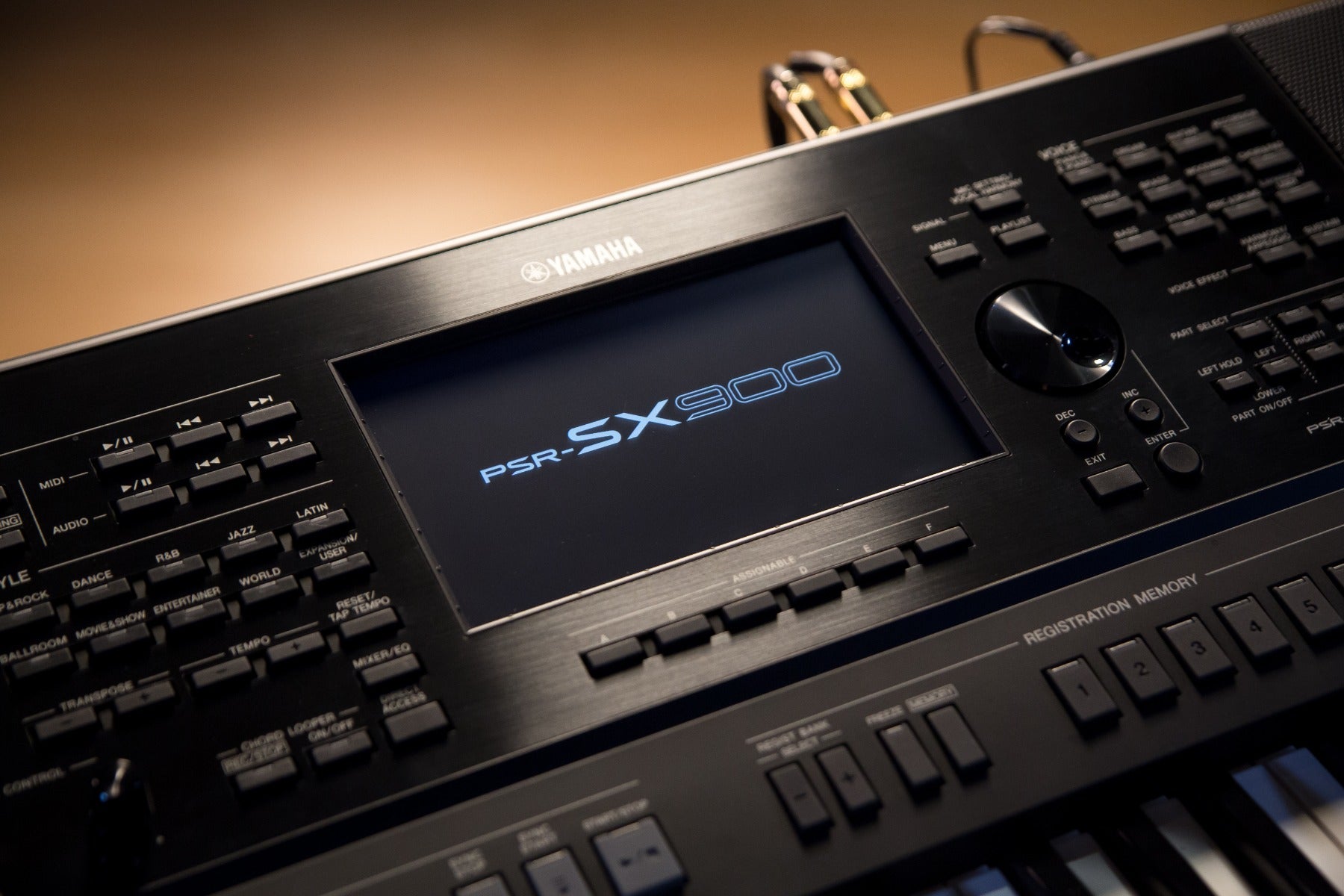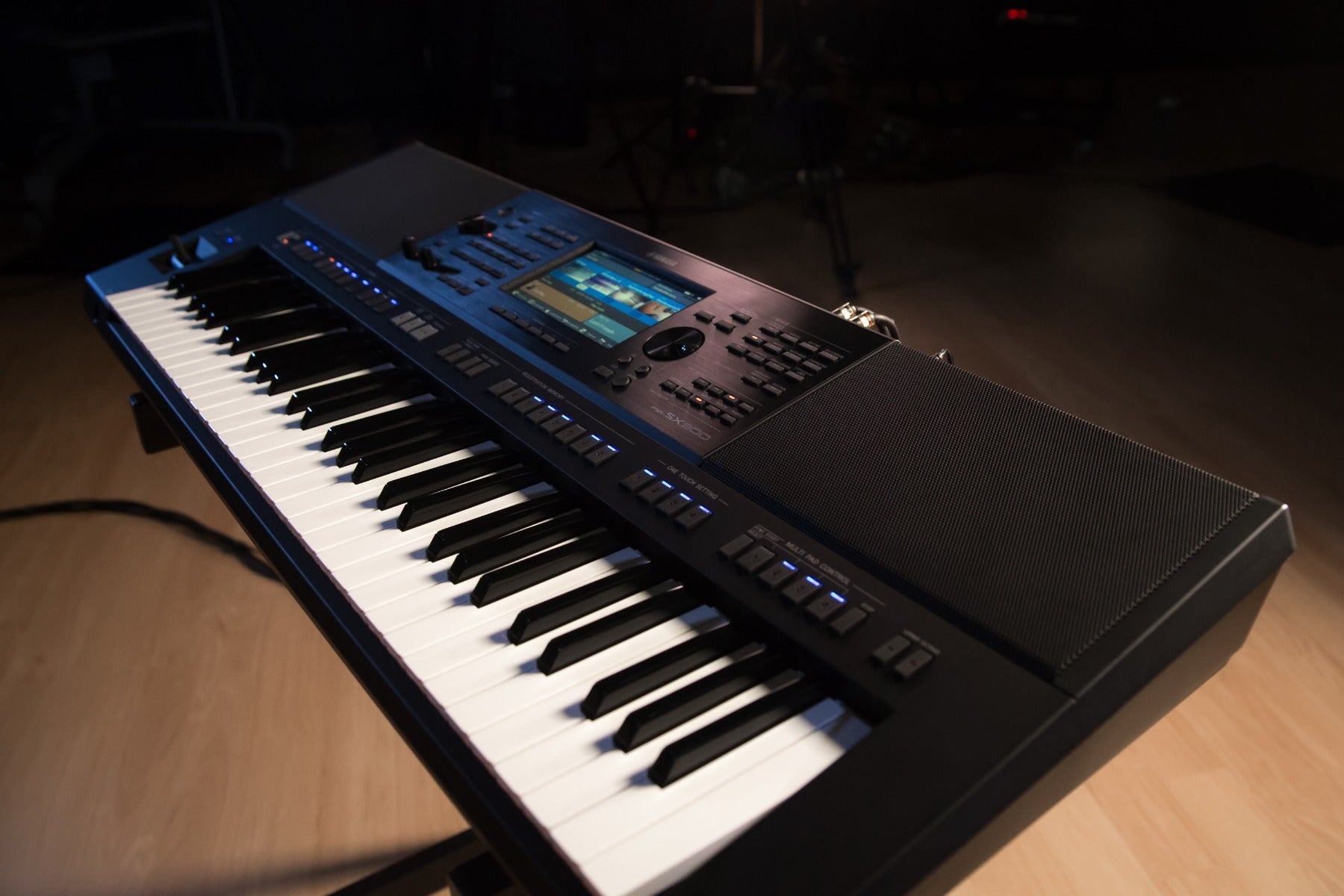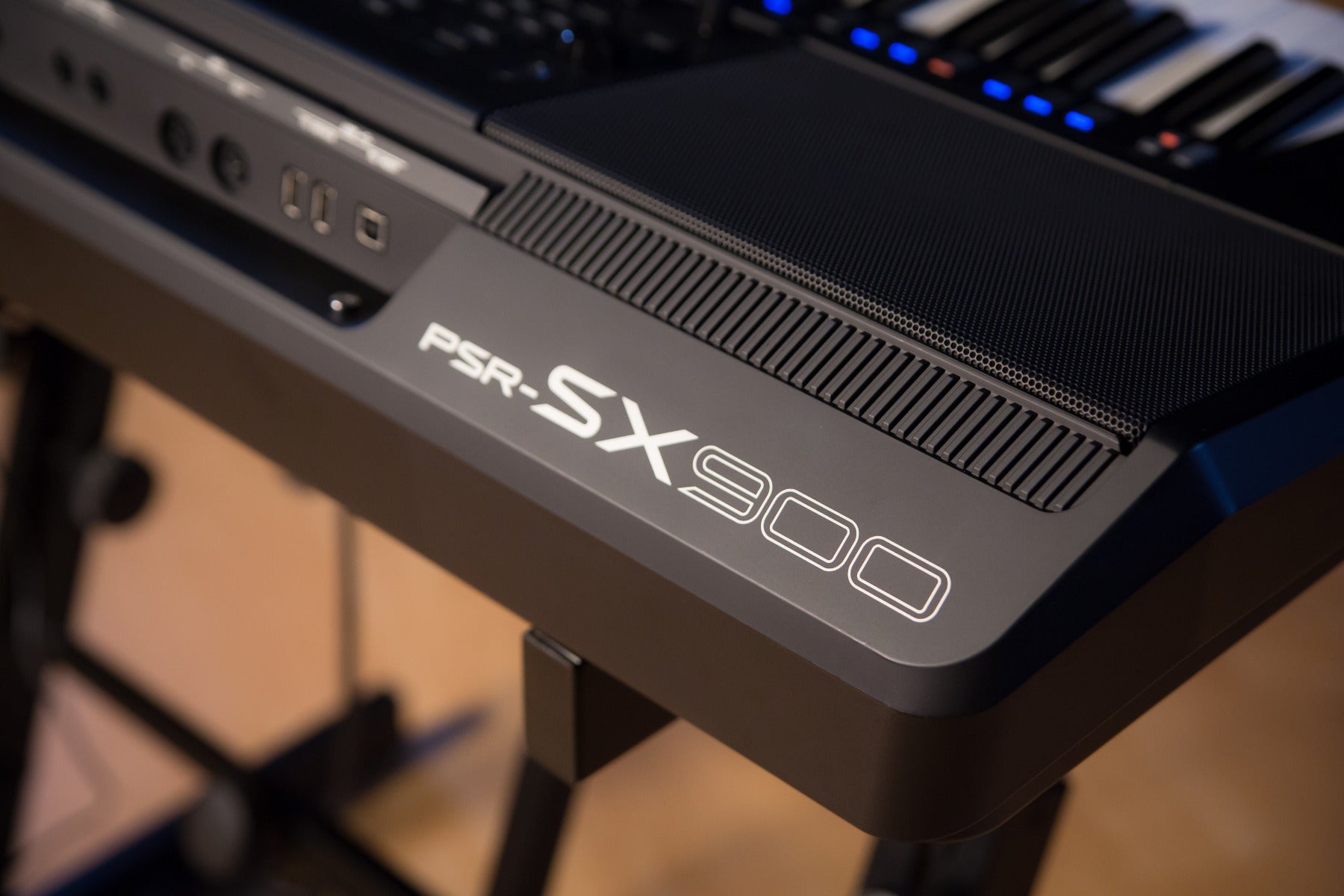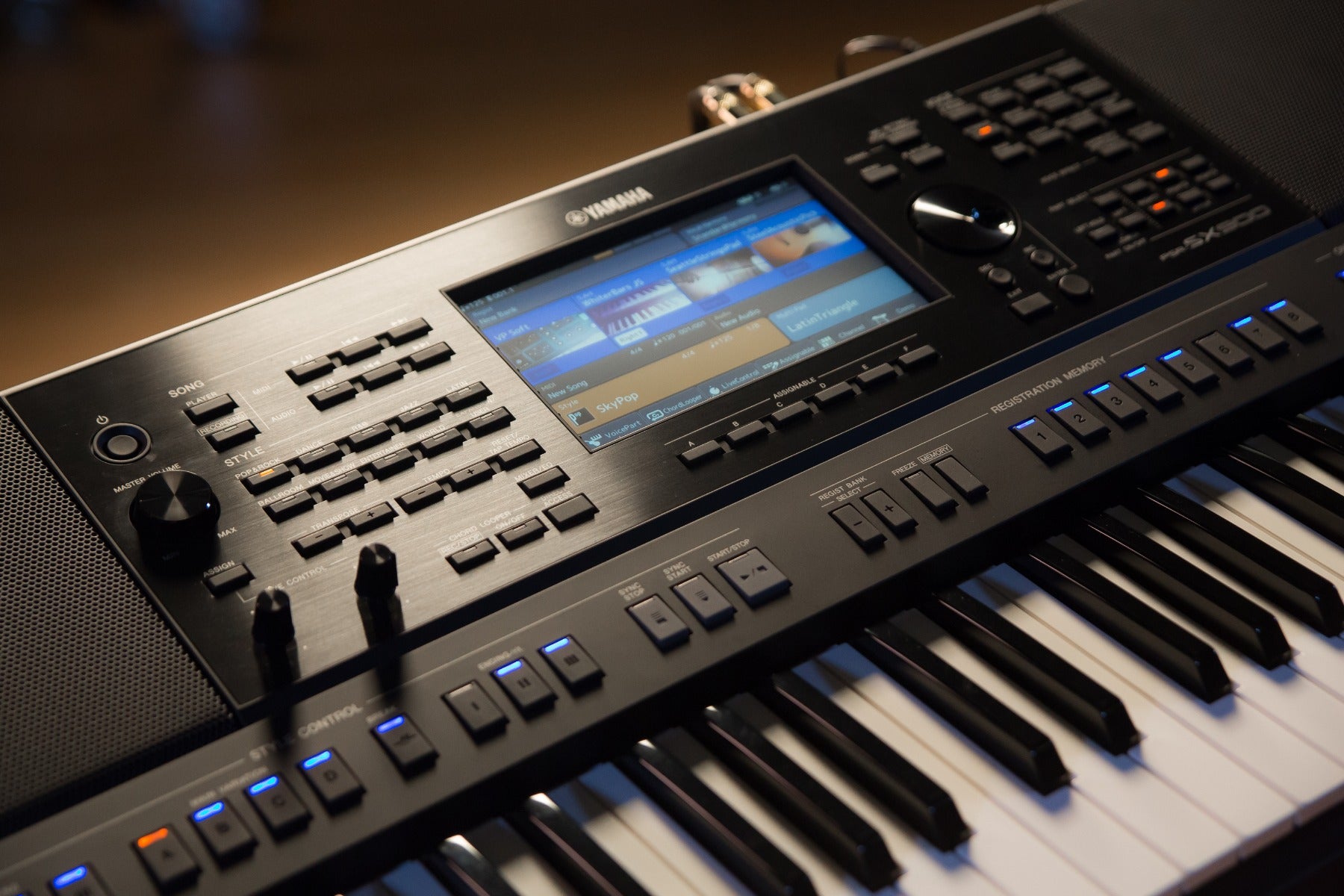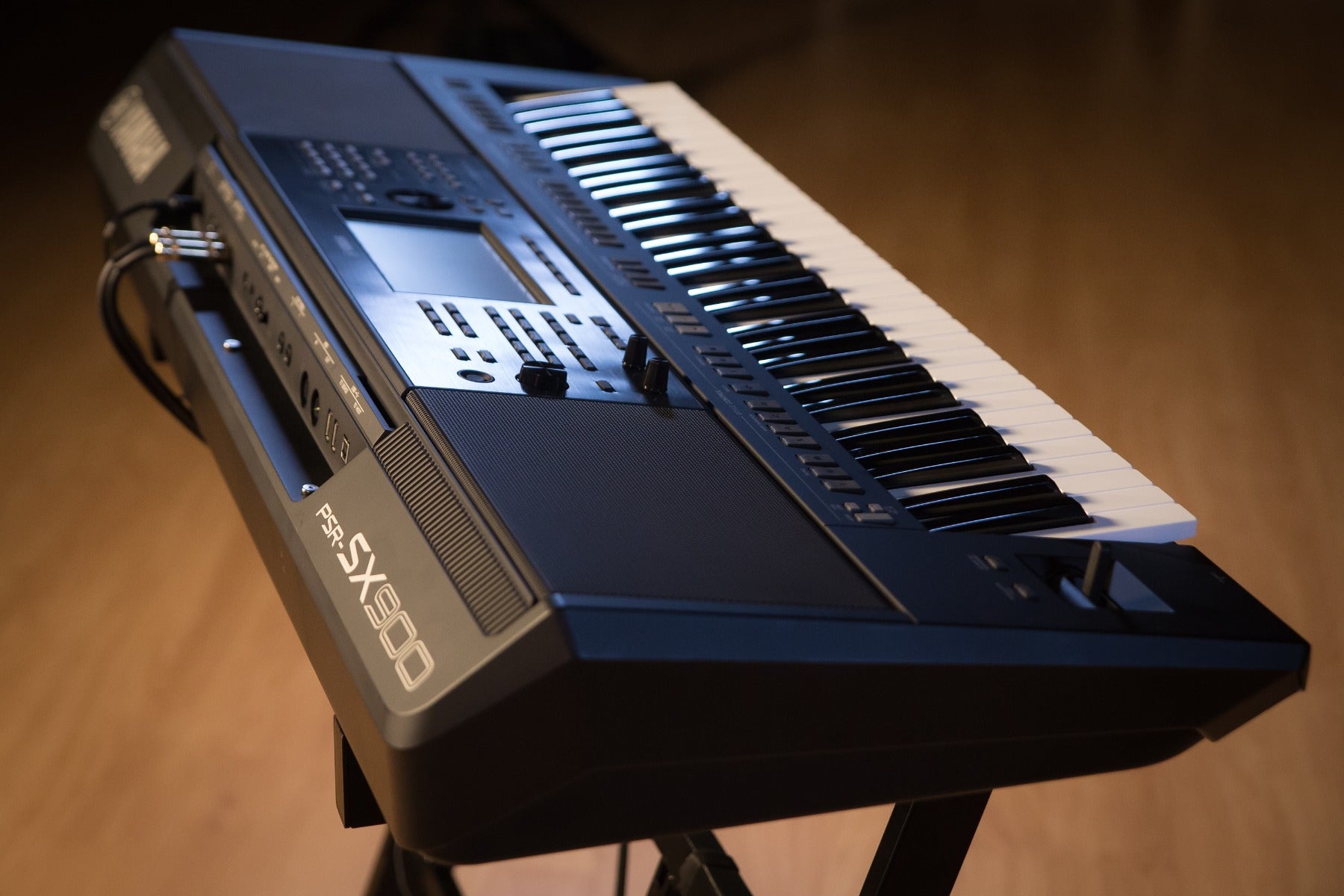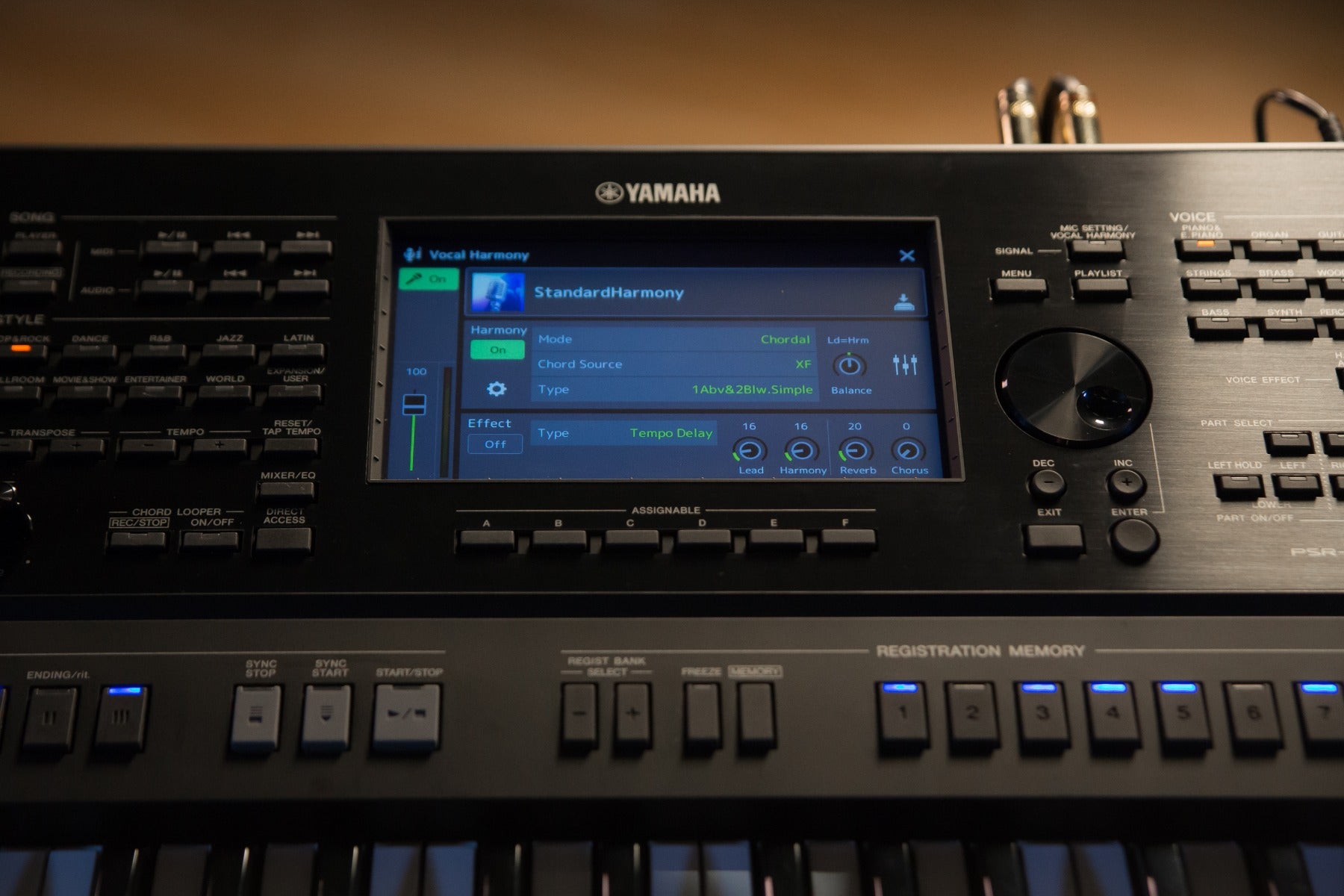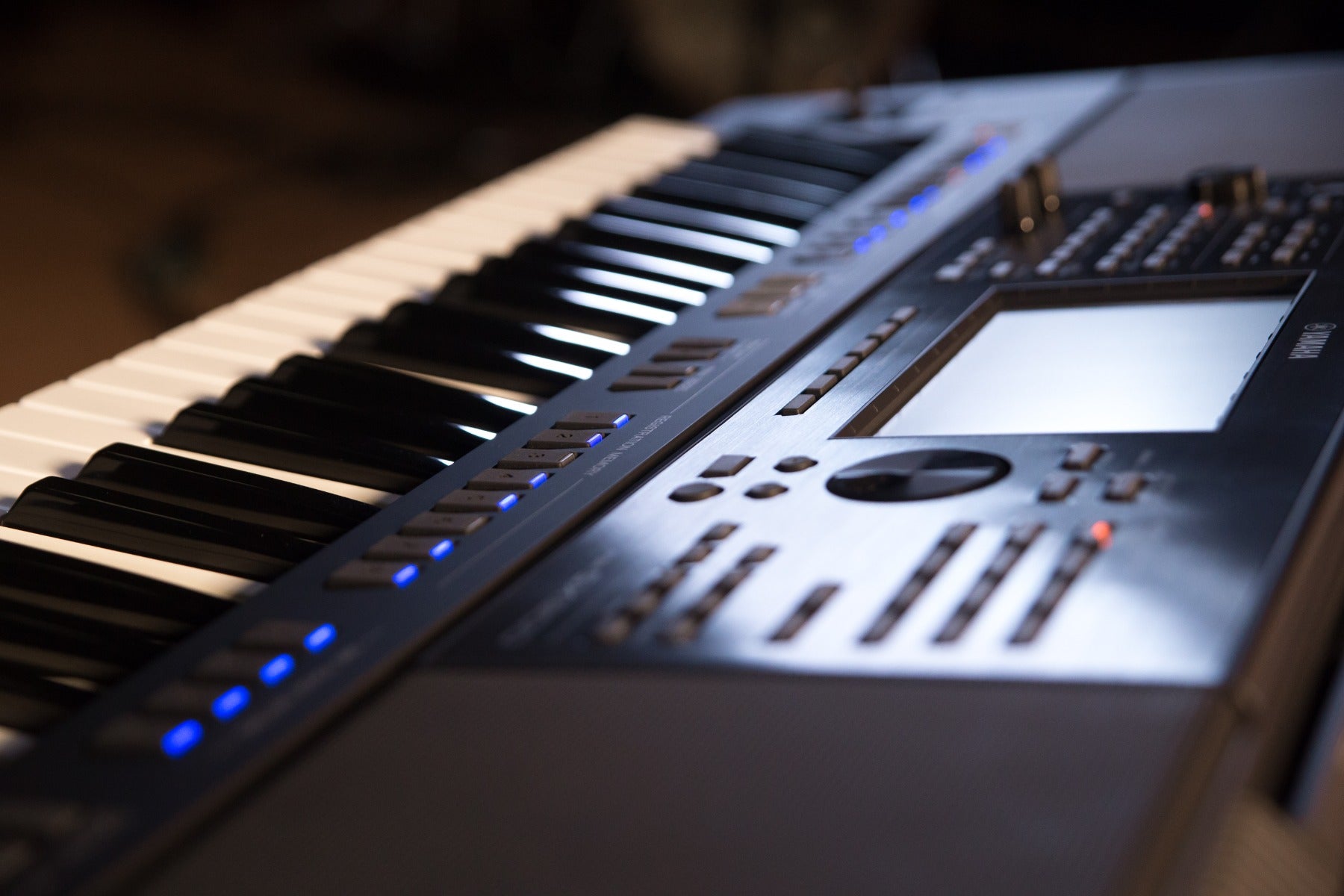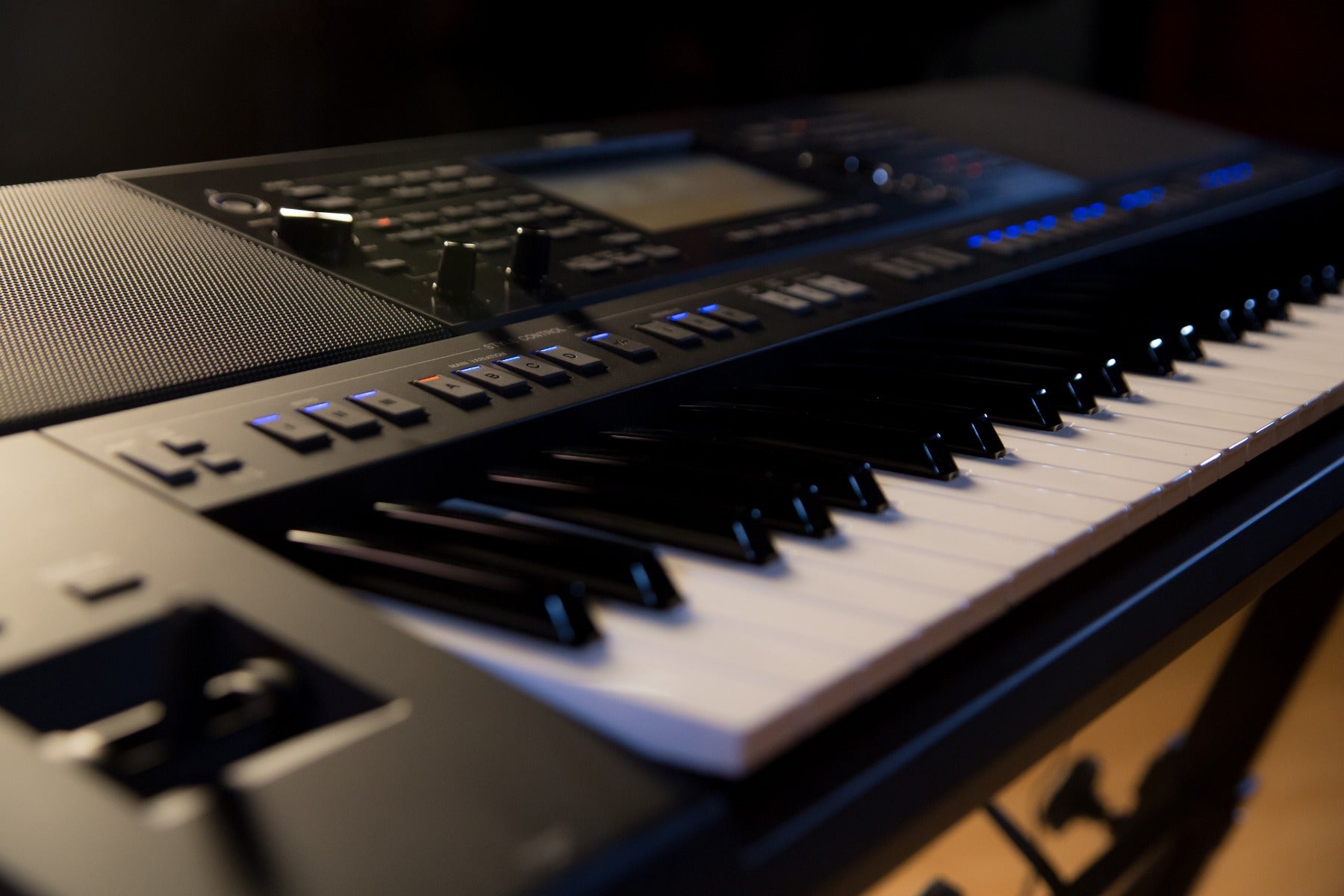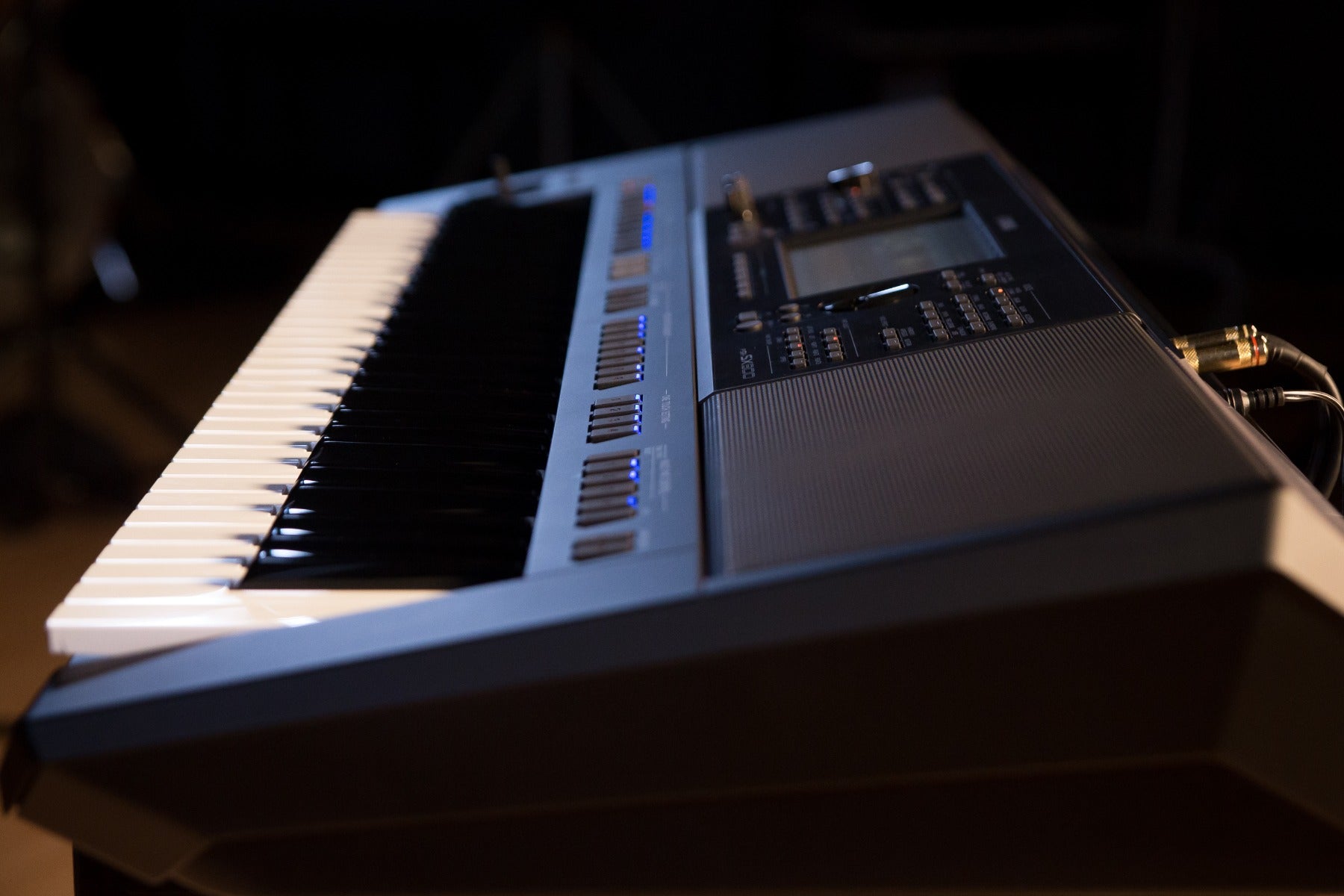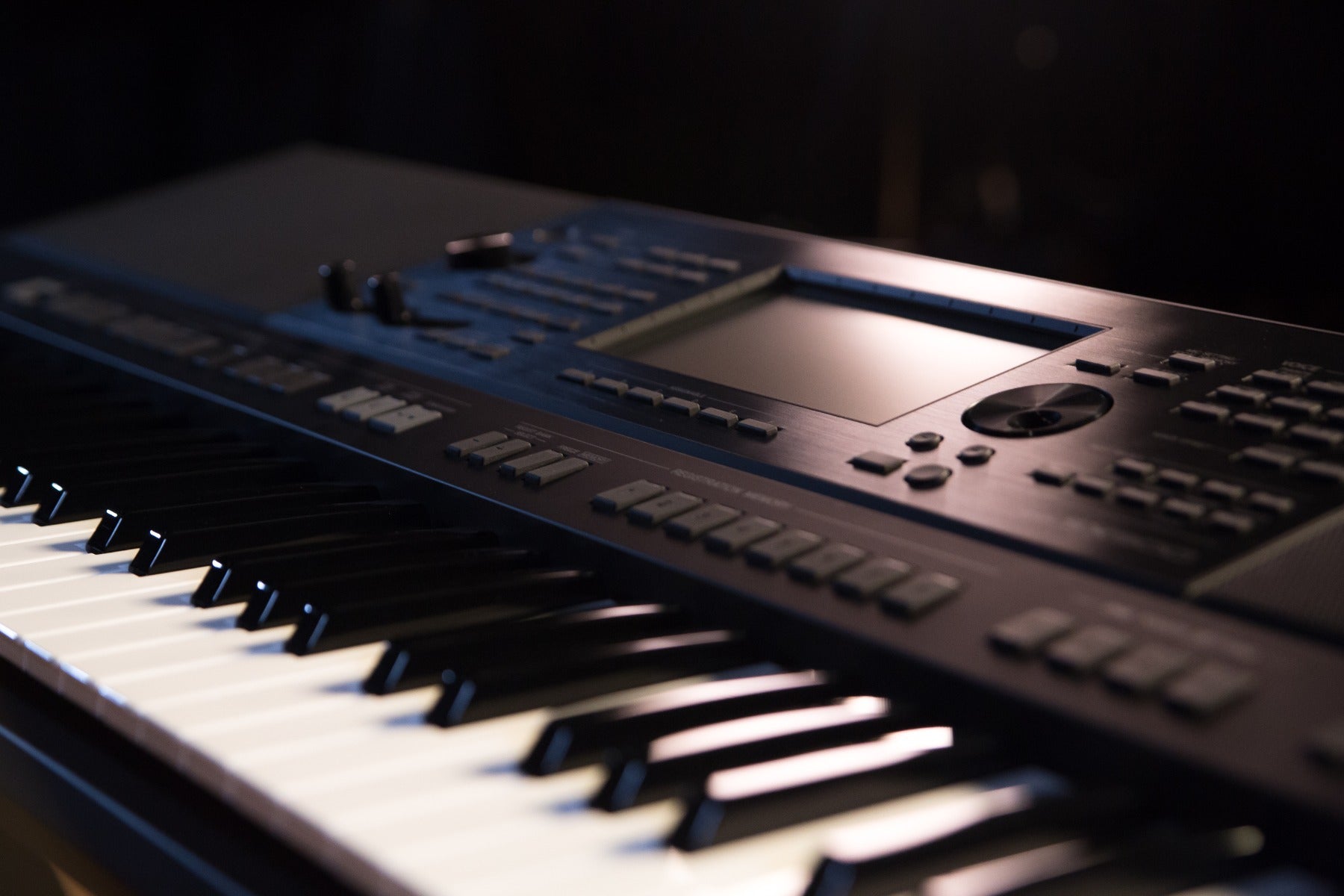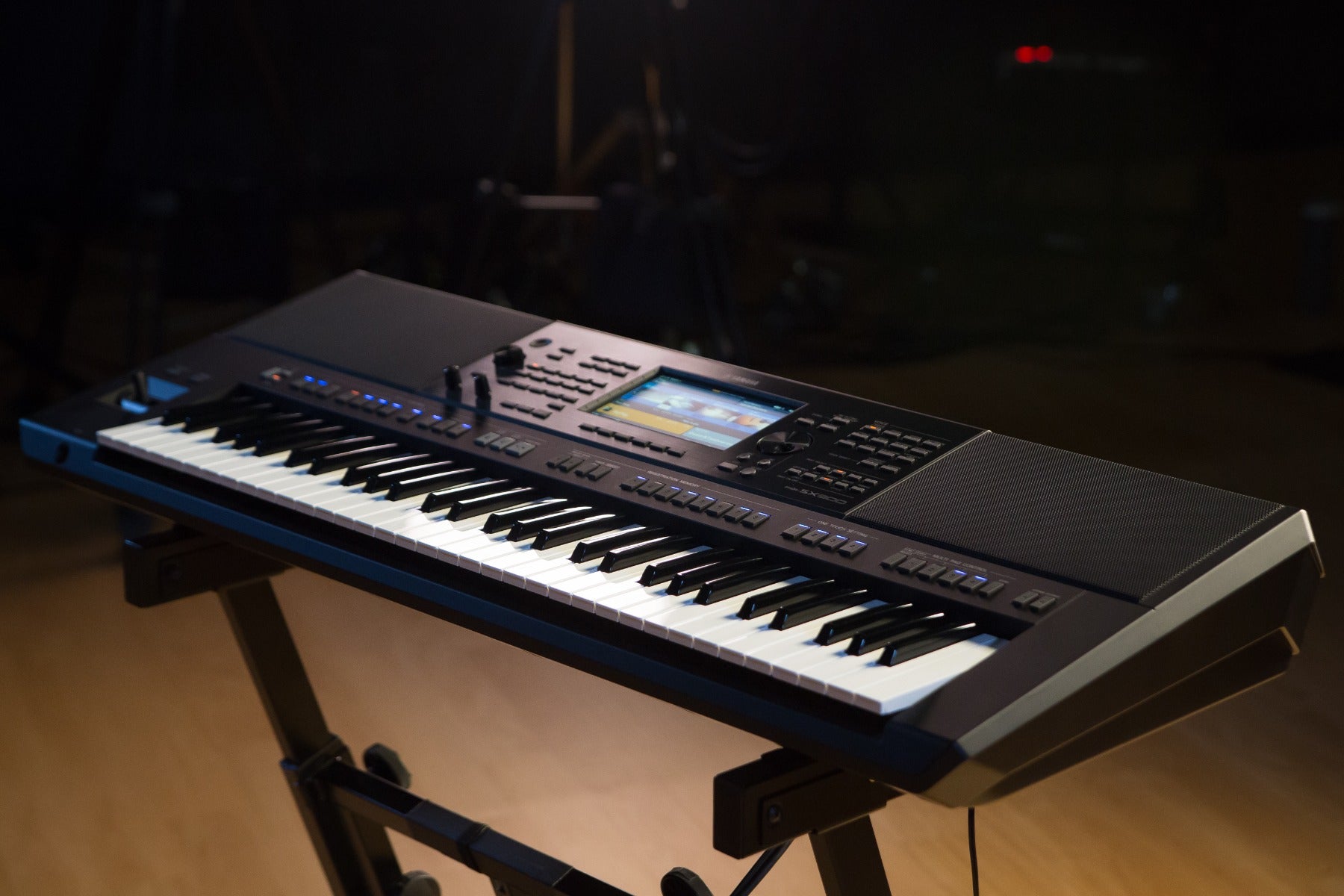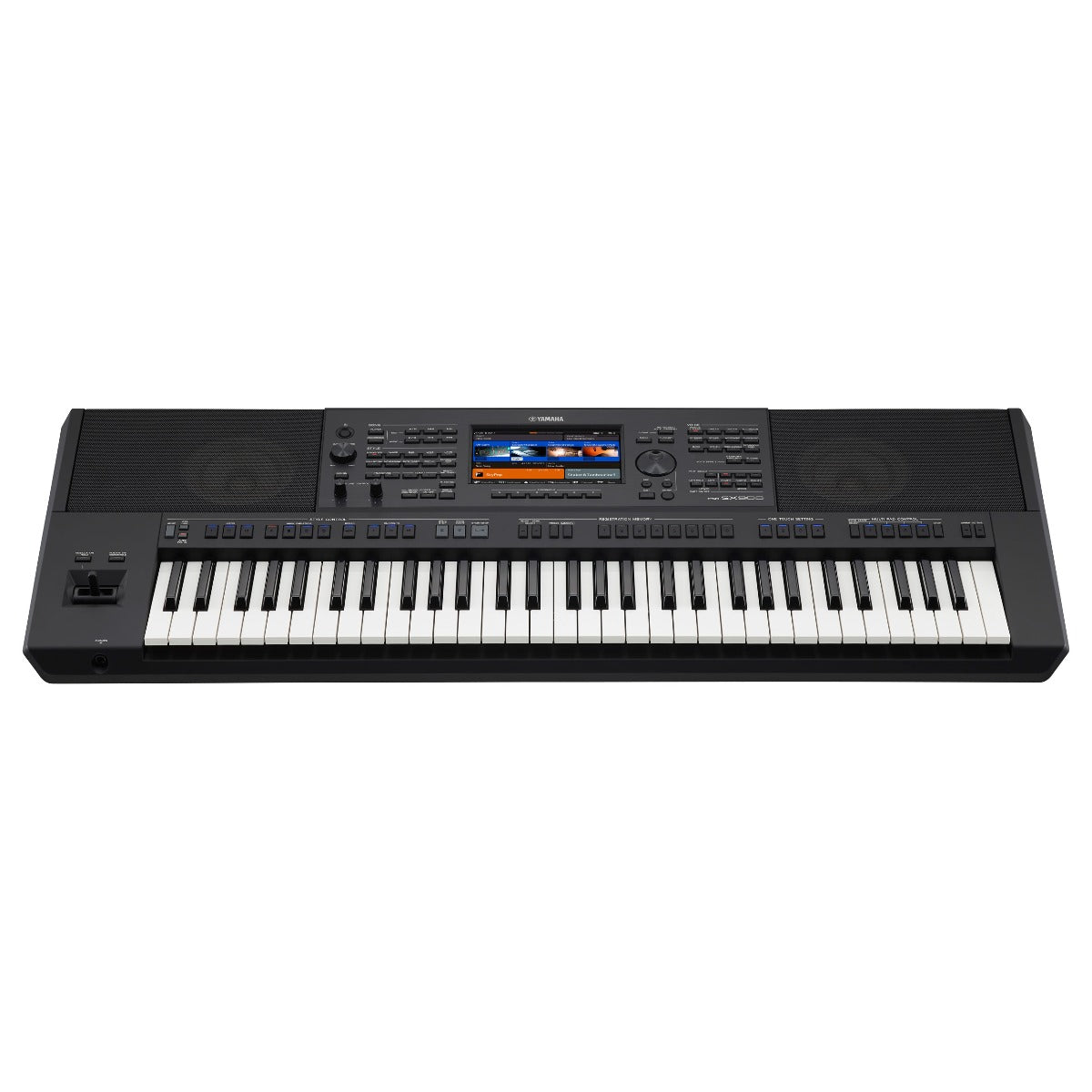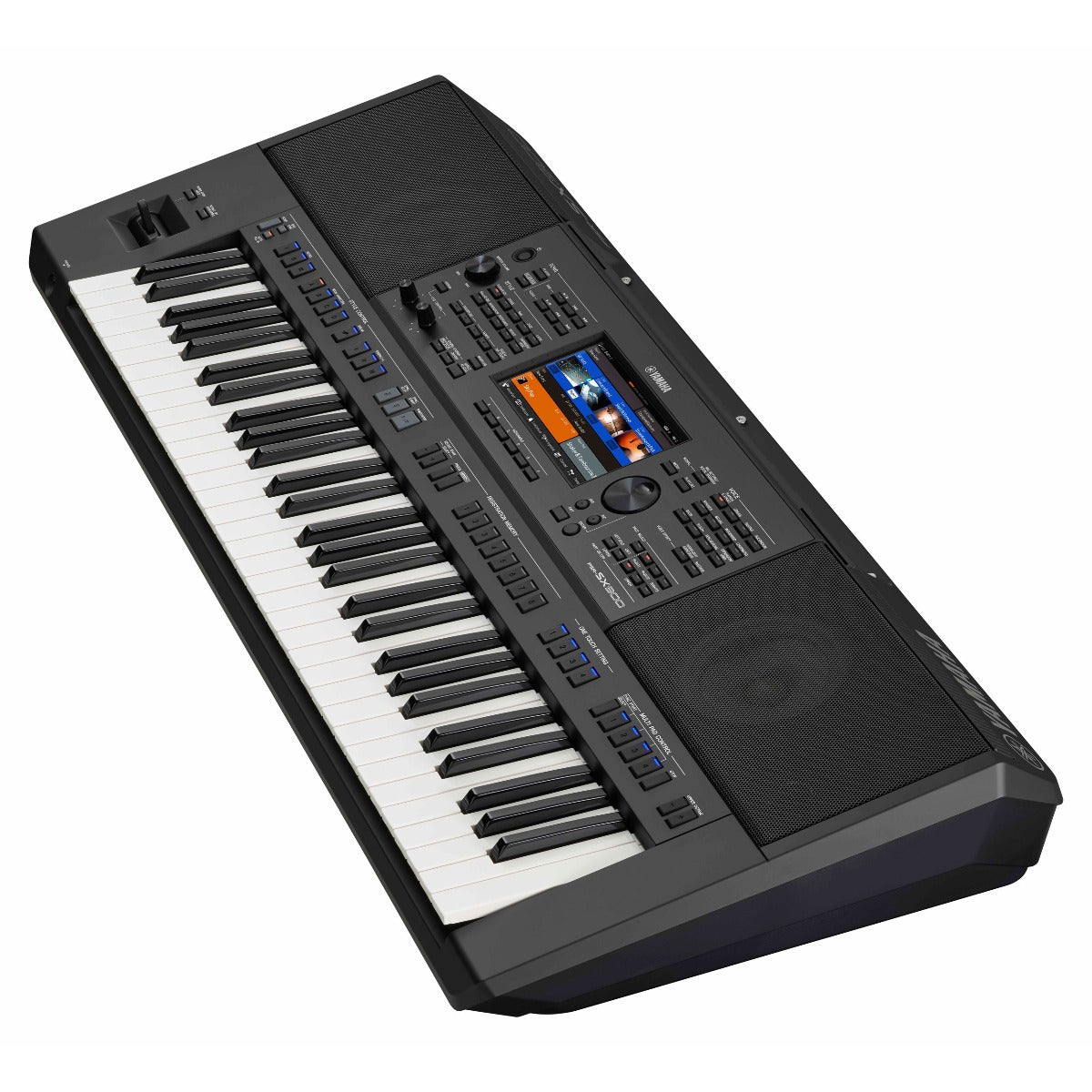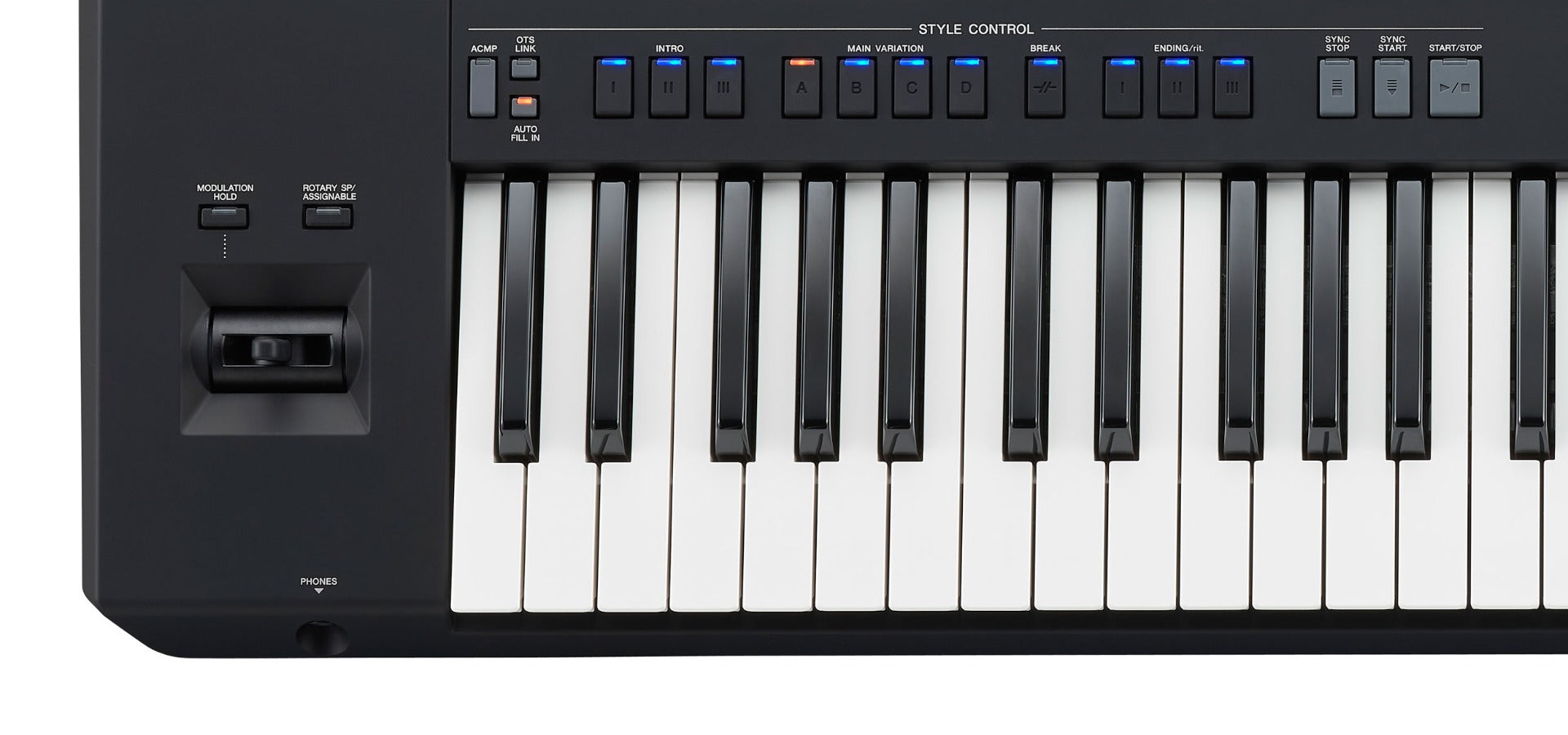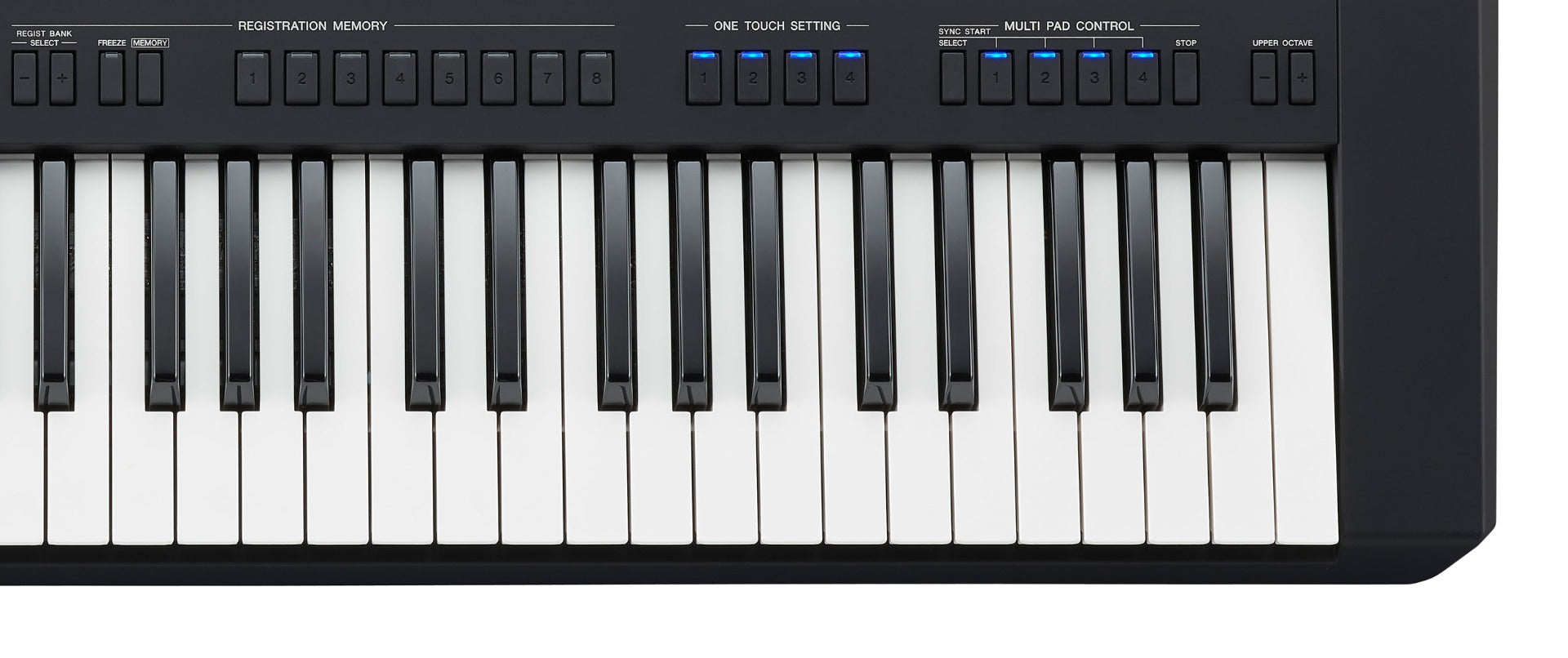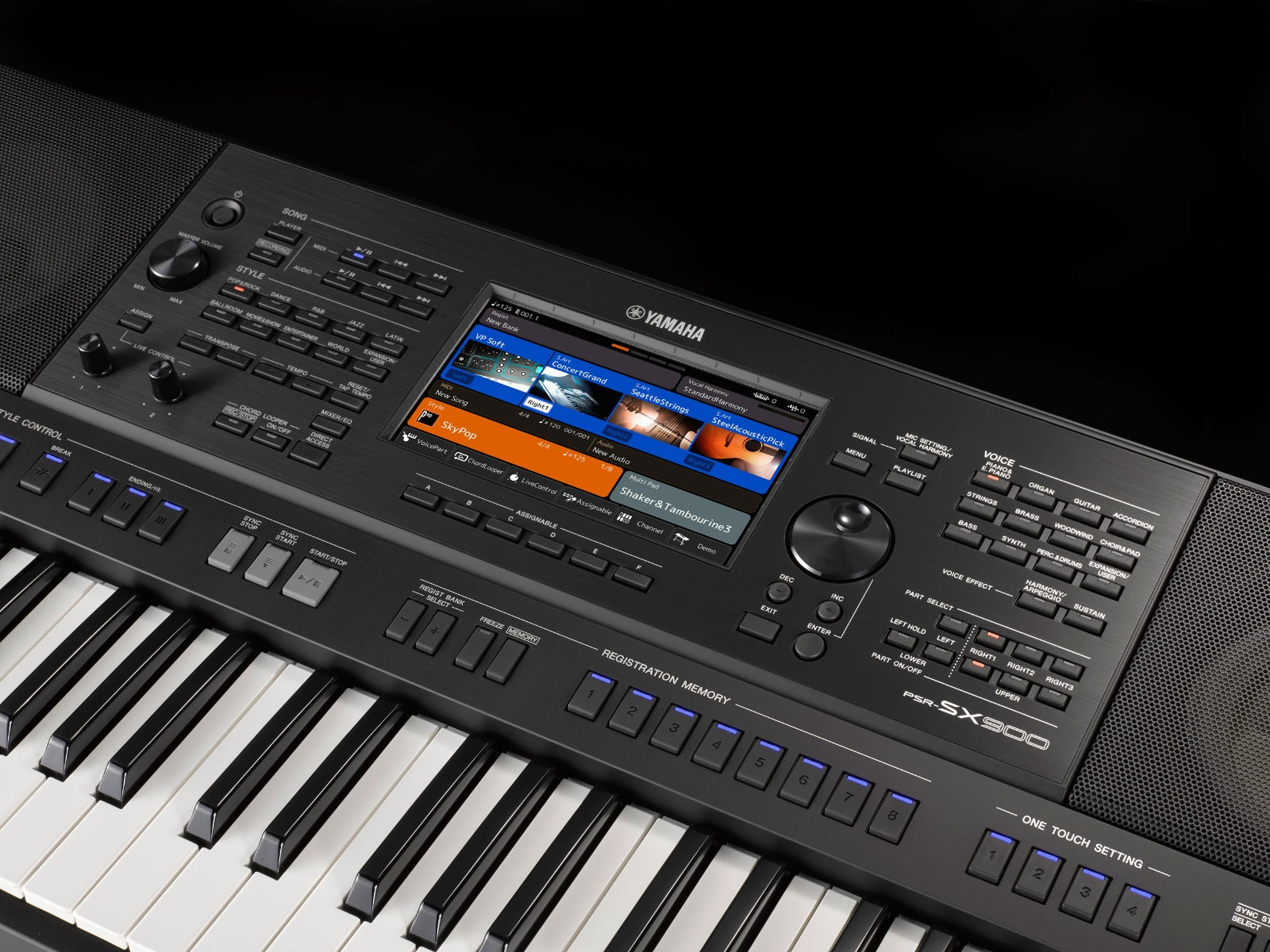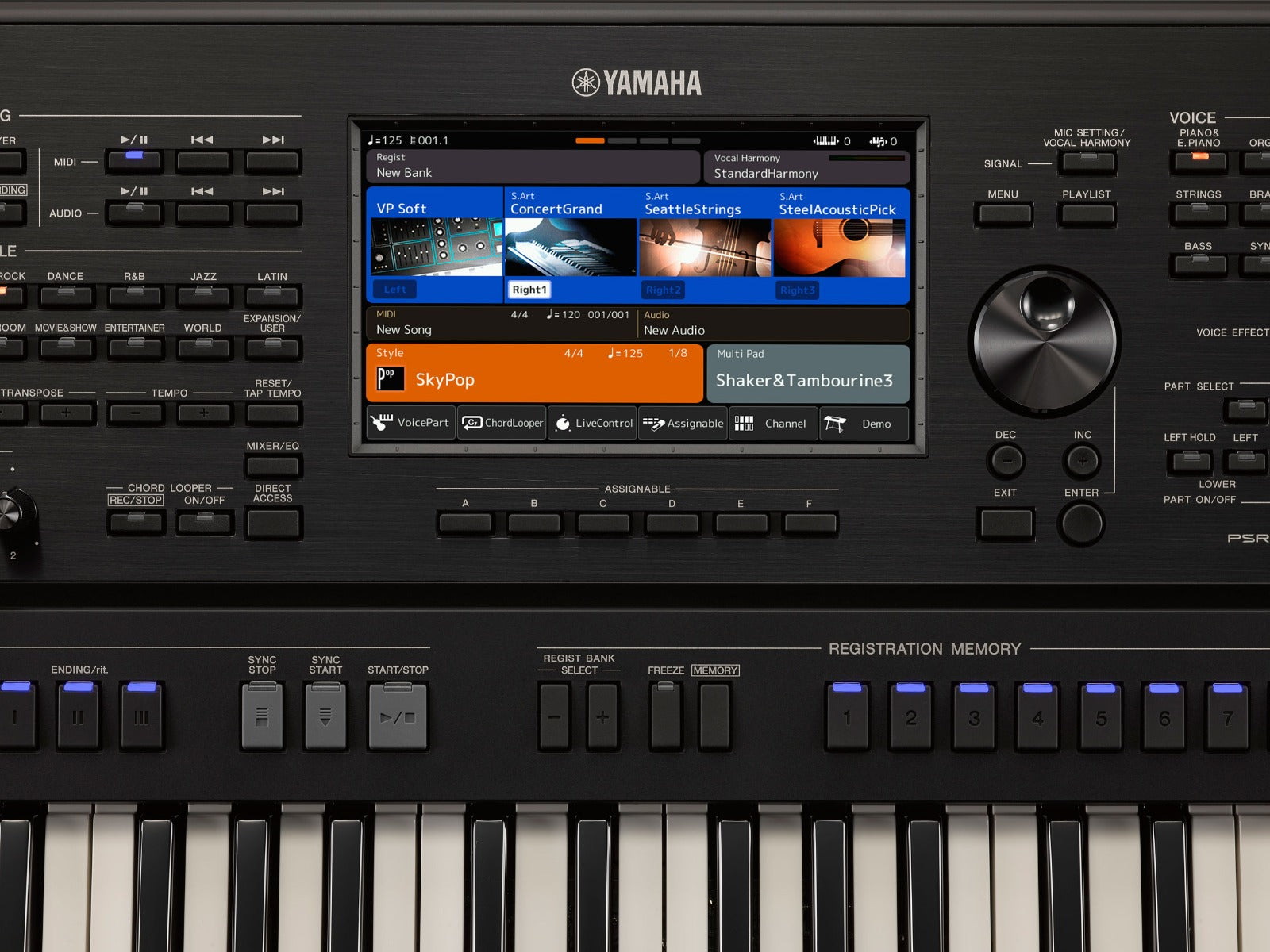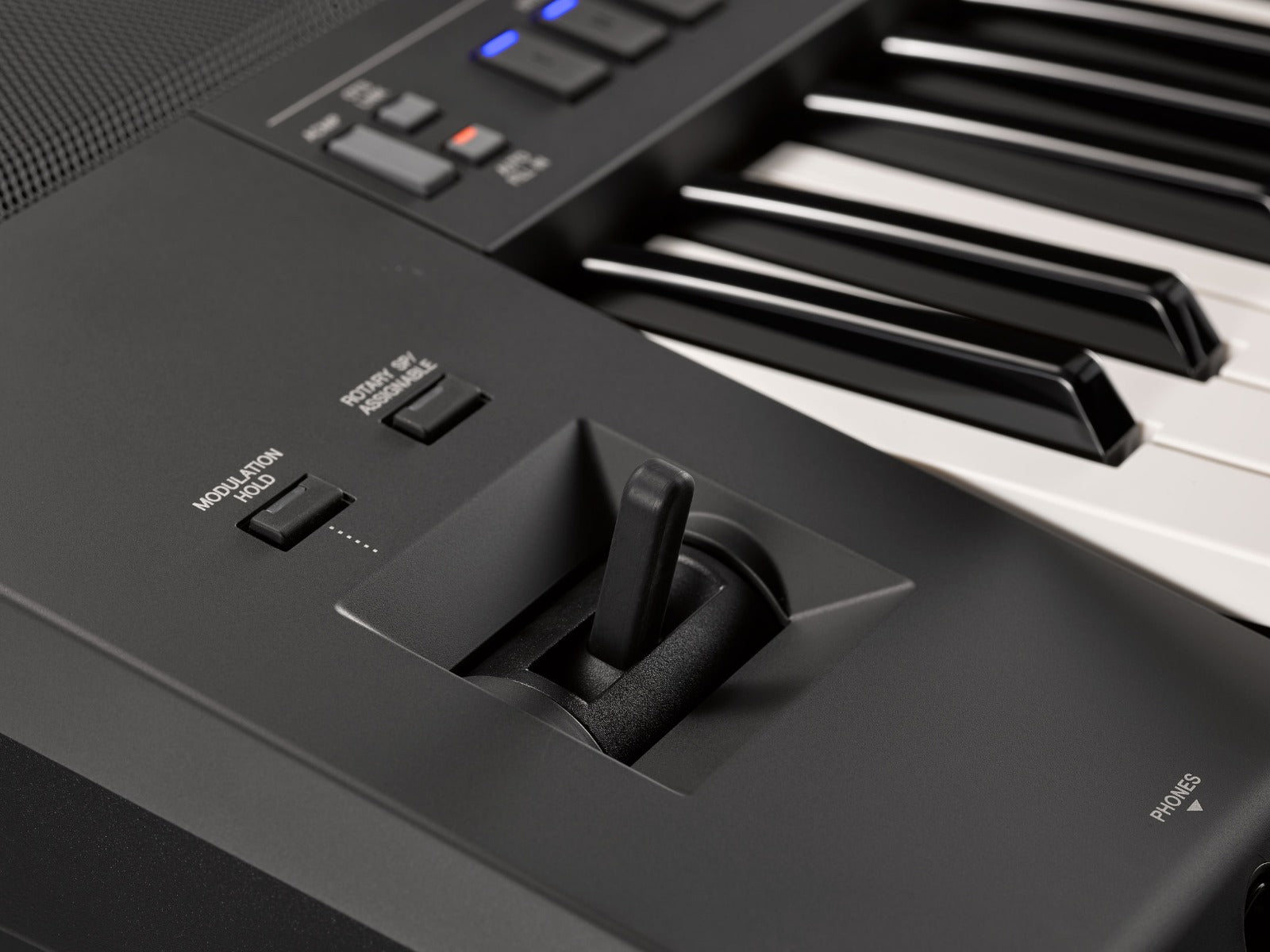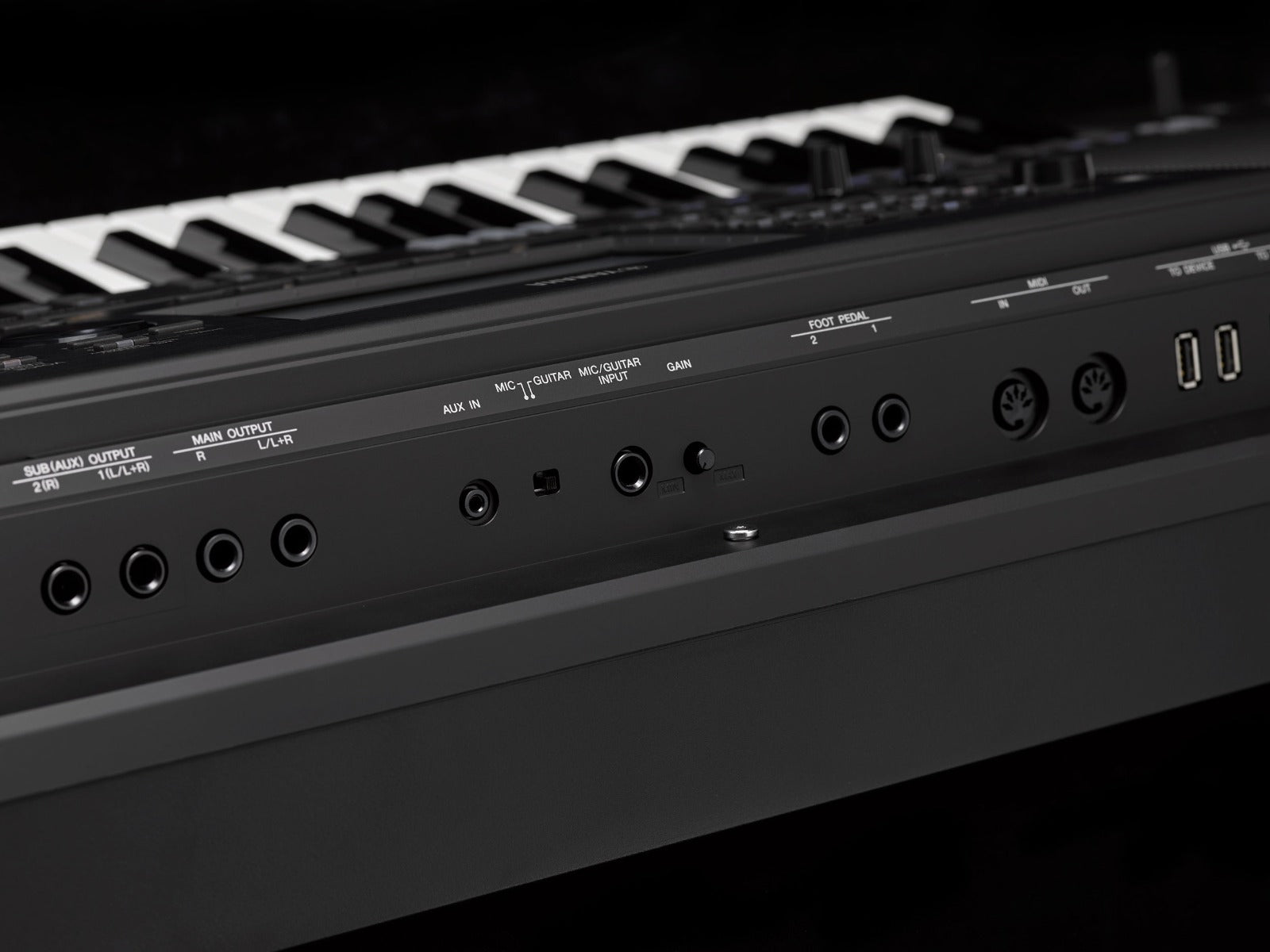 Yamaha PSR-SX900 Arranger Workstation Keyboard KEY ESSENTIALS BUNDLE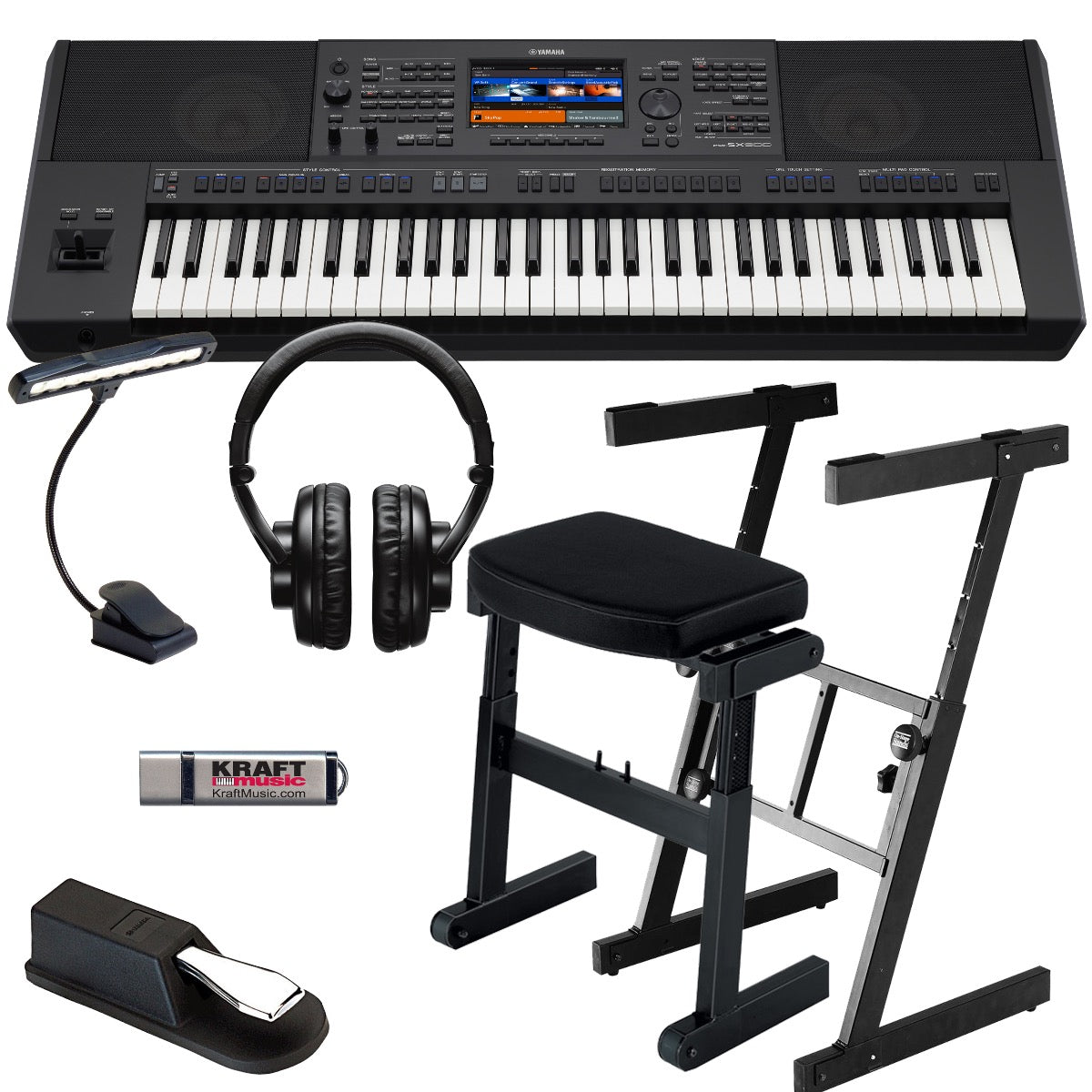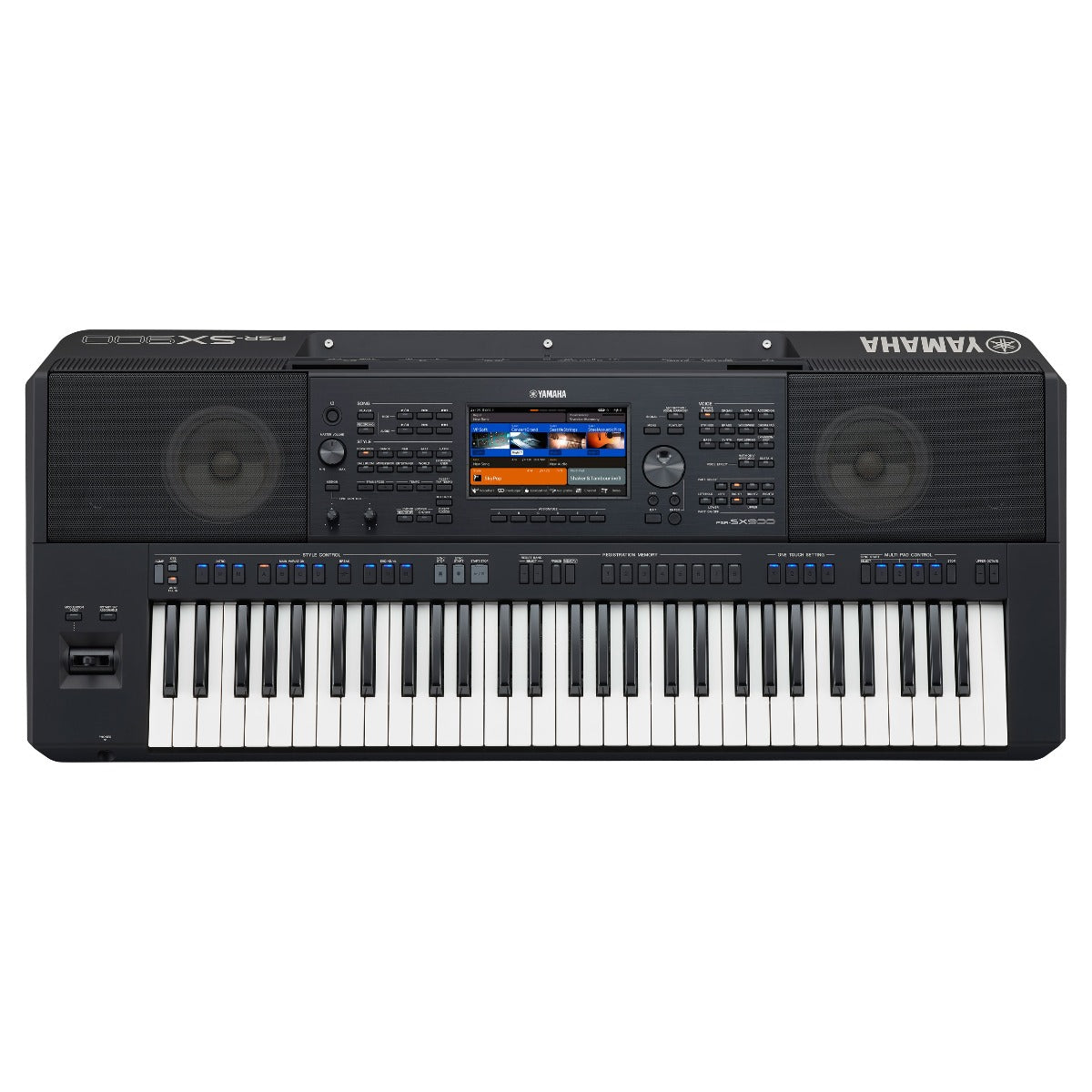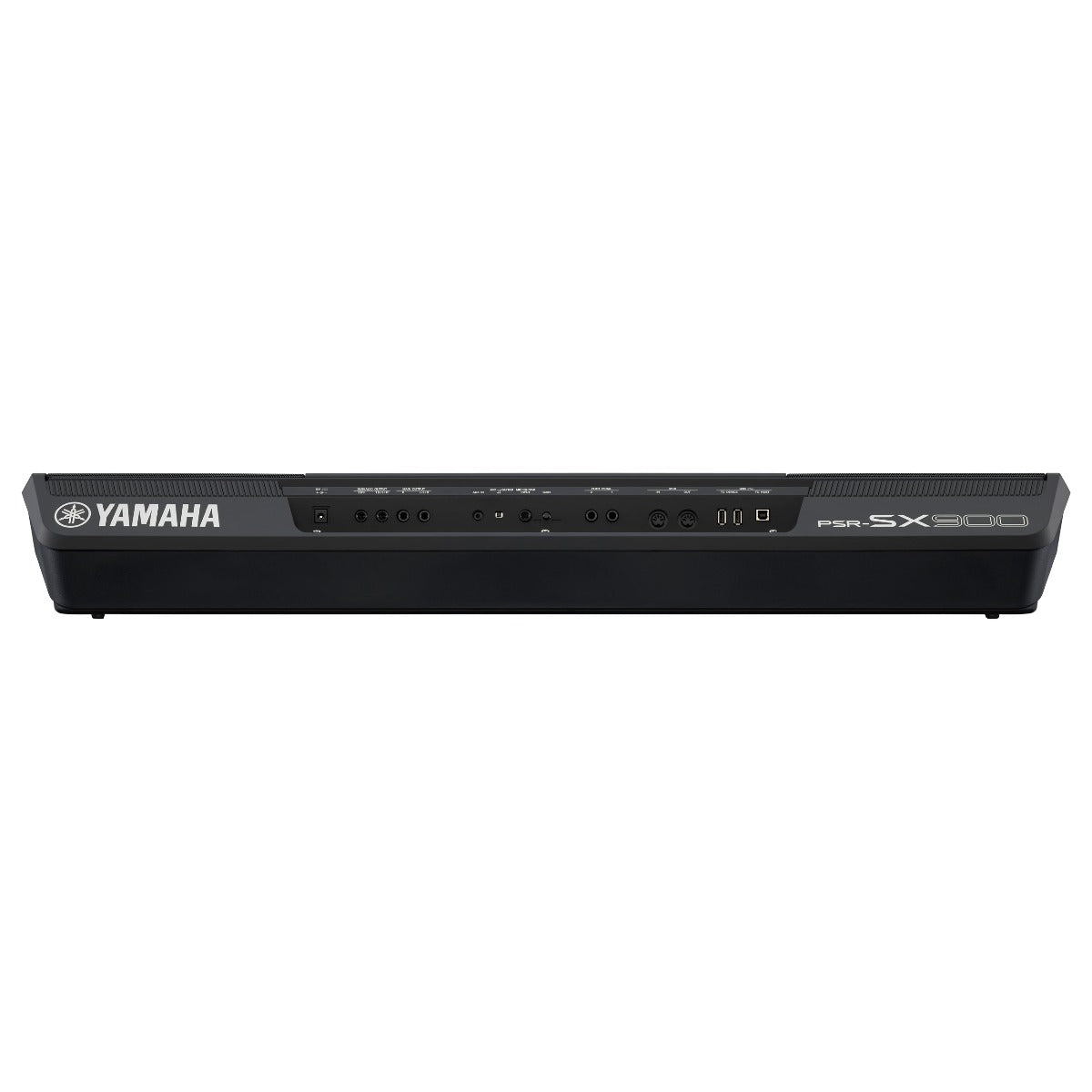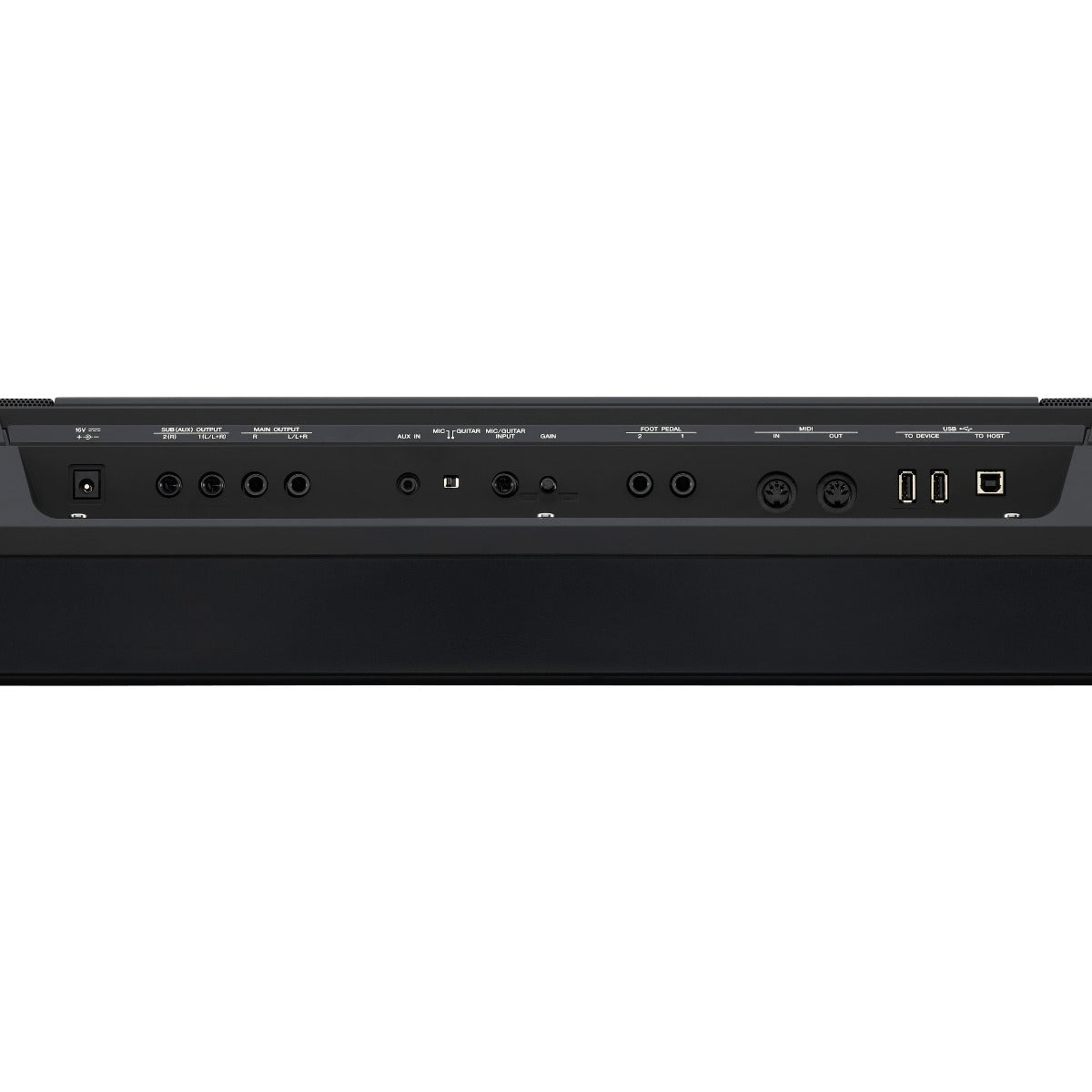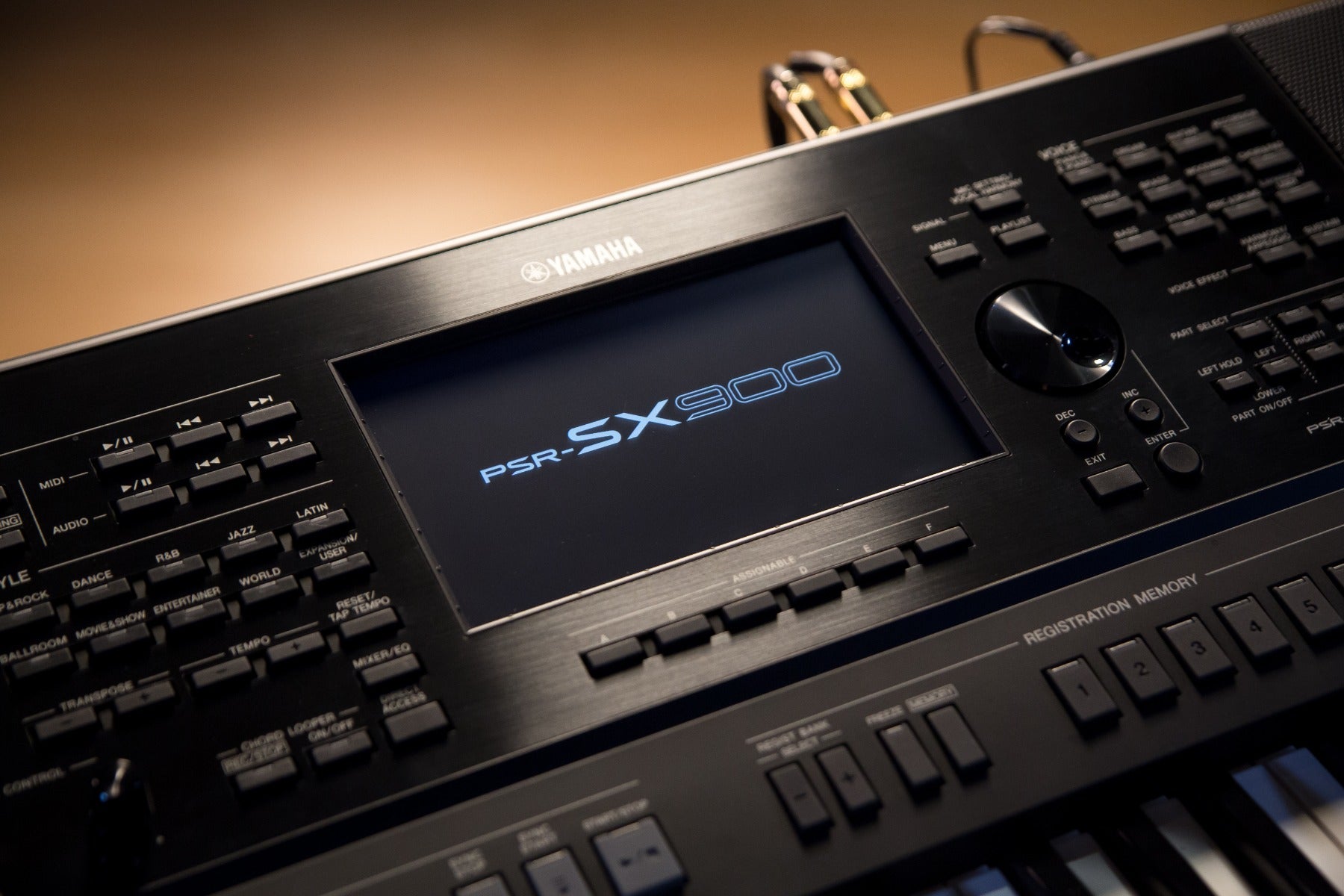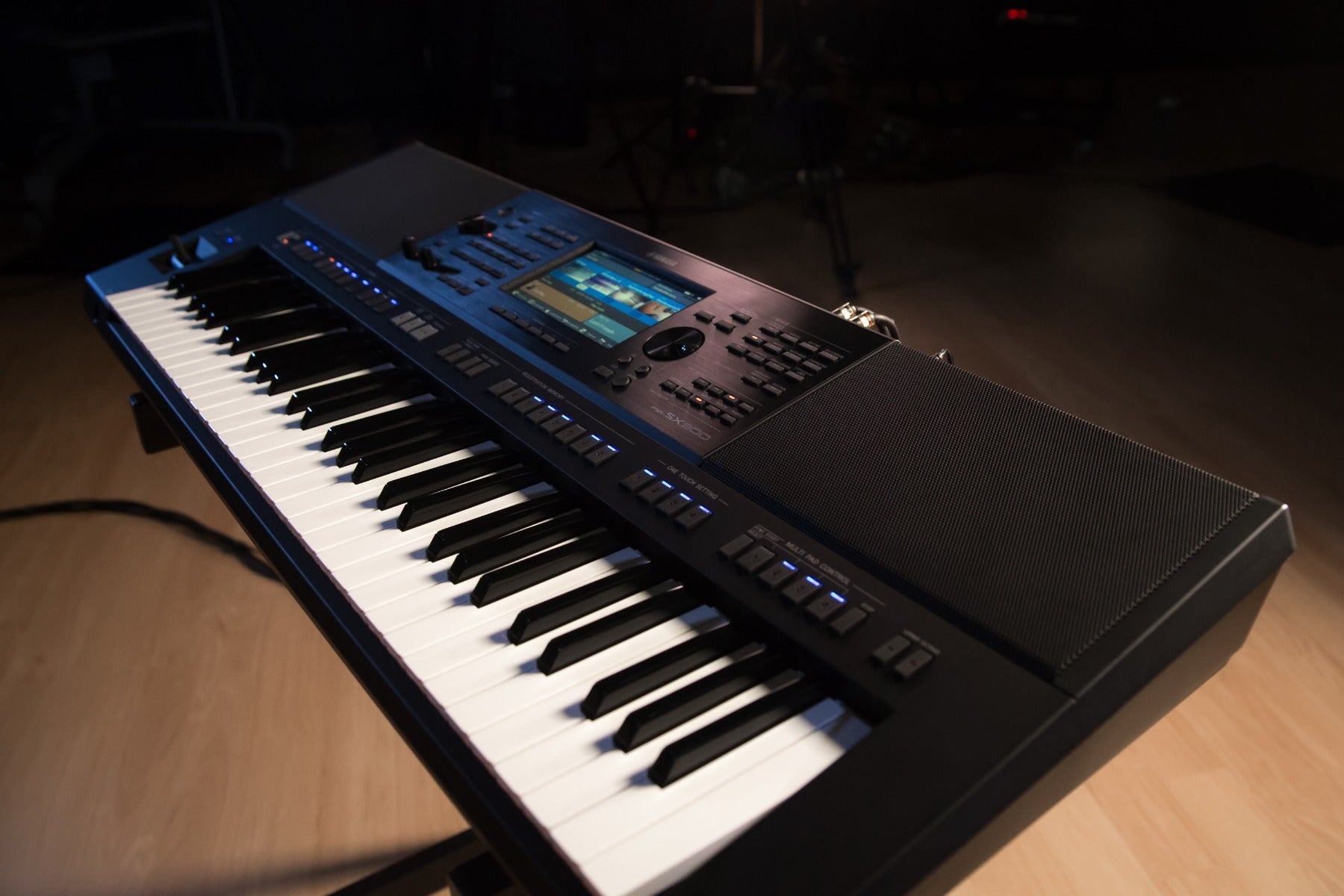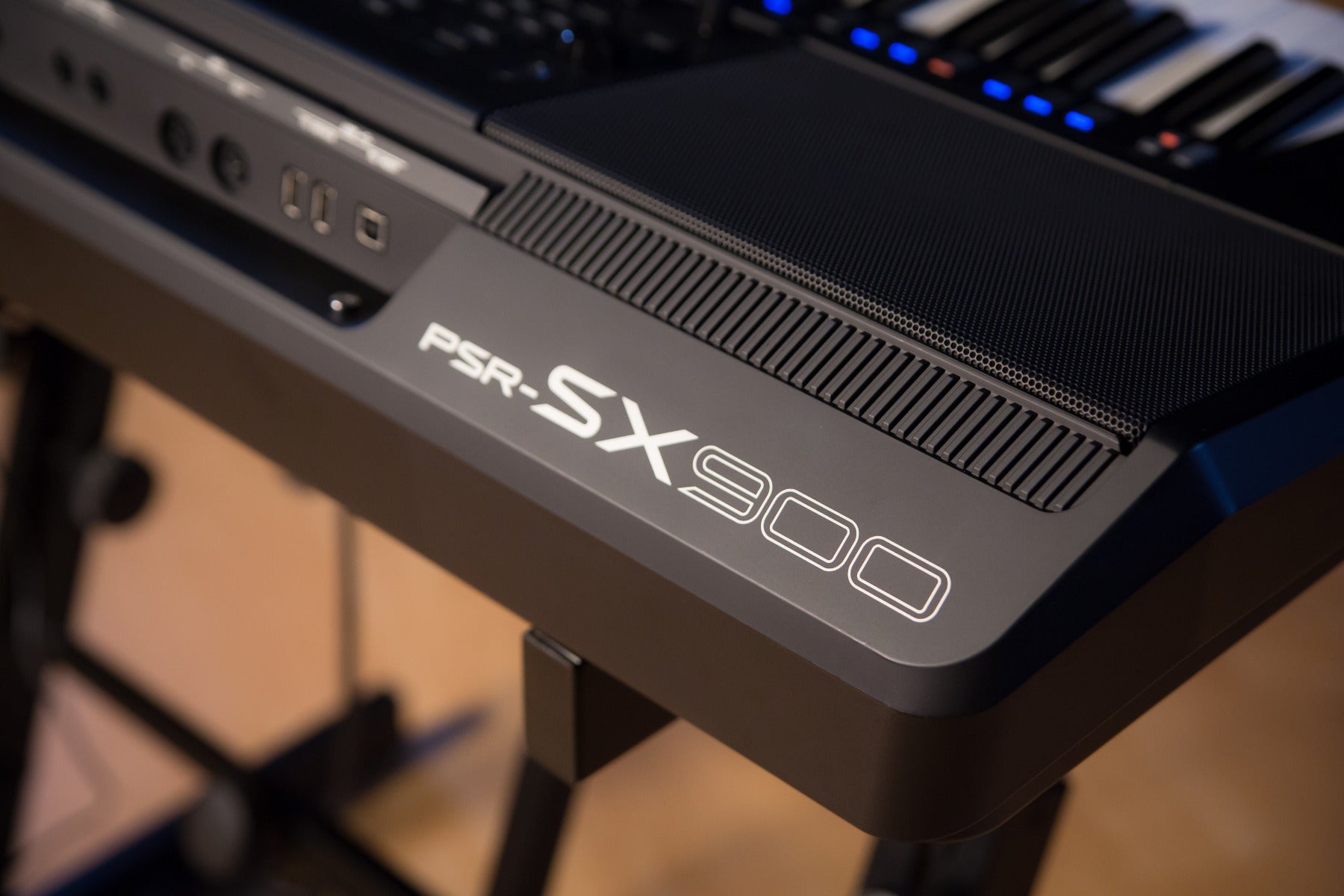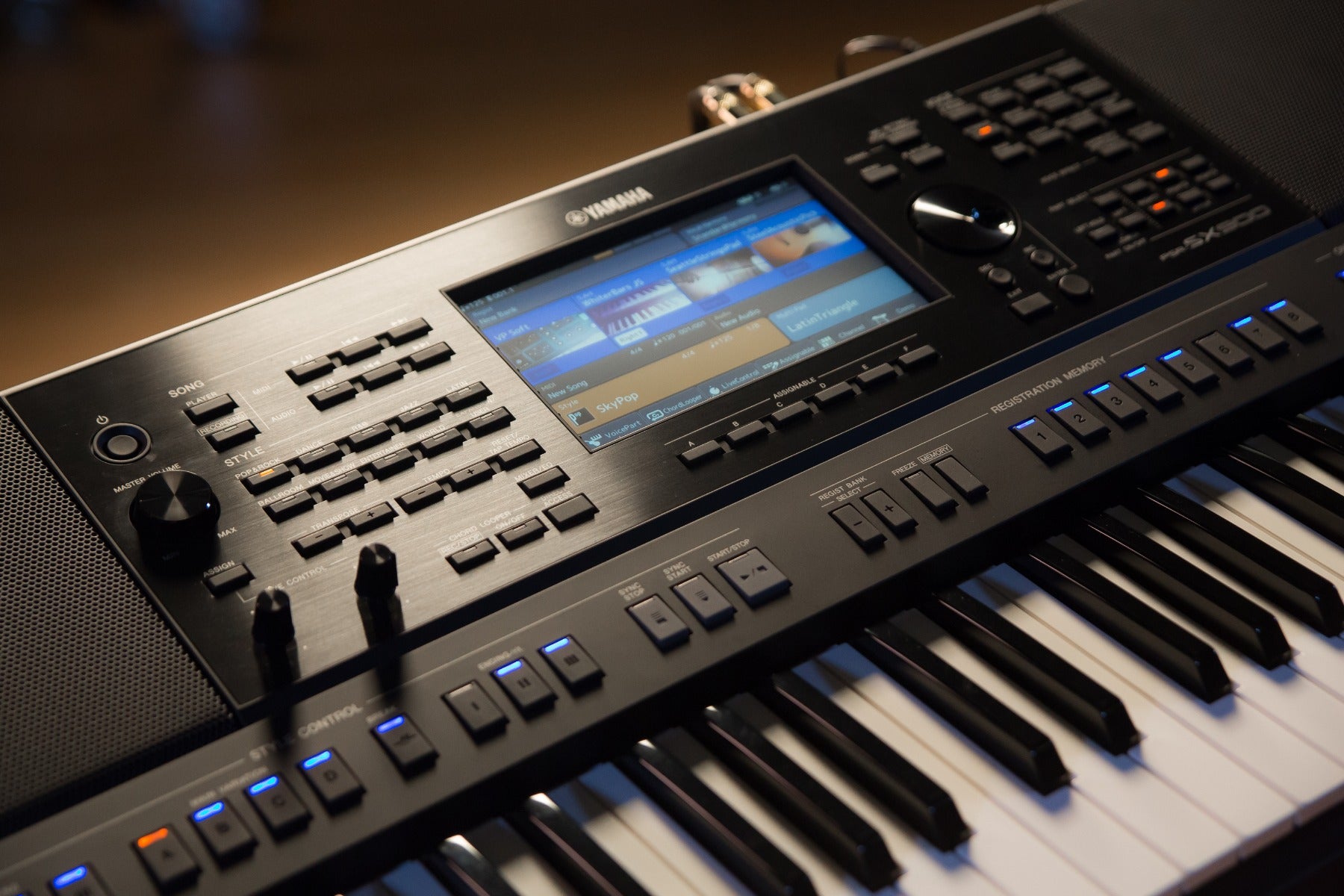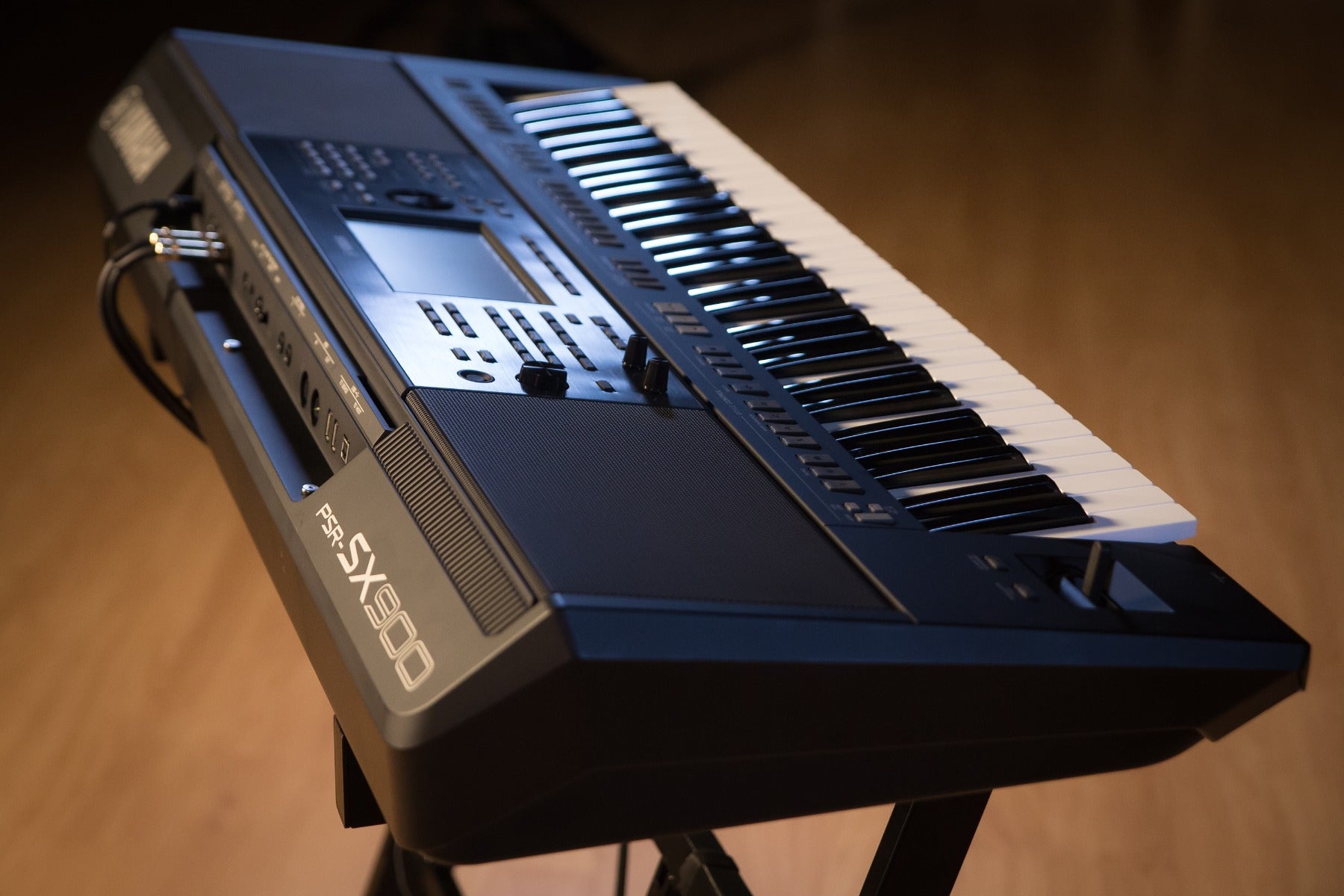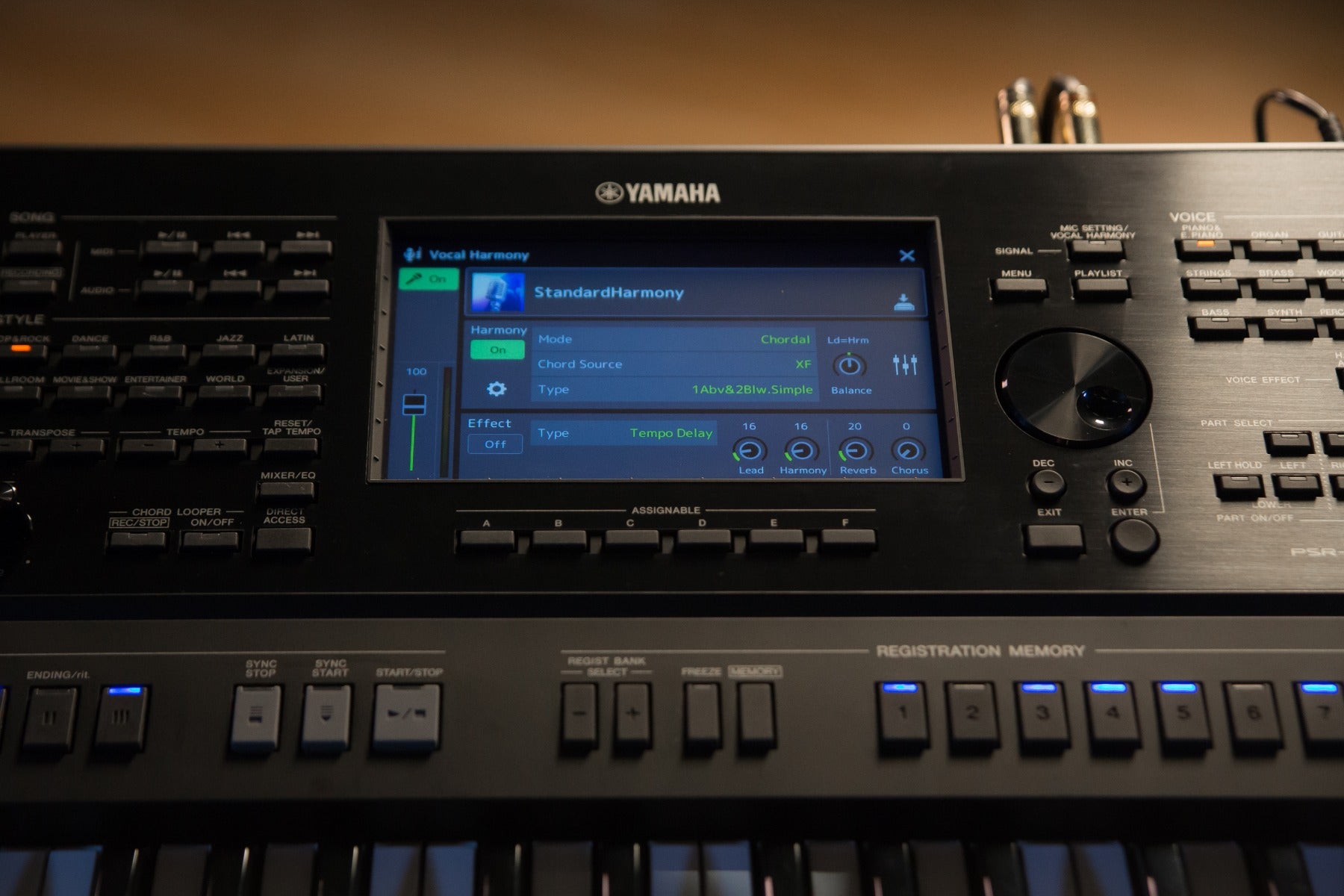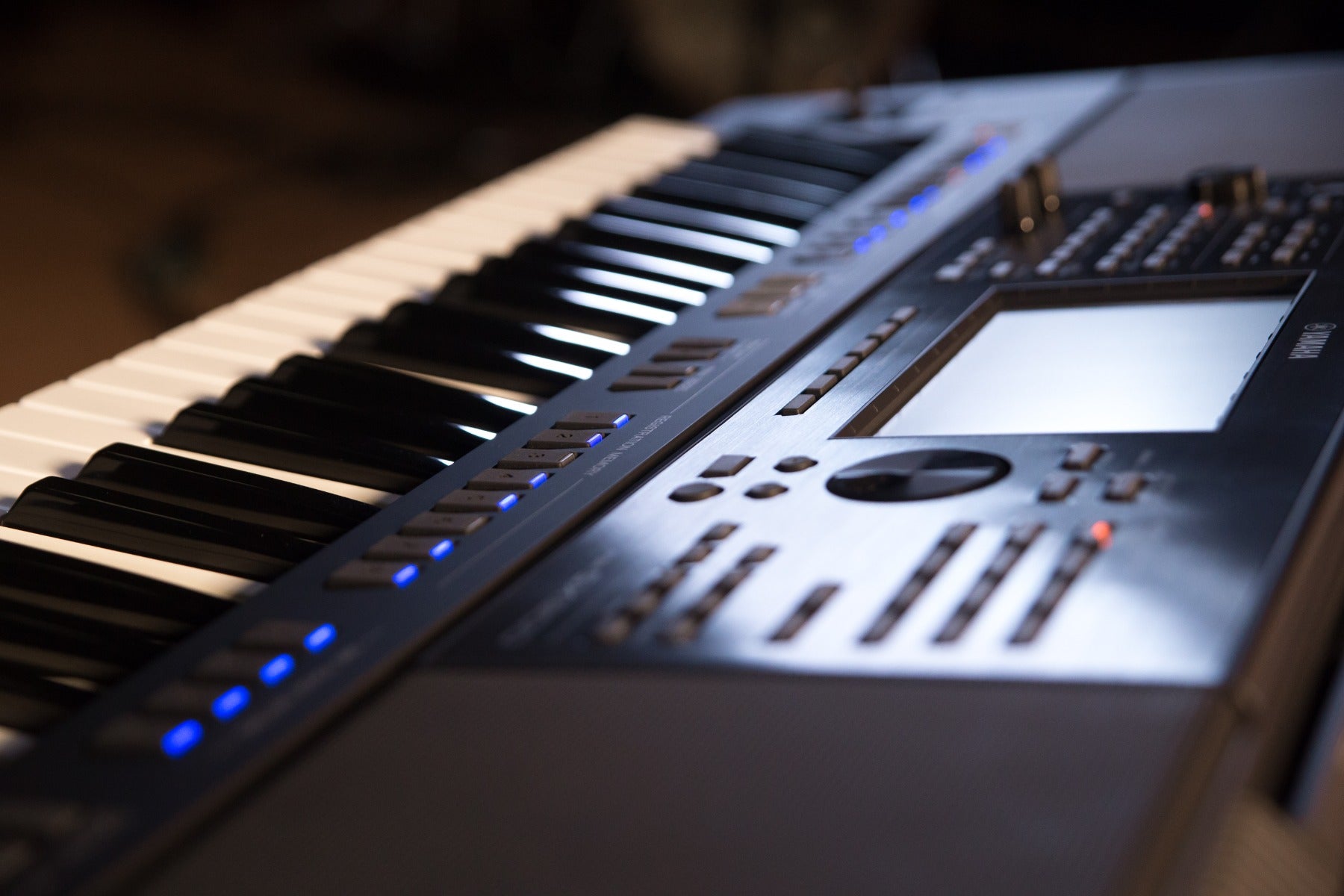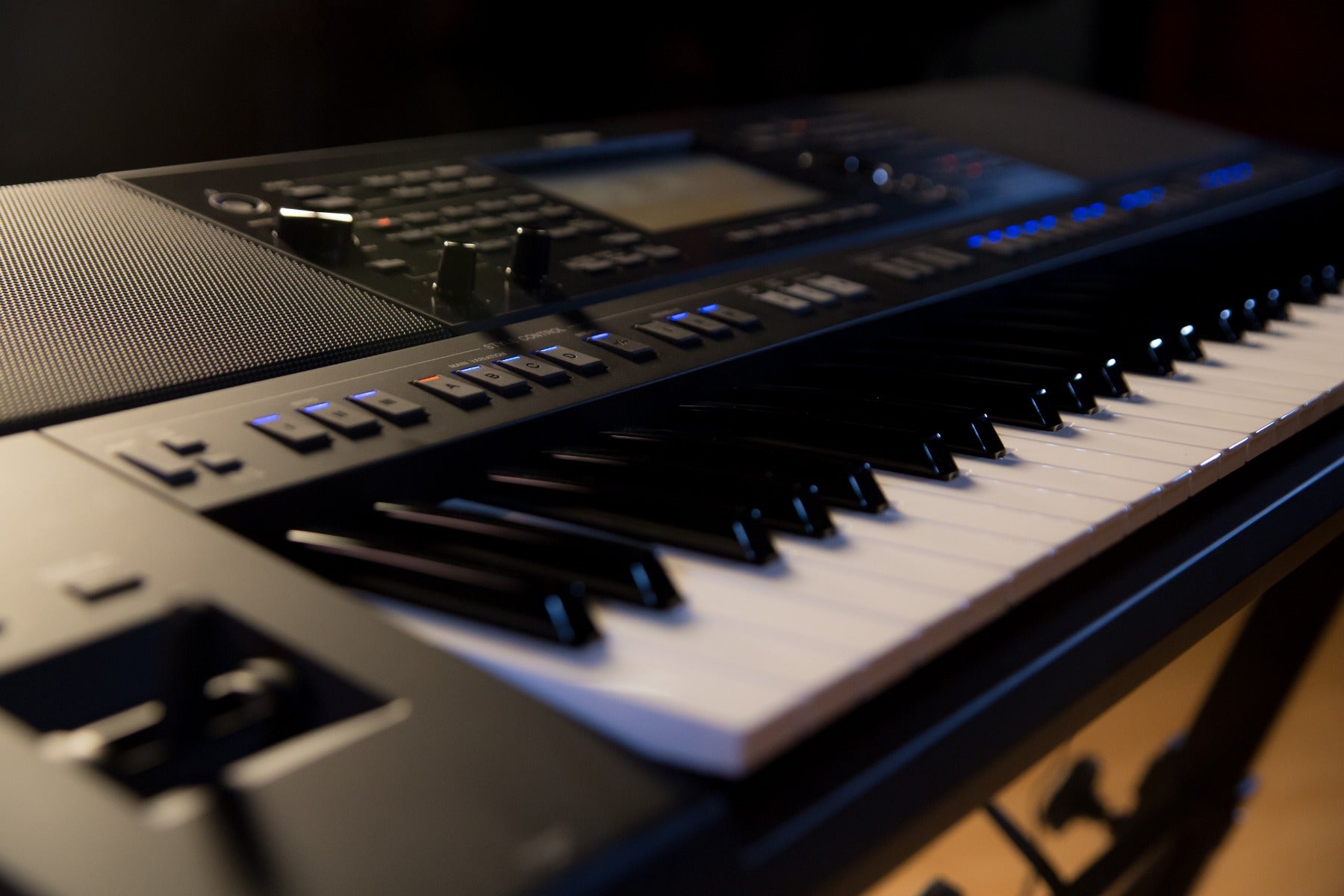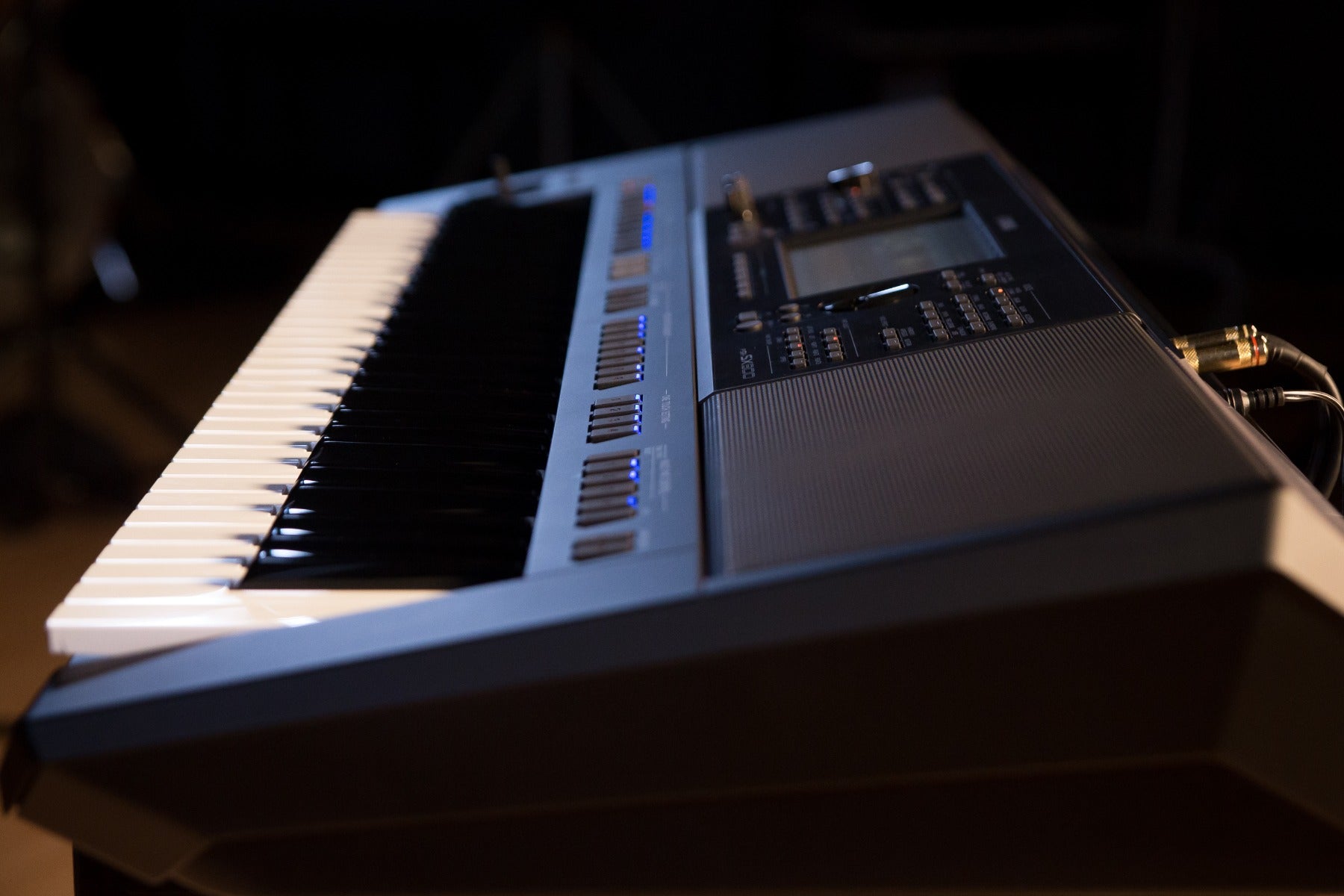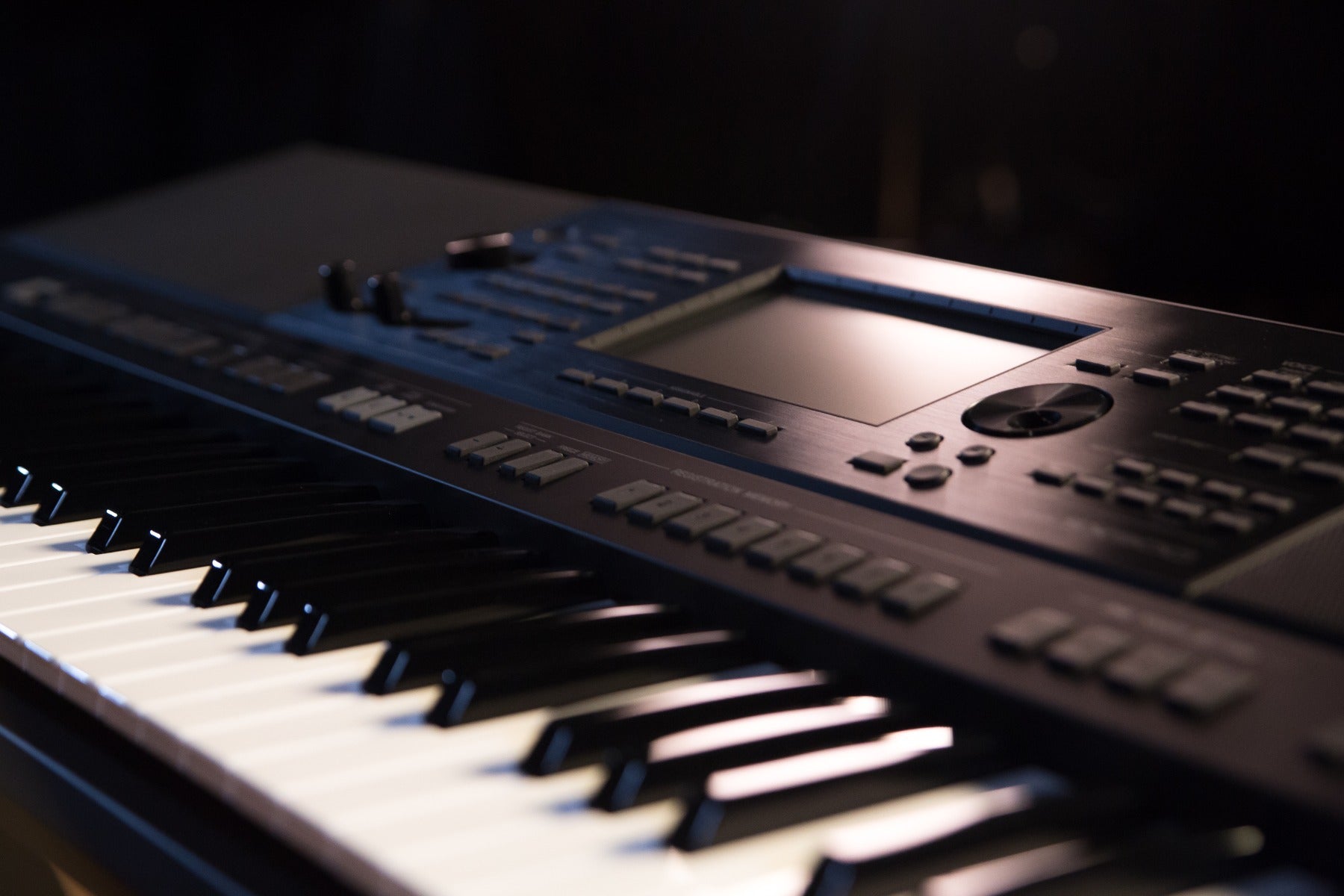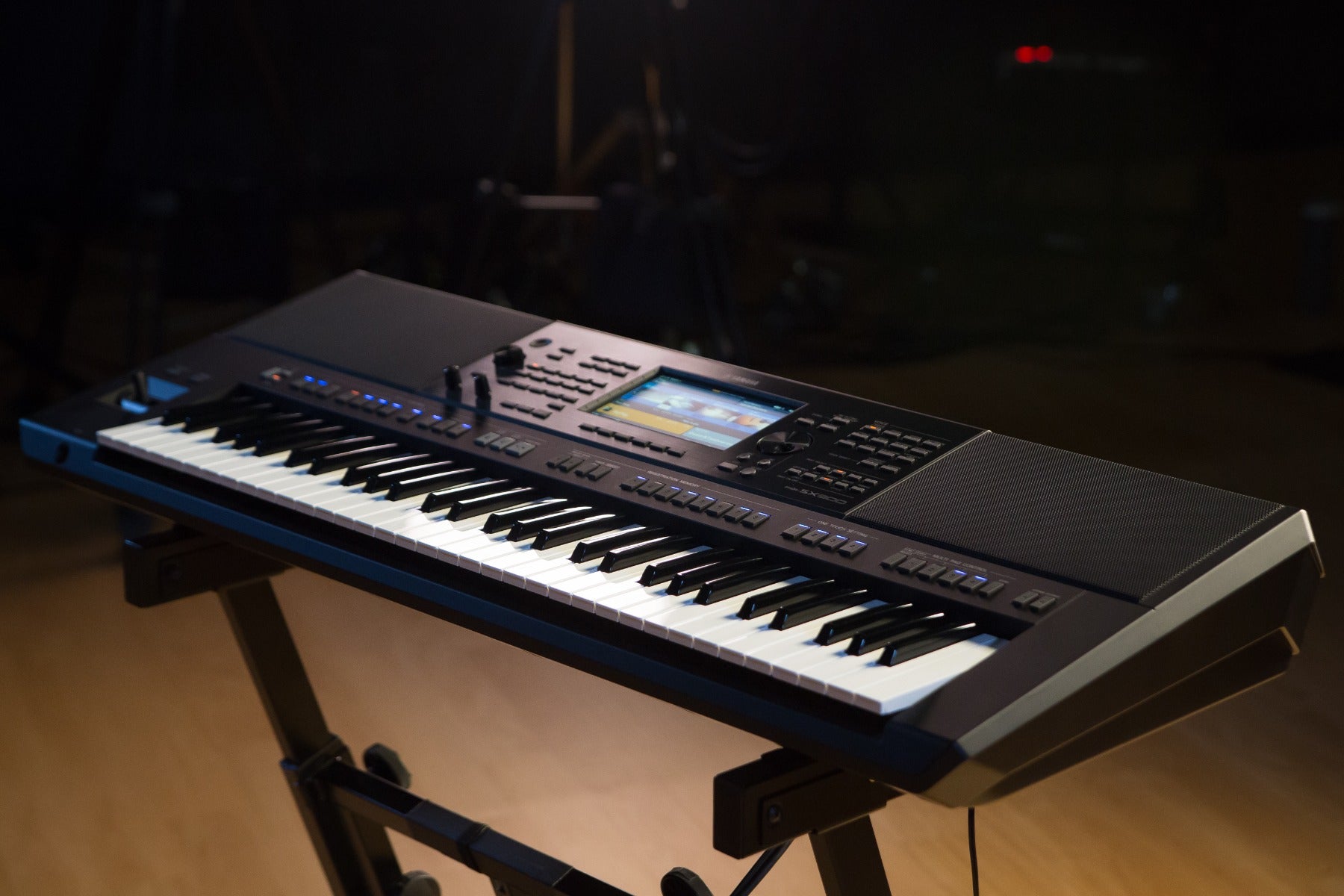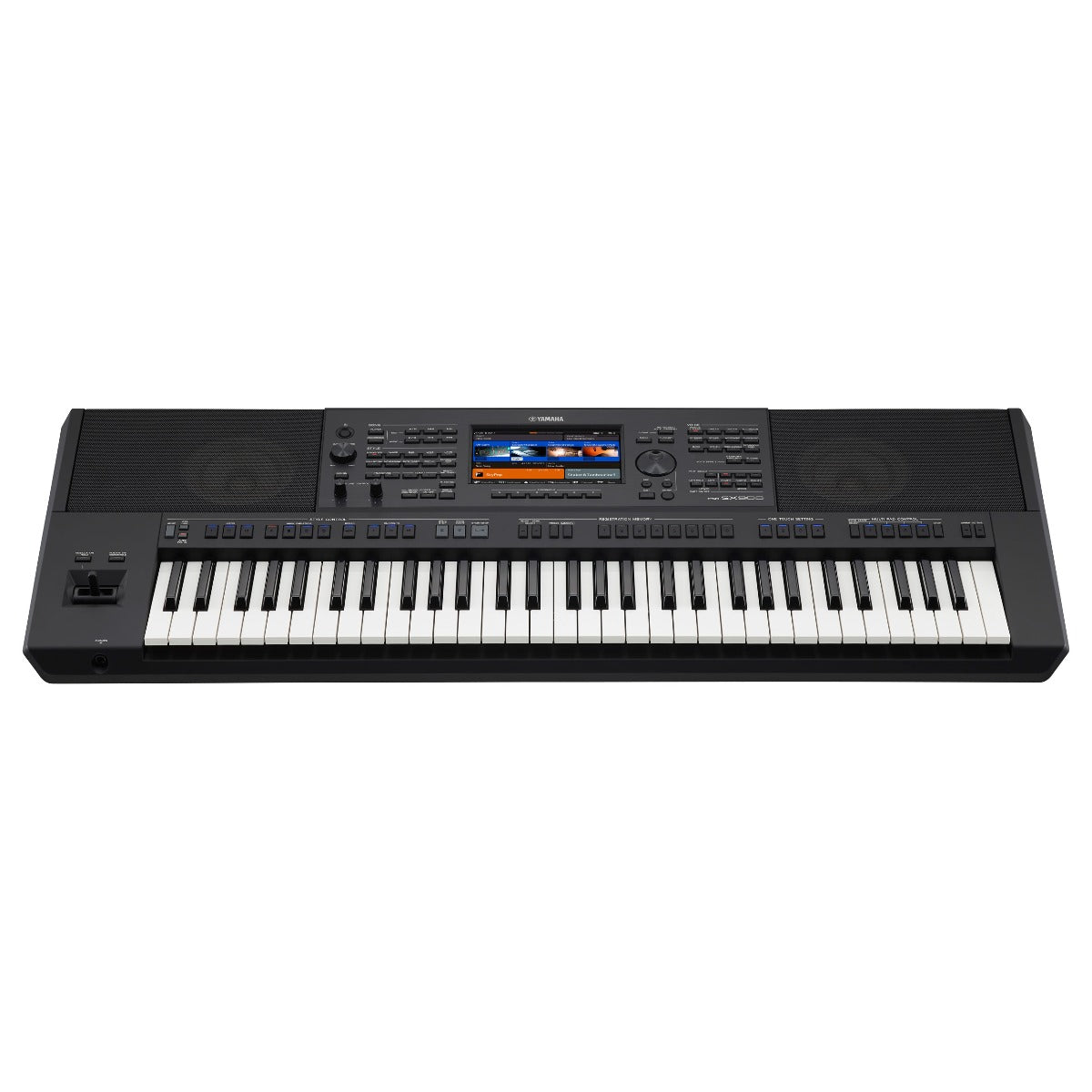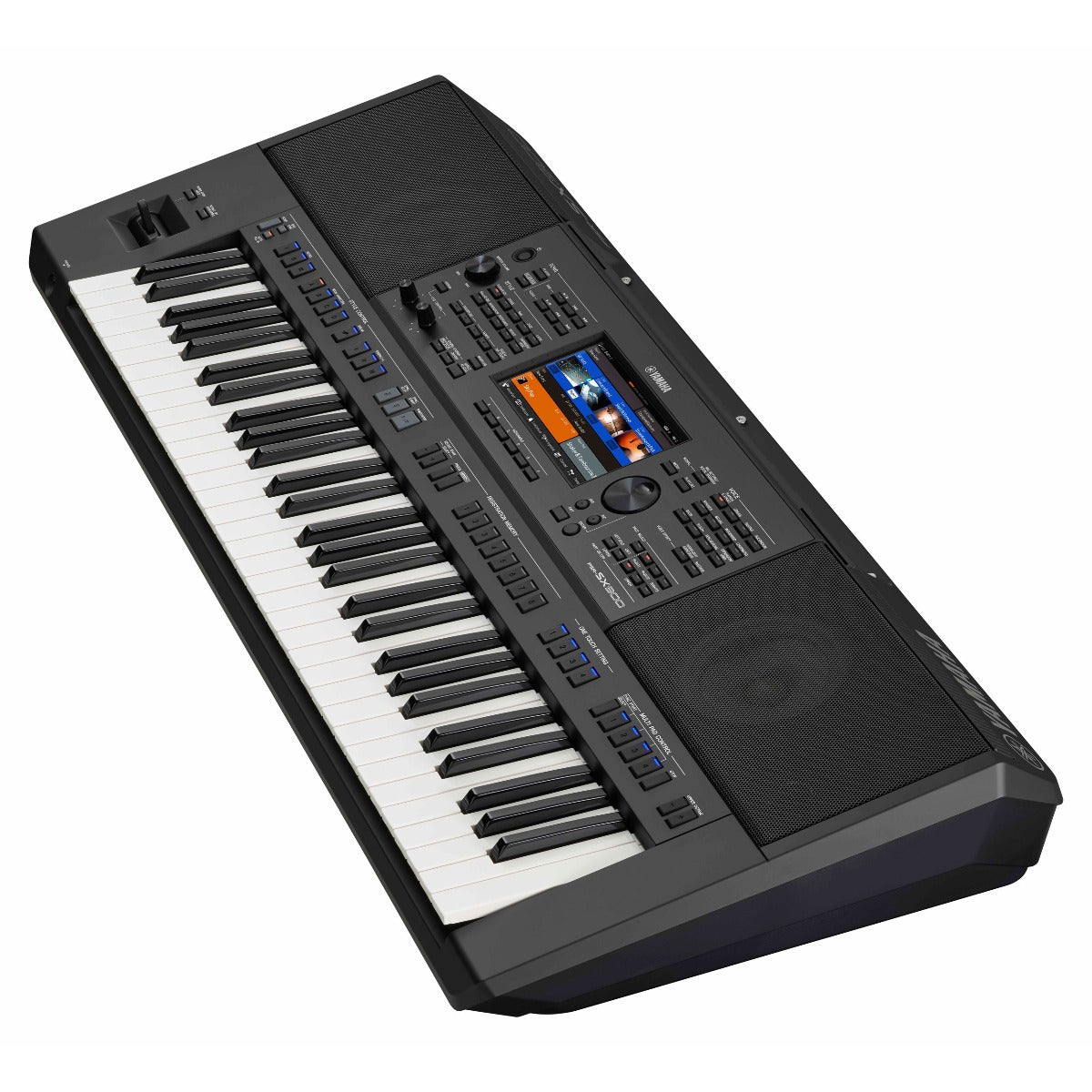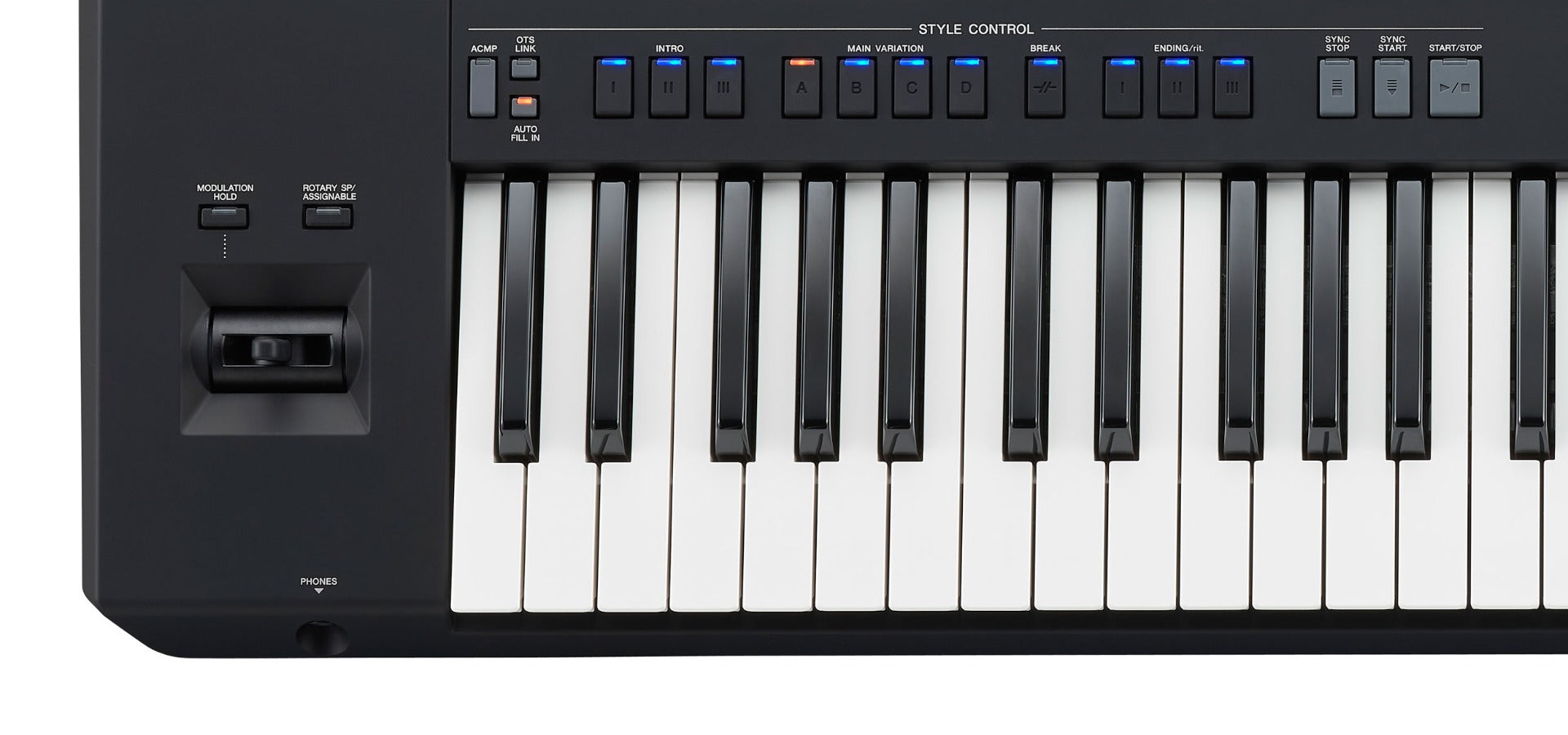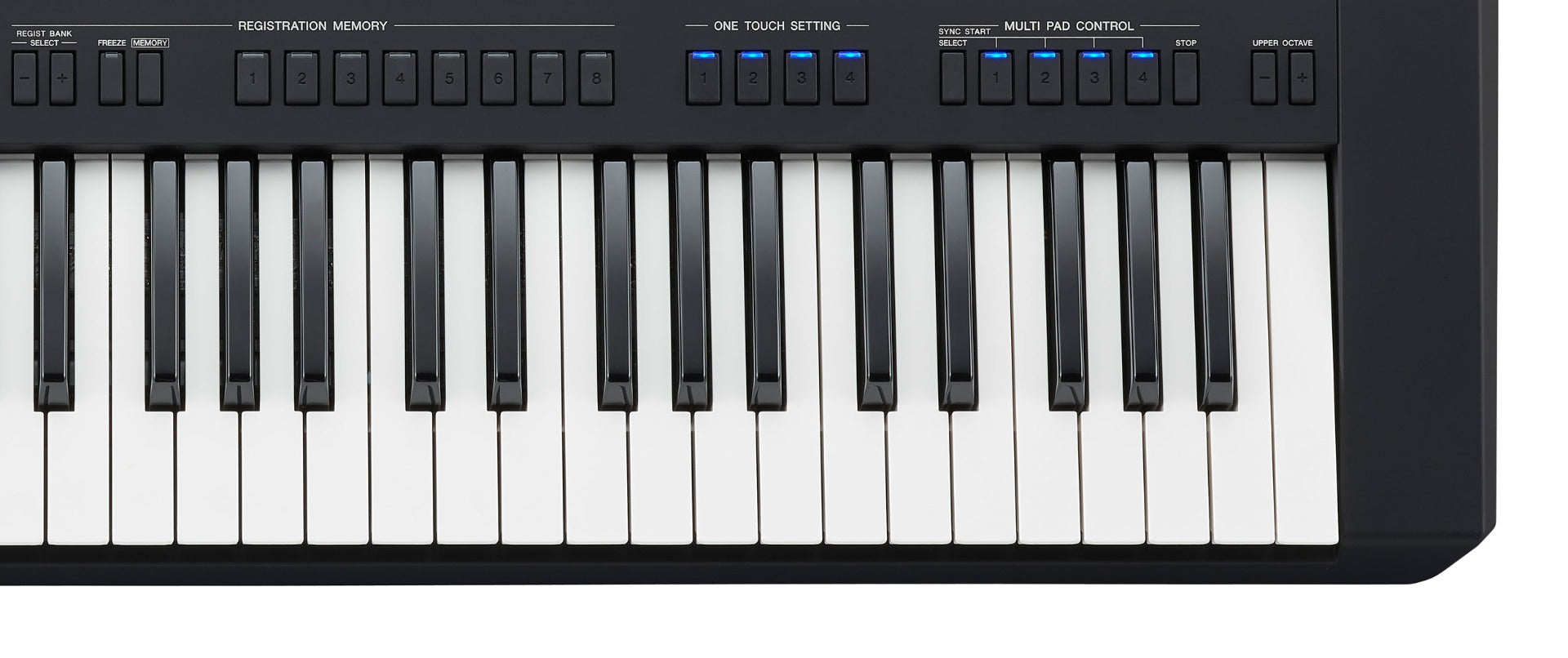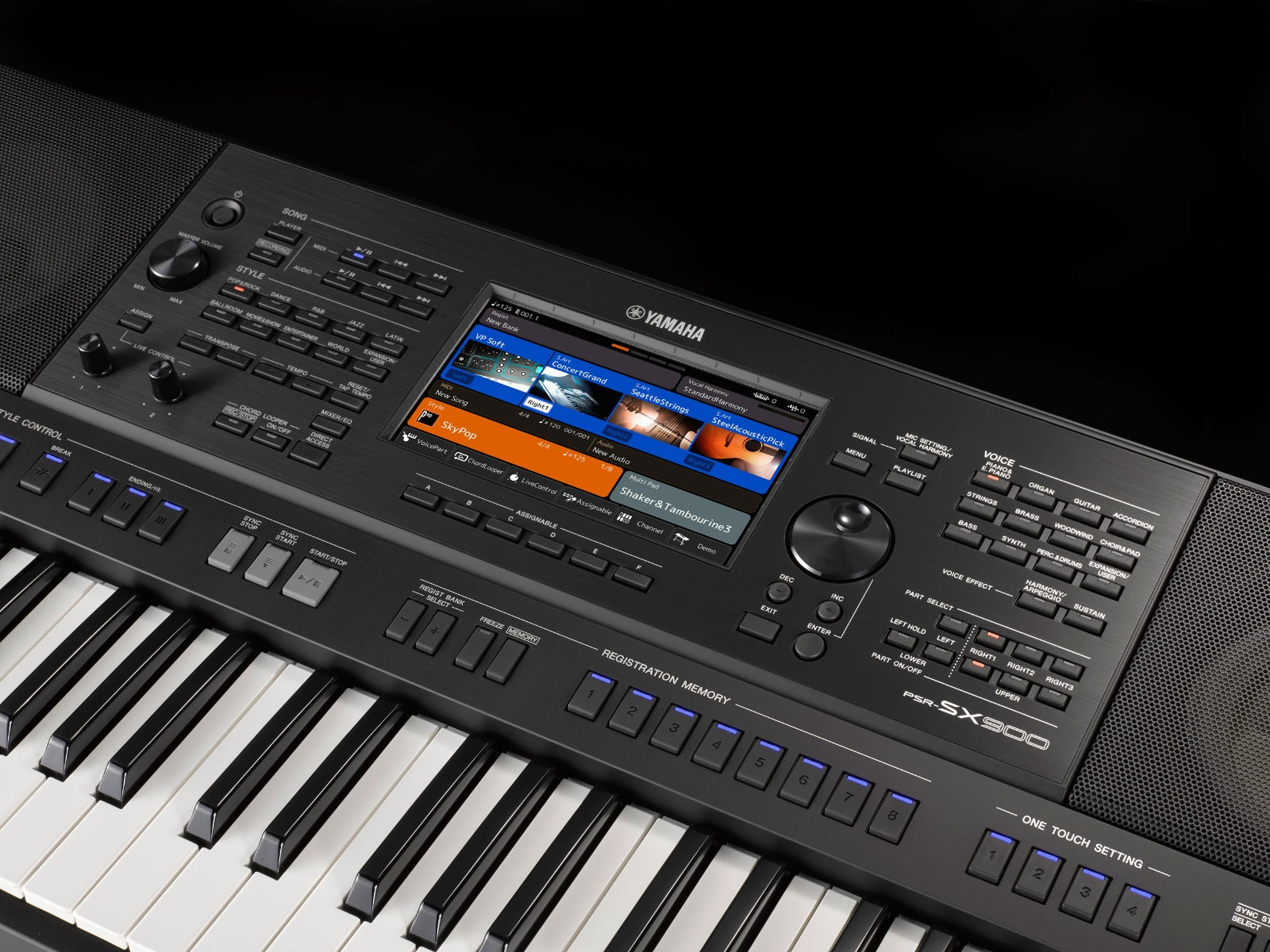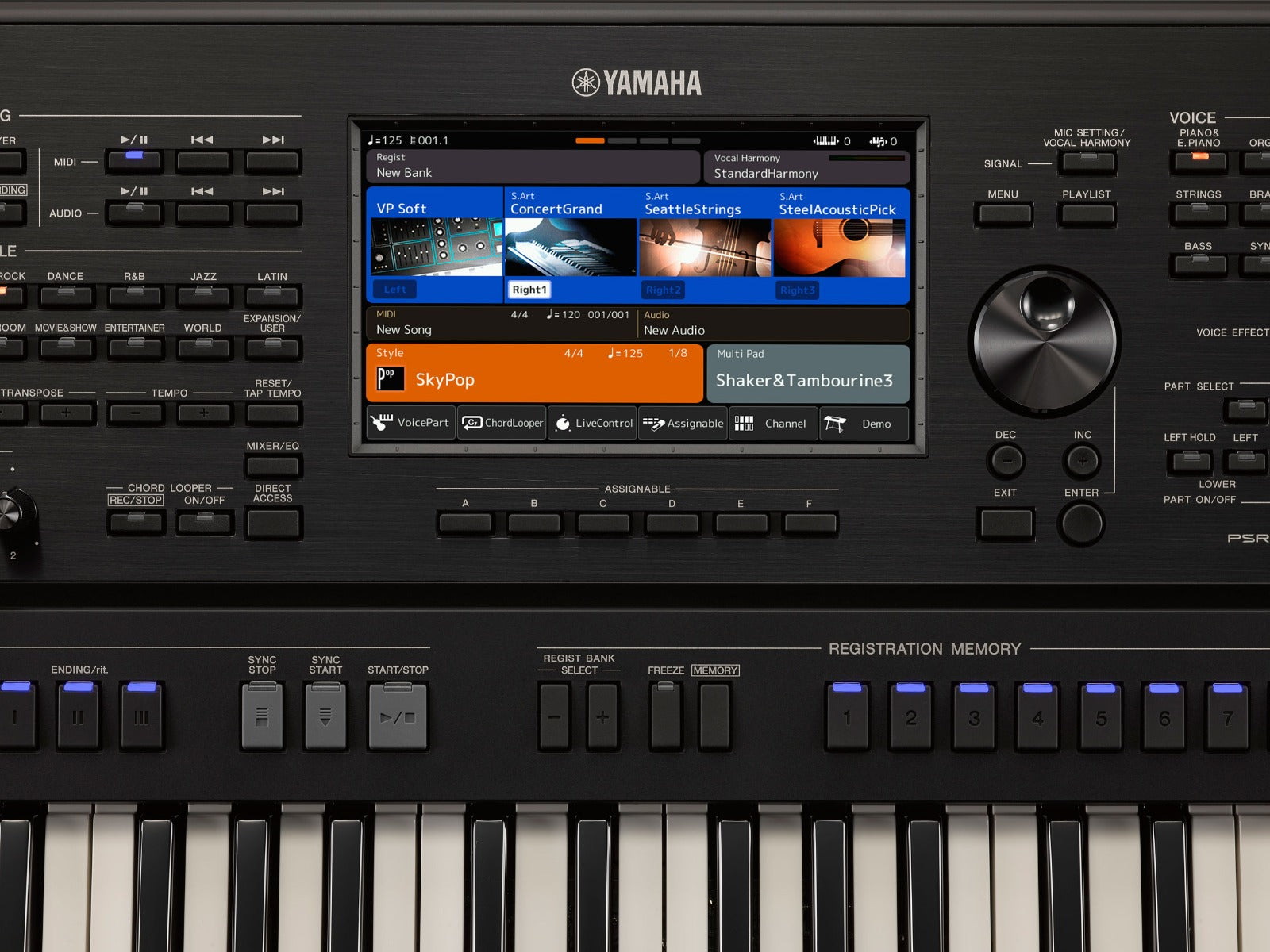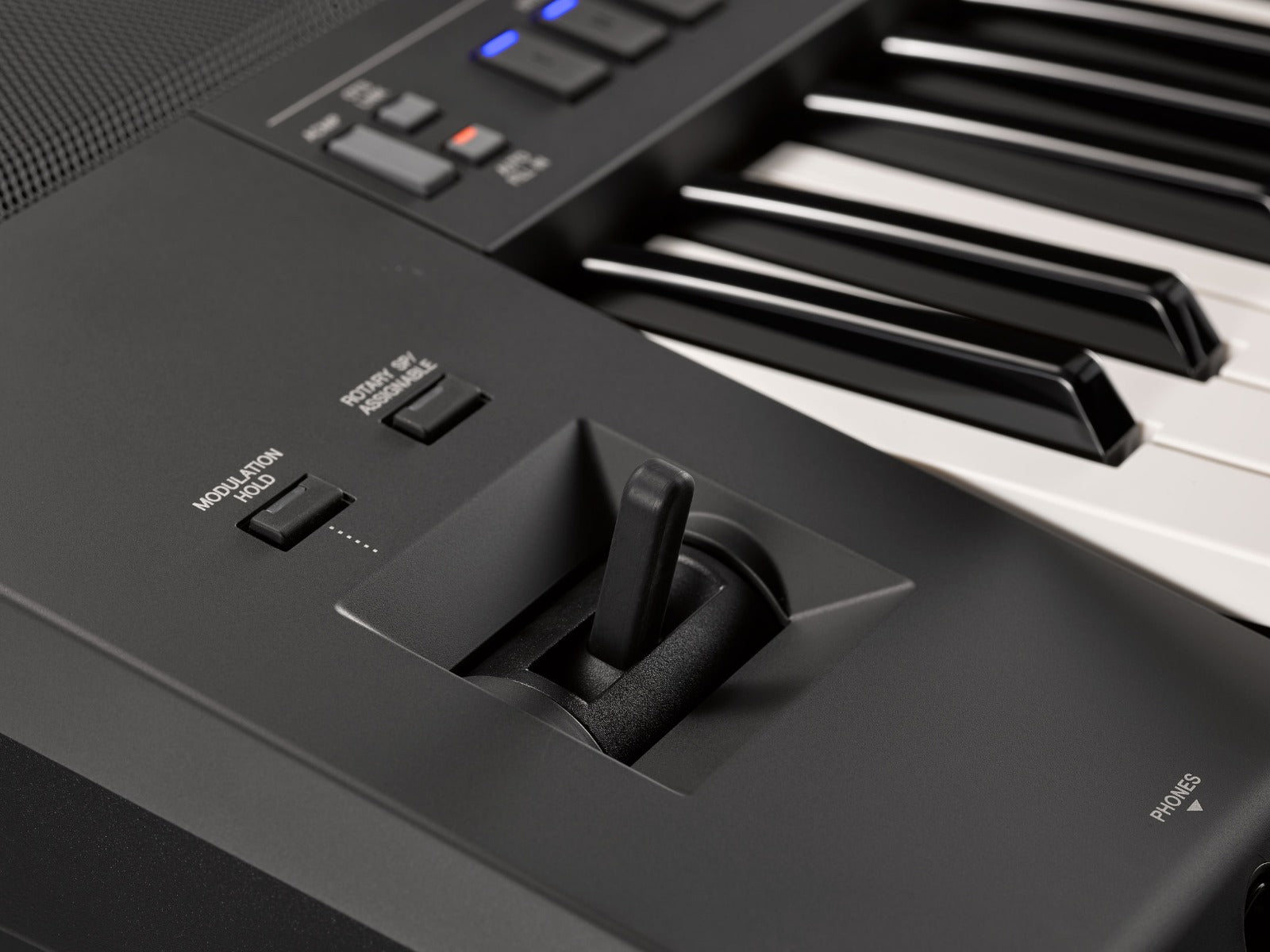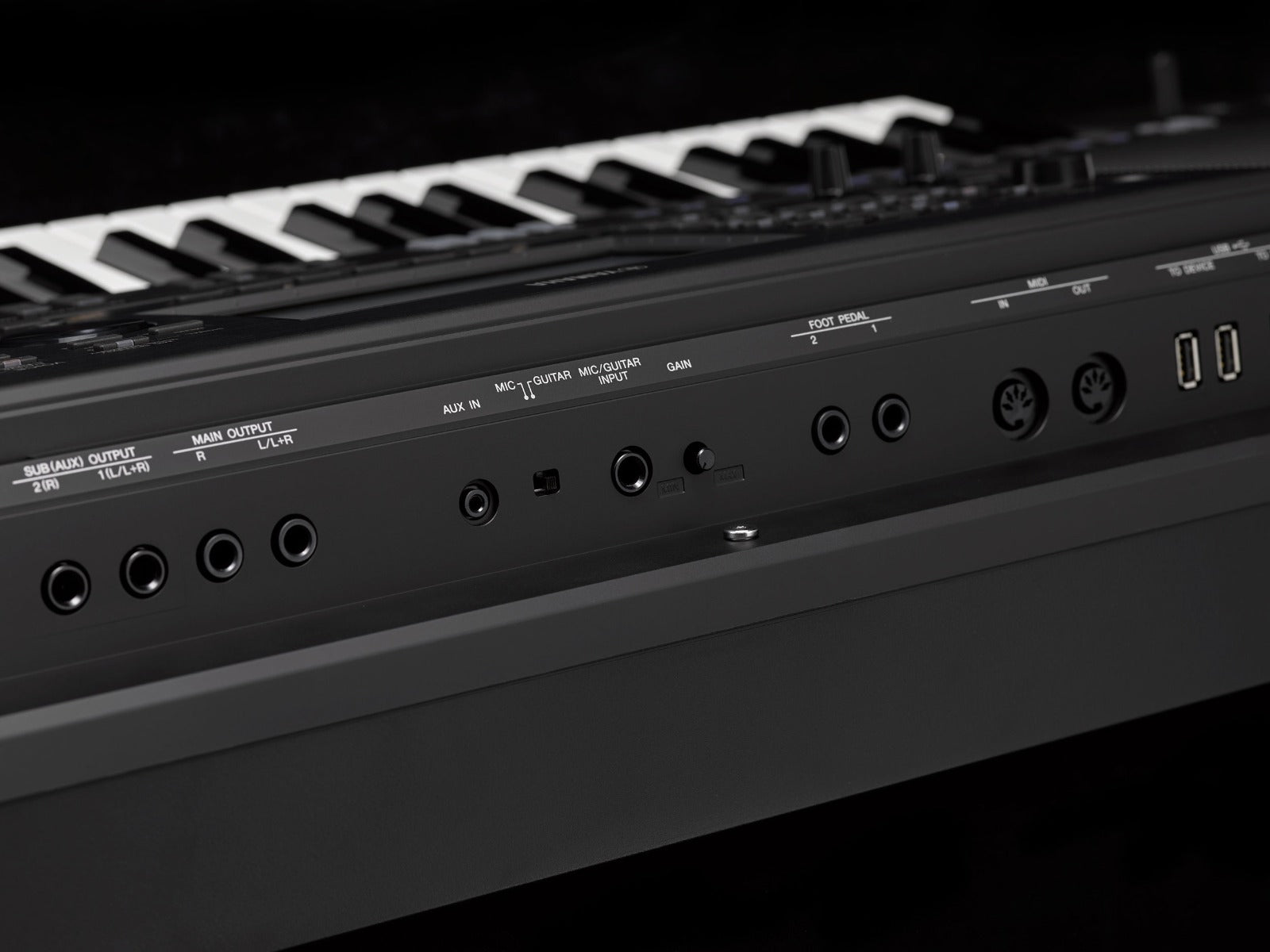 Yamaha PSR-SX900 Arranger Workstation Keyboard KEY ESSENTIALS BUNDLE
7 items included
This Kraft Music Bundle Includes
Click on a product to view more details.
The top of the line in the PSR-SX Series, Yamaha PSR-SX900 is the best in its class of arranger workstations today. With a completely redesigned sound system, user interface, new Assignable Functions, Joystick and Live Controllers, you can completely tailor the functions and sounds of PSR-SX900, making your creativity positively limitless.
1337 Voices, including 252 Super Articulation Voices
525 Styles, including 463 Pro Styles, 46 Session Styles, 10 DJ Styles and 6 Freeplay Styles
Pre-installed expansion content
Real Distortion and Real Reverb, with an intuitive effects interface
1GB onboard memory for expansion data
4GB internal memory
MIDI song file capacity: 3MB per file
Joystick, FSB keyboard, sub output and Expansive Soundfield Speakers for powerful live performance
Intuitive and fast control with 7" color touch screen and Assignable Function
Chord Looper function
Mic/guitar input for use when singing or collaborating with other performers
Playlist and Registration for quick and easy setup
Vocal Harmony and Synth Vocoder functions
Audio recording (WAV/MP3)
Voice and Style expandability with Yamaha Expansion Manager
2 USB to device terminals
External display capability
Be inspired as you inspire
Perfect for songwriting, PSR-SX900 is packed with rhythmic patterns (called 'Styles') spanning many genres, making it ideal for creating the accompaniment to your musical ideas and an invaluable inspiration for your next composition or arrangement. Together with a tremendous range of expressive sounds and vocal harmony, PSR-SX900 is your ultimate and inspirational musical partner.
The Joystick allows for maximum expressive control
The Joystick controller offers intuitive pitch and modulation control, allowing for rapid trills, expressive pitch bends and fully managed modulation. The Modulation Hold button above the Joystick lets you lock your modulation choice, so you can focus on pitch bends or on your playing.
Expansive Soundfield Speakers
The onboard Expansive Soundfield Speakers ensure your performance sounds full and balanced no matter where your audience is. The innovative design of the speaker diaphragm provides a crisp, high-quality tone with high-definition response and balanced sound to a broad listening area.
New keyboard action: FSB Keyboard
Yamaha's FSB Keyboard offers remarkable playability thanks to its heavier initial key resistance and greater key travel. The refined keyboard structure, with an adjusted fulcrum, allows you to play comfortably even on the backs of the keys whilst upgraded components suppress horizontal key movement.
Studio-quality output
The audio output of PSR-SX900 has been designed to deliver the highest quality sound from your keyboard. The new digital audio converter (DAC) ensures highly detailed sound across a wide frequency range, making your recordings or performances sound absolutely professional.
Sub output
PSR-SX900 features four sub line-out connections, giving you greater control over your signal routing. You can send bass voices through to a separate speaker or send the metronome click to your drummer's headphones. The flexibility is there to for you to explore.
Style Section Reset
When playing with Styles, easily jump to the beginning of the bar by pressing the RESET/TAP TEMPO button. This Style Section Reset is particularly handy when accompanying singers or when playing music with varying time signatures.
Authentic Voices
PSR-SX900 is packed with a comprehensive and sonically stunning set of authentic Voices. With over 1,393 instrument sounds, PSR-SX900 gives you the tools to play them more naturally and with greater expressiveness. The sound of the drums, derived from the Revo! Drums on Yamaha Genos, brings new levels of authenticity to your performance.
Styles
Accompaniment and rhythmic backing patterns (called 'Styles') cover a wide range of musical genres, including pop, jazz and many more. Styles let you single-handedly recreate the sound of a full band or orchestra.
Vocal Harmony / Synth Vocoder
With a microphone connected to the PSR-SX900 you can easily apply various Vocal Harmony effects to your voice. You can also use the Synth Vocoder to graft your voice onto a synthesizer creating unusual machine‐like or robotic effects, as well as unique choir sounds. As you sing into the mic, these sounds are affected by what you play on the keyboard.
Add some flavor to your performance
The Multi Pads can be used to play a number of short pre-recorded rhythmic and melodic sequences and loops that allow you to add impact and variety to your keyboard performance. Multi Pads not only work with MIDI data, but also allow you to create unique, new pad content with your own audio (WAV) data for playing back during your performance.
Touch screen / GUI
The 7" touch display and graphic user interface provide intuitive control over the instrument's powerful features.
Assignable Function
While performing, you often need to act fast to access certain features; Assignable Functions make it easy to do just that. Choose from a range of functions to assign to one of six panel buttons or to the Live Control knobs, pedals or the Home Shortcut menu, and then instantly recall your desired function with a single touch.
Style Assembly
Styles are made up of many instrument Parts, such as drums, bass, guitar, piano, etc. In Style Assembly it's easy to explore, audition and combine Parts from any Style to create your own personal accompaniments.
Chord Looper
The Chord Looper lets you record and loop a chord sequence, freeing your left hand so you can play two-handed passages or manipulate sounds with any of the various assignable controllers.
Playlist and Registration Memory
Playlist makes it easy to manage and call up your songs and the related settings, no matter how large your repertoire. Organize Registration Memories into convenient Playlists for instant recall during performance.
Let your music take you to new places
Voice & Style Expansion Packs enable you to customize PSR-SX900 with a wide range of additional content from all over the world. When loaded into the keyboard, you can instantly access authentic new sounds, rhythms and backing in the musical style of your choice. Use Yamaha Expansion Manager to create individual expansion data sets containing content from various packs and utilize the 1GB memory on board. You can even create your own voices based on your sample library.

SKU
YAM-PSRSX900KE
MPN
PSR-SX900
Vendor
Yamaha
Bluetooth
Audio Receiving
Built In Speakers
Yes
Connectivity
USB, MIDI, and Bluetooth
Included From Manufacturer
Power supply
Music rest
Keys Weighted
No
Key Cover
No
Key Num
61
Mpn
PSRSX900
Piano Cabinet Style
Portable
Product Unique Features
Expansive Soundfield Speakers for powerful live performance
Accompaniments
Yes
Duet Mode
No
Finish
Black
Half-Damper Support
No
Audio Inputs
1/4" microphone/guitar audio input
1/8" stereo aux input
Audio Outputs
Dual 1/4" stereo main output
Dual 1/4" stereo sub output
Key Action
Organ/synth action (FSB) with touch response
Layer Feature
Yes
Metronome
Yes
Pedals
(2) optional (sustain, articulation), function assignable
Product Weight
25.35 lb
Quarter-Tone Scale Function
No
Rhythm Patterns
525 Preset Styles
Song Recorder
Audio & MIDI
Number of Songs
USB
Number of Sounds
1,337 Voices
56 Drum/SFX Kits
480 XG Voices
Speaker Power
(2) × 25 Watts (15 W + 10 W)
Speaker Size
(2) 5.1"
(2) .98" (dome)
Split Feature
Yes
Storage Type
USB Flash Drive;Internal
Number of Tracks
MIDI recorder
Transpose Feature
Yes
Voices of Polyphony
128
Width
40"
Depth
17"
Height
5.5"
Yamaha Arranger Workstation Keyboards Limited Warranty
Thank you for selecting a Yamaha product. Yamaha products are designed and manufactured to provide a high level of defect-free performance. Yamaha Corporation of America ("Yamaha") is proud of the experience and craftsmanship that goes into each and every Yamaha product. Yamaha sells its products through a network of reputable, specially authorized dealers and is pleased to offer you, the Original Owner, the following Limited Warranty, which applies only to products that have been (1) directly purchased from Yamaha's authorized dealers in the fifty states of the USA and District of Columbia (the 'Warranted Area') and (2) used exclusively in the Warranted Area. Yamaha suggests that you read the Limited Warranty thoroughly, and invites you to contact your authorized Yamaha dealer or Yamaha Customer Service if you have any questions.
This warranty covers Yamaha Arranger Workstation Keyboards against defects in materials or workmanship for one (1) year.
Yamaha will, at its option, repair or replace the product covered by this warranty if it becomes defective, malfunctions or otherwise fails to conform with this warranty under normal use and service during the term of this warranty, without charge for labor or materials. Repairs may be performed using new or refurbished parts that meet or exceed Yamaha specifications for new parts. If Yamaha elects to replace the product, the replacement may be a reconditioned unit. You will be responsible for any installation or removal charges and for any initial shipping charges if the product(s) must be shipped for warranty service. However, Yamaha will pay the return shipping charges to any destination within the USA if the repairs are covered by the warranty. This warranty does not cover (a) damage, deterioration or malfunction resulting from accident, negligence, misuse, abuse, improper installation or operation or failure to follow instructions according to the Owner's Manual for this product; any shipment of the product (claims must be presented to the carrier); repair or attempted repair by anyone other than Yamaha or an authorized Yamaha Service Center; (b) any unit which has been altered or on which the serial number has been defaced, modified or removed; (c) normal wear and any periodic maintenance; (d) deterioration due to perspiration, corrosive atmosphere or other external causes such as extremes in temperature or humidity; (e) damages attributable to power line surge or related electrical abnormalities, lightning damage or acts of God; or (f) RFI/EMI (Interference/noise) caused by improper grounding or the improper use of either certified or uncertified equipment, if applicable.
Any evidence of alteration, erasing or forgery of proof-of-purchase documents will cause this warranty to be void. This warranty covers only the Original Owner and is not transferable.
Warranty service will only be provided for defective products within the Warranted Area. Contact your local authorized Yamaha dealer who will advise you of the procedures to be followed. If this is not successful, contact Yamaha directly. Yamaha may request that you send the defective product to a local authorized Yamaha Servicer or authorize return of the defective product to Yamaha for repair. If you are uncertain as to whether a dealer has been authorized by Yamaha, please contact Yamaha's Service Department or check Yamaha's website.
Product(s) shipped for service should be packed securely and must be accompanied by a detailed explanation of the problem(s) requiring service, together with the original or a machine reproduction of the bill of sale or other dated, proof-of-purchase document describing the product, as evidence of warranty coverage. Should any product submitted for warranty service be found ineligible therefore, an estimate of repair cost will be furnished and the repair will be accomplished only if requested by you and upon receipt of payment or acceptable arrangement for payment.
Any implied warranties, including warranties of merchantability and fitness for a particular purpose shall be limited in duration to the applicable period of time set forth above. Yamaha shall not be responsible for incidental or consequential damages or for damages based upon inconvenience, loss of use, damage to any other equipment or other items at the site of use or interruption of performances or any consequences. Yamaha's liability for any defective product is limited to repair or replacement of the product, at Yamaha's option. Some states do not allow limitations on how long an implied warranty lasts or the exclusion or limitation of incidental or consequential damages, so the above limitation or exclusion may not apply to you. This Warranty gives you specific legal rights, and you may also have other rights which vary from state to state. This is the only express warranty applicable to the product specified herein; Yamaha neither assumes nor authorizes anyone to assume for it any other express warranty.
Standard Shipping