Skip product carousel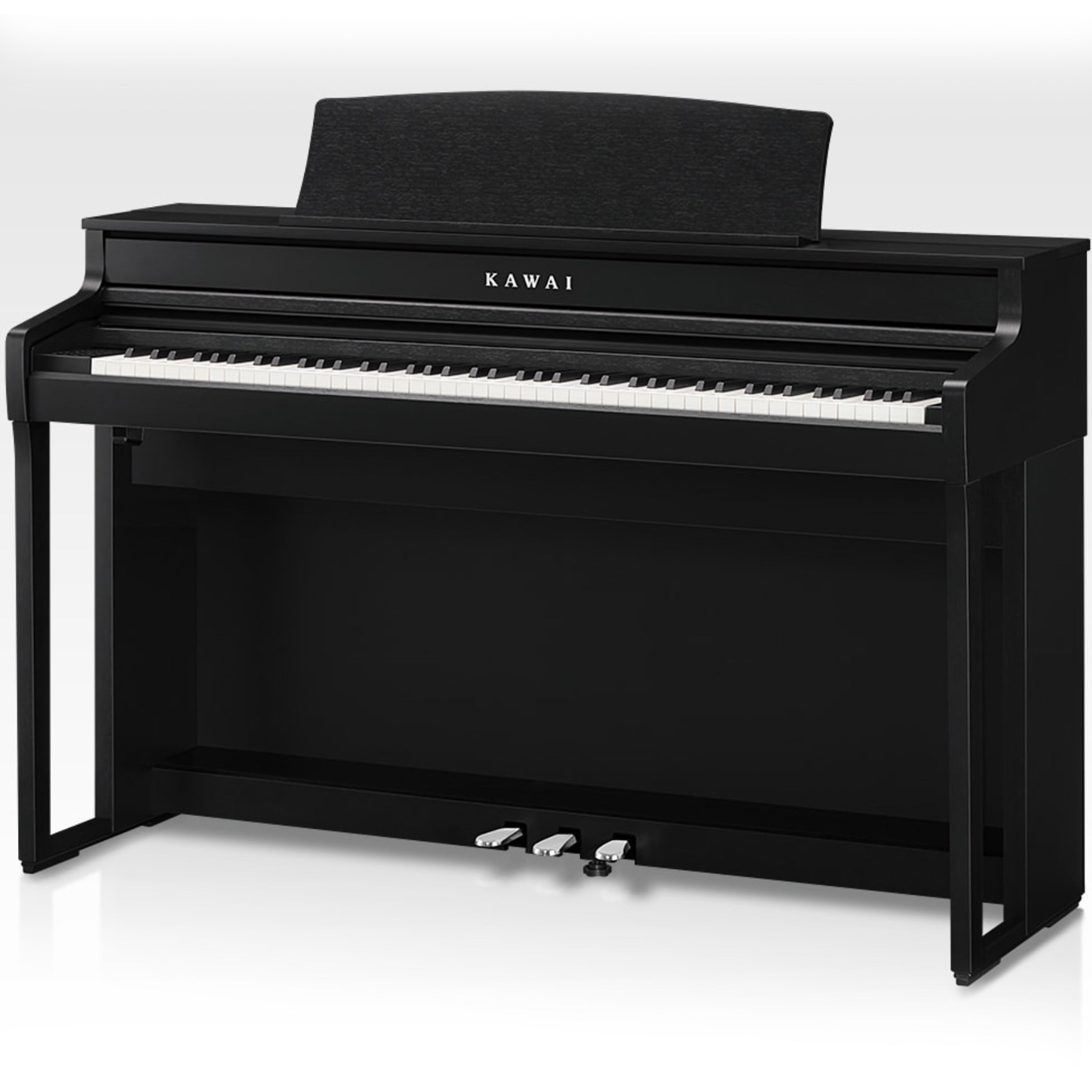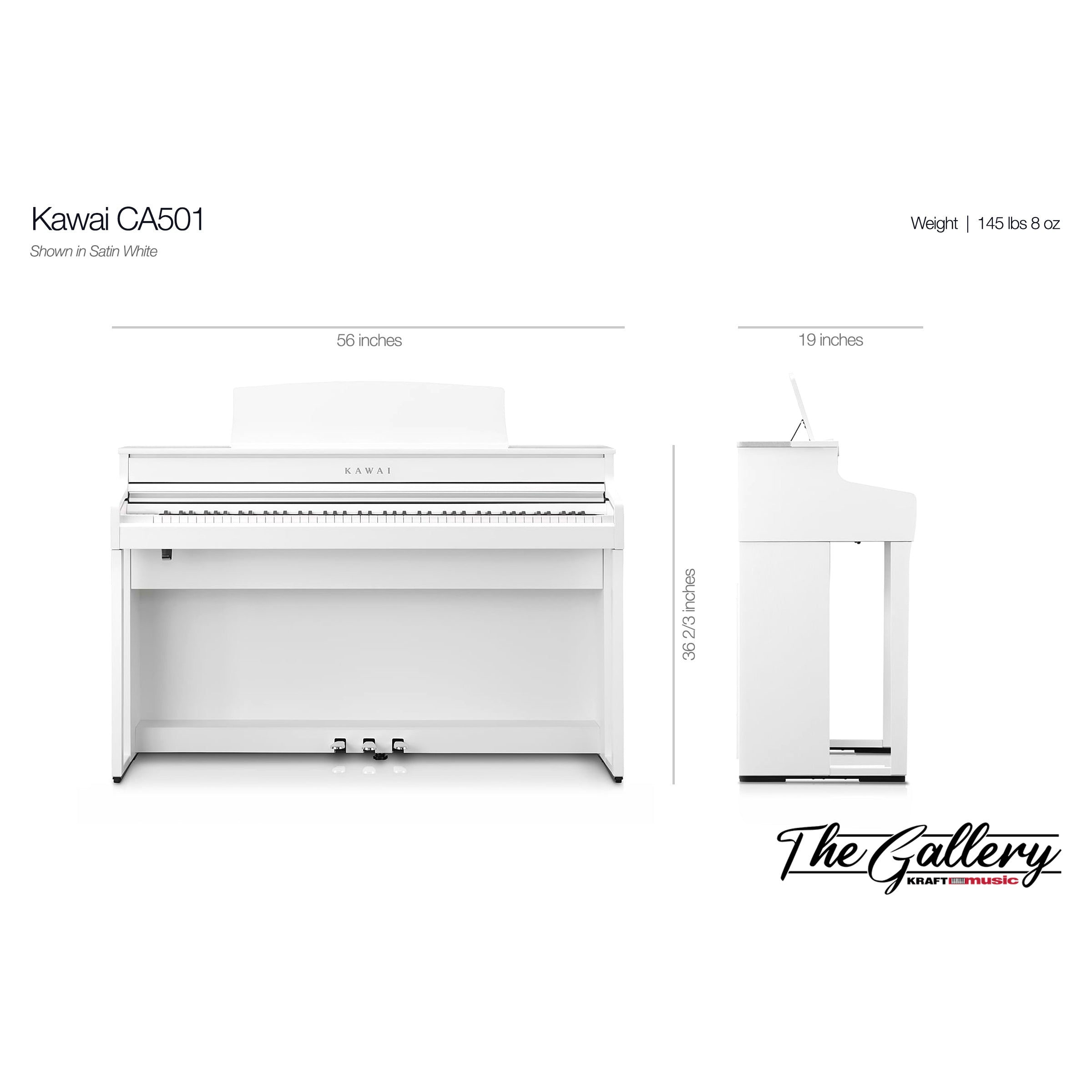 Kawai CA501 Concert Artist Digital Piano - Satin Black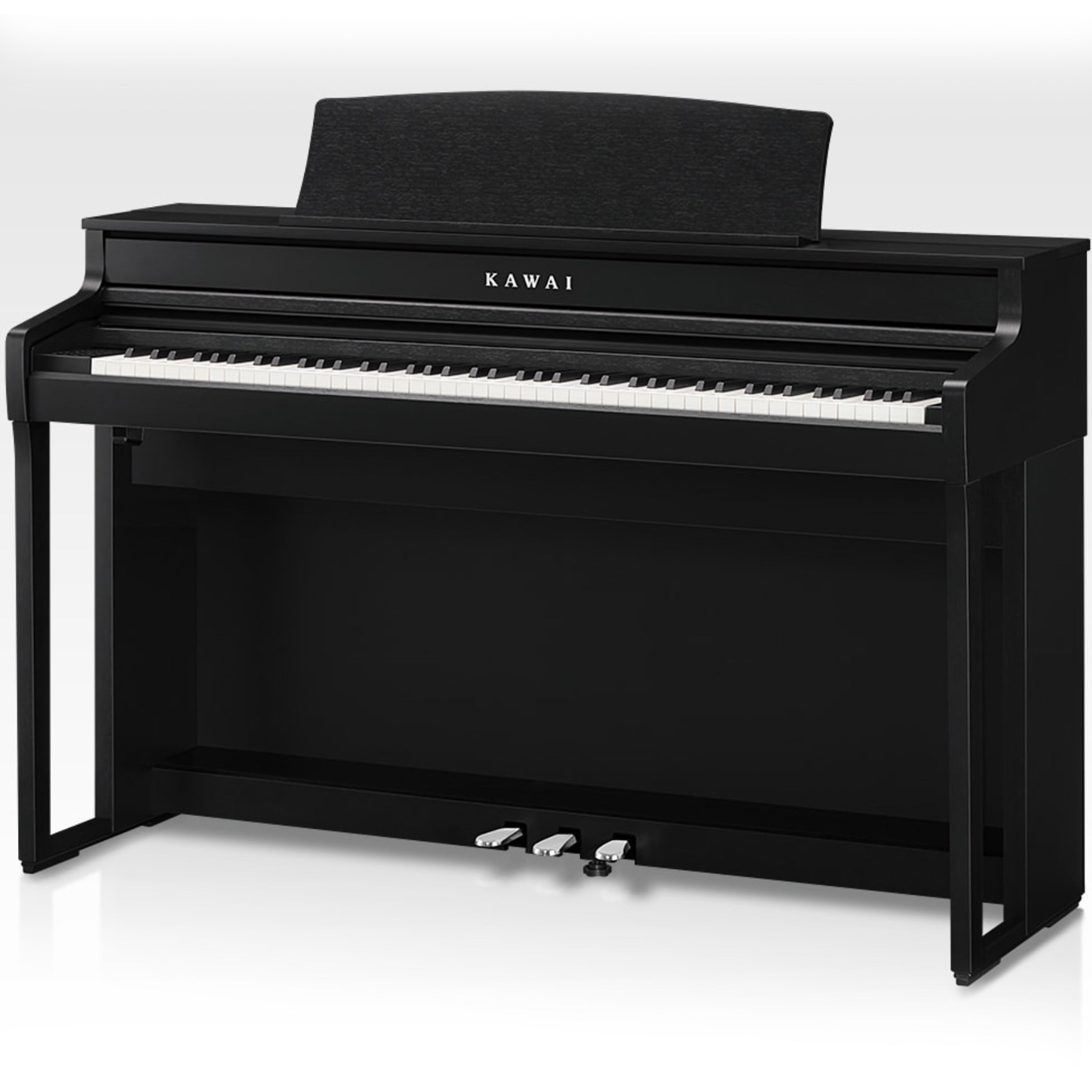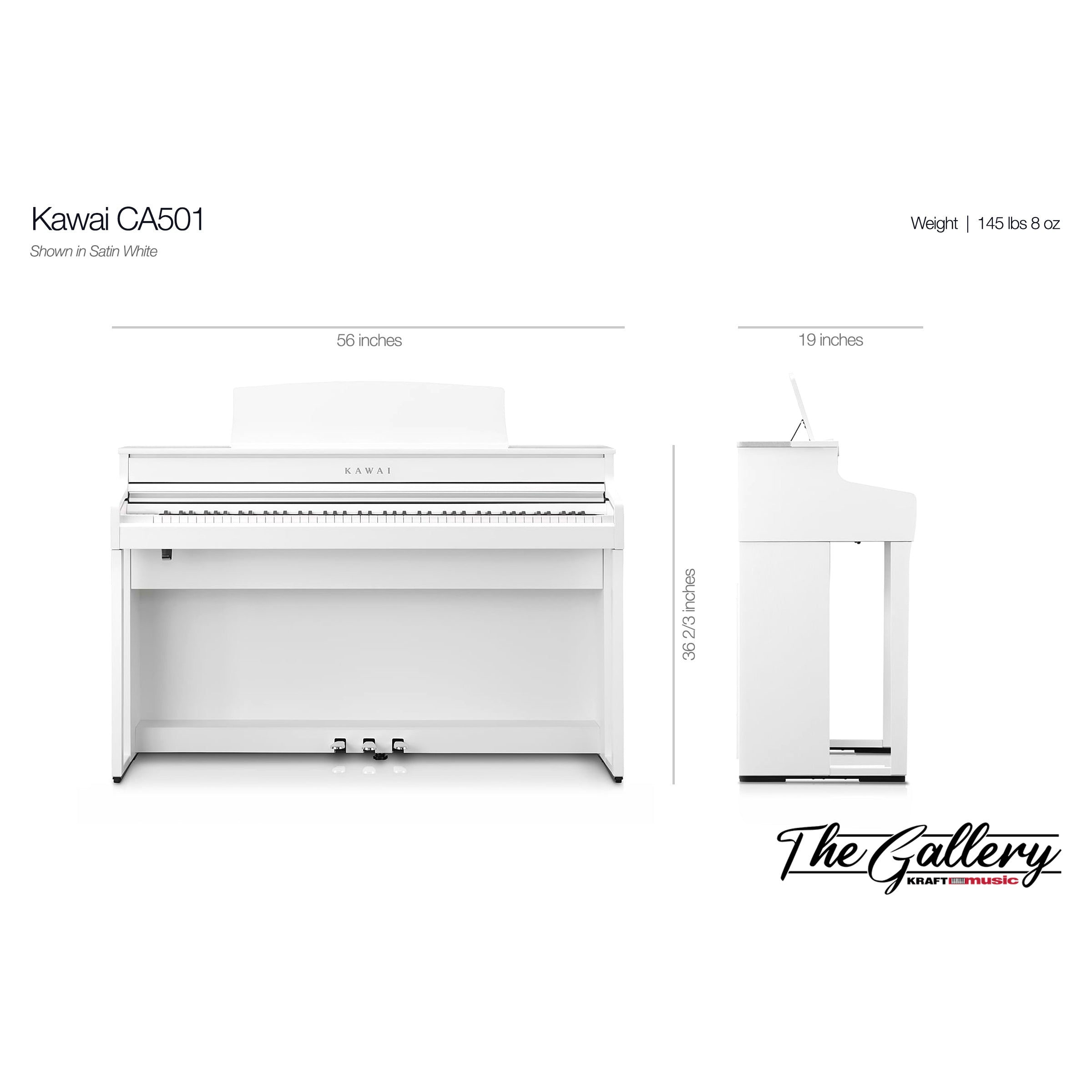 Kawai CA501 Concert Artist Digital Piano - Satin Black
Introducing the Kawai CA501 Concert Artist…
This 2023 model retains the highly regarded Grand Feel Compact wooden-key keyboard action of its predecessor, while incorporating the new SK-EX Competition Grand piano sound, reproduced using Harmonic Imaging XL sound technology. This latest recreation of the flagship Shigeru Kawai piano uses all new sample data, specifically recorded from the player's perspective, and is characterized by a bright and clear sound with a distinctive attack. Complementing this stunning new piano sound, the CA501 now incorporates diffuser panels mounted to the top facing speakers that help to expand tonal projection in all directions.
The updated CA501 features redesigned control panels with a more intuitive button layout to complement the large OLED display. In addition, wireless connectivity has also been refreshed, with Bluetooth MIDI and Bluetooth Audio components adopting the latest v5 standard to ensure ultra-low latency, improved reliability, and superior sound quality when paired with the latest mobile devices.
Finally, the CA501's attractive cabinet has also received design refinements, including a taller body, improved pedal positioning and music rest score support pins, which can be raised to hold the pages of thicker notated scores securely in place.
SK-EX Competition Grand piano sound, specially recorded from the player's perspective
Bluetooth MIDI v5, Bluetooth Audio v5 for reduced latency and enhanced audio quality
Grand Feel Compact wooden-key keyboard action
Ivory Touch key surfaces, triple sensor, let-off, counterweights
Harmonic Imaging XL sound engine
Advanced audio processing and amplification
Powerful four-speaker, 100 W output system
Integrated Bluetooth® MIDI and Audio
Cheekblock control panel with OLED display
Attractive cabinet design with 3-position music rest
CA501 dimensions and weight
Please refer to this diagram to help visualize how this piano might fit in your room of choice. The weight listed is based on the finished, assembled instrument, and is measured in pounds. The height, width and depth dimensions are measured in inches.
Color Swatches - Satin Black
Please note that the color may vary depending upon your screen settings or due to the device that you are viewing. These photos are designed to give you an idea of the rich finish of the piano.
Features Overview
Feel Inspired
a piano that will encourage enthusiastic players to become accomplished pianists, and transform living rooms into grand concert halls. This is the ambitious philosophy behind Kawai's latest Concert Artist series – premium instruments that capture the essence of playing a magnificent concert grand piano, and inspire musicians to realize their true artistic potential. To achieve this ambition, these first-class instruments combine Kawai's industry- leading wooden-key keyboard action, with an array of stunning acoustic piano sounds reproduced using premium audio and speaker technologies, and a variety of convenient, modern features that enhance one's playing experience. The result is a series of exceptional digital pianos that deliver authenticity, performance, and reliability.
Unbelievable Touch
The keyboard action of an acoustic grand piano is comprised of black and white keys, graded hammers, and numerous other components, all working in harmony when each note is pressed. This beautifully designed mechanism allows gifted pianists to express a wealth of feeling and emotion in their music, as they respond to the tactile nuances transmitted through the keyboard. Translating the piano action's intricate movements to a digital instrument, while retaining these acoustic-like subtleties is an extremely challenging task. The Concert Artists' latest Grand Feel wooden-key keyboard actions achieve this goal by drawing upon Kawai's 95+ years of knowledge and experience in crafting the world's finest pianos. This ensures an incredibly realistic touch feeling, and is one of the reasons for these instruments' inspiring playability.
Premium Sound Delivery
The distinctive sound of an acoustic piano is produced by felt hammers striking metal strings. As these strings vibrate, they transfer energy through the bridge onto the instrument's wooden soundboard, resulting in a rich, powerful sound. In order to reproduce these characteristics, and transform the digitally generated Shigeru Kawai SK-EX sound into an authentic acoustic piano tone, the latest Concert Artist instruments feature premium quality audio processing and amplifier technologies, and multi- speaker delivery systems.
Stunning Sound
Eponymously named after the company's second president, the Shigeru Kawai range of luxury grand pianos were conceived as the next step in evolving the art of the piano. Each world-class instrument is hand-crafted by Master Piano Artisans (MPAs), using the finest available materials to ensure optimum touch, tone, and artistic expression. Widely regarded as 'the premier piano of Japan', the flagship SK-EX concert grand graces the stages of concert halls and musical institutions around the globe, receiving universal acclaim for its magnificent tonal clarity and exceptional dynamic range. In order to recreate the peerless sound of a Shigeru Kawai SK-EX digitally, the latest Concert Artist models incorporate a variety of unique technologies that capture and reproduce characteristics of the original piano with incredible realism and authenticity.
SKU
KAW-CA501SB
MPN
CA501SB
Vendor
Kawai
Bluetooth
Audio Receiving and App Connectivity
Built In Speakers
Yes
Connectivity
USB and Bluetooth
Keys Weighted
Hammer Weighted
Key Cover
Yes
Number of Keys
88
Mpn
CA501SB
Piano Cabinet Style
Console
Duet Mode
Yes
Finish
Satin Black
Half-Damper Support
Yes
Audio Inputs
Line In (1/4" L/MONO, R)
Audio Outputs
Headphones x 2 (1/4", 1/8")
Line Out (1/4" L/MONO, R)
Key Action
Grand Feel Compact with Let-Off, Triple Sensor, and Counterweights
Layer Feature
No
Metronome
Yes
Pedals
Damper (with half-pedal support), Soft, Sostenuto – Grand Feel Pedal System
Product Weight
145 lbs 8 oz
Song Recorder
MIDI
Number of Songs
10
Number of Sounds
45
Speaker Power
50w + 50w
Speaker Size
5.11" x 2 (woofers), 3.14" x 4.72" x 2 (top speaker with diffusers)
Split Feature
Yes
Storage Type
USB Flash Drive;Internal
Number of Tracks
Approximately 90,000 note memory capacity
Transpose Feature
Yes
Voices of Polyphony
max 256
Width
56"
Depth
19"
Height
36 2/3"
5-Year Kawai Limited Warranty
Kawai CN, CA, CS, and CP models are covered by Kawai's five (5) year limited warranty. This warranty covers digital piano models CN, CA, CS and CP against defects in materials or workmanship for five (5) years from the date of purchase. Kawai will attempt to perform service at the location of the instrument. However, if this is not reasonably feasible, then You will be responsible for any installation or removal charges and for any initial shipping charges if the instrument(s) must be shipped for warranty service. However, Kawai will pay the return shipping charges to your location within the USA or Canada if the repairs are covered by the warranty. More details can be found at the Kawai America Corporation's U.S. web site.
This oversize item ships via our Freight Delivery Service.