Skip product carousel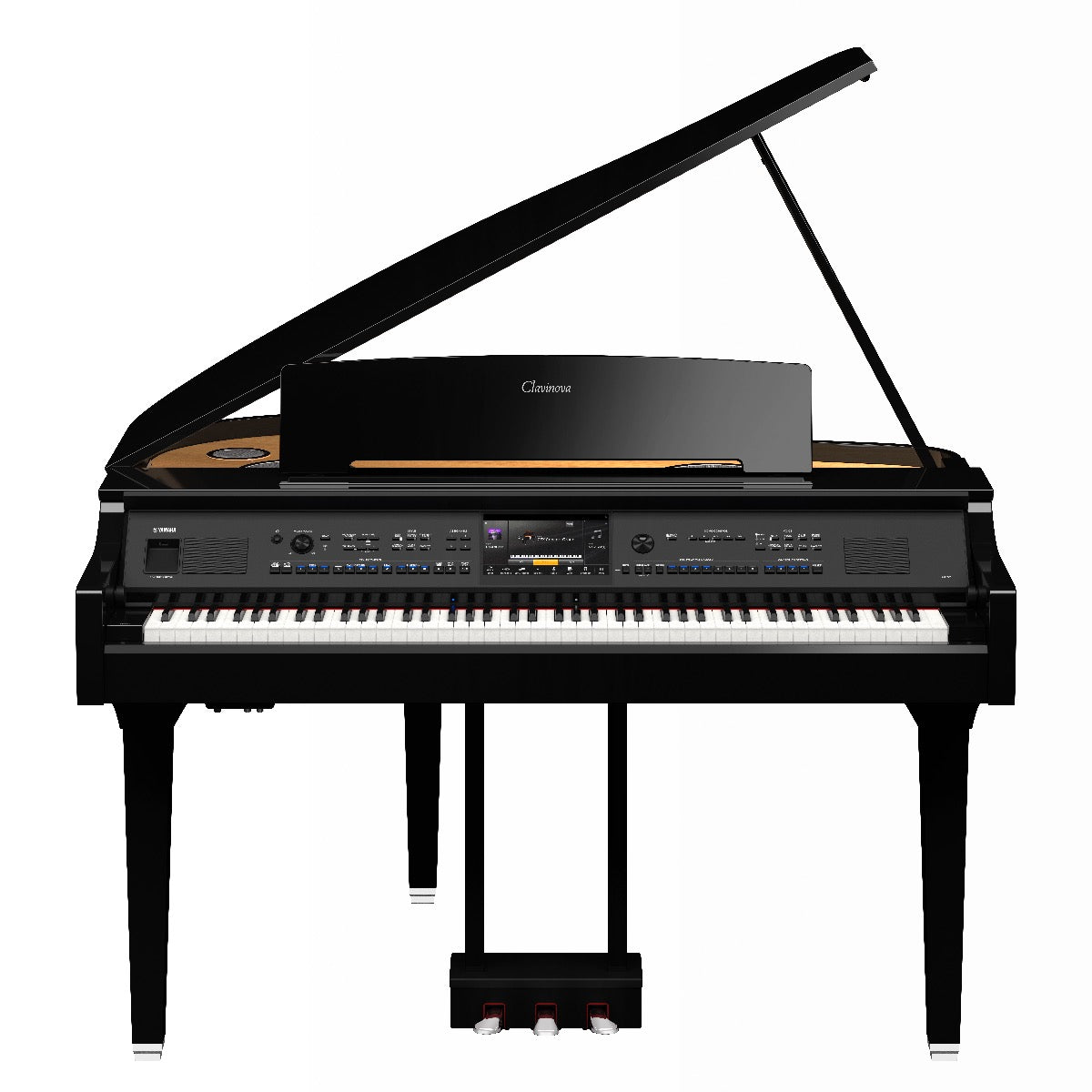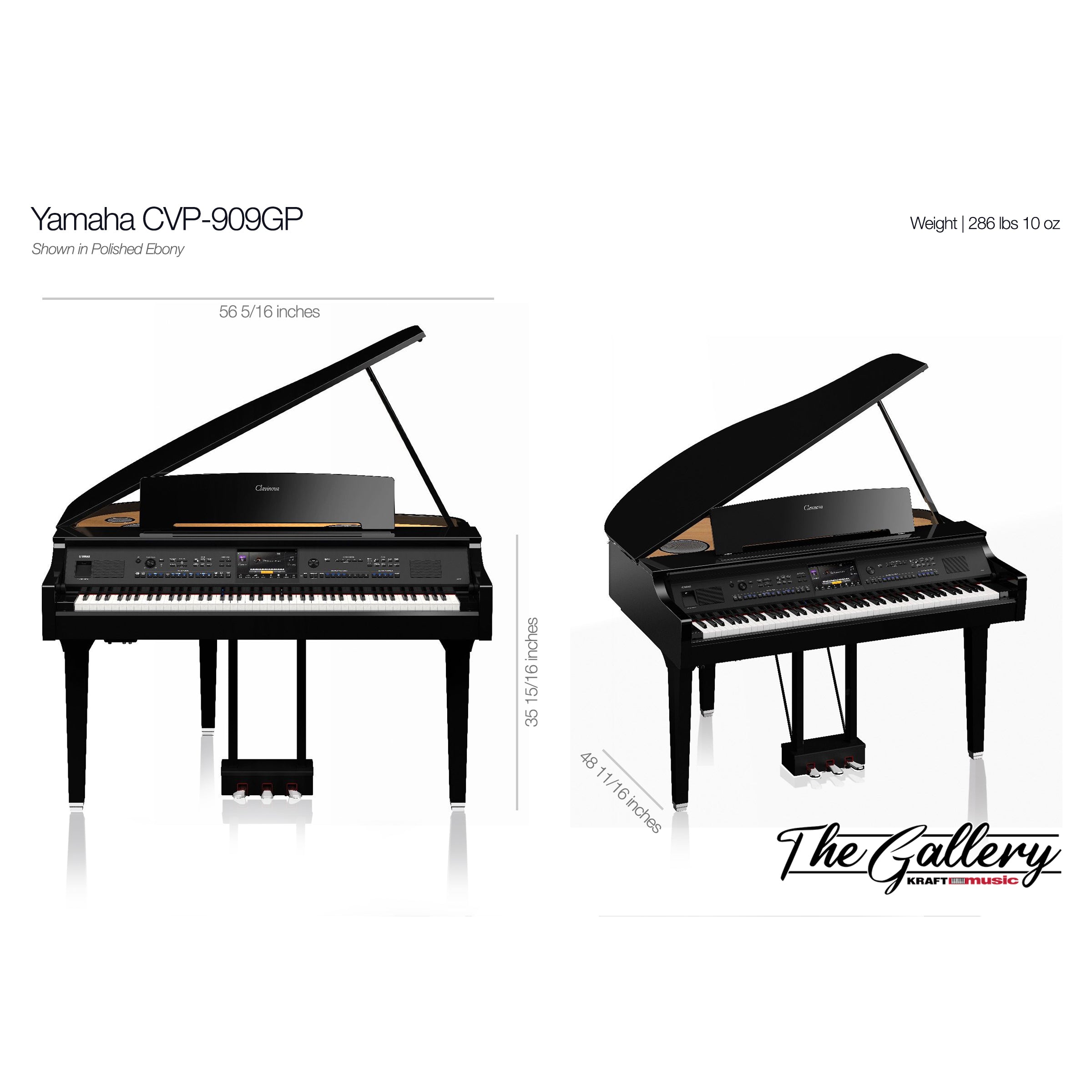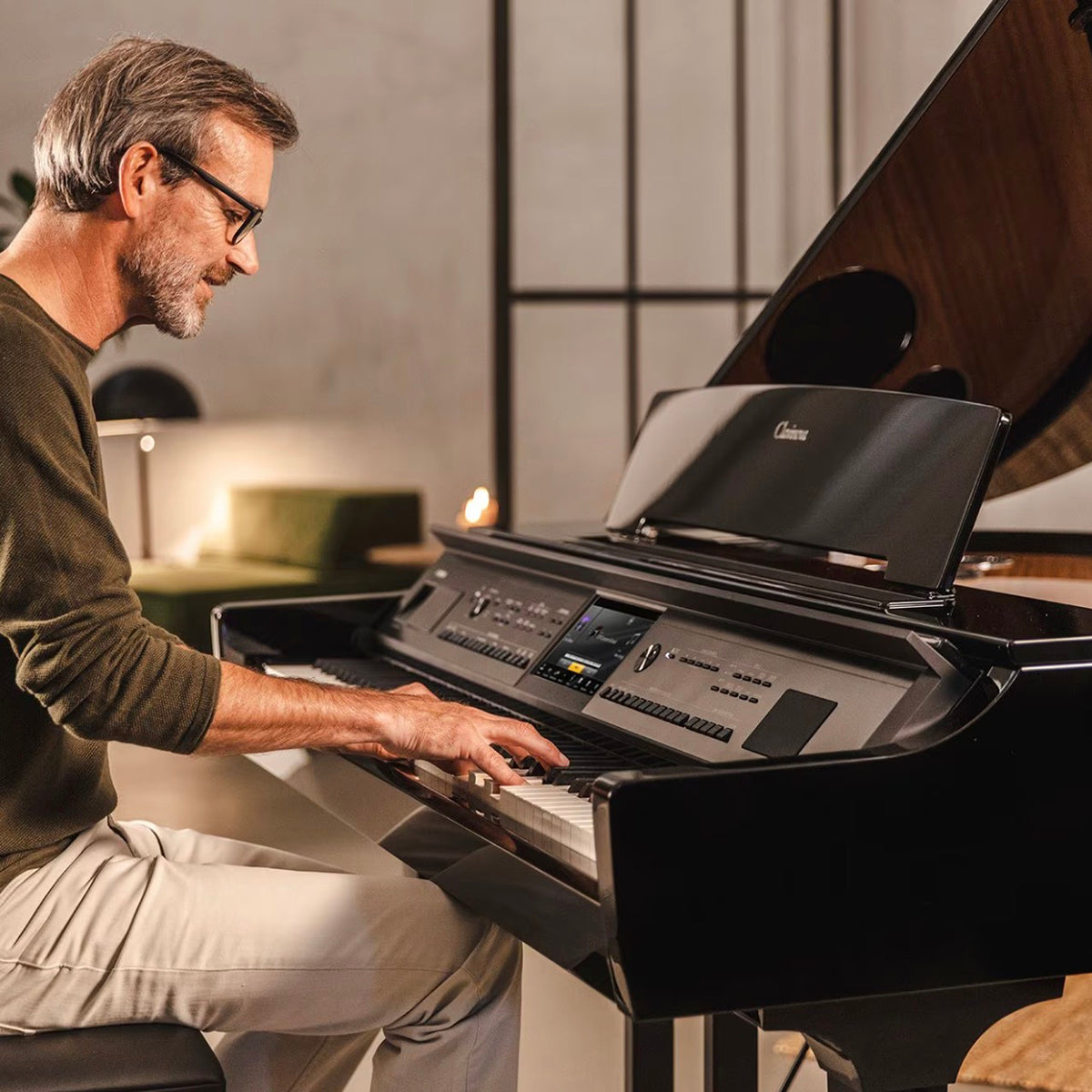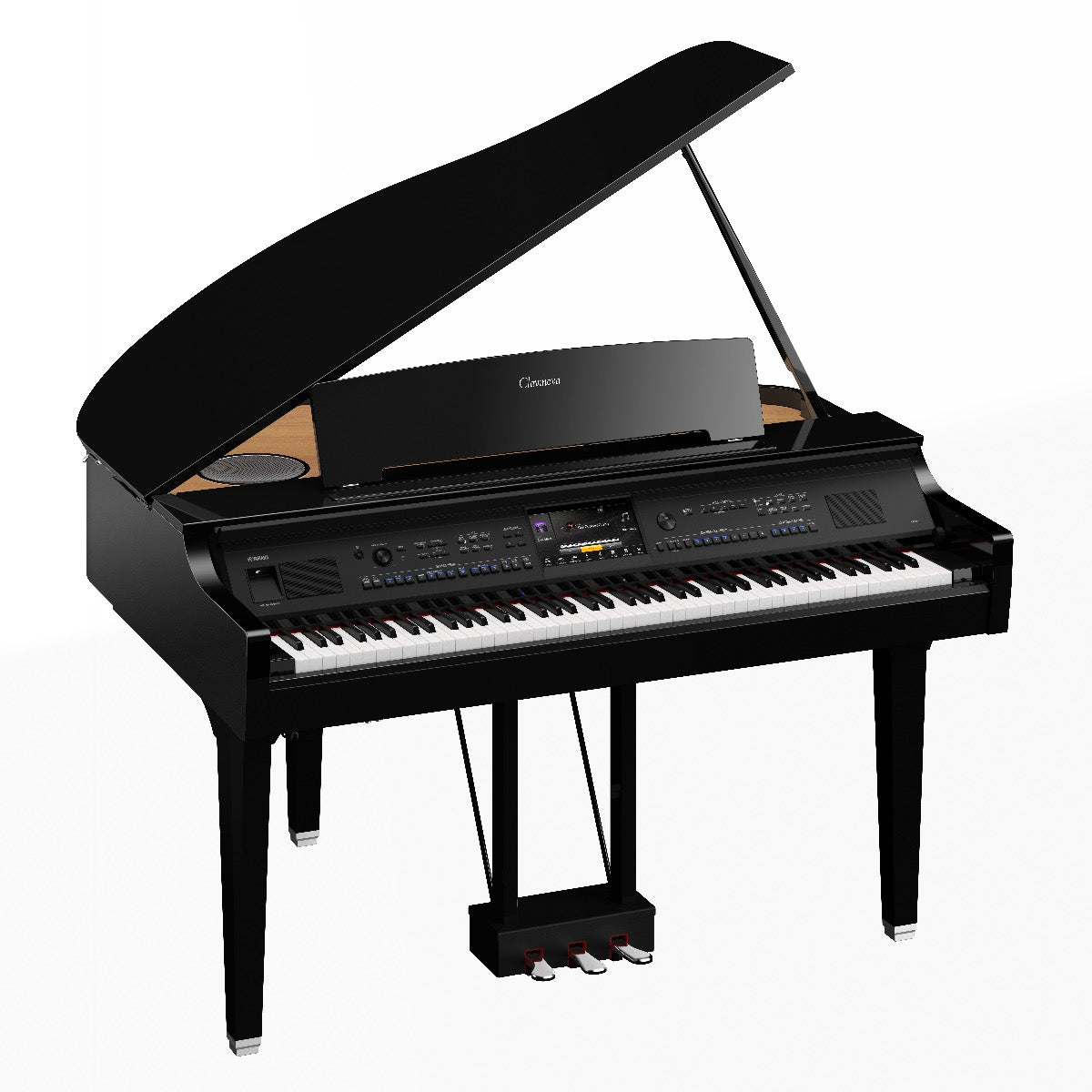 Yamaha Clavinova CVP-909GP Digital Grand Piano - Polished Ebony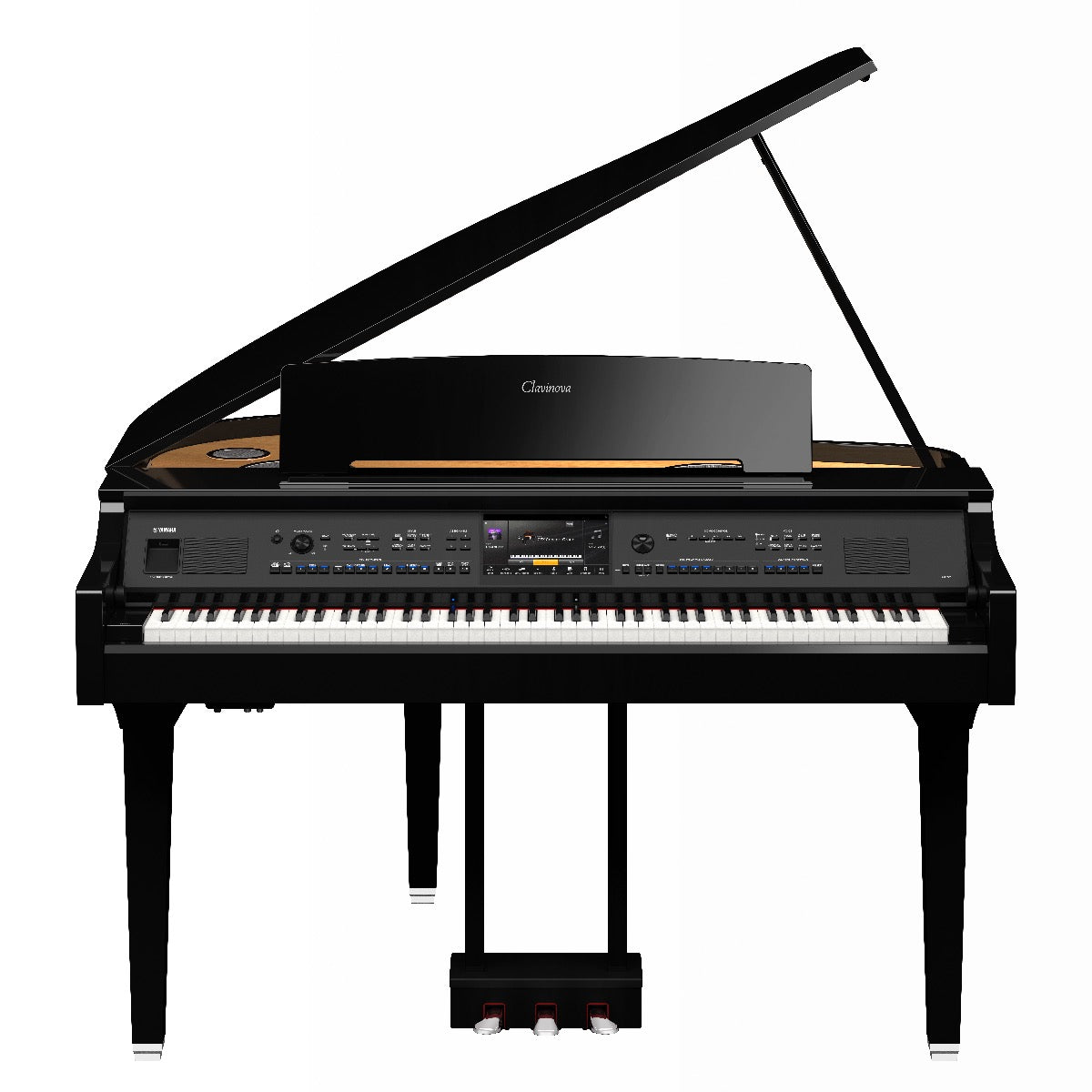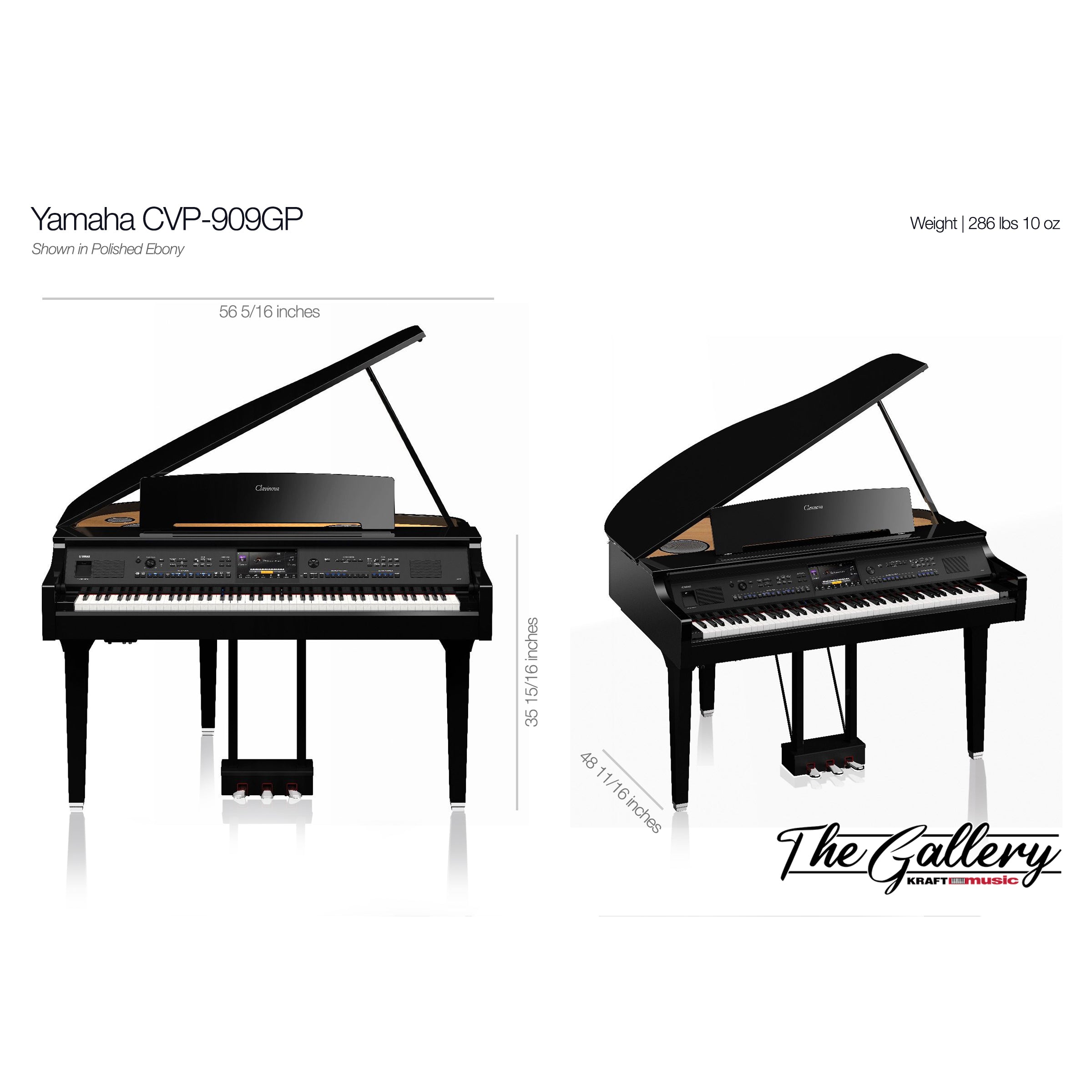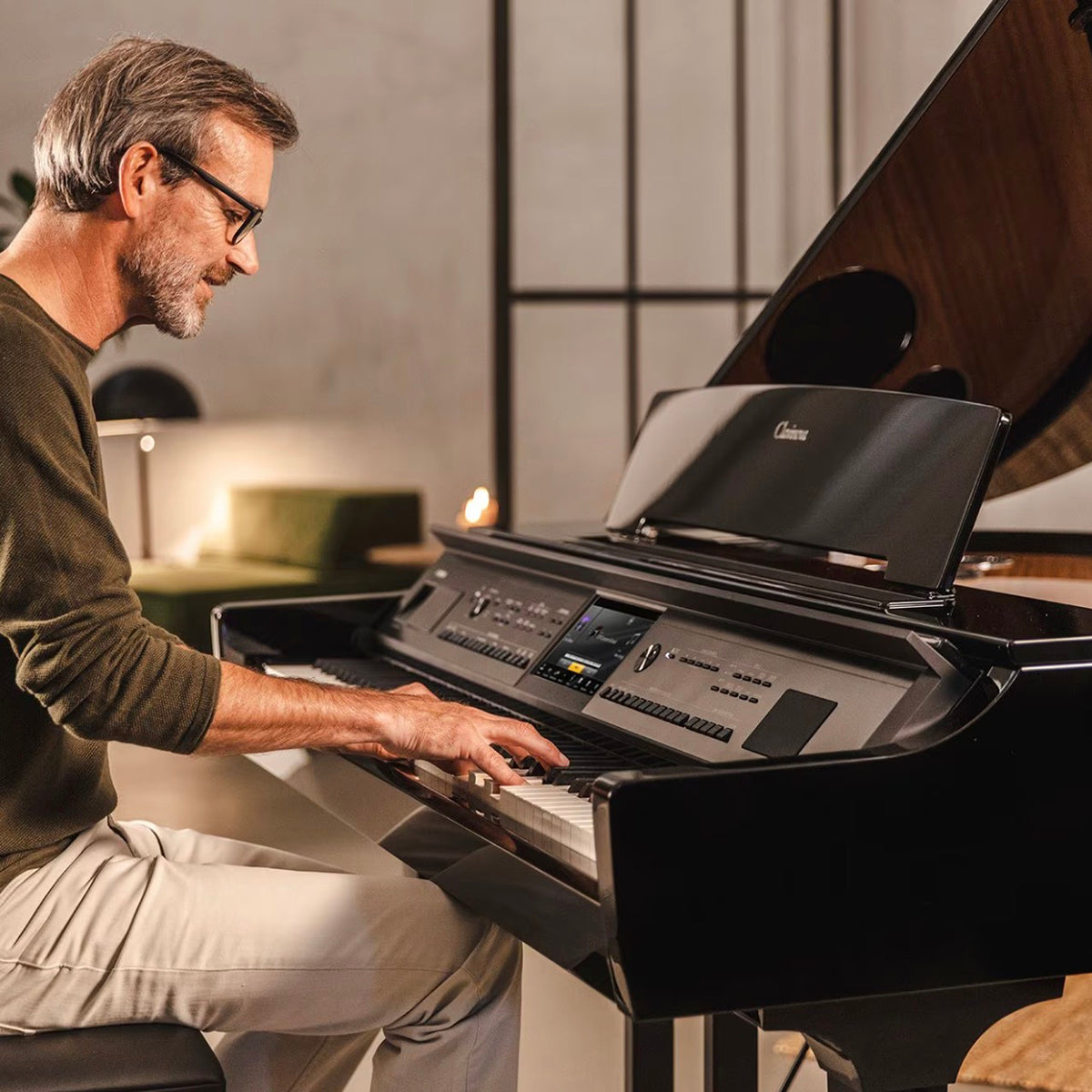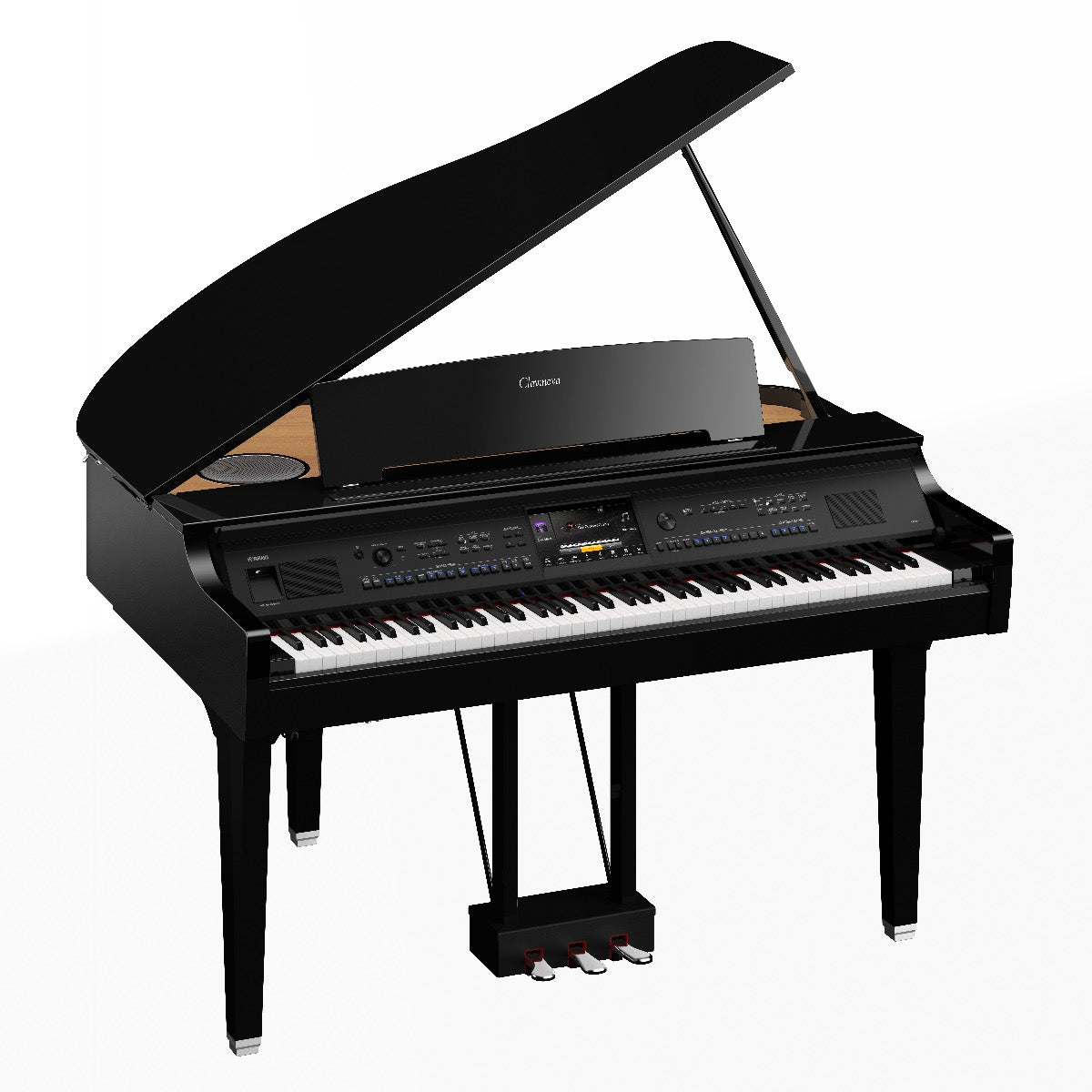 Yamaha Clavinova CVP-909GP Digital Grand Piano - Polished Ebony
Introducing the Yamaha Clavinova CVP-909GP…
With its large cabinet, beautiful curves, and other styling accents, the CVP-909GP has a grand piano-like presence that will take your breath away. The GrandTouch keyboard with escapement is finished with Synthetic ebony and Ivory Keytops for an outstanding tactile touch response. The GrandTouch Pedals add the precise control that you expect from an acoustic grand piano and brings it into the digital world.
A concert pianist demands the feel of a grand piano. A composer demands a soundset as wide as his or her imagination and as pristine as a movie score. A student demands tools to ease the learning process. A family demands a entertainment center that allows them to discover the joy of music together in ways they never thought possible. Featuring a Grand Touch with wooden keys.
CFX and Bösendorfer Samples updated with added power, brilliance, brightness and improved touch response, giving the player greater expressive control.
GrandTouch Pedals with GP Response Damper mechanisms reproduce the touch and feel of a grand piano, and provide exceptionally expressive control and tactile response, making it easier to physically experience the half-pedal point.
Color Touch Panel allows you to easily see the state of Voice and Style assignments and quickly access and adjust a wealth of features and settings.
Binaural Sampling technology delivers a three-dimensional sound, which recreates the perspective of the player position through headphones.
Super Articulation 2 (SA2) Voices allow the player to get realistic expressive nuances of non-keyboard instruments, such as a flute or guitar, both automatically and with the use of the two switches.
Grandtouch keyboard with counterweights simulate the feeling of playing an acoustic grand piano.
Follow Lights-orchestrated song files use Guide Lamps that illuminate over the right keys to teach you classic melodies at any tempo.
You Are the Artist series software gives you the in-band experience to perform music by superstar artists like Adele, Coldplay and Taylor Swift!
Piano Room with Session Mode brings you back to the basics. Select a piano and choose the type of room you're in, and even invite a small ensemble along to play with you.
Vocal Harmony 2 (VH2) engine creates advanced sounding harmonies, enriching your voice and is even capable of correcting your pitch!
Chord Looper allows you to record your chord progressions so that the Style engine can loop them for you, freeing you up to experiment with two-hand playing or soloing without having to worry about playing the changes.
CVP-909GP dimensions and weight
Please refer to this diagram to help visualize how this piano might fit in your room of choice. The weight listed is based on the finished, assembled instrument, and is measured in pounds. The height, width and depth dimensions are measured in inches.
Color Swatches - Polished Ebony
Please note that the color may vary depending upon your screen settings or due to the device that you are viewing. These photos are designed to give you an idea of the rich finish of the piano.
Features Overview
Your dream pianos await
The enhanced Piano Room includes the world-class Yamaha CFX and Bösendorfer Imperial grand pianos, plus over 1000 studio quality sounds. In Session Mode, you can invite three virtual musicians into the room to "jam" with you as you practice and perform in one of 40 different musical styles. These session musicians will automatically follow your harmonies and your volume expression using the new Dynamics Control feature. You can selectively activate and deactivate each one depending on your musical needs at the time. Within this special room, you can even record your sessions with the touch of a single button.
Superb playability and feel
Grand Piano keyboards are characterized by a light feel when played gently, and a heavier feel when played with more strength. Conversely, a non-grand piano keyboard has a uniform resistance regardless of whether the player uses a gentle or heavy touch. This has traditionally been one of the most significant differences between the touch of a grand piano and that of a digital piano. However, when developing GrandTouch keyboard action, Yamaha sought to reproduce the true key resistance that is unique to the grand piano, with greater fidelity. The result is an instrument with a more responsive touch, offering a greater dynamic range than ever before.
Strike with the perfect balance
Counterweights are embedded in the keys to balance the weight of the hammers and offer more precise control when playing delicately at low volumes. The Clavinova features a carefully-adjusted set of these individual counterweights for improved playability when playing pianissimo and quicker key return in rapid passages.
No two keys are alike
On an acoustic grand piano, each and every key is weighted differently. This is because the strings for each note are slightly thinner and shorter in the treble register, becoming gradually thicker and longer towards the bass register. The Clavinova action faithfully reproduces the subtle differences that this graded touch offers with differing weights and key returns for each one of its 88 keys. When it comes time to take your playing to an acoustic grand piano, the transition will be seamless to the performer.
An unrivaled grand piano pedal feel
The CVP-809 features a damper pedal that continually detects depression depth and allows half-pedaling. The GP Response Damper Pedal offers variable resistance, starting out light to the touch and growing heavier as the pedal is depressed further. This allows players to become accustomed to the nuances of delicate pedaling on an acoustic grand piano.
Spruce Speaker Cones
Drawing from its experience in building both acoustic pianos and high-end speakers, Yamaha CVP-809 speaker cones use pulp from the same spruce wood used to make acoustic piano sound boards.The result is a more natural, piano-like attack to the sound that is more piano-like when you play the keys.
Twisted Flare Ports
The Twisted Flare Port, a new Yamaha technology, offers a clearer bass sound. The flared and gently twisted shape evenly diffuses the air flow through the port. Compared to a conventional port, the Twisted Flare Port reduces air turbulence noise, contributing to clear and accurate low frequency reproduction.
For a sound that truly resonates with the listener
In a grand piano, strings and sounds resonate throughout the entire body of the instrument producing a rich reverberation that envelops the listener in sound. Not only are the strings you are playing vibrating, but other strings ring as a reaction to ones you play. This is one reason the piano's sound is so complex and rich. This phenomena is reproduced perfectly in the Clavinova through Virtual Resonance Modeling (VRM) which calculates the various states of the strings for each of the 88 notes on the keyboard from one instant to the next. As a result, the Clavinova reflects the limitless number of factors inherent in playing an acoustic piano such as which keys are pressed, the strength with which the keys are played and pedal timing.
Virtually every instrument Yamaha builds can be found inside
Yamaha is the World's largest manufacturer of musical instruments, and CVP Clavinovas contain high-resolution, high-definition recordings only possible from a company with this rich heritage. Super Articulation (SA) and Super Articulation 2 (SA2) Voices are both highly advanced and easy to use, making you sound like a pro. With them you'll hear the most realistic reproductions of legato and staccato performance techniques that are so essential to playing bowed and wind instruments. By simply varying your touch and playing techniques or using the pedals, SA and SA2 Voices will add significant authenticity to your sound.
Fully immersive concert grand sampling
While using headphones, Yamaha's advanced binaural sampling technology creates the sensation of being in a room with Yamaha's acclaimed CFX Concert Grand. The technology uses samples from the CFX, recorded with specialized microphones that capture locational information and other nuances discerned by the human ear. The resulting sound is so natural, so enveloping, that you'll soon forget you're even wearing headphones at all.
A new kind of headphone experience
Unique to Yamaha, the Stereophonic Optimizer adjusts the spacing of the sound and the separation from the piano when listening via the headphones, resulting in a spacious sound image that will inspire you to play for hours at a time. Using this private listening environment, the sound of the Clavinova appears to come from the body of the instrument rather than from the headphones, providing a more realistic and naturally comfortable experience.
When you want to play more than just piano
One of the defining features of a CVP Clavinova is the multitude of different Styles that can be controlled in real-time by playing chords on the keyboard. Accompaniment Styles introduce ensembles of virtual musicians to your performances in a variety of musical genres. From small jazz ensembles to full orchestras, you control what chords or harmony they play by what YOU play, plus you control the dynamic of the ensemble. Developed by professional session musicians from around the world, Styles add authentic, studio-quality backing players to your performances - even when you play by yourself. You can use Styles to add embellishing Intros, Endings & Fill-Ins and even arrange songs in real-time.
Now anyone can play a hit song, one light at a time
CVP Clavinovas are very patient: if you don't play the right notes, they wait until you do! This is made possible with the CVP's unique Guide feature. As the easiest way to play a song, the Follow Lights library teaches you popular melodies in a way only possible on a CVP Clavinova. Just follow the lights one note at a time, and fully-arranged orchestrations and arpeggios embellish your playing. Here, you don't play along with a recording, the recording literally plays along with YOU. Visit www.yamahamusicsoft.com/followlights to browse the entire library today.
Get connected and start singing
You can connect a microphone to enjoy singing along with your keyboard performance or using Karaoke song files from YamahaMusicSoft.com. All input jacks are conveniently located at the front of the instrument, under the keybed for easy access. Only Yamaha could build an instrument with studio-quality effects like reverb, echo and even Vocal Harmony. Alternatively, you can connect a portable music device such as an MP3 player or smart phone to enjoy listening through the Clavinova's high-definition speaker system.
Chord Looper
Not only is this feature great for those who wish to play two-hand parts over top of Styles, but Chord Looper is also very handy for the songwriter. Looping a chord progression gives you the freedom to try out various vocal parts for a verse, a chorus etc. without having to commit to a full song arrangement. Record your chord changes and let the Style take over while you work out a melody or some lyrics. Once you've got it just right, move on to the next section or record the whole song!
If you want it to, the Clavinova will even talk to you
When Voice Guide is active, the Clavinova speaks information from the current display or operation being executed. This allows those who have visual impairments to enjoy playing and using the instrument. When using Voice Guide, make sure that the USB flash memory containing the Voice Guide files is connected to the instrument.
Customize the control panel as you like
You decide what functions appear on the touch screen and which are assigned to special panel buttons. This allows you to create bookmarks for your favorite Voices and Styles in one convenient button, create shortcuts on the Home display for your most used "apps" from the MENU display, and assign your most used functions to the ASSIGNABLE buttons on the panel.
Turn a USB device into a portable recording studio
The USB Audio Recorder* allows you to record your performances on a USB flash drive for emailing, uploading to the internet or sending to your MP3 player. This lets you compare two different performances to gauge your progress or allows you to share your music with friends and family.

*Stored as WAV or MP3 format.
Wireless audio and wireless MIDI with iOS devices
If you use an iPad, iPhone or iPod touch, Yamaha apps will make playing more convenient and enjoyable. Quickly set the ideal Voice and accompaniment Style for the song you'd like to play. Record your own performance and share it with a friend. Add visual effects to your performance with computer animation that responds to what you play. Check out the apps and find the ones that meet your needs. Several Yamaha apps are designed to work only with Clavinova digital pianos.

Wired connections are possible with devices such as the Yamaha i-MX1, i-UX1 or Apple Lightning to USB Camera Adapter. Wireless connection may require a wireless router. Wireless audio connection requires Yamaha UD-WL01 USB wireless LAN device.
Play your favorite songs right away with the Smart Pianist app
Have you ever tried to figure out what the chords are to your favorite songs? The Smart Pianist app for iPhone/iPod touch/iPad* helps you practice and perform songs by analyzing the audio song stored in your iOS device and then displays the chord symbols for you. On the CVP-800 Series, Smart Pianist features an "Audio To Score" function that creates piano accompaniment scores automatically. Smart Pianist also displays notation for hundreds of built-in MIDI songs, and you can even enjoy additional songs for purchase from Yamaha MusicSoft.

*Requires Apple Lightning to USB Camera Adapter and USB cable or Yamaha UD-WL01 Wi-Fi adapter
SKU
YAM-CVP909GP
MPN
CVP-909GP
Vendor
Yamaha
Bluetooth
Audio Receiving
Built In Speakers
Yes
Connectivity
USB, MIDI, and Bluetooth
Included From Manufacturer
Matching piano bench
50 Classical Music Masterpieces book
Keys Weighted
Hammer Weighted
Key Cover
Yes
Number of Keys
88
Mpn
CVP909GP
Piano Cabinet Style
Grand
Accompaniments
Yes
Duet Mode
No
Finish
Polished Ebony
Half-Damper Support
Yes
Audio Inputs
1/4" Mono Microphone, 1/8" Aux
Audio Outputs
2 x 1/4" Headphone
L / L + R, R Aux Out
Key Action
Grand Touch keyboard action with Linear Graded Hammers, wooden keys (white only), synthetic ebony and ivory key tops, and escapement
Layer Feature
Yes
Metronome
Yes
Pedals
3 multi-function pedals (Sustain, Sostenuto, Soft, Glide, Song Play / Pause, Style Start / Stop, Volume, etc.)
Product Weight
286 lbs 10 oz
Rhythm Patterns
675
Song Recorder
Audio & MIDI
Number of Songs
124
Number of Sounds
1605 Voices + 58 Drum/SFX Kits
Speaker Power
(40 W + 30 W + 20 W) x 2 + 80 W
Speaker Size
(6 5/16" + 1 15/16" + 1 3/16") x 2 + 7 7/8" Spruce Cone Speaker, Twisted Flare Port
Split Feature
Yes
Storage Type
USB Flash Drive;Internal
Number of Tracks
16
Transpose Feature
Yes
Voices of Polyphony
256
Width
56 5/16"
Depth
48 11/16"
Height
35 15/16"
5-Year Yamaha Clavinova Limited Warranty
Yamaha Clavinova pianos are covered by a five (5) year limited warranty. Yamaha products are designed and manufactured to provide a high level of defect-free performance. Yamaha Corporation of America ('Yamaha') is proud of the experience and craftsmanship that goes into each and every Yamaha product. Yamaha sells its products through a network of reputable, authorized dealers and is pleased to offer you, the Original Owner, the following Limited Warranty, which applies only to products that have been (1) directly purchased from Yamaha's authorized dealers in the fifty states of the USA (the 'Warranted Area') and (2) used exclusively in the Warranted Area. This warranty covers Clavinova Digital Pianos against defects in materials or workmanship for five (5) years. In-home service is also available with these products. More details can be found on the Yamaha Corporation of America web site.
This oversize item ships via our Freight Delivery Service.