Skip product carousel
Instant Rebate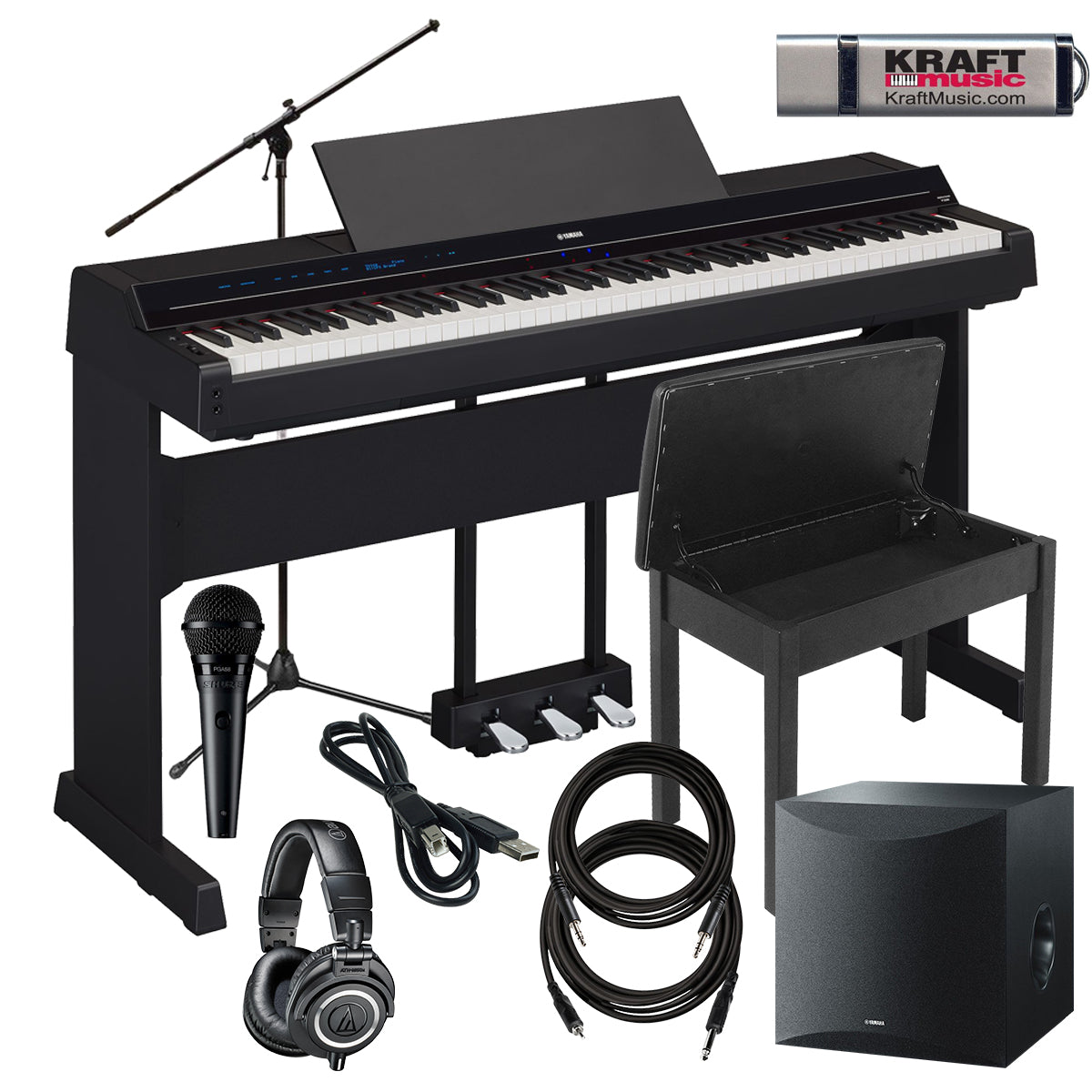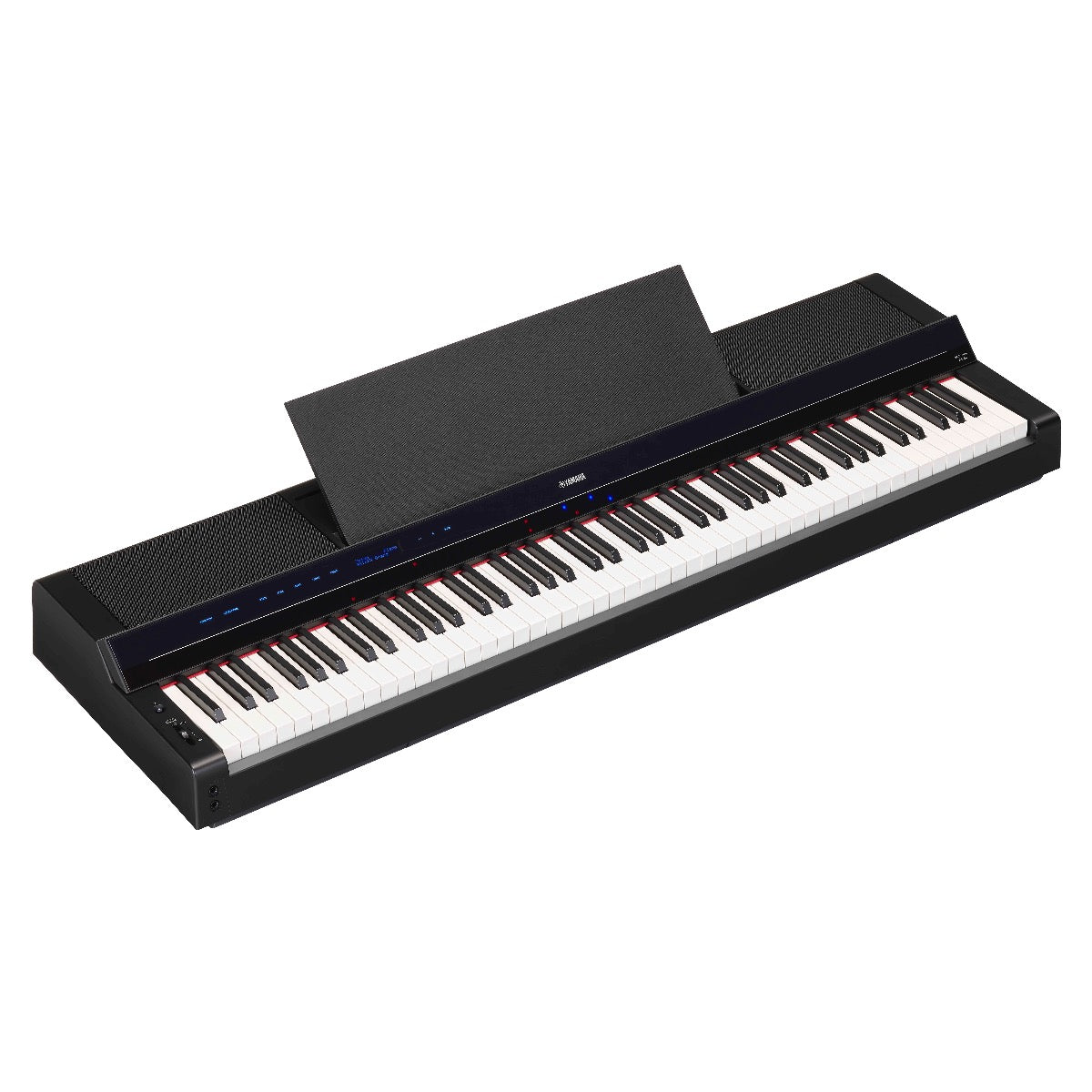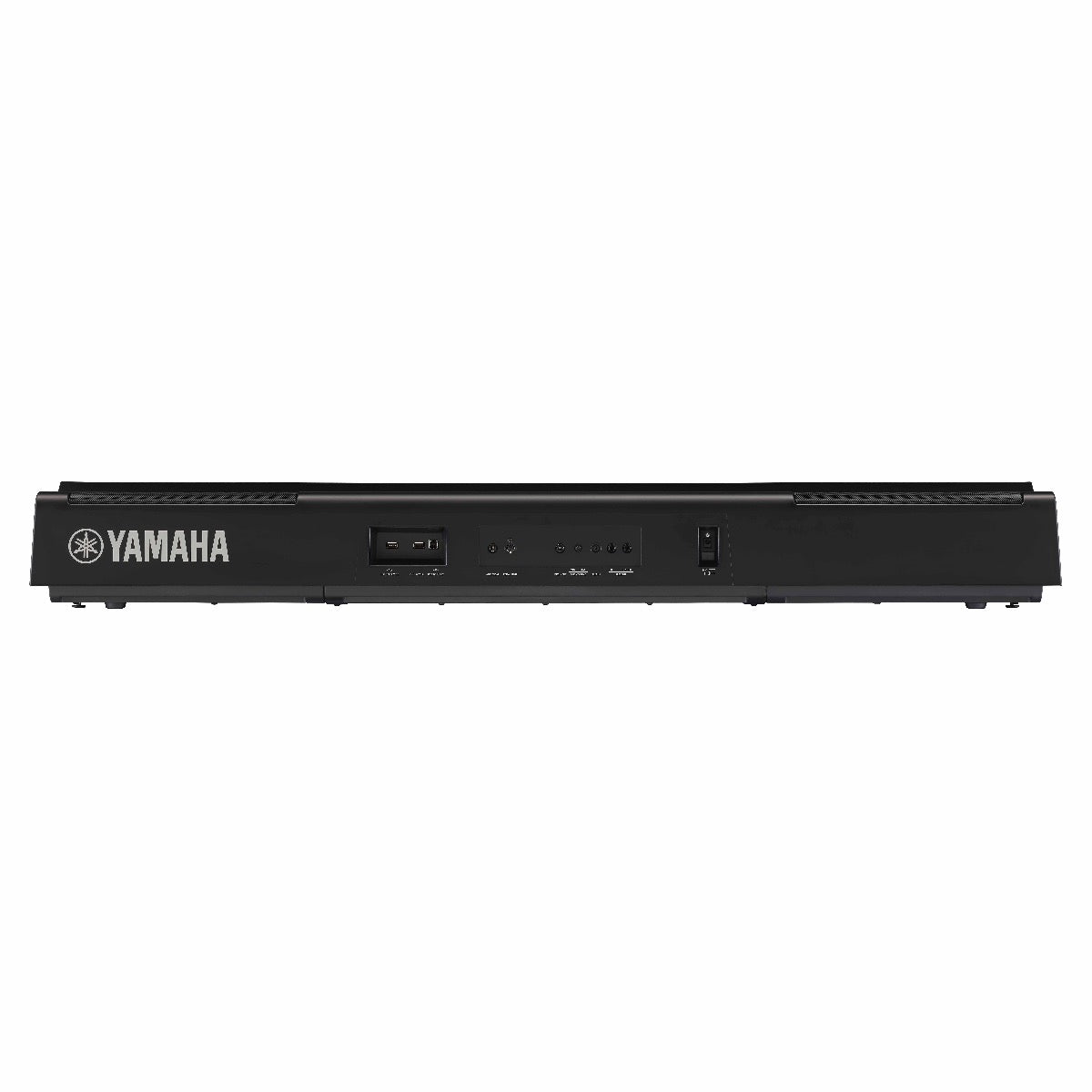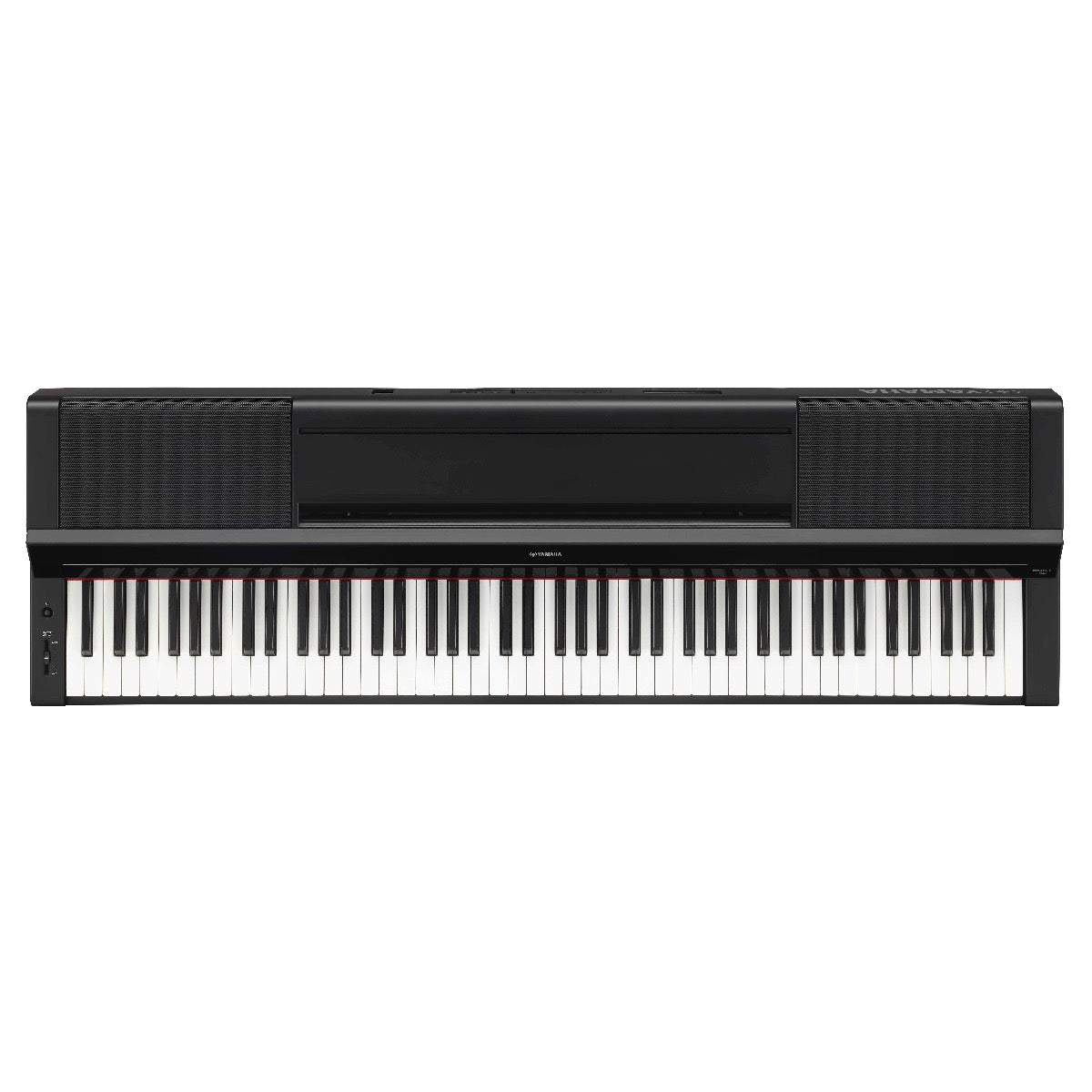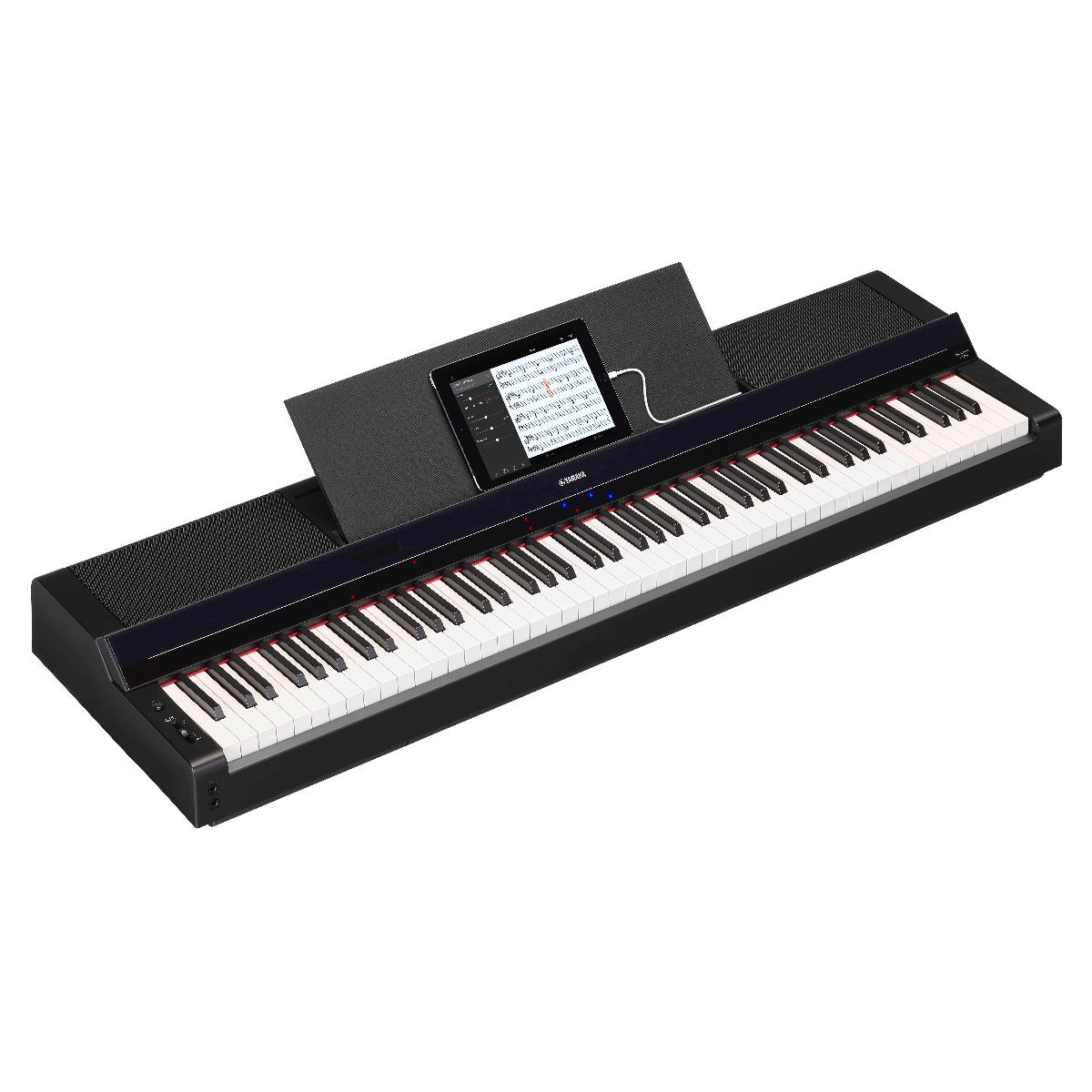 Yamaha P-S500 Digital Piano - Black COMPLETE HOME BUNDLE PLUS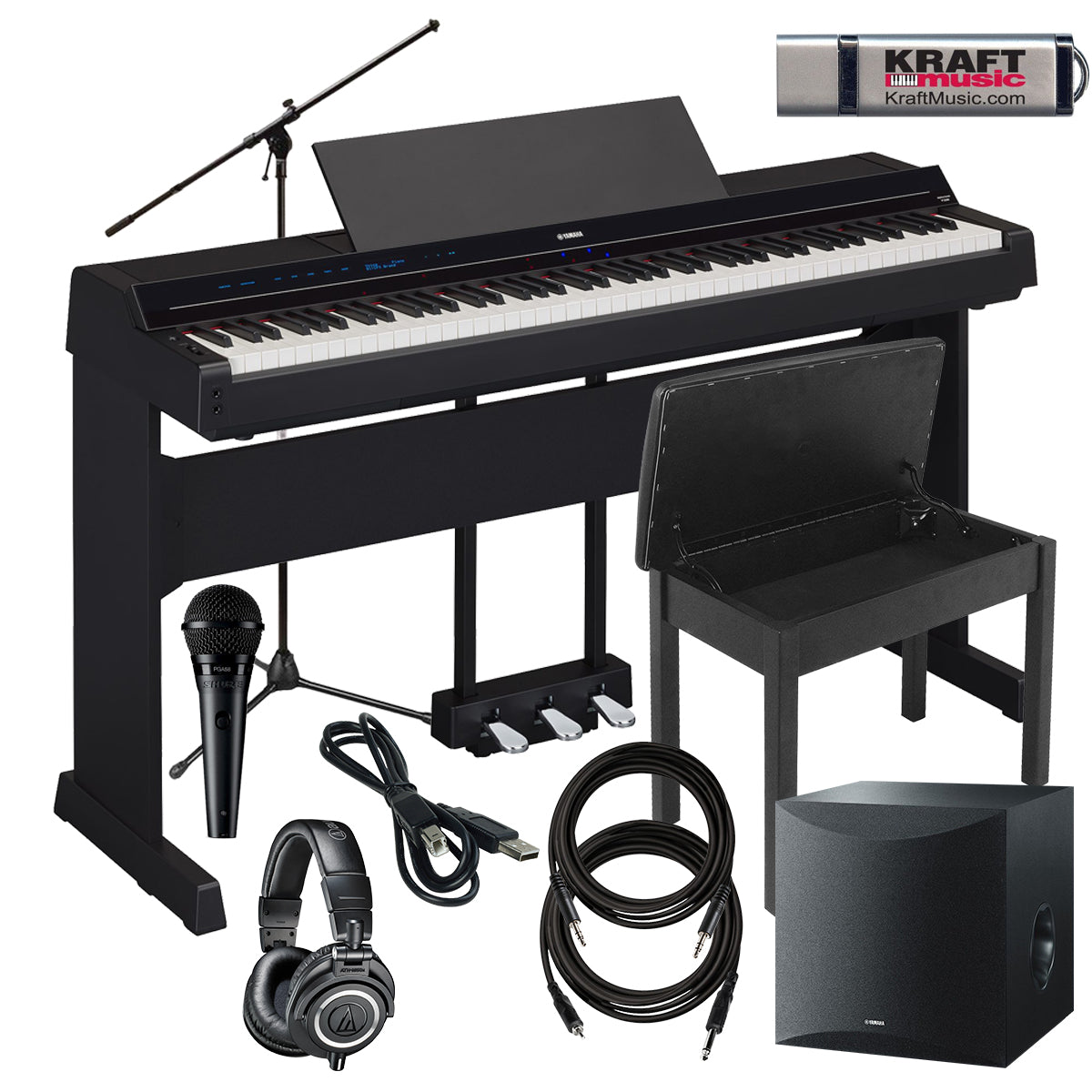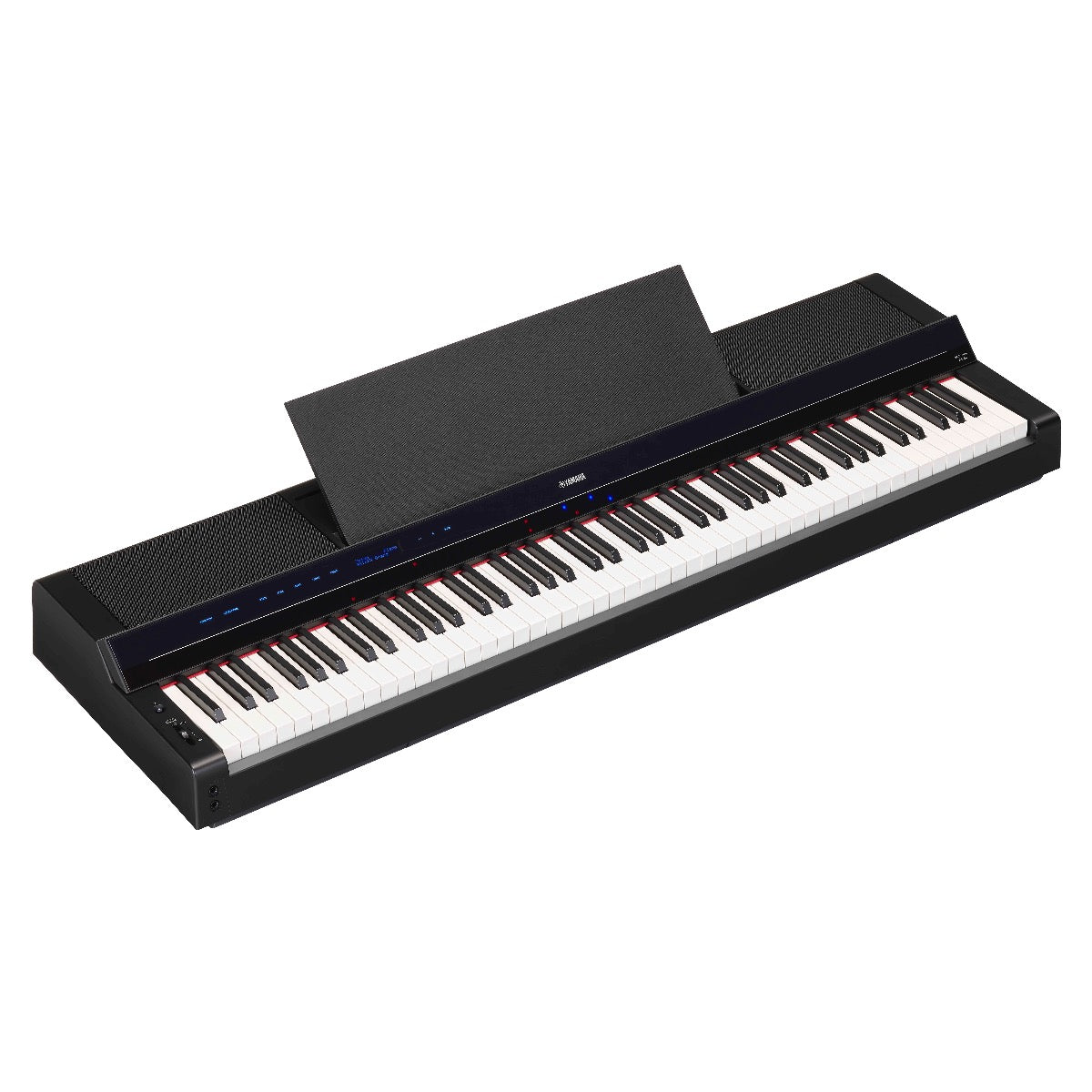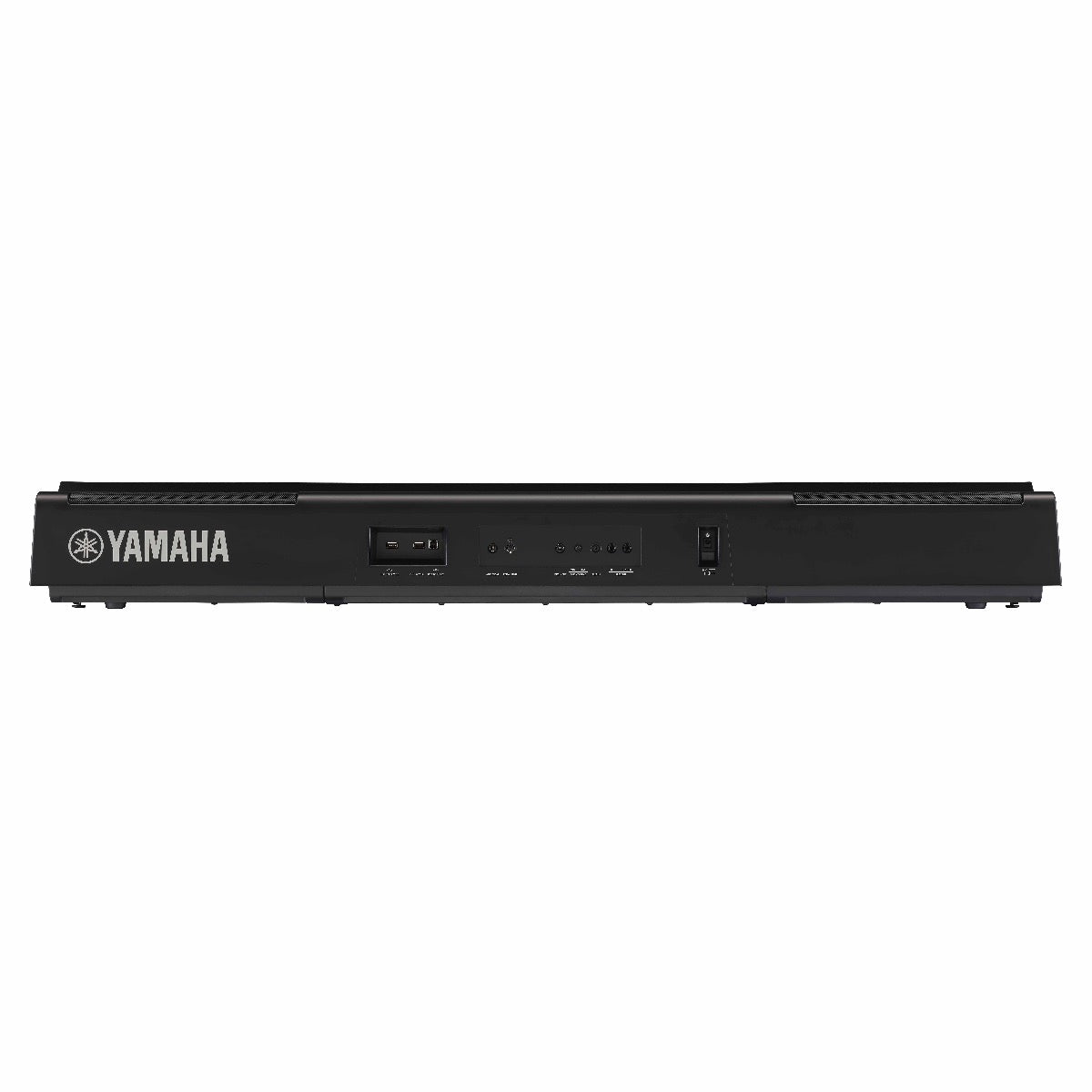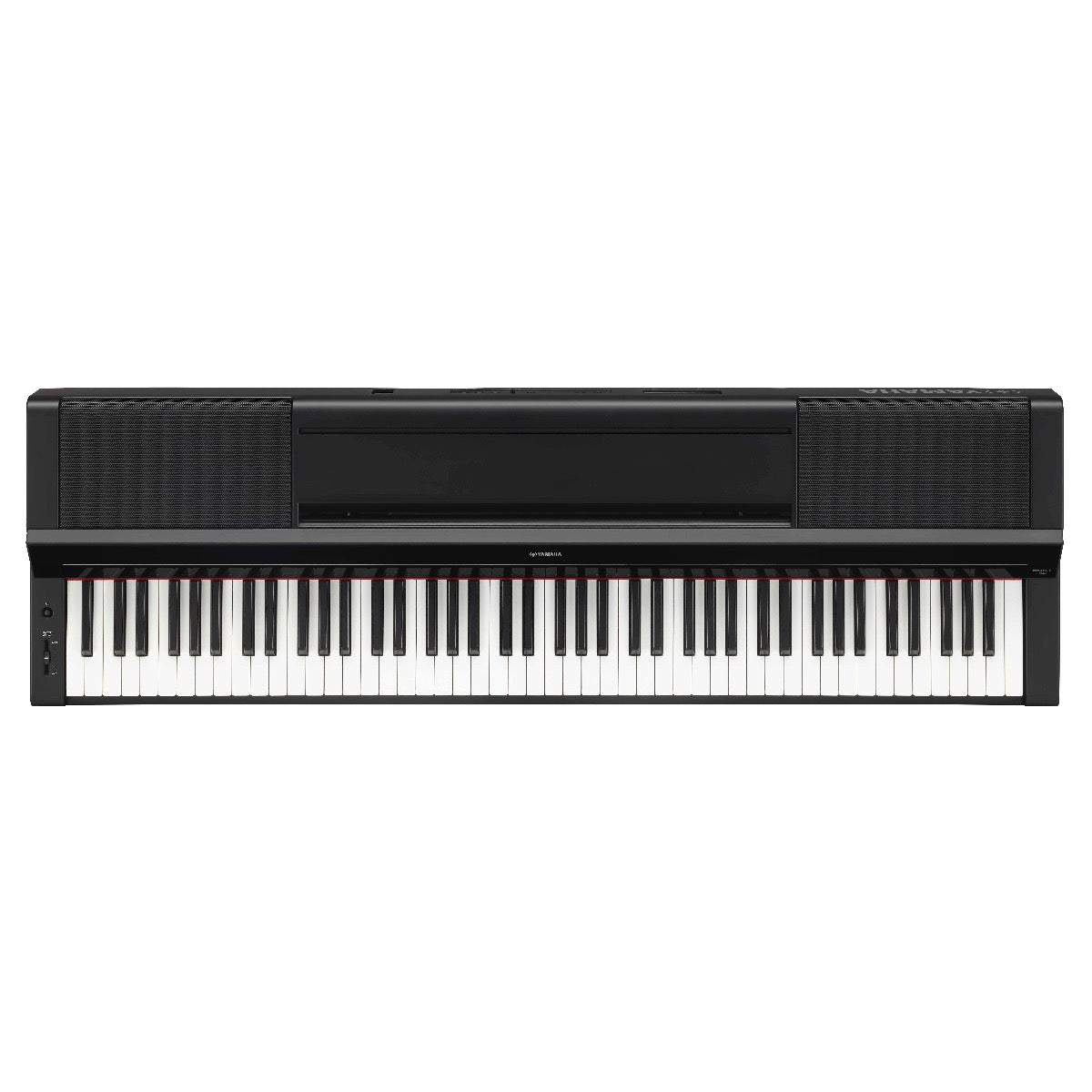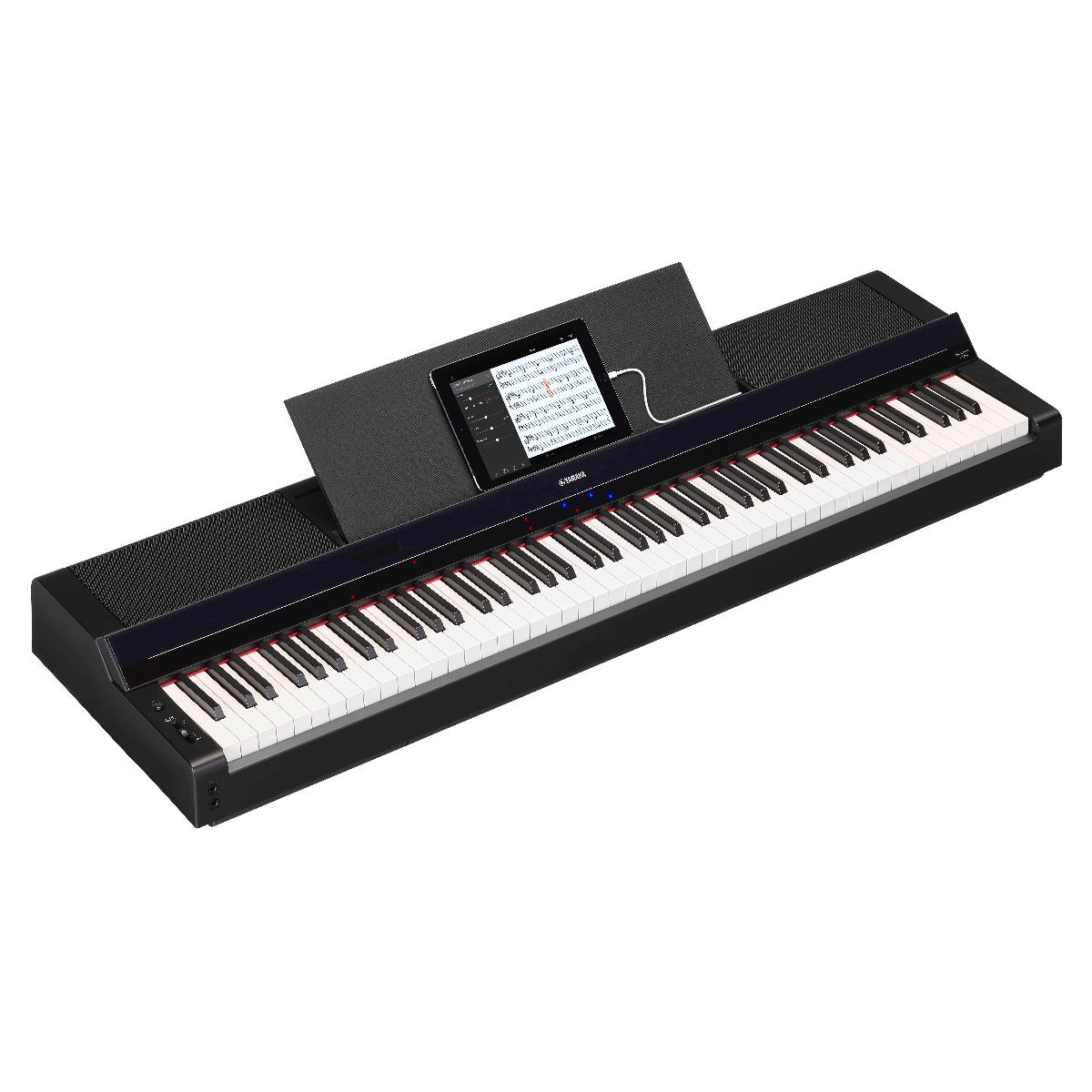 Yamaha P-S500 Digital Piano - Black COMPLETE HOME BUNDLE PLUS
12 items included
This Kraft Music Bundle Includes
$2,299.99
Regular price
$2,709.99
Temporary Savings of $410.00
Click on a product to view more details.
Introducing the P-S500…
The P-S500 combines 88 GHS Weighted keys, CFX and Bosendorfer Piano samples, Stream Lights, Touch Control Panel and Smart Device connectivity into an instrument that is both Classic and Futuristic. While the Hi-tech Touch Control Panel gives you several Voices, Styles, and Lessons, connecting the instrument to Smart Pianist will unlock it's full potential and give you access to hundreds of Voices, Styles, and Lessons. You also gain control over Voice Layers, Splits and Split Points, Reverbs, and MIDI and Audio Recording.
Stream Lights show you which notes to play and when to play them, with four LED lights above each key. Lights move towards the keys to show the timing of the next note in the song.
The Smart Pianist app not only gives you full control over your piano's major functions, but also analyzes your favorite songs right out of your music library using chord tracker technology.
Audio to Score scans your music library in your smart device, analyzes the audio, and then produces a piano score, allowing you to learn how to play your favorite songs.
flowkey allows you to learn to play piano with the songs you know and love in an interactive and fun learning app that provides you with instant feedback.
Yamaha CFX and Bösendorfer Imperial piano samples bring two of the world's finest and most prominent concert grand pianos to your fingertips.
1/4" microphone input allows you to connect a microphone so you can sing along while you play, hear your voice through the instrument's speakers, and even record your performance to USB audio.
Yamaha's VH audio processing engine adds vocal harmony to your Karaoke performance.
Virtual Resonance Modeling (VRM) allows for vivid and richly-varied expression to reflect the limitless number of factors that create the sound of a concert grand piano.
GHS weighted action is heavier in the low keys and lighter in the high keys, just like an acoustic piano.
The Touch Sensor Control Panel disappears when not in use to hide the powerful technology beneath the classic piano cabinetry.
Features Overview
Intuitive Control With Your Smart Device
Simply connect the instrument to a smart device and use the dedicated Smart Pianist app to access all instrument controls and configuration tools. You can also enjoy powerful features such as app-generated piano scores of your favorite songs that help you learn and play along.
Stream Lights Show You the Way
Red and blue lights above each key show you which notes to play, and when to play them. This extraordinary feature helps you learn how to play, and practice, without ever having learned how to read music, making learning more fun than ever before!
Play your personal favorites or songs from the built-in library
The instrument features 403 built-in songs covering a wide range of genres, from pop songs to classical pieces. You can play the melodies along with the backing of a full band arrangement. The powerful Audio to Score feature automatically creates piano accompaniment scores from your favorite audio songs so you can play along with the original recordings.

SKU
YAM-PS500BCHP
MPN
P-S500
Vendor
Yamaha
Bluetooth
Audio Receiving and App Connectivity
Built In Speakers
Yes
Connectivity
USB and Bluetooth
Included From Manufacturer
Music restOwner's manualPower adapter
Footswitch
USB cable
Keys Weighted
Hammer Weighted
Key Cover
No
Key Num
88
Mpn
PS500B
Piano Cabinet Style
Portable with Stand
Product Unique Features
Stream Lights show you which notes to play, and when to play them. This extraordinary feature helps you learn how to play, and practice, without ever having learned how to read music, making learning more fun than ever before!
Accompaniments
Yes
Finish
Black
Audio Inputs
1/8" Stereo
Audio Outputs
2 x 1/4" (R, L/L+R)
Key Action
GHS (Graded Hammer Standard)
Layer Feature
Yes
Metronome
Yes
Pedals
Single Pedal Unit Included
Triple Pedal Sold Separately
Product Weight
48 lbs
Song Recorder
Audio
Number of Songs
403 (When not connected to Smart Pianist
Number of Sounds
660 (When not connected to Smart Pianist
Speaker Power
(20 W + 6 W) × 2
Speaker Size
12 cm × 6 cm (Oval)
2.5 cm (dome) x 2
Split Feature
Yes
Storage Type
Connected Tablet/Mobile Device
Number of Tracks
16
Transpose Feature
Yes
Voices of Polyphony
256
Width
52-5/16"
Depth
16-1/8"
Height
6-9/16"
3-Year Yamaha Limited Warranty
Yamaha Arius and P-series pianos are covered by a three (3) year limited warranty. Yamaha products are designed and manufactured to provide a high level of defect-free performance. Yamaha Corporation of America ('Yamaha') is proud of the experience and craftsmanship that goes into each and every Yamaha product. Yamaha sells its products through a network of reputable, authorized dealers and is pleased to offer you, the Original Owner, the following Limited Warranty, which applies only to products that have been (1) directly purchased from Yamaha's authorized dealers in the fifty states of the USA (the 'Warranted Area') and (2) used exclusively in the Warranted Area. This warranty covers Arius and P-series Digital Pianos against defects in materials or workmanship for three (3) years. More details can be found on the Yamaha Corporation of America web site.
Standard Shipping